In August of 1991, X-Men Vol. 2 #1 by Chris Claremont and Jim Lee went on sale. It would go on to become the best-selling comic book of all time, clearing over seven million copies. That same month, artist Whilce Portacio would become the regular artist on Uncanny X-Men, while Peter David and Larry Stroman would unveil an "all new, all different" team in X-Factor #71. Three months earlier, Rob Liefeld had launched X-Force #1; it too became the best-selling single issue of a comic book of all time (for three months, at least). The sheer popularity and sales success of X-Men and its related titles, which kicked into a new gear in September of 1991, would lead, in part, to X-Men: The Animated Series, thereby putting the characters in front of millions more eyeballs than the comics ever could. It would further entrench the grievances of the superstar artists involved in these launches, furthering their resolve to leave Marvel and form Image Comics. It would make the "X-books" a perennial best-selling assortment of titles capable of weathering the storm of Marvel's bankruptcy a few years later.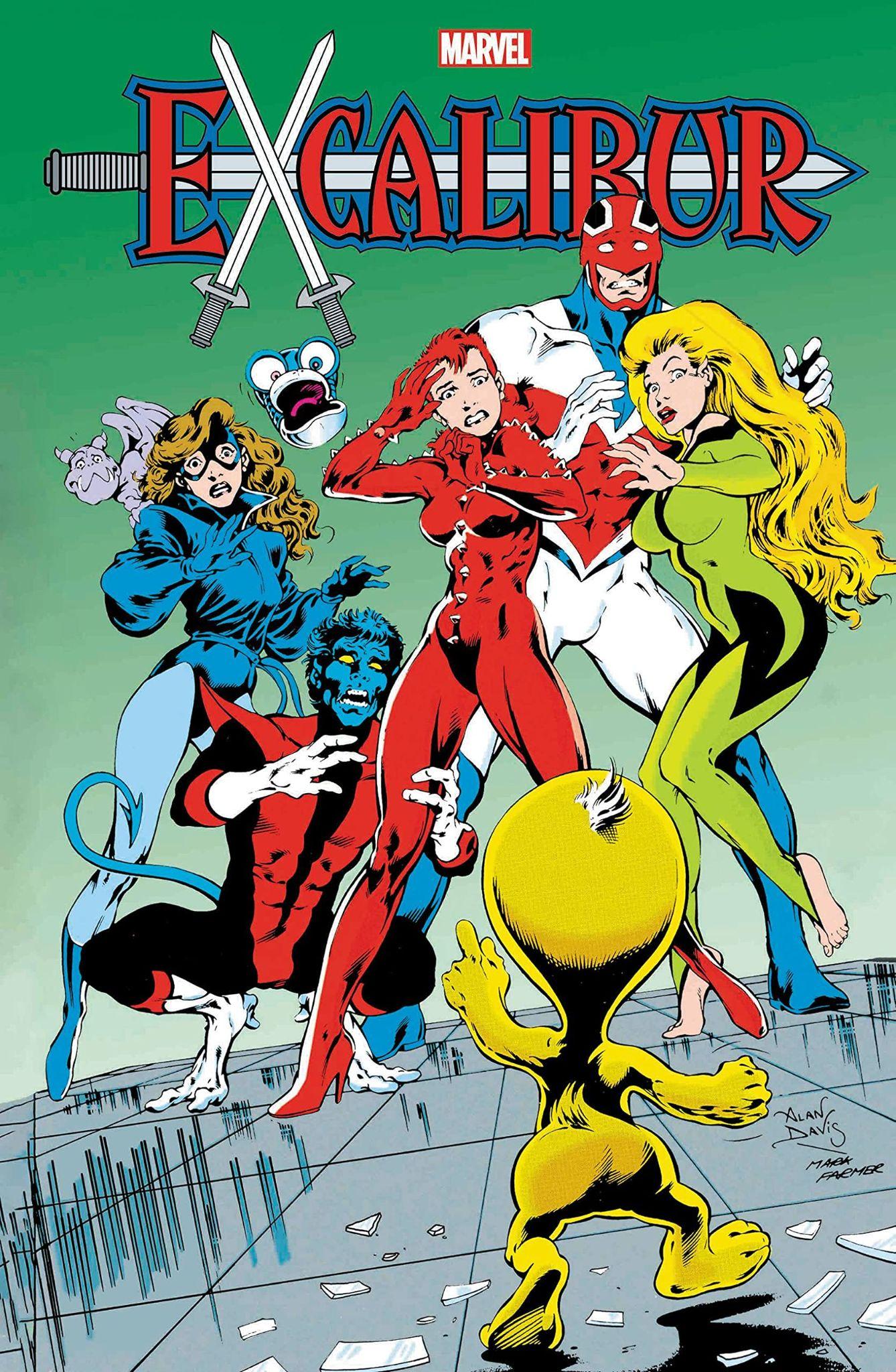 Excalibur had always had an odd relationship with the rest of the X-books. It was one of them, certainly. It launched as an ongoing series in 1988 under Chris Claremont and Alan Davis, as a spinoff of Uncanny X-Men. It featured former X-Men who were recuperating away from the team when the rest of their teammates seemingly died. They formed Excalibur to honor their memory and continue the mission of their (believed to be) fallen teammates (the X-Men, of course, weren't actually dead, but maintained the ruse that they were, even from their friends and family, for… reasons). But in practice, Excalibur the series became a place for Claremont and Davis to tell different kinds of stories, more humorous and glib ones, more English ones, ones which drew heavily on the preexisting mythology of the Captain Britain stories both creators had contributed to in varying degrees earlier in their careers. It was also edited outside of the purview of the larger "X-Office" that oversaw Uncanny X-Men and the other spinoff series, like New Mutants and X-Factor. Thus, both creatively and editorially, it existed, like its characters, mostly on an island unto itself.
One week after the release of X-Men #1, Excalibur #42 went on sale. It did not receive the same marketing push as the other series launching as part of the line-wide revamp that month. It did not feature a series of interlocking variant covers, and it would not go on to sell millions of copies. But it did see the return, after a lengthy absence, of Alan Davis to the series. It also saw him assume the writing duties, as well as the penciling duties, for the first time in his career. The resulting solo run by Alan Davis—the entirety of which, along with some other issues, is collected in this omnibus—stands as the creative pinnacle of Excalibur. It is also a stalking horse of sorts for the line of X-books to which it nominally belonged. Through all the ups and down experienced by the other books, the creative departures and new arrivals, the roster changes and crossovers, there was Alan Davis on Excalibur: consistently and quietly putting out one of the best, if not the best, issues of an X-book month in, month out, until his departure from the series in 1993.
Warm-Up Act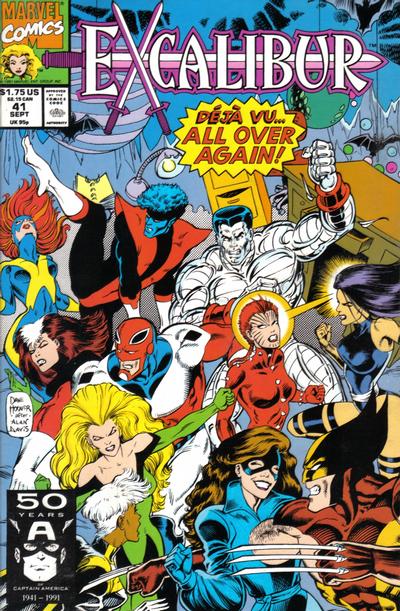 Excalibur Omnibus Vol. 2 begins with five issues written not by Alan Davis, but Scott Lobdell. Reportedly, Alan Davis' choice for inker on the book fell through, and so Lobdell had to step in to write a few issues while Davis began working with Mark Farmer, who would ink his pencils for the rest of his run. Lobdell's issues are of basic fill-in quality; issues #35, #36, #40 and #41 are all standalone "done in one" issues, while #37-39 is "The Promethium Exchange," a three part story guest-starring the Avengers West Coast as the two teams battle Doctor Doom for control of Limbo (the inter-dimensional realm once ruled by Excalibur member Shadowcat's best friend, Illyana Rasputin).
If there's any overarching theme or narrative arc to this batch of issues, it's Lobdell clearing up some continuity bits stuff ahead of Davis' arrival, along with an effort to establish Excalibur as a kind of "European Avengers." In addition to the status of Limbo, issue #41 reveals to Excalibur that the X-Men are alive (though they won't actually reunite in person/on page til later in the volume), clearing the deck for Davis to give the team a new reason for continuing to operate now that the X-Men are once again operating publicly. Lobdell also broadens the scope of Excalibur as a superhero team in these stories by featuring villains pulled from the wider Marvel Universe: in addition to Doctor Doom in "The Promethium Exchange," there's the demonic D'Spayre in #35, as well as evil geneticist Arnim Zola and the Outlaws, a short-lived team made up of various allies and occasional antagonists of Spider-Man, in #36. All in all, these early issues in the volume are hard to get excited about, but accomplish what they set out to do well enough.
Support For Comic Book Herald:
Comic Book Herald is reader-supported. When you buy through links on our site, we may earn a qualifying affiliate commission.
Comic Book Herald's reading orders and guides are also made possible by reader support on Patreon, and generous reader donations.
Any size contribution will help keep CBH alive and full of new comics guides and content. Support CBH on Patreon for exclusive rewards, or Donate here! Thank you for reading!
The Alan Davis Run
The real fun begin with issue #42, as Alan Davis debuts as both the writer and penciller of the series. His run, stretching from that issue until #67 at the conclusion of the volume, can be roughly divided into thirds. The first third, ending with issue #50, is a gradual build-up to a confrontation between Excalibur, the Captain Britain Corp, and the villainous Necrom for control of the Phoenix Force (the cosmic entity currently using Excalibur member Rachel Summers as a host). As part of the build-up to the final battle with Necrom, Davis also spends this time expanding the roster of the book, bringing in new additions like Kylun, Cerise, Micromax, and Feron. But in the end, it is the "core five" of Excalibur who come together and defeat Necrom, learning along the way the true reason they were brought together and discovering a new purpose as guardians, of sort, for an entire omniverse of realities. It is an amazing feat of plotting and characterization as Davis ties off dangling plot threads from earlier in the series in a way that builds towards the final showdown and new status quo without ever making the reader feel like they're missing out if they're not familiar with the stories being referenced.
The second third of his run is much more of a mixed bag, as Davis cedes penciling duties (and, occasionally, writing duties as well) for most of the stretch from issues #51-60. This includes a truly lamentable two-parter set in the fictional African nation of Wakanda in issues #59-60, which feature some dicey racial politics. Yet there are highlights in this stretch as well, such as the story in issues #57-58, which is penciled by a young Joe Madureira (who, shortly thereafter, would become the regular artist on Uncanny X-Men and briefly takes the comics world by storm) and which finally reunites Excalibur and the X-Men on page. The two issues Davis does write and draw in this stretch, #55-56, are also exceptional: a taut two-part thriller in which Excalibur faces off against the extradimensional warlord Sat-Yr-9 and Jamie Braddock, Captain Britain's reality-warping older brother, a story with more than a few allusions to the classic "Dark Phoenix Saga" to it. Its biggest failing is that it only lasts two issues.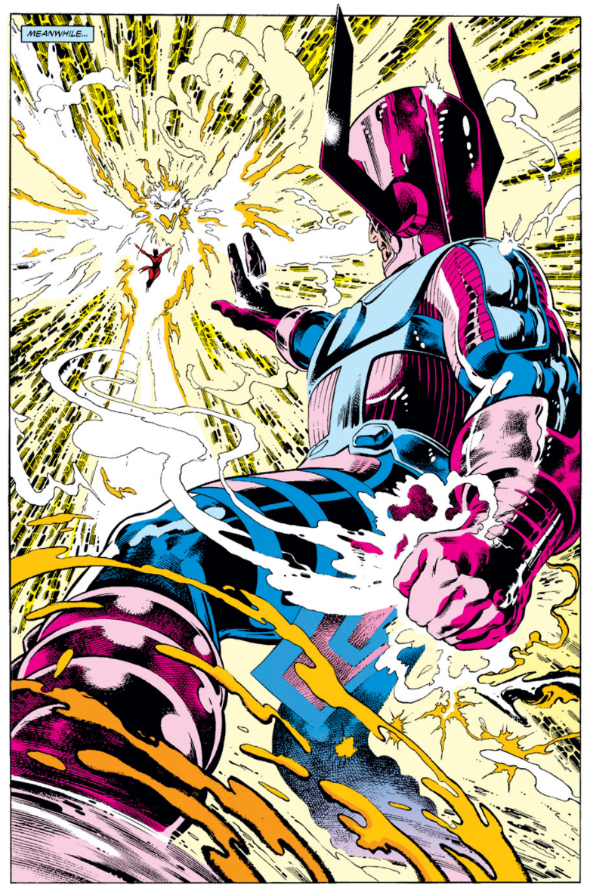 The final third of Davis' run, which he writes and draws in its entirety, starts off with a similar bang in issue #61. Rachel Summers, largely absent from the book since issue #50, returns and, in full control of the Phoenix Force, does battle with the planet-devouring Galactus in a fight rendered by Davis across a series of full page splashes, which depicts the two combatants in all their cosmic glory. After that, he embroils Excalibur in a confrontation with the odious RCX over the fate of the Warpies (in a story which comes the closest to crossing the line into "more concerned with tying up dangling threads from old Captain Britain stories most American readers hadn't read than in telling an entertaining story" territory). This is followed by a trip to the future world of the iconic "Days of Future Past," which serves as both Davis' swan song on the book and a culmination of Rachel Summers' arc throughout the entirety of Excalibur up to that point. That story, "Days of Future Yet to Come," highlights the real strength of Davis' work: amidst all the dangling plot threads he ties up, all the callbacks to old Captain Britain stories or whimsical gags he executes, in the midst of all the big, sweeping conflicts around which he builds stories, he never loses track of the characters at the heart of the series. Ultimately, every member of the core group of five comes out the other end of his run richer and more developed.
And the Rest…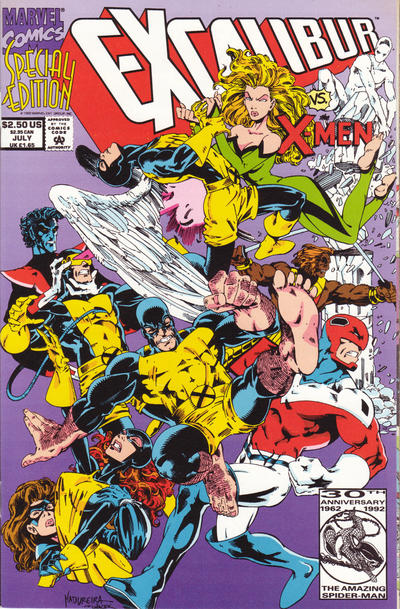 In addition to the regular issues of the series, the issue also collects four extra-sized one-shots: Possession, Air Apparent, XX Crossing, and Weird War III. At this point in time, Excalibur didn't receive regular numbered annuals like other books, but one way or another, there was still at least one extra-sized (and higher priced) issue published as part of the series each year during Davis' run (Weird War III, for example, was technically published as part of Marvel's ongoing line of original graphic novels). All of the one-shots collected here are done without the involvement of Alan Davis, and all of them are pretty abysmal. One—Possession—is so bad, in fact, that Davis later retcons its story to have all been, essentially, one character's fever dream. XX Crossing, in which Excalibur is sent through time to battle simulacrums of the original X-Men, is probably the best of the bunch, thanks to its roster of artists including Jae Lee, Rick Leonardi, and Joe Madureira, but it also covers a lot of ground better handled by other stories in the collection. The inclusion of these four "pseudo-annuals" is appreciated from a completism perspective, but they are all mostly skippable and largely forgettable.
Once More Redrawn
Fortunately, the rest of the volume more than makes up for the "misses" of those one-shots. While there are certainly some comics collected here that aren't great—the early Lobdell stuff pales in comparison to what comes later, the "annuals" are all very hit-or-miss, and the series takes a hit whenever Davis needs a break—on the whole, this omnibus represents a treasure trove of great comics. Routinely representing some of the best X-books published in a given month when they were first released, the stories contained herein remain deeply entertaining. From start to finish, Alan Davis threads the needle of tying up dangling plot threads from earlier in the series in a way that both builds out the mythos of the series and doesn't isolate new readers. He explores and deepens each of the core characters, centering the dynamic action and wry British humor in characterization, giving each character an arc across his stories. He also both expands the cast beyond that core, and uses the series to explore big ideas like the origins of the Phoenix Force and Excalibur's responsibilities as protectors of the omniverse. And he does all that while also providing lush and evocative art, which effortlessly segues from grand cosmic battles to quieter moments in which a character's feelings are expressed through the simple tilt of a head or a look on their face.
Smartly plotted, lushly illustrated, featuring consistent, heartwarming characterization and larger-than-life action, Excalibur Omnibus vol. 2 represents Excalibur—and, really, superhero comics—at its best.