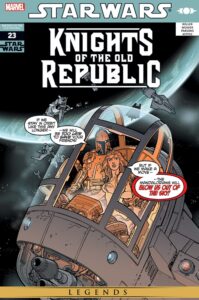 Occurring after the Star Wars: Tales of the Jedi
comic series but serving as a prequel to the 2003 RPG on which it is based, the Knights of the Old Republic (aka KotOR) comic series ran for five years and fifty issues, warranting a brief return with the War mini-series. Main characters from the game would make appearances in KotOR, but it was given a surprising level of wiggle room when it comes to new characters and scenarios. Much of the cast of the book is unique to the series, and few have been seen since it drew to a close. This was the flagship title of the 2005 line relaunch from Dark Horse Comics, and one of the company's top-selling titles.
KotOR
has the distinction of having a single writer throughout its lengthy run, and of more or less existing outside of the greater story of Star Wars due to it taking place some four thousand years before Luke Skywalker was born. The Jedi we meet here are complicated and even villainous, and many politicians and government officials belong to larger networks of intergalactic criminals. As such, much of this tale is about doing the right thing despite incredible pressure to conform to the party line, making it somewhat unique in the Star Wars mythos. Despite that, the well-meaning kid with his ragtag group of friends at the story's center will be familiar to even the most casual fan.
Comics reviewed include: Star Wars: Knights of the Old Republic (2006) #1-50, Star Wars: Knights of the Old Republic – War (2012) #1-5, Star Wars: Knights of the Old Republic Handbook (2007) #1, material from Star Wars: Knights of the Old Republic/Rebellion (2006) #0 [Read more…] about What's Old Is New in Star Wars: Knights of the Old Republic