For modern audiences, the stories collected in the Star Wars Legends: Rise of the Sith Omnibus–first published by Dark Horse Comics over the course of the '90s and '00s but published today by Marvel Comics under the terms of their current licensing agreement–face a pair of uphill battles. For one, all of these stories are non-canonical "Legends," meaning they don't count in the current Star Wars narrative continuity, for whatever that is worth to any given reader. For another, they all take place in one of the lesser-loved eras of the Star Wars chronology, just before and after the events of The Phantom Menace.
Even though the prequel trilogy overall has received something of a reappraisal, as fans who encountered it as children have grown up to remember it with some of the nostalgia that drives fans of the original trilogy (and because many of the characters and concepts introduced by the prequels have since been mined for better and better-received stories in other mediums), The Phantom Menace itself remains something of the black sheep of the Star Wars family.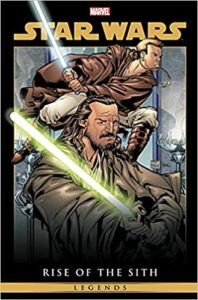 Without connections to the larger Star Wars narrative as it exists today and taking place during a particularly unloved era of the franchise, the only thing all of these stories have to go on is the pure strength of their craft: are they well-written, smartly plotted, engagingly drawn, and above all, entertaining Star Wars stories? Well, the answer to that is a bit of a mixed bag…
The Bad
The first thing that needs to be dealt with in reckoning with this volume is the Jar Jar Binks-shaped elephant in the room: a not-inconsiderable chunk of it deals directly with The Phantom Menace. Not just the trappings of the era, but the story itself, in the form of the four-issue adaptation of the film and a series of character-specific oneshots set within the events of the film. Even for someone who is more forgiving of the prequel era on the whole, it's a lot of Phantom Menace.
Furthermore, the comic book adaptation does little to enhance the story, while the medium itself strips away much of the film's redeeming values. On the one hand, you don't have to hear actors delivering the stilted dialogue; on the other hand, the dialogue doesn't read much better on the page than it sounds coming out of actors' mouths. While a clever layout can punch up some of the more talky scenes, things like the podrace or the climatic lightsaber duel don't pack the same punch in comics as they do on screen. And, of course, John Williams' masterful score is entirely absent – unless you want to cue it up alongside your reading.
Support For Comic Book Herald:
Comic Book Herald is reader-supported. When you buy through links on our site, we may earn a qualifying affiliate commission.
Comic Book Herald's reading orders and guides are also made possible by reader support on Patreon, and generous reader donations.
Any size contribution will help keep CBH alive and full of new comics guides and content. Support CBH on Patreon for exclusive rewards, or Donate here! Thank you for reading!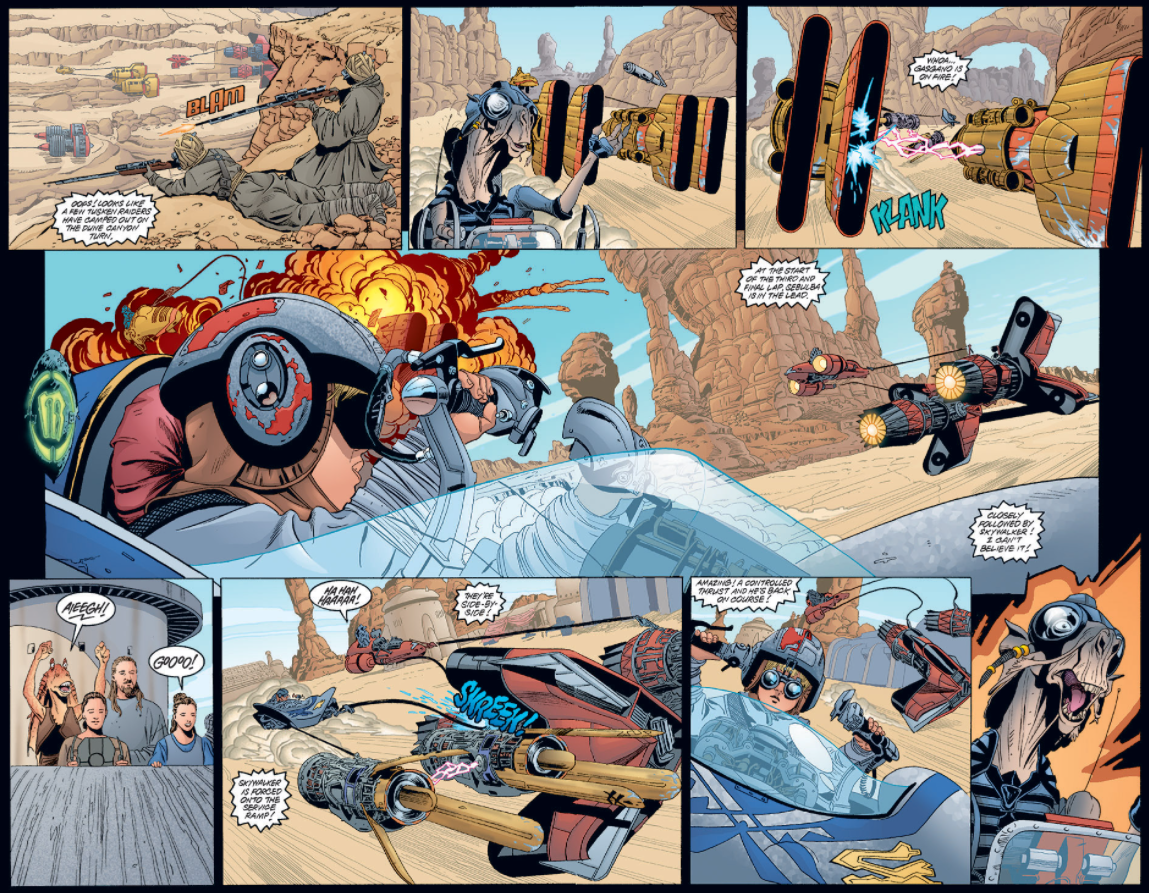 Ultimately, it's lose-lose: if you like The Phantom Menace, it's doubtful much of what you like about it is represented in these comics. And if you don't like it, there's little here that's going to change your mind.
The Middling
More than bad stories (or genuinely good ones), this volume is packed with stories that are perfectly competent but largely unexciting. One such example is the awkwardly-named Star Wars: Jedi – The Dark Side #1-5. The earliest-set story in the volume, it takes place roughly twenty years before The Phantom Menace and features an adventure involving Qui-Gon Jinn and his pre-Obi Wan padawan, Xanatos. In doing so, it roughly adapts stories from the Scholastic series of young reader books, Jedi Apprentice, making it a sort of "double" Legends. The story itself is fairly routine, though seeing Qui-Gon with a different Padawan is fun. The real selling point is the moody art from future X-Men artist Mahmud Asrar, which is unlike anything else collected in the volume (most of which falls into Dark Horse's late '90s/early '00s "slightly cartoonish but easily readable" house style). His use of thick lines and heavy shadows, as well as a knack for facial expressions, sets the art apart from the rest of the collected stories. (Full disclosure: The Dark Side is written by longtime Dark Horse editor Scott Allie, who was fired in 2020 following allegations of a decades-long pattern of abuse.)
Another collection of issues that is something of a mixed bag is "Prelude to Rebellion" from Star Wars #0-6. First published in 1998, it was the inaugural story of a brand new ongoing series titled simply "Star Wars," the first regular Star Wars book since the original Marvel series began in 1977. (Dark Horse had, up till then, followed the "series of miniseries" approach to its Star Wars titles.) If you're looking for stories featuring the conehead from the Jedi Council drawn by a third-tier '90s Wolverine artist, then this is the story for you!
But there is something charming in the adventures of Ki-Adi-Mundi as he gets embroiled in a plot on his homeworld involving Ephont Mon (one of the various hangers-on present at Jabba's palace in Return of the Jedi). The series is clearly positioning Ki-Adi-Mundi to be its point-of-view character, and while that won't last, it's fun to see the work being put in to make it happen, giving him the beginnings of a supporting cast, a personality, and some things that set him apart from the other Jedi of the era.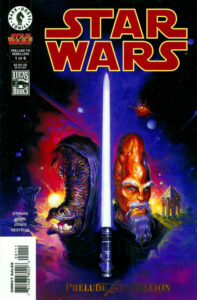 It's also a good examination of the kind of George Lucas-adjacent world building these comics would do–at the time, they were considered canonical until something Lucas put into a movie contradicted them. There are ways that this works to the story's advantage and ways it doesn't. Much is made of Ki-Adi-Mundi being allowed to maintain a family on his homeworld (due to that planet's devastatingly low birth rate) despite the general eschewment of attachment by the Jedi, something that presaged the way Lucas would center emotional attachment as one of the key contributions to Anakin Skywalker's fall to the dark side. "Prelude to Rebellion" also makes a big deal out of the fact that Ki-Adi-Mundi is the only member of the Jedi Council who is just a Jedi Knight, not a Jedi Master, a distinction Lucas would later obliterate when Anakin's elevation to the council–but not to the rank of master that goes with it–becomes a plot point in Revenge of the Sith.
It's hard to fully recommend a story in which the most interesting things about it are the ways later continuity did or did not stomp all over it, but at the same time, it's hard to deny there's some redeeming value to be found in those seven issues. Plus, the fully painted covers are legitimately gorgeous.
The Good
The clear standout of this volume is the four-issue Darth Maul series by writer Ron Marz and artist Jan Duursema. Duursema is the secret weapon of Dark Horse's Star Wars comics, consistently turning in quality work with the ability to nail both the quieter character-based moments and the big sweeping action scenes that are part and parcel of Star Wars storytelling, and one of the failings of this collection is that her work is only represented in one story. That story involves Maul, on orders from Darth Sidious, taking out the head of the criminal Black Sun organization as a sort of "proof of concept" for his apprenticeship. The plot beats are fairly routine, but Marz depicts Maul as both a force of nature and a compelling protagonist, eager to please his master and prove his worth. And while it is technically non-canonical, little of it has been outright contradicted by later stories; Marz even manages–fortuitously but accidentally–to somewhat foreshadow Maul's later canonical dominance of the galactic criminal underworld by giving him experience operating in that world early in his career. Overall dark and atmospheric, it's a highlight.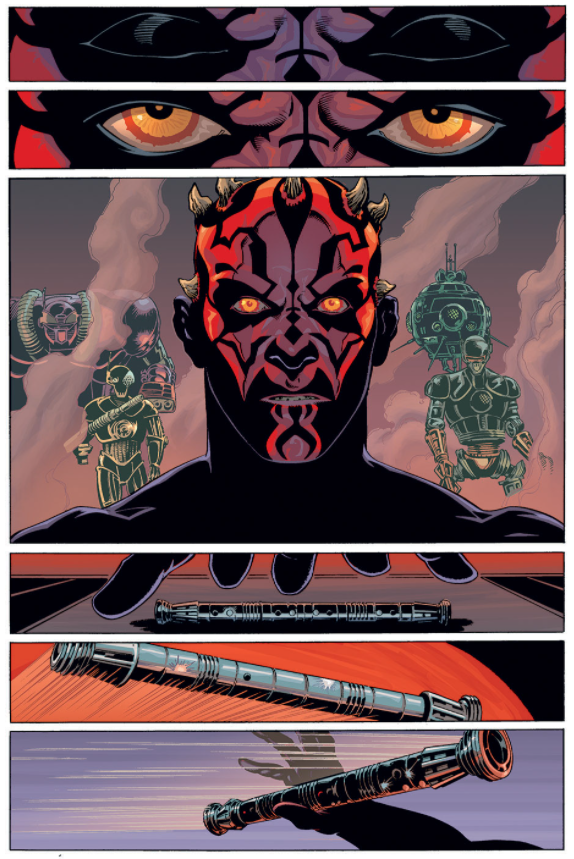 Another highlight is Jedi Council: Acts of War #1-4, a story in which the Jedi Council gets dragged into a conflict on the planet Yinchorri by (unknownst to them) Darth Sidious, in what amounts to a dress rehearsal for his later plot in Episode I. It's basically all the Trade Federation/occupation of Naboo elements of The Phantom Menace but with more Jedi action and less talk about taxation and political committees. The art, from Davide Fabbri, has an apt "Saturday morning serial" vibe to it, somewhat broad and cartoony but still detailed and easy to follow. It is the "hidden gem" of the collection—likely due in part to its annoyingly vague title, which makes it harder to remember.
One final highlight comes in the form of "Force Fiction," a short story from Star Wars Tales #7. Star Wars Tales was an anthology series featuring an assortment of short stories in each issue, many of which walked off the beaten path in terms of art or tone, and there are a dozen or so era-relevant ones collected in this volume. The best of them is "Force Fiction," a loose Pulp Fiction adaptation (this was first published back when someone like Samuel L. Jackson appearing in something like a Star Wars was still a novelty) by writer Kevin Rubio (of Star Wars fan film Troops fame) and artist Lucas Marangon.
In it, Mace Windu and Yoda discuss the training of young Anakin Skywalker against the backdrop of the opening and closing diner-set sequences of Pulp Fiction. Along the way, they each offer up their own interpretations of what it would mean for Anakin to bring balance to the Force (and whether that is a good or bad thing) in terms of food analogies. Not only are the respective analogies clever and effective, they also represent really the only time anyone, in any story in any medium, has ever attempted to grapple with the implications of the prophecy dropped into the Star Wars narrative by The Phantom Menace, and bothered to present a reading of the prophecy that could possibly NOT end in disaster for the (then-dominant) Jedi. Fun, clever stuff.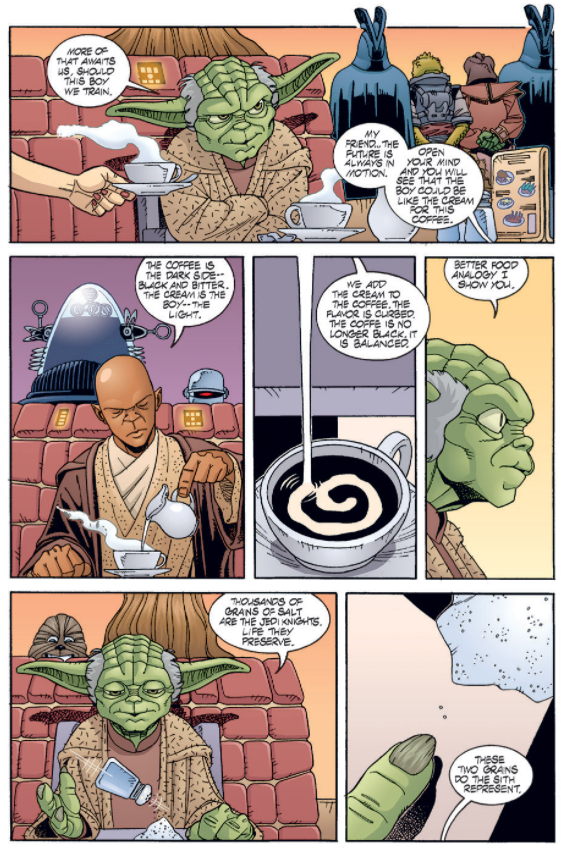 Despite those few highlights, though, this is a tough volume to recommend for anyone but die-hard completionists, or nostalgists who may have read these stories when they were originally published and carry some affection for them. While the floor of this collection isn't terribly low overall, too few of the stories collected in it are good enough to raise the ceiling much higher than "competent but unexciting storytelling." Their status as non-canonical "Legends" doesn't help, either, as none of these stories have any impact on the current Star Wars narrative in any way other than accidentally. And while a good story is a good story regardless of its status within a canon or the way it impacts other stories, for anyone coming to this material new, there is very little that rises to the level of "a good story." There are simply far better Star Wars comics–canonical or otherwise–on which to spend your time.