Though his name doesn't appear anywhere in the credits of the book, writer Peter David looms large over X-Factor Epic Collection: Afterlives
. Back in 1991, while Chris Claremont and Jim Lee were busy launching the best-selling comic book of all time, David took an eclectic group of also-ran, never-were, and cast-off mutants–Havok and Polaris from the X-Men, former New Mutant Wolfsbane, former Fantastic Four villain and Moira MacTaggert lab assistant Jamie Madrox the Multiple Man and, uh, Lila Cheney's bodyguard, Guido Carosella as the on-the-nose Strong Guy–and launched the "all new, all different" X-Factor in which the mutant heroes became agents of the US government.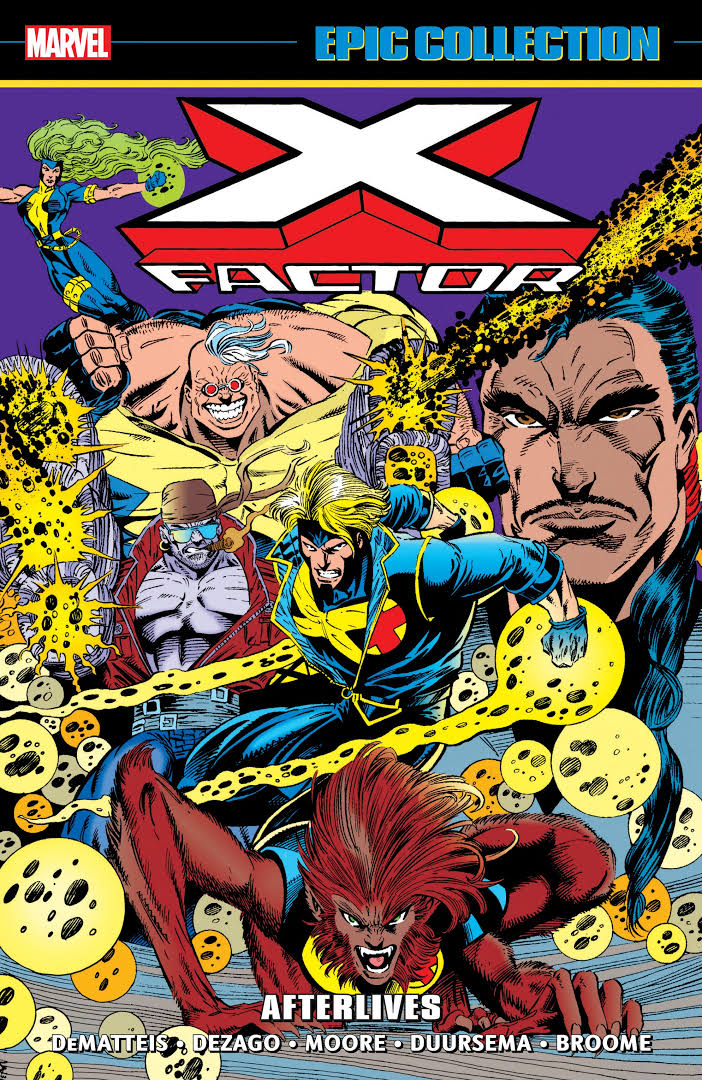 It was a series with its tongue planted firmly in cheek, playing to David's predilection for puns and off-beat pop culture references. Paired with the unique and stylistic pencils of Larry Stroman (inked by the always-steady Al Milgrom), the "ANAD X-Factor" played up its differences from the rest of the line. At a time when future Image Comics co-founders Jim Lee, Whilce Portacio, Rob Liefeld and Marc Silvestri were breaking sales records with high-octane action-adventure stories, the David/Stroman X-Factor's more lighthearted, humorand-character-first approach to storytelling offered, like the whimsical and fantastical stories of Alan Davis' contemporary Excalibur run, an alternative to the sturm-und-drang that characterized the other X-books.
Peter David's run lasted until X-Factor #89, when he left the book mid-story over the need to interrupt his storyline for a crossover (1993's "X-Cutioner's Song"). After a few fill-in issues by Scott Lobdell, writer J.M DeMatteis took over as the new X-Factor writer with issue #93. Like Peter David, DeMatteis is a writer known for centering the characters in his stories, and building out stories from their various interactions with one another. But where David's point of entry into that style was often humor, DeMatteis is more psychologically driven, striving to get inside character's heads and deconstruct them for readers. Suitably, the signature storyline of his tenure on X-Factor features Haven, a super-powered New Age healer who wants to save humanity by purging the planet of 90% of its population.
Afterlives opens in the wake of the climax of that story, during which Jamie Madrox succumbs to the Legacy Virus and dies, becoming the highest profile casualty yet of the X-books' thinly-veiled AIDS allegory subplot which was all the rage in 1993. In the course of the volume, DeMatteis will tell his final X-Factor story, before giving way to new series writer John Francis Moore, who will shepherd the series into and through the looming "Age of Apocalypse" mega event. In its pages, the makeup of this iteration of X-Factor, which has stayed largely consistent since Peter David launched the revamped series, will begin to change: it opens with the team mourning the loss of Madrox, and it ends with Strong Guy suffering an injury that will take him out of the book, all before reality itself comes to a close as the "Age of Apocalypse" begins. When the series returns from that event, it will look even more different than it does at the close of this collection. As such, Afterlives represents not just the end of DeMatteis brief run on X-Factor, but for all intents and purposes, the end of the character-first (be it humorous or psychologically-driven) iteration of the book featuring a team of quirky government-sanctioned mutants.
Mourning and Malice
Afterlives opens with X-Factor #101, a "quiet issue" which deals with the immediate aftermath of Madrox' death. Alongside penciler Jan Duursema (DeMatteis' most frequent artistic collaborator during his run and in this volume), DeMatteis shows how the team is dealing with the loss of one of its own, with a particular focus on team leader Havok, who is taking the loss hard. While not as strong as similar post-crossover/post-death issues (the X-books dealt with this stuff a lot circa 1993), it's still a worthy showcase for DeMatteis' skill at getting inside a character's head and mining it for drama.
Support For Comic Book Herald:
Comic Book Herald is reader-supported. When you buy through links on our site, we may earn a qualifying affiliate commission.
Comic Book Herald's reading orders and guides are also made possible by reader support on Patreon, and generous reader donations.
Any size contribution will help keep CBH alive and full of new comics guides and content. Support CBH on Patreon for exclusive rewards, or Donate here! Thank you for reading!
After that, he settles in for what will be his last full story arc on the book, which unfolds in X-Factor #102-#105. In a culmination of a running subplot which began prior to the start of the Afterlives, the story begins with Polaris seemingly targeted by the US government in the forms of evil mutants Avalanche and Commando. Both villains were members of Freedom Force, the government-backed mutant team which preceded X-Factor; their inclusion is a fun nod to the history of the series (and in a fun nod to comic book almost-history, the cybernetic Commando as he appears in issue #102 resembles the version of the character who would have appeared in the "All New, All Different" X-Factor had Marvel gone ahead with writer Fabian Nicieza and artist Erik Larsen's initial pitch for the series).
During the fight with Avalanche and Commando, Polaris is assisted by the mutant bounty hunter/mercenary-for-hire Random. Perhaps no single character best represents DeMatteis' approach to the series than Random. Introduced by Peter David in issue #88 as a one-off joke meant to poke fun at the tropes of the "kewl 90s tough guy" characters, Random wears a leather jacket and bandana, turns his arm into a comically-large gun as a result of his mutant power to "randomly" manifest whatever ability he needs and is defeated in his first appearance when Havok simply writes him a larger check to walk away than the one he was given to retrieve some associates of X-Factor.
But other writers weren't in on the joke, or ignored it, and Random started to be played straight as an occasional albeit rough-edged ally for X-Factor. DeMatteis in particular seemed to take a shine to him, featuring Random heavily in his run. In the process, he put readers inside Random's head for the first time, teasing a tortured soul with a traumatic past which suggested the tough guy persona was simply a coping mechanism. While most of this comes off, in earlier issues as well as in Random's appearances in Afterlives, as little more than the usual "mystery baiting" writing style so commonly found in the X-books of this time, DeMatteis was at least putting his own spin on that style.
After the Random/Polaris vs. Avalanche/Commando showdown in issue #102, DeMatteis continued to plumb the history of his characters to push the series forward. Before long, the overall plot against Polaris is revealed to actually be the work of Malice, an ethereal bodiless mutant who had previously possessed Polaris for a long stretch of time at the behest of uber X-villain Mister Sinister, which led to the Malice-controlled Polaris unwilling serving as one of the Marauders, ruthless enemies of the X-Men. Shortly, Mister Sinister himself turns up in the story, alongside his new henchmen, the Nasty Boys (created by Peter David earlier in the series and fresh off their debut in the second season of the smash hit X-Men animated series) and a massive cross-team melee breaks out between the various characters.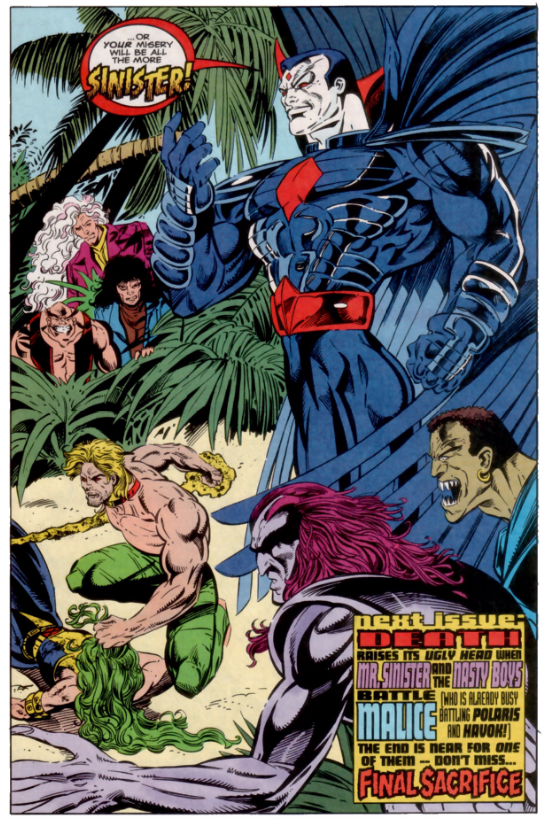 It's a fun story, though a curious one for DeMatteis. After a couple of quiet setup issues, it settles in for an action-packed climax, as DeMatteis devotes almost two entire issues to a prolonged Malice-Mister Sinister-X-Factor-Nasty Boys fight (the final chapter of the story in issue #105 is drawn by Bryan Hitch, still doing his early Alan Davis pastiche, but who will soon come to be associated with big, widescreen action sequences). But while DeMatteis doesn't leave himself much room for searing character introspection, there are still little touches of his style on display: the use of Malice and her complicated relationship with Polaris and Sinister is both of a smart use of the respective history of one of the book's main characters but also pure DeMatteis in the way that the action is driven by Malice's yearning to be free of Polaris and the threat of Sinister forcing them to rebond, a reversal of the usual Polaris/Malice dynamic.
It is also DeMatteis' last story arc on X-Factor.
Life Signs
By 1994, the X-books had settled into a pattern in which there was at least one crossover between all the various titles each year (a trend whose beginning led Peter David to leave X-Factor in the first place). Afterlives collects X-Factor's contribution to 1994's "Phalanx Covenant" crossover, in which the collective X-Men and X-Men-related characters battle a race of techno-organic beings determined to exterminate them. "Phalanx Covenant" is a bit of an odd duck, crossover-wise. While all the X-Books (seven of them at the time) participate, the story is split into thirds, with different subgroups of titles handling different facets of the story.
The double-sized X-Factor #106 represents X-Factor's installment in the "Phalanx Covenant" sub-story "Life Signs" (the subsequent chapters of "Life Signs", in X-Force #38 and Excalibur #82, are also collected in this volume). While Jan Duursema is still around penciling at least some of the issue's pages, DeMatteis had left the series at this point. Working from a plot by Scott Lobdell (who oversaw the larger "Phalanx Covenant" crossover), Todd Dezago scripts the issue in his place. His work is mostly unremarkable; what matters (for this issue at least) is the crossover. Unfortunately, "Life Signs" is the weakest of the three "Phalanx Covenant" plotlines. In part, this is because it is the most disconnected from the rest, dealing with the extraterrestrial threat of the Phalanx and battling a villain – the half man/half dog/all techno-organic Shinar – who only appears in this story. As a result, the whole thing feels like a narrative cul-de-sac: the conflicts are entirely introduced and resolved within the confines of the three "Life Signs" chapters, and thus have no bearing whatsoever on the larger crossover.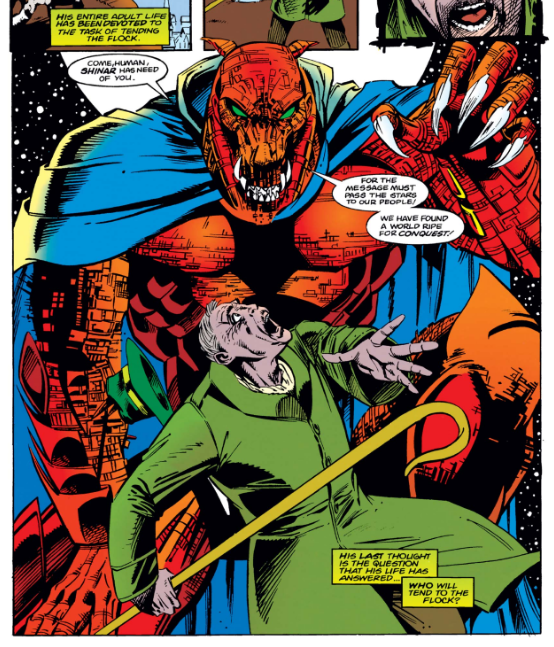 Similarly, "Life Signs" largely focuses on four characters – one each from X-Force and Excalibur, as well as Wolfsbane and Forge from X-Factor. While a quieter, more character-focused crossover may seem refreshing (and likely would have worked better in the hands of someone like DeMatteis), in practice the sidelining of the vast majority of all three books' cast makes "Life Signs" a dull, repetitive affair, while robbing the story of what makes these crossovers fun: seeing a bunch of characters who don't often interact with one another interacting with one another.
Shadows and Power
Epic collections of material from the 80s and 90s often include some ancillary stories from outside the main title, and Afterlives is no exception. It includes both X-Factor Annual #9 and the Spider-Man and X-Factor: Shadowgames miniseries. While neither are perfect, one is appreciably better than the other.
Shadowgames is a three part miniseries whose existence is seemingly justified as a cash grab intended to get X-Factor and Spider-Man fans to buy an extra comic for three months. Written by Kurt Busiek (at the time, on the verge of breaking out as a big name writer) and drawn by Pat Broderick, the series is competently crafted, but largely unexciting. X-Factor's involvement is limited to the fact that they're government agents. When some new superpowered people show up in New York (all of whom are little more than a collection of 90s cliches), X-Factor gets called in like the mutant FBI. It's a setup that makes sense but doesn't get used very often in the main series, yet nothing is ever really done with it behind the initial premise. The comprehensiveness of the epic collections is always appreciated, but this is an easy story to skip.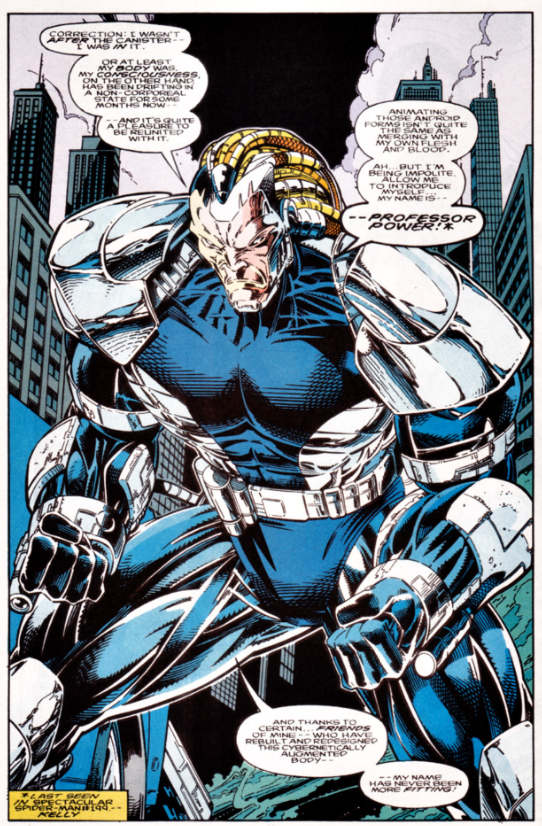 X-Factor Annual #9, by comparison, is far more entertaining. Marvel's 1994 annuals all had a loose theme of being villain-centric in some way. Written by JM DeMatteis before he left the series, X-Factor's entry features a pair of villains close to DeMatteis: Haven and Professor Power. The former was the antagonist of his signature X-Factor story, while the latter is a pet character he's brought with him to various series through the years, including his runs on New Defenders and Spectacular Spider-Man. The annual doesn't quite work – the two villains exist in separate plotlines, with Professor X probing Haven for information about her backstory while X-Factor battles Professor Power, with little thematic or narrative connection between the two conflicts. But it's still fun to see DeMatteis playing with some favorites, and to get a better understanding of Haven (even if the character will ultimately be eliminated in the main series without much in the way of resolution).
Questing for Legion
Dezago sticks around after "Phalanx Covenant" for the rest of the volume, helping transition new writer John Francis Moore onto the series (who takes over plotting with issue #108). Issue #107 is a fun done-in-one issue in which Strong Guy battles Blob, one which helps set up the tragic events for Strong Guy which close out the volume. After that, the series begins a run-up to "Legion Quest," a story which will unfold in Uncanny X-Men and X-Men (vol. 2) which will, in turn, lead to the reality-altering crossover "Age of Apocalypse" (coming a scant few months after the end of the last crossover).
While X-Factor the series is clearly serving larger masters at this point (following a crossover with a story designed to setup another crossover), Moore and Dezago manage to at least ground the plot machinations, like DeMatteis before them, in X-Factor's history, both personally and as the latest iteration of a government-backed mutant team. The opening chapters of "Legion Quest" in X-Factor #108 and #109 find the team hunting down the shapeshifting Mystique, who is plotting to kill Legion, the now-catatonic son of Professor Xavier who, in an earlier story, murdered Mystique's teammate and lover Destiny. Mystique has a personal history with Forge, who was present at the death of Destiny. Mystique also led Freedom Force, the US government's precursor to X-Factor, and it was on a Freedom Force mission that Legion killed Destiny. Thus, by focusing on these elements of the story, Dezago, Moore, and Duursema manage to keep X-Factor centered in the narrative, despite the fact that the whole thing is just an exercise to set up a story that will play out somewhere else.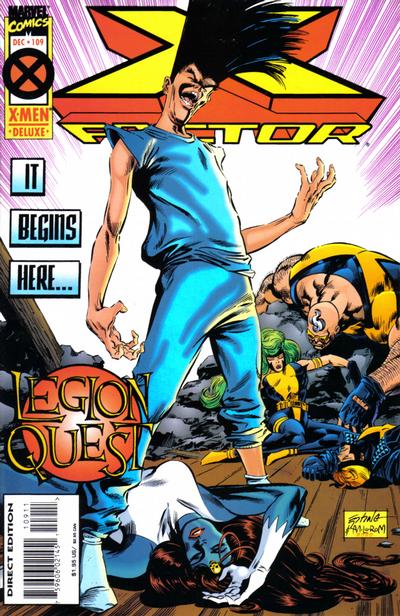 Once the creators have passed the story over to the "parent" X-Books, there's nothing left to do but kill time before "Age of Apocalypse" hits. Those issues, X-Factor #110-111 are probably the worst regular series issues collected in this volume. They largely involve X-Factor battling aliens on behalf of Strong Guy's former boss and friend, the intergalactic rock star and thief Lila Cheney. Though they lead directly out of the events of "Legion Quest," very little about the two issues has much to do with X-Factor, either in their roles as government agents or as funny and/or psychologically complex characters. They are simply by-the-numbers superhero punch-ups, at least until the very end of X-Factor #111. The conceit of "Age of Apocalypse" is that it represents a rewriting of reality, not just the creation of a new alternate reality. As such, every issue leading into the story concluded with the current reality "crystallizing," then shattering. Most of the series took advantage of this to "end" their stories on a cliffhanger. For X-Factor, this comes in the form of Strong Guy overexerting himself (as teased in issue #107) while fighting the aliens and suffering a heart attack just as reality ends.
Reality as the characters know will return, as will Strong Guy. But X-Factor #111, the final regular issue of the series collected in Afterlives, represents his last appearance as a member of this iteration of X-Factor, the end of one of the signature characters of the "All New, All Different" X-Factor.
With a Whimper, Not a Bang
The death of Jamie Madrox in X-Factor #100 marks a turning point for the series. Beginning with the aftermath of that death, this volume chronicles not just the end of JM DeMatteis' short run as the chief chronicler of X-Factor's adventures, but, the end of the "All New, All Different" X-Factor as it was launched by Peter David and Larry Stroman. Over the course of this volume, both the cast and the concept of X-Factor as a team of government-backed mutants is changed, pushed, and nearly broken. It concludes with reality itself shattering, and when the series returns from the "Age of Apocalypse" (in a subsequent Epic Collection volume), it will look very different than it does as this volume begins.
As such, Afterlives is most effective as a snapshot of time, as the last gasp of Peter David's X-Factor. The best stories it collects, the battle against Malice and Mister Sinister and the hunt for Mystique, showcase the characters' history and their roles as government agents, and they represent the series as it was. Yet those stories are few and far between in this collection. The remainder of the stories are something else, whether obligatory contributions to crossovers or aimless cash grabs or simply time-killing genre fare that is competently rendered but largely unexciting.
Ultimately, the most remarkable thing about Afterlives is the way it ends an era for the series so quietly that it almost goes unnoticed.