Following the beginning of Marvel's Hickman era of X-Men in the Dawn of X and X of Swords event, the X-Men line of comics will move into the Reign of X, what is effectively the second part of life on Krakoa for the mutants.
Previously: Dawn of X
Previously: X of Swords
Reign of X promises an exciting post "Swords" era of X-Men comics, with mutants still living on their Krakoan island nation, but with growing numbers, power, and of course all the problems and villains that arise in the wake.
If you're looking to get started with this era of X-Men, make sure to check out House of X / Powers of X
 before beginning the Reign of X, and again, you'll likely want to check out portions of the Dawn of X guide linked above for part 1 of this reading order. In the meantime, you can check out my theories and predictions for the Reign of X based on Marvel's promotional teasers!
Support For Comic Book Herald:
Comic Book Herald is reader-supported. When you buy through links on our site, we may earn a qualifying affiliate commission.
Comic Book Herald's reading orders and guides are also made possible by reader support on Patreon, and generous reader donations.
Any size contribution will help keep CBH alive and full of new comics guides and content. Support CBH on Patreon for exclusive rewards, or Donate here! Thank you for reading!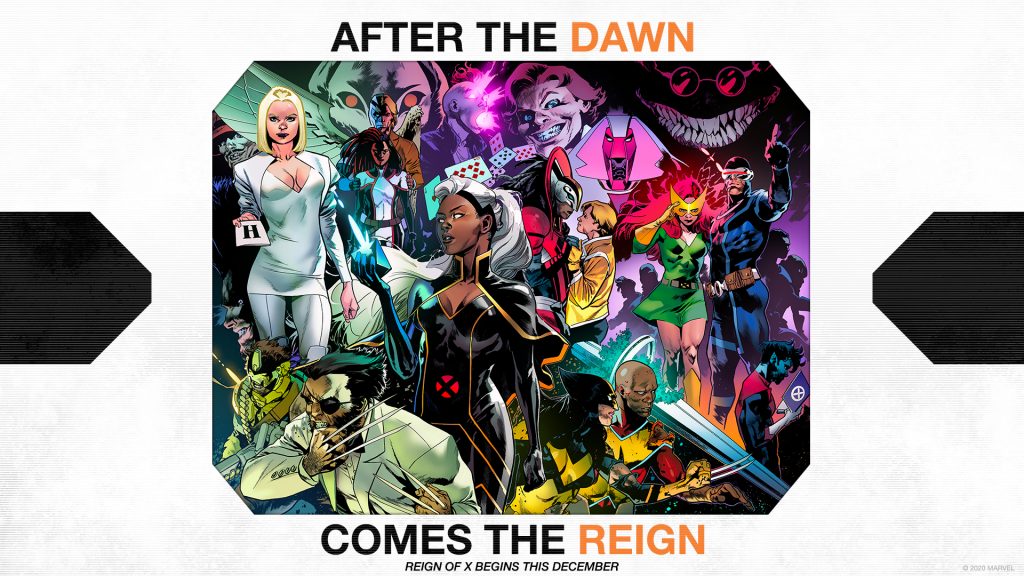 Issue by Issue Reign of X Comics Checklist!
You can find full comic book reviews, analysis, and explanations via the Comic Book Herald Youtube Channel, and my 'Krakin' Krakoa' series covering all things X-Men! Indented comics just means they aren't part of our regularly scheduled X-Men line (but the stories include mutants!).
Hellions #7
X-Factor #5
Savage Avengers #16
While Cable #7 is published well after SWORD debuts, it makes more sense to me to read prior to the King in Black crossovers.
S.W.O.R.D. #1
Technically, major members of the X-Men show up in Marvel's King in Black event. It's not worth reading for that reason alone, but given SWORD will tie into the event, it's worth some awareness around what's going on.
S.W.O.R.D. #2
Again, since SWORD is a King in Black tie-in, I'm recommending reading the issue alongside that event, which includes various X-characters (namely Storm!) who are doing all sorts of other things in other books! So my general thinking is let's fit all of King in Black in here, and then proceed to the rest of the Reign of X, unless specific moments dictate otherwise.
Iceman, Bishop and Callisto all get to play a role in the Gerry Duggan written riff on Conan and Deadpool's team-up during King in Black!
King in Black: Return of the Valkyries #2 to #4
Dani Moonstar has a strong supporting role!
Marauders #16
Part of Marvel's "Outlawed" crossover as well!
Wolverine #8
Hellions #8
New Mutants #15
Excalibur #17
X-Men #17
Hellions #9
Runaways #34
Wolverine and Pixie show up to take Molly Hayes to Krakoa! The Rainbow Rowell written run is great, and this is a strong crossover.
X-Force #17
Storm is present for the main "Intergalactic Empire of Wakanda" storyline written by Ta-Nehisi Coates, but in particular it's the backup Storm feature by Saint Bodhi X-Fans will want to check out.
X-Men #19
Power Pack #4
Wolverine helps the Powers kids. Technically part of Marvel's "Outlawed" crossover.
X-Factor #8
Children of the Atom #2
X-Force #18
SWORD #5
Includes a handful of short stories set on Krakoa. Inessential but enjoyable for fans of characters like Jean Grey, Marrow, and Emma Frost.
Cable #10
This is part 3 of the Steve Orlando written "Curse of the Man-Thing" mini, starring Krakoa's Quiet Council and Magik and her Dark Riders. Note that the first two parts (Avengers, Spider-Man) don't include much from mutants, but do include Hordeculture, so there's some X-relevance!
X-Corp #1
Children of the Atom #3
New Mutants #18
Hellfire Gala – Official Guide
This link will take you to a reading order for the full Hellfire Gala crossover! Come back here when you're done for the continuation of the Reign of X.
Marvel Voices: Pride #1
Elsewhere: Heroes Reborn (a few alternate reality mutant issues!)
X-Men #1
Marauders #22
Children of the Atom #6
Cable #12
Hellions #13
X-Force #21
X-Corp #3
Excalibur #22
Shang-Chi #3
Non-essential but features a Wolverine cameo
S.W.O.R.D. #7
Part of The Last Annihilation crossover!
Cable: Reloaded #1
X-Force #22
X-Corp #5
X-Force #23
X-Men Unlimited Infinity Comic #1 to #4
Available exclusively via Marvel Unlimited. The first four issues are a short Wolverine story by Jonathan Hickman and Declan Shalvey. Inessential, and could be read pretty early in Krakoan continuity if desired. This approximates when the comics were released.
X-Men #4
X-Men Unlimited Infinity Comics #5, #6, #7
Excalibur #23
Next: Inferno!
In general, I recommend reading this issue before Inferno, but there is a slight reference to something that happens in Inferno #1.
—————————————————————————————————————-
New Titles Coming Soon
X Lives of Wolverine / X Deaths of Wolverine
Sabretooth
Black Panther #3
Devil's Reign: X-Men
Spark of X / Legionaries (tentative title)
Heroically Support Comic Book Herald!
If you like Comic Book Herald, and are able to donate, any small contribution will help keep CBH alive and full of new comics guides and content. Donate here! Or, support CBH on Patreon for exclusive rewards! Or you can even check out the CBH Merch store and get something nice with a small portion benefiting the site! Thank you for reading!