Now that I've written reviews of Marvel Unlimited for over 5 years, I'm well aware that most "Is Marvel Unlimited Worth It" conversations can be quite succinctly summed up by a simple one word: YES!
Heading into the New Year, though, this question isn't quite so simple. Although Marvel Unlimited continues to offer the single best value for digital comics subscriptions by several thousand miles, the service has been plagued by technical issues that can truly limit new users ability to actually read their comics.
An evaluation of pros and cons is well worth it before you commit your money.

What Is Marvel Unlimited Exactly?
For the uninitiated, Marvel Unlimited is the digital subscription service offered by Marvel Comics. For a monthly fee of $9.99, or an annual fee of $69.99 (or $99.99 for Marvel Unlimited Plus), you get access to the Marvel Unlimited digital library of comics on your desktop or mobile app.
Once you've paid and signed up, you can read as many Marvel Comics as you like, as often as you like, whenever you like.
Support For Comic Book Herald:
Comic Book Herald's reading orders and guides are made possible by reader support on Patreon, and generous reader donations.
Any size contribution will help keep CBH alive and full of new comics guides and content. Support CBH on Patreon for exclusive rewards, or Donate here! Thank you for reading!
In short, it's a Netflix or Spotify "all-you-can-eat" style service strictly for Marvel Comics.
I've detailed what's in the Marvel Unlimited library here, but essentially you can read the entire history of Marvel Comics, and well over 15,000 comic books, at whatever pace you choose. Seriously, the library of comics is immense, to the point that Comic Book Herald's reading club covered Marvel Comics published in every year from 1961 through present day with more than enough to read, and only minor gaps.
The question has come up several times, so note that Marvel Unlimited is different from reading comics on the Marvel Comics app. Once you have subscribed to Marvel Unlimited, you do not need to pay for individual comics on the Marvel Unlimited app.
Why Wouldn't You Sign Up For Marvel Unlimited?
Honestly, if you're interested in getting started with Marvel Comics, or catching up on series you may have missed, Marvel Unlimited is a fantastic value.
Seriously, for the price of an annual subscription you could purchase maybe 7 new trade paperbacks of Marvel stories, totaling something like 42 issues of comics. As a reminder, Marvel Unlimited has well over 15,000 comics plus the Star Wars comics universe.
It is insanely good value.
As such, I find it easier to discuss the reasons you might not want Marvel Unlimited. Since I brought it up in the intro, we'll look at technical issues first.

Marvel Unlimited Service Downtime
Following the launch of the Marvel Unlimited app in 2013, there were a number of years where app functionality was the primary setback for MU.
At this point in time, that's largely a thing of the past. Both Anroid and iOS apps are generally easy to use and operate, with fewer of the quirks that prevent you from reading comics.
Unfortunately, Marvel Unlimited has developed an even bigger issue: It will kick users out for extended periods of time, requiring you to reset your password to no avail. This is particularly challenging if your'e using an older operating system on older tablets or devices.
I've received messages from plenty of upset comic readers who simply can't access Marvel Unlimited, despite paying for the service, instead inundated with a stream of "reset your password" prompts. It's a nuisance-loop enough to drive any paying customer a bit batty, or ironically, to pirate the comics they tried to pay for!
Marvel Unlimited does have a support team, and while they have improved at responses (particularly on Twitter), the issue has remained unpredictable for months.
Personally, I've been frustrated several times this year where I simply couldn't use Marvel Unlimited for weeks. I know the service has so much value that I'm willing to wait it out. Not everyone would, and that's something you simply have to determine for yourself.
It's not perfect, but in my experience, limiting your login to one device helps with the password reset issue.

You Only Want To Read The Newest Comics
Marvel Unlimited is most useful for anyone who wants to catch up on a vast, overwhelming library of 15,000 plus comics. It's for readers who want to consume every story ever told.
It's not great for readers who want to keep up with the latest and greatest in Marvel publishing. If you want to know what's going on in Amazing Spider-Man right now, Marvel Unlimited is not the service for you. Your best bet is going to be picking up Amazing Spider-Man issues from your local comic shop, or digitally through Amazonology
.
For the most part, Marvel Unlimited adds new comics 6 months after their publication date. For example, Civil War 2 began publication in May 2016, and by the end of the year the first issues of the 2016 event were available in MU.
It's worth noting as well that the Marvel Unlimited team has gotten very effective at adding more comics to the library this year, filling in older series like Power Man & Iron Fist or 90's X-Men. New comics are added weekly, so the library is constantly expanding.
You Use a Kindle or Surface (Or non iOS & Android compatible device)
I've enjoyed reading comics on a Kindle Fire for well over a year now, but one of the biggest downsides is there is no Amazon compatible Marvel Unlimited app.
Tech savvy comic fans will point out that you can sideload Marvel Unlimited onto your Kindle, but this always sounds like a challenge to me, and not necessarily a risk I want to run on my tablet.
It's unclear whether Marvel has any plans to add compatible app versions for Kindle, Surface, and the other outsiders. It's possible Amazon's ownership of Comixology makes Marvel less likely to play within their ecosystem, although that's purely conjecture. If you're home on WiFi or have plenty of data, you could also always use the desktop application of Marvel Unlimited, although I certainly prefer the in-app experience on a mobile device.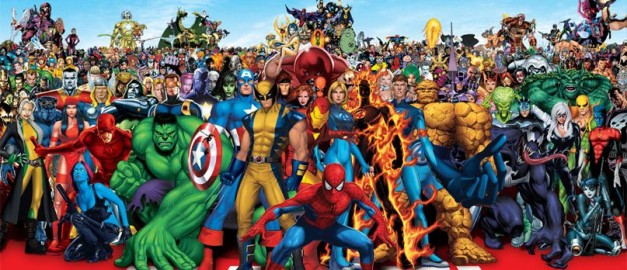 Why I Love Marvel Unlimited
Despite the limitations mentioned above, as well as offline reading limited to only 12 books at a time (rather than your device storage space like other services), Marvel Unlimited is my favorite paid comic book subscription service, and is a big part of the reason I'm so in love with Marvel Comics.
If you're comparing services, Marvel Unlimited offers full runs of series it includes, separating it tremendously from the sampler platter first collected volumes of Comixology Unlimited.
If you're into my other favorite digital comic library service, Hoopla Digital, Marvel Unlimited offers a perfect complement, since Hoopla doesn't carry Marvel books to date.
At the end of the day, I think new subscribers need to be cautioned that Marvel Unlimited has serious technical problems that need to be resolved. They can limit your access to the service, and obviously if you can't get to your comics, all that value is negated.
Nonetheless, I'll continue happily subscribing Marvel Unlimited, and expect that their team is hard at work improving a service that has only gotten better in the 6+ years I've been using it.
There's no other way to enjoy Marvel Comics so easily so despite its flaws…
Make mine Marvel Unlimited!
Need Help Getting Started With MU? Try These Comic Book Herald Guides
Comic Book Herald's Complete Marvel Reading Order
The Best 100 Marvel Stories From 1998 to 2015
Where To Start With Marvel Comics in 2017?
If you have any questions of your own, you can send them to @comicbookherald on Twitter, or dave@comicbookherald.com. If you want to join a Marvel Unlimited reading club, check out My Marvelous Year.
Digital Comics
Summary
When working, Marvel Unlimited is a 5 star value, and the best paid digital comic library in the game.
Unfortunately, technical issues and account freezing can seriously limit certain users. Until the problem is fixed across the board, it's a warning subscribers deserve to hear.
For the patient willing to put up with this, though, Marvel Unlimited remains a highly recommended way to read Marvel Comics.