To lead with 100% transparency, I nearly titled this post the far more incendiary "Marvel Unlimited Support is AWFUL" but that's my emotion talking, and in reality that's an extremely misleading title. I thought instead I'd take the (pseudo) high road and simply lead with the facts:
Marvel Unlimited support totally failed me on a gift subscription for my Dad.
It's time we talked about that.
Back on Father's Day (3 months ago now), I made the impromptu decision to get my Dad (long-time fan, first time caller) a month gift subscription to Marvel Unlimited. Marvel was running a promotion where, with the code Odin2014, you could get a month of Marvel Unlimited for $4.99 instead of the standard $9.99. As readers here know, I've been a long time fan of Marvel Unlimited, and could think of no better way to celebrate Father's Day than introducing the man who introduced me to comics.
So I purchased the subscription and sent my Dad the following message, knowing he'd be excited:
Support For Comic Book Herald:
Comic Book Herald is reader-supported. When you buy through links on our site, we may earn a qualifying affiliate commission.
Comic Book Herald's reading orders and guides are also made possible by reader support on Patreon, and generous reader donations.
Any size contribution will help keep CBH alive and full of new comics guides and content. Support CBH on Patreon for exclusive rewards, or Donate here! Thank you for reading!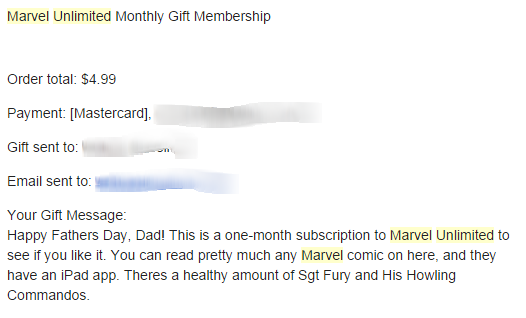 We celebrated Father's day, and all was well, until I remembered to ask my Dad about the subscription.
"So how many Howling Commando comics have you read on the iPad so far?"
"I never got the email."
"Really? Did you check your spam?"
"Yeah. I can check again. Go Pack go."
So my Dad checked his e-mail again and found no evidence of my supposed sonly generosity.
Huh.
The Skuttlebutt on Marvel Support
It's at this point that I'll intercede to mention something I've learned while running Comic Book Herald. People do NOT have good experiences with Marvel Support. Not at all.
I haven't taken the time to count them, but I get e-mails related to digital support failures from readers every month. They involve all sorts of dilemmas, from missing issues in Marvel Unlimited, to broken app functionality, to straight up paying for Marvel Unlimited and not being able to log in. Mostly I try to find work arounds for these problems as Marvel's staff undoubtedly works through their many tasks at the pace that makes sense for them. They'll get a lot of bugs and questions. I get it.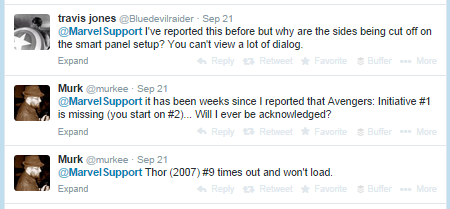 Generally I have plenty of sympathy here. It is highly unlikely that Marvel's IT and support teams are sitting around drinking beers and throwing darts at life size cutouts of comic book nerds while you find yourself receiving no response to your problem. In fact, without any inside knowledge, I guarantee this is not the case. They're working hard on issues most comic book readers don't really comprehened. It's one thing for me to sit here and say "the Anrdroid app has problems!" but it's another thing entirely to code an app that can serve over 15,000 comics and meet all of Android and Apple's standards.
So to be completley clear: I don't blame the individuals and staff at Marvel. I'm sure they're working for the weekend like the rest of us. The problems here are larger, and they go all the way to the top of corporate culture.
Marvel needs to start caring about the customer.
Customer Service Stories
Looking around the business landscape, you see all sorts of customer service horror stories, and inevitably when you run a large corporation you are going to have customers who have poor experiences. They key, of course, is to minimize and learn.
Comcast Xfinity is likely the most notorious customer service nightmare on the face of the Earth, and their story has been well documented. You can't run a Twitter search for "Xfinity" or "Comcast" without at least 3 angry customers in the top 10 results.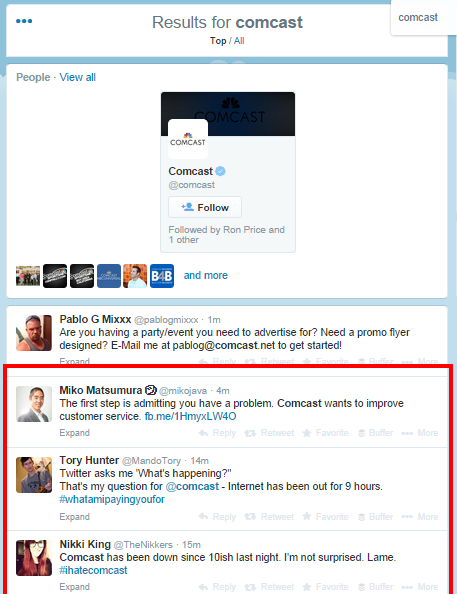 Nonetheless, Comcast is aware of this perception problem and has made strides to improve their customer service. It's noticeable, both in the press they get and their Twitter feed, but more so in my interactions with phone support. Some of the tactics are annoying (customer care representatives forced to recite lines like "thank you for having your problem. Your problem is very important to me" just sound robotic) but they do ultimately lead to a clear message: your support rep is trying to help and will do everything they can. Even when it's not enough, and my problem is not solved, I don't leave interactions more pissed off. And if I'm being completely honest, my ratio of positive to negative Comcast interactions skews way more to the positive side this year. That's progress.
Marvel's Inevitable PR Battle
Because Marvel isn't in the business of customer care, their service and support can very easily fly under the radar. As I've indicated, there are plenty of people having issues with support, and finding themselves completely in the dark, but these outcries are reduced to forums, reddit, and places like Comic Book Herald (the horror!).
Add to that the fact that Marvel has no direct competition from DC Comics in their online subscription model (do you DC, do you) and it's not all that surprising that the average reader like me can go completely ignored when expressing concern over a brand new purchase.
My Struggle (Tears)
After my Dad didn't recieve his Father's Day present, I resolved to try and figure out what had gone wrong and get my money's worth. Obviously it's only a $5 expense but seeing as I got nothing for it, I'd kind of like that $5 back. That's a chicken bacon ranch sub on a good day. As it turns out, I was never actually charged for the failed subscription – so great start there. Obviously could be a lot worse:

I then checked my email confirmation of the gift subscription and from there attempted to e-mail Marvel support.
Not as easy as it sounds.
Update: Via this post on Reddit, I've learned there is apparently a tech support phone number you can try for Marvel Unlimited problems. The phone number for support is 1-844-362-7835.
Marvel support has had a confusing number of email addresses over the past couple years. You can see the problem most clearly highlighted in this reader's attempt to get a new password for his Marvel account. So per the final verdict there, I reached out to support@marvel.com and quickly received the following.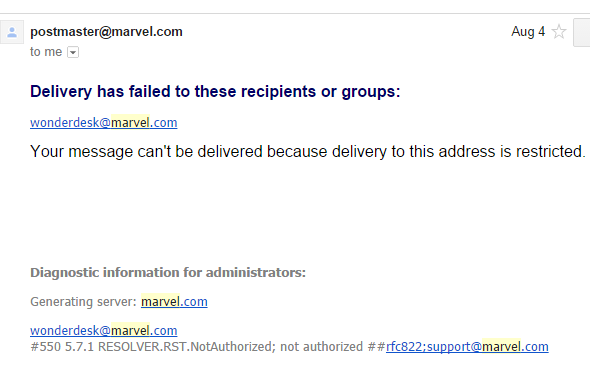 Ok. Clearly not the right email address any more. I had also reached out to the Marvel support Twitter handle, so I figured I could get a quick response from @MarvelSupport. Nope. Nothing.
At this point I was pretty discouraged, but have since discovered a couple things I missed the first time around. The first came while analyzing how frequently @MarvelSupport actually addresses customer questions.
Over the course of September 20 – September 27, there were 68 questions or issues directed at @MarvelSupport, and 16 tweeted responses from @MarvelSupport.  Even granting that not all tweets lend themselves to a tweetable response, a 24% response rate sounds low. Additionally, when I reviewed the account on Sunday, September 28, @MarvelSupport had not directly addressed any support issues since September 24. This could make sense for a smaller organization where a single person is handling a social media account – but for Marvel? Taking 4 days off support duties is a big gap.
Even more noticeable to me was the fact that @MarvelSupport's responses very frequently directed customers in the direction of a new e-mail address: onlinesupport@marvel.com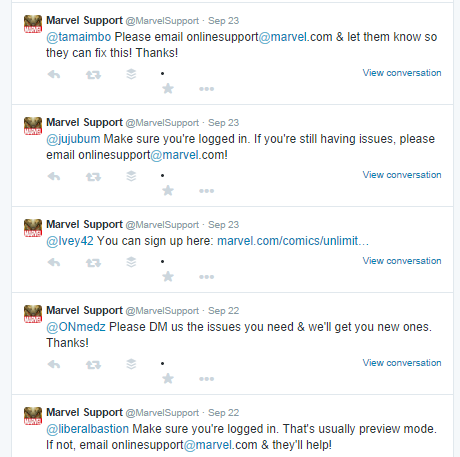 While I understand the approach – limiting your support to 140 characters or DMs has to be maddening – deferring to e-mail is reliant on responding to email. There's evidence that suggests Marvel is not supporting this area very promptly.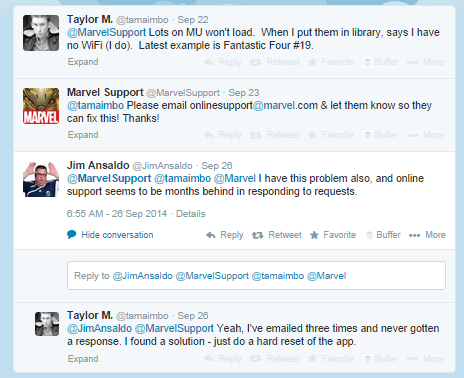 Digital Communications & Help From Marvel
Obviously, one key takeaway from my Twitter analysis was that I was using the wrong Marvel support email address. So that one's on me, and I've since sent a new request for support to onlinesupport@marvel.com.
That said, I don't feel like a total idiot here, and it's largely because of how impossibly strange Marvel's help section is. Login to your Marvel account and visit "Help" and you'll find what appears to be a robust FAQ and support content section.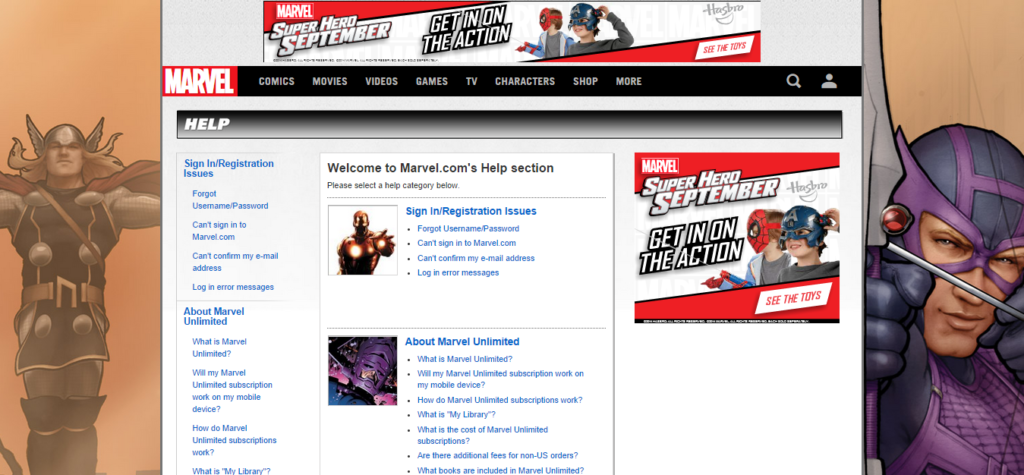 But then go ahead and click on any of the help sections. For example "Can't sign in to Marvel.com."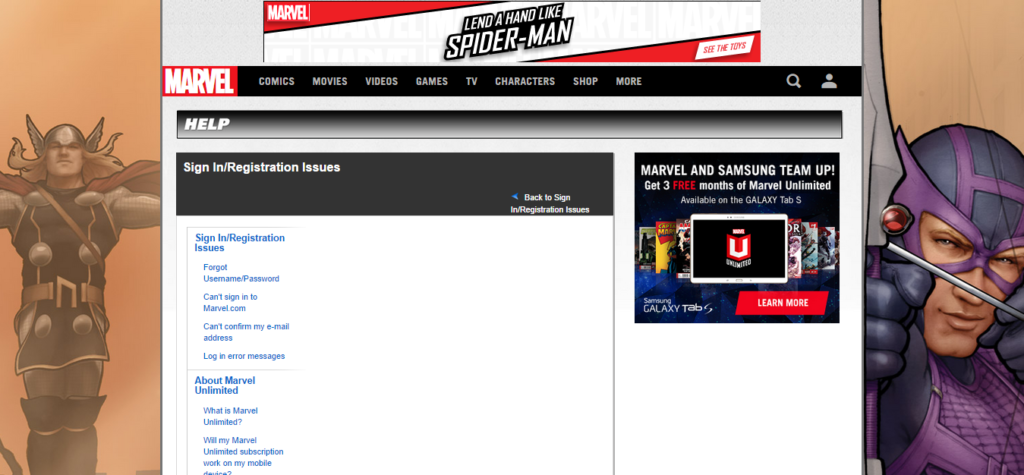 Huh? There's no content on the page.
While at least there appears to be no content on the page.
If you scroll down, you'll find that the text – the "help" – is hidden all the way at the bottom of the page. Beneath nearly 50 navigational links! And then the actual help itself…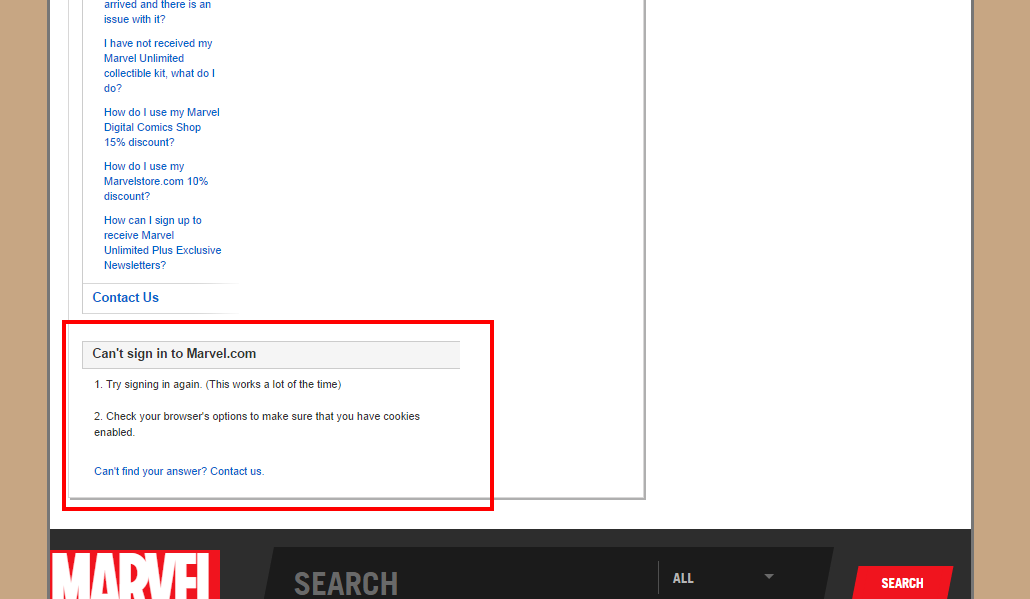 Now, some of the help sections do actually have the onlinesupport@marvel.com email listed in these hidden content sections. But asking your customers to scroll like maniacs – and to somehow know to scroll like maniacs – down your support page is far from user friendly.
Where I'm At With Marvel Support
Update! Marvel Customer Care responded to my e-mail within 3 days of this post going live. The response was very courteous, apologized for the inconvenience, and provided me and Dad a working Marvel Unlimited code. He's been reading Rawhide Kid ever since. I believe what I wrote above still applies, but definitely want to point out that I am happy with the response provided by Marvel Support!
Going now 3 months without a response from Marvel Support, I'm still strangely optimistic that I'll hear back at some point.
I also realize my lack of support is comparatively negligible. My dad's totally fine without a bonus present, I wasn't actually charged the $5, and my own personal Marvel Unlimited enjoyment carries on unfettered (I'll take those 'Son of the Year' awards whenever they're ready, thanks).
I'm more concerned about anyone attempting to purchase an annual gift subscription, or even a full-priced monthly and getting absolutely nothing for their efforts. Even with a bug-filled personal subscription, at least you have access to your account and can play with resending confirmation emails and resetting passwords (not that the experience isn't extremely frustrating). With a gift subscription it's totally out of your hands. The purchase and gift experience should be seamless and in my attempt, it's the complete opposite.
As I've stated, I'm still holding out hope that now with a new e-mail contact I may have my purchase restored, and my Dad may be able to enjoy his Howling Commandos. I'll update my thoughts here as I hear new information.
This is far from an isolated incident, though, and it's going to be continually problematic as Marvel Unlimited gains popularity. This is a service I love and I want to see it succeed.
Support is hard.
Marvel needs to support better.