As you all know by now, I'm unabashedly in love with Marvel Unlimited, Marvel Comics' digital subscription library. Even my wife is like, "You're going to have to choose between one of us eventually." On a human to human level, I'm not that comfortable with my answer.
My relationship with the Marvel Unlimited app is significantly more complicated (though not necessarily more than my marriage; women, amirite?!). The app is both wonderful (I use it daily), and flawed (ok, can't read 33% of that panel). The Android app updates of early April have given us Wave 2 of the MU app, and the results are mostly very positive. Reviews on the Google Play Store are gradually reflecting improvement, now nearly at 3.5 out of 5 (up from an abysmal 2).
One of the most problematic remaining issues, though, is the Marvel Unlimited offline reading option. Let's take a look:
This week's question comes from Gregory B. I'll let Gregory preach for a minute:
I have read your many articles on the Marvel Unlimited App and I know that what you have talked about in the past has been fixed. Well there is one thing I try to use a lot and is extremely glitch. I have a Galaxy S4 and never has the Read Offline feature been easily operable.

Pre V. 2.0 update, I had discovered the only system that mostly "worked" to read offline comics. I had to, of course, add it to my library then select read offline to "On." After this I went to my library and had to watch the download bar load, because if I left to another page of the app (like read a different comic or just go to the home screen) then I would either return to a downloading comic with the bar back to the empty beginning or it will say it has finished downloading. I would open it to check it and 8/10 times it instead downloaded the preview for non-members. Even the times I watched the slow red bar all the way through, I still had to check it (while I had signal) and make sure it downloaded the full version of the comic (because I am a member and the app forgets…. frequently) and if it downloaded all of the pages. Once I have some comics downloaded then I can't shut down my phone or it will forget I'm a member and I can't access my library.

POST V. 2.0 Update, now I can't even use Read Offline mode at all. IF I have comics in my read offline library and I try to read one of them, then the App has a brain Hemorrhage and crashes, consistently it does this. Even if the comic isn't downloaded but is in the Read Offline Library then, Brain Hemorrhage and crashed application.

Please help me out here, I just want to be able to actually use the Read Offline feature like it was meant to, such as downloading a comic in the background and easily enjoying it when you DON'T HAVE SIGNAL.
Greg poses a great question, and it's one I've seen mentioned in the comments here on my initial Android app update review.
Support For Comic Book Herald:
Comic Book Herald is reader-supported. When you buy through links on our site, we may earn a qualifying affiliate commission.
Comic Book Herald's reading orders and guides are also made possible by reader support on Patreon, and generous reader donations.
Any size contribution will help keep CBH alive and full of new comics guides and content. Support CBH on Patreon for exclusive rewards, or Donate here! Thank you for reading!
Initially, I figured everyone was just being a nut. I had just used Marvel Unlimited offline reading for 12 issues of Amazing Spider-Man during a weekend with no wi-fi. Surely they were crazy!
And then I spent a weekend in a no wi-fi zone looking at this.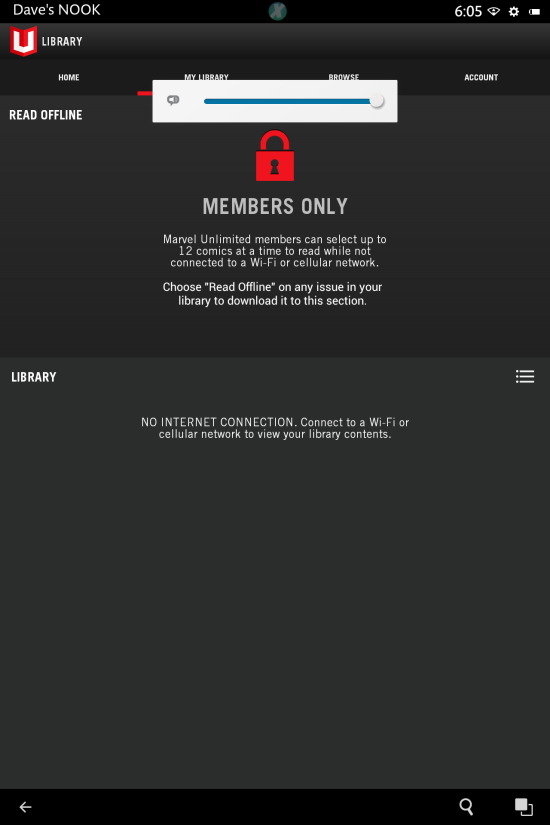 I nearly cried. (see also: wept, uncontrollably.)
Marvel Unlimited Offline Reading Tips
Here's the deal: As best I can tell, once you hit the black screen of death telling you "Members Only" you are done for. Just go ahead and pop this on and let the tears roll:
I'd also add, that I don't know that this dilemma applies to the iOS app. I'm not saying it doesn't, that's just unconfirmed on my end.
Ok. Disappointed yet? There's still a sliver of minuscule hope!
Here are the things I've done that have allowed offline reading to work for me:
1) Watch Your Comics Download All the Way
As Gregory mentioned, after you actually add your selected comic to your library, and then click "read offline," you'll want to go "Your Library" and watch the red bar actually fill up all the way representing a downloaded comic. You might think it would be sufficient to simply click "read offline" and go on your merry way. You would be wrong.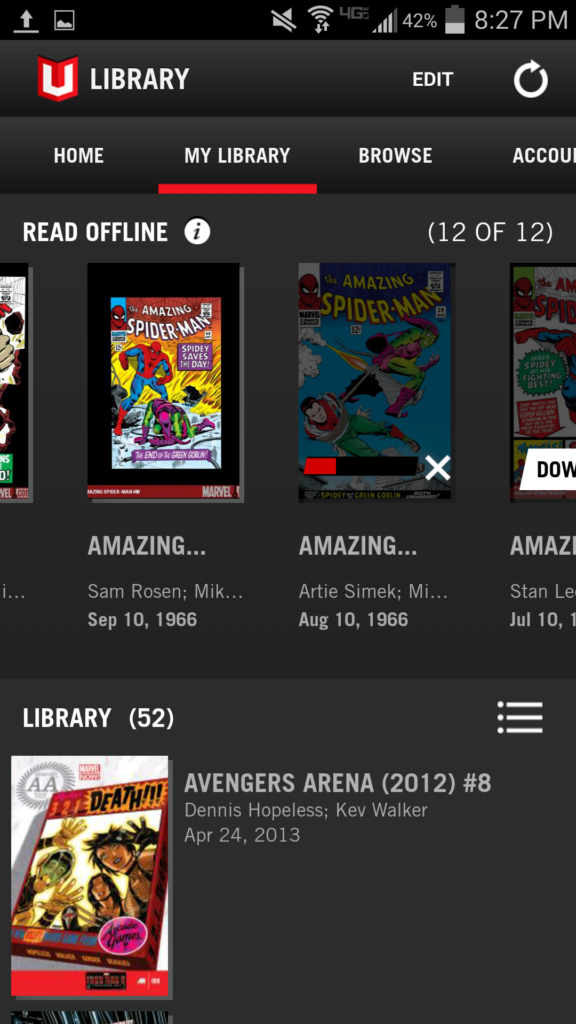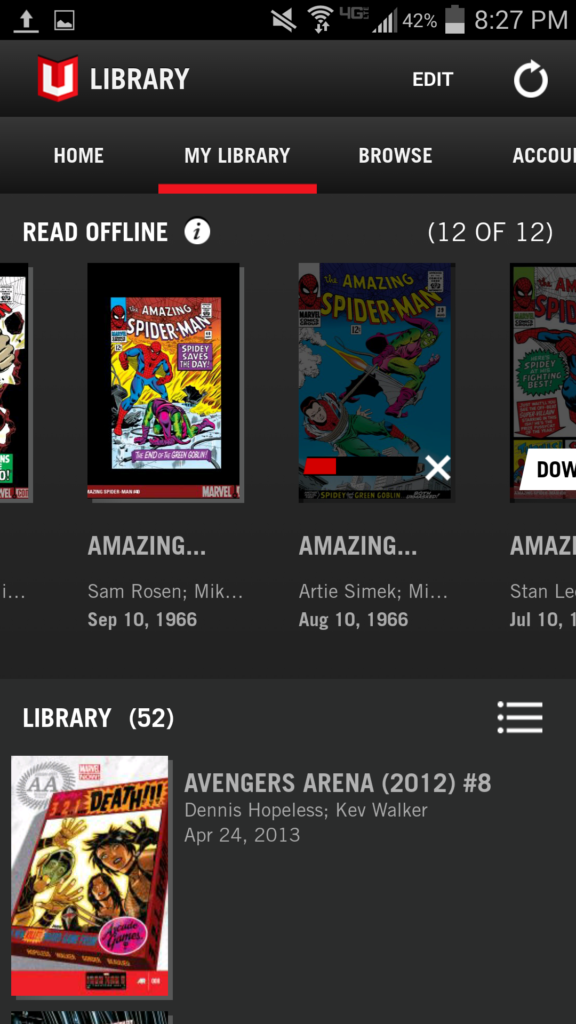 2) Select Your First Comic And Open It Up
Before you set upon your wireless and certainly dangerous journey, pull up the first comic you're going to want to read. The purpose here is that at the very least you'll have one comic already loaded up on your device before the black screen of death comes calling. I'm 88% sure this works.
3) Turn Off The Dark… Err, WI-FI
You have your 12 comics downloaded to "Your Library." You have one comic loaded up on your screen. Now the true test is turning off the wi-fi on your device and testing things out.
The easiest way to do this is generally to put your device in airplane mode. You might think airplane mode is only ever really applicable when flying on planes, and perhaps not even then. For the Marvel Unlimited reader, this is untrue.
Once you've turned off the Wi-Fi, you're going to want to make sure your comic is accessible, and more importantly that once you are done you can continue to the next comic. The ideal way to do this is through the "Read Next Comic" option recently added to the Marvel Unlimited app once you finish a comic. If you simply click back to the Library, you will likely see a cousin of the black screen of death:
The good part about this black screen of death is that it gives you the "Tap to Dismiss" option. This works, and will quickly give you your comics back in your library. This can be deceptive though! While it may appear that you'll always and forever be able to tap and dismiss your problems, there's actually a pretty good chance it won't last.
Hang on, I think I feel the tears again…
4) Scratch That – ONLY Click the "Read Next Comic" Option
If you're going to be offline for a while, don't even tempt the 9 realms by clicking back to your library. Only use the "next comic" option, which while offline will just say "Read Offline."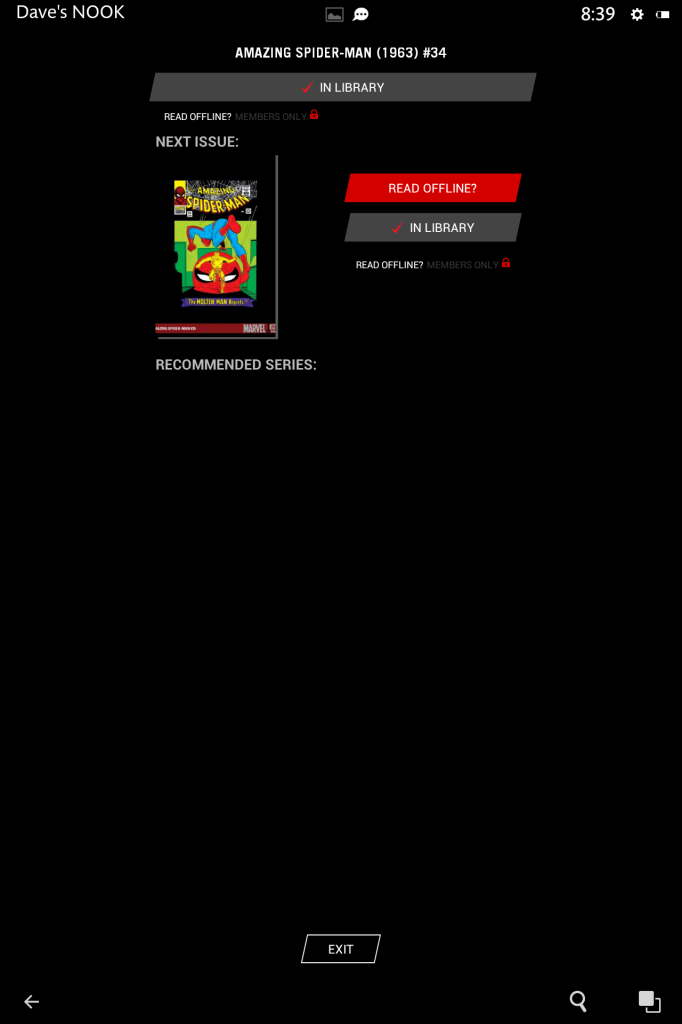 5) Don't Blink. Don't Even Blink.
Here's the thing: None of this is 100% foolproof. The above has worked for me, but it's hardly an app fix (which hopefully will roll out in the next update).
If you do get this offline reading working for you, just hold steady, don't jinx it, don't get cocky, and for the love of a weeping angel, don't blink: