Ghost Rider has long been one of Marvel's more offbeat properties, and that's what makes it great. Who knew a loose analog of Evel Knievel with a flaming skull head and demonic powers that elevate him to the living embodiment of vengeance was going to stick around? Not me! Yet stick around he did, and our Ghost Rider has been hopping about the Marvel Universe and beyond for decades: a skull-head kind of guy doing skull-head kinds of things.
Related:
Johnny Blaze, Danny Ketch, and Robbie Reyes all have a lot of continuity behind them, but only on some occasions have they crossed into the more brightly colored world of Marvel superheroes. Considering the fact that there are nine different volumes of Ghost Rider and a handful of off-shoots, it isn't obvious where one would even start with these guys. Fortunately, we made a list!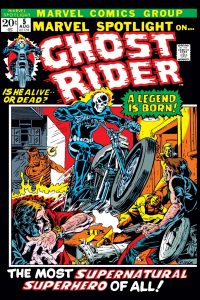 If you've watched the films, you know that Johnny Blaze made a deal with the devil to save the life of his beloved father. In the comics, that was his adopted dad, Crash Simpson. Try as Johnny might, he could not save the professional motorcycle stuntman named Crash from his own self-fulfilling prophecy of perishing in a crash. And, as in the movies, Johnny trying to prevent the world from turning is exactly what caused him to become the host of the demon Zarathos.
Support For Comic Book Herald:
Comic Book Herald is reader-supported. When you buy through links on our site, we may earn a qualifying affiliate commission.
Comic Book Herald's reading orders and guides are also made possible by reader support on Patreon, and generous reader donations.
Any size contribution will help keep CBH alive and full of new comics guides and content. Support CBH on Patreon for exclusive rewards, or Donate here! Thank you for reading!
His first stories read back as fairly dated in some important ways (Native stereotypes make a surprise guest appearance through much of the first arc), but if you've found yourself wondering what Johnny Blaze's whole bag even is, this is where it all began. A more condensed version appears in Ghost Rider #68, which was collected alongside a very fun Spider-Man team-up against the Orb and a truly strange issue of What If…? in Marvel Tales: Ghost Rider #1.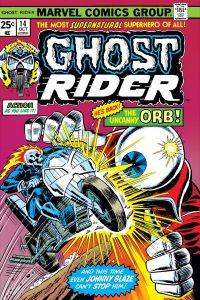 After the first arc wrapped, the creative team switched it up and Tony Isabella became the primary Ghost Rider writer (a Ghost writer, if you will). The mid-1970s vibes were fully unleashed, and stories became packed with action and bizarre themes. Karen Page briefly became a guest star and love interest for Johnny Blaze (?) and he made some motorcycle-loving friends. Fleeting guest appearances from the Hulk and Daredevil only cemented how out-of-place Ghost Rider is in the Marvel Universe, but in a good way.
After all, it would be hard to believe that a ruthless demon with no tolerance for moral gray areas would make people uncomfortable, and part of Johnny Blaze's charm is how hyper-aware of that he is. A personal best is the two-part Orb story that takes place over #15 and #16, in which there is a wild motorcycle fight on a crowded freeway and Karen Page is forced to play the voice of reason as Johnny nearly crosses a line he wouldn't have been able to come back from.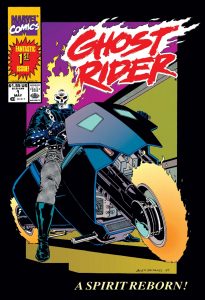 While Johnny Blaze is a great character due to his status as an absolute wreck of a human who makes consistently terrible decisions, Danny Ketch was a little different. Before the Ghost Rider destroyed Danny's sense of equilibrium and led him on a long downward spiral that has lasted to the present day, he was a young, sensitive guy with a good heart dealing with lot of bottled-up grief. He became the Ghost Rider not by striking a deal with the devil, but simply by being in the right place at the right time. While Johnny was cursed with the spirit of vengeance, Danny wished for it and got more than he could have ever bargained for.
The story begins with him and his sister Barbara unintentionally witnessing a murder in a graveyard. Danny becomes Ghost Rider in order to save Barbara, only to ultimately lose her soon thereafter at the hands of one of the demon's many foes. Danny Ketch was a great addition to the Ghost Rider mythos, and he would go on to inspire much of the character's legacy. Almost everything that happens in Ghost Rider comics of the last few decades links back to this first arc with Danny.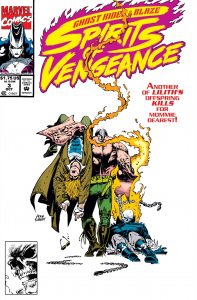 Danny Ketch (temporarily) dies, and that means an un-hosted Ghost Rider and a very salty, very '90s Johnny Blaze are stuck teaming up when an ancient evil returns to earth. This story is a part of the larger Rise of the Midnight Sons story, which involved a lot of the Marvel horror properties like Morbius and the Nightstalkers meeting up in a highly 1990s crossover, for reasons. This story features the demon and Blaze working together to defeat Lilith, Mother of Demons, before she rises to power once more.
Sure, it is a little bit light on plot, but it's heavy on vibes, and that's about 80% of what carries pretty much any mainstream comic printed in the '90s. Regardless, the dialogue is fun, the action is awesome, and the characterization is solid—all in all, it's a great midway point for this era of Ghost Rider.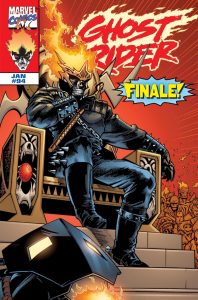 The final stint of Danny Ketch's Ghost Rider run was not very appreciated in its time, and sales had dropped drastically from the early days of the book. The series ended with Danny Ketch apparently deceased in #93. Later he showed up very much alive in a Spider-Man comic with no explanation. That's because there was a Ghost Rider #94 that did not see print at the time in which we learn that Ketch survived, but there was massive heartache on the horizon for him. This issue was printed a decade after the fact, and it certainly helped answer a lot of questions for what happened next.
Besides his introduction, this is perhaps the most important Danny Ketch story, because it gives context for how his life more or less falls apart after this directly because of his role as the Ghost Rider. The Ghost Riders are almost always tragic characters, but Danny has a particularly sad story, and this issue is another important brick in the road to understanding how he went from idealistic youth to embittered, exhausted adulthood.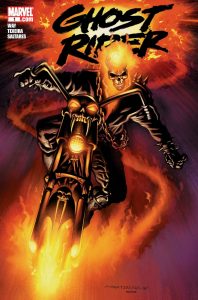 It had been quite a while since a Ghost Rider ongoing had graced the stands after the unceremonious end to the 1989 series, but it was worth the wait. This was a very back-to-the-basics take on the character that returned Johnny to his role as the Ghost Rider and pitted him against Satan himself. The story is classic genre goodness from the very beginning, showing Ghost Rider fighting Satan and clawing his way out of Hell, then immediately promising to return the 666 escaped demons to their place in the underworld.
Daniel Way's Ghost Rider had an incredibly cool look, brought to us by artists like Mark Texeira, Javier Saltares, and Richard Corben. The rogue gallery focused on new villains, and we learn that Johnny had (temporarily) died by, once again, putting his faith in the wrong people. Aesthetically cool villains like Jack O'Lantern made appearances, and there is a very cool fight with the Hulk during the World War Hulk arc. This run kept it simple and that was just what Ghost Rider fans needed in 2006.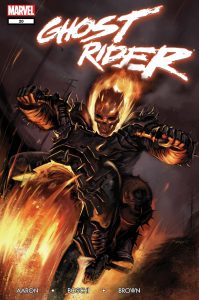 Johnny Blaze had a few good years, to say the least, because after Daniel Way left the book, Jason Aaron stepped in. This story saw Danny returning as a second Ghost Rider, now engulfed in blue flames. The brothers discover that there have been many, many Ghost Riders throughout the ages, and they team up with several others in order to fight a great battle for the fate of the universe. After Way's lonely (but action-packed) quest with Johnny, Aaron immediately tied Johnny back to Danny and gave him a greater context in the history of the Marvel Universe. Also, a new take on the Orb appears! I love that guy.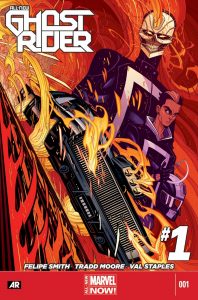 After the chaos and tragedy of Johnny and Danny, Robbie Reyes's time as GR felt like a breath of fresh air. Robbie more or less had his life together, and was connected to the people in his life in a healthy and caring way. Driving a race car rather than a motorcycle and an updated aesthetic made this new Ghost Rider a dynamic read. The sleek, modern art of Tradd Moore fit the book perfectly, and this remains one of the more visually exciting comics of the last decade. Not to mention that Robbie is just a great Ghost Rider who puts his whole heart into everything he does. It's easy to love him and his run as GR, and he is an underrated recent edition to Marvel continuity that will hopefully stick around.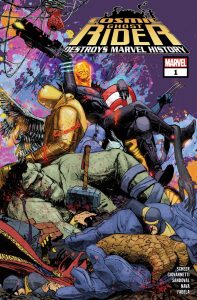 Beyond all of the emotional pull of Ghost Rider, there is something to be said about just how completely, bafflingly wild this concept is. A motorcycle demon who rides around on tires made out of fire is just ridiculous, and sometimes the best Ghost Rider stories are the ones that fully embrace the "WTF?" energy of the character. This is all to prepare you for the fact that old Frank Castle from the alternate reality Earth-TRN666 (already hilarious) made a deal with Mephisto to become Ghost Rider with the specific intention of taking out Thanos. This story shows our friend stuck in the past and moving through time like a wrecking ball. Sometimes Ghost Rider stories are profound, sometimes they are tragic, and sometimes they're the comic book equivalent of a metal song. All of those things can be great.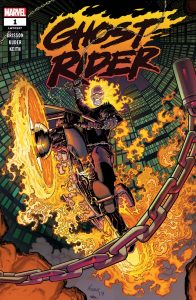 This most recent Ghost Rider series gave us a return to the wild chaos of Johnny and Danny's lives. Johnny has become an arrogant and ruthless king of Hell while Danny has spiraled into addiction and pushed away those closest to him out of fear that they will only get hurt. When Johnny crosses several lines that Danny is uncomfortable with, it falls on Danny to try and hold him accountable. While it's always great to see Johnny and Danny as friends, this story gave us a deeper look at the complicated and deeply problematic relationship between the two as they desperately try to cauterize the wounds from their shared past.