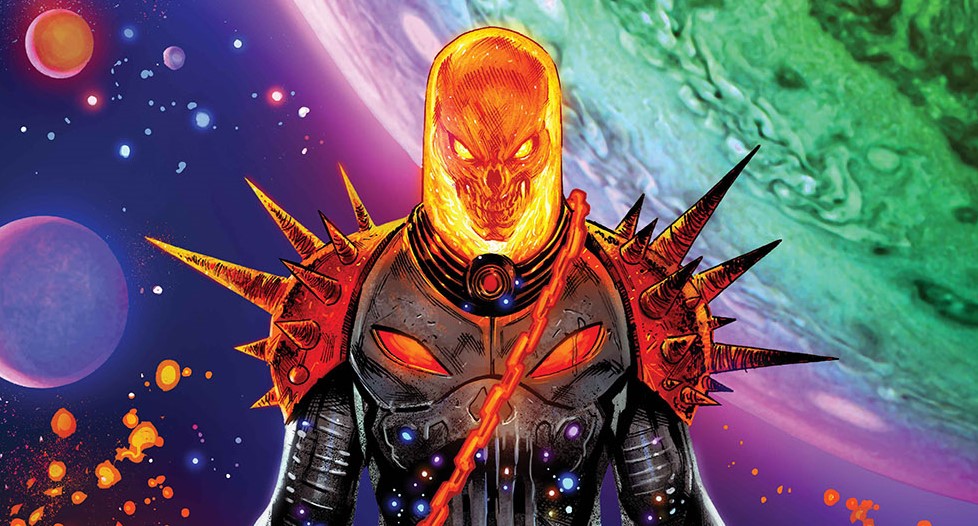 Take 90s Marvel comics, mix them all up together, bake them into a single character, and you'll get the Cosmic Ghost Rider. A servant of Thanos, he is a Ghost Rider imbued with Galactus' Power Cosmic, and if all that isn't enough, (and spoiler alert for the Rider's identity – highlight following text to see!) he's also an alternate timeline version of Frank Castle, the Punisher.
Created by Donny Cates and Geoff Shaw in the 2019 Thanos miniseries as part of the Thanos Wins storyline, the Rider is an incredibly powerful character, who sounds like the ultimate trump card in a "who would win in a fight?" argument. "Oh, you think your character is powerful? Well my character has the Power Cosmic and a cool Hell-powered space motorcycle with chains made from the bones of Cyttorak, whatcha gotta say to that!?".
Since Thanos Wins, the Rider has joined the main Marvel Universe as a Deadpool-like figure, mixing violence and self-aware jokes. (coming from a future timeline, he already knows Marvel history and tends to interfere with events when he's not supposed to). [Read more…] about Cosmic Ghost Rider Reading Order!