The Ghost Rider has been one of the most prominent spooky antiheroes of mainstream comics since way back in 1972, and it's hard to imagine a Marvel Universe without him creeping around its edges and popping in for the occasional crossover. Though Johnny Blaze was the original and Danny Ketch was his predecessor, there are countless other Ghost Riders that have never been explored at length.
When Marvel's All-New line was in its planning stages, they approached writer and artist Felipe Smith to create a new Ghost Rider with the stipulations that he had to be young and he needed to drive a car rather than a motorcycle. Out of these sparse guidelines, Robbie Reyes was born. A Ghost Rider with a unique powerset and a troubled relationship with the spirit of a serial killer that he has been bonded with, Reyes brought a whole new edge to the Ghost Rider mythos in Ghost Rider: Robbie Reyes – The Complete Collection, while keeping the visual and thematic appeal of the character fully intact.
Collects: All-New Ghost Rider #1 to #12, Ghost Rider #1 to #5, What If? Ghost Rider (2018) #1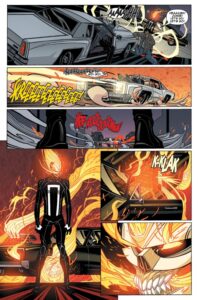 Meet the (All-New) Ghost Rider
Robbie Reyes is a young man trying to juggle the demands of high school with that of his under-the-table job as a mechanic. On top of this, he has to provide for his disabled younger brother Gabe, caring for him the way a parent would. When Robbie feels at his lowest after seeing his kid brother beaten up by bullies one day, he decides to "borrow" a car from the auto shop where he works to compete in a street race. Hoping to score big to pay for his brother's care, Robbie ends up in a car chase with who he thinks are police, but turn out to be men working to retrieve mysterious bags of pink pills that were hidden in the car for none other than Dr. Zabo, perhaps best known as his alter ego Mr. Hyde. Robbie is killed, and the Ghost Rider rises up in his stead.
The arc that introduces us to Robbie Reyes (and his demonic serial killer counterpart Eli Morrow) is very violent, which causes some dissonance because it's ostensibly aimed at a younger audience than some of the other horror-adjacent Marvel books. Gabe suffers multiple violent attacks and Robbie is shot to death. There are allusions to a young woman being roofied at a party and there's casual bone snapping in fights. The tone changes as the series goes on, but there is some pretty visceral stuff in here.
Support For Comic Book Herald:
Comic Book Herald is reader-supported. When you buy through links on our site, we may earn a qualifying affiliate commission.
Comic Book Herald's reading orders and guides are also made possible by reader support on Patreon, and generous reader donations.
Any size contribution will help keep CBH alive and full of new comics guides and content. Support CBH on Patreon for exclusive rewards, or Donate here! Thank you for reading!
The upside of some of the more hyperviolent moments of the book is that it shows us a very different Ghost Rider than any that we've known before. Unlike Blaze or Ketch, Reyes physically died to become the demon, and his connection with his Spirit of Vengeance is rocky and unpredictable—even by Ghost Rider standards. Eli tries to play with Robbie's head by insisting that only extreme violent acts like setting the city aflame will cause real change, making him a perfect counterpart to the troubled Robbie. That's how it is that with very little textual explanation of Robbie's situation, we still get an excellent sense of who he is as a person. Though he distrusts others and turns his heart cold to suffering in order to focus on providing a better life for his brother, he is ultimately driven by the desire to step up and be a better person.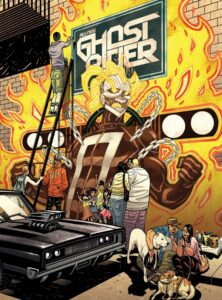 Ghost Rider, Meet Ghost Rider
One of the more entertaining parts of the second half of All-New Ghost Rider is, of course, the team-up with Johnny Blaze. Johnny kicks off the meeting with the standard superhero fight, but tells Robbie that he senses great evil in him. He does his research and is actually the one who reveals to Robbie that his demon, Eli, was a monster in his own life who has now learned how to inhabit the bodies of others.
Though Robbie and Johnny meet in a standard hero vs. hero brawl, they end up as friends, and they have an interesting dynamic. Johnny's celebrity-driven early years and subsequent disillusionment with fame must seem like something out of a movie for Robbie, who lived a life of poverty and trying to make ends meet. Whereas Johnny made a deal with the devil out of his own misguided good intentions and naive worldview, Robbie's bottom line was survival in a world that set him up to fail. Indeed, when Johnny asks him if he was sure he didn't sell his soul to the devil, Robbie retorts that only an absolute fool would do something like that, to which Johnny has no response. Regardless of their comical personality clash, Johnny makes it very clear that he's always around if Robbie needs him, noting, "You're one of us."
From beginning to end, though, All-New Ghost Rider is the story of Robbie's relationship with Gabe. He forgets Gabe a couple of times due to Ghost Rider hijinks, and when Gabe witnesses Eli possess his brother and become violent, he immediately knows something is wrong. Gabe temporarily becomes a monster, but Robbie, helpless and confessing that he would never hurt Gabe on purpose and will always try to be a better brother to him, is able to talk him down.
Better Together
Here we pivot to Ghost Rider, a five-issue series that revolves around an unlikely team-up with All-New Wolverine, Honey Badger, Totally Awesome Hulk, and, of course, All-New Ghost Rider. This could have been an ongoing Champions series and I would have bought every issue because this cast is just plain fun and their chemistry as friends is through the roof. Amadeus Cho's never-ending quips and monologues are the perfect match to Robbie's brooding cynicism, while the sister team of All-New Wolverine provide violence, optimism, and down-to-earth pragmatism. The villain of the story is an out-of-control absorbing creature, and its general chaotic nature gives the heroes ample opportunity for truly delightful character growth. Smith's at his best here as he gets to exercise his dialogue-writing skills in a way the All-New Ghost Rider format didn't fully allow for. This is a hugely underrated book.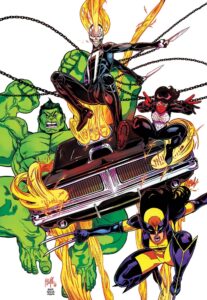 This omnibus doesn't collect all the Robbie Reyes stories (for instance, Ghost Racers and the online-only X-Mas Special are both absent), but it does collect Smith's work on the character. As Reyes becomes more in control of the Ghost Rider, Smith seems to click with him better and better. Meanwhile, the incredible art teams helped accentuate the genuinely fresh feel of these stories. Tradd Moore's sleek linework gave us some incredible car chase scenes while legendary Cassandra Cain-era Batgirl artist Daimon Scott adds his flair for hand-to-hand combat and cityscapes to his issues of the book. Felipe Smith's covers for the Ghost Rider miniseries have an incredible sense of fluid motion while the interiors by Danilo S. Beyruth makes for a classic "meet the gang" style superhero story.
This book is truly incredible, and it injected a ton of life and energy into the Ghost Rider franchise when it was most desperately needed. Swapping out tried-and-true staples for a new approach was a prudent move, and these stories manage to perfectly capture everything that makes Ghost Rider fun while giving a highly charismatic protagonist in Robbie. The fight scenes become only more interesting with the car as we learn that Robbie can quite literally become one with it, and the stylish art sells even the most chaotic parts of the story. Even for long time Ghost Rider fans like me, this book was nothing short of a breath of fresh air, making Robbie Reyes easily one of Marvel's most exciting new characters of the last decade.