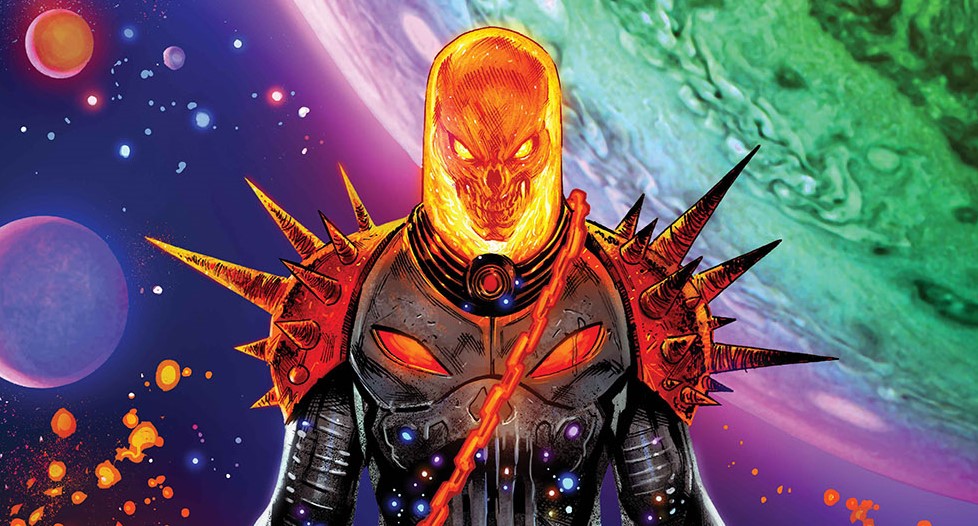 Take 90s Marvel comics, mix them all up together, bake them into a single character, and you'll get the Cosmic Ghost Rider. A servant of Thanos, he is a Ghost Rider imbued with Galactus' Power Cosmic, and if all that isn't enough, (and spoiler alert for the Rider's identity – highlight following text to see!) he's also an alternate timeline version of Frank Castle, the Punisher.
Created by Donny Cates and Geoff Shaw in the 2019 Thanos miniseries as part of the Thanos Wins storyline, the Rider is an incredibly powerful character, who sounds like the ultimate trump card in a "who would win in a fight?" argument. "Oh, you think your character is powerful? Well my character has the Power Cosmic and a cool Hell-powered space motorcycle with chains made from the bones of Cyttorak, whatcha gotta say to that!?".
Since Thanos Wins, the Rider has joined the main Marvel Universe as a Deadpool-like figure, mixing violence and self-aware jokes. (coming from a future timeline, he already knows Marvel history and tends to interfere with events when he's not supposed to).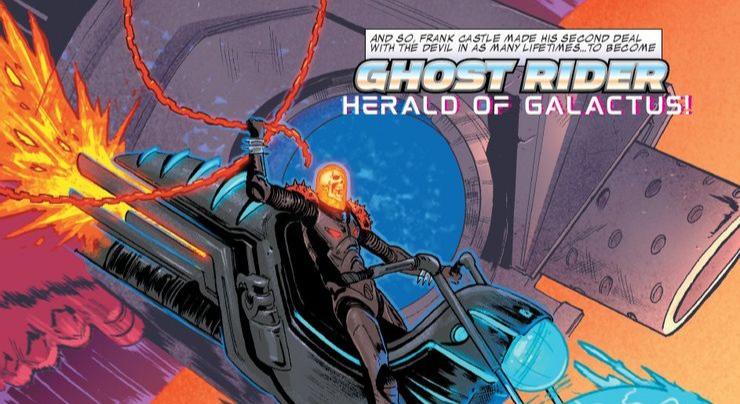 The Many Legacies of the Rider
If you're unfamiliar with Frank Castle, it might help to go back to the character's roots. The Complete Punisher Reading Order is of course here to help you with that, but if you want a quick summary, he was first introduced in Amazing Spider-Man #129 hunting Spidey, whom he thought had committed murder. Since his introduction, the Punisher has been the foremost example of a Marvel antihero, spreading his definition of justice by killing anyone he thinks deserves it, which turns out is a lot of people. He is a soldier and a vigilante feared and hated by villains and heroes alike, always on the warpath, and looking to avenge the death of his family. For a perfect example of what Punisher comics look like, check out Garth Ennis and Steve Dillon's Punisher: Welcome Home Frank.
For a recap on just what a Ghost Rider is or does, once again check out CBH's Ghost Rider Reading Order: but you can also find the origin stories of the three main Ghost Riders in Ghost Rider: Masterworks Vol. 1 for Johnny Blaze, Ghost Rider: Danny Ketch Classic Vol. 1 for Danny Ketch, and All-New Ghost Rider Volume 1: Engines of Vengeance for Robbie Reyes. The gist of it is: someone makes a deal with Mephisto, and for the small price of their soul, they are able to use hellfire and power up their motorcycle or car, now inhabited by the Spirit of Vengeance.
Support For Comic Book Herald:
Comic Book Herald is reader-supported. When you buy through links on our site, we may earn a qualifying affiliate commission.
Comic Book Herald's reading orders and guides are also made possible by reader support on Patreon, and generous reader donations.
Any size contribution will help keep CBH alive and full of new comics guides and content. Support CBH on Patreon for exclusive rewards, or Donate here! Thank you for reading!
As for the Power Cosmic, you know the drill: check out the Devourer of Worlds' very own Galactus Reading Order, and you can find some of the Big G's most important Silver & Bronze Age appearances in Fantastic Four: Behold…Galactus! Marvel Select Edition. Another interesting read might be Silver Surfer: Black by Donny Cates, another Power Cosmic story written by the creator of the Cosmic Ghost Rider.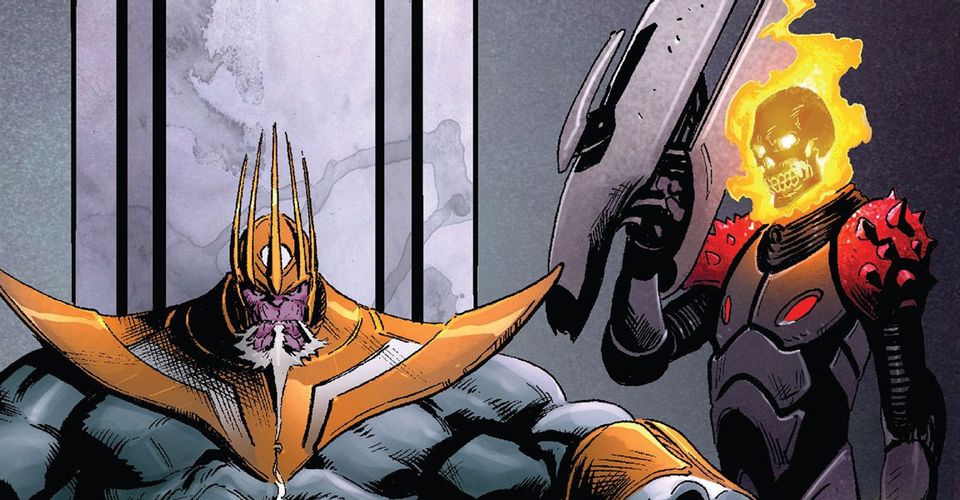 The Black Right Hand of Thanos
Collects: Thanos #13-18, Annual #1
The Cosmic Ghost Rider captures Thanos under the orders of a future version of the Mad Titan, called the Final King. In this future, the Rider is insane and works as Thanos' Black Right Hand, after having died, made a deal with Mephisto, lived for centuries in a devastated Earth, become Galactus' Herald, and finally fought and surrendered to Thanos (the Rider's story is told in issue #16). In the end, the Cosmic Ghost Rider is killed by a Mjolnir-wielding Silver Surfer, and that seems to be the end of the Rider's story.
In Thanos Annual #1, the Rider tells various stories of Thanos' life and cruelty, and Odin takes him to Valhalla.
Cosmic Ghost Rider: Baby Thanos Must Die
Collects: Cosmic Ghost Rider #1-5, Thanos Legacy #1
Frank Castle is kicked out of Valhalla by Odin, who gives him his powers back and sends him to wherever and whenever he chooses. The Rider chooses Titan after the birth of baby Thanos, intending to kill him before he becomes the universe's greatest pain in the butt. However, when he realizes baby Thanos is innocent, he captures him and decides to try and raise him to be a good person. However, in doing so, Frank creates something that might be even worse : a timeline in which Thanos was raised by the Punisher.
After a timey wimey all-out battle with that timeline's version of Cable, the Guardians of the Galaxy, and eventually every single superhero at the same time; Frank has to face an adult Thanos who has become the Punisher. Realizing how badly he's f***ed this up, the Rider goes to put baby Thanos back where he came from. From that point on, the Cosmic Ghost Rider lives in the regular Earth-616 timeline.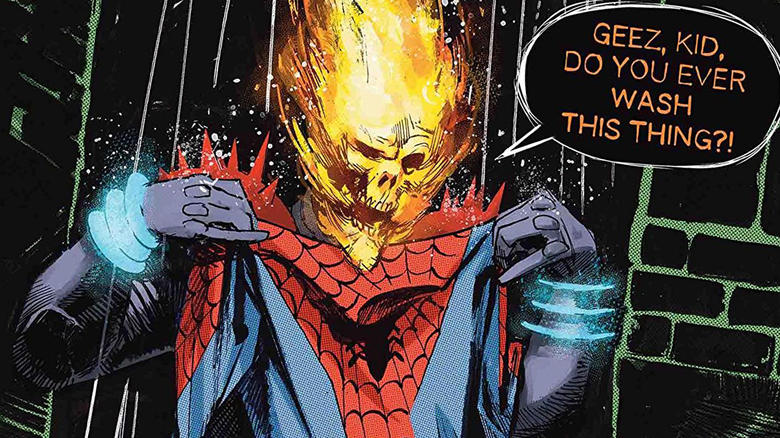 The Cosmic Ghost Retcon
Cosmic Ghost Rider Destroys Marvel History
Collects: Cosmic Ghost Rider Destroys Marvel History #1-6
This mini-series establishes what the Cosmic Ghost Rider has been up to since joining Earth-616, secretly being part of important events in Marvel history before being forgotten by everyone (Sentry
called, he wants his whole thing back). Frank meets his past self and their family before their death, intending on saving them from being killed, but the Watcher decides otherwise.
Guardians of the Galaxy by Donny Cates Vol.1: The Final Gauntlet
Collects: Guardians of the Galaxy #1-6
After Thanos planned his own death in Thanos Legacy, the Cosmic Ghost Rider attends the reading of his will alongside the rest of Marvel's galactic characters. When the Black Order attacks, he escapes with the Guardians of the Galaxy, although he quickly leaves them to join Starfox's team. Thanos' brother and his recruits are trying to kill Gamora, as they think Thanos implanted his mind in her body.
During a fight with Hela, she makes the Rider into her slave ; which ends up killing him and sending him to Hell, where Johnny Blaze is waiting for him.
Avengers by Jason Aaron Vol. 5: Challenge of the Ghost Riders
Collects: Avengers #22-25
Frank is part of the King of Hell's Ghost Rider race, and is sent by Johnny Blaze to kill the Avengers.
In Donny Cates' Thor #1, Frank Castle is one of the Heralds assembled by Thor to offer advice on his Galactus problem.
Revenge of the Cosmic Ghost Rider
Collects: Revenge of the Cosmic Ghost Rider #1-5
The Cosmic Ghost Rider is now working as a Galactic Punisher, working with teenage space mercenary Cammi Benally against the Cosmic King. Frank gets an opportunity to get his soul back, but he loses it trying to save Cammi's.
The Rider last appeared in a flashback story in Wolverine: Black, White & Blood #3, fighting the Juggernaut alongside Wolverine.