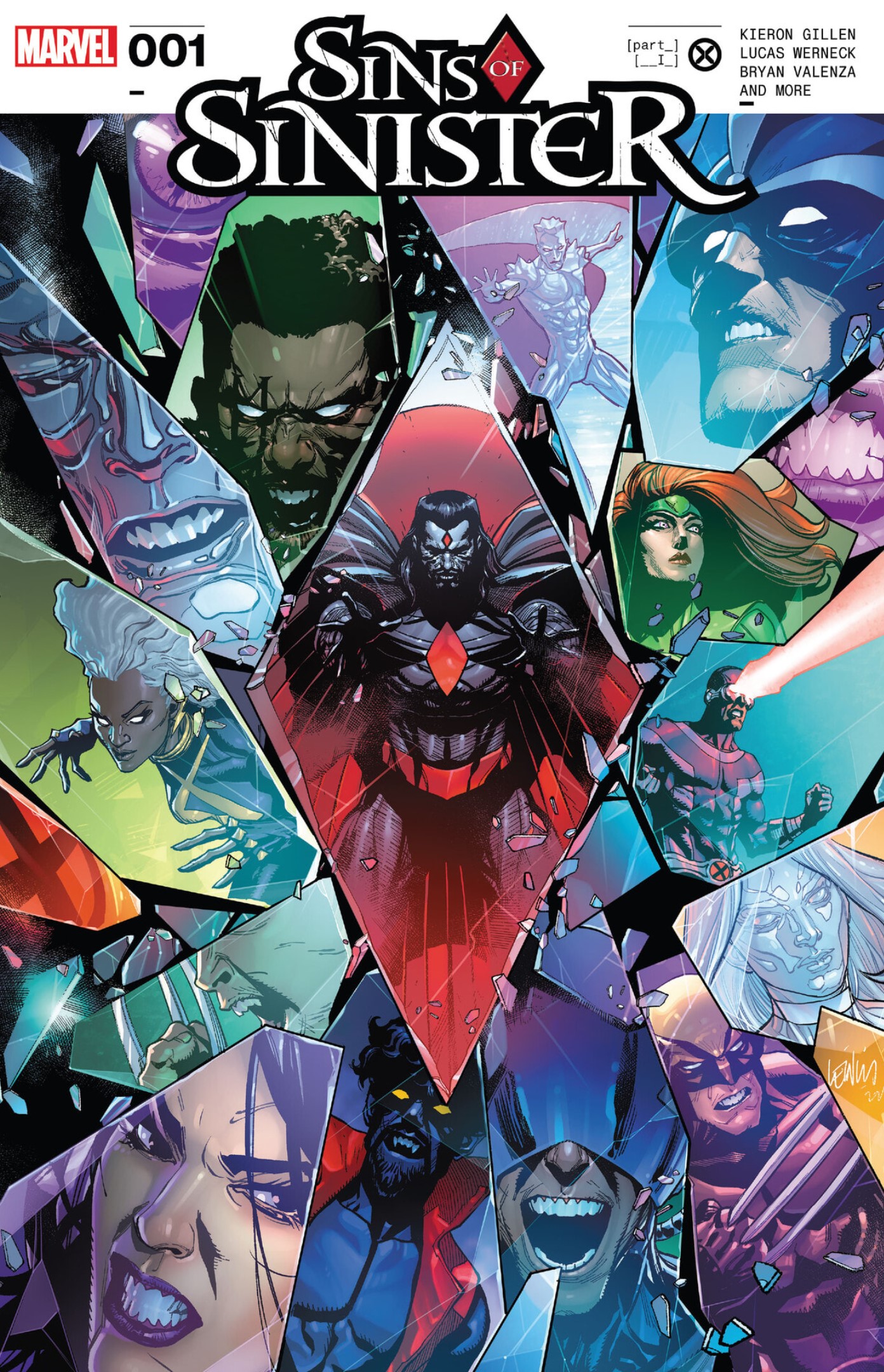 Just take a moment to think about what might've been now if Magneto hadn't given his pledge Arakko. With things as they are, Storm, ever uncompromised, has a real chance of helping right reality again.
"Everything Is Sinister"
Credits: Kieron Gillen writes; Lucas Werneck draws, along with guests Geoffrey Shaw, Marco Checchetto, Juan José Ryp, David Baldéon, Federico Vincentini, David Lopez, Joshua Cassara and Stefano Caselli; Bryan Valenza colors; Clayton Cowles letters; cover by Leinil Francis Yu
Welcome to the biggest X event since House of X and Powers of X!
Okay, maybe it's not the biggest—both X of Swords and A.X.E.: Judgment Day beat it hands down there. Despite that, I will wager here at the very start that this is the big story that will both tie directly back into Hickman's original HOX/POX vision for this new era of Marvel's merry mutants and shoot forward into mutantkind's next major epoch, the "Fall of X" starting in early May.
Support For Comic Book Herald:
Comic Book Herald is reader-supported. When you buy through links on our site, we may earn a qualifying affiliate commission.
Comic Book Herald's reading orders and guides are also made possible by reader support on Patreon, and generous reader donations.
Any size contribution will help keep CBH alive and full of new comics guides and content. Support CBH on Patreon for exclusive rewards, or Donate here! Thank you for reading!
Obviously, the little gut shot of Inferno is a contender, but that was Hickman's envoy with a final revelation for ensuing creators to run with.
Here, as we see teased at the end of Sin of Sinister #1, we're in a deep structural echo of Powers of X that promises to distort the original in exciting and unexpected ways. Following this opening one-shot, we'll get three three-issue minis followed by the concluding one-shot Sins of Sinister: Dominion #1, which subtitle also echoes the POX AI-cosmology. Each mini's #1 will take place ten years into this alt Sinister-verse, each #2 will be set 100 years into it and each #3 will take us to +1000 years. Obviously, however, this is not POX's future dystopia, and yet Gillen is still taking us somewhere that fans of Hickman's earlier event and of course 1995's classic "Age of Apocalypse" will readily recognize, with a fine sense of inevitability and much unpredictable fun to satisfy any mutant-centric alt-reality fan.
(There's also a riff early on in SOS1 where, 10 years from the present, Sinister resurrects a handful of mutants in a direct parody of Xavier doing the same in House of X #1—"To me, my me's." How did this happen? See two sections below, where spoilers abound!)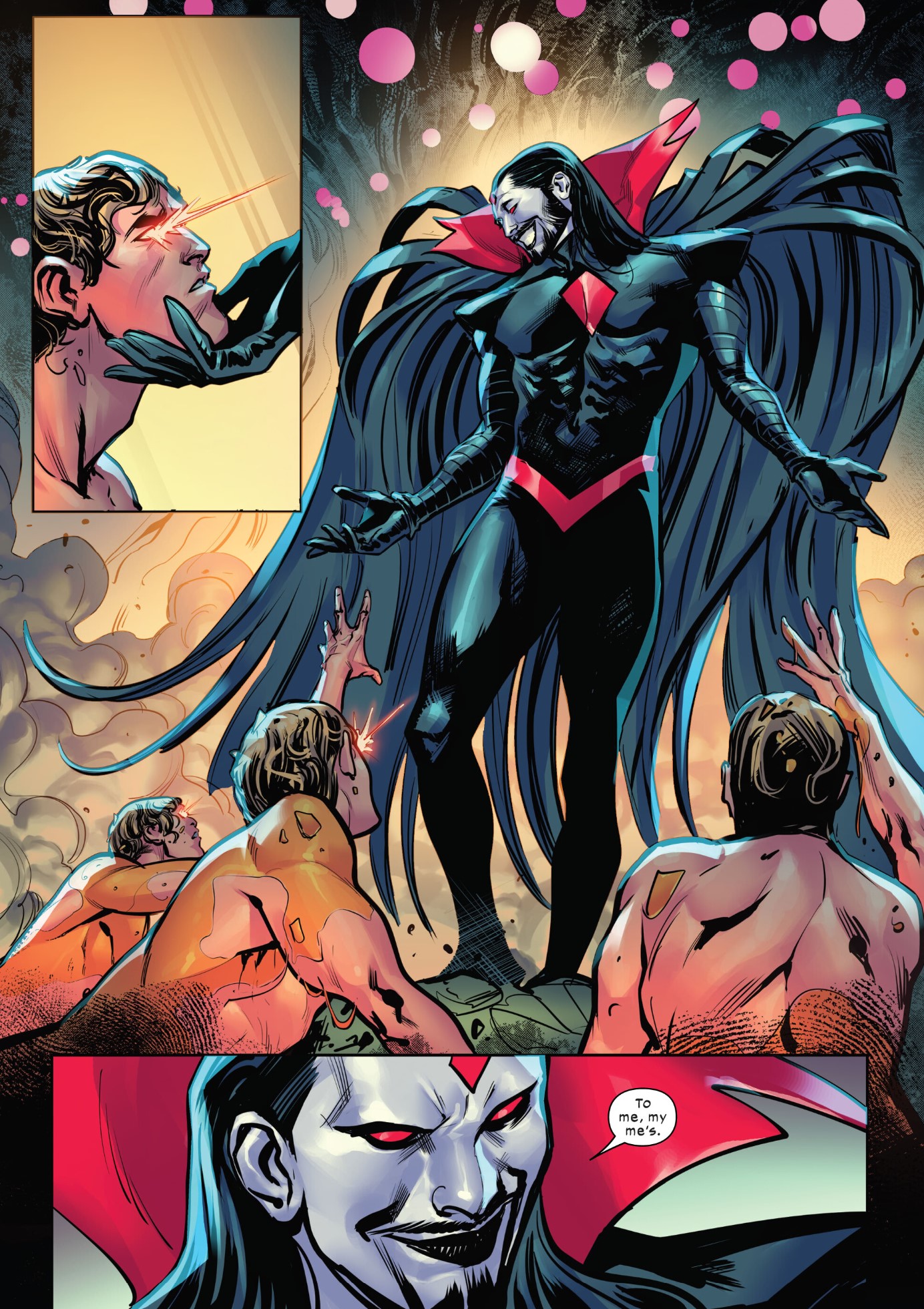 Still, Sins of Sinister could reveal a direct Inferno connection if Sinister turns out to be(come) the so-called "trickster Titan*" ("betrayer and coward of its brother and sister machines") that from a possible future—and acting against its brethren's purely machinic interests—sent Omega Sentinel back in time in order to ensure the establishment of Orchis (which is only ambivalently allied with machine intelligence; Inferno #3.
*A Titan is the AI power grouping just below Dominion level, as seen in Powers of X.
Overall Takeaway
Sins of Sinister #1 is a double-+-size one-shot in the tradition of inaugurating many a comics event, and so while regular Immortal X-Men artist Lucas Werneck does excellent work throughout, it's less that he needed assistance with this oversized project than the number of non-gratuitous (well-utilized) splash pages presented an opportunity for other fine artists to flex in portraying brief but highly original snippets of this Sinister alt reality future.
It will inevitably draw comparisons with the classic one-shot that kicked off the "Age of Apocalypse" event, X-Men Prime from Fabian Nicieza, Scott Lobdell and a bevy of artists. That wild opening chapter immersed readers directly in a bizarre and frightening alt future without any explanation, in medias res. Back then, the franchise's popularity was at its all-time high, so such a bold move wasn't a crazy risk; it was enthralling—and everyone (at least all us Magic-playing middle-schoolers) ate it right up.
But that Gillen takes his time in Sins of Sinister #1 showing us how we get from present-day Krakoa (following Sinister's condemnation to the Pit for trying to kill the entire Quiet Council; Immortal X-Men #9-10) to a future of Sinister dominion certainly isn't any less of a bold move. There's a direct through-line from Gillen's Immortal X-Men tenure and Hickman's Powers of X; this isn't the case with "AoA," which really seemed to come out of nowhere, infusing fresh excitement in the faltering, post-Claremont line.
It is too bad that Marvel's not going all-in with every title in the X line committing to Gillen's Sinister vision, but then again, this is a very different era—and at least we can bank on this event being not just a bit smaller but also higher quality overall, tighter, leaner and hopefully just as memorable, if not more so, because of it. And yet, "Sins of Sinister" will certainly be of an immediate piece with the larger whole of Destiny of X.
Still, if you haven't been keeping up with every X-title in the last few years—totally okay! As mentioned, we're looking at a direct callback to Hickman's HOX/POX, a masterclass for any comics fan. And then, it's helmed by Gillen and spinning out of his ten issues of Immortal X-Men (of course, A.X.E.: Judgment Day happens during the middle of this and does have ramifications; you can just read the core event series, which goes down pretty quick, all on Marvel Unlimited now); and writers Al Ewing and Si Spurrier are penning two of the minis, each one a distorted, alt future fun-house of their current respective ongoings (Ewing's X-Men: Red, a follow-up to his S.W.O.R.D. and Spurrier's Legion of X, which does follow on from his Way of X mini).
Of course, the Sinister element in POX goes all the way back to Gillen's first foray into the X line—specifically, his classic revamp of the character in Uncanny X-Men vol 2 #1-3 (2012), the short arc known as "Everything Is Sinister"! Obviously, Gillen is calling back to his own work here, as well. And I for one believe that story is always worth a quick reread; it's an absolute hoot, over the top just like we all love Sinister.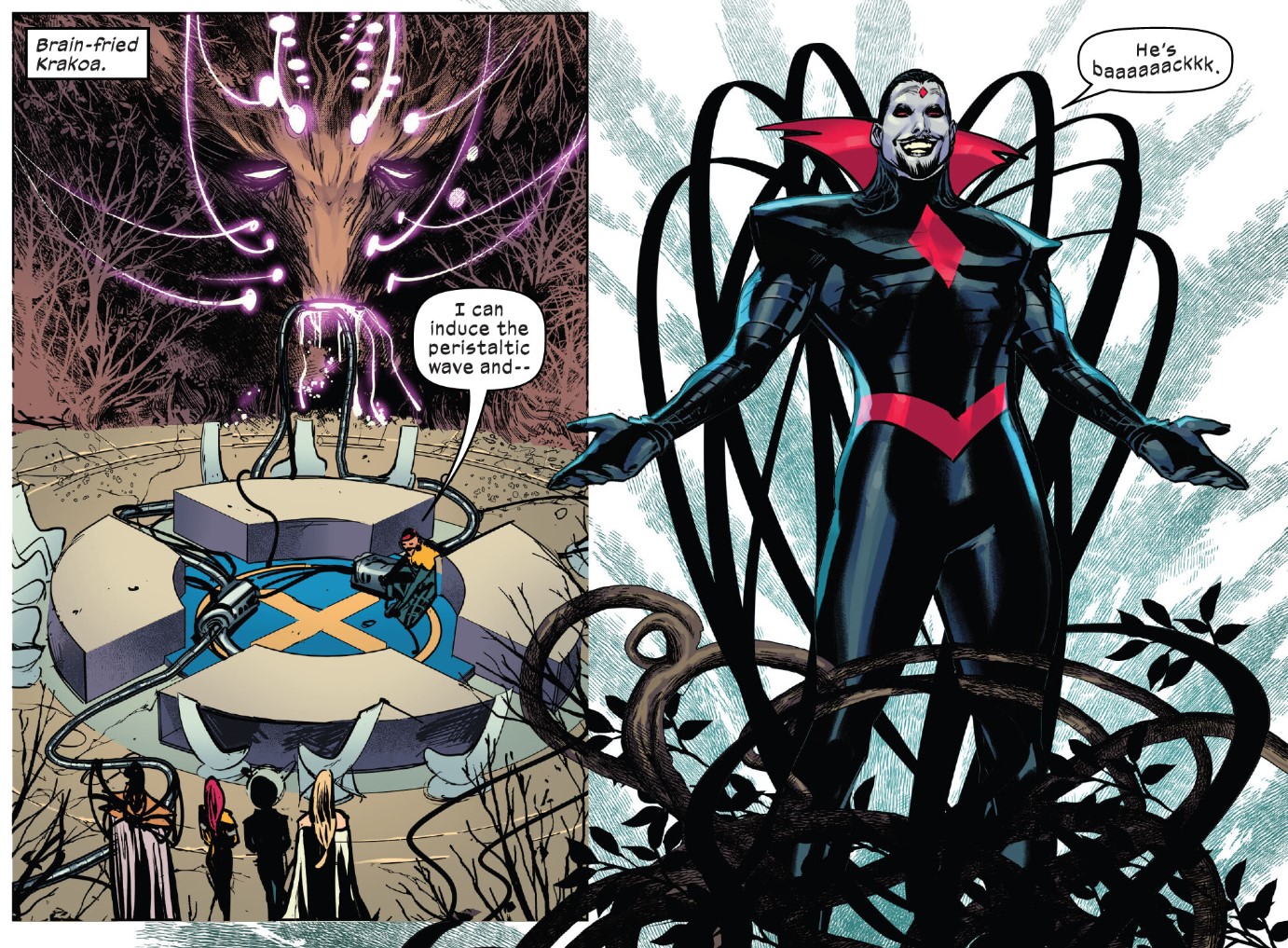 All told, this is still quite a few comics in the background, but not nearly the entirety of the recent X line, and almost every fan and critic following these titles and creators in particular will agree that they're giving us the best of an all-around strong franchise (and while Spurrier's had his detractors, I think in time they'll mostly come back to the collected Legion of X with fresh eyes—despite my reluctance, this already happened to me recently; further, whereas many readers might reasonably prefer, say, Vita Ayala's more focused, character-rich storytelling, Spurrier's style is proving wildly fruitful, if seemingly unfocused in the moment, when he has a broad canvas and lots of runway).
What makes their work the best in the line right now? Gillen, Ewing and Spurrier are consistently offering the richest material to chew into with the dramatic chops to make it all hit home with maximum impact.
(Actually, I would definitely include Victor LaValle and his work on the recent minis Sabretooth and Sabretooth and the Exiles—but the very smart and entertaining narrative with a strong moral core that he's been building across these titles is still as yet on the periphery of the overall Destiny of X architecture; hopefully, his exile tales prove highly relevant to this year's Fall of X. The same goes for the line's second extraordinary blessing from the world of novelists of fantasy, sci-fi and horror, Charlie Jane Anders, and her ongoing work with New Mutants.)
SPOILER-STUFFED Synopsis Follows…
As for Sins of Sinister #1, the twist toward the end is a wonderful though inevitable surprise—where readers have the delight in recognizing that, of course, Sinister isn't quite up to snuff when it comes to master plans, unlike, say, Thanos or Doom. He just isn't quite that scary!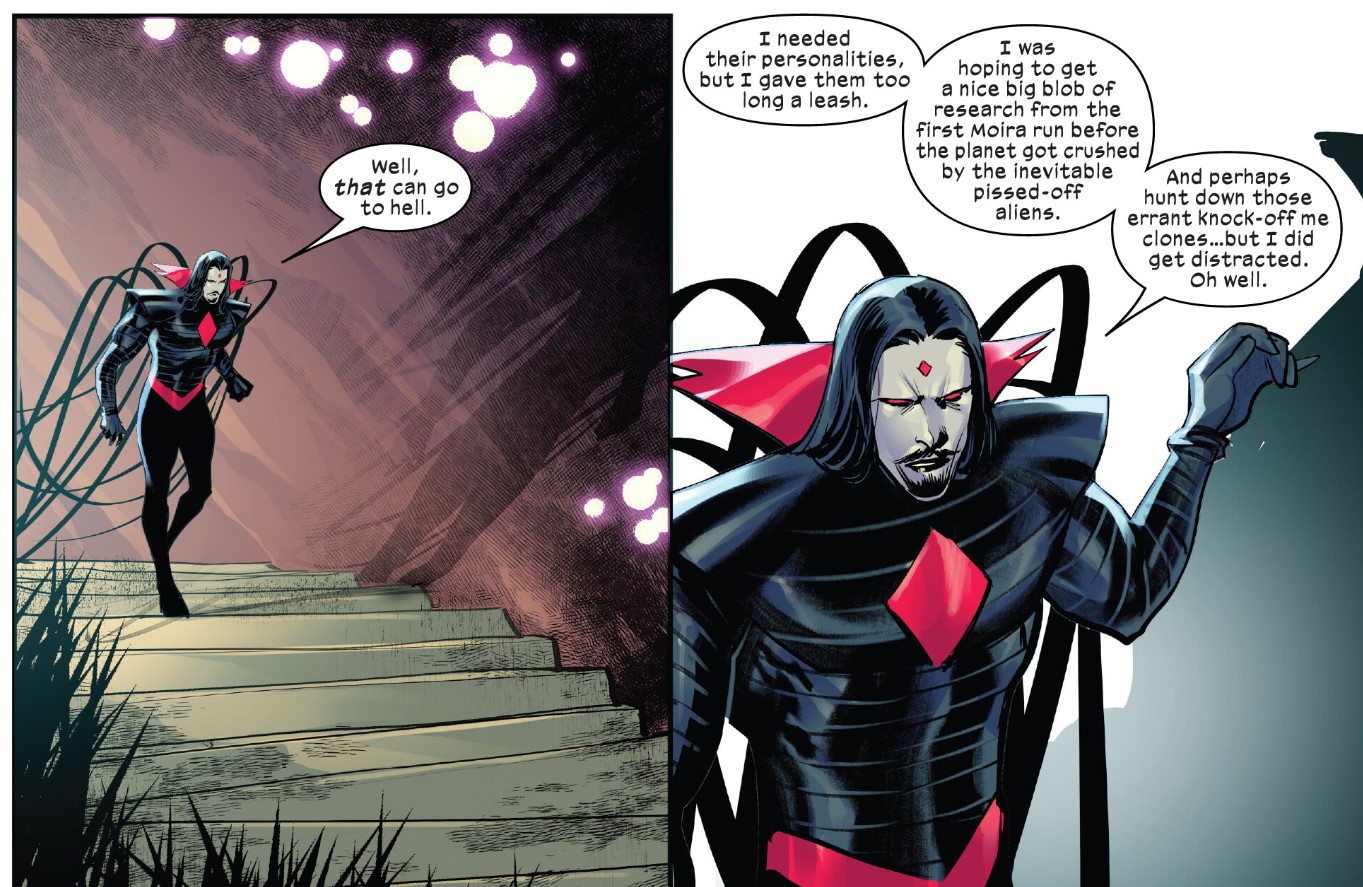 Over a decade ago, Gillen gave us the most frighteningly powerful and, above all, exquisitely campy Sinister yet in Uncanny X-Men vol 2 #1-3; "Everything Is Sinister" debuted the stunning notion of Sinister-as-system that X-Men Legacy scribe Mike Carey briefly revisited but that Hickman really ran with in all-new directions in Powers of X—opening the way for Gillen's return to the character.
However, now, as we'll see here, Sinister starts off infecting and reprogramming powerful mutants while allowing them, even in this state of thralldom to retain the integrity of their recognizable individuality, however unfree—unlike Carey's excellent "Sins of the Father" (X-Men Legacy #211-214), where Xavier narrowly escapes being completely taken over and, presumably, eradicated.
But at the start of SOS1, all that seems certain is that Sinister has won; he has thoroughly conquered Earth. We also find out why he was so hell-bent on assassinating Hope: It turns out that she was, unconsciously, the key to preventing Sinister's reprogramming of every resurrected mutant; take her out of the equation, and his plans could go forward without a hitch. Well, he did achieve his mission in Immortal X-Men #9, so then, it wasn't just ol' Charlie who'd been infected in issue #10 but the three other council telepaths—and from there, anyone else who underwent the Five's Resurrection Protocols.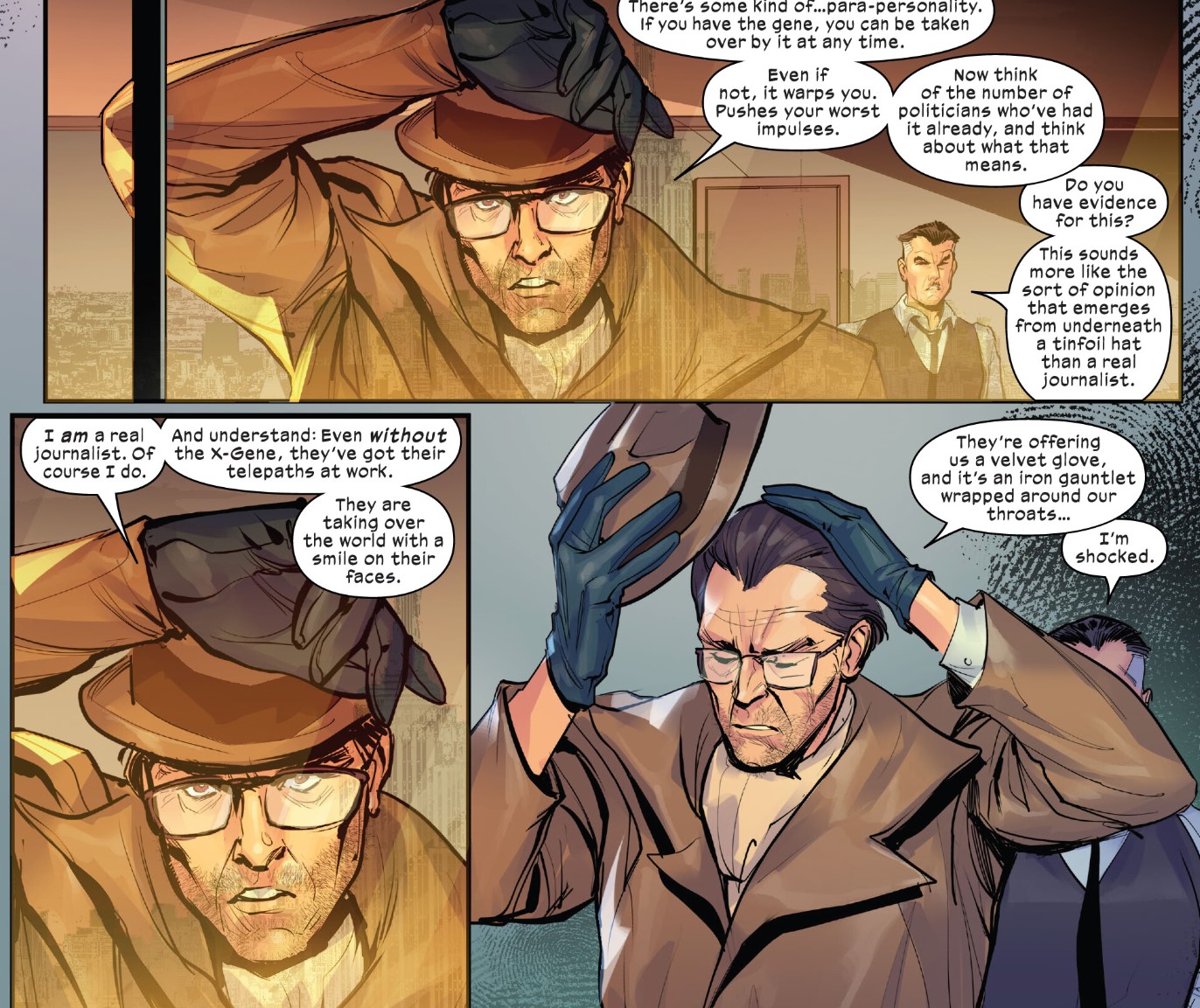 Now, it's pretty amazing that in the five-year gap during which Sinister effectively takes over the world, Storm never dies, nor does she suspect anything, apparently, until most of that time has passed. Whatever. It works for the story.
We don't yet know why Sinister then felt the need to lobotomize Krakoa, but it does enrage Sinister-mutated humanity against those who are blamed for the crime of the loss of their now forever-lost dead—Orchis; however, it's hard to imagine the status quo (Orchis' popularity with humans) not reverting back post-Sins of Sinister. Perhaps Krakoa's vegetal complexity is too much Sinister's schemes? In any case, the mutants have Wanda's Waiting Room always and forever (RIP Wanda!).
Humanity, however, will provide sufficient cerebral mass for the eventual creation of a Sinister Dominion, as a hive mind that will, ideally, rival the Dominions of the Phalanx (Omega Sentinel's "trickster" ally?).
(Orchis, robo-Moira and Nimrod go down real easy here, which doesn't inspire confidence in their status as a credible threat going forward!)
As part of the series of splash pages gloriously dominating the second half of the issue, page 34 shows us that Waiting Room now ruled by Krakoa's ambassador to Hell's "Infernal Parliament," Sebastian Shaw (undoubtedly with backup from Magik who now, along with Namor and the Beast, sits on the QC (in lieu of Mystique, Destiny and Sinister himself).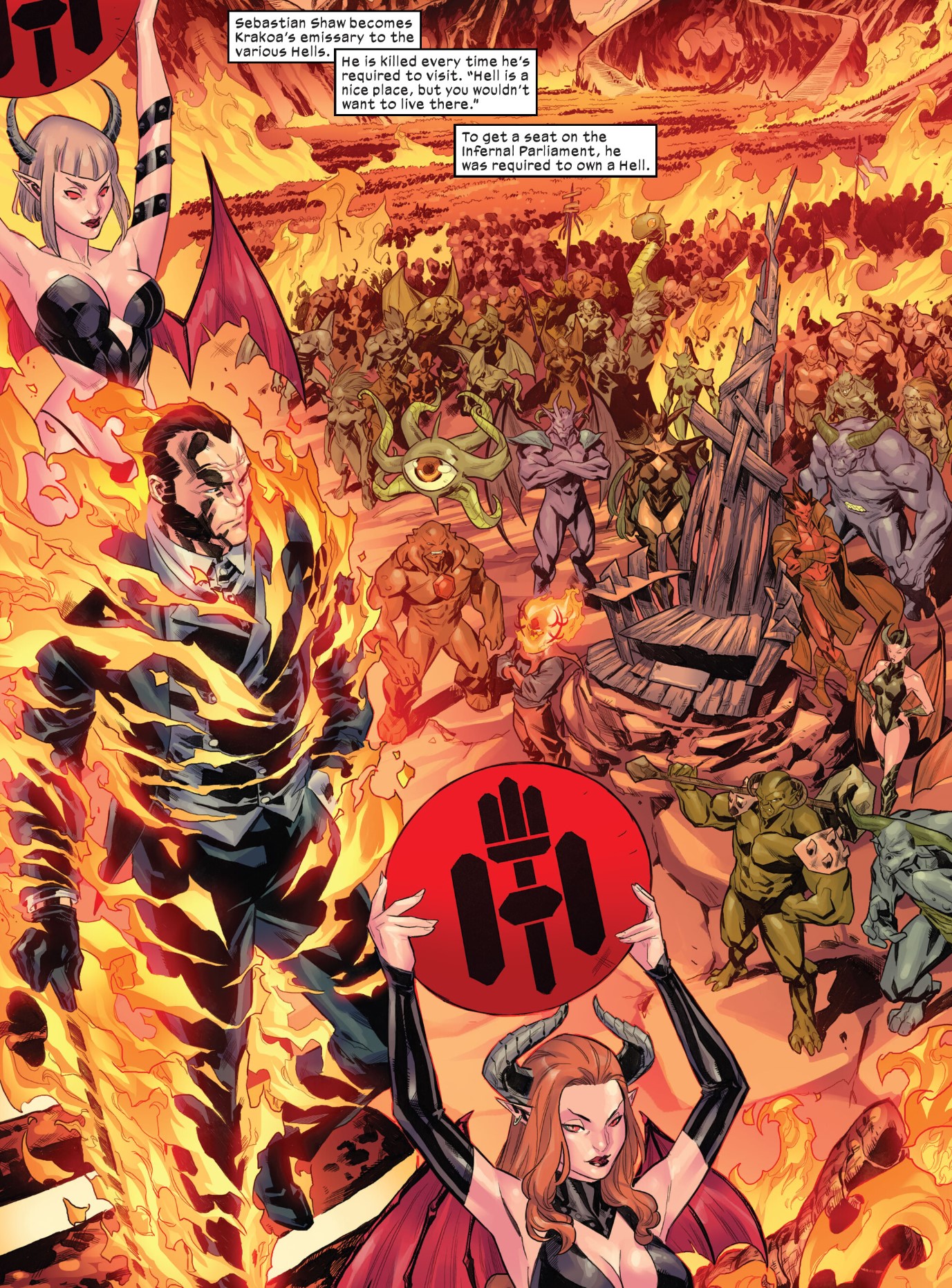 (You can bet Magneto in whatever astral form he's in now is not hanging around the Waiting Room turned Hell.)
With Sinister's evil code now running the human world, infected humans presumably continue infecting those last few pockets and individuals left free and, of course, their own offspring.
The future-history splash-page sequence kicks off with the hilarious assassination of Thanos—his head cored by a miniaturized Juggernaut shot from a gun fired by a Domino-inspired Hope. Cain and the corpse are lost to the timestream (which is also a nice oblique nod to Thanos' current whereabouts post-Eternals).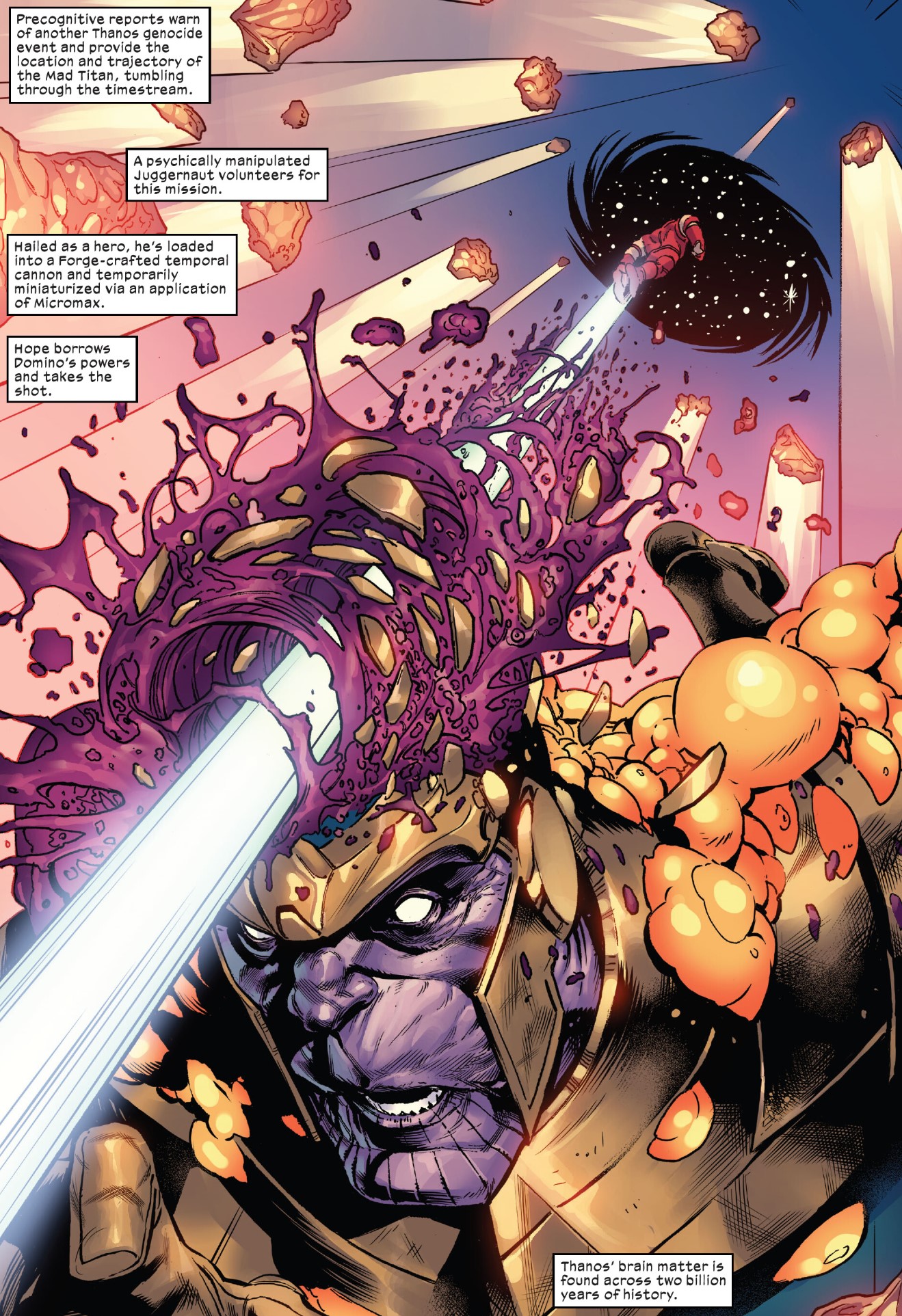 Again, many of these splash pages are simply a reason for the guest artists to flex and for Gillen to feed us delightful nods and Easter eggs that run the gamut of the Marvel Universe.
In the midst of this catastrophic future, Storm finally gets wise; we don't know how exactly, but what matters is that she comes to her last QC meeting prepared to fend off a Sinister psi-attack—essentially warded by Lactuca of Arakko's Great Ring (see recent issues of X-Men: Red for more on this enigmatic Arakkii).
Nightcrawler's future monstrousness is clearly an extrapolation from his current disarray in Legion of X, and it will continue on, no doubt, into Spurrier's Nightcrawlers mini. Gillen and Werneck are effective here in showing, albeit very briefly, how devastating this years-long deception must feel to Storm.
When Storm finds herself with the missing Mystique and Destiny, the latter says exactly what she's said several times now to Sinister, going back decades: "We must be on the same side." Maybe this time, she can mean it without qualification? Certainly, she's the far more compromised figure in this new alliance.
But with Arakko/Mars literally destroyed, Storm and company are going to have a much harder time of it acting as the most serious resistance to Sinister (Don't cry, though—Sugar Man's back; huzzah! 😉).
By the end of the issue, we see that Sinister (again, unlike Thanos or Doom) does not have tight control over his pawns, at all: He's suddenly outvoted on taking the fight to those intergalactic powers that want to preemptively crush the burgeoning loose cannon the Sinister/mutant-dominated Earth has now become. While it's a war that can't be won by the mutants, the Krakoans show themselves to still be who they have always been—hopeless heroes, each with their own irascible individuality.
After all, Sinister didn't want them to lose that individuality because that was exactly what made them useful as puppets. That plan has now gone awry!
So, he escapes to his Muir Isle, Moira-clone farm base (this is the first time we learn of its location, which is merely a bit of sardonic fun on Sinister's part)—only to discover that it's been completely stripped and stolen. This means he can no longer kill the current Moira and reset reality to his preferred "save point" (allowing him to start his grand experiment over again with all the knowledge and advantage he's gained during the ongoing timeline; the Sinister scheme here delightfully echoes Claire North's First Fifteen Lives of Harry August in the disasters wrought there upon the myriad reiterations of a 20th century concatenated with too many anachronistic technological advances).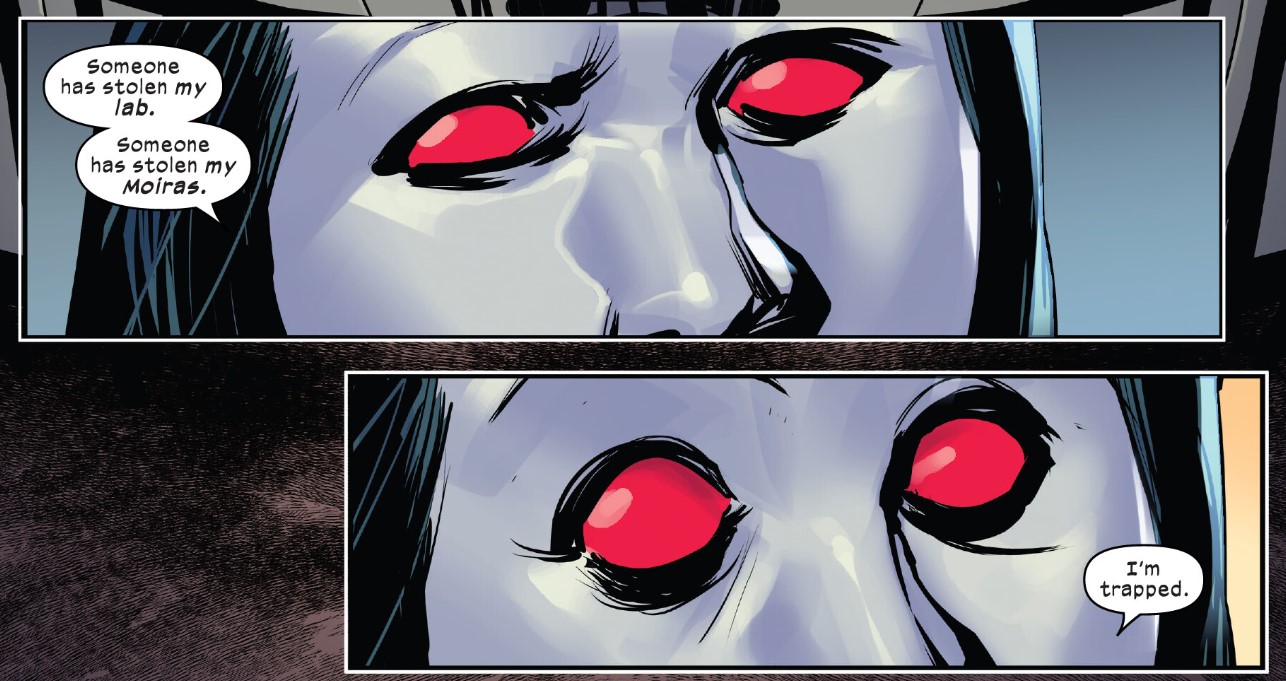 Likeliest candidates for this brilliant heist? Obviously, Mystique and Destiny are foremost. But perhaps Moira herself has returned for her own brand of revenge… Or the other Suits of Sinister are still out there, evading the Diamonds Let the endgame begin!
NEXT: Sinister's Dominion +10 Years