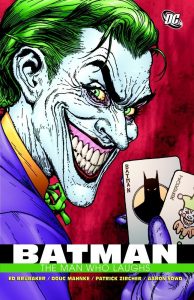 "We skipped the light fandango
Turned cartwheels 'cross the floor
I was feeling kinda seasick
But the crowd called out for more
(…) She said, 'There is no reason'
And the truth is plain to see
But I wandered through my playing cards
And would not let her be"
—Procol Harum, Whiter Shade of Pale
About the Author
| Ed Brubaker
Ed Brubaker has made some of the finest comic books of the last twenty years. From his creator-owned titles like Sleeper and Fatale, to groundbreaking work on Big-Two titles like Captain America and Catwoman.
With a portfolio so big and identifiable, it's easy to forget that some of his best work was done early in his career, during his short run with Detective Comics.
Brubaker's noir-fueled style with its clipped dialog and tense, focused plotting was a perfect tonal match for the series. But it was Brubaker's love of mysteries and his economy of thinking that made the books shine.
Unfortunately, those same strengths could also bite him. This collected edition of The Man Who Laughs is an interesting match of both. But we're going to take a look at the other books before we get to that.
[Read more…] about Batman: The Man Who Laughs Review! — At First Just Ghostly