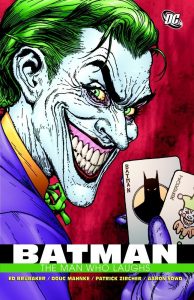 "We skipped the light fandango
Turned cartwheels 'cross the floor
I was feeling kinda seasick
But the crowd called out for more
(…) She said, 'There is no reason'
And the truth is plain to see
But I wandered through my playing cards
And would not let her be"
—Procol Harum, Whiter Shade of Pale
About the Author
| Ed Brubaker
Ed Brubaker has made some of the finest comic books of the last twenty years. From his creator-owned titles like Sleeper and Fatale, to groundbreaking work on Big-Two titles like Captain America and Catwoman.
With a portfolio so big and identifiable, it's easy to forget that some of his best work was done early in his career, during his short run with Detective Comics.
Brubaker's noir-fueled style with its clipped dialog and tense, focused plotting was a perfect tonal match for the series. But it was Brubaker's love of mysteries and his economy of thinking that made the books shine.
Support For Comic Book Herald:
Comic Book Herald is reader-supported. When you buy through links on our site, we may earn a qualifying affiliate commission.
Comic Book Herald's reading orders and guides are also made possible by reader support on Patreon, and generous reader donations.
Any size contribution will help keep CBH alive and full of new comics guides and content. Support CBH on Patreon for exclusive rewards, or Donate here! Thank you for reading!
Unfortunately, those same strengths could also bite him. This collected edition of The Man Who Laughs is an interesting match of both. But we're going to take a look at the other books before we get to that.
Writer: Ed Brubaker
Penciler: Patrick Zircher
Inkers: Aaron Sowd, Steve Bird
Colorist: Jason Wright, Wildstorm FX
Letters: Todd Klein
This previously uncollected story opens with James Gordon, retired GCPD police commissioner, stumbling across a dead body. The victim is laying at the foot of a statue belonging to Gotham's first protector—Alan Scott, the Golden Age Green Lantern—with Scott's secret weakness carved into their chest. The story then moves back and forth across time, from the city's old protector to its newest, and the cop stuck between, all three attempting to solve a single murder that's quickly becoming something darker and stranger still.
The Good
This is a fantastic example of Ed Brubaker in his element. Scott provides Brubaker's love of history and intrigue. James Gordon, who proves here why he was one of the best detectives on the force, provides the weary cop angle. This leaves Batman to be the "kid" in the situation, watching old masters at work. Meanwhile, the audience gets to watch the old men struggling under the kind of tension they thought they'd left behind.
The art department does a fantastic job in capturing the script. The age of the characters and the sense that history never really ends comes through on present-tense pages evoking a flashback that never ended. Even the covers—Tim Sale with Mark Chiarello—are stylish and bold. There are hints of Ashley Wood's designs on the criminally underrated Hellspawn (2000-2003).
The Less Good
If I had one detraction, it would be that this arc is so clearly a product of its time. It's true that when noir was contemporary, it was considered a brutal, violent aesthetic. Almost self-indulgently so. The early 2000s were very much the same, filled with comics haunted by confusion and terror, yet almost decadent in their dark, explicit savagery. Our global, post-9/11 love/hate relationship with force and punishment.
Quick Thoughts
There are moments in this story where the self-gratifying horror threatens to be tedious. But, to everyone's credit, that sensation is only fleeting, and easily forgotten with the next jolt of well-crafted sensationalism.
Ultimately, the mini-series is a great example of why Brubaker felt so fresh in that first decade. Simply, at a time of great uncertainty, he could turn out work that made even the most dangerous of mysteries seem possible to know, and provide a relief in their ending.
Batman
|
"The Man Who Laughs"
(one-shot)
Writer: Ed Brubaker
Artist: Doug Mahnke
Colorist: David Baron
Letters: Rob Leigh
The Man Who Laughs was DC's editorial's attempt to engineer a new watershed in the Batman line. This was Brubaker's big return to the character whom he'd left two years prior, and it was intended to be his big contribution to the story. A single issue that DC hoped would take the most famous adversary relationship in comics (and possibly in all of fiction) and roll it back about 50 years.
The Good
Brubaker's Style
This story has just enough Brubaker in it to be enjoyable, particularly for his existing fans. Brubaker's love of the tabloid rags from the Golden Age of Hollywood comes through in how he methodically plans and dissects his own use of violence, making even a fantasy world of Gotham feel more like the late edition of some yellow journalism fish wrapper (which I mean in the best of ways!).
That particular approach to storytelling is absolutely crucial in this case as it is entirely too easy to get off track with the Joker. I think because the allure of his madness and its potential can distract writers, leading to writers getting lost in the "fun parts" and losing track of foundational narrative elements like clarity, internal logic, and consistency. (Just ask Geoff Johns about that.)
By contrast, Brubaker's tight writing style means he's able to really examine some of the character's more violent and horrifying trademarks without neglecting the rest of the book. 
This in turn makes his Joker more methodical, dedicated, and flat out dangerous than some previous incarnations. This is particularly true in how Brubaker brings Joker's tools of the trade to the forefront once more, making them something integral to and refined by the character. Somehow, Brubaker maintains the unpredictability of the Joker without the story falling apart under his influence.
Mahnke's Artwork
Doug Mahnke's artwork has a real flair for Batman's movements and Brubaker's cinematic tone. It's grisly, detailed, and excels at depicting the state of bodies. His fights feel punchy and always clear, yet his corpses feel rigormortis stiff. That's a real challenge to pull off, and it adds so much to make this book feel as if Joker marks the end of print news (still corpses) and the beginning of television (Batman having his first highly-visible fights in public.)
If I have a critique, it's that at times, Mahnke's work can be a little too "sketchy" and unrefined for my tastes, but that's partly a sign of its times. (There was a period in the early 2000s where publishers and artists though they could skip the inking stage if they just scanned pencils into Adobe Photoshop and then pushed the image contrast until it was duo-tone black and white. It was an ugly mess. I'm not positive that's the case with Mahnke's work. When he's good it's good. But when he cuts corners on a less important panel or element, it's reminiscent of that phenomenon.)
The Disappointing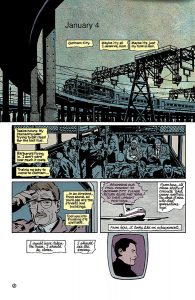 Editorial Planning
Before we go further, I need to expand on what I said up top about DC's idea of this book being a "big contribution" to Batman.
Ed Brubaker is a fantastically talented writer and I have loved his work on a great many books. But frankly, that editorial plan is entirely too ambitious, particularly for a one-shot issue (I don't care how prestigious its format is!) Not only is it a bad idea business wise; it sets the creative team up to fail.
The Premise is the Product
As stated above, The Man Who Laughs was meant to be a fresh starting point for the Joker made from (or bolstered by) some of the most influential books in Batman's early timeline. At least for me, the reason the book falls short is because it met its goals.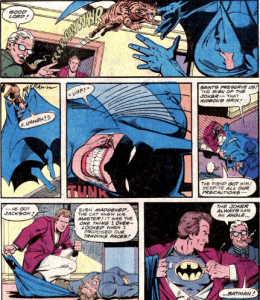 Its influence does not stop at Miller and Finger, but extends further until it is directly referencing multiple other classic stories, including:
Englehart & Rogers "

The Laughing Fish!

" (

Detective Comics

#475. 1978)

.




This is often called the first "modern" Joker story. Brubaker's Joker targets the powerful and wealthy through the twin weapons of toxins and television in, essentially, a direct homage to this 1978 classic.

The prelude to the

Knightfall

trilogy (Chuck Dixon, Graham Nolan, et al. 1993)

(Reading order:

here

), which tells the story of a Big Bad building an army out of Arkham inmates in order to slow down the heroes. Another story element Brubaker borrows.

Brubaker's own "

Made of Wood

"

(above

) which had been published two years prior to

this

one-shot. (#784-786 are collected in this trade.) Both stories have the killers scrawling violent messages to announce both their intentions and their origins.

The ending, which I won't spoil except to say, confidently, that you have seen it done before.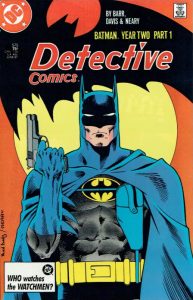 For existing fans of the Bat, The Man Who Laughs' extreme dedication to canon is likely to make the story feel like it never really gets started. Like it's permanently stuck in the preamble. Worse, what's new in the story is good, but there's not enough of it, leaving the narrative to rely more on shocks than surprises. Again, that was often a hallmark of its time, so I don't mean to single this story out in particular. But today, at least for me, simple disgust is a bit… exhausted. Particularly at this exact period of time, where plague and politics have left us all so laissez-faire in our anxieties. 
And living after the highly-inventive Incognito and My Heroes Have Always Been Junkies does not help this tale by contrast.
Misused Characters
On paper, Brubaker was the perfect choice for this book. If what DC wanted was a successor to Year One, then I'm not certain there's another writer alive who was able to pick up that mantle and run with it. And I'm including Frank Miller himself in that consideration.
Ed Brubaker was a tonal match. Clever, somehow both lurid and measured in his style. He also made great use of canon and understood the world well enough to play effectively with point of view. All of these skills had served him well on Batman projects in the past.
But here it hamstrings him. Maybe this is caused by page count, deadline, editorial restriction, or too much "faithful" in this adaptation, who's to say. But it twists some characters way out of shape.
James Gordon
Year One presents the reader a fresh Jim Gordon. One who was already bedraggled but still a fearless reformer. An idealist who had just enough fear to take on the city, and just enough hope to think he could win. He's a fantastic investigator, dogged enough to take on the entire police department. 
The Man Who Laughs takes place roughly one year late, and shows Gordon as bitter, jaded, and hopeless. He's suddenly nearing the nihilism of a cop on burnout and subsequently adds nothing to the investigation. My question is: "what the hell happened in that 12 months? And why isn't that the story?"
It's as if DC paid Gordon enough to reprise his role as the narrator in Year One, but not enough to climb fences or give chase.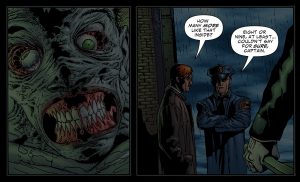 GCPD and the City
Canonically, this story tells the story of Gotham's first brush with the Joker. Possibly with any supervillain (at least, outside of Golden and Silver Age cake-stealing types).
And the ambient panic is shockingly low.
Cops describe a clown committing mass murder with a practiced, cold detachment that suggests experience and training they should not have. The fact that this is supposed to be the very first appearance of one of Joker's smiling victims and that no one so much as vomits from schock really defeats the realistic approach Brubaker brought to the crimes. It's almost a satire of pulp at that point.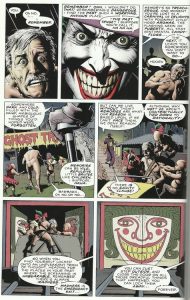 The Joker
Perhaps the strangest thing about this story is what it specifically does not do. Namely, it's an origin that doesn't seek to define the character at hand.
In the case of the Joker, one would expect a definitive take on at least one of his classic question: 
Does Joker perform jokes, slapstick, or just do and say insane things?

Is he an inspiring gang leader or a maniacal tyrant?

Does he have a master plan, or is it all improv and crowd work?

How much of this is genius and how mania?
This book doesn't do much with any of that. There are signs of the Joker being methodical, even controlled. But there's also an enormous cliche at hand. One the book absolutely must play arrow-straight in order to deliver its payoff. And I don't think the book does nearly enough to justify the co-existence of these two approaches. It posits a Joker with a PhD level of rigor in his work and a supreme dedication to chaos. A psychopathic killer who… aspires to what is essentially vaudeville levels of villainy. How is that impossible to catch? Where is the ultimate threat?
Final Thoughts
It seems like every writer wants a crack at writing the Batman/Joker story. And reading through books like Arkham Asylum, The Killing Joke, A Death in the Family, and White Knight, it's incredibly easy to see why. And I don't mean just the contrasts and compliments between the two characters, or their storied history.
Hell, even master of horror John Carpenter wants in.
What I don't understand is why Brubaker would want this chance when he'd already delivered his masterpiece two years before?
The Red Ball
In 2003, Ed Brubaker and Greg Rucka co-wrote issue 12 of Gotham Central. The series, which featured the city's police to the point it all but excluded Batman, was already a must-read by this point (and if you haven't, you should.) But it had not yet had its "Joker issue," a staple of the bat-family of books. Issue 12 changed that, beginning a 4-part story called "Soft Targets", which radically changed how fans saw the Clown Prince of Crime. Those four issues redefined the true threat of the Joker; the way absolutely no one is safe, and how powerless Batman, city hall, the police, everyone is to make Joker anything less than inevitable.
It's a Top-3 Joker story, easy.
So.. why The Man Who Laughs? Why was less room, less character development, and more unoriginal citation supposed to create a better starting point than this mini-series?
Was it because DC wanted a literal origin story? Does the fact that every Joker story is technically an origin story not count somehow? Or was it the fact that the same thing that made both the series and this particular arc exciting—namely, the diminished presence of Batman—mean this story could never meet the standard?
Is Batman the actual defining part of the Joker? I hope not. It would make the characters nothing more than dependent references.