From the origins of Bane to the "Breaking of the Bat," DC's Knightfall trilogy is one of the most memorable and longest running Batman sagas of the 1990s.
DC's early 90's time period is defined by drastic changes to iconic characters, with the Death of Superman
 saga running from late 1992 through late 1993. Batman's Knightfall launches during this transition period in 1993, with Bruce Wayne training newcomers Jean-Paul Valley (Azrael) and Tim Drake (Robin). It isn't long before a new villain on the scene, Bane, begins playing Batman like a puppet, pitting him against all his greatest villains before breaking the bat himself.
Below you'll find a complete reading order to all three parts of the Knightfall trilogy, including the sagas retroactively titled Knightquest and Knightsend.
Related Reading Orders:
Previously: Death of Superman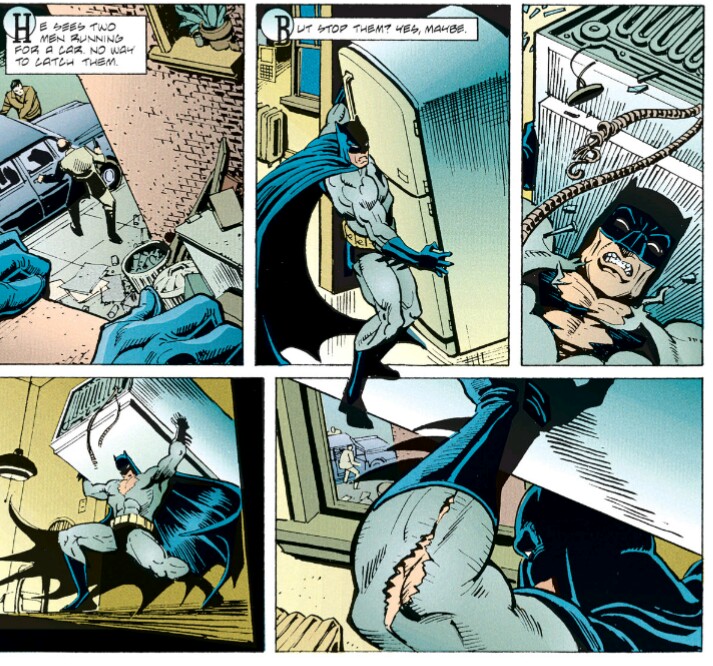 Road to Knightfall
Batman: Venom
Collects: Batman: Legends of the Dark Knight #16 to #20
Denny O'Neil and the creative partners Russell Braun, Jose Luis Garcia-Lopez, and Trevor Von Eeden delivered one of the most important Knightfall concepts early in the days of Legends of the Dark Knight. While it's more of a spiritual predecessor (and does not include Bane), "Venom" is an essential Batman story, that shows the hero's own descent into addiction.
Robin Vol. 1: Reborn
Collects: Detective Comics #618 to #621, Batman #455 to #457, Robin (1991) #1 to #5
The least direct "road to Knightfall" comic I include here, but familiarity with Tim Drake as the Robin of the 90's is an important part of the decade. Plus, Tim's introduction as Robin is one of the best Batman developments of the era.
Batman: Sword of Azrael
Collects: Sword of Azrael #1 to #4
It's genuinely strange that Azrael's introduction isn't included as a clear essential prelude to Knightfall in most collected editions. Yet another contribution of Bat-mastermind Denny O'Neil (with art by future Marvel Editor-in-Chief Joe Quesada), this intro to Azrael is extremely helpful to understanding the character's role in Knightfall.
Knightfall Omnibus Reading Order
Below you'll find the most recently released Omnibus editions that make collecting the entire Knightfall saga as streamlined as possible. I've laid out the chronologicial issue by issue reading order in bulleted lists below!
Batman: Knightfall Omnibus Vol. 1
Collects: Batman #484-500, Batman: Shadow Of The Bat #16-18, Batman: Vengeance Of Bane #1, Detective Comics #654-666 & Showcase '93 #7-8
Batman: Knightfall Omnibus Vol. 2: Knightquest
Collects: Batman #501-508, Batman Legends Of The Dark Knight #59-61, Batman: Shadow Of The Bat #19-27, Catwoman #6-7 Detective Comics #667-675, Justice League Task Force #5-6, Robin #1-2 & #7, And Showcase '94 #7
Batman Knightfall Omnibus Vol. 3 – Knightsend
Collects: Batman #509-510 & #512-515, Batman: Shadow Of The Bat #29-30 & #32-35, Detective Comics #676-677 & #679-682, Robin #8-9 & #11-14, Catwoman #12-13, Batman: Legends Of The Dark Knight #62-63, Showcase '94 #10, Nightwing: Alfred's Return #1, Batman: Vengeance Of Bane #2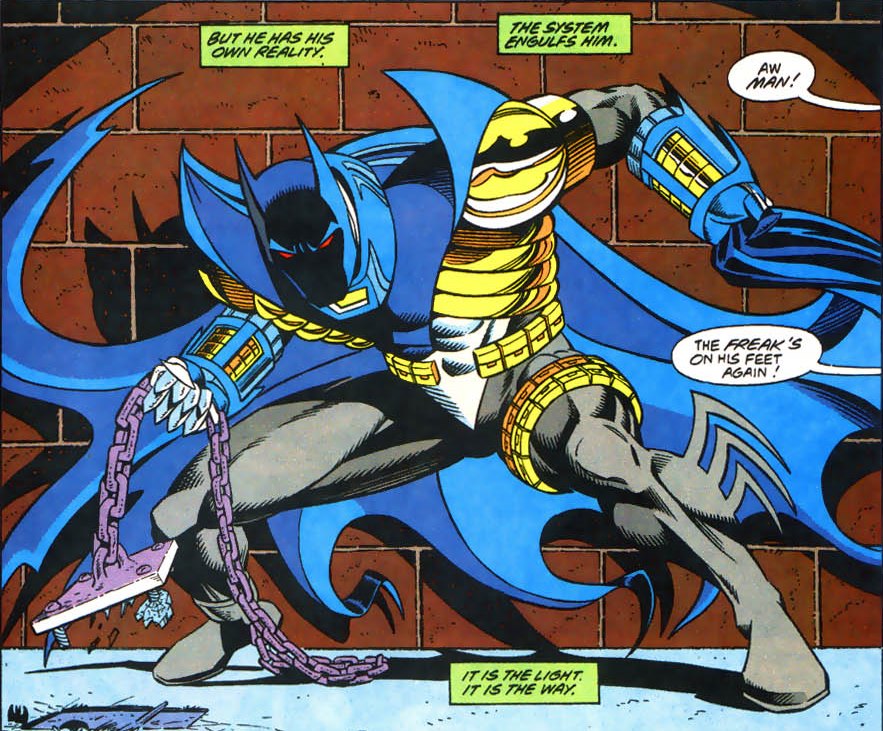 Knightfall Collected Graphic Novels Reading Order
For the most part, the collected graphic novels and trade paperbacks overlap with the issues included in the Omnibus editions of the Knightfall trilogy. There are some exceptions, of course, and the complete list of issues for Knightfall, Knightquest, and Knightsend (inclusive of all trades below) are included in list form beneath the guide to collections.
Collects: Batman: Vengeance Of Bane #1, Batman #484-491 And Detective Comics#654-658
Collects: Batman #492-497 And Detective Comics #659-663
Collects: Batman#498-500, Detective Comics #664-666, Showcase '93 #7-8 And Batman: Shadow Of The Bat #16-18
Batman: Knightquest: The Crusade Vol. 1
Collects: Detective Comics #667-670, Robin #1-2, Batman: Shadow Of The Bat #19-20, Batman #501-504 And Catwoman #6-7
Batman: Knightquest: The Crusade Vol. 2
Collects: Detective Comics #671-675, Batman: Shadow Of The Bat #24-28, Batman #505-508 And Showcase '94 #7
Batman: Knightquest: The Search
Collects: Justice League Task Force #5-6, Batman: Shadow Of The Bat #21-23, Batman: Legends Of The Dark Knight #59-61 And Robin #7
Collects: Batman #509-510, Batman: Shadow Of The Bat #29-30, Batman: Legends Of The Dark Knight #62-63, Robin #8-9, Detective Comics #676-677, Catwoman #12-13 And Showcase '94 #10
Collects: Batman #512-514, Batman: Shadow Of The Bat #32-34, Robin #0, 11-13 And Detective Comics #679-681
Collects: Batman #515, Batman: Shadow Of The Bat#35, Detective Comics #682, Robin #14, Nightwing: Alfred Returns And Batman: Vengeance Of The Bat #2
Batman Knightfall Comics Reading Order
Batman Vengeance of Bane #1
Batman #484
Batman #485
Batman #486
Batman #487
Detective Comics #654
Detective Comics #655
Detective Comics #656
Batman #488
Detective Comics #657
Detective Comics #658
Batman #489
Batman #490
Batman #491
Batman #492
Detective Comics #659
Batman #493
Detective Comics #660
Batman #494
Detective Comics #661
Batman #495
Detective Comics #662
Batman #496
Detective Comics #663
Batman #497

Issue 497 features the iconic cover of Bane breaking the bat over his knee!

Batman Villains Secret Files and Origins: Bane #1
Detective Comics #664
Showcase '93 #7
Showcase '93 #8
Batman #498
Shadow of the Bat #16
Shadow of the Bat #17
Shadow of the Bat #18
Detective Comics #665
Batman #499
Detective Comics #666
Batman #500
Batman Knightquest Comics Reading Order
Justice League Task Force #5
Justice League Task Force #6
Detective Comics #667
Detective Comics #668
Robin #1
Robin #2

Although uncollected as part of the Knightfall omnibus, it's recommended for Tim Drake fans to continue with his 1993 ongoing series up until issue #7, which is referenced below.

Batman Shadow of the Bat #19
Batman Shadow of the Bat #20
Batman #501
Batman #502
Detective Comics #669
Batman Shadow of the Bat #21
Batman Shadow of the Bat #22
Batman Shadow of the Bat #23
Detective Comics #670
Catwoman #6
Batman #503
Batman #504
Catwoman #7
Detective Comics #671
Detective Comics #672
Detective Comics #673
Batman Shadow of the Bat #24
Batman #505
Batman Shadow of the Bat #25
Batman #506
Batman #507
Legends of the Dark Knight #59
Legends of the Dark Knight #60
Legends of the Dark Knight #61
Robin #7
Batman Shadow of the Bat #26
Batman Shadow of the Bat #27
Detective Comics #674
Batman #508
Batman Shadow of the Bat #28
Detective Comics #675
Batman Knightsend Comics Reading Order
Batman #509
Batman Shadow of the Bat #29
Detective Comics #676
Batman: Legends of the Dark Knight #62
Robin #8
Catwoman #12
Batman #510
Batman Shadow of the Bat #30
Detective Comics #677
Batman: Legends of the Dark Knight #63
Robin #9
Catwoman #13
Showcase '94 #10
Robin #0
Batman #512
Batman Shadow of the Bat #32
Detective Comics #679
Robin #11
Batman #513
Batman Shadow of the Bat #33
Detective Comics #680
Robin #12
Batman #514
Batman Shadow of the Bat #34
Detective Comics #681
Robin #13
Batman #515
Batman Shadow of the Bat #35
Detective Comics #682
Robin #14
Azrael #1
Azrael #2
Nightwing Alfred's Return
Vengeance of Bane #2