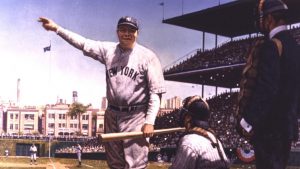 A little more than five years before Superman first saw print, America had already seen his kind of celebrity in Babe Ruth. Like Superman, Ruth wasn't the first ballplayer (superhero), but in a sense, he created baseball (superhero genre.) He was the stuff of legends. And nothing was more Ruth than when he called his shot in the 1932 series held here in Wrigley Field.
Now, we are here, in an America long past that Game 1, and Action Comics #1. And now, Geoff Johns has called his shot.
A little more than five years ago, Johns revealed in the pages of Justice League: Darkseid War that the Joker didn't have one real name, but three. This was Johns pointing into the stands, declaring the impossible. I'm going to make a massive change to one of comic's bedrock dynamics, Joker and Batman. The move seems to say: And even though you know I'm going to do it, you're going to be amazed when you see it.
How that Audacity Pays Off
So far, the story is precisely the kind of thing fans would expect from Johns. It identifies Joker's major impacts on continuity (literal impacts in the case of Batman, Batgirl, Red Hood, Commissioner Gordon, down to the very bricks and asphalt of Gotham itself.) But it's not all reference and call back: modern touches, like the fight between the Batfamily and Joker, are deeply satisfying. As is the gore comedy.
And the artwork is not just well-executed, but particularly effective for this story. There's a kind of echo of the Silver and Bronze Age aesthetics to Jason Fabok's self-aware work here. The pencils are naturalistic but heroic, leaving the inks to make them dramatic but with a cartoonist's nod to simplification. Brad Anderson's color then brings it to life under the hot lights of 70s genre films. But they're also making some surprising choices, even mixing in period-appropriate artists (I swear there's a little Bill Sienkewicz in the last few pages.)
Support For Comic Book Herald:
Comic Book Herald is reader-supported. When you buy through links on our site, we may earn a qualifying affiliate commission.
Comic Book Herald's reading orders and guides are also made possible by reader support on Patreon, and generous reader donations.
Any size contribution will help keep CBH alive and full of new comics guides and content. Support CBH on Patreon for exclusive rewards, or Donate here! Thank you for reading!
On Geoff Johns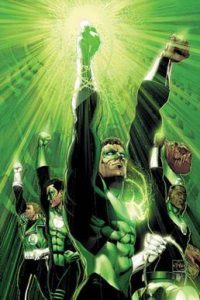 Johns came onto the scene hot, doing character-defining with DC like Green Lantern: Blackest Night/Brightest Day. Smart, efficient storytelling that quickly had him earning comparisons to legends like Julie Schwartz and John Byrne. And though Johns has been struggling a bit of late (eg. Doomsday Clock), he's still an important part of the DC bullpen.
Babe Ruth was a decrepit 37 years old when he took the plate in Wrigley and the size of several cars. I don't believe for a moment that Johns is out of the game merely for age or recent work.
Like the Sultan of Swat, Johns still occupies that rare position where he doesn't just have the talent that makes it possible for him to hit a homerun. And the skill to put the metaphorical ball where he wants it. Johns also has the sheer star power to get away with pointing into the stands first. That somehow, his declaration does not seem to make his expectations crippling or his competition empowered.
But while we're just on the first issue, I don't think it's going to work out for Johns.
My Issues With the First Issue
The Geoff Johns Formula
The core concept of this book is, for many reasons, the most Geoff Johns thing possible. It hits every one of his stylistic hallmarks:

The Joker is one of the lynchpins of the medium.

As such, he's extremely high profile, which is a thing Johns likes (see: Justice League, Doomsday Clock, etc)

There is a deep, and (intentionally) confusing continuity to reference through and clean up.

There's even an Alan Moore connection.
So the concept was totally within the writer's power, its in line with his character, and it resulted in a book we can only describe as "totally Geoff Johns."
How the Formula Holds Three Jokers Back
Rehashing the Origin Story. Again.
More than half of this issue is dedicated to the defining moments between the Joker and all three members of the Batfamily featured in the book. It even has both death of Batman's parents and Joker's fall into Ace chemicals. The weirdest part is how it feels almost like a meta-commentary on the very practice of retelling origins (Jason's story uses artwork from Under the Red Hood, which itself was retelling Death in the Family. I'm not sure if that's intentional, or because one is newer and somehow "iconic-er" than the other.)

Constantly Stating the Obvious
It's one thing to tell an audience what they could conceivably have not read the first time, not absorbed through osmosis, or is somehow impossible to find on the internet.
But it is another thing entirely for the opening sequence to feature Harvey Bullock, one of the most iconic members of the GCPD, go right out and state that there must be three Jokers. A fact the audience has known for five full years. And is on the cover of the book. 
In fact, there's a lot of exposition that seems wildly unnecessary. Babs talks to herself about, essentially, stopping the Joker before he hurts someone like he hurt Babs. Everyone talks about how Joker's torture has made Jason violent, including Jason. These things happen after we've (re)established their origins. Speaking of which…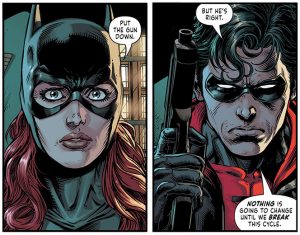 Stuck on Repeat
The book has a few fun surprises, mostly towards the end, largely having to do with justice. (You got what you deserved, Gaggy.) But the closing sequence is a complete and utter rehashing of the old "can we kill the Joker?" chestnut. Which was the entire question of The Killing Joke
, a tale this book references multiple times.
Is This A Good Joker Story?
Johns has been successful in the past with the same approach. His run on Flash Is a great example. But the Joker is a radically different situation. In scale, scope, and purpose. And I'll be real honest, I'm not sure that starting formula can make a good Joker story. I'm not even sure it can make a good Batman comic.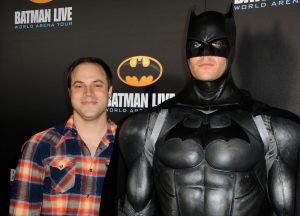 To start, Johns doesn't have the best reputation with Batman. I know that's unfair but it's no less true. Fans often alleged that his Rebirth Batman was essentially a villain. That his JLA Batman was underutilized. Heck, he made Batman get punched-out by Green Lantern, which even I will admit was a little needless. But for the most part, these portrayals aren't necessarily inaccurate, just the way Johns interprets the character. They may not be my taste, but I don't think we should fault a creator simply for having their own take on their characters. Even (and maybe especially) the iconic ones.
But that's entirely about character. What Johns seems to be missing so far, is utility.
What Makes Utility Story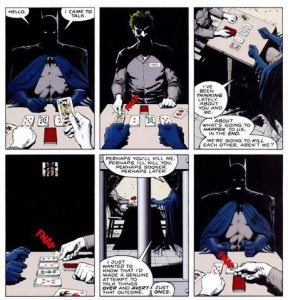 In reality, Joker is famous because he's a great character, with great designs, and dozens of wonderful stories behind him. And, to some extent, because of the long-touted fact that he's the opposite of Batman. But neither of those comes even close to why that character exists. Well, maybe that second one…
Joker acts in stories towards one and only one goal: to force the characters, their world, and the readers themselves to become evil. And specifically, "evil" by their personal definitions. The goal isn't violence or mayhem. Joker's goal isn't even his exhibited traits like chaos or comedy or mystery. The goal is "follow this," "laugh at this," "think like this." The challenge is: "become this."
Why Other Things (Frequently) Aren't
What makes the Joker scary, what makes him do the things he does, doesn't have a single "why." Joker is one of those wonderful characters that can and does change, often dramatically. Again, that's the point of this story.
Except that I really don't think it should be.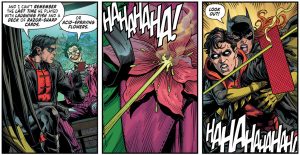 Put extremely simply: Just because the Joker has done or not done something in the past does not guarantee or even shed meaning on his current or future actions. Put even more simply: "past performance is no guarantee of future results — Mandatory SEC Guidelines."
The Joker was created to flip people on their heads and terrify them. This is the foundation beneath his character, his popularity, even his fashion choices.
That's not what's happening in this issue. Not in general or in specifics.
There's a small but very intentional scene in the middle of the book in which the Titular Jokers Tres are talking in private. The scene is written and drawn as if they're the only beings inside of a tiny universe. If "sanity" is decided by consensus reality, then in this scene they're an unholy Trinity within a Joker universe. 
And yet the scene is orderly. Their language is comprehensible. The entire thing is structured like the "smokey backroom" scene, a well-known classic of badass, dramatic cinema.
My only question is:
Why did this happen? 
Why would three Jokers be less insane to readers, less challenging than the single-Joker tableaus Johns' references everywhere else in the book?
Why, at the very beginning, is one Joker dragging the story towards more order? And why are the other Jokers respecting an authority figure?
Again, we can argue that this is Geoff's interpretation. And it's early days yet, so there's plenty of time for Geoff to make me eat my words. I'd be glad to. I love good Batman stories, especially those featuring the Joker. And more importantly, I want there to be more of them.
But for me, this issue was not one of them. And I struggle to see how it ever could have been.
My Final Opinion
After reading issue one, my honest thought was this: Either Three Jokers will be a better Brightest Day/Blackest Night, or a worse one. I say this because its central question, "what if there were more Jokers?", is both literally and fundamentally a rewording of "what if there were more Lanterns?" Making it (thus far) the same rumination on the past. It's the same reliance on continuity and scale. And it sure as hell points towards the same story of absolution.
I know one thing for absolute certain: There are at least three Jokers, and as a fan, I should not feel so comfortable in my own certainty. Or so uncomfortable waiting in the stands beneath the scoreboard.