This week I share the creator interviews and panel learnings from my weekend at C2E2, which included the X-Men's 2020 crossover event announcement, Scott Sndyer giving wayyyy more DC Death Metal details than expected, and a sneak preview of animated Harley Quinn season two episode one.
Now that I've attended a few cons as "press," I have a really good sense of my goals entering con madness. This year was effectively 1) Mini interviews with as many creators as possible 2) Live coverage of the big X-Men news 3) Get my first sketch/commission at a con 4) Don't get sick and 5) Maybe get a signed copy of Mister Miracle from Tom King and Mitch Gerads.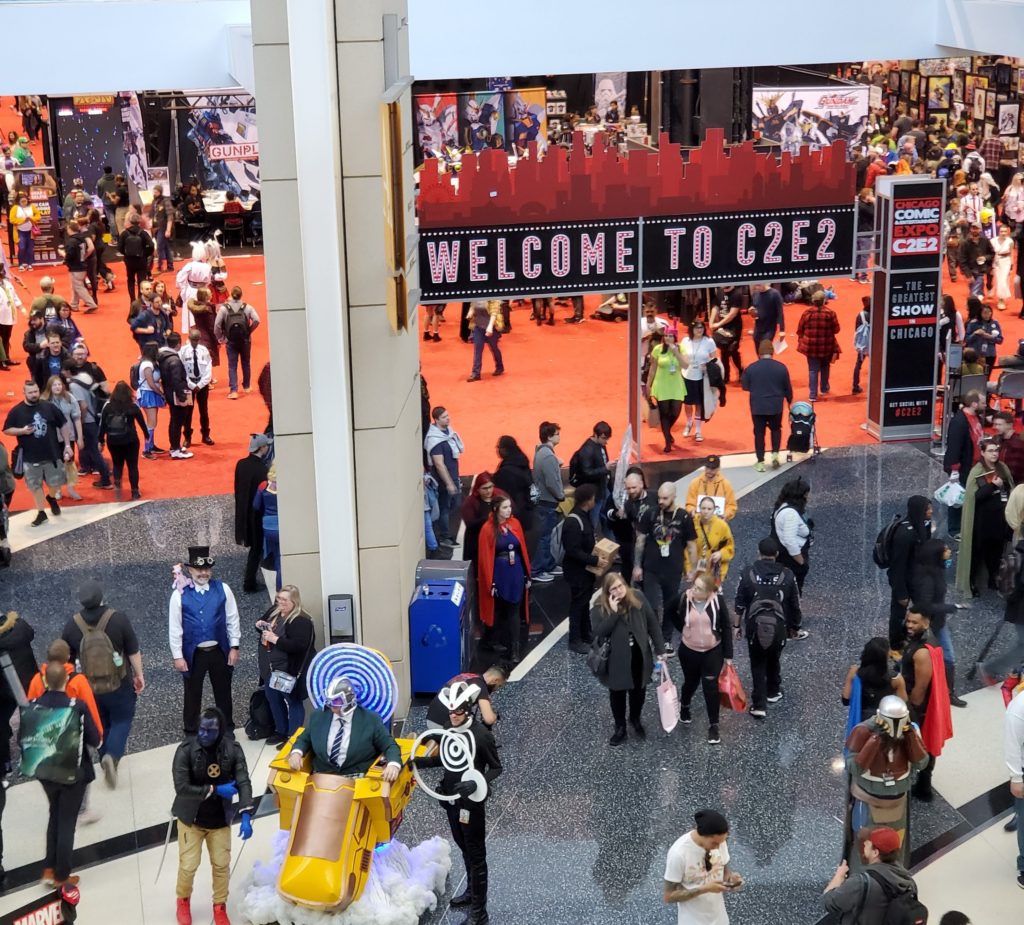 The Interviews
Since I'm not fancy enough to actually schedule creator interviews ahead of time (and let's just say "I'm with Comic Book Herald" is generally met with blank-faced yet polite "Sure's" by the creative community), I try to come up with broader conversation points for the creators I talk to. I realized this year my approach might actually be the only way I'd get to talk to certain folks, as a handful of creators were really reluctant to engage in interviews that could potentially impact major characters/franchises. One interviewee paused for a straight 15 seconds before consenting to talk to me, and another had three separate handlers check in to make sure everything was ok (it must be the combination of my imposing physique and epic con beard).
Regardless, my questions were as follows:
What's your favorite time period of comics – a year, a run, an era, etc?
What's an underrated comic you're reading that you want to recommend?
James Tynion IV
Support For Comic Book Herald:
Comic Book Herald is reader-supported. When you buy through links on our site, we may earn a qualifying affiliate commission.
Comic Book Herald's reading orders and guides are also made possible by reader support on Patreon, and generous reader donations.
Any size contribution will help keep CBH alive and full of new comics guides and content. Support CBH on Patreon for exclusive rewards, or Donate here! Thank you for reading!
Geoff John's mid 2000s DC, Marvel Ultimate Universe, 2000s Wildstorm
The Plot by @MichaelMoreci

and friends
Cullen Bunn
Early 80s Micronauts, Dreadstar and X-Men
(not even a comic!) Resurrectionist by Michael Patrick Hicks
Ryan Browne
Bendis/Maleev Daredevil + Robinson/Harris Starman
Disposable Assassin, Kaijumax
Rachelle Rosenberg
90s X-Men
Man-Eaters
Kwanza Osajyefo
Mid 90s Milestone
Spy X Family from Shonen Jump
John Diener
2) No One Left to Fight
Robbie Thompson
2) Dennis "Hopeless" Hallum on X-O Manowar, Savage Avengers from Marvel
Joe Eisma
Late 80's Marvel – Claremont X-Men, Inferno, Excalibur
20th Century Boys
Tini Howard
First comic book pull – Invincible Iron Man by Matt Fraction and Salvador Larocca, shouts to Dick Grayson as Batman
Nebula written by Vita Ayala
Gerry Duggan
Bronze Age Marvel
Anything by Daniel Warren Johnson, mentioned Murder Falcon
Mirka Andolfo
Disney's W.I.T.C.H.
Nomen Omen
Babs Tarr
When she was hired to do Batgirl 
Stanford Greene
Marvel Bronze Age
On the Stump
Charles Stewart
Geoff Johns' Green Lantern, including Sinestro Corps War and Blackest Night
Bob McLeod
Mad Magazine, Tomb of Dracula with Gene Colan art
Vanesa Del Ray
90's Witchblade, Spawn
Big Kids
Some of the big names that I hoped to talk to (Tom King, Mitch Gerads, Donny Cates, Ryan Stegman, and Chris Claremont) were constantly swarmed by fans seeking autographs, to the point that I would have limited my con to waiting in line for any of them.
Comics News At C2E2
I attended two Marvel panels on Friday, both of which included writer Jonathan Hickman, and two DC + 1 Marvel panel on Saturday. My highlights are as follows:
X-Men: X of Swords Event News!
The experience of "breaking" news at a con is extremely fun, and the particular announcement about this summer's upcoming X-Men crossover got my mind racing with theories and predictions. Truly, the first thing I did when I got back from the con and caught up with my family was sit down and record an "X of Swords" predictions video:
DC Universe VIP
Despite the assumption that a press badge will bring you fame and adoration, the reality at C2E2 is it gets you into the con, but that's it (well, it did also get me a free Monster Energy!). Unexpectedly, it was my membership to DC Universe that actually got me front row seating for two consecutive DC Panels, including surprise appearances by both Jim Lee and Scott Snyder, in addition to other DC favorites of mine like Gail Simone and Daniel Warren Johnson.
Snyder's surprise entrance off the top ropes into the "DC Superheroes" panel was particularly incredible because the longtime New 52 Batman writer came in hot with exciting teasers and details about the upcoming DC "Death Metal." Given that his work with Greg Capullo on Dark Nights: Metal
remains one of my favorite comic book events of all time, I'm eagerly anticipating everything to do with "Death Metal," doubly so hearing Snyder's enthusiasm talking about the comics.
The other major win was a sneak viewing of DC Universe's Harley Quinn season two. I've written a few times how impressed I was with the very adult comedy in Harley season one, and the first ep of season two does not disappoint. Seriously, do not sleep on this show – it's so much better than I would have expected!
My First Con Sketch!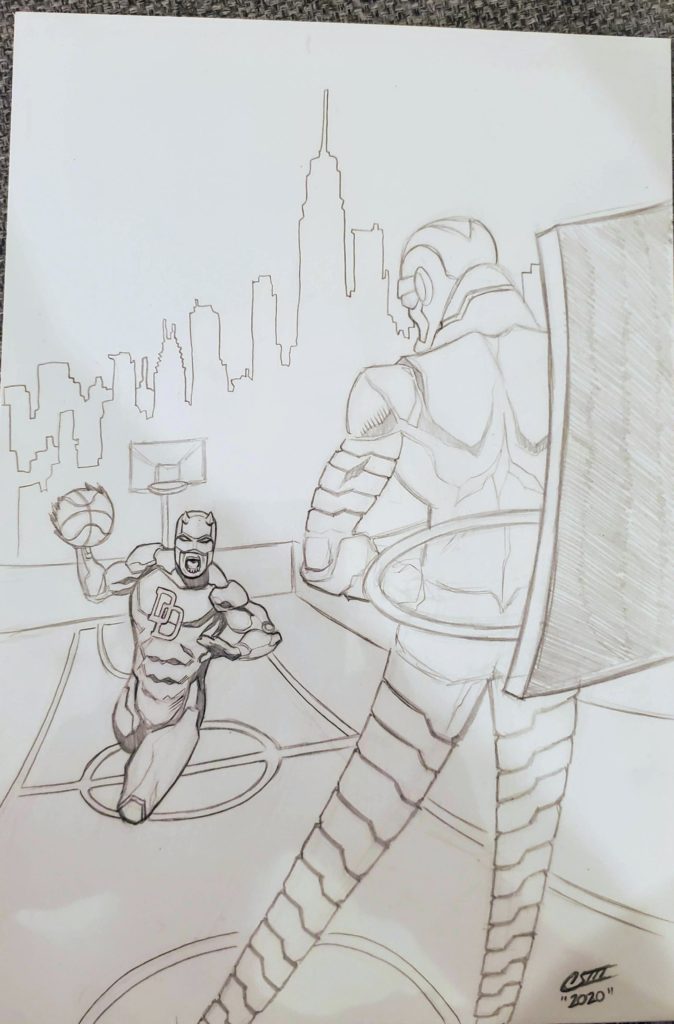 For my first ever con sketch, I requested a very particular piece of work from artist Charles Stewart III. As My Marvelous Year listeners will know, there's a running gag on the site about how incredible the Marvel villain Stilt-Man is. The MMY Slack community has even dedicated a religion to the great Wilbur in the Sky.
So naturally, I requested Stilt-Man vs. Daredevil in a basketball game. For his part, Charles looked initially baffled (I'd venture to guess he wasn't the most familiar with Stilt-Man), but delivered this fantastic sketch! I'm super happy with the work and have loved showing it off all weekend (and probably every time Zack and I record from here until eternity).
For those unfamiliar with con commissions like myself, they tend to range from $40 to $200 depending on the creator, and often offer different pricing levels for pencils, inks, and colors. It's also more for two characters in a sketch, than it is for a single character.
Moving forward, I'm hoping to follow some of John Galati's advice on con sketchbooks, and put together a "Stilt-Man plays sports" book from amazing artists. My dreams? They're sky high.