Above everything surrounding Eternals – the reports of global bans for Marvel Studio's (woefully belated) attempts at queer representation, the most rotten critical reception any MCU movie has seen, the debates about MCU fandom's respect for Eternals creator and Marvel Comics King, Jack Kirby – there's one element I was most excited to figure out: What's the strategic thinking behind Eternals at this particular moment of MCU Phase 4? Why Eternals, and why now?
* Spoilers For Eternals Will Follow*
My working assumption/theory was that introducing the Eternals would allow a chance to explore Thanos' family (I use the term loosely!), and the society that the greatest supervillain of the MCU's Infinity Saga came from. It's not that Eternals comics are devoid of hooks or appeal, but any success the franchise has had (from Sersi in the 90's Avengers to Neil Gaiman and John Romita Jr reimagining the franchise
during Marvel's mid 2000's Civil War era) is absolutely dwarfed by Thanos and Jim Starlin's cosmic Titanian Eternals. This fact is pretty clearly not lost on Kieron Gillen and Esad Ribic, the comics creators who relaunched a 2021 Eternals series (one of the best Marvel Comics of the year!) with a notable, and exciting inclusion of Thanos' connections (and exclusions) to what we talk about when we talk about Marvel's Eternals.
So naturally, Eternals does virtually none of this.
Instead, the answer is a classic example of Occam's Razor: Phase 4 Marvel Cinematic Universe, post Endgame, needs to refill their superhero roster. Whether it's through legacy mantles exchanging hands (Yelena Belova in Black Widow, Sam Wilson in Falcon & Winter Soldier ), or new character introductions (Shang-Chi) that is so far the major focus of MCU Phase 4 movies. Whereas Marvel's move to Disney+ TV is expanding what we know about familiar characters, and in the case of Loki fully laying out a grand vision of multiversal wars to come, in film, it's origin season. Hope you brought an appetite for tragic backstories and apologetic attempts to answer where all these new characters were for Phases 1 to 3.
Support For Comic Book Herald:
Comic Book Herald is reader-supported. When you buy through links on our site, we may earn a qualifying affiliate commission.
Comic Book Herald's reading orders and guides are also made possible by reader support on Patreon, and generous reader donations.
Any size contribution will help keep CBH alive and full of new comics guides and content. Support CBH on Patreon for exclusive rewards, or Donate here! Thank you for reading!
Unsurprisingly, then, Eternals is a pretty straightforward superteam origin story, mostly removed from the MCU we know. There are crossover references to Avengers, Thanos, and Doctor Strange, but it's not hard to strike those from the record and wind up with a 3rd party competitor trying to launch their own brand new super cinematic universe (which, intriguingly, is also a bit how the original Kirby
read in the late 70s!). As someone who is consistently here for the benefits of shared universe thinking, this is familiar but a bit disappointing.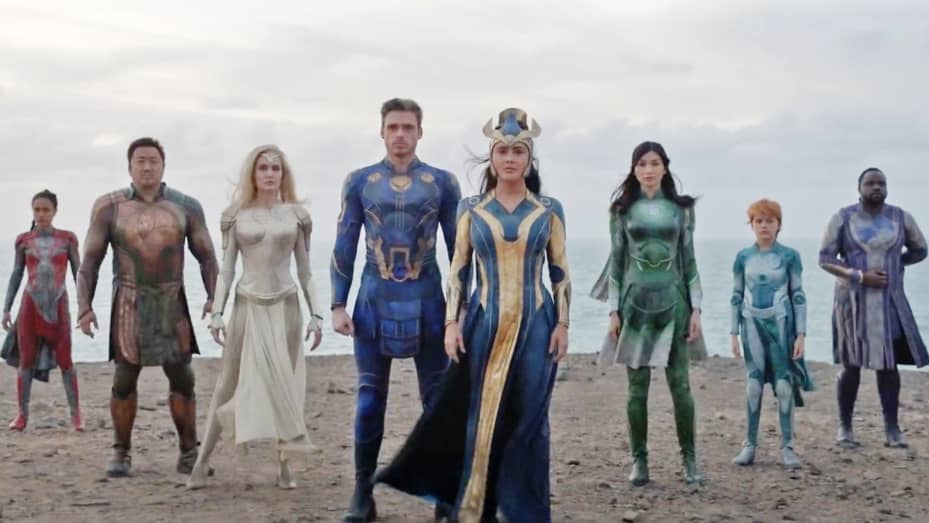 Nonetheless, as an origin, Eternals, directed and co-written by Oscar winning Chloe Zhao, has a massive amount of ground to cover in its (admittedly too long) 2 hours and 37 minutes, and it generally does so quite well! The Eternals roster consists of 10 god-like beings (Thena, Ikaris, Sprite, Phastos, Sersi, Makkari, Druig, Kingo, Ajak, and Gilgamesh), and a dense, centuries-spanning mythology tied to the enigmatic Celestials, a sort of cosmic god-collective in the Marvel Universe. That's a lot to introduce in a single movie, and I was pleasantly surprised to see Zhao and company pull it off.
Zack Snyder's vision for Justice League is a frequent early comparison point for the film – for a lot of reasons, the biggest of which I'll get to – but the Joss Whedon directed theatrical cut really made it clear how hard it is to introduce big chunks of a superteam and simultaneously keep a narrative rolling. Eternals actually manages to successfully explain the core dynamics of ten different characters, and without any of the benefit of an audience's pre–built knowledge base (I expect a fair amount more viewers to walk into a theater with Flash facts… Ajak? Not so much).
As someone who knows these characters, but is far from an enthusiast, I was absolutely loving Kingo's comedic heart, Phastos' familial redemption, and Thena's reserved warrior spirit. I could quibble with rankings for the characters that worked the least for me (Ajak in particular gets a pretty generic maternal leader role), but honestly running down the list I'm more invested in all of them. The degree of difficulty there is huge!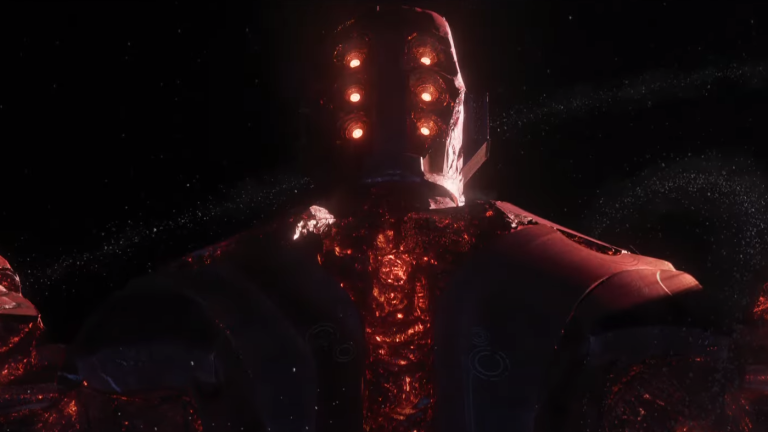 In terms of the mythology and purpose of the Eternals, the film is more complicated. Plotwise, the story's a blend of Kirby's original vision
, Gaiman and Romita Jr's modernization
, and a touch of Gillen and Ribic's fantastic current work
. The Eternals believe themselves guardians from the planet Olympia, sent to Earth by their god Celestials in order to cleanse the planet of the monstrous Deviants, allowing a new branch of humanity to thrive. The reality is less heroic, as the Eternals are actually synthetically replicated Celestial creations programmed to guide planetary population to sufficient levels for a Celestial seed to give birth to a lil' baby Celestial (Tiamut, aka Tykeamut), who will then consume and destroy the planet upon birth.
With their memories reset upon every birth, the Eternals have enabled planetary destruction before, and are set to do so again.
It's all a bit Westworld, but factoring in Zhao's affinity for the DC Superhero work of Zack Snyder, and the fact that we're set in the Marvel Universe, it's an interpretation of the Eternals as the Squadron Supreme
(themselves Marvel's Justice League inversion) by way of heralds of Galactus. The Eternals' powersets and abilities put them in line with the inspirational gods among men nature of Justice League (hence Marvel's Squadron Supreme comparison), but instead of Avenging heroes, their purpose is merely to serve a large cosmic… god birth. All the same philosophical and moral dilemmas the Silver Surfer weighs as herald of Galactus in Jack Kirby and Stan Lee's classic Fantastic Four #48 to #50 are in play, as the Eternals begin to question their place as angels of a utilitarian destroyer, blowing up the planet Earth so that the natural order might be maintained and billions others throughout the galaxy might live.
And through this lens… it's pretty good!
I was enamored towards the film's conclusion watching the equivalent of Injustice universe Superman (Ikaris) throwdown with Flash (Makkari) and Wonder Woman (Thena), in a striking visual flourish of energy and action. Maybe it's just that I haven't sat in a theater since early 2020's Harley Quinn and the Birds of Prey, but I felt like Zhao was less susceptible to Marvel's patented smash-cut action sequences, giving individual powersets clear visual iconography and camera angles that clearly allowed my eyes to follow the copious battles.
More importantly, I felt genuinely thrilled that Phastos had his moment overpowering the turned Ikaris with his technological prowess. I flinched every time Makkari suffered a laser wound. I got onion directly in my eye as Thena got her revenge on Dev(enom)iant Prime, and flashed back to chef Gilgamesh. There's an emotional payoff to these character beats that I simply did not expect.
It shouldn't matter, but a critical bludgeoning was kind of freeing, as my already tentative expectations were measured, and I allowed myself to simply be taken in by Zhao's vision for this obscure franchise. The Snyder comparisons are inevitably overblown, but Zhao's patience, and willingness to let quiet moments and nature speak in ways dialog can't cover is a left turn from the [insert zinger here] template of the MCU.
For longtime readers of Marvel comics, the MCU's greatest appeal is finding new ways to make old stories interesting. It's a visual remix. Eternals is honestly the most welcoming canvas yet because it's a relative unknown for a higher percentage of people than anything Marvel's done (even Guardians). It doesn't always work, and I definitely don't think Eternals is secretly some lost masterpiece, but I'm increasingly here for a franchise of this magnitude having the courage to at least make us wonder: did that decision work?
Eternals is an origin story that works more often than it doesn't. When you get down to it, that describes a lot of the MCU.
Perhaps this movie isn't quite so different after all.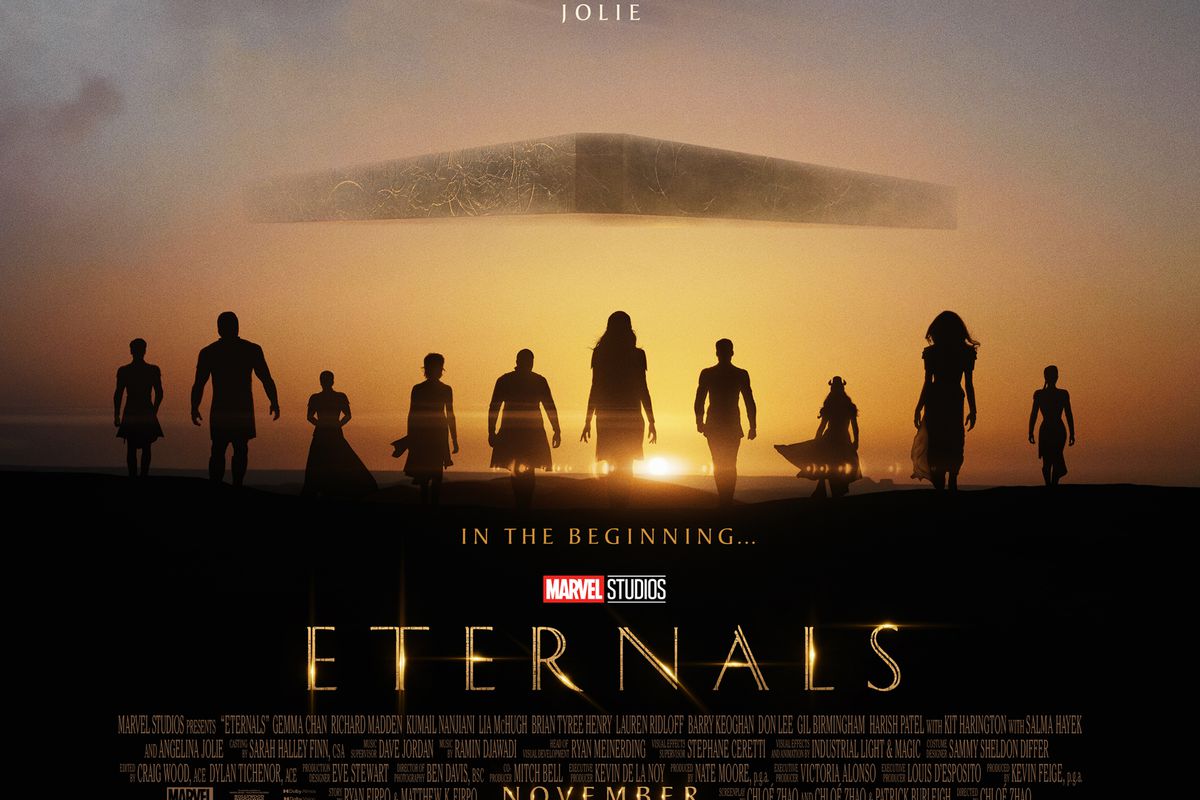 10 Thoughts on Eternals
1) Post Credits Connections / Black Knight Edition
Both of Eternals post-credits scenes lean hard into Marvel's shared universe, effectively introducing three familiar faces for longtime comics readers. The final stinger moves Jon Snow Whitman closer to picking up the Ebony Blade and becoming Marvel's Black Knight, after a film that does a nice job making good ol' Dane quite charming as Sersi's human boyfriend. Before he can succumb to the addictive curse of the blade, a voice asks "Are you sure you want to do that Mr. Whitman," and as it's been reported, this is the voice of Mahershala Ali's Blade, coming to the MCU in the coming years.
This is fun, but it's also hard not to think about how we've gone from Nick Fury asking Tony Stark about the Avengers initiative, to Blade maybe getting Dane Whitman on board for some Midnight Sons. The longer you play, the thinner the roster gets!
That said, Black Knight is not a staple of the Midnight Sons, so it'll be interesting to see if Marvel is using Ali's Blade as a hunter of magical artifacts, and linking together the likes of Scarlet Witch in a build towards the threats of Vampires and/or the Darkhold.
Either way, I appreciated how Eternals didn't force in too much of Dane's history – it's not his story! – and given what we've seen, I do look forward to more from the character.
2) Bad Villains Award Show
I've been handing out the "There is no Mandarin Award" for villain most thoroughly wasted in service of the plot since 2013, and I'm excited to return to the awards here in 2021 after a whole year off!
Eternals is nearly devoid of a traditional villain, but still manages to compete here with the Deviants. While visually stimulating – I can't sit here and pretend I'm not into Venom by way of Jurassic World – Eternals' Deviants are devoid of the thought, personality, and culture that makes them pretty compelling from Kirby onward. There's a late movie shift to give the "prime" Deviant some speech, but the poor man's Ultron/Steppenwolf pales in comparison to the complexity of Warlord Kro!
Nonetheless, I still think Taskmaster is our leader through 2021 (keep in mind, I still haven't seen Shang-Chi!). The expectations and fandom for the character are simply greater, and the "twist" failed harder in my view.
Our reprinted list of winners:
2013: The (Not) Mandarin
2014: Ronan the Accuser
2015: Baron Von Strucker
2016: Cottonmouth
2017: Surtur
2018: The Black Order
2019: Ronan the Accuser
2020: DNP
2021: Taskmaster
3) Back To The Movies!
As I mention in the review, Zhao occasionally asks for patience and quiet, to let nature surround us, to let silences say as much as explosions.
My MCU audience was decidedly not here for that. The opening readalong explaining Arishem was met with a loud "Is there an audiobook version" (admittedly a very good joke), and throughout the viewing experience there was constant chatter and fearful commentary anytime a moment of silence threatened to envelop us.
So 1) I appreciate Zhao's confidence to demand audiences still themselves and 2) I continue to agree with zero of the film industry's arguments that "we need to see movies in theaters again!" The big screen and sound is great, but the threat of obnoxious crowds and sick people is always worse than the comfort of my own home.
4) Resurrections
The death of death is all the rage in Marvel Comics these days, and Kieron Gillen and Esad Ribic's Eternals lean into a narrative system where Eternals – like the name suggests – are quickly reborn via their World Engine. We get hints of this during Arishem's explanation of the World Forge, and the countless versions of Eternals they've created, but since Eternals focuses on one mission, we don't actually see the resurrection process in action.
Given the character's final flight into the sun, I'm hoping to see the resurrection process in action with Ikaris moving into the next Eternals story. I'm viewing this less as taking the character off the board, and more as Ikaris wanting to forget and be reborn. In my view, the "Eternal" nature of these characters should be more thoroughly leveraged in future stories, as it's a huge part of what makes them so interesting!
Regarding, the Ikaris twist, it works well. It allows for those Injustice vibes I mentioned, and it avoids the more obvious or familiar use of Sprite or Druig.
5) Post Credits Connections / Pip & Eros Edition
The more surprising character introductions come from Pip the Troll and Eros, brother of Thanos, teleporting onto the Eternal spaceship carrying Thena, Druig and Makarri. This begins to tap into the shared universe connections I anticipated between Thanos and the Eternals, as Eros, aka Starfox, aka Harry Styles (I'm just assuming that's also a pseudonym), is part of the Titanian Eternals offshot (it's a long history, but effectively you can imagine them as cousins to Earth's Eternals). And Eros offers some sort of glimpse to show the traveling Eternals that their friends back home are in trouble (or as we've seen, in the grip of Arishem who's promising to judge Earth).
It's fun to see more Jim Starlin characters introduced, although certainly weird in a "post Infinity Saga" landscape. Pip in particular – perhaps Starlin's all-time flex, constantly incorporating a character infuriating readers everywhere – is voiced perfectly by Patton Oswalt.
BUT, maybe it was just me, and I've only seen the movie once… the CGI for Pip was off-the-charts-weird! I normally don't care much about special effects, but Pip just looked woefully out of place in the live action cut among Eros and the Eternals. I really hope the MCU straightens out how to deliver this humanoid troll, because this was not it.
Wherever they show up next (Guardians could make sense, but that feels crowded, so I anticipate Eternals 2), I'm quite excited to see what the MCU can do with the complicated combo of Starfox and Pip. Did Thanos actually destroy all of the space-faring Eternals elsewhere in the solar system, or does Eros know of some who remain?
6) Asimov and Eternals
Mark Turetsky wrote a great essay this weekend connecting Isaac Asimov's Foundation and Robots works to the ongoing Eternals comics run, and I actually think it reads even better in light of the film. Check it out!
7) Well That's Just Fantastic
I actually kind of wonder if this particular direction for Eternals limits the expected dynamics between Silver Surfer and Galactus in any future Fantastic Four incarnations. I referenced it in the review, but although the Celestials purpose is more creative – quite literally creating life – than Galactus ever is, the arguments wind up being very similar.
I don't doubt the MCU can still find interesting ways to weave in the likes of the Surfer and the World Devourer, but I do think they've set up a challenge here to avoid the traditional Kirby/Lee. Silver Surfer finding the value in humanity will read like a duplication of Eternals without some significant changes.
8) It's Not Funny Any More, Try Different Jokes
Can we just make it a rule that if the writers of a superhero movie don't like the comic book naming of something, that they just rename it, and skip the beyond tired trope of using the comics accurate name while simultaneously making fun of it? This is so obnoxiously overused, and it only ever plays as smarmy condescension.
Eternals is guilty with the Uni-Mind, a Jack Kirby concept if there ever was one. If you want to take the Kirby concepts and put them on screen in all their glorious imagination, great! And if you don't like the name? OK! Call it something else and move on.
9) On Our Super Myths
Conceptually, the idea that human mythology comes from robot angels is a pretty cool one! Richard Newby writes about the value of superheroes as mythology, and it's the best review I've read so far on Eternals and what is represents for Marvel and the medium. This line in particular got me thinking:
Zhao has joined the ranks of Richard Donner and Zack Snyder as one of the few filmmakers to fully embrace the mythological aspects of these characters.
As I read more Eternals, and find more to love, I'm progressively interested in revisiting the Kirby in terms of super mythologies. In early reads, I found Eternals visually fantastic but narratively tedious (it quite literally put me to sleep). Worse, though, I absolutely saw Eternals as merely the poor-Kirby's "4th World saga," and admittedly in some ways I still do.
Nonetheless, looking at human mythologies, wondering where they all come from, wondering where humanity comes from to begin with, these are all big huge questions the "4th World" doesn't address in the same ways, and a big part of what makes Eternals so ripe for creators like Gillen and Ribic today.
10) MCU Power Rankings Update
I don't think Eternals is an upper echelon Marvel Studios movie, but it does fall almost squared in the middle of my rankings. This wouldn't be especially noteworthy but for the intensely disproportionate narrative surrounding a critical rating some 30 percentage points lower than the other "mid-tier" Marvel movies!
In a lot of ways, I get where the pile-on is coming from. On one hand, you do have a movie that positions itself outside the tried and true Marvel "feel" (although the degree to which it does so is actually pretty small!), and combined with an at times understandable Marvel fatigue, yeah, Eternals becomes a punching bag.
I'm actually for judging the MCU more harshly, and expecting more from the biggest blockbuster makers in the world. The problem, though, is this has not been the standard for the past decade, so critically Eternals looks like a wild anomaly, instead of what it really is: right smack in the middle.
Tier 1: The Best
1) Avengers: Infinity War
2) Avengers: Endgame
3) Jessica Jones (Season 1)
4) Thor: Ragnarok
Tier 2: Great
5) Guardians of the Galaxy
6) Captain America 3: Civil War
7) Black Panther
8) Captain America 2: The Winter Soldier
9) Avengers
10) WandaVision
11) Daredevil (Seasons 1,2,3)
Tier 3: Good
12) Spider-Man: Far From Home
13) Spider-Man: Homecoming
14) Iron Man
15) Captain America: The First Avenger
16) Loki (Season One)
Tier 4: Perfectly Average
17) Guardians of the Galaxy Vol. 2
18) Black Widow
19) Iron Man 3
20) Eternals
21) Ant-Man & The Wasp
22) Captain Marvel
23) Avengers 2: Age of Ultron
24) Ant-Man
Tier 5: Mixed Feelings
25) Doctor Strange
26) Falcon and the Winter Soldier
27) Luke Cage (Seasons 1 & 2)
28) Agent Carter (Seasons 1 & 2)
29) Runaways
30) The Punisher (S1, S2)
31) Thor 2: The Dark World
32) Cloak & Dagger
Tier 6: I'll Only Watch With a Comic In Hand
33) Defenders
34) Thor
35) Agents of SHIELD
36) Iron Fist Season Two
37) Incredible Hulk
Tier 7: Nope
38) Iron Man 2
39) Jessica Jones (Season Two)
40) Raccoon in the attic
41) Iron Fist Season 1
42) Inhumans