For my money, Blade has one of the most fascinating modern comics profiles of any Marvel hero.  The vampire hunter and Midnight Son didn't truly ascend to cult favorite status until the Wesley Snipes led Blade hit theaters in 1998. 
Even with the nostalgic praise this early comic book movie trilogy elicits, Blade has still rarely found long-lasting presence in Marvel Comics. Although a seemingly perfect fit for the Marvel MAX line, Blade's Max series is an underlooked rarity, and he's bounced around the likes of comics such as Captain Britain, X-Men, and Mighty Avengers throughout the 2000's.
Below you'll find a guide to Blade comic books, from his rise in Tomb of Dracula to his return to a Midnight Sons lineup during Marvel Legacy.
Blade Comic Book Reading Order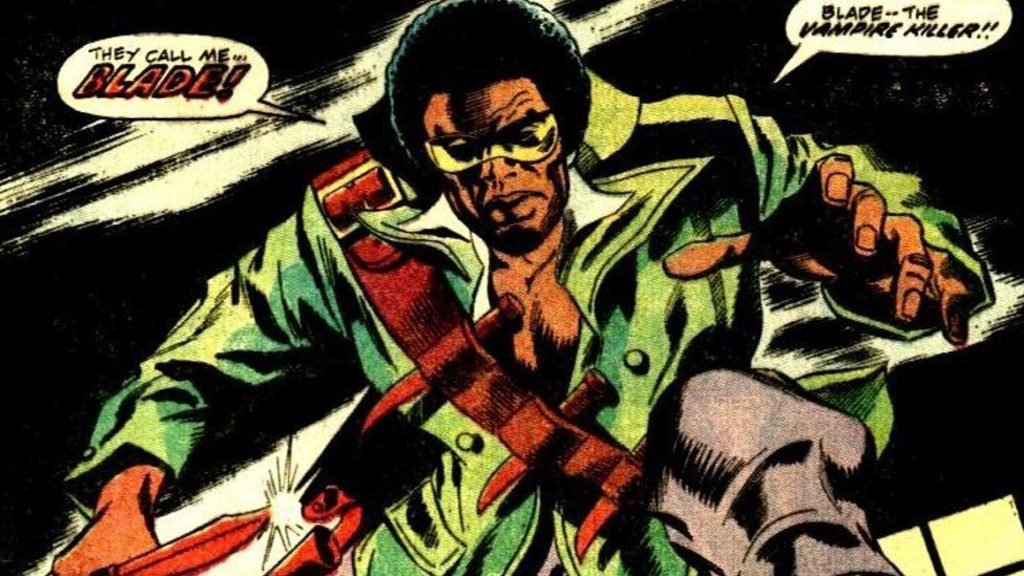 Tomb Of Dracula: The Complete Collection Vol. 1
Collects: Tomb Of Dracula (1972) 1-15, Dracula Lives! 1-4
Blade's first appearance is in Tomb of Dracula #10, where the Daywalker, Eric Brooks, would become a regular supporting character hunting Dracula himself.
Tomb Of Dracula: The Complete Collection Vol. 2
Collects: Tomb Of Dracula (1972) 16-25, Werewolf By Night (1972) 15, Giant-Size Spider-Man 1, Giant-Size Chillers 1, Giant-Size Dracula 2, Frankenstein 7-9, Dracula Lives 5-7
This is the extent of the collected Tomb of Dracula books at time of publication, but Blade diehards will want to continue with the remainder of the series (through issue #70).
Support For Comic Book Herald:
Comic Book Herald's reading orders and guides are made possible by reader support on Patreon, and generous reader donations.
If you like Comic Book Herald reading orders and want exclusive reader rewards, your support on Patreon would be tremendously appreciated! Rewards include:
Custom monthly reading playlists
Priority reading order requests + Q&A
Weekly continuity updates
Reading order update logs
A direct hand in growing CBH!
Any size contribution will help keep CBH alive and full of new comics guides and content. Support CBH on Patreon for exclusive rewards, or Donate here! Thank you for reading!
Collects: Tomb Of Dracula (1972) #10, 24, 58; Blade: Crescent City Blues #1
Marvel Horror: The Magazine Collection
Collects: Marvel Preview 3; Material From Marvel Preview 7-8, 12; Haunt Of Horror (1974) 1-2; Monsters Unleashed (1973) 3-9; Bizarre Adventures 25, 33
Collects: Vampire Tales #8-9, Marvel Preview #3 And #6, Blade: Crescent City Blues #1, And Marvel Shadows And Light #1
Blade and the Midnight Sons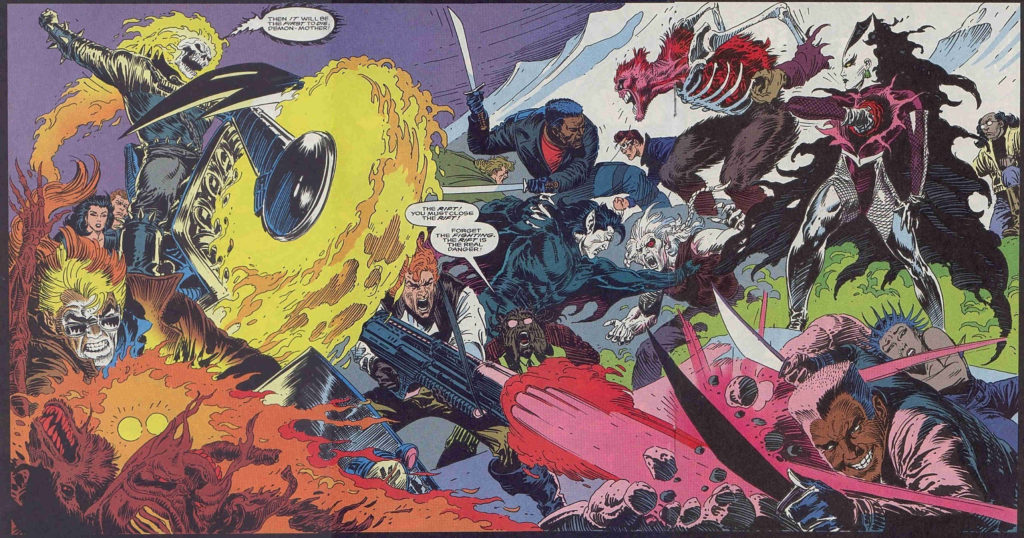 Spirits of Vengeance: Rise of the Midnight Sons
Collects: Ghost Rider (1990) #28, 31; Ghost Rider/Blaze: Spirits Of Vengeance #1-6; Morbius: The Living Vampire (1992) #1; Darkhold: Pages From The Book Of Sins #1; Nightstalkers #1; Web Of Spider-Man (1985) #95-96 And Material From Midnight Sons Unlimited #1
As you might expect, Nightstalkers is the most Blade focused book in the Midnight Sons lineup!
Collects: Nightstalkers #1 To #18
The tagline of Nightstalkers is one tasty riff: "Blade joins Doctor Strange and Ghost Rider to combat growing vampiric evils." The core Nightstalkers hunters are Blade, Frank Drake, and Hannibal King, you know, the private eye who focuses on vampires.
Collects: Blade (1994-1995) #1 To #10
Collects: Blade (1998) #1 To #3
Blade: The Vampire Hunter ('99)
Collects: Blade (1999) #1 To #6
Blade In The 2000's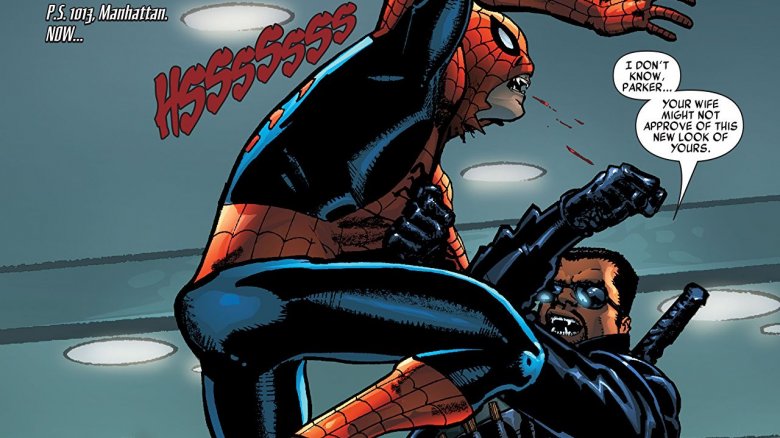 Collects: Blade #1 To #6
Collects: Tomb Of Dracula (2004) #1 To #4
Collects: Blade (2006) #1-6
Blade Vol. 2: Sins of the Father 
Collects: Blade (2006) #7-12
Captain Britain and MI13 – Vol. 2: Hell Comes to Birmingham
Collects: Captain Britain And Mi13 #5-9
Captain Britain and MI13 – Vol. 3: Vampire State
Collects: Captain Britain And Mi13 #10-15
Captain Britain and MI13 is an underrated Secret Invasion era gem, that I recommend all the way through, but this is the most Blade and Vampire focused part of the run.
Blade In The 2010's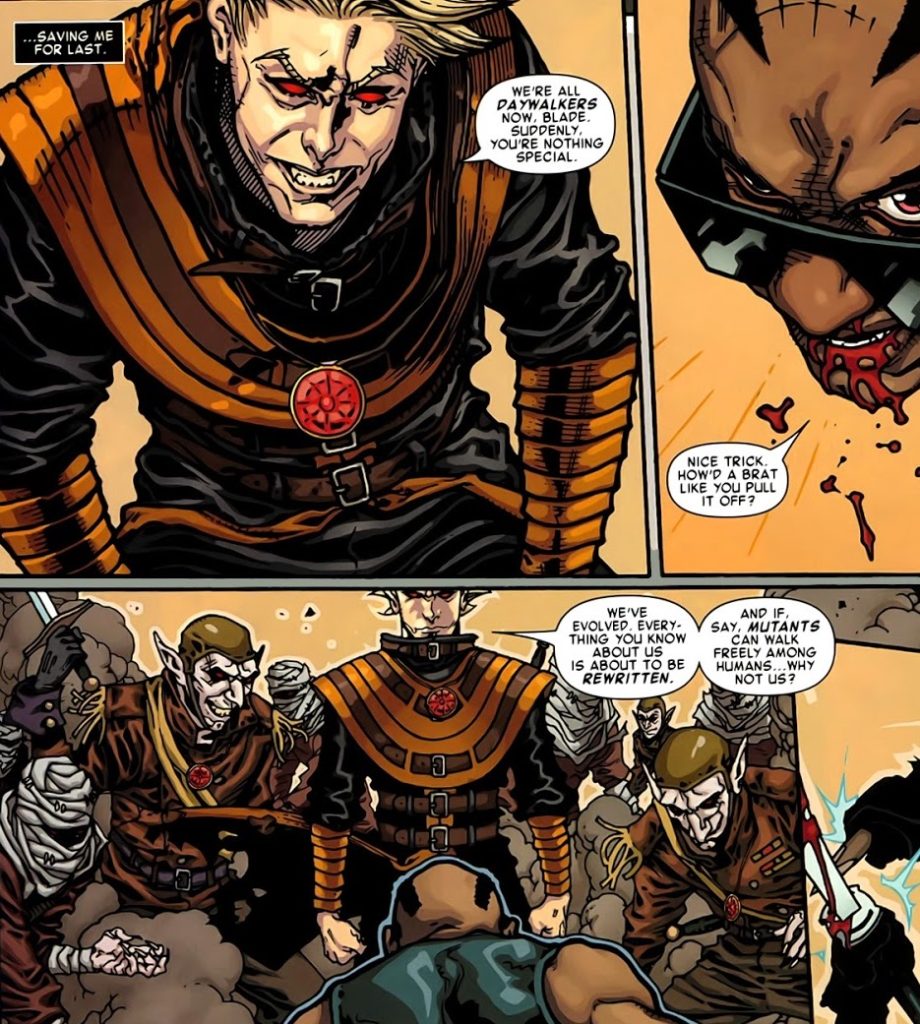 Collects: X-Men (2010) #1-6
X-Men: Curse of the Mutants- Mutants vs. Vampires
Collects: X-Men: Curse Of The Mutants – Storm & Gambit, X-Men: Curse Of The Mutants – Smoke & Blood, X-Men: Curse Of The Mutants – Blade, X-Men Vs. Vampires #1-2 And Uncanny X-Men #159
Ultimate Comics Avengers: Blade vs. The Avengers 
Collects: Ultimate Avengers 3 #1-6
Mighty Avengers Volume 1: No Single Hero
Collects: Mighty Avengers 1-3, 4.Inh-5.Inh
Mighty Avengers Volume 2: Family Bonding
Collects: Mighty Avengers (2013) #6-10
Mighty Avengers Vol. 3: Original Sin – Not Your Father's Avengers
Collects: Mighty Avengers (2013) #11-14
Secret Empire: Brave New World
Collects: Secret Empire: Brave New World #1 To #5
There's a Blade story in issue #5
Spirits of Vengeance: War at the Gates of Hell
Collects: Spirits Of Vengeance 1-5
Collects: Doctor Strange: Damnation #1-4, Damnation: Johnny Blaze — Ghost Rider #1, Doctor Strange (2015) #386-389, Iron Fist (2017) #78-80 And Ben Reilly: Scarlet Spider #15-17