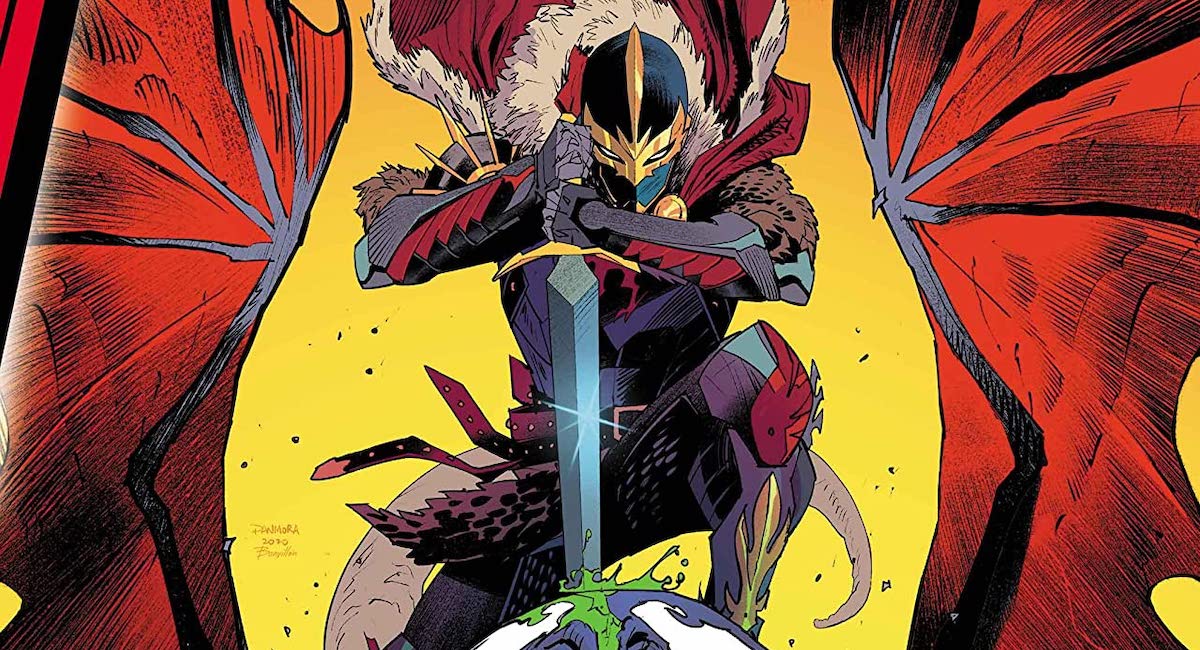 The Black Knight is "that guy" on the Avengers. He stands out in his bold choice of Tudor armor, leather jacket, and frequently wielding a lightsaber. And yet he's never had an ongoing series, never led his own team. The Black Knight's publishing history mostly consists of a handful of solo mini-series, appearances on various Avengers rosters, and a few random guest appearances sprinkled all over Marvel continuity for good measure. If that doesn't seem complicated enough, the Black Knight is actually the name of three different characters in Marvel; and while one of them has definitely had more importance over time than the two others, they are all linked by the same lineage and armor.
The most famous Black Knight, named Dane Whitman, will appear in Chloé Zhao's Eternals movie as played by Game of Thrones' own Kit Harrington. And although he has had a romance with Sersi of the Eternals in the 90s, Dane is mostly linked to the British and Arthurian parts of the Marvel Universe, teaming up with characters such as Captain Britain, Excalibur, and even Merlin.
Sir Percy: The Sword is Drawn
Atlas Era Black Knight/Yellow Claw Masterworks Vol. 1
Collects: Black Knight #1-5, Yellow Claw #1-4
The first Black Knight was created in his own 1955 5-issues solo series by Stan Lee and Joe Maneely, at a time when Marvel Comics was still called "Atlas Comics." Living in Camelot under the reign of King Arthur, the Black Knight (with the help of Merlin) protects the kingdom against Norse invaders, and especially against Mordred and Morgan Le Fey's schemes. But under the helmet, the Black Knight is really Sir Percy of Scandia, who comes to Camelot playing the role of a scared and incompetent refugee in order to avoid raising Mordred's suspicions. Sir Percy wields the Ebony Blade, a sword forged from a meteorite and given to him by Merlin.
Support For Comic Book Herald:
Comic Book Herald is reader-supported. When you buy through links on our site, we may earn a qualifying affiliate commission.
Comic Book Herald's reading orders and guides are also made possible by reader support on Patreon, and generous reader donations.
Any size contribution will help keep CBH alive and full of new comics guides and content. Support CBH on Patreon for exclusive rewards, or Donate here! Thank you for reading!
Although Sir Percy made numerous appearances alongside his descendant in later comics, he also came back for a solo story in Mystic Arcana (2007,) which tells the story of his life from his childhood to his death at the hands of Mordred.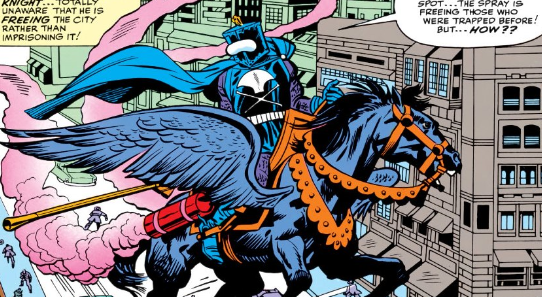 Nathan Garrett: Knight Terrors
The second Black Knight appeared for the first time in a "Giant-Man and the Wasp" story in the pages of Tales to Astonish #52. Professor Nathan Garrett is introduced as a traitor delivering scientific secrets to Chinese spies, before being arrested by Giant-Man and escaping to the Balkans. There, in an amazing bit of 60s comic book science, Garrett decides to recreate a flying horse by injecting eagle blood cells into a stallion. He fashions himself a knight's suit of armor, and completes the set with a lance that doubles as a machine gun and flamethrower (and paralyzer pistol and itch-ray.) He then goes on a rampage, stealing money and attacking helicopters, before being stopped by Giant-Man and the Wasp only to escape once again.
Garrett reappears in Avengers #6 as a member of Heinrich Zemo's Masters of Evil, fighting Thor (I'll give you one guess as to who won that fight). The armored lunatic escapes from prison to attack Iron Man in Tales of Suspense #59; rejoining the Masters of Evil in Avengers #15 and #16; until Garrett goes his final with Iron Man in Tales of Suspense #73, seeming to die at the end of the issue.
Dane Whitman: The Cursed Avenger
Avengers Epic Collection: Masters of Evil
Collects: Avengers #41-56, Avengers Annual #1-2, X-Men #45
The third and "main" Black Knight is Dane Whitman, nephew of Nathan Garrett. With the (soon to be) former Black Knight on his death bed after his battle with Iron Man, Garret makes Whitman promise to use his flying horse research for good and to redeem his uncle's name. First by creating his winged stallion, Aragorn, and second by becoming the new superhero Black Knight.
Whitman is first introduced in Avengers #47 and #48, when one of his experiments to contact extraterrestrial intelligence is interrupted by Magneto and Toad. The two mutants end up capturing the Scarlet Witch and Quicksilver, but Whitman escapes and goes to the Avengers for help. However, as usual, a misunderstanding causes a fight to erupt between the heroes, allowing the villains to escape with their prisoners.
Because of this, Whitman doesn't leave the Avengers on the best of terms, which begins the Black Knight's complicated relationship with the superhero team.
However, Dane comes back to help Earth's Mightiest Heroes in Avengers #54 and #55 when Ultron's new Masters of Evil attack the team. Undercover amongst the supervillains, Black Knight quickly betrays them and rescues Edwin Jarvis.
Avengers Epic Collection: Behold… The Vision
Collects: Avengers #57-76, Marvel Super-Heroes #17
Dane Whitman gets his first solo adventure in the pages of Marvel Super-Heroes #17. Williams inherits Castle Garrett in England, learning he's the true heir of the House of Scandia, and the descendant of Sir Percy. The ghost of Perry, the first Black Knight, tells the newest about the war between Arthur and Mordred and the final battle of Castle Garret. The story of how Mordred killed both the King and the original Black Knight. Whitman also learns that Merlin created a spell to ensure that the Black Knight would rise again if Mordred did too (explaining why Dane instinctively felt the need to become the new Black Knight.). As his final birthright, Whitman obtains the Ebony Blade, which protects its bearer from any weapon that wasn't made from the same meteor.
Which of course means that, in the very same issue, Dane is: 1) attacked by a dagger made from said meteor being wielded by 2) a servant of Morded who has "risen again" thanks to the Nethergods. It's is about as confusing as it sounds.
In the pages of Avengers, the Black Knight appears in a few different issues, helping the team to face foes such as Surtur in #61, M'Baku in #62, and the Squadron Sinister in #70.  After freeing the team in issue #71 by mentally connecting with his sword, Whitman officially becomes an Avenger despite remaining in England.
Collects: Avengers #89-97
In issues #84 and #85, Black Knight must fight Arkon… without his Ebony Blade. After Whitman is nearly killed fighting two jewel thieves, he felt the weapon making him more violent. This pushes the medieval Avenger to travel to the Well at the Center of Time to learn if he is the Ebony Blade's master or its servant only to lose the sword in the process.
In Avengers #100, Dane summons all of the Avengers to his castle because Ares has the Ebony Blade and is using it to kill gods. Later, the Black Knight teams up with the Defenders in their fourth issue, in which he is turned into stone by the Enchantress, leaving Valkyrie to inherit Aragorn, the Mantle, and the Ebony Blade.
Avengers Epic Collection: The Avengers/Defenders War
Collects: Avengers #115-128, Giant-Size Avengers #1, Defenders #8-11, Captain Marvel #33, Fantastic Four #150
Doctor Strange tries to retrieve Dane's soul with the help of the Evil Eye, an act that brings the Defenders and the Avengers into conflict. Strange finally finds Dane Whitman's soul, it's in the body of Sir Eobar Garrington, 12th century Crusader, and the Black Knight's ancestor. Ultimately, Dane decides to stay in medieval times, saying he somehow never felt comfortable in the 20th century.
In 1979 and 1980, the Black Knight can be found alongside Captain Britain in the pages of Hulk Comic, a British Marvel title where the two characters are on a quest through Otherworld for Merlin. Sadly, the run isn't collected anywhere and is hard to place continuity-wise as it occurs in the present day rather than during the crusades.
When the Avengers are transported to the 12th century in issues #225 and #226, they fight alongside the Black Knight once again. This time against the Fomorians, a race of Celtic gods. Black Knight sacrifices himself to get the rest of the Avengers to the present only for the team to Dane's soul has transported back to his present day along with them, reanimating his once statue of a body. However, Whitman is dealing with PTSD from his time in the crusades (and the Ebony Blade's bloodthirsty influence.) In the end, Doctor Strange helps Whitman get through it in Doctor Strange #68, and Dane frees the spirit of Sir Percy.
Avengers: Absolute Vision Book 2
Collects: Avengers #242-254, Avengers Annual #13
The Black Knight rejoins with the Avengers starting with issue #252, in which he is attacked and trapped by the Vision controlling Avengers Mansion.
Avengers: The Legacy of Thanos
Collects: Avengers #255-261, Avengers Annual #14, Fantastic Four Annual #19
Dane joins the main Avengers roster for the first time and is surprised to learn about all he missed during his time in the 12th century. Along with the team led by Janet van Dyne, he fights Terminus in the Savage Land before heading to space to save the Skrulls from Nebula.
Avengers: The Once and Future Kang
Collects: Avengers #262-269, Avengers Annual #15, Avengers West Coast Annual #1
As the team moves to Hydrobase and recruits Namor, Dane takes the role of the team's scientist, helping teammates test their powers. He also starts flirting with the Wasp as the team crosses over with (shudders) Secret Wars II, followed by a trip to limbo Limbo with Kang.
Collects: Avengers #270-277
Zemo and his Masters of Evil launch their attack on Avengers HQ, and Black Knight is alone to defend the Avengers' home.
Collects: Avengers #278-285
During a conflict with the Greek gods, Dane's sword's energy-absorbing powers are key to defeating Zeus.
Avengers Epic Collection: Heavy Metal
Collects: Avengers #286-303, Avengers Annual #17
Whitman fights his future descendent in Solo Avengers #4 and Black Knight (and the Avengers) fight the Fixer and the Adaptoid. Later, Namor uses the Ebony Blade to fight a Leviathan, causing Dane to fall prey to the Blade's blood curse. Whitman's body transforms into the same sharp metal as his sword. Doctor Druid, who's been manipulated by Ravonna this entire time, takes control of the Avengers, the team disbands, and Dane leaves with Thor to Asgard.
Thor vs. Seth, The Serpent God
Collects: Thor #395-400
On Asgard, Dane Whitman helps out in the fight against Seth. When the blood curse completely transforms his body into metal, Hogun uses him as a projectile to kill the Serpent-God.
The Black Knight next appeared in his own 4-issues 1990 mini-series, which also isn't collected anywhere. In it, Sir Percy temporarily possesses Dane, meaning there are two knights in one body. These Black Knights gather allies like  Captain Britain, Doctor Strange, and Valkyrie to fight Morgan, Mordred, and their minions. In the end, Sir Percy's spirit merges with the blade, seemingly ending the curse.
Dane Whitman: Leather Jackets and Laser Swords
Avengers Epic Collection: The Collection Obsession
Collects: Avengers #334-344, Avengers Annual #20
Black Knight gets a new sword made of photonic energy and duels a resurrected Swordsman.
During Operation: Galactic Storm, Dane goes to the Kree Empire with Captain America's team.
Avengers Epic Collection: Fear The Reaper
Collects: Avengers #348-359, Avengers Annual #21
Whitman is involved in a love triangle with his teammates Crystal and Sersi, gets stabbed by Raza of the Starjammers, and runs amok on Arkon's world.
Avengers Epic Collection: The Gatherers Strike!
Collects: Avengers #360-366, Avengers Annual #22, Avengers: The Terminatrix Objective #1-4
Sersi goes from losing touch with reality to being wanted by the Eternals. To save her, teammate Ikaris forces a bond called the Gann Josin between Dane and Sersi. The bond begins hurting Dane more and more, especially as it complicates his feelings towards Crystal, the other woman he got stabbed over.
During the Infinity Crusade, Dane is among the heroes captured by the Goddess. In the uncollected issues of Avengers #366-375, it is revealed that the supervillain Proctor is actually Dane from an alternate reality where he never broke free from the Gann Josin. In the end, the link is broken and Dane and Sersi leave to a pocket reality where they can be free of her madness.
Dane reappears in Malibu Comics' Ultraverse, where he joins the team of UltraForce. He comes back to Earth-616 at the end of the Ultraverse Unlimited crossover. After this, he appears alongside Sersi in the Black Knight: Exodus one-shot, as they find themselves back in the time of the Crusades with X-Men villains Apocalypse and Exodus.
Luke Cage, Iron Fist, & The Heroes for Hire Vol. 1
Collects: Spider-Man Unlimited #13, Marvel Fanfare #6, Heroes for Hire #1-9
Dane is visited by the Lady of the Lake, who gives him new Elvish armor, weapons called the Sword of Light and the Shield of Night, as well as a new flying horse named Strider. She explains that he is the Pendragon of this age, like Arthur was to his own. Dane then joins the Heroes for Hire, battling Nitro, the Controller, the U-Foes, and the Deviants.
Luke Cage, Iron Fist, & The Heroes for Hire Vol. 2
Collects: Heroes for Hire #10-19, Quicksilver #11-12, Heroes for Hire/Quicksilver Annual 1998
The Heroes for Hire battle the Master of the World and the High Evolutionary; Dane faces off against a dragon and Malekith.
Collects: Avengers #12-23, Avengers Annual '99, Avengers #0
Dane temporarily rejoins the team for a few issues, helping out against the Wrecking Crew in Arkon's world. He also appears here and there in later issues, but mostly as a background character until featuring in 2001's Excalibur mini-series, in which he once again fights in Otherworld alongside Captain Britain.
New Excalibur, Vol. 2: Last Days of Camelot
Collects: New Excalibur #8-15
Dane turns Garrett Castle into a Black Knight Museum. The Lady of the Lake sends him back to the past with Excalibur to meet with Sir Percy and save Merlin, and he discovers that there were eight other Black Knights before Percy.
Captain Britain and MI: 13 Vol. 1: Secret Invasion
Collects: Captain Britain and MI: 13 #1-4
During the Secret Invasion, Black Knight joins up with heroes including Captain Britain and Faiza Hussain to fight the Skrull as well as Satannish.
Captain Britain and MI: 13 Vol. 2: Hell Comes to Birmingham
Collects: Captain Britain and MI: 13 #5-9
The newly formed team focuses on dealing with supernatural threats. After Faiza lifts Excalibur, Dane helps her explain the situation to her parents, then makes her his steward.
Captain Britain and MI: 13 Vol. 3: Vampire State
Collects: Captain Britain and MI: 13 #10-15, Captain Britain and MI: 13 Annual #1
The team fights Dracula and various other vampires, Dane goes to Wakanda to retrieve the Ebony Blade, and Dark Reign begins. When Dane gets hurt, Faiza heals him, kisses him, and turns his stone heart back to normal.
Dane Whitman: Back in Black
Savage Avengers Vol. 3: Enter the Dragon
Collects: Savage Avengers #11-16
After stopping a KKK reunion, Black Knight joins the Savage Avengers for a few issues.
An appearance in Symbiote Spider-Man: King in Black leads to the Whitman one-shot King in Black: Black Knight. After fighting a symbiote dragon and getting separated from the Ebony Blade, Dane teams up with Aero and Sword Master in Shanghai. When an avatar of Knull attacks the city, the King in Black himself tells Dane that the Blade thrives on darkness, not noble hearts as Whitman was told by Merlin. Black Knight ends up using all his negative emotions to shroud himself in darkness and finally vanquish Knull's avatar.
Currently, Dane appears in a new solo mini-series called Black Knight: Curse of the Ebony Blade. Feeling excluded from the other Avengers (which, fair), he still fights alongside them. They just want him to unleash his new dark powers… before he gets brutally decapitated, and somehow resurrects at the end of the first issue.