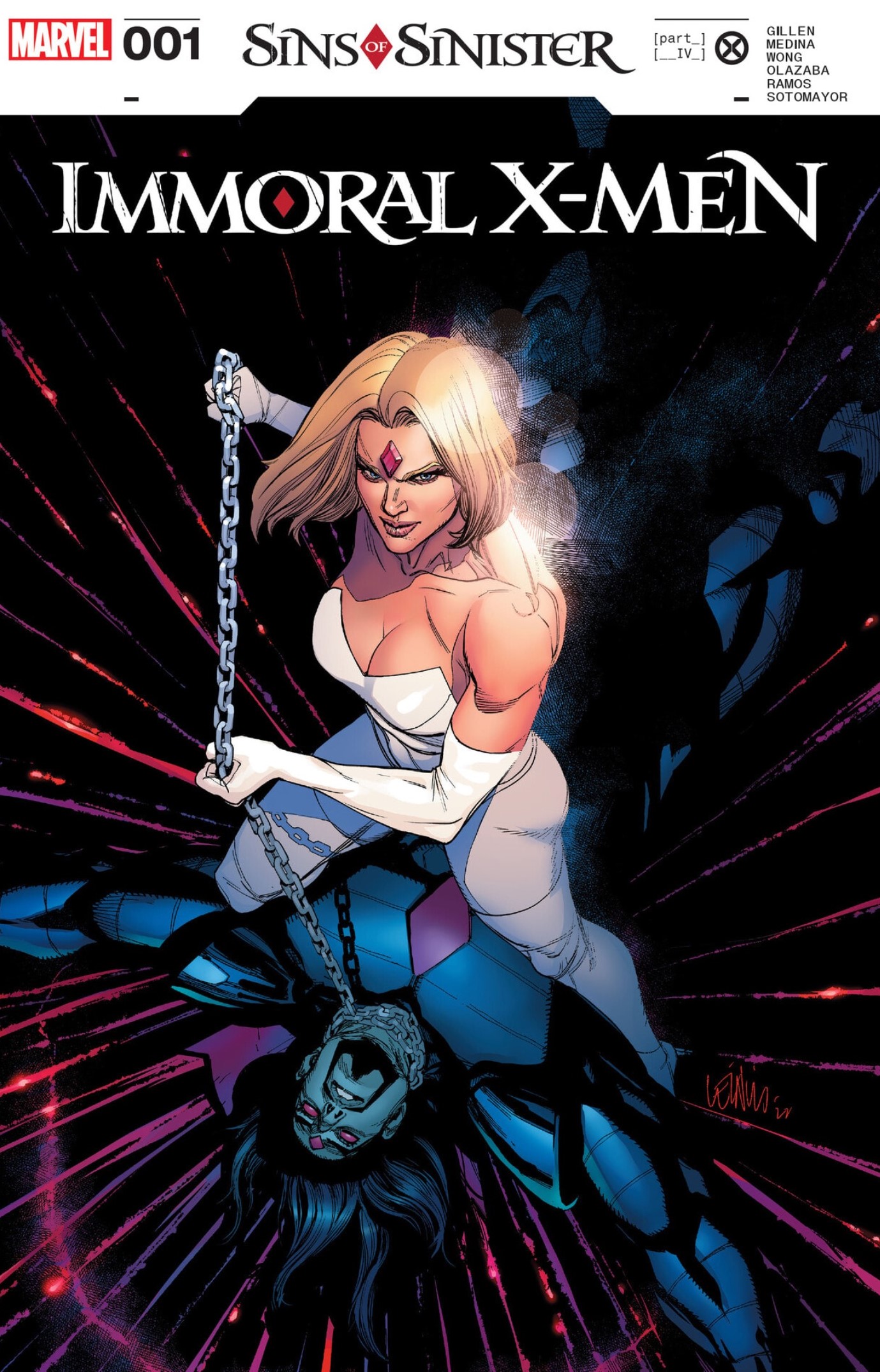 "The Bond Age" (with the dad puns, Kieron?!)
Credits: Kieron Gillen; writes; Paco Medina draws; Walden Wong and Victor Olazaba ink; Jay David Ramos and Chris Sotomayor colors; Clayton Cowles letters; cover by Leinil Francis Yu and Sunny Gho
Immoral X-Men #1 (of 3) is another excellent set-up chapter for "Sins of Sinister"—though to my surprise, it's not as immediately strong, for me, as the previous two entries, Storm & the Brotherhood of Mutants #1, the sublime follow-up, from Storm's perspective, to the opening Sins of Sinister one-shot, and Nightcrawlers #1, which introduced the surprisingly affecting Nightkin and threaded in an intriguing occult magic element to a future dystopian venue that typically goes all in with the post-cyberpunk sensibility without the leavening that fantasy tropes lend to the everyday Marvel Universe; indeed, magic is a kind of x-factor for this sort of event, which we'll see play out throughout the Nightcrawlers mini. In any case, this is Gillen's second entry, and it really does read like Chapter 2, with Gillen settling into the groove of his new Sinister-ized Council, giving us a wicked character study of the Sinister-twisted Emma.
While every page doesn't feel essential in the way that the opening oversized one-shot had, this issue does some fine character work, not just with Emma but the Sinister-ized Xavier and of course Sinister himself. This chapter opens with what seems to be the very last remnants of resistance, led by Nick Fury, Jr., preparing for a bold assault—that immediately turns out to be their death courtesy of Xavier's telepathy, never used so dastardly as here: While the targets are desensitized, they're sent plummeting to their deaths from the heights of a skyscraper. Obviously, the moment has nothing to do with them and everything to do with poor ol' Chuck, still partially himself, holding to the dream, but unable to see another way but Sinister's.
[Read more…] about "Sins of Sinister" Part 4: Immoral X-Men #1 in Review!