It's rare that comic creators get to go even a few years on a comic book. Five years is something of an accomplishment. But when creators get to stay for a decade or more, something magic comes out. Something more than just long tales, something more than the sum of its parts. The book gets a kind of consistency that builds up to make bigger ideas possible. Collected here are some of the best examples of what can happen when you break 100 issues!

Notable Creations: The Fantastic Four • Inhumans • Black Panther • Silver Surfer • Watcher • Galactus • Doctor Doom
Notable Storylines: The Peril and the Power • This Man, This Monster • The Galactus Trilogy
Lee and Kirby's Fantastic Four is the template for Marvel's entire universe. This run established every single thing, from how writers and artists collaborated at the publisher; to the entire cosmic universe, to Marvel's aesthetic and "tone."
And no Fantastic Four story exhibits this quite like Galactus trilogy. This tight, economical story creates Marvel's first mythology while also progressing the individual needs and fears of each of the characters. It's a story that's big enough to encompass the universe, and yet small enough to be told on an individual level. It's the Marvel recipe over and over again, starting here.

Notable Creations: Cable • Phoenix • Gambit • Emma Frost • Kitty Pride
Notable Storylines: Dark Phoenix Saga • God Loves, Man Kills • Days of Future Past • The Demon Bear Saga
Support For Comic Book Herald:
Comic Book Herald is reader-supported. When you buy through links on our site, we may earn a qualifying affiliate commission.
Comic Book Herald's reading orders and guides are also made possible by reader support on Patreon, and generous reader donations.
Any size contribution will help keep CBH alive and full of new comics guides and content. Support CBH on Patreon for exclusive rewards, or Donate here! Thank you for reading!
"Fighting for a world that hates and fears them" defines the ethos of Chris Claremont's run on the X-Men family of books.
Right from the jump with Uncanny X-Men he reformed the X-Men with a mission in mind: giving the world so much breadth, depth, and consistency that it felt as if "mutants" existed in almost a parallel existence just beneath the surface of the normal Marvel universe. And that consistency was the key, seeing as Claremont ran the entire X-Universe for over a decade.
That world of mutants he created was at existential peril by its mere existence. The "Mutant Massacre" really drove home the feeling that the X-Men were always young, and here they were, faced with being child soldiers on a humanitarian mission.
The X-Men began to tackle huge stories with nuance and scale, all while consistently topping the charts. These artistic and financial successes made it possible for future runs, with John Byrne's Fantastic Four and Frank Miller's Daredevil both being compared favorably to the work Claremont was already doing.

Notable Creations: Starfire • Raven • Cyborg • Deathstroke • Changeling (massive redesign)
Notable Storylines: The Judas Contract • A Day in the Lives
There's an expression that Stephen King coined that goes something like "story is the sparks thrown off by the metal of two opposing characters being ground together."
And that's exactly what you see in Wolfman/Perez New Teen Titans. They created an amazingly static team line-up and then gave them each realistic lives. The result is a book filled with anxiety, lust, insecurity, and joy that feels so true to the age. It also meant that these characters rubbed one another the wrong way, fell in and out of love, and even went to battle with one another. But it also created this amazing, quiet moments that made the book come alive.
The success of this title lead to Wolfman and Perez doing Crisis on Infinite Earths, which in turn lead to the modern DC comic book universe.
In a very real way, most of what we see as "modern comics" started with these two friends and their focus on humanizing situations, quiet moments, and expressive storytelling. (Although creating the first line-wide cataclysm also helps…)

Notable Creations: The Confessor • Samaritan • Winged Victory • Steel Jack • Beautie • First Family
Notable Storylines: The Nearness of You • Show 'Em All • The Tarnished Angel • Family Album
In 1994, Kurt Busiek and Alex Ross released Marvels, which told the story of Marvel's early classics from the perspective of a lowly new photographer with no secret identity. The comic was an unqualified success across every front – from artistic, to editorial, to sales. Today, Marvels
is considered a classic.
I'm telling you this because I want you to understand what I mean when I say Astro City is Marvels perfected.
In Astro City, Busiek is able to create his own universe. One that is obviously informed by the Big 2, but is still distinct and his own. A world that lovingly pulls from the best aspects of Gold and Silver Age comics while at the same time addressing why our modern culture seems to need these heroes. It achieves this switching between the superpowered POV of heroes and the mortals on the street.
The result is a book that can be simultaneously deeply in love with the medium while also critical of it. It can feel powerful at times and deeply fragile at others. This is possible because Busiek controls the world completely; there are no licensed or legacy elements, only what he creates.
And what he's created here is a true masterpiece.
Notable Creations: Isabelle Cordova • Lono • Cole Burns, Milo Garret, Victor Ray, Joseph Shepherd, the Medici Family, Agent Phillip Graves
Notable Storylines: First Shot, Last Call • The Counterfifth Detective • The Hard Way
"Come and show me another city with lifted head singing so proud to be alive and coarse and strong and cunning" Chicago (excerpt) by Carl Sandburg
There is a proud and violent writing tradition in Chicago. It is born of riots and poverty and bone-deep grudges brought over from the old world and refined here by the cruelty of our slaughterhouses and the bitterness of our winters. And from out of those things come savage hearts, men and women like Hemple, Huges, and Algren. Writers who burn brands into their readers.
Brian Azzarello belongs in that tradition, and 100 Bullets is as coarse and strong and cunning as a comic comes.
100 Bullets tells the story with one concept: who would you kill if you really could get away with it? Out of that concept, we build an entire world of violence, criminality, and an international conspiracy driving that single concept. From this recipe come roaring characters, terrible choices, and the snappiest dialogue you may ever read on a comic page. And it is glorious, exactly the kind of work I loved to see out of Vertigo.

Notable Creations: Kathryn O'Brien • The Russian • Baracuda
Notable Storylines: Welcome Back Frank • The Slavers • Born
Marvel canceled The Punisher twice before Garth Ennis got ahold of it. The character had gone to the extreme, been executed for his crimes, come back in one of the most ill-conceived storylines as an assassin working for Heaven, and been canned.
Ennis then wrote "Welcome Back Frank," and everything changed. Ennis and artist Steve Dillion created a Frank that was back to basics: New York, Looney Tunes level humor, and where guns were the only superpower.
Then, after achieving the incredible by turning Frank around from canceled book to critical read, Ennis went on to do the impossible: make Frank relevant.
With the new, mature Punisher Max line, Ennis recreated Frank again as an older soldier, a killer, living in a world of monsters, politics, and the absolute darkest of humor. This Frank Castle could take an unflinching look at everything from the Cold War to sex trafficking, pushing the unsuspecting reader far from their comfort zone (while still providing plenty of gory excitement.)

Notable Creations: Miles Morales
Notable Storylines: The Death of Spider-Man • Venom War • Spider-Men • Rebirth
By the year 2000, The Spider-Man title was already showing signs of fatigue. "The Clone Saga" had done serious damage to Peter Parker as a character. Identity Crisis (and Clone Saga) did damage to Spider-Man as an icon. "The Gathering of the Five" and "Final Chapter" made a mockery of any idea of change for the character.
And then the Ultimate line happened, and Brian Michael Bendis got to create a new Peter, apart from all the recent nonsense. He redeemed the character, making him true to everything that came before… and then he killed him.
Not only was this a gut punch, but redeemed the notional concept of Spider-Man. Marvel Ultimate meant that the core idea of Spider-Man could start again. Could start fresh, without torturing Peter Parker and all his 1960s baggage with yet another contrived shot-in-the-arm. Instead, we could have Miles Morales, who could be modern in a way Peter couldn't. Who could face problems that Peter — due to his experience, canon, or identity — never could. Best of all, the book ran for over a decade, which meant that readers could trust that Morales would not be easily reversed when editorial demanded a "new direction."

Notable Creations: Bigby • Rodney and June • Snow White • Rose Red
Notable Storylines: Legends in Exile • Jack of Fables • Homelands
Fables is an absolutely wonderous series and one that I did not expect to like.
It takes a tired, almost groan-inducing premise (fairytales are all real; their characters and creatures live in exile in our world) and builds an amazingly rich universe out of it. Old and familiar characters are given depth and dimension, then thrust into surprisingly realistic lives.
There are old grudges here and new problems. People fall into old patterns or try to start new, reformed lives. There is love, war, and magic everywhere, in memory if not in present. But mostly it's the yearning for a return that hooks the reader with a palpable desire to see things made whole again and these characters returned to their old lives… or at least given peace in these current ones.
It's also incredible that this creative team could remain intact through this run and its many off-shoots.
Robert Kirkman & Ryan Ottley's Invincible
Notable Creations: Invincible • Omni-Man • Atom Eve • Conquest • Anissa
Notable Storylines: D.A. Sinclair • Viltrumite War 
Invincible follows the story of Mark Grayson, average, teenage, American male who just so happens to be the son of Omni-Man (his world's most famous superhero). Part of what's so amazing, however, is how we learn all of this in the very first issue. It's not a shock to find out Mark's parentage and when Mark begins exhibiting superpowers it's a revelation only to the readers.
Instead, the big surprise is how mature it is. On a superficial level, Invincible tackles big, societal issues while dishing out a ton of gore. But on a deeper level, Kirkman sets out to subvert and downright upend virtually every comic trope. The book is constantly setting up expectations and then blowing them up. There's death, betrayal, and destruction, and — because this is a creator-owned book — that damage can be piled up sky high without an editor to wipe it away with a retcon.
The ultimate lesson of this book is that it's not merely enough to have your characters confront mature themes in some very special issue only to have them forget about it at the next sign of alien invasion. Instead, characters should live with those wounds as we do, day to day, and either find healing or else act out accordingly.

Notable Creations: Multicolored Lantern Corps
Notable Storylines: Blackest Night event • Brightest Day
Geoff Johns came onto Green Lantern when the book was at its lowest point. The hero himself had lost focus and fallen in his prestige in the entire DC universe. In order to fix this, Johns would resurrect the previous lantern Hal Jordan, redeem him, and then proved the importance of the Lantern Corp to the cosmos. To do that, he'd have to create a whole spectrum of Lantern Corps and then a threat so big, it threatened Death itself.
Johns stories seem to do all of these levels – the redemption, the importance, and the threat – all at once. We'll be learning important depth about Jordan's backstory while challenging everything we know about him by making him teammates with his greatest enemy. All in the middle of an enormous space battle.
And somehow, it all works. And I think that has a lot to do with two things: history and stakes.
Geoff pulls together all of the Lanterns, pulling a few out near obscurity, and folds them back into the Lantern Corps. In a sense, he redeems the entire concept of the Green Lantern Corps as a calling with a unified meaning behind it… all without smashing characterizations to bits.
That forms a center with strong, clear past and present. Which means Johns is free to throw ridiculous problems at the Corps, huge, potentially confusing forces that want to destroy the universe, and the readership can buy in because they know exactly who their heroes are, where they're coming from, and that they both can and should do what's asked of them by the stakes.
That's an amazing amount of knowledge, love, and work that Johns has to bring to bear, and yet he pulls it off admirably… and all without forgetting to make each character shine!
Notable Creations: Winter Soldier
Notable Storylines: Steve Rogers and the Winter Soldier • Two Americas • The Trial of Captain America
What's most interesting to me about Ed Brubaker's Captain America is what he takes away from him at the start. Steve Rogers had been the embodiment of all things America for so long that the character had become almost a parody of himself, a child's idea of patriotism. Brubaker took that limit away from him and made him a soldier. A pragmatist who was dramatically more accepting of death and violence if it was deemed necessary. A Captain America for the modern era.
In Brubaker's hands, Captain America becomes a 1970s, post-Watergate thriller of a run. The story has that rich complication that any good conspiracy story needs. The pacing is relentless. But the most exciting part is how well Brubaker uses Captain America's history and applies it not merely to Steve, but to the title he wears.
This means that when Bucky Barnes returns from the past, the threat he poses has all of that historical weight behind him. And when Bucky picks up the shield, we know it'll come with brand new burdens. What we don't know is how many will be unique to him.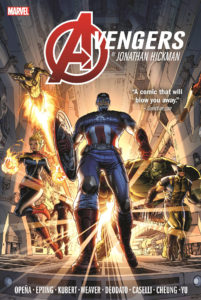 Notable Creations: The Black Order • The Illuminati • Battleworld
Notable Storylines: Secret Warriors • Infinity • Time Runs Out • Secret Wars
Jonathan Hickman's Avengers run is a herculean feat. The core story was written concurrently across two books (Avengers and New Avengers) as well as one of two event books (Infinity and Secret Wars). In truth, the full scope of the project is actually much, much larger, but for the sake of clarity, we'll just focus on this final leg of his story.
Hickman's Avengers is much less a conventional superhero story and much more like a sprawling sci-fi epic on the scale of Dune or the Pre-Disney Star Wars extended universe. As the story unfolds we learn that whole timelines are being destroyed and that every possible Marvel universe is at stake. Marvel's smartest beings gather together to make truly unthinkable decisions in a desperate plea to save any life at all. All the while, the Avengers fight enormous battles in space, oblivious to the true threat.
This story does the near-impossible: it ends not just the Marvel universe, but every Marvel universe, and then remakes them into a fresh, new timeline filled with possibilities.

Notable Creations: Gorr the Godkiller • "Jane Foster" Thor
Notable Storylines: Godkiller trilogy • Goddess of Thunder • the Unworthy Thor
Reading old myths, it is easy to see Gods as immature. Gods get drunk, squabble among themselves. They take different forms and make terrible impositions on the world of mortals. Pick a Greek, Norse, or Native American myth at random, and it's almost guaranteed to have one of those elements.
Jason Aaron adds bigger battles, bigger threats, and a deeper mythos to Thor than he'd seen since the Walt Simonson run, while still keeping to those greatest hits of fights, desire, and damnation.
This is one long arc where everything advances. Thor Odison saves the timeline only to lose his title. Jane Foster becomes the new Thor as Odinson takes a long time to re-evaluate his every choice and life connection. Most notably, the enormous changes we see to the Thor, Loki, Odin family triangle. Even Mjolnir, Thor's hammer, goes through a story arc!
The world, the character, even the very moniker of Thor grow into something both beautifully grown up. While keeping tons of room for what's delightfully, classicly not mature about myths.

Dave Sim's Cerebus

Notable Storylines: High Society • Church and State
I'll be honest, I struggled with including this book.
Cerebus — the book and the character — began life as a Conan the Barbarian parody for a magazine. Sims quickly left that magazine and began writing, illustrating, and self-publishing. And over the course of a decade plus, Cerebus evolved into phonebook sized tomes that were big enough to talk religion, philosophy, and politics. Even the way Cerebus was sold (omnibuses sold directly to the consumer) was revolutionary.
Unfortunately, both the series and its author were an undeniable mess by the end. The ambitious, lighthearted parody comic became an oppressively bitter, cruel, crass thing and an openly unhappy Sims shouted at his readers, issue to issue.
As I said, I struggled with including this one. Cerebus has an important impact on comics, independent or otherwise. And as the output of primarily one artist, it's truly incredible.
But it's a miserable read, especially since Sims made the final book intentionally disappointing for fans.