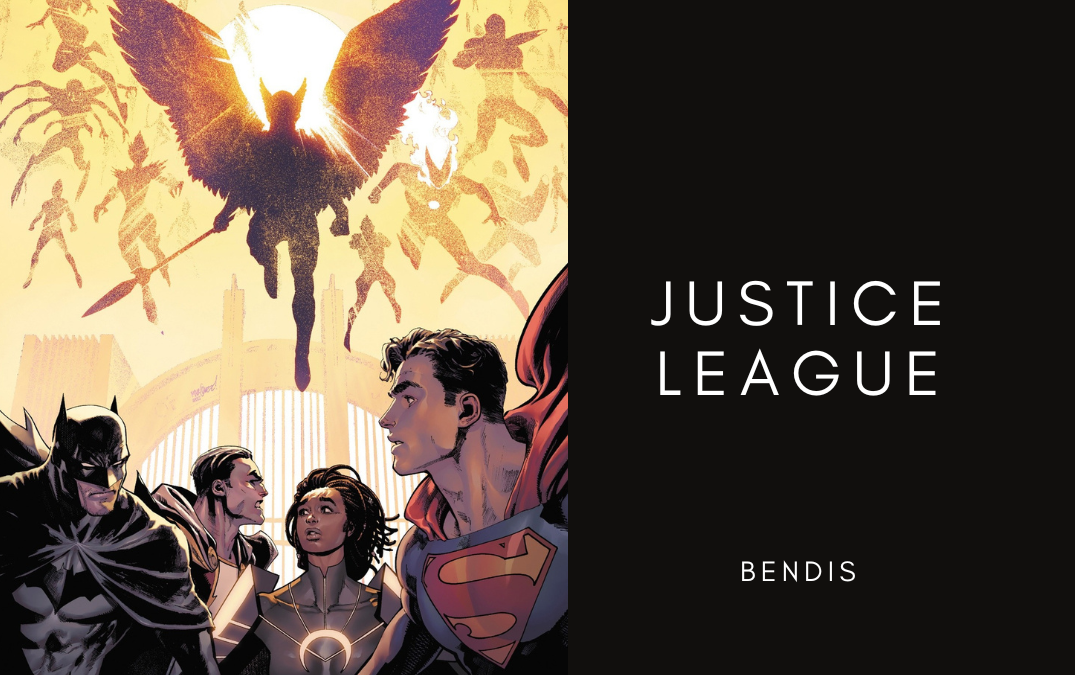 The date was November 7th of 2017.
It was another day. Just like any other.
Until it wasn't.
This is real. I love you all. Change is good. Change is healthy. I am bursting with ideas and inspirations. Details to come! Stay tuned! https://t.co/S1x5JDmGTt

— BRIAN MICHAEL BENDIS (@BRIANMBENDIS) November 7, 2017
Everyone began shrieking, whether it was in delight or terror.
You had every variation of 'No way' 'Is this a prank?' 'OH MY GOD' 'Holy shit' to people screaming 'YESSSSSSS' or 'NOOOOOOO.' The reaction was instant, massive. And the end result? Absolute chaos. People had joked about it for years. 'Imagine Bendis writing for DC,' which was usually followed by 'Well he did do that one short-story called Citizen Wayne at one point, but yeah.' It seemed about as likely as Christiano Ronaldo playing for Manchester City. It was but a dream. A fantasy. A What-If that you joked and laughed about as absurdity.
Support For Comic Book Herald:
Comic Book Herald is reader-supported. When you buy through links on our site, we may earn a qualifying affiliate commission.
Comic Book Herald's reading orders and guides are also made possible by reader support on Patreon, and generous reader donations.
Any size contribution will help keep CBH alive and full of new comics guides and content. Support CBH on Patreon for exclusive rewards, or Donate here! Thank you for reading!
I still remember being there when the announcement dropped, and there's only one word that pops into mind to describe it all: mayhem. It was absolute mayhem. Brian Michael Bendis had been the architect of the modern Marvel Universe, reshaping The Avengers, reforging The X-Men, revitalizing Spider-Man, and doing so, so much more. He was the man without whom you could not imagine the face of Marvel in the 21st century. He was embedded, integral, and an entrenched institution over at Marvel. The man quite literally wrote the iconic Nick Fury credits scene for Iron Man, teasing The Avengers and the MCU. He was synonymous with Marvel. And now he'd moved to be exclusive with DC Comics for good.
The reaction was thunderous. I remember seeing every shade of reader and every possible stance and take, all brought forth like summoned for a grand event. The kind of event everybody and their mum shows up for, and nobody wants to miss out on, because they want to have been there. They want to say they were there when it happened. From the disillusioned Marvel readers who were like 'Thank god. We're finally free. He's gone at last. Thank you, DC," to terrified DC readers constructing conspiracy theories as to what lay ahead, it was all there. And there was excitement too. A great deal of it. Not necessarily based upon the fact that this was a positive thing or it would lead to great comics. But based upon the fact that for once, in a world where you are constantly promised 'events' that will be 'earth-shattering' and yet never are, this actually was. This was electrifying. It was genuinely surprising. For once, nobody knew what lay ahead. It was uncertain times, of infinite possibility.
Anything could happen, it seemed to suggest.
And it was hard not to feel thrilled by that. Even the most jaded and cynical readership seemed to lean over and pay attention. Love the man or hate the man, one thing was undeniable:
The hierarchy of power in the DC Universe was about to change.
Ads like these soon covered the pages of DC comics, evoking when Jack Kirby first moved to DC way back in the 1970's.
Bendis was to arrive to do Superman and focus on Superman, with big, major DCU-sweeping plans. For years many had assumed that he'd head to Gotham and Batman, evidently, as an iconic Daredevil creator. But expectations were bucked. And a Superman saga ensued, followed soon by a whole imprint of books titled Wonder Comics, as well as the inevitable move of many of Bendis' closest creative friends such as Greg Rucka, Matt Fraction, and Kelly Sue DeConnick over to DC. He would even get his shot at Batman
in a perennial maxi-series format with artist Nick Derington onboard. He was checking off all the boxes, from writing Young Justice to helping resurrect the Wonder Twins and Dial H For Hero. He was doing it all, really, even down to a DC event via Event Leviathan
.
There was just one thing he wasn't doing. The one thing most people expected him to do far earlier, and anticipated him doing. The one thing that felt inevitable and obvious, and something that had occupied the minds of comics readers for decades reading him over the aisle at Marvel:
Brian Michael Bendis' Justice League.
What would that even look like? How would that even be?
It was the ultimate What-If of all Bendis DC What-Ifs. And he would put it off and avoid doing it…right until he no longer could. First came the announcement that Bendis would be departing the Superman books, with writer Philip Kennedy Johnson being announced as the successor. This was followed by people either marking the end of another era, or cheering loudly for they could not stand the man's work. But it became evident:
Bendis had freed up his work-load. And he'd clearly done it for something.
What was it? What could it be? What would make him let go both the flagship Superman titles that he'd now done for close to 2 years? What could be bigger than that?
It became obvious. The announcement came quick after some initial cryptic teasers.
The date was December 16th of 2020. Bendis was going to take over and become the new writer of Justice League- DC's ultimate flagship title. His run would begin in March of 2021.
This was The Bendis Era of Justice League.
We'd been through the Grant Morrison era. We'd made it through the Mark Waid era. We'd experienced the Joe Kelly era. We'd endured the Brad Meltzer period. We'd witnessed the Dwayne McDuffie era. And we'd suffered through the James Robinson era. We'd somehow made it through the Geoff Johns era. We'd tried to forget the Bryan Hitch era. We'd been fascinated by the Christopher Priest era. And we were knocked out tired by the Snyder era.
Here was the next step in the journey of the modern Justice League. The next page in the long chapter of the World's Greatest Superheroes, now to be penned by one of the most influential superhero creators of the 21st century. The man who'd damn near built the modern Marvel Universe and how it existed.
It's a run he did not at the beginning of his DC career, as many may have expected, but rather at the end of it. Justice League was the run at the twilight of his DC career. The run would last almost precisely a year, though none could have guessed it at the time. If its beginning was announced on December 16th of 2020, its ending would be announced on December 21st of 2021. If the run began in March of 2021, it would conclude in March of 2022. Pretty much a year's worth of comics.
And by the time it was over, nobody even seemed to realize it. There was little buzz or chatter on it. Tumbleweeds seemed to stroll through the streets. It was as though the book had not existed. Many had dropped off early on. And by the time it was done and over with, the response wasn't even energized. It was variations on 'Wait, Bendis was on Justice League?? What?!', 'Wait, it's over? Huh.' 'I didn't even know it was a thing,' with shrugged shoulders and confusion. By the end of it all, there wasn't even antipathy. Just apathy.
The whole Bendis era would be swallowed whole in chatter soon enough by what would follow right after it- Death Of The Justice League by Joshua Williamson and Rafa Sandoval. The nostalgia-fueled naval gazing gimmick 'event' in Justice League #75 to evoke the 90's Superman #75 story of Death Of Superman. Just a month after Bendis' departure from Justice League was announced, the Death Of The Justice League event announcement hit. Bendis' run would conclude in Justice League #74, and the JL would die in literally the next issue.
Following all that, DC would lead into their big Dark Crisis On Infinite Earths event, all the focus and attention was lost. Bendis' departure seemed to be a silent thing nobody really noticed, except for a select few, when it really happened. It was a strange thing then, and it is a strange thing now. Its legacy is that of a void, a gap between the Scott Snyder era and the Joshua Williamson events that no one seems to really remember. It was a year of a blur that none can seemingly recall much about.
There's little real discussion or dives into what is now that one-year period of The Bendis Era of Justice League. It has been buried, forgotten and ignored, rightly or otherwise. So let's dig up the remains of this thing and sit with it, this once-held fantasy and amusing what-if of many for ages that then somehow impossibly came true, only people didn't care when it did and forgot its very existence by the time it was over. Let's pour over it and unpack it, shall we? Let's see what turns up in our investigation of it.
The Saga Of The Shazadam
Bendis' very first Justice League story would be not in the JL title itself, but rather a 3-pager in the DC Universe showcase issue of Infinite Frontier #0, teasing the run and acting as a prologue. He was joined by his consistent artistic collaborator David Marquez, who'd help set the tone and look for this new era of Justice League comics. And the short-story laying the groundwork?
It was, of course, as you can guess, about Black Adam. In fact, the entire run is kind of about Black Adam and his journey.
For years people had pondered:
What would a Bendis run of Justice League be like?
It would be about Black Adam, as it turned out, as even the very prologue promised. And before that prologue even dropped, leaks and gossip meant that a whole pseudo-controversy began, with the infamous website BleedingCool proclaiming that Brian Michael Bendis would suddenly be changing Black Adam's name to 'Shazadam,' based off the above pages. It was, evidently, a silly gag and a joke in the story, that got blown up into a whole nonsensical mess, which Bendis himself would have to go out and address outright in interviews himself:
"His name is Black Adam, and someone called him something else in the book," Bendis continued. "It's like someone putting out a headline saying that Marvel changed Spider-Man's name to 'Web-Headed Menace' because somebody called him that, and that's why I didn't respond to it. It's just so, so ridiculous. Even responding now is like helping a click machine."
It was all a bit absurd.
But one thing was obvious and impossible to miss amidst all the noise here- Black Adam was now essential to this Bendis era of Justice League.
Bendis and Marquez immediately layout the commonalities of Black Adam as a heroic figure with Superman himself, as people Adam has helped and saved stand to tell his tale. And then we're given a snapshot of Superman pondering about The Man In Black. Superman has seen Black Adam's acts of heroism. He's witnessed his capacity for good. And he gazes out into the distance, into the unknowing future ahead, as though mulling over an idea.
And the idea was papered all over the DC ads of Bendis' arrival onto Justice League. Black Adam was coming.
One might think synergy was the driving motivator, and they'd be right. The idea sprung first from DC themselves, not Bendis, and it came specifically from Jim Lee. But it was not just Bendis implementing something he was told to. No, this was a different story, and let's hear Bendis himself tell it:
"The one DC came to me [with] early was Black Adam," Bendis told a group of journalists, during a roundtable event ahead of his Justice League launch. "They were like 'Hey, is that someone you think you've got a feeling for?' Because that's a character that obviously is going to be grabbing headlines for the next year or two, and I did.

I really liked that idea. It immediately challenged me and made me think back to what we were doing with Doctor Doom in Iron Man. He's a very different character than Victor von Doom and I wanted to see what we could do in that regard, and how his appearance really challenges the idea of the Justice League and these teammates that have known each other for a very long time, some of which, they are ride or die teammates. And then here comes this person that does really challenge everything around them. So that got very exciting."
It was something suggested and offered to him as an option, something he could easily turn down or choose not to pursue, given he did have massive creative control that most others did not. But Bendis genuinely liked it. He was into it. He really loved the idea. He took to it like a duck takes to water.
Perhaps the best expression of Bendis' sensibilities as a creator and team-player is in the inclusion of Naomi, his original teen hero co-creation with David Walker and Jamal Campbell. Her being on the Justice League was not his idea at all, despite many assuming it obviously was. Much like the Black Adam inclusion idea, that didn't come from Bendis either.
"Someone brought up Naomi," Bendis recalls. "Honestly, it wasn't me. I got very into that and I called David Walker. I said, we have an opportunity here to do something new with her hero's journey that we weren't even going to do and that's pretty exciting as well."
Bendis is merely a writer who is very good at embracing notions suggested to him, and committing to them so hard that guessing the ideas' origins and roots becomes tricky. His openness to possibilities and his ability to 'improv' off notions is a big part of why he's stuck along for so long in Big Two comics. It's why the 'how' and 'why' of Bendis' inclusions is less important than the fact that the inclusions were made.
And while it took perhaps a bit longer for his collaborator David Marquez to come around on the notion of this Black Adam idea, he too ended up committed:
"Getting to be the first reader of the book, I took some convincing to really get behind the idea of Black Adam being on the team," Marquez said. "At this point [after working on it for a while], I don't know how else we would be doing this book. It feels natural, him… and also the contrast between him and Naomi on the team is something that is very, very… it's new and it's fresh and it's different to what I've seen on the book in the past. And for me what they bring to the team is the heart of the book."
Black Adam and Naomi would be the heart of this book and this new era of Justice League. One a classic character from The Golden Age Of Fawcett comics, and the other a new Bendis original idea and introduction to the DC Universe and its legacy. None of this was tacked on afterwards or later notes, but something at the forefront of the whole endeavor and project. This all mattered to Bendis, it was meaningful and exciting and personal to him. And it mattered to Marquez as well, as his chief collaborator laying the groundwork on this title. The focus of the story they were setting out to tell was evident from the jump. There was no other goal or plan but this.
Marquez: From the very first conversation Brian and I had about me coming on to draw Justice League, Black Adam was was one of the first things out of his mouth about it. It seemed like that alone was a unique Justice League like that was a story in and of itself.

Bendis: I've got some runs under my belt, and I did things that people at the time were mad at me about but now they're happy about. And so I wanted to bring all I know now about writing Avengers, Guardians of the Galaxy, and X-Men to the Justice League. I've learned lessons that I apply to the very first pages. Black Adam and Naomi were awesome added elements to the book, and I really want to write this class of Justice League in a way that keeps everyone excited.
This was to be the long, grand culmination of Bendis' long, storied career of doing endless team books. He brought up just how much he had learnt in all his years, how the creator he had become now would perhaps make different choices than the one he'd been in the past, in how to broach such big titles and projects. He talked a great deal about being 'additive' and expanding the world, and Black Adam and Naomi were part of the expression of that idea. They were illustrations of his point and vision.
It's not a choice any could have predicted before it happened, given if anything, many were betting on Bendis at some point in his DC tenure getting to do Shazam! He was DC's oldest and most iconic and mythic Teen Superhero, and Bendis was THE guy who'd revamped the ultimate teen superhero of them all: Spider-Man. Bendis had done it twice in fact, having had a legendary run with Peter Parker, and then in creating Miles Morales. Bendis was the king of teen superheroes, having shaped the modern idea of what had become the archetypal blueprint when people said 'teen superhero.' Shazam! was a character and title about adopted and found family, and had a diverse cast- both hallmarks of Bendis' work. The character and title seemed like inevitable and obvious catnip for the creator, feeling like an obvious inevitability, especially given he'd done Superman, and Shazam! was a character historically in dialogue with Superman. Shazam! felt so obvious for Bendis. When he first initially moved, many people even 'cast' him as a pick for that title, given the character had not helmed a solo book for years at that point, and Bendis could make it happen.
But it was not Shazam! he ended up doing. In fact, he never really touched or did anything significant or notable with Shazam! in all his time there at DC.
It was Black Adam, his dark opposite.