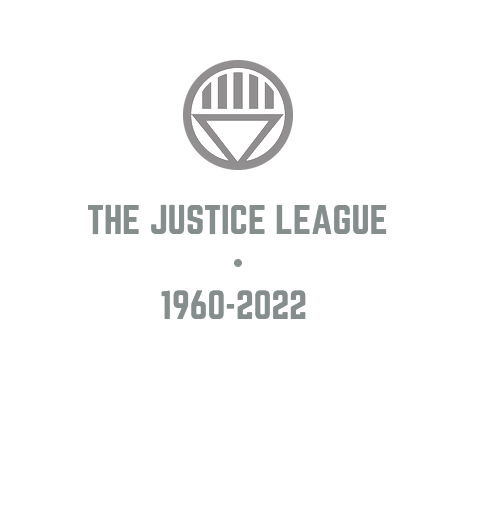 Call it the gravitational attraction of a primal collection of archetypes, call it a quirk of capitalism realizing you can't own all the most popular characters in a genre and establish they can meet and then not go all the way with that. It had to happen. They had to be.
So they fought trees and starfish and robots and men from the future out of "the modernistically outfitted headquarters which (was) their secret headquarters" before decamping to a satellite. They swelled their ranks, met their predecessor-twins in a crystal ball, and mapped the multiverse. They performed the labors of folktales while remaining, essentially, a group of affable coworkers gathered around the roundtable talking shop and going over meeting minutes.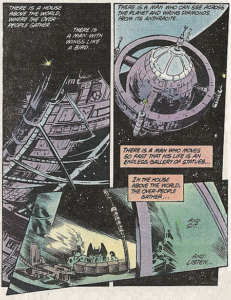 With time however the obvious was acknowledged: they were giants living in the sky here to save us. The push and pull would come to define them – between stately grandeur and the individual passions driving the man-gods, the heights of legend and the muck of mortality. Even as they would see-saw between loving reminiscence over old times and teetering on the edge of war over old grudges, they would still scale higher and higher, from battles for Earth to abstract conflicts over the unfathomed reaches of metaverses and multiverses and omniverses beyond.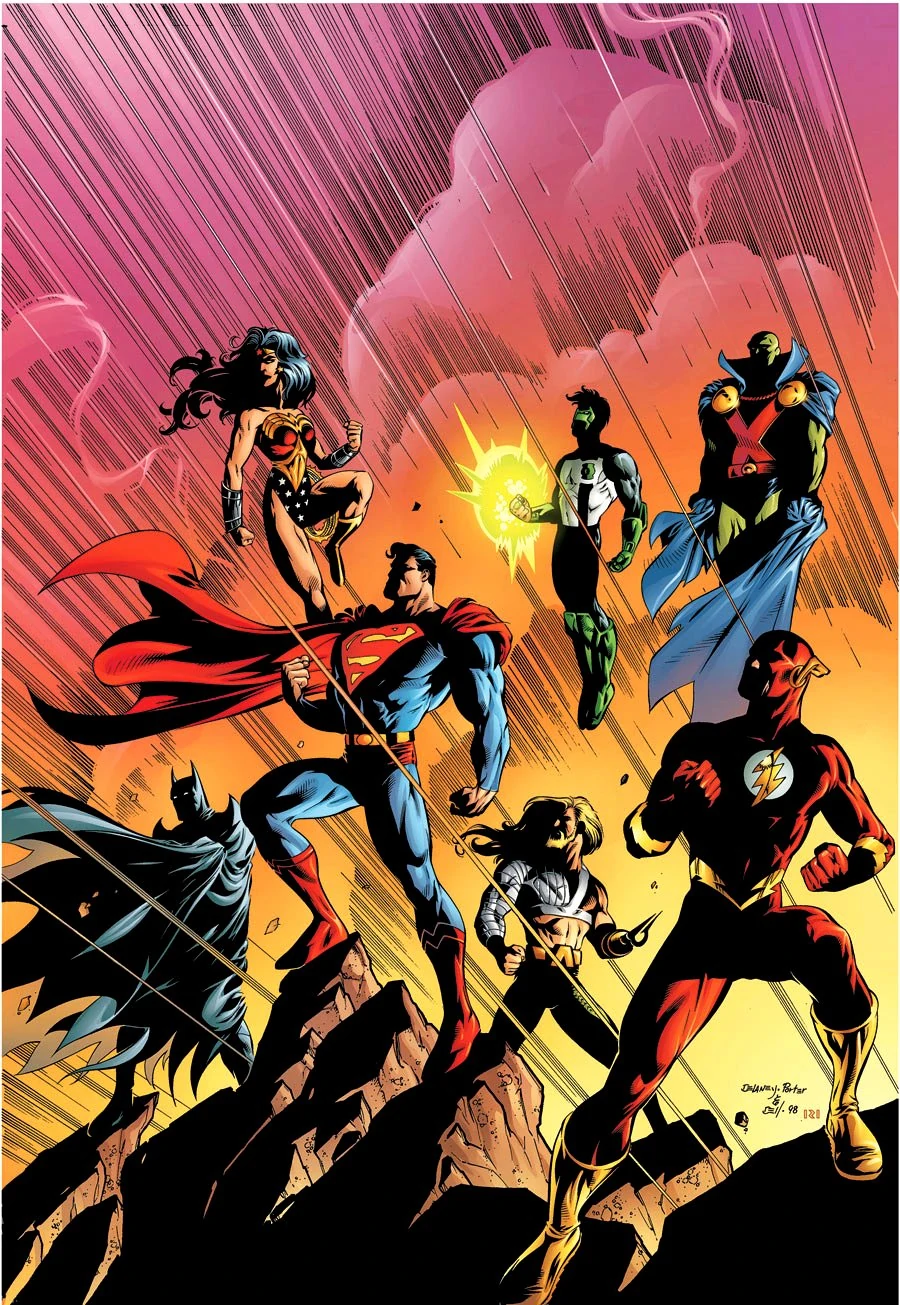 And after decades of comradeship and calamity, in Death of the Justice League
, they fell. When all the villains got together in the upteenth effort at beating the hell out of their rivals, THIS time strength and cleverness and will weren't enough, and the dream died, exhausted, impotent. Waiting for a new generations' hand to grab the baton and succeed where our old heroes failed, or at the very least waiting for a triumphant resurrection by the end of Dark Crisis and return to the glorious status quo.
But for the moment, the old standard-bearers are resting in peace; with that comes the obituary. Their place in the pop culture landscape is indisputable: even as the marvelous competition dominates the box office, the League remains the template for the superhero team as seen in the likes of Amazon's The Boys and Invincible, and Netflix's Jupiter's Legacy and The Guardians of Justice (Will Save You!). Their critical standing however is somewhat less certain. Regarding the 'classical' model of the team that will be discussed here – i.e. a team headed by DC Comics' most popular characters, rather than groups such as Justice League International or the Steve Orlando/Ivan Reis-created offshoot that would become the Justice Foundation – perhaps the only near-universally agreed upon popular successes were Grant Morrison and Howard Porter's JLA and joint animated series Justice League and Justice League Unlimited. Almost every other interpretation was typically disregarded, disdained, or controversially regarded amongst fandom.
Support For Comic Book Herald:
Comic Book Herald is reader-supported. When you buy through links on our site, we may earn a qualifying affiliate commission.
Comic Book Herald's reading orders and guides are also made possible by reader support on Patreon, and generous reader donations.
Any size contribution will help keep CBH alive and full of new comics guides and content. Support CBH on Patreon for exclusive rewards, or Donate here! Thank you for reading!
While universe-spanning epics such as Kingdom Come, New Frontier, or the assorted Crisis crossovers nominally placed the team front and center, in practice it was typically either the 'Trinity' club-within-the-club of Superman, Batman, and Wonder Woman hashing out their differences, or a clutch of characters operating mostly independently, with the League factoring in name only. As an ongoing proposition for a team dynamic, the whole was usually regarded as less than the sum of its parts.
That may not be a surprise, given the Justice League lacked the license of the conventional team book setup of the Fantastic Four, X-Men, Doom Patrol, or Legion of Superheroes where all members exist under one banner and can trade off character development to keep the narrative constantly inching forward. The Justice League didn't 'own' its lead figures; even its closest counterpart in The Avengers was originally a group of second-stringer heroes for whom that membership was the most significant aspect of their lives, and thus holds an outsized command over them long after their graduation to mainstream superstardom. As such, the history of the League was a history of attempts to write around the constrictions of the core concept; as that history is advertised at the moment as having ended, a look back feels in order.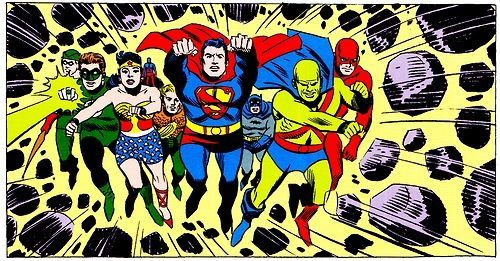 It started out smoothly enough. Gardner Fox would go on to be known as one of DC's Silver Age founding fathers for his work on The Flash, Green Lantern, Batman, and the burgeoning multiverse, and was already an old hand at the kind of propulsive, gently playful pulp sci-fi storytelling that dominated the era; Mike Sekowsky's deceptively chameleonic pencils meanwhile had each of the major heroes recognizably resembling their appearances from their solo titles to help sell the conceit that this was a shared space. Even if attempting to read early issues of Justice League of America quickly grows repetitive now for its limited formula – in an era before 'fight comics' were entirely figured out and without space for other contemporary titles' oddball character work, every turn depends on a clever science-fact reversal or simple trickery – but it must have been a delight of an experience month-to-month. In a time when many heroes were often dealing with 'normal' gangsters and elaborate contrivances placing their secret identities in peril at least as often as supervillains, a book offering threats representing a real challenge to multiple heroes with every issue must have seemed nigh-apocalyptic.
That sense of scale even in its earliest days speaks to something inescapable in the nature of the Justice League: they were big. It helps that unlike their Marvel counterparts they were the singular tip of the spear in their universe without any other groups with a comparable level of importance; with all due respect, few would be counting on the Doom Patrol or Seven Soldiers of Victory to come through in the clutch if Superman and his pals were downed. But while the Avengers possess a lone god in Thor, Wonder Woman was birthed with the power of a pantheon, standing alongside a fearless peacekeeper of a star-spanning knightly order wielding the power of dreams come true, an immigrant from the world that defined our very notion of 'alien', and a modern King Arthur ruling over a hidden realm of eldest legend. Pair that with the two who defined the sliding tonal scale of the entire superhero genre, and a living crack of lightning whose incarnations were often described as a printed history of the ages of his universe? No matter how much a given interpretation may downplay it or their grouping would inevitably flatten some of their individual aesthetics and textures, the idea of such a group being put in a room and the outcome being less than epochal, the revelation of the beating molten heart of the superhero dream that could light the stars anew, seemed laughable on the face of it.
Unfortunately, endless semi-sequential adventure storytelling isn't built to handle 'epochal' as a going concern.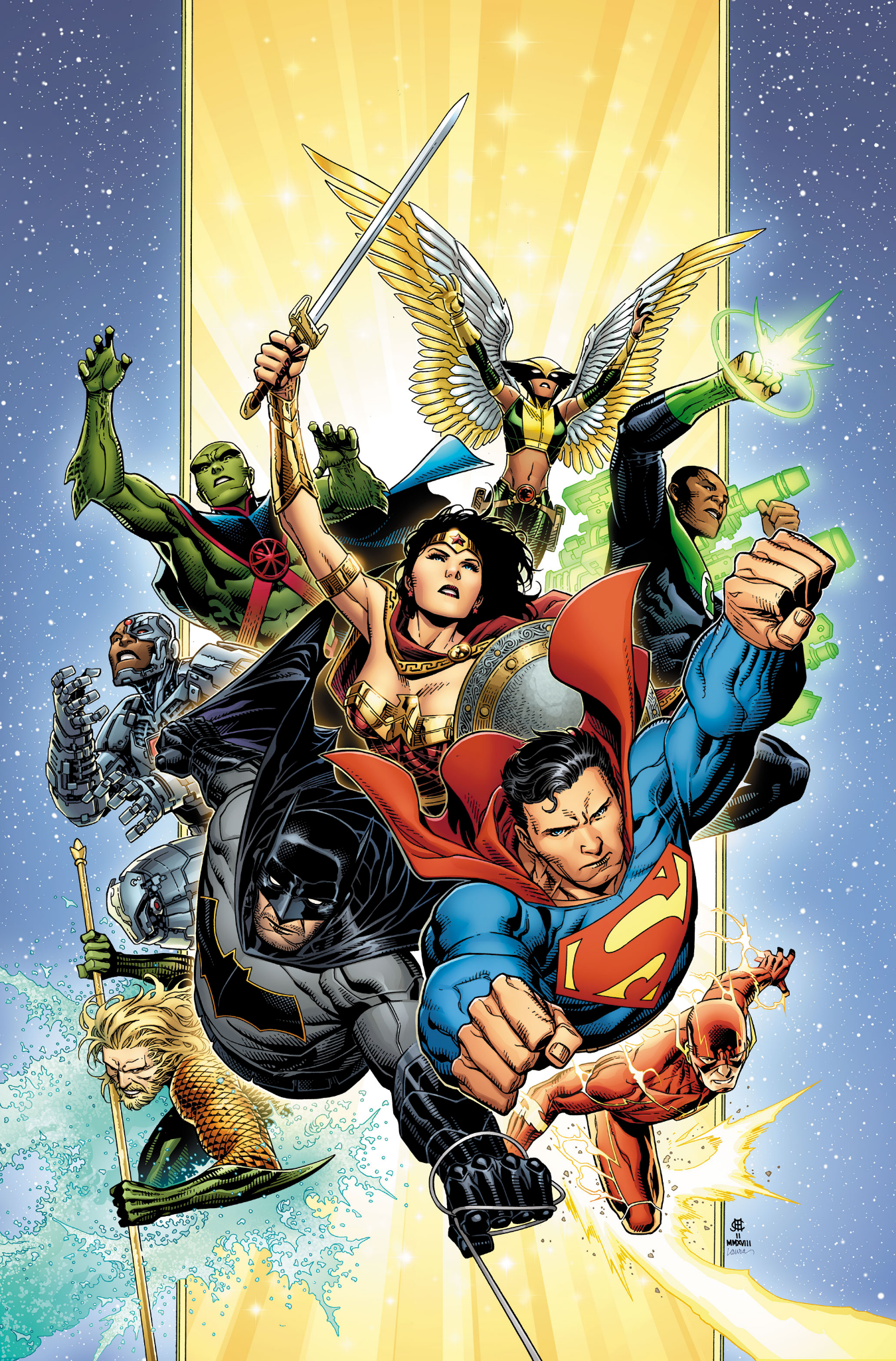 Myths aren't tidy. Myths live on cataclysm, heart-quaking dramatics, the rise and fall of ways of life. Myths don't tend to end with allas it started, and they certainly don't have to contend on top of that with particularly limited use of their principal figures so as not to disrupt their solo titles, thus unable to plumb their personal and thematic depths. The Justice League as it actually existed on the page as a monthly ongoing comic was a series of 'myths' without sweep or consequence, and the book was defined by attempts at grappling with that outermost boundary of the premise.
Over the years, the team was regularly split into subgroups – a tacit concession to the challenge of presenting a group with Atom alongside Wonder Woman where everyone could be plausibly relevant against the same threats at the same time – or more malleable 'secondary' members such as Red Tornado or Vixen were inducted and moved to the narrative forefront, both ideas a diversion from the 'all the big names' premise. Limited-run interpersonal drama in breakdowns of trust, familial intercessions, and potential intra-team relationships could stir the pot for the length of an arc, or if managed carefully a run, without breaking anything for the next creative team; a ploy with even less impact given that they weren't a family, loveable gaggle of scrappy underdogs, or formal institution with accompanying external pressures, but for the most part essentially well-adjusted coworkers with attendant low emotional stakes.
And in spite of being the heroes among heroes, it was impossible to maintain a permanent state of escalation, necessitating a team of sky dwelling super-saviors mixing their wars with monster and myth with incessant tussles against idiots brandishing homemade rayguns and mere mortal grudges. Even the pioneer of the 'pantheon' approach to the team, Grant Morrison, who pit the League against pure abstract horrors such as the fifth-dimensional tormentor Qwsp or the war-bringing anti-sun Mageddon, far more often had them in down-and-dirty brawls with rote alien invaders, genetically modified soldiers, bitter former members, and supervillains of all stripes …and with each ratchet down paired with the restricted ability to bring an intimate air to the proceedings, the air of our champions as the greatest of the great was diminished.
The Justice League in principle was titanic. The Justice League in practice was a tally of creators warring against utter sterility in the face of beings that as a whole could face neither the gargantuan upheavals of godhood or the petty, poignant struggles of mortality.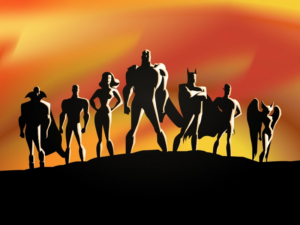 As such, their adventures were typically a matter of style over substance, a given creator or team attempting to season a simple dish with a flavor uniquely their own. Morrison and Howard Porter's defining JLA's dense, inventive kineticism was often charged by the contrast between the efforts of humanity in fresh-faced recruits Green Lantern and Huntress and the awe of superhumanity in seasoned protectors such as Batman and Martian Manhunter. The hit cartoon Justice League/Justice League Unlimited, as well as runs on the ongoing comic by Brad Meltzer, Dwayne McDuffie, and Brian Michael Bendis each focused on mining the soap operatic potential of a group of storied, well-acquainted peers mixed with newcomers to the team or heroics in general, to varying degrees of success. It's these two approaches perhaps that most clearly represented the persistent creative fiddling with the dials over the decades trying to triangulate some perfect sweet spot: iconic power vs. grounded relatability, a sense of deep history and camaraderie vs. professional efficiency, and bizarre, clever problem-solving vs. straightforward bombastic displays of power.
The results were – unsurprisingly, without the restraints of a binding continuity – frequently even more striking when applied to standalone miniseries or the 'analogue' heroes of other companies. Warren Ellis and Bryan Hitch's The Authority remade the standard models as a paramilitary strike force, an approach applied to the real deals in Geoff Johns' 2010s relaunch with charitably mixed results. Frank Miller and Klaus Janson mourned them as humbled giants in the seminal The Dark Knight Returns, while Miller's sequel The Dark Knight Strikes Again reenergized them as wild, ink-splattered warriors tossing off their chains and gleefully beating the world into proper shape. Patton Oswalt and Patrick Gleason's Welcome To The Working Week's POV of a JLA satellite stowaway permitted a granular view lacking in neither humanity nor transcendent power. Many of Grant Morrison's later returns to the concept in The Multiversity, Green Lantern: Blackstars, or Superman and The Authority cast a jaundiced eye at a group of unstoppable superbeings overseeing humanity from their lofty perches, suggesting the organization to be ineffectual posturing at best, at worst a calcified instrument of oppressive power structures. Mark Waid and Alex Ross's Kingdom Come and Mark Millar and Frank Quitely's Jupiter's Legacy offered a League proper and plain analogues respectively turned weary latter-day olympians, as much squabbling heads of pseudo-political dynasties as protectors of the people. Darwyn Cooke's New Frontier recast them as grandiose yet deeply flawed mortals aspiring to an ineffable sense of greatness only found in shared purpose against armageddon; Zack Snyder's Justice League movie made them an ungainly gathering of fledgling deities forced to rise up against the stellar machinations of old gods.
In the years leading to their final stand, a handful of curious alternative approaches emerged. Christopher Priest and primarily Pete Woods offered an 'office drama' perspective, their physical ability to overcome any obstacle a given but offering no easy outs regarding logistical complexities and the realistic fallout of even their most benign or incidental actions when operating on a global stage. Kieron Gillen and Esad Ribic's Eternals utilized Jack Kirby's iterations of assorted mythological figures (far predating the Justice League, but casting recognizable molds when applied to superheroism) with super-men and wondrous women operating on a truly epic scale of million-old-fissures in lordly civilizations threatening to tear the Earth asunder.
Another trio of works attempted to maintain the team's scale while rendering them sympathetic underdogs by pitting them against vast forces seemingly beyond even their capabilities: Scott Snyder and company's Justice League tenure struggled against a universal death sentence and a moral undermining through their rivals in the Legion of Doom. Al Ewing and Kenneth Rocafort's reinvention of the Ultimates – rebuilding the notion around a core of archetypal parallels to Superman (Blue Marvel), Batman (Black Panther), Wonder Woman (America Chavez), The Flash (Spectrum), and Green Lantern (Captain Marvel), with additional counterparts to Martian Manhunter (Galactus), The Atom (Giant Man), and Darkseid (Thanos) – cast them as 'Paramedics for the Multiverse' working to solve long standing cosmic perils but eventually threatened by their own conflicting ideologies. And Jonathan Hickman and Rags Morales' Great Society were met with a challenge they could not overcome at the end of all things, but met their doom with stately dignity and an extended hand of friendship.
Yet none of these alternatives presented unambiguous solutions. Scott Snyder's 'Metal Wars' epic and varying standalone tales were closed units of storytelling; the Priest/Woods duo's interpretation was bereft of the feel-good triumphs expected and desired of a gaggle of primary-colored good Samaritans; pastiches and homages and functional equivalents were not bound by the same rules. While bits and pieces could have proven valuable, the fundamental problem of how the Justice League could work in their baseline state remained until the day they died.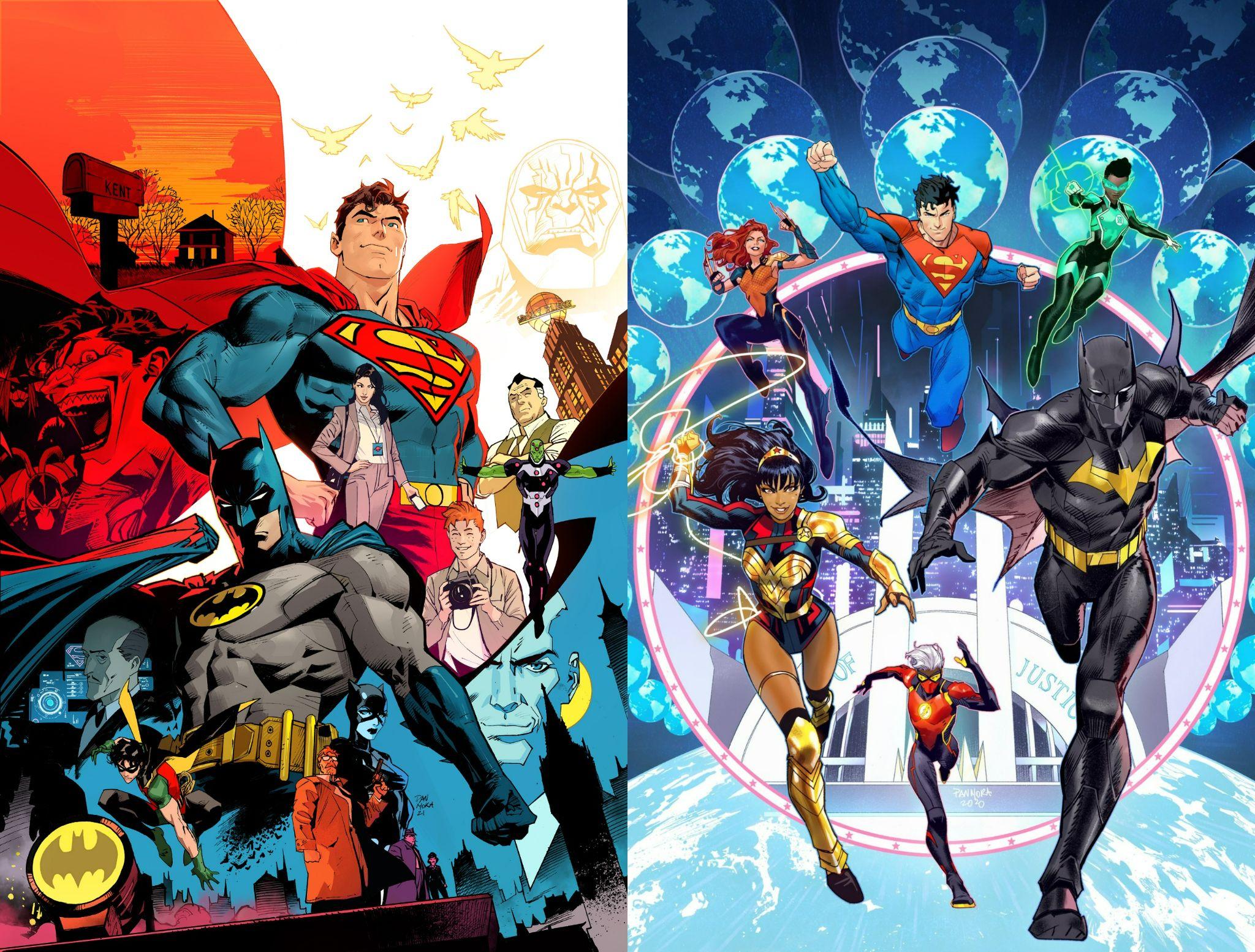 The League is survived by affiliated team-ups, two of which could in fact be the successful approaches their shared relative never quite found: the World's Finest duo of Superman and Batman newly returned to their own shared ongoing title, and the recent 'Future State' set of children and successors to the original Justice League members poised to form an all-new version of the team in the upcoming Dark Crisis. The former, a team with a longer history than the League itself, still cannot claim full domain over its leads and abandons the sweep of the 'pantheon' approach, but maintains the iconic power of the alpha and omega figures of superheroism. With the focus on a mere two central figures and the weight of their bond of brotherhood, a precise tailoring of threat (and conflict, one impossible for a team of at minimum 5-7 leads) can be feasibly managed to draw out the narrative potential of the leads. The nascent latter team meanwhile suggests all the power of their gigantic forbearers with the maturity and skill to save the world, mixed with the assumed fallibility of youth and fledgling difficulties of a new group figuring out their dynamic in real time. There is a conceptual allowance for these rookie heroes to struggle with each other and their collective role in ways any reader can understand impossible for the conventional League, and at the same time communicate the soaring import of the idea of a new generation of godlings astride the Earth. Perhaps through either a return to deeper roots or the embrace of a generation to come, the circle can at last be squared, the promise fulfilled.
But…probably not. Even beyond the guarantee of Superman, Batman, Wonder Woman, Green Lantern, Green Arrow, Black Canary, Aquaman, Hawkgirl, Martian Manhunter, and The Flash triumphing over the reaper, the demands of IP management will return them to their hermetically sealed cycle of expansion, contraction, division and reconciliation. Overcoming familiar demons internal and external ad infinitum, mixing and matching components of previous approaches to draw more blood from the stone. An endless quest for the right creative team, the right formula, the right style, the right invisible unknowable something, to click it all into place as perfectly as in the shared dream of the team. An eternal hope of seeing the World's Greatest Heroes standing together on the mountaintop, resplendent in power and color and shining nobility, pointing to some braver, bolder world.