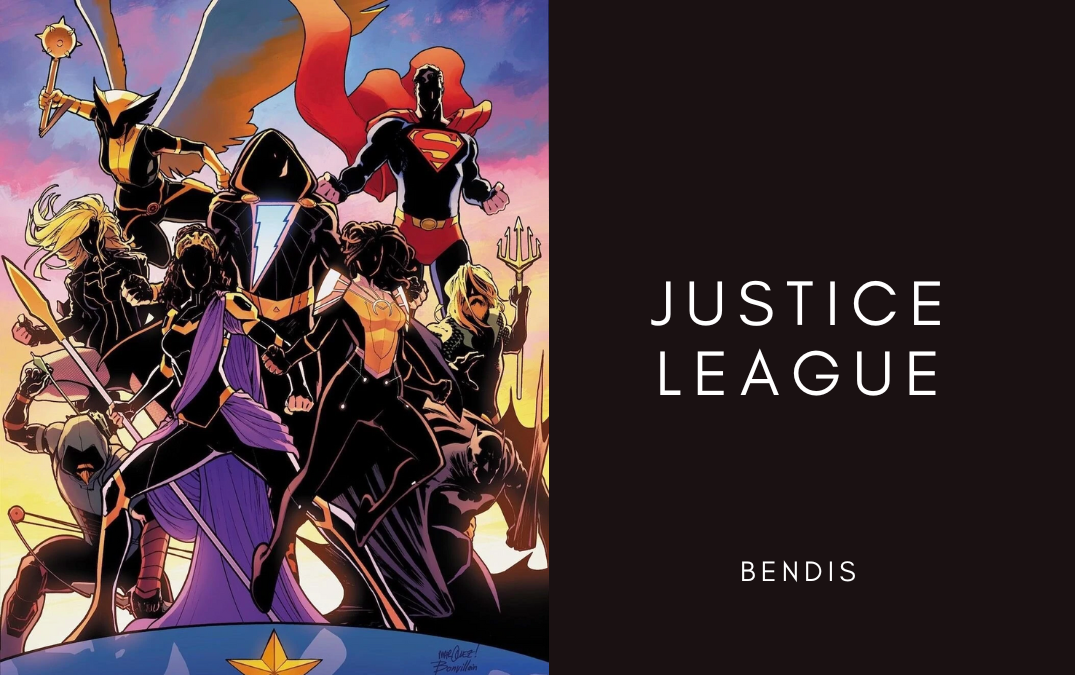 The unthinkable had happened.
Bendis had moved to DC. He'd done everything except the one thing people expected him to DC- Justice League.
And then he did Justice League. But it was not anything anybody was expecting.
So what on earth was it? Let's continue to dig in, picking up where we left off…
The Many Perspectives On The Justice League
What was Brian Michael Bendis and David Marquez's fundamental take on The Justice League? What made it unique, distinct, and specific to them? How did they interpret these characters and this iconic super-team? And how the hell did Black Adam fit in or make sense in this framework?
Support For Comic Book Herald:
Comic Book Herald is reader-supported. When you buy through links on our site, we may earn a qualifying affiliate commission.
Comic Book Herald's reading orders and guides are also made possible by reader support on Patreon, and generous reader donations.
Any size contribution will help keep CBH alive and full of new comics guides and content. Support CBH on Patreon for exclusive rewards, or Donate here! Thank you for reading!
Consider the above picture. It's a revealing one. It's in direct dialogue with iconic Justice League imagery and covers that have come before. It is the first image and cover of this new run and era and it is saying something in its choices. Let's compare and contrast it with what has come before:
The first image is from the iconic 1980's revival of the Justice League by Keith Giffen, J.M DeMatteis, and Kevin Maguire. Justice League International
as it is referred to was a more humorous situational comedy-esque team and title without 'The Big Seven' roster, focusing on a wider cast of strange and fun characters. The second image is from the iconic 1990's revival of The Justice League in JLA
by Grant Morrison and Howard Porter, which reunited 'The Big Seven' and is now the defining modern foundational run of the JL, as well as a key inspiration for the Justice League animated series and DCAU back in the 2000s.
Consider their imagery and how they express their specific visions. JLI was an overhead shot, you were looking down on these from above, as almighty reader. You could see every bit of detail, every fold in their clothing, every little gesture or expression from a smirk to a suppressed look of annoyance. You were above these people, these small people, catching everything, missing no detail. It was all laid out with illustrious care. And that makes sense for a book about people being petty, small, and jerking each other around and getting into all manner of mess. It makes sense for a book starring Guy Gardner and Booster Gold, wherein small people, who are all too real and messy, hatch all sorts of schemes, and you get to watch all of them unfold.
It's why they're all looking up at you like troublemakers who've been called up to be read their many mistakes, who don't wanna be here, and are almost challenging you. It's why you have Guy Gardner saying 'Wanna make something of it?'. They're like a gang of people, which really rather reframes the Justice League. And at the time, this was fresh, bold, and new, and marked a departure from how Justice League had been done. This new JLI was approachable, down-to-earth, and it was a reforged vision of what Justice League could be for a whole new generation.
JLA on the other hand is a different story. You're no longer above these heroes, but below them. They are not small, nor do they seem petty. God no. Instead, they loom large, they feel massive. They are larger than life. And they're looking at you, sure, but also, they're looking beyond you. You're just in their line of sight. They're seeing some grand vision, and you're just one part of it. That combined with the big booming, heavy and dimensional letters of JLA sold a weight these characters held. This image conveyed power, scope, and scale, as you, the reader, were seeing something far too big to fully capture.
As Grant Morrison themselves put it in their book Supergods (2011):
Issue no. 1 of the relaunched Justice League of America in 1987 had depicted its characters from an overhead perspective, giving the reader an elevated position that allowed us to look down on a newly humanized and relatable group of individuals. At my request, Howard Porter drew our first cover shot of the JLA from below, endowing them with the majesty of towering statues on Mount Olympus, putting readers at the level of children gazing up at adults. JLA was a superhero title kids could read to feel grown-up and adults could read to feel young again. – Grant Morrison
It was a vision and visual that worked and was remarkably fresh at the time, as by then, the JLI era was long over and dealt with, and the remnants of its approach had all but become generic and typical, lacking the flavor or the punch to really draw people in. Morrison and Porter's newly reforged JLA with The Big Seven was an at-the-time opposed approach in DC that has now since become the norm.
And since then, Justice League has been relaunched numerous times, with some other such notable shifts. JLA would eventually be closed out for Brad Meltzer and Ed Benes' take on the material in Justice League Of America
, which once again had a different approach.
These are the two key covers and images of the Meltzer era, and notice how they approach the team. The first cover is by the great Michael Turner, whose passing remains a great loss. The second cover is by Ed Benes, the series artist. What sticks out and is striking here is how, whilst both these covers keep the prior 'statue-esque' presentation of a simple, clear image of an unmoving Justice League, they both convey something quite different.
They're both different images and angles, obviously. Turner's places us, the reader, below the Trinity, whilst Benes' image puts us much more level with the League, like we're standing in front of them, holding that paperwork to read out to them. But they both convey the same thing if you really focus:
The Justice League as parents. As elders who've called you up.
While Turner places you below the heroes like Porter, notice how he does it. You're rather like a little child these adults have crowded around to come speak to. It's like looking upon adults and parental figures who're about to give you a speech, and perhaps might even disapprove of you. They have high standards and strong beliefs, and they're here to express them, and you're expected to live up to them. In the Benes image, it feels as though you've been called into a gymnasium (covered in the American flag) wherein all the adults are waiting and quietly looking to you, as you're expected to say something. These are not the mythic gods looking beyond us. No, they are our parents and guardians and custodians whose judgements and expectations we deal with day to day, as Roy Harper does in the actual run and book by Meltzer. They're the adults we don't want to disappoint.
After this period, we had the seminal New 52 initiative, which would relaunch the Justice League once again under the pens of Geoff Johns and Jim Lee. And this is a big, marked shift. Jim Lee is a legendary artist of vital importance and he'd change the game for good, as his Justice League with Johns would effectively recreate The Justice League as a Strike-Team for a Post-Authority and Post-Ultimates world of paramilitary superhero comics.
It was crystal clear in those newly minted, shiny 'realistic' designs with infinite lines, armor, and collars. These were a Post-Wildstorm and Post-Bryan Hitch vision of a superhero team. Look at the above picture and take it in. There's something toyetic about these figures you're seeing. These are no longer those small, petty humanistic figures you laugh at from on-high, and neither are they the larger than life myths from on-high you gawk at. And they are most definitely not your damn parents. No, these are young people. And they're here to kick your ass, as Flash cracks his knuckles.
It shows in even the very first cover, which is now iconic:
Jim Lee's figures here are not standing still. They're not aiming to be statue-esque. No, they are figures in motion. Flash is running at you, Cyborg is prepping his cannon, Green Lantern's readying up his machine-gun construct to fire, Batman's carefully running along plotting, Superman's flying up, while Wonder Woman is in the process of throwing her lasso, all while Aquaman looks ready to charge with his trident.
These are men and women of action.
Our perspective is that of the observer on the ground watching them leap up above and get into action. We're on the ground witnessing in awe the raw spectacle and power of these people. These guys are not myths or gods, they're not small-time, and they're not parents. They are the ultimate super-strike force that can handle anything and anyone you throw at them. They've got something for every scenario.
This kineticism and dynamism, the approach as 'Super Strike Team' would be mirrored further in the Johns' launched companion title wherein the US Military would put together its own 'American' response strike-team to take on the Justice League. And the approach would reach its further apotheosis when Bryan Hitch himself, the artist behind The Authority and The Ultimates finally do Justice League himself and take over the title, bringing things full circle.
The super-strike team of action was by now firmly cemented, as you had Hitch's powerful Authority-esque framings of these people leaping into action with us just seeing them go at it. And even when other artists like Tony Daniel drew it, that sentiment still stuck around, as you saw cities collapsing, ruins of vital places, all with the heroes and their weapons charged and at the ready. They were ready to take the world and its global powers, these guys. No force could stand against them.
It held true even for companion books of that time like Steve Orlando and Ivan Reis' Justice League Of America.
It was a vision and approach that reached its apotheosis when Christopher Priest and Pete Woods took over Justice League, given the job to fill time while the new upcoming Scott Snyder/James Tynion era was being readied, as Priest/Woods took the whole American Militaristic Paramilitary Strike-Team angle to its final extremity and logical conclusion. And once Priest had done it, it felt like the door was sealed. It was like reading the final line after which anymore would just be redundant.
And when the Scott Snyder/James Tynion era of Justice League eventually arrived, it would opt to continue the super-strike team sensibility, albeit with certain tweaks.
The first image here is by the brilliant Jim Cheung, whilst the second is by the inimitable Jorge Jimenez. They are not the same images, but they both express the same essential idea. These were still the kinetic men and women of action, with rings charged, speed force blazing, swords, claws and tridents at the ready. But now they were framed not in or against the world, not as figures on the ground leaping up above into the sky. No. They were already in the sky, they had always been. They were framed not against the rubble and wreckage of cities, but rather the immense expanse of the stars themselves. These were people above the world itself, framed against the universe, against stars and spaces. And they were contrasted with elemental forces and touches, as elemental powers of the cosmos sizzled and burst all around them in odd, vibrant colors.
It was an attempt to bridge and marry the two disparate approaches of the modern era- the mythic component of the Morrison/Porter period with that of the kinetic action strike team with weapons at the ready as envisioned later on. And so the end result was the Justice League as not quite so mythic as Morrison/Porter, but not as down to Earth as JLI, and not bound up in the 'realism' fare of the super-strike team takes. This was trying to hit a sweet spot between all of them to be something 'definitive', positioning the League as a demigod squadron of super-champions taking on the impossible cosmic forces of the universe itself. Small and humane, but only against the immensity of the vast expanses of existence. Human enough, but also so much more, bursting with power and possibility.
Bendis' take came on the heels of this period, after it had long waned, mired in endlessly ever-escalating events like Year Of The Villain and Death Metal. Bendis was The Next Big thing after all of this, as the prior approaches had all seemingly reached their zenith.
So what was Bendis and Marquez's take on the Justice League in light of all this? Let's return right back to that great initial image:
If every Justice League image had chosen to showcase everything about the Justice League, from JLI up to the Snyder era, Marquez's visual cast them in shadows. There was something mysterious about them, as well as something grand. It made them statue-esque, with everyone clearly posed in an iconic shot, but not in the way of Morrison/Porter or even Jim Lee. No, these were not myths, and they were definitely not about to strike. They were just posing. They were posing the way stars pose for photo-shoots or covers of a magazine.
There was a sense of Super-Celebrity about them, in how Marquez framed them, particularly choosing to highlight fabrics and clothing like on Hippolyta, as well as jewelry and even fabulous hair. You could see Naomi's lovely textured hair, Ollie's goatee, as well as Aquaman and Black Canary's flowing locks. These were all clearly real people, they were tangible people, given all the textured detailing given to us. But they were also symbols, as Marquez made sure everybody's symbols struck out clear and bright, even as their features were cast in shadow. From the gleaming bolt on Black Adam's chest to Superman's S, the iconography and symbolic power and stature of these very real individuals was highlighted. They were people, yes, clearly very real people who you could touch and feel, with flesh and blood and bone, but they were also symbols, archetypal.
It was like a shot from an in-universe stylish photo-shoot wherein the Justice League had been called onto-set and the director lit them in a specific way to get this specific shot highlighting their iconic stature and power, while also nailing their truth of being real people. Our perspective then, as a reader, was like that of a reader seeing a photograph of a shoot on a newspaper or a site. Super-Celebrities indeed.
Larger than life due to the symbols they're draped in, but regular, ordinary people nonetheless. That was the message.
And that, precisely why, is how and why Black Adam fit into this vision of things.
For who was at once immortal and yet oh-so-mortal and flawed and humane more than him? Here was the King Of Kahndaq, an icon, a celebrity, a literal myth of his people of ancient times, who was also a flesh and bloody man of many mistakes, misjudgements, breakdowns, and stupid foolish choices.
Of course Bendis was drawn to that. He was the perfect piece for this new era.
And so Justice League now centered around Black Adam's presence.