The more things change, the more they stay the same. It's been nearly 10 years since the New 52. DC's messed around with their continuity some more, between Rebirth and Metal and Doomsday Clock, but everything's even more convoluted now than it's ever been before. And ultimately, that's okay.  In around a month, DC will be relaunching their line again with their new Infinite Frontier line, spinning out of a 2-month linewide initiative called Future State. But the real question we're asking – okay, the real question I'm asking – is whether or not DC has actually learned from the lessons of the New 52. What makes this relaunch any more likely to succeed?
Related:
New 52 Conclusions
Now that I've gone through every single launch title of the New 52, I feel comfortable making some sweeping claims about the launch. For example, the New 52 as it existed was a mistake. I swear, there's actual reasons for this statement, it's not just a hot take. Let's dive in.
Flawed Genesis
The New 52 was poorly planned and poorly prepared for and should have had at least a year to percolate and get ready. Flashpoint was initially supposed to be an arc of Geoff Johns' second Flash run that would serve as the finale to his first act, but it got changed midway through its production. So many runs before Flashpoint had to wrap up their stories at the very last second because the creators didn't know they'd be rebooting until far later than they needed. Seriously, every ongoing DC series should have had a proper ending, a final story along the lines of Last Days over at Marvel. It would have been such a satisfying way to close out a beloved chapter of DC's publishing continuity and start fresh without so much baggage.
Support For Comic Book Herald:
Comic Book Herald is reader-supported. When you buy through links on our site, we may earn a qualifying affiliate commission.
Comic Book Herald's reading orders and guides are also made possible by reader support on Patreon, and generous reader donations.
Any size contribution will help keep CBH alive and full of new comics guides and content. Support CBH on Patreon for exclusive rewards, or Donate here! Thank you for reading!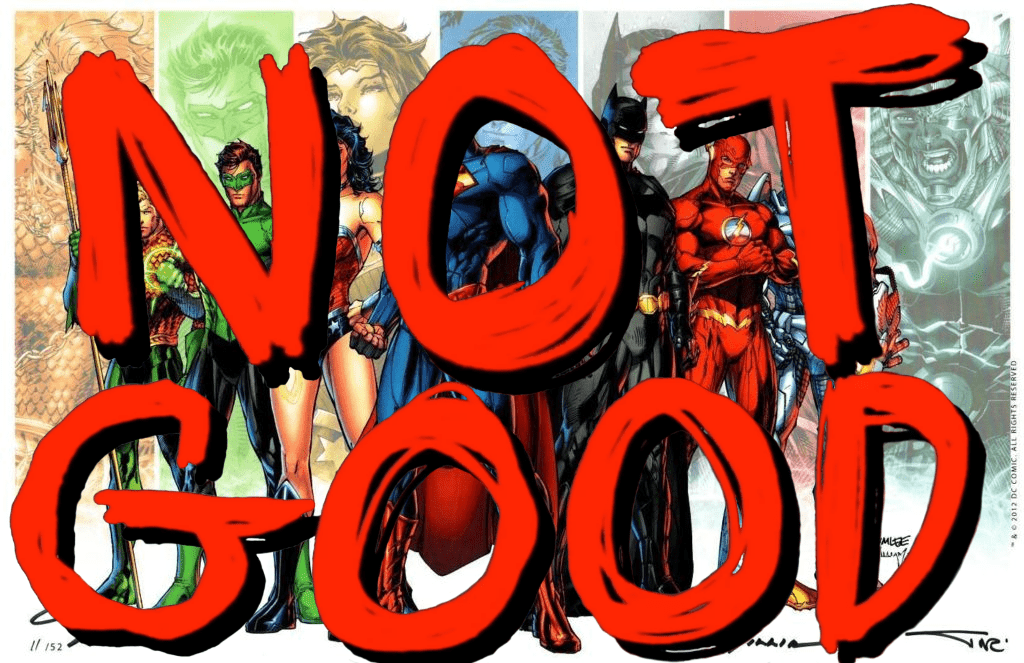 Instead, we got maybe the worst concept for a reboot ever – in that so much of the line didn't actually reboot. When DC rebooted with Crisis on Infinite Earths
, they had the decency to mostly reset everything – Batman, Superman, and Wonder Woman all got new origin stories, the Flash didn't totally reset but did switch focus to a completely new character, and the rest of the line made sure that it felt genuinely new. Even the exceptions refocused to deliver stories that didn't feel overwhelming or disorienting and made sure to explain any previous references in a straightforward manner.
In the New 52, though, we didn't get a fresh reboot. No, both Batman and the Green Lantern franchises remained mostly unchanged – any alterations did little to fix the convoluted and lengthy continuity both franchises had already gone through and, if anything, made them worse. I've gone on record praising both the Batman and Green Lantern books at the launch of the New 52, and I mean it. But from an accessibility standpoint, both franchises ruined the New 52.
It's unbelievable that basically every popular Batman story (including Morrison's run) is supposed to have happened in a less than 10 year span. Damian Wayne existing without much explanation while Stephanie Brown and Cassandra Cain were both erased was a frustrating and confusing decision. And there was more thought put into providing the origin for a brand new Red Lantern member than there was to making any of the 4 main Green Lanterns comprehensible to new readers. The stories themselves may have been good, but the foundations upon which they were built ended up being really overwhelming, considering this was a reboot geared towards new readers.
And of course, one of the biggest problems of the line was just its sheer quantity. 52 monthly titles. That's 13 issues per week – $156 for someone who wanted to try out each #1. While it's reasonable to not expect most readers to read every issue in a line, putting out this absolute glut of content, without any assurance that an audience exists for it, was bound to fail. I understand what they were trying to do – put up some known sellers alongside some riskier ventures in the hope that a reader who went in to get Batman might come out with Demon Knights – but this was just too many series to be feasible.
This ridiculous number of books also served to dilute the quality of the line. It's hard enough to curate a line of 6 books that are all fantastic – even the Dawn of X, which has been widely lauded by critics and fans alike (myself included) has had some duds. As the quantity of titles increases, the quality doesn't remain proportionally the same – instead, lower quality books slip through the gaps as editors and writers stretch themselves thin managing more content than they had before. That's why over half of the New 52's launch titles are wholly unrecommendable.
Distinguished Competition
DC has historically often tried to emulate Marvel – it's the reason they rebooted the first time in Crisis on Infinite Earths, to make their own version of the shared universe that Marvel had. In fact, all of their major continuity woes can be traced back to this desire to streamline their continuity. It's like they tried to iron a shirt without heating up the iron – they'd go over wrinkles until they looked flat, but none of the wrinkles actually went away. And when they realized, they just tried to do the same thing again with Flashpoint. But instead, it just added more wrinkles, making it even messier. This analogy might have gotten away from me (just like DC's continuity), but I think it's important to look at what Marvel did with their line after the New 52.
The 2010s were an era for Marvel that felt like relaunches were constantly occurring, to the point that it was a running joke in the readership. Seriously, from 2012 to 2018 they went through: Marvel NOW!, All-New Marvel NOW!, All-New, All Different Marvel, Marvel NOW! 2.0, Marvel Legacy, and Fresh Start. While most of these weren't great and ended up contributing to a lot of confusion over Marvel's line, there were some good ideas in there. For instance, the original Marvel NOW! was designed specifically as a response to and evolution of the New 52 as a concept. Marvel's entire line relaunched with new #1s, new creative teams, and new character status quos. Everything in the line, from the X-Men to the Avengers to Spider-Man, was genuinely unlike what had come before. It was the first big move that Axel Alonso made as Editor in Chief of Marvel, and he spent the rest of his tenure chasing that dragon again, mostly to no avail.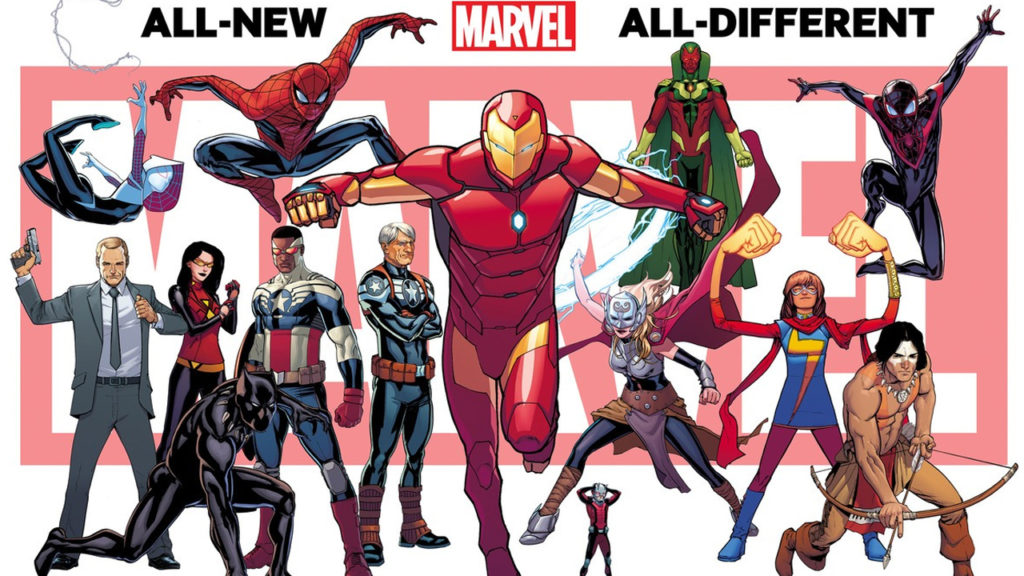 Alonso had just tried another of his line-wide relaunch endeavors, Marvel Legacy, right before he was replaced as Editor in Chief by C.B. Cebulski. Legacy was mostly a failure, as were most of Marvel's relaunches after the original Marvel NOW!, but Cebulski came on promising a "fresh start" for the line. So he relaunched one last time with Fresh Start. This relaunch spread to pretty much every non-X-book in the line, and the X-books would follow suit fairly soon as well. Fresh Start was far from perfect – Marvel chose to return many of the "classic" heroes to their mantles, replacing Jane Foster with Thor Odinson, Riri Williams with Tony Stark, Amadeus Cho with Bruce Banner, and more. But while the lack of diversity of representation in the line was really frustrating, Marvel made up for it with legitimate quality series for a lot of fan favorite characters. 
The thrust of this initiative seemed to be heavily creator-driven, allowing for runs like Donny Cates' Venom, Al Ewing's The Immortal Hulk, and Ta-Nehisi Coates' Captain America. Even the poorer titles, like Dan Slott's Tony Stark: Iron Man and Nick Spencer's Amazing Spider-Man felt like they were being driven by their individual creators rather than editorial mandate, and it made the books feel fresh in a way that they hadn't in a long time. No longer were events guiding and interrupting the narrative arcs of the entire line. Creators were able to tell their own stories, for good and for ill, and each book stood on its own merits. 
A year after the original launch of Fresh Start, the X-Men line exploded with Jonathan Hickman's grand return to Marvel. The Dawn of X was a marked change from the last four years of X-Men comics, as the stories being told were truly driven by their creators. Ever since Bendis had left in 2015, the franchise had floundered under heavy editorial direction and interference. But Fresh Start's focus on creative voices and letting series blaze their own trail led to one of the most creatively refreshing eras of pretty much all of comics in the current X-line. It's something DC has obviously been keeping their eyes on, especially since they went through a significant editorial overhaul in 2020. 
Lessons Learned
DC did learn some lessons from the New 52 in later relaunches, even before now. In DCYou, an initiative very similar to Infinite Frontier, DC relaunched part of their line out of the Convergence event. They continued 25 of their ongoing titles, some of which did change creative teams, and launched 17 new series. While 42 is still a lot of books, readers who wanted to give everything a shot had far fewer books they needed to buy – books like Batman and The Flash were already known quantities. They shrunk even further for their 2016 Rebirth launch, down to 32 ongoing series. Some of them did ship twice per month, but again – readers needed to buy a smaller amount of first issues to give things a shot. It was helped even further by launching with "Rebirth #1" issues before the ongoings started, to serve as proper introductions to the styles and ideas of each book.
DCYou was also particularly notable because of how creator-driven it was. Dan Didio described the entire initiative as "story over continuity", promising creator vision would take precedence over editorial direction. The premise was similar to Marvel NOW!, in that every book would go through a significant change in status quo and tell genuinely new stories. And they stuck to their word! But unfortunately DCYou was a disjointed mess in which all the core books suffered significantly, while fringe titles ended up being incredibly interesting. DCYou's failure wasn't in giving creators free reign, but in a lack of quality control for the main DC books. All of the Big 7 – Batman, Superman, Wonder Woman, The Flash, Green Lantern, Aquaman, and Justice League – were significantly weaker stories than they were at the start of the New 52, which drove readers away from the publisher as a whole despite series like Omega Men
and Midnighter
being genuinely great. 
DC Rebirth learned from this failure. Still promising creator-driven stories, Rebirth also appealed to fans' senses of comfort. James Gordon is no longer Batman, we're back to Bruce Wayne. The weird New 52 Superman is dead, here's a version of the classic Superman you loved but now he has a son! And while not all of the titles were good, they were comfortable. They had covers that made people say, "This is a Batman comic." Things that were different weren't radical, they felt safe. Even more importantly, Rebirth promised fans that their continuity questions would get answered. It promised that they would merge the New 52 and Post-Crisis continuities into a single story, and that somehow Watchmen would be involved. It was a publicity stunt with very little actual plan, and it worked. Rebirth led to a significant sales bump and popularity boost for DC, even for books that ran twice a month. 
When it became evident that the promises of Rebirth were not going to be truly followed through, DC rapidly pivoted from the Geoff Johns vision to the Scott Snyder vision with New Justice
. This went back to the DCYou style of a total lack of cohesive vision, but with one major difference – there were still events. Dark Nights: Metal and Dark Nights: Death Metal both felt like they took over the line for over 6 months each, but in reality affected very little aside from books already written by Scott Snyder. It wasn't successful, honestly. Much like DCYou, there were good books, but a lack of any cohesive vision led a lot of books – such as Bendis's Superman and Action Comics – to fall to their creators' worst tendencies.
Infinite Potential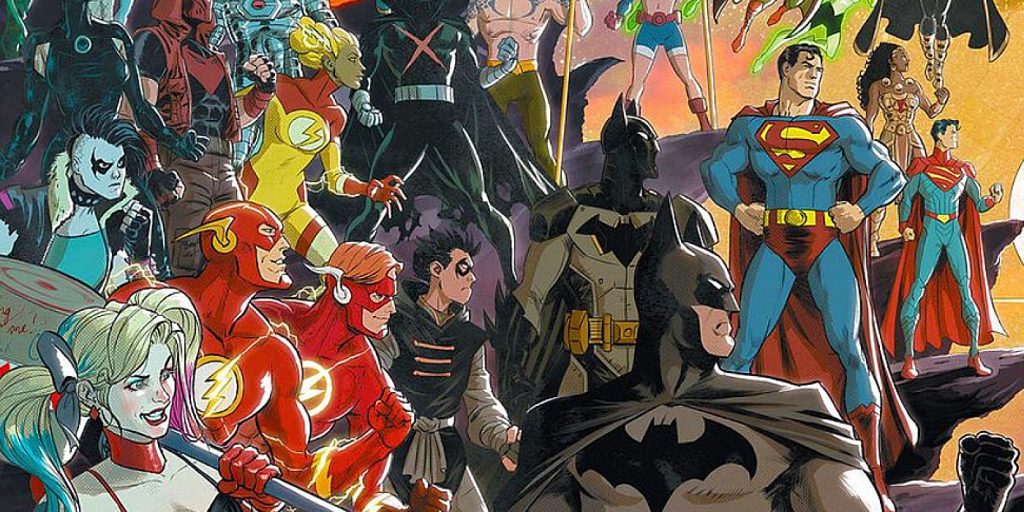 Now, a decade after their reboot, DC is relaunching again, using Future State as a 2-month launch point for a lot of new books and runs starting up. And I have to say, it does genuinely look like they've learned some really important lessons from the New 52 and beyond.
Starting this March, DC will be launching their Infinite Frontier line with an Infinite Frontier one-shot, similar to how Rebirth launched. But what was really surprising was the number of series coming out. Aside from the one-shot, there are 18 new core DC titles coming out in March – all of them monthly. Sure, there's some out-of-continuity limited series that had begun before Future State that were continuing, but they're marketed as separate from Infinite Frontier and are not treated as part of the core lineup. In April, 5 more books were added to the line, totalling 23 – less than half of the New 52's launch. Of these 23 titles, 2 are anthology series, 7 are ongoings with regular backup stories, 5 are limited series, and 9 are the standard monthly ongoings that we're used to. 
The anthology series are honestly one of the best ideas DC's had in some time. They're something that's baked into the history of DC especially – in the Golden Age pretty much all of their books were anthology titles with each story spotlighting a different character. Bringing this concept into the modern era is something that's been long overdue, even if the anthologies likely aren't going to last forever. They're a great way for readers to get a lot of interesting ideas and creative teams for a very affordable price. Plus, they're a great way to showcase newer talent – putting a popular team alongside some newer voices helps to uplift those with less of an audience. 
The backup stories in books like Justice League and Batman serve a very similar purpose, packing in an additional bang for readers' bucks, as well as showcasing some talented creators who maybe otherwise wouldn't be able to sell an ongoing by themselves. It especially helps that all of these series with backups are the "main" DC series, because they'll get the most eyes on them. 
I complained frequently that the worst titles in the New 52 were books that were being published because they needed to be published, rather than being published because the creators behind them had any distinct directions. The worst titles were the ones that didn't really have a strong sense of identity, but each title in the Infinite Frontier launch lineup feels like a book that the creators genuinely have ideas for. Stephanie Phillips' Harley Quinn and Ram V's Swamp Thing are both spinning out of some of the strongest titles in the Future State line. Bendis, for his flaws, clearly does have plans for Justice League.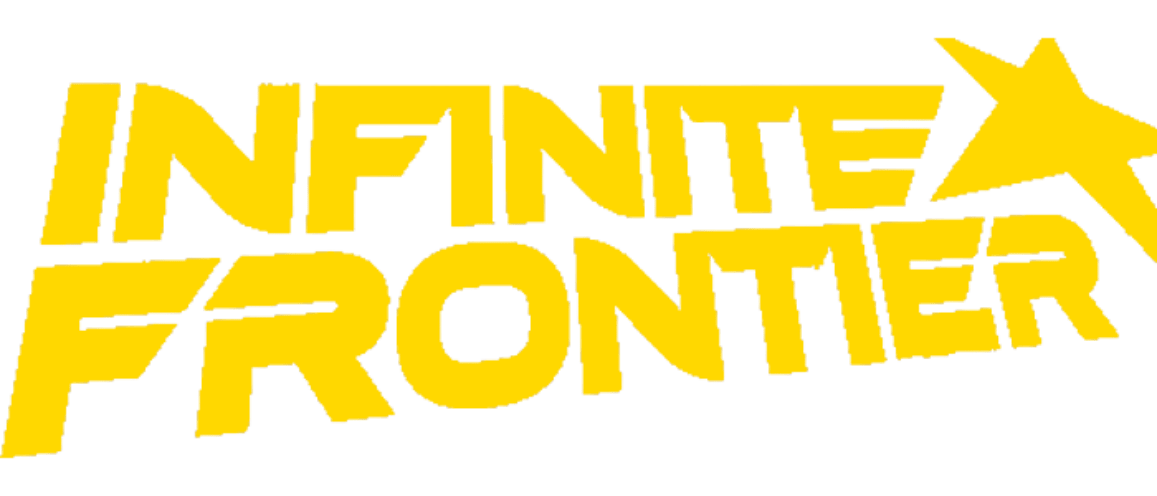 This clear purposefulness to each book in the line is what makes Infinite Frontier feel so promising. The only title that doesn't have that sort of uniqueness is The Flash, which is a bit of a disappointment. But 22 out of 23 titles is such an improvement over every single DC relaunch of the last decade that I can't even complain. If the New 52's greatest sin was prioritizing the creation of content over the curation of content, Infinite Frontier seems to be the outcome of DC finally understanding that folly. I can't guarantee that the whole line will be great, but for the first time in a while, I feel hopeful that there isn't another relaunch looming near in the future. Let's hope I'm proven right.