I've enthusiastically declared Dark Nights: Metal one of my favorite comic book events of all time, so it should come as no surprise that I'm bouncing with excitement over Scott Snyder and Greg Capullo's return to a follow-up called Death Metal.
The opening issue of the event releases May 13, 2020, and will feature two 3-month chunks of "event issues" throughout 2020, as well as "Metalverse" tie-ins. In March, Scott Snyder made a surprise Chicago Comic Con (C2E2) appearance to share a ton of tremendously exciting teases including the following:
Death Metal is a Wonder Woman event, with Diana in a DC Universe where she is the King of Hell (also Themyscira)
DC Villains are imprisoned on Themyscira / Hell
The Batman Who Laughs is returning with more Dark Multiverse Batmen than ever before, including a Monster Truck Batman, a Bruce Wayne who was exchanged with Darkseid instead of Scott Free, and The Dinosaur From the Batcave Batman (!!!)
Batman will be "Lord of the Dead" using a Black Lantern ring
Snyder's calling Death Metal an Anti-Crisis, and is trying to tie all of DC's Universe back together
There's also a very good interview with Snyder and Capullo in The Hollywood Reporter that goes into more detail about the duo's plans for Death Metal. In regards to the last point about bringing the disconnected DCU together, Snyder said:
So stories like Doomsday Clock, for example, this has a huge sort of connection to that, and is very much meant to honor and build on that story.

Some of the great stuff that is really affecting the line over with what Brian [Michael Bendis] is doing over with Superman, this builds on some of that, on some of the Event Leviathan stuff, on some of the stuff that Grant [Morrison] did, as well as like older stories from all the Crisis, all the crises of the past come into this different ways. If everything before this was a Crisis, then this is an anti-Crisis.
Below you'll find Comic Book Herald's guide for comics to read before Death Metal to help understand the event, and an issue by issue reading order checklist as comics are announced / released.
The Road to DC Death Metal
New 52 Batman
Scott Snyder and Greg Capullo's era defining work on Batman is the best, most consistent run in all of DC's New 52, and sets the stage for a large amount of story continuing through the "Metalverse."
While the concept of DC's multiverse certainly doesn't begin here, the Grant Morrison written Multiversity defines and details the 52 multiverses of the DC Universe, and unambiguously provides enormous inspiration for DC's Metal (the dark multiverse is literally what Morrison's Multiverse Map looks like when you turn it over!).
Unsurprisingly, the initial Metal event is a must-read heading into Death Metal.
For the full guide, check out Comic Book Herald's Metal reading order.
Justice League: Year of the Villain
In regards to both "Year of the Villain" and "The Infected" (below) influencing the state of the DC Universe heading into Death Metal, Snyder said:
It seems as though DC Universe has been transformed in such a way that Perpetua and the Batman Who Laughs have taken over, and the heroes are in a terrible, terrible way.
For the full guide, check out Comic Book Herald's Year of the Villain reading order.
Batman/Superman – The Infected
The biggest recent update for The Batman Who Laughs, as the Dark Multiverse combination of Batman and the Joker's mentality spreads his darkness across a "secret six" of DC heroes.
It's also worth noting that "The Infected" follows hot on the heels of the Scott Snyder and Jock limited series Batman Who Laughs.
For the full guide, check out Comic Book Herald's The Infected reading order.
Batman: Last Knight on Earth
Last Knight on Earth is allegedly the conclusion of Snyder and Capullo's Batman-centric sequence (again, Batman's a part of Death Metal, but the event is characterized as a Wonder Woman showcase). This DC Black Label prestige series is set in an dystopic future, and could easily be defined as "out-of-continuity."
Except… it doesn't need to be! Last Knight on Earth feels like a very plausible endpoint to Scott Snyder's Justice League with shared allusions and themes. It's also intriguing to consider how the "Batman" version of this event will play out compared to Wonder Woman's in Death Metal.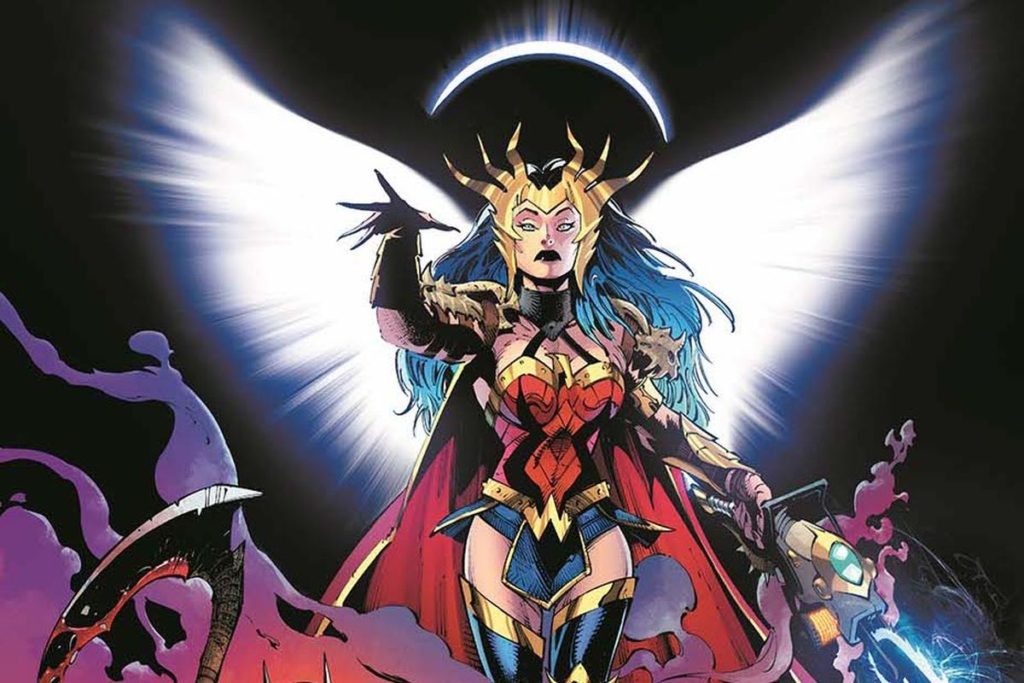 DC Death Metal Comics Checklist!
Dark Nights: Death Metal #1