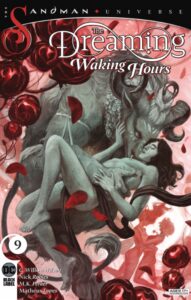 Neil Gaiman's run on Sandman run ended all the way back in 1996, though he has made periodic returns to the title in books such as The Dream Hunters, Endless Nights, and Sandman Overture. Still, the Sandman mythos has steadily continued at DC, with the original The Dreaming series running from 1996-2001, the Lucifer
ongoing running from 2000-2006, and countless mini-series, one-shots, and guest appearances along the way. Still, there was never such an organized and intentional return to the franchise as 2018's The Sandman Universe relaunch, in which Gaiman and others handpicked a crew of industry greats to help expand the story of Dream of the Endless and the many characters he encounters along the way.
Bringing in new creators to flesh out the story of the Sandman is the best thing that could have happened to the story, and by retaining overall creative vision, Gaiman has been able to ensure that the new series are all incredibly high quality books. As Si Spurrier and artist Bilquis Evely's incredible run on The Dreaming
series drew to a close, G. Willow Wilson and Nick Robles' Waking Hours
maxi-series was already on the docket. Each of The Sandman Universe books have brought a specific mood along with them, and Waking Hours leaned all the way into giving readers a love story for the ages.
* Spoilers for The Dreaming: Waking Hours Follow!*
[Read more…] about There's Something of Myself in You That I Don't Recognize in "The Dreaming: Waking Hours"