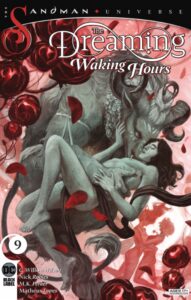 Neil Gaiman's run on Sandman run ended all the way back in 1996, though he has made periodic returns to the title in books such as The Dream Hunters, Endless Nights, and Sandman Overture. Still, the Sandman mythos has steadily continued at DC, with the original The Dreaming series running from 1996-2001, the Lucifer
ongoing running from 2000-2006, and countless mini-series, one-shots, and guest appearances along the way. Still, there was never such an organized and intentional return to the franchise as 2018's The Sandman Universe relaunch, in which Gaiman and others handpicked a crew of industry greats to help expand the story of Dream of the Endless and the many characters he encounters along the way.
Bringing in new creators to flesh out the story of the Sandman is the best thing that could have happened to the story, and by retaining overall creative vision, Gaiman has been able to ensure that the new series are all incredibly high quality books. As Si Spurrier and artist Bilquis Evely's incredible run on The Dreaming
series drew to a close, G. Willow Wilson and Nick Robles' Waking Hours
maxi-series was already on the docket. Each of The Sandman Universe books have brought a specific mood along with them, and Waking Hours leaned all the way into giving readers a love story for the ages.
* Spoilers for The Dreaming: Waking Hours Follow!*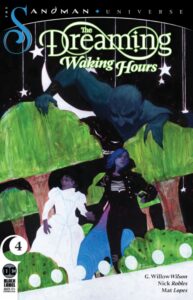 WHERE IN THE WAKING WORLD ARE WE
Our story kicks off in relatively uncharted territory, with grad student and single mom Lindy Morris dealing with a particularly unsympathetic advisor while attempting to write her dissertation. The subject under discussion is who Shakespeare "really" was, but she comes under criticism for rehashing old theories with no new conclusions. Falling asleep with her baby Anne Hathaway Morris in her arms and her cat Tybalt purring peacefully nearby, she wanders the unending halls of The Dreaming's Stratford House. This is where she runs into Ruin, a nightmare gone right trying desperately to avoid Orpheus, who accidently switches places with Lindy and traps her in The Dreaming on his way to the waking world.
Support For Comic Book Herald:
Comic Book Herald is reader-supported. When you buy through links on our site, we may earn a qualifying affiliate commission.
Comic Book Herald's reading orders and guides are also made possible by reader support on Patreon, and generous reader donations.
Any size contribution will help keep CBH alive and full of new comics guides and content. Support CBH on Patreon for exclusive rewards, or Donate here! Thank you for reading!
Ruin finds himself suddenly the sole caretaker of Anne, so he panics and brings her to the exiled angel Jophiel. Despite a cantankerous attitude and a desire to never see Ruin again, Jophiel was created to protect the innocent, and he finds himself unable to turn Ruin and Anne away. Taking them to see the wayward great granddaughter of Ethel Cripps and Roderick Burgess, Heather After, the three decide to do everything in their power to fix what Ruin has done. Meanwhile, Ruin pines over a dreamer named Benedict that he saw once and fell in love with, which is what caused him to seek to leave The Dreaming to begin with.
This series introduces a number of incredible new characters, but there are plenty of cameos along the way. Fan favorites like Lucien and Merv Pumpkinhead appear alongside a disapproving Orpheus, who so named Ruin due to his undeniable disappointment in the failure of his creation, having intended him as a nightmare and ending up with a lovesick wanderer. Orpheus is more lenient than his predecessor Morpheus as a general rule, but he is disapproving of Ruin's love for Benedict and considers it to be foolish and doomed. At one point confessing "there is something of myself in you that I do not recognize," his attitude towards Ruin is mostly adversarial, though he does seem to be intrigued by him.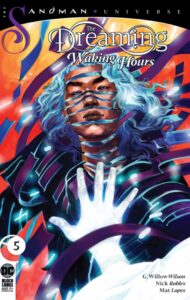 ALL OF THESE SHAKESPEARES
Lindy's story is resolved by issue five, but it's a fun romp through Shakespeare references and it's a great way to get the band together. Finding the futility of rigid academic practices by literally dreaming her way into a solution, her complicated feelings around motherhood and trying to keep her career going ring true. While these are ongoing issues that can't be fully resolved, she finds herself in a better place after interacting with the various "possible" Shakespeares and even acting in a flailing theatrical production.
This series sees the return of a particularly nasty Puck, who swears revenge against Heather when she summons him for a small favor and realizes that she's dealing with an actual monster. The sixth issue of the series features a chilling cover in which a grinning Puck wields a jagged blade, and the story sees him put it to use by giving Heather a cut that will never heal. Heather's hilarious jock boyfriend Todd tries to help, but the wild and occasionally foolhardy Heather makes a deal with former Fae King Auberon that she will help him regain his throne if he'll reverse Puck's malicious enchantment.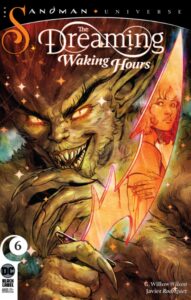 This leads to a full-out adventure in Lady Nuala's decaying land of Fae, where she has taken rulership and accepted guardianship of the monstrous Unseelie. Auberon and Titania are disgraced, but he manages to save the kingdom by establishing a truce with Nuala and reconciling with Titania. There are a lot of bumps along the way, but this story ends more or less at peace with itself, with Heather After's complicated past examined, Jophiel's hopeful return to Angel status, and Ruin and Benedict finding each other across the barriers of time and space. A particularly volatile encounter with Orpheus promises readers that we will absolutely be seeing more of Heather again soon, but with Ruin and Benedict together at last, this series delivers on its own happy ending.
THIS IS DEFINITELY A LOVE SONG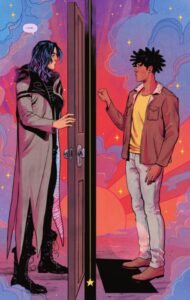 Waking Hours reads very much like an old school Sandman comic that has been updated for modern readers in all the right ways, to the point that it comes as a surprise that some of these characters and places are new additions to the universe and not simply callbacks to previous issues. That the creative team did their homework goes without saying, but this is the rare series that has built specifically on what came before while making vital new additions to the franchise. These characters are all sure to return again, and even in their first appearances, they feel like old friends.
Perhaps most importantly, this story gets to the root of Morpheus' greatest tragedies without him actually appearing in the story at all. When the Dream we once knew reached out toward love, it ended catastrophically, but as readers we saw that he acted in arrogance and with spite, causing significant harm and breaking his own rules to do so. Orpheus sees the echoes of that in Ruin, but fails to identify him as something new. His pureness of intention is something that Morpheus never possessed. His willingness to follow love wherever it leads is something that may have lived deep within Morpheus, but his responsibilities always took precedence.
And so the great resolution of this series is in showing us that there was always a part of Ruin buried deep in Morpheus' heart that wasn't set free until now, a part of him that was so buried and subverted that his predecessor can only see it as a mistake. Orpheus distrusts Ruin specifically because his romanticism is something that became twisted in Morpheus. He fails to see that Ruin and Benedict might be a different kind of love story entirely; one that lives in hope and not in tragedy, one that exists, not in nightmares, but in dreams.