Sandman: Season of Mists turns 30 this year. It deserves a look back in reflection on what went into this masterpiece.
Editor's Note: This review includes story spoilers. Check out the 30th anniversary edition, if you want to experience Sandman: Season of Mists
for the first time yourself!
What Works About Season of Mists As Part of Sandman
Season of Mists
introduces or establishes a lot of elements that would prove crucial to the Sandman formula, and judging it as part of that whole, it's a great eight issues.
The gang's all here
This story gives a fantastic, almost Chris Claremont style reintroduction to the Endless individually, then it treats us their first meeting together. These two things provide key insight into how the similarities and differences of the characters, giving us an early glimpse into how things will play out for the next 50-ish issues. They also make Sandman: Season of Mists a great jumping-on point.
Learning opportunity
This is also the first Sandman story that has an identifiable beginning, middle, and end, whereas other arcs tended to be less identifiable in these elements.
Support For Comic Book Herald:
Comic Book Herald is reader-supported. When you buy through links on our site, we may earn a qualifying affiliate commission.
Comic Book Herald's reading orders and guides are also made possible by reader support on Patreon, and generous reader donations.
Any size contribution will help keep CBH alive and full of new comics guides and content. Support CBH on Patreon for exclusive rewards, or Donate here! Thank you for reading!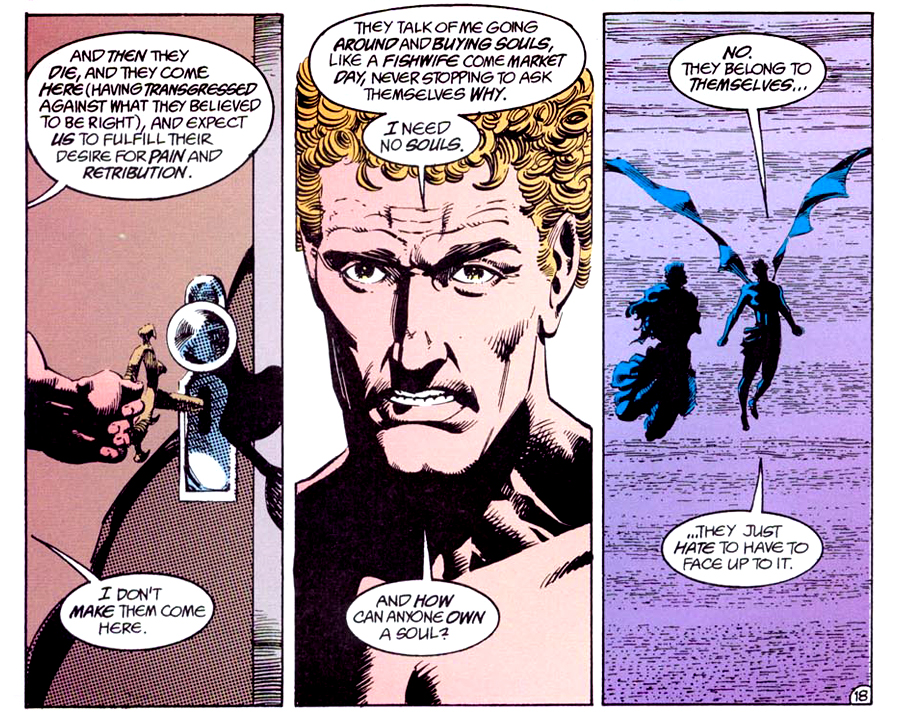 It borrows from the classics
Sandman, as a series, is almost more of a class on comparative religion, or literary criticism, or even anthropology. The level of research Gaiman had to do in a pre-internet age is astounding, and even with the internet, I can only call out some of his amazing references here.
Like Shakespeare…
I don't mean simply borrowing Shakespeare's crones or Norse Gods, but in actually borrowing plotting and narrative elements. This story has a lot of Shakespeare to it. Let's look at just a "Midsummer Night's Dream," as I think that's apt. Midsummer blends Greek myth, Latin philosophy, and old English folk magic to tell a story where characters speak in carefully measured rhythm to tell a story that's all about love. Blending, rhythm, and love… sound familiar?
…and Chaucer…
Issue #25 is a standalone story in which school boys Charles Rowland and Edwin Paine come to grips with being the newly risen dead un-living in a prep school. This "story within a story" is pure Chaucer and would become a mainstay of later arcs in the series as Sandman built on complexity.
…and a bunch of Christian writers…
No story about the devil would be complete without referencing Milton, Dante, and various theologians, notably the notion that the damned desire Hell.
…act now and we'll throw in the Greeks
Showing the gods as all powerful and yet powerless is so very Athens. Painting those in control as all knowing, but blind to everything, prone to bickering and squabbling. And yet there are moments of heroism that make it all seem momentarily worth it. Of course that's also a fixture of Norse myths (and plenty of others) but I think the Greeks get special mention here due to the structure of the plot.

Neil Gaiman explores his own themes and images
Far from just a list of inspirations, Season of Mists is also the first time that Neil Gaiman totally experiments with recurring story beats within and between characters. Morpheus begins the series imprisoned and is freed, but Season of Mists shows him bent on freeing other people. Lucifer, Odin, and Charles Rowland all yearn to break the rules that define their fates. Hell, we learn, will always have its intrigue, its betrayals, and its princes… even when closed for business.
My personal favorite is the recurring theme of nonviolence makes an appearance, an early story arc where things are resolved through way more talk and way less violence than you'd expect from a comic book. Though this is not without its downsides, as we'll see.
There's also some great imagery in the book (like the piles of organs that make up some of Hell's locks).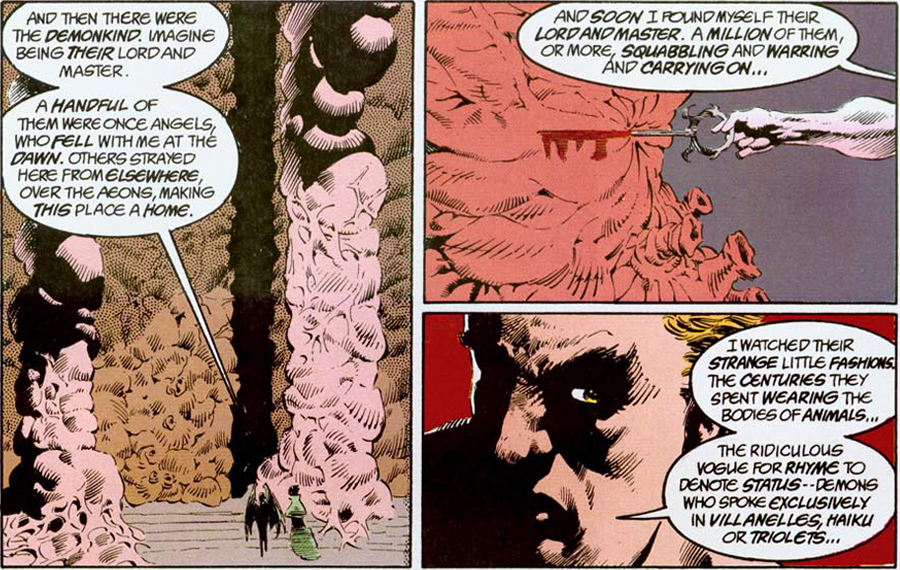 What Doesn't Hold Up About Sandman: Season of Mists
Season of Mists is a named arc, part of a larger whole. But if you were to judge just this trade — only these eight issues, and none of those that come before or after — I find that it gets a lot right… but it's ultimately unsatisfying. To the point I'd recommend other books instead of this one because Seasons of Mist, for all it's intrigue, research, and style, fails to execute on four of the most fundamental elements of storytelling:
Protagonist(s) – Often called 'the hero," this is the focus of the story. The person(s), god(s), robot(s), etc who want/need something so much that a story develops around, them causing them to undergo some change or see some difference (called "an arc").
Antagonist(s) – The key person(s), god(s), concept(s), etc that stand in opposition to the protagonist. They can be all the same things, they're just at odds with the protagonist, causing them to frequently be called "the villain."
Core Conflict and Stakes – Conflict is the friction caused by the opposing wants/needs of our protagonists and antagonists. Stakes are what will happen to our protagonist if they succeed or fail in their quest and is and should be something the protagonist cares about. The antagonist also has stakes which work the same way, but may be unique to them. Usually this is solved by a big, exciting thing, but not always.
A very good writer can drop any one of those three, but it's incredibly difficult.
Plot – A list of things that happen as a result of the protagonist, antagonist and conflict, ultimately resolving in (some or all of) the stakes.
What Neil has done with Season of Mists is to construct a plot without much in the way of the other three. Let's work backwards to illustrate this.
What is the Core Conflict?
Comics, as a genre, are pretty saturated with physical violence. One reason is because it's exciting, maybe even interesting, and sometimes even lets artists draw spell blasts and eye lasers and dinosaurs. An arguably bigger reason is because it's one of the very clearest ways to illustrate a core conflict. This spandex pervert is hitting that other one with a building tells the reader that these two must be in conflict.
Since Season of Mists has no big battle, we have to go back to basics and look at who wants what. And it's not looking good…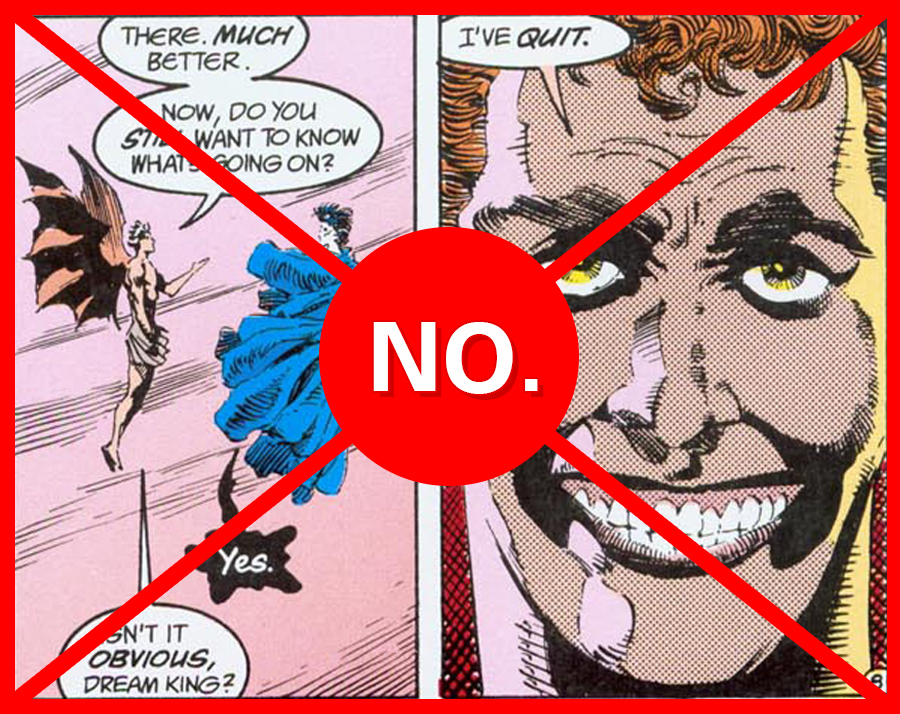 It's not Lucifer freeing himself
Lucifer starts the story in Hell. By the end of Issue 23, he believes he's free. He gets an epilogue in 28, where he finds a little peace with his creator, so there is an arc. But this entire process takes less than a full issue by page count. There's nothing for him to overcome after issue 23. He's out.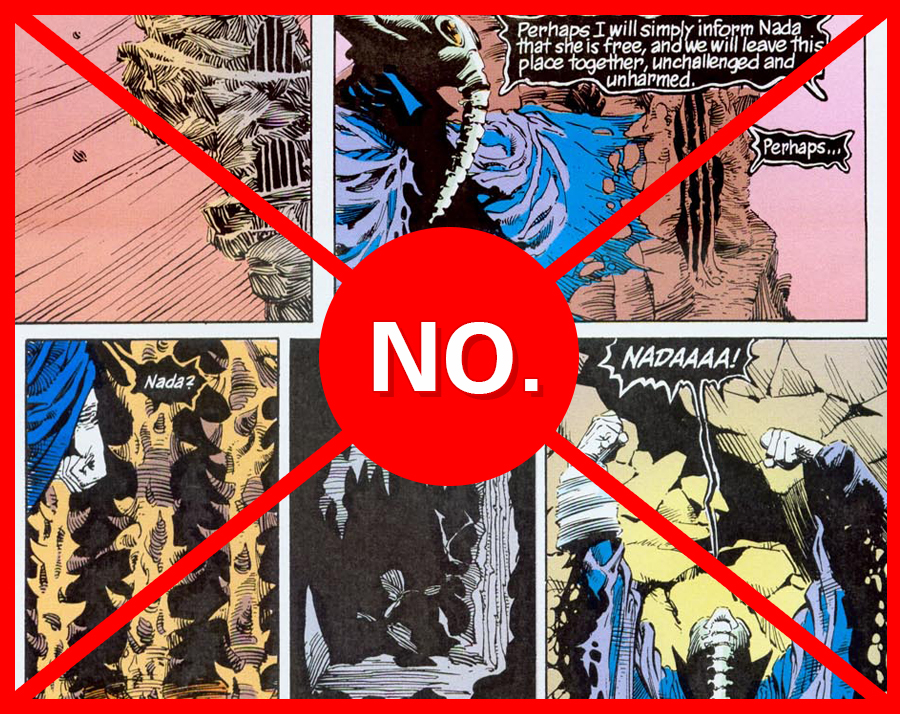 Morpheus Forgets about Nada. A lot.
Dream gets shamed into saving Nada about halfway through Issue 21. He spends all of issue 22 preparing to go to hell with little or no introspection, so at best that's partial credit. He spends the first half of 23 searching Hell for her, but that's over by the second half as Lucifer short-circuits his plans to find Nada. Then he just stops looking. Finally, in the second half of issue 26, Azazel pretty much reminds Dream that he was looking for Nada. Dream did nothing to bring that about, it just gets thrust upon him by fate. There's an extremely brief altercation between the demon and the Lord of Dreams, which again, wasn't part of Dream's plan. It takes only a few pages, then she's released. Dream issues his apology, which Nada rightfully calls lazy and pointless. Then she's resurrected (which in this case means "ceases to exist.")
The Sandman spends more time settling Hell's affairs than Nada's confinement, and spends more time talking to his bird than he does apologizing to former lover. He faces no hardship worse than a trip to hell. This can't be the core conflict.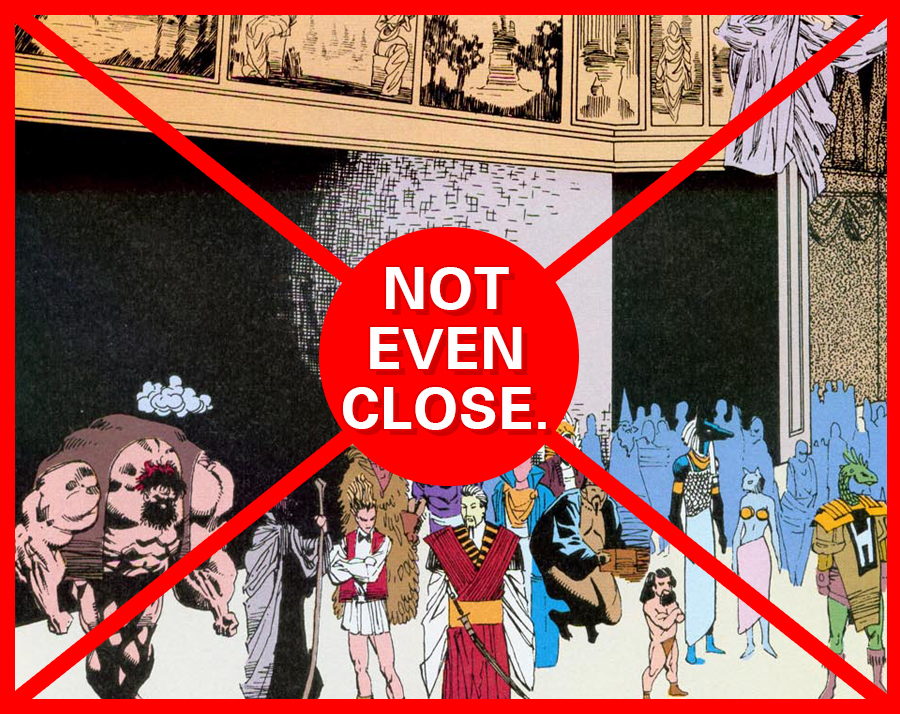 Does anyone really care for Hell?
This is the last conflict standing. It's the one we spend the most time on and it theoretically involves the most characters, so we're left with thinking this is it. But there's a problem, as we're about to see…
Who's the protagonist? Who's the antagonist?
Morpheus is neither.
Dream has no desire at all with regards to Hell. He did not ask for its key, it was forced on him by Lucifer. He never defends it, never attempts to give it back to Lucifer, never throws it away and, most crucially, he never struggles for it. It is just a thing that is inconveniencing him and which causes him to throw a dinner party. And he doesn't solve the problem either, that was a literal deus ex machina.
Theoretically he has stakes, as he claims this puts his kingdom at risk, but we see no real evidence of that. In fact, the only player who tries to force a conflict is Azazel, and that whole altercation lasts just long enough for Sandman to prove he has total mastery over reality inside his realm. And "total mastery of reality" sorta negates stakes. (There's also a little subplot about the dead coming back to life, but that's explicitly Death's problem, not his.)
So we have a hero who doesn't want anything, goes through no hardships for it, risks only dubious stakes for the story, and the only role he plays in solving it is stalling until deus ex machina?
And if that's not enough, Morpheus undergoes no arc whatsoever. He starts the story ashamed that he imprisoned his lover. He ends the story by destroying her and imprisons two people to boot (Azazel and the banished Faerie girl).
So it's definitely not Morpheus.
It's not really Lucifer either.
Lucifer starts issue 21 as the king of Hell and ends issue 23 as a free being. He undergoes one last important but subtle change in the epilogue, so he does have an arc, but it's over before we're even half-way through the page-count.
Lucifer plays no part in the story's climax; he has only the briefest conflict with Dream in one issue and then no conflicts after; and he's absent from the majority of the book.
He's an interesting character in the story, and I love what this book means for him later on, but he's barely even a supporting role in Mists
It's not anyone at the conclave, either.
The other Gods, emissaries, or cosmic forces aren't developed enough in this book to qualify for any major role, either. For some it's that their desires are too thin. For others, their stakes too low. Virtually all of them abandon their goals the second the Silver City stakes its claim.
Maybe too much like Shakespeare
Shakespeare was a fantastic playwright and poet, but he'd make an awful novelist. This is because Shakespeare relied heavily on a quality called "prosody," which exists almost exclusively in spoken language, never in written. This means his plays are easiest to understand when performed but much more difficult to get through when read silently.
Unfortunately, certain characters in this book suffer from trying to emulate Shakespearean delivery in particular (and prosody in general). Dream's dialogue and narration can come off as stilted and leaden. Susano-o-no-Mikoto's speech is couched is so deferential as to be almost recursive. The overuse of emphasized words in issue 25 is pure false prosody, ditto any time Thor talks in his affected dialect. But the clearest sign of false prosody is Delirium's distorted speech. As good as these books are, I've been struggling to make myself read her illegible, sinusoidal, Joss Whedon-esque dialogue for 20 years and it is a losing battle.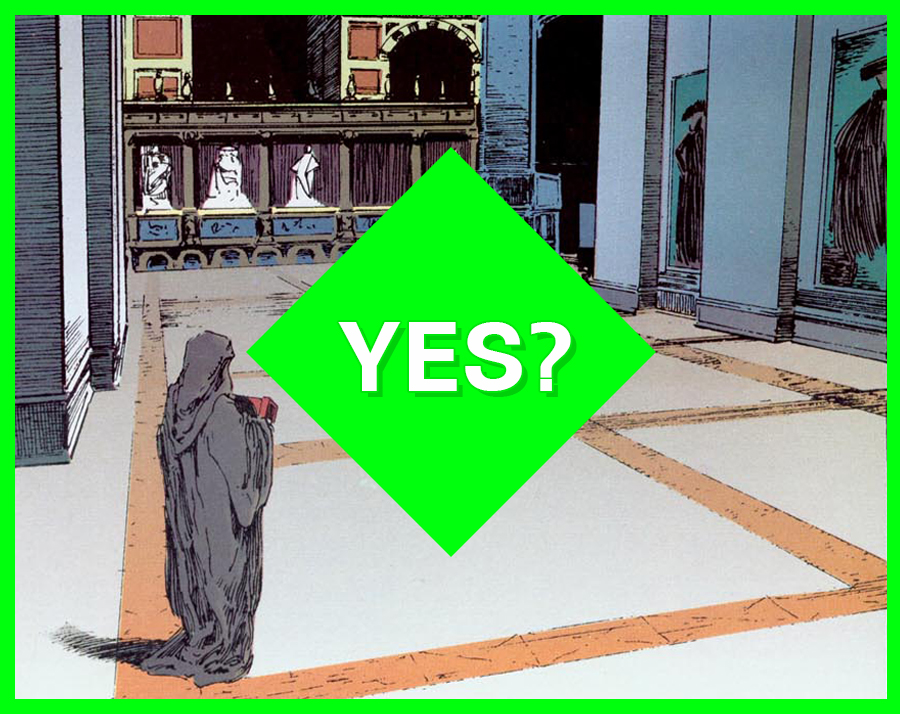 So what's this story actually about?
I think that ultimately, this isn't a story, but a theme. It's not really about heroes and villains and people fighting for things. Some of that happens, but mostly its window dressing. I think that this is actually a story about destiny… the concept as well as the character.
The first book opens with Destiny, fearful to learn that his domain may be touched. It ends with him reading the conclusion of the prophecy, proving this to be true. And in between, and bunch of characters shout, and scheme, and there's a lot of imprisoning, but no one really does anything. Everyone, everyone just sits around and waits for destiny (the concept) to take its course.
The whole book becomes a meditation not on causing change, but on accepting it and moving on.
This is a theme, and a very interesting one at that. But on its own it's unsatisfying, because we have nothing to fear, no one to truly root for, and no one to curse. Consequences have no weight. The end of the end of the world begins and it's so inconsequential that I'm only getting around to mentioning it now. We, like all the other characters, are just marking time until the next thing happens.
Which is a fantastic way to the timeless divinity, but a empty use of mortal hours.
Final thoughts
For me, this is the book where Sandman finds its groove. Even with its faults, it shows an early taste of all the best this series has to offer. Ultimately, my only real criticism of Sandman: Season of Mists
is that it was created in a world that did not already have Sandman in it. That it could not learn from its own struggles and become better for it.
For that reason, I recommend that if you're looking for a great book in the series, you start a little later, then work back.
If you got sold on this particular book as "the story of where the devil quits Hell," I'd suggest you  check out Mike Carey's run on Lucifer
. It is gorgeous and benefits enormously from being able to step on the shoulders of giants.