Ten stories highlighting Kang the Conqueror at his best and worst!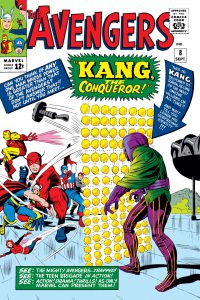 Debuting all the way back in 1964, the time-traveling Kang the Conqueror is a bedrock villain in the Marvel Universe, frequently clashing with the Avengers but still possessing a rich history throughout the wider Marvel Universe, spinning off variants, divergents, and time paradoxes along the way. With Kang, played by Jonathan Majors, recently appearing in Disney Plus' Loki series and set to appear again in the upcoming Ant-Man and the Wasp: Quantummania, the character is posed to breakout in a big way – possibly even as the "Thanos" of the Marvel Cinematic Universe's fourth phase of films (and beyond).
But with nearly sixty years of accumulated adventures, it's easy to be overwhelmed by the character's long (and often complex) history. Here then is a guide to the best Kang stories, the ones which showcase the core attributes of the character, define who he is and what he wants, or simply have a lot of fun with the character and his propensity for time travel shenanigans!
Related:
Avengers reading order [Read more…] about The Best Kang the Conqueror Comics of All Time!