Ten stories highlighting Kang the Conqueror at his best and worst!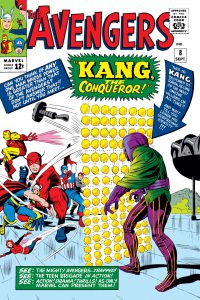 Debuting all the way back in 1964, the time-traveling Kang the Conqueror is a bedrock villain in the Marvel Universe, frequently clashing with the Avengers but still possessing a rich history throughout the wider Marvel Universe, spinning off variants, divergents, and time paradoxes along the way. With Kang, played by Jonathan Majors, recently appearing in Disney Plus' Loki series and set to appear again in the upcoming Ant-Man and the Wasp: Quantummania, the character is posed to breakout in a big way – possibly even as the "Thanos" of the Marvel Cinematic Universe's fourth phase of films (and beyond).
But with nearly sixty years of accumulated adventures, it's easy to be overwhelmed by the character's long (and often complex) history. Here then is a guide to the best Kang stories, the ones which showcase the core attributes of the character, define who he is and what he wants, or simply have a lot of fun with the character and his propensity for time travel shenanigans!
Related:
Support For Comic Book Herald:
Comic Book Herald is reader-supported. When you buy through links on our site, we may earn a qualifying affiliate commission.
Comic Book Herald's reading orders and guides are also made possible by reader support on Patreon, and generous reader donations.
Any size contribution will help keep CBH alive and full of new comics guides and content. Support CBH on Patreon for exclusive rewards, or Donate here! Thank you for reading!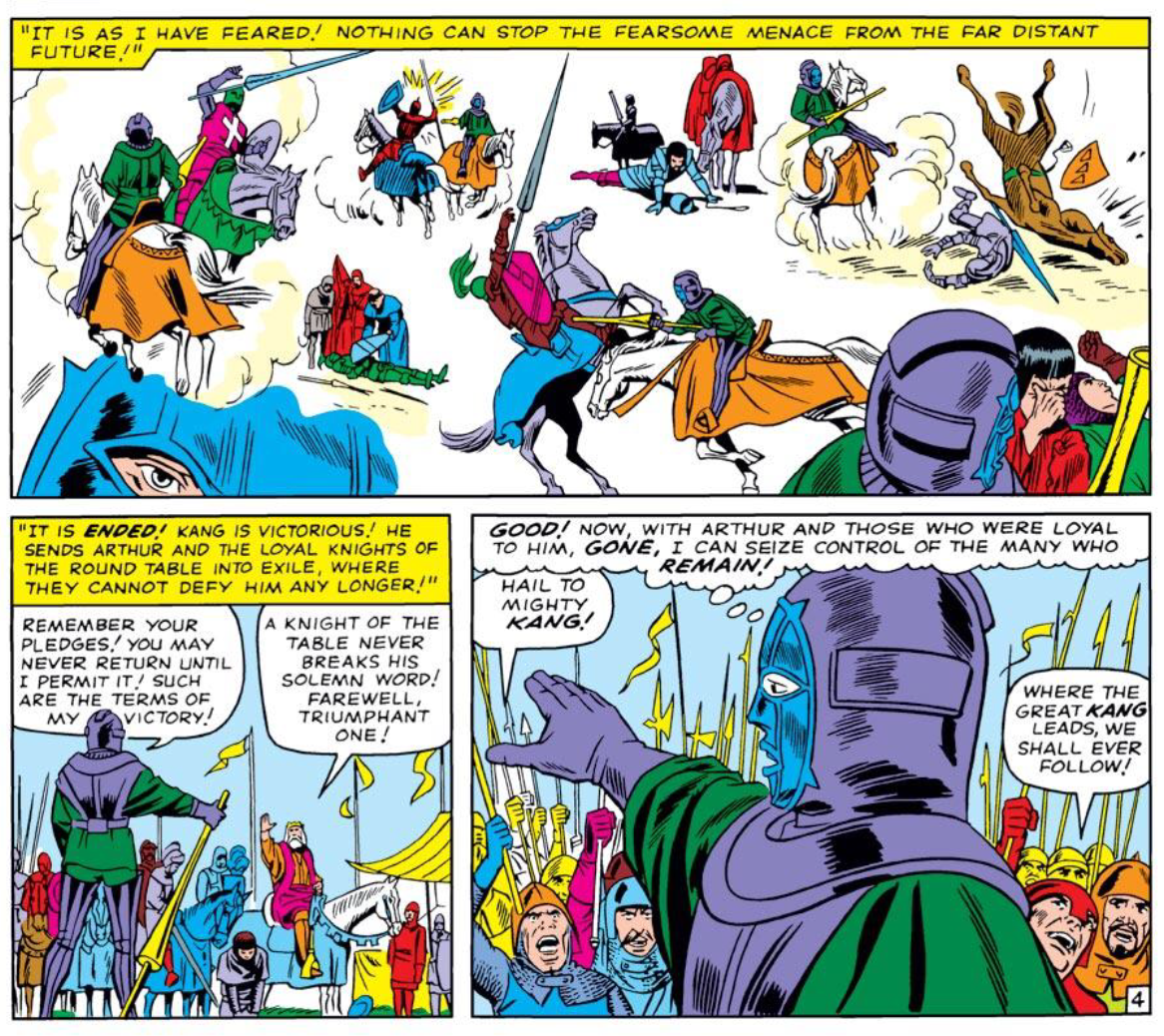 Kang's first appearance in Avengers #8 is fairly standard Silver Age faire (Avengers was not where Stan Lee and Jack Kirby did their best work…), with the villain briefly besting the Avengers before being bested himself, in part, by teen sidekick Rick Jones and his gang of ham radio enthusiasts ("ham radio enthusiasts" play a surprisingly big role in a lot of early Marvel stories). For something that better showcases the wackiness of the Silver Age and Kang's early schtick, check out Strange Tales #134, in which Kang decides to conquer the "present" by conquering the past.
To wit, he travels back to Arthurian England and captures Merlin, defeats King Arthur, and gives the Knights of the Round Table sophisticated weaponry to serve as his army of domination. The Fantastic Four's Human Torch and Thing are sent back in time by the Watcher (once more breaking his vow to just, you know, watch), and with the help of a freed Merlin, send Kang packing. It's just the right mix of goofy and fun, and serves as the sort of "platonic ideal" of the notion of Kang as time-traveling warlord. Plus, it features some lush inks from Wally Wood and, at only twelve pages long (thanks to Strange Tales being a series split into two stories per issue at the time), is briskly paced.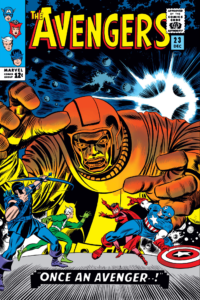 The first big Kang epic to take place in Avengers (prior to this story, Kang followed up his first appearance by…sending a robot Spider-Man to attack the Avengers, because Stan Lee presumably wanted a cover where the Avengers are fighting Spider-Man), this story features the second "official" incarnation of the Avengers, colloquially known as "Cap's Kooky Quartet." Kang transports Captain America, Quicksilver, Scarlet Witch and Hawkeye to his native 40th century, hoping to impress the princess of a rival kingdom with whom he's fallen in love, Ravonna Renslayer, by defeating the Avengers.
When this fails to impress her, he conquers her father's kingdom. But when he spares the lives of Ravonna and her father, his subordinate commanders rebel and turn on Kang, forcing him to team-up with the Avengers he previously defeated in order to defend Ravonna and her kingdom. Densely plotted, the story humanizes Kang, giving him both a "soft spot" in his villainous persona and a character, Ravonna, that will become an integral part of his story going forward. The art in the story, from Don Heck, can be an acquired taste, and Ravonna's last second reversal doesn't age very well, but this is nevertheless one of the definitive Kang tales.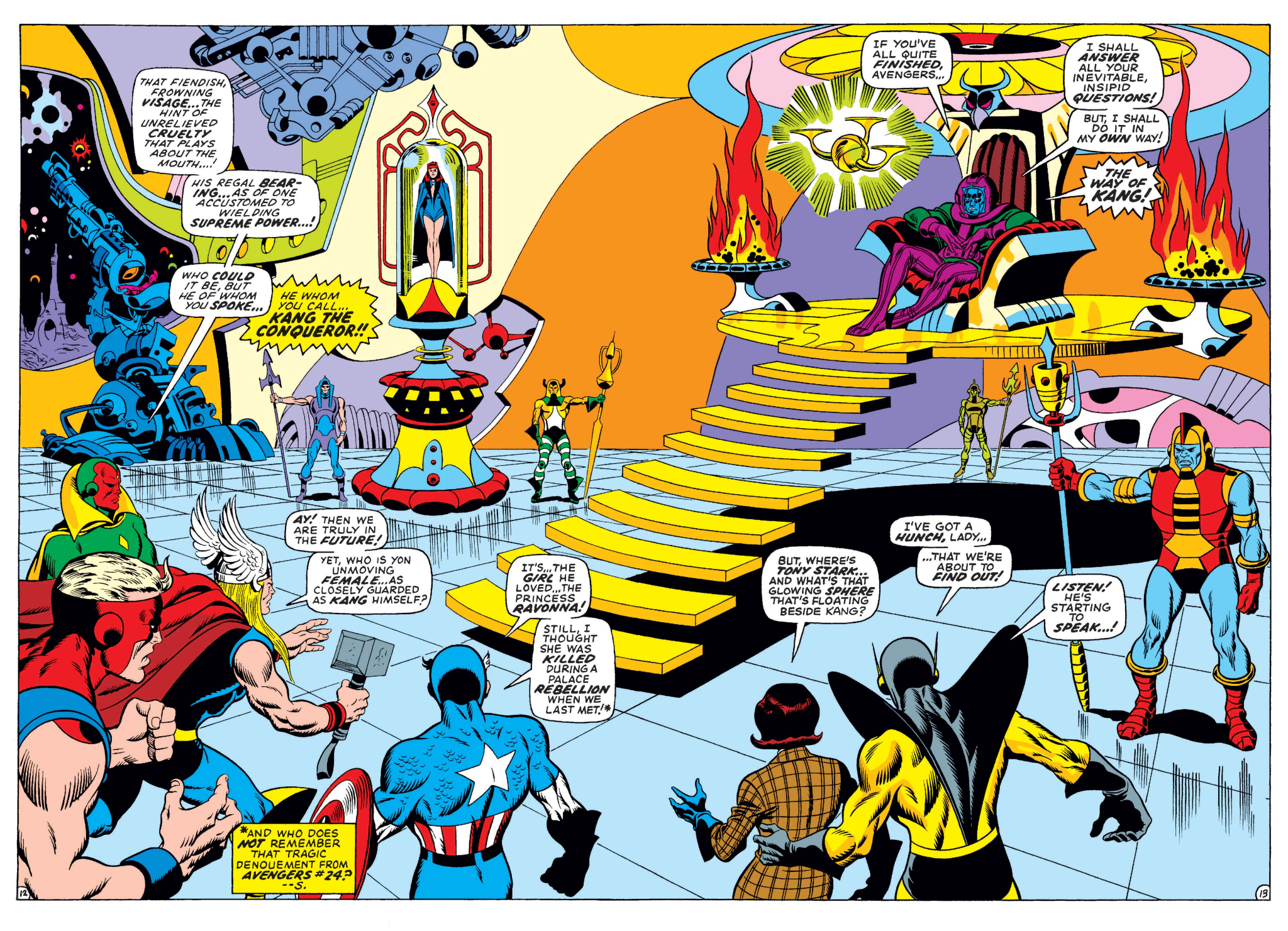 Less a Kang-driven story than a story in which Kang is a participant, this is nevertheless another exceptionally fun Silver Age joint and pseudo Marvel/DC Comics crossover. Driven to resurrect Ravonna, Kang enters into a game with the cosmic Grandmaster: should Kang win, he gains power over life and death. Should the Grandmaster win, he will destroy the Earth. Kang chooses the Avengers for his champions, while the Grandmaster creates the Squadron Sinister, villainous analogs to the Distinguished Competition's Justice League.
Along the way, the Avengers battle Kang's Growing Man (a frequent tool of the villain), travel through time, and meet the World War II era Invaders for the first time. Filled with twists, turns, and the kind of "victory on a technicality" resolutions that make these kinds of "games with a cosmic being" stories so much fun, the conclusion represents another significant development for Kang, as he finds himself unable to overcome the worse angels of his nature.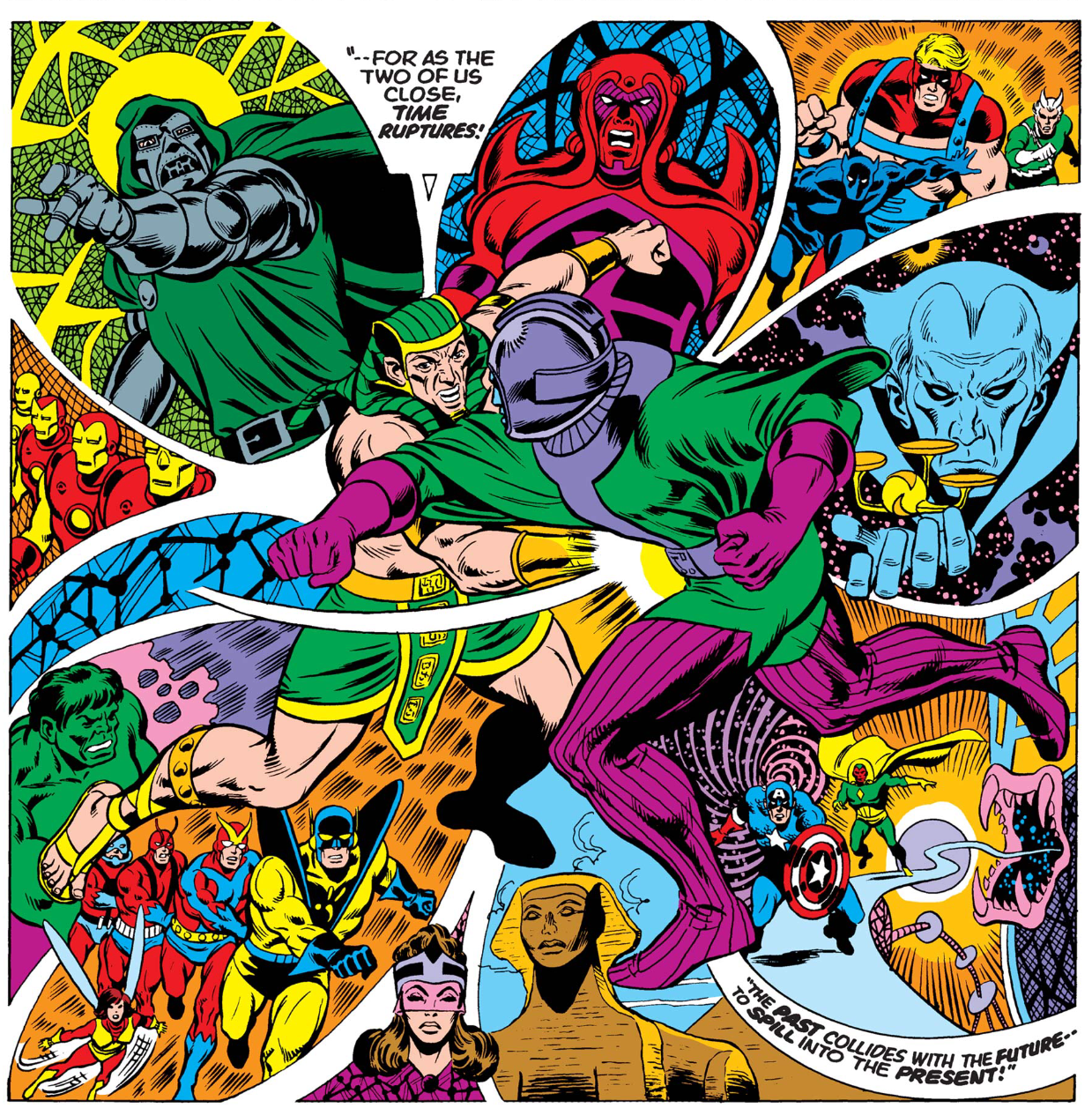 Meandering and long-winded while featuring some inconsistent art, "Celestial Madonna" is nevertheless one of the signature Kang stories. Kang's obsessed with identifying and marrying the Celestial Madonna, a being prophesied to mother the powerful Celestial Messiah (who, through his marriage to the Madonna, Kang would then be able to control). Kang targets the Avengers, believing the Madonna to be either Scarlet Witch, new member Mantis, or Scarlet Witch's mystical teacher, Agatha Harkness.
The resulting story unfolds in the form of a trip through Avengers history, as writer Steve Englehart retcons past stories, ties up lingering questions about a variety of characters, and doles out tragedy before concluding with a pair of very odd weddings, the repercussions of which will echo through Avengers history. Through it all, Kang is the driving antagonist force, attempting to outwit his past (and future) selves while besetting the Avengers with foes ripped from history, all in his quest for ultimate power.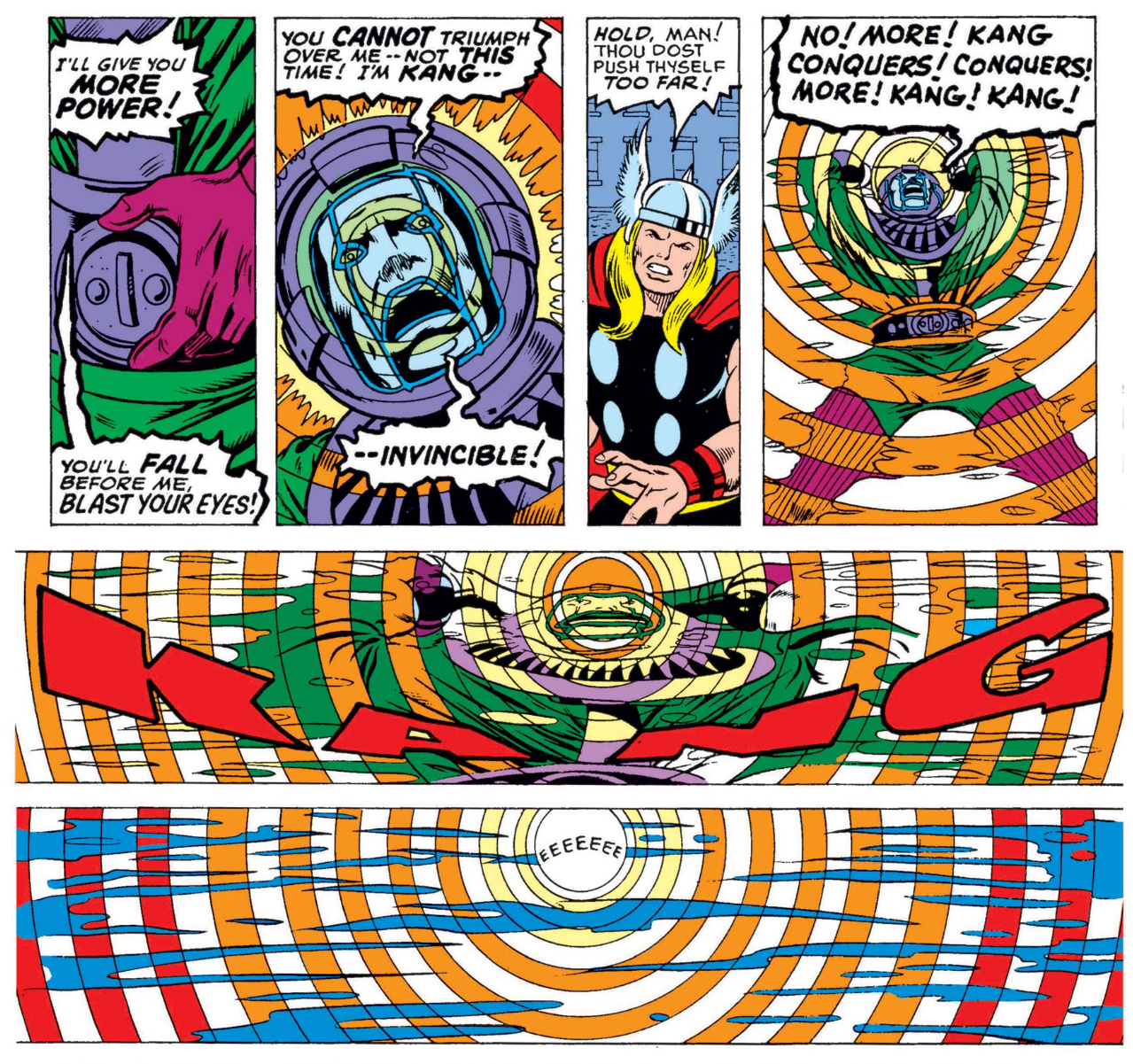 Having written the (at the time) definitive Kang story in "Celestial Madonna", Steve Englehart, nearing the end of his run as Avengers scribe, returns to the character for one last story, intended at the time to be the last Kang story. Hitting similar beats to Strange Tales #134, by sending Kang to the past (in this case, the American Old West) in an effort to conquer the future, Kang is confronted in Avengers #143 by a trio of time-traveling Avengers (Hawkeye, Thor, and Moondragon), as well as a team of various gunslinger/cowboy characters culled from Marvel's 50s-era Western titles. Featuring some dynamic & inventive panel layouts and page construction from George Perez, it is worth reading just to see how the (ultimately ill-fated) attempt to craft the "final" Kang story plays out.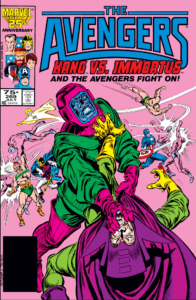 Nobody stays dead when it comes to serial action-adventure comics, and sure enough, Kang would return following Englehart's attempt to write out the character once and for all. And it's a good thing he did, because this little three-parter, coming in the middle of the acclaimed Roger Stern/John Buscema Avengers run, is my all-time favorite Kang story. By this point in time, Kang's existence as the chronological mid-point in the life of one person who appears as multiple characters across the Marvel Universe (Rama-Tut, Kang, Immortus) is well-established, and this story puts him in direct conflict with Immortus, the established "end-point" of Kang's personal chronology and master of the timeless realm of Limbo.
Starting off with the destruction of New York by an atom bomb before revealing the "Council of Kangs," a group comprised of the various divergent Kangs created from Kang's time traveling and concluding with a Kang-on-Kang-on-Immortus battle, it's everything that's great about Kang stories: time-travel and alternate reality shenanigans, his love for Ravonna, and fighting his destiny in the physical form of future selves, all wrapped up in a tight three issue story lushly illustrated by John Buscema and Tom Palmer.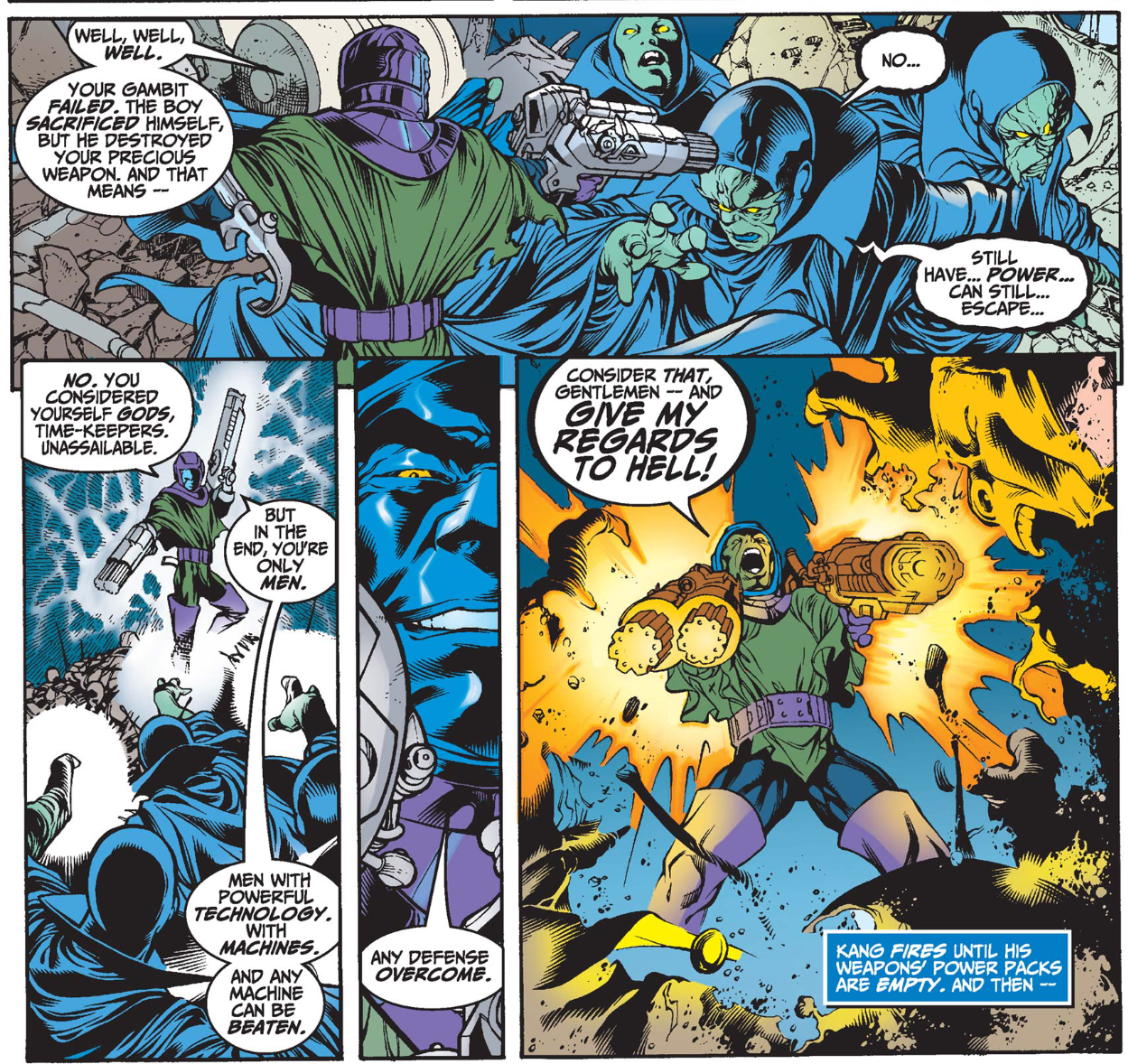 Kang's fight to control his own destiny and remain a master of time comes to a head here. Much like "Celestial Madonna", Avengers Forever is both a signature Kang story and a romp through Avengers history. Marvel continuity guru Kurt Busiek writes an epic tale which assembles a disparate team of Avengers plucked from various points in history and sends them, alongside Kang, hurtling through time, revisiting key moments in their history and their interactions with Kang (including several stories mentioned in this article).
Over the course of the resulting "Destiny War," a cosmic battle involving Kang, Immortus, and the Time Keepers over the Forever Crystal builds to a climax of exciting fist-pumping moments featuring an army of divergent Avengers, all depicted via the energetic pencils of Carlos Pacheco at the height of skills. Ultimately, Avengers Forever is a history lesson, a cosmic adventure, and a great Kang story all rolled into one.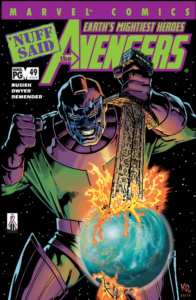 For the final arc of his acclaimed run on Avengers, Kurt Busiek brings back Kang in a story that really underscores the character's appellation of "Conqueror." Launching an all out assault on the planet from his sword-shaped space station Damocles Base, Kang essentially conquers Earth, razing Washington, D.C. to the ground and imprisoning the Avengers after they fail to stop him. Even after mounting a counterattack with some inside help from Kang's son, the Scarlet Centurion, the fate of the world comes down to a one-on-one battle Captain American and Kang.
Rarely has the scale of Kang's attacks and goals been this large, and while that was one of the story's failings as it unfolded in real-time – his conquest is so far reaching, it becomes absurd that more characters in the Marvel Universe don't get drawn into it, but the story was originally published at a time in which Marvel was more reluctant to do crossovers between series – reading it today in a vacuum removes that concern. For sheer scale and a depiction of Kang as a larger-than-life threat which requires the utmost efforts from the Avengers to defeat him, "Kang Dynasty" can't be beat.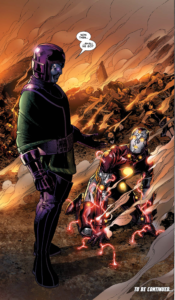 A fun twist on the usual Kang dynamic: whereas Kang often railed against Immortus, his older, future self, in the opening arc of Young Avengers, a younger version of Kang flees his own destiny and inadvertently causes the creation of the Young Avengers, a group of teenagers inspired to varying degrees by specific Avengers. Young Kang, hoping to stop himself from becoming one of the Avengers' signature villains and finding himself enjoying the camaraderie of his companions, joins the group, piloting a sophisticated suit of armor, as "Iron Lad." Eventually his adult self comes calling and the "adult" Avengers get involved, leading to a battle between Iron Lad and Kang. Though Iron Lad's efforts to prevent the rise of Kang ultimately prove unsuccessful, his actions help create a new generation of Avengers.
Earth's Mightiest Heroes: "The Man Who Stole Tomorrow" / "Come the Conqueror" / "The Kang Dynasty"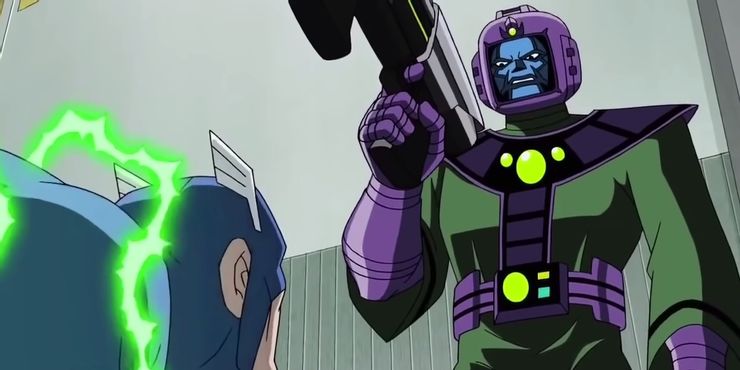 The criminally-underrated animated series Avengers: Earth's Mightiest Heroes features some of the best adaptations of classic Avengers stories, and the series' three part Kang trilogy is no exception. A mix of "Kang Dynasty" and Avengers #23-24, this story renders Kang as an eerie, almost ethereal presence, capturing the scale and menace of a character who has mastered both time and the martial arts, and features the same kind of "overcoming desperate odds to secure victory" turns by the Avengers that define their best encounters with the villain. While the MCU's live-action Kang holds plenty of promise, it won't be easy to match the feat of adaptation on display here.