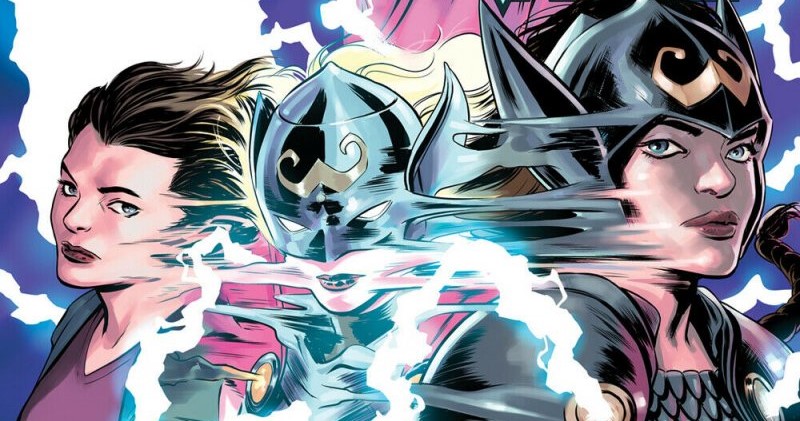 Until the last decade, the tale of Jane Foster wasn't a particularly noteworthy one. She was nothing more than the usual example of a 60s love interest, used as a secondary character to a male hero for a few years before being pushed aside and fading to the background of the Marvel universe.
But this all changed in 2014, when writer Jason Aaron pushed his run on Thor in a whole new direction by replacing the god of thunder with a new Thor, the Mighty Thor, the Goddess of Thunder : Jane Foster. Accompanied by Russel Dauterman's gorgeous art, Aaron reinvented her as a superhero, protecting Asgard and the Nine Realms as Thor, while battling breast cancer as Jane, with the complication that using Mjolnir cancels the effects of chemotherapy on her body, thus putting her life on the line even more each time she picks up the hammer.
When the time came for Jane to stop being the goddess of thunder however, she didn't stop being a hero, instead taking on the mantle of Valkyrie to defend the Realms and accompany the souls of dead heroes to Valhalla. And now that she is is about to come back to the MCU in a big way as the Mighty Thor in the upcoming Thor: Love and Thunder, it's a great time to look back on the story of Jane Foster, both as the Mighty Thor and as Marvel's new Valkyrie.
Related:
Support For Comic Book Herald:
Comic Book Herald is reader-supported. When you buy through links on our site, we may earn a qualifying affiliate commission.
Comic Book Herald's reading orders and guides are also made possible by reader support on Patreon, and generous reader donations.
Any size contribution will help keep CBH alive and full of new comics guides and content. Support CBH on Patreon for exclusive rewards, or Donate here! Thank you for reading!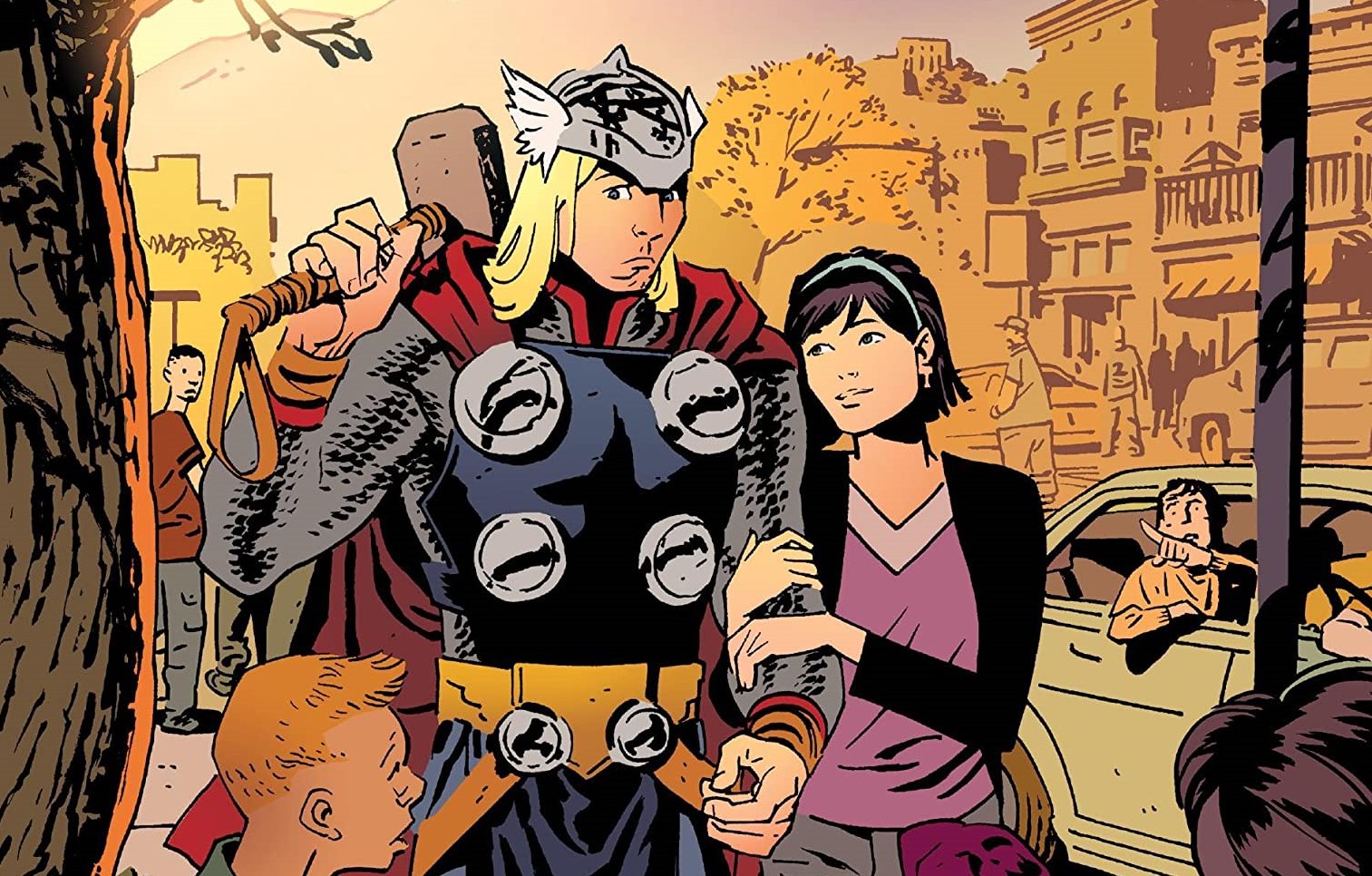 Love and Thunder
Although Jane Foster has in recent years become a superhero in her own right, she started out as simply the main love interest for Thor and his mortal alter ego Donald Blake during most of the 1960s, from her introduction in Journey Into Mystery #84 to Thor #136.
Collects: Journey Into Mystery #83-100
Jane is introduced as a nurse working for Doctor Donald Blake, with the two of them secretly having feelings for each other. Throughout this initial run, their romance develops very slowly, while Jane is mostly used as a damsel in distress for Thor to save from various villains.
Jane continues to appear regularly as a secondary character, but one particular issue of note is #124, in which Thor reveals his secret identity to her.
Collects: Thor #131-140
Jane Foster ends up working on Wundagore Mountain for the High Evolutionary, teaching his Ani-Men. After Thor comes to rescue her, he takes her to Asgard so that she can become a goddess and the two can get married. However, as usual, Odin is being the worst, and he organizes a senseless trial to prove whether she is worthy of godhood, traumatizing her in the process. In the end, she is sent back to Earth without any memory of what has happened to her, thus kicking her out of the Thor title for a while to make place for Sif as Thor's main love interest.
Collects: Thor #229-241, Marvel Premiere #26
When Jane Foster's life is in danger, Sif fuses with her to bring her back. With this new life energy, Jane becomes more adventurous, even accompanying Thor in his battles.
Collects: Thor #242-253, Annual #5, Marvel Spotlight #30
Jane goes to Asgard and picks up Sif's sword, which turns her back into the Asgardian goddess. As it turns out, as long as they're on Asgard, Sif's life energy takes over their shared body.
Around this time, an alternate version of Jane Foster is the focus of What If…? #10, in which she finds Mjolnir and becomes a superhero named Thordis. The issue itself doesn't do much with that idea (and in a wild twist of events ends with Jane getting married to Odin), but the idea of Jane wielding Mjolnir is certainly one that will come up again in a big way in the 2010s.
Jane reappears in Thor here and there in later issues, such as in #372 in which she is attacked by a monster named Zaniac and shown to be married and pregnant ; or #394, in which she tells the story of her time with Thor to a Hollywood screenwriter.
Thor by Jurgens & Romita Jr. Vol. 1
Collects: Thor (1998) #1-8
In this relaunch of Thor, Jane is now working as a doctor in the same hospital as Jake Olson, Thor's new secret identity.
Thor by Jurgens & Romita Jr. Vol. 2
Collects: Thor (1998) #9-13
Thor by J. Michael Straczynski Vol. 2
Collects: Thor (2007) #7-12
After making a background cameo in Civil War #4, working with Captain America's Secret Avengers, Jane appears in JMS' Thor run when Donald Blake comes to her hospital to ask if she knows the location of Sif.
Thor: The Mighty Avenger – The Complete Collection
Collects: Thor: The Mighty Avenger #1-8
This very charming miniseries set in an alternate universe tells the story of Thor and Jane Foster meeting for the first time, and is mostly focused on Jane as the main character, whose life gets turned upside down by a Norse god arriving in it.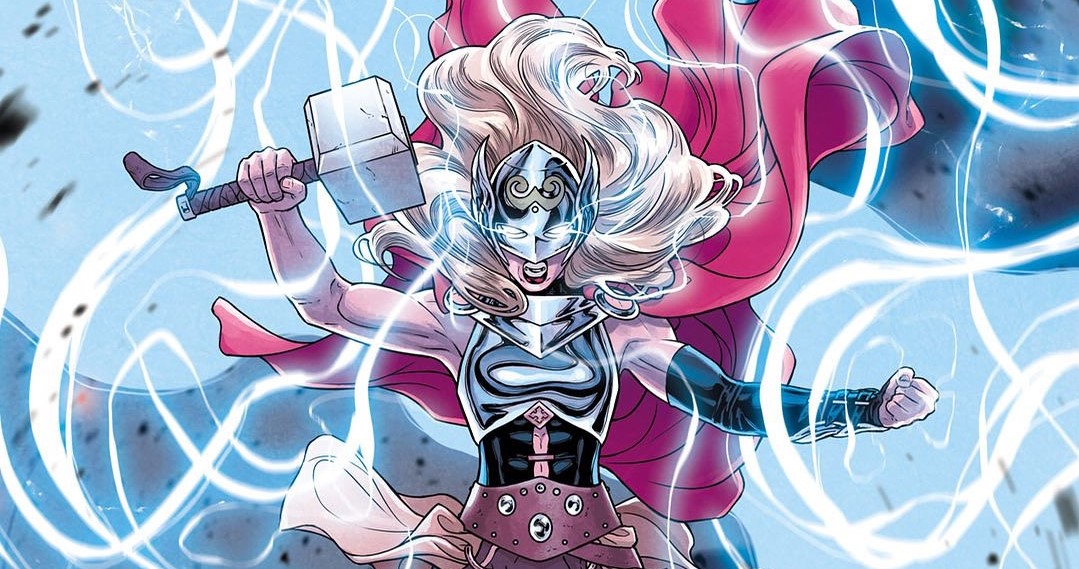 The Goddess of Thunder
After Thor's death (and subsequent resurrection) in 2011's Fear Itself crossover event, Jane Foster is reintroduced by new Thor writer Jason Aaron in his Thor: God of Thunder series. In issue #12, Thor visits his old friend and learns that she has breast cancer. Jane explains that she refuses to undergo magical treatments, as such measures always have a price. In issue #24, Thor asks her to speak for Midgard in the Realms' Congress of Worlds
Thor Vol. 1: The Goddess of Thunder
Collects: Thor (2014) #1-5
A mysterious new Thor is introduced in her own series, having picked up Mjolnir after the events of Original Sin have made the Odinson unworthy of wielding it. The new goddess of thunder fights her first battle against Frost Giants and a rather angry Odinson, who has recently lost both his arm and his hammer.
Thor Vol. 2: Who Holds The Hammer?
Collects: Thor (2014) #6-8, Annual #1, What If #10
Thor's enemies, the Dark Elf Malekith and the evil CEO Dario Agger, forge an alliance ; but she has to fight the more immediate threat of Odin being, as usual, the absolute worst.
By the end of the series, the ongoing mystery of who is behind the new Thor's mask is revealed ; and it just so happens to be the person whom this very reading order is about.
Collects: Secret Wars #1-9, Free Comic Book Day 2015 Secret Wars #0
During 2015's Secret Wars, Jane as Thor is one of the few heroes to survive the last incursion, saved by the FF's Life Raft. Once in Battleworld, she infiltrates the Thor Corps and leads them against Doom's armies, even taking on Apocalypse himself.
In the Battleworld era of tie-ins, the Thors miniseries is focused on Thors investigating the deaths of multiple Jane Fosters, with issue #4 bringing in our Earth-616 Jane to lead them in battle.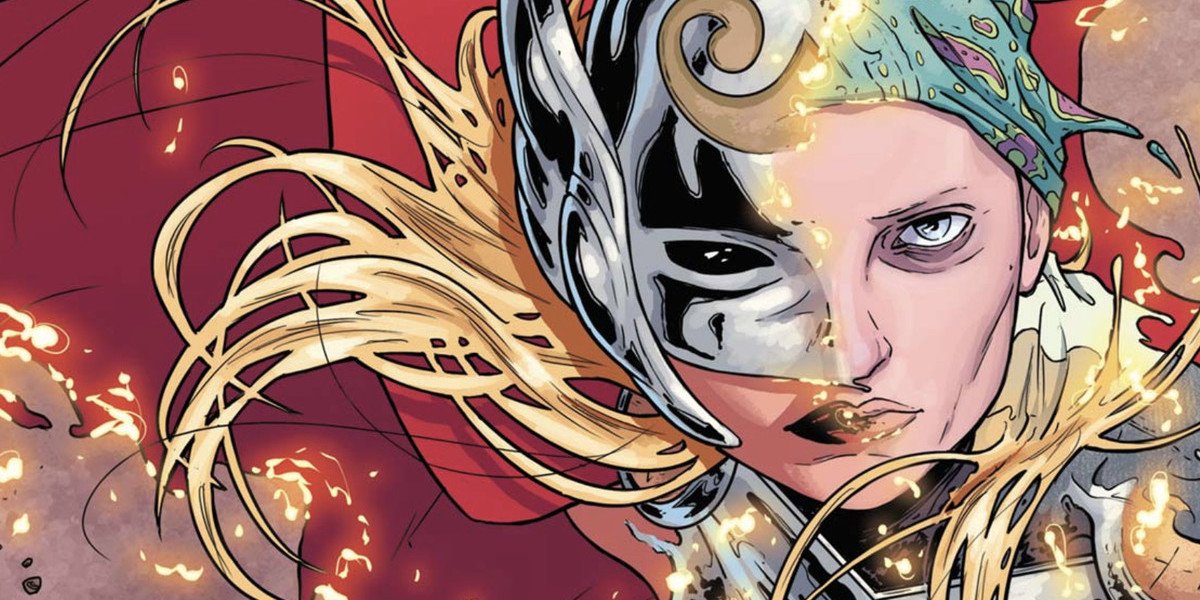 The Mighty Thor Vol. 1: Thunder In Her Veins
Collects: Mighty Thor (2015) #1-5
While Malekith schemes against Alfheim and Odin transforms Asgard into a dictatorship, the Mighty Thor has to fight on two fronts : in the Ten Realms as Thor, and with her own body as Jane, especially since transforming into the goddess of thunder is neutralizing the effects of chemotherapy.
All-New All-Different Avengers
Collects: All-New All-Different Avengers #1-15, Annual #1, Avengers #0, Free Comic Book Day 2015 Avengers #1, Free Comic Book Day 2016 Civil War II #1
Jane is a part of the All-New, All-Different Avengers team, fighting villains such as Kang or Annihilus, and crossing over with the Avengers: Standoff storyline and the Civil War II crossover event. During this time, she starts a friendship with Captain America (Sam Wilson), who is one of the only people to learn her secret identity.
The Mighty Thor Vol. 2: Lords of Midgard
Collects: Mighty Thor #6-12
As if scheming Dark Elves and All-Fathers with a temper weren't enough, Jane now needs to worry about S.H.I.E.L.D. discovering her secret identity. She also discovers the secret origins of Mjolnir, and that it holds an ancient storm that once almost destroyed Asgard.
Avengers: Unleashed Vol. 1: Kang War One
Collects: Avengers (2016) #1-6
After the Champions split off from the All-New All-Different team, Thor and the other adult Avengers (now sponsored by Parker Industries) are left to fight Kang, Kang, Kang, and more Kangs.
The Mighty Thor Vol. 3: The Asgard/Shi'ar War
Collects: Mighty Thor #13-19
The Shi'ar gods force the Mighty Thor into a challenge, which escalates into a war between Asgard and the Imperial Guard. And when the Phoenix gets involved, there's only one pink-haired mutant who can save the Ten Realms.
Avengers: Unleashed Vol. 2: Secret Empire
Collects: Avengers (2016) #7-11
Secret Empire begins, and thank the gods Jane is spared from having to play a big role in it, as she is instead sent on an extradimensional trip.
The Mighty Thor Vol. 4: The War Thor
Collects: Mighty Thor #20-23, Thors #4
Traumatized after having seen the horrors of Malekith's war, Volstagg uses the Ultimate Universe's Mjolnir to become the War Thor ; and fighting him leads Jane to temporarily wield both of their hammers at the same time.
During this time, Jane appears as the Mighty Thor in Generations: The Unworthy Thor & The Mighty Thor, in which she teams-up with a pre-Mjolnir Odinson against Apocalypse ; as well as in Marvel Legacy, in which she fights Frost Giants alongside Captain America (Sam Wilson) and Ironheart (Riri Williams).
Avengers & Champions: Worlds Collide
Collects: Avengers (2016) #672-674, Champions (2016) #13-15
Avengers and Champions are forced to team up against the High Evolutionary.
Collects: Avengers (2016) #675-690
Earth is used as the board of a game between two Elders of the Universe, with the Avengers as their pawns.
The Mighty Thor Vol. 5: The Death of the Mighty Thor
Collects: Mighty Thor #700-706, Mighty Thor: At The Gates Of Valhalla #1
The Mighty Thor takes her last stand against the Mangog, as her cancer has reached a critical stage. She sacrifices herself to save Asgard, and is brought back to life by the combined efforts of Thor, Odin, and Mjolnir. She makes the decision to abandon the mantle of Thor in order to survive.
Thor Vol. 2: Road to the War of the Realms
Collects: Thor (2018) #7-11
After having been shown helping refugees from the War of the Realms on Earth in issue #1 of the new volume of Thor, Jane learns that her patience has paid off and she is now in complete remission from cancer.
Collects: War of the Realms #1-6
In the culmination of Jason Aaron's run across multiple Thor series, Jane helps protect refugees from the War of the Realms engineered by Malekith. She is temporarily named All-Mother of Asgard by Freyja, coordinates the teams of warriors, and even becomes Thor one last time, using the remains of the Ultimate Mjolnir once wielded by Volstagg as the War Thor. During this event, Jane also witnesses the destruction of the Valkyrior.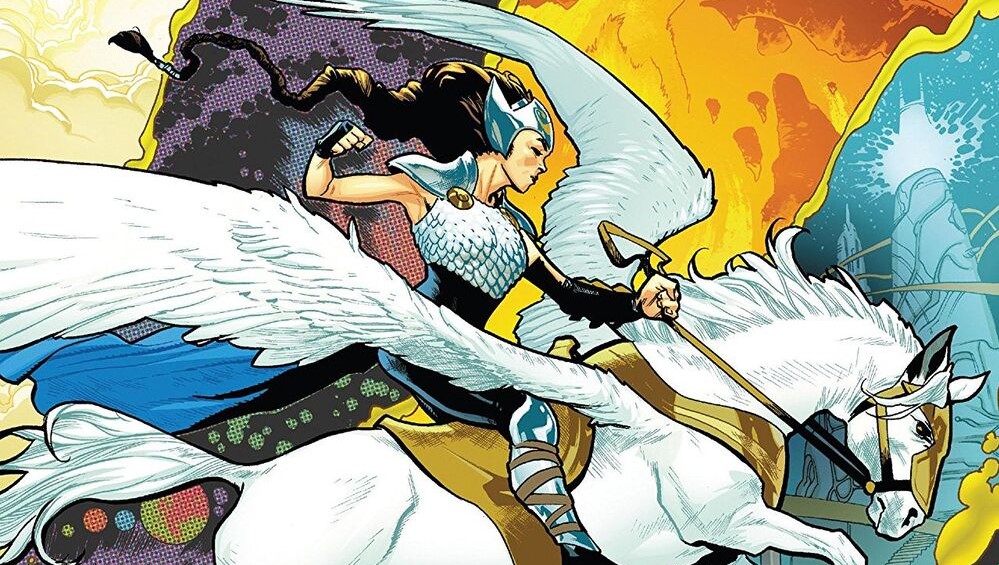 Ride of the Valkyrie
Since the end of the War of the Realms and of her time as the Mighty Thor, Jane Foster has taken on a new mantle as Marvel's latest Valkyrie. For those who aren't familiar with who the Valkyries are, here's a quick recap (and don't forget to check out CBH's Valkyrie Reading Order!) :
The idea of having a Valkyrie in the Marvel universe was introduced in 1970's Avengers #83, with Val leading some of Marvel's main female heroes against the male Avengers. However, this first Valkyrie quickly turned out to have been the Enchantress in disguise all along.
Two years later, Barbara Norris became Valkyrie in Defenders #4, when the Enchantress summoned the Asgardian warrior Brunnhilde in her body. This Valkyrie became the main Val of the Marvel universe for the next decades, and following her introduction, she stayed a member of the Defenders until their cancellation in 1986. Some noteworthy stories from Brunnhilde's time in the Defenders include visiting Asgard and fighting for Hela in Defenders #66, #67 and #68, as well as being reunited with her original body and learning how she was banished to Earth in Defenders #107, #108 and #109.
Besides Brunnhilde, the most notable Valkyrie of the Marvel universe is without a doubt Dani Moonstar. The young mutant became a member of the Valkyrior during the X-Men/New Mutants storyline "Asgardian Wars", in which the New Mutants go on an adventure through the Nine Realms. Dani came back from this storyline with her flying horse Brightwind, as well as an ability to see when a person might be able to die ; ability that Jane Foster also gains when becoming a Valkyrie.
More recently, an alternate universe version of Valkyrie was introduced in Saladin Ahmed's Exiles in 2018, going on various dimension-hopping adventures, and inspired by Tessa Thompson's portrayal of Valkyrie in the Marvel Cinematic Universe.
Valkyrie: Jane Foster Vol. 1: The Sacred and the Profane
Collects: Valkyrie: Jane Foster #1-5, War of the Realms: Omega #1
Jane Foster becomes the new Valkyrie in War of the Realms: Omega #1, when she is asked to fulfill that role by a dead Brunnhilde. Her first action as Valkyrie is to bring the dead Valkyrior's souls to Valhalla. As Valkyrie, she uses the All-Weapon, a bracelet made from the remains of the Ultimate Mjolnir that can turn into any weapon. Meanwhile, on Midgard, Jane starts working in a hospital morgue. She makes short appearances in Thor #15 and #16 as the new Valkyrie, before getting her own series co-written by Jason Aaron and Al Ewing. In it, Jane has to fight Bullseye, who stole Brunnhilde's sword Dragonfang ; as well as the Grim Reaper working for Mephisto.
Valkyrie: Jane Foster Vol. 2: At the End of All Things
Collects: Valkyrie: Jane Foster #6-10
Valkyrie has to save Death's life with the help of other super-medics, and rescue Asgard from Anti-Life.
Thor by Donny Cates Vol. 2: Prey
Collects: Thor (2020) #7-14
Jane joins the fight against Donald Blake, who is back and out to kill every Thor he can find.
Collects: Avengers (2018) #39-45
As Valkyrie, Jane is one of the candidates chosen to potentially become the new Phoenix.
King in Black: Return of the Valkyries
Collects: King in Black: Return of the Valkyries #1-4
After a short appearance in King in Black #2, Jane appears alongside Dani Moonstar, Hildegarde, and one of the original Valkyries to fight a headless Celestial in order to save the Sentry's soul.
Collects: The Mighty Valkyries #1-5
In this miniseries divided between a story about Jane Foster and another story about the new Valkyrie, Jane meets More, a wolf deity and grandchild of Loki.