If there's anything I love more than a good villain, it's a good redemption story. Throughout their comic book history, Loki has had some of the Marvel Universe's best moments of villainy and treachery, plotting behind the scenes in most of Thor's adventures, as well as in events such as Acts of Vengeance and Dark Reign. But more recently, since the 2010s and the character's introduction to the MCU, the God of Lies has been reborn as a more heroic figure (or at least, trying to be) in stories written by acclaimed creators like Kieron Gillen and Al Ewing.
Because Loki comes from the world of Thor and Asgard, their stories are obviously driven by their mythological inspiration. But that notion of gods being myths and stories is all the more crucial for the God of Lies, as although they are a trickster and a magician, supposedly unpredictable and chaotic, in truth, they play the role they've always been assigned. They are the God of Evil, eternal enemy of Asgard, and they never seem to be able to break away from that old story… which makes it very interesting to see what happens when they do manage to change and become something new.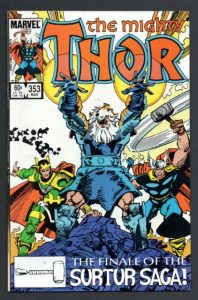 "The Surtur Saga" is one of the major arcs in Walt Simonson's celebrated Thor run, with some of Loki's best moments since their creation. The trickster god finds themself teaming up with their family to protect Asgard from Surtur's Twilight Blade… not out of the goodness of their heart, but because they can hardly rule the world if the King of Muspelheim burns it down.
Simonson puts Loki in a situation where the character often works best: as an untrustworthy ally, who starts plotting against the heroes once more as soon as the fight is over. This is who Loki is for most of their Marvel history: unquestionably a villain, always scheming in the background of most of Thor's stories. And even though they sometimes form uneasy alliances with the heroes, at the end of the day, Loki fights for Loki and Loki alone.

Loki pulls off one of their best, weirdest, and most unexpected tricks yet: transforming Thor into a frog. While Frog Thor is off having adventures in the sewers, Loki takes the responsibility of choosing the new Lawgiver of Asgard in their brother's absence. They appoint Odin's Grand Thane, a wise choice that is celebrated by the people… and just like that, Loki becomes a viable candidate for the throne.
Support For Comic Book Herald:
Comic Book Herald is reader-supported. When you buy through links on our site, we may earn a qualifying affiliate commission.
Comic Book Herald's reading orders and guides are also made possible by reader support on Patreon, and generous reader donations.
Any size contribution will help keep CBH alive and full of new comics guides and content. Support CBH on Patreon for exclusive rewards, or Donate here! Thank you for reading!
This story offers a good look at the ways in which Loki challenges Thor. They are the worm in the apple, the menace from the inside, forever plotting, scheming, manipulating events. Thor can fight Surtur or the Destroyer with his strength and his hammer, but his sibling is the threat of the shadows, hiding in illusion and subterfuge, the never-ending bane of Asgard. In some way or another, they are behind almost every threat to the Nine Realms. Loki is always scheming, but never winning, condemned to lose and never learn from their failures (here, at the end of #366, Loki is already starting to plan their revenge even though they just failed spectacularly and got ridiculed by Thor). They are Thor's greatest enemy and the ultimate threat to the Nine Realms, yes, but they are also stuck in a never-ending cycle of failure.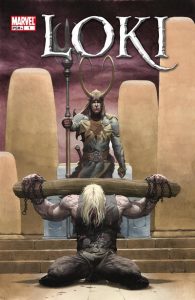 What if Loki won? The Blood Brothers miniseries shows the God of Evil finally getting what they always wanted: the throne of Asgard, and victory against their brother. But is this really what they wanted? Here, Loki is King, with Thor imprisoned and everyone else at their mercy: the cycle of failure is finally broken. But when Hela comes to demand Thor's death, Loki can't help but doubt if that is actually what they want. Thor is their greatest enemy, but he is also the only person who ever loved them.
Blood Brothers gives Loki their victory to explore what it is they actually want, and why (much in the same way that Emperor Doom
and Superior Spider-Man
have also done). The story isn't canon to the main 616 Universe, allowing writer Robert Rodi to make choices that would never be allowed with the main versions of these characters, especially the comic's shocking, brutal ending. Esad Ribić's Loki is delightfully old and creepy, pitiful as much as they are terrifying. Even though it doesn't fit in the main Loki's continuity, Blood Brothers is undoubtedly one of the best Loki stories out there.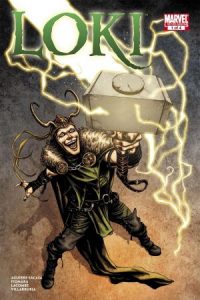 This 2010 Loki miniseries recounts the tale of Loki's origins and how they became the God of Evil. The story takes place in a version of the Marvel Universe (all the characters look the same as they do in Earth-616), but it is heavily based on Norse mythology, and driven by the idea that Loki and Thor's origins are myths and it is therefore hard to know what actually happened beyond Loki's own memories of the events.
Because The Trials of Loki is focused on their mythical origins, it is also centered on the question of destiny. Did Loki become the God of Evil because it is what they were always meant to become, like the Prophecy of Ragnarok says? Or are their crimes and horrible decisions responsible for making them into a villain? Loki's various mythical tales of mischief and trickery are reshaped into a cohesive narrative about their descent into villainy, and what made them become the villain in Thor's story, as they realise something that will drive the trickster god for most of their comic book history: if they can't be loved, they can still be feared.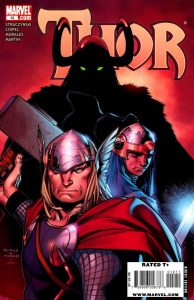 This single issue of J. Michael Straczynski's Thor run is a solo Loki story, as the trickster god (now in Sif's reincarnated body) teams up with Hela to rewrite their own origin story and ensure the death of Odin's father Bor. Not only does the issue serve as a recap of Loki's origins, but it is also a showcase of the God of Mischief at their most unapologetically evil, ready to do anything to destroy their brother. During this time, Loki manipulates Balder (the current King of Asgard) and is a big part of the "Dark Reign" era. And although they are a huge player in Straczynski's entire run, this issue especially is a great example of Loki as the terrible, Machiavellian villain we all love to hate.

"You remain Loki, Loki." These words, pronounced by Doctor Doom himself, push Loki to pull off a new trick… maybe even one last trick? From Norman Osborn to Hela and Mephisto, Loki sets a plan in motion with players and pawns from across the Marvel Universe, resulting in the trickster being free from the destiny that was supposed to await them.
Loki is tired of being Loki, always the God of Mischief, always predictable. But how can Loki be free from being Loki? Although Siege: Loki doesn't really offer a complete story without the main Siege event after it, it is very much noteworthy on its own as Kieron Gillen's first solo work on the character, showing the final hours of this version of Loki.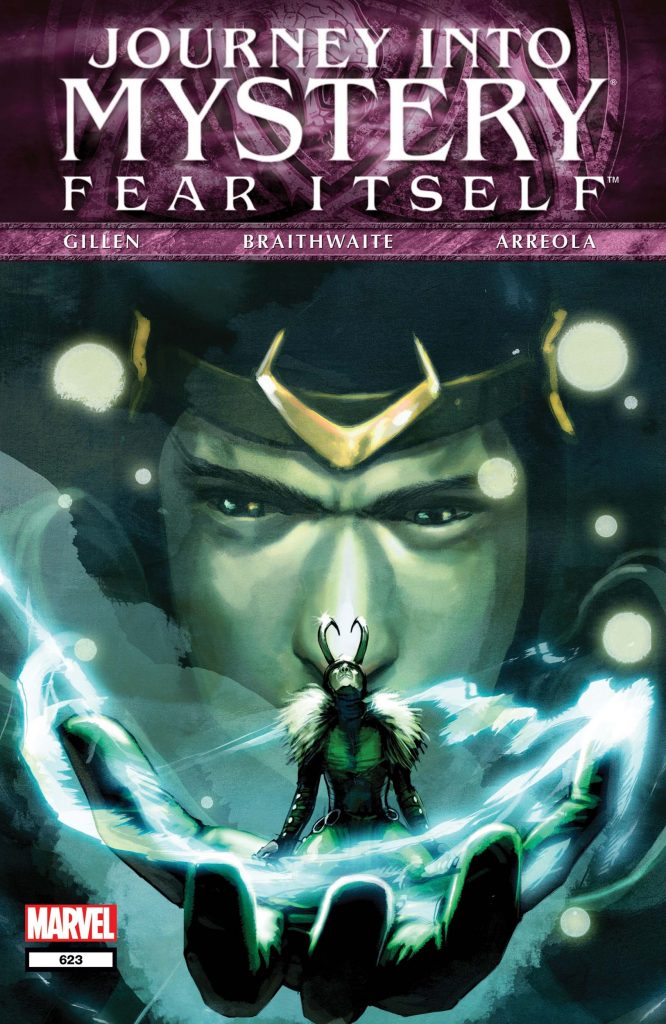 In the aftermath of Loki sacrificing themself in the pages of Siege, Kieron Gillen takes over Journey Into Mystery as a solo book for Kid Loki, the newly resuscitated, young version of the character. Kid Loki doesn't have the memories of Old Loki, but they are still as hated by everyone, and it doesn't help that the young god soon discovers that Loki's death was (of course) part of a scheme this whole time.
The entire Gillen run on Journey Into Mystery is a must-read for any Loki fan, but here I would especially recommend the first arc, which is a tie-in with the Fear Itself event (although it can very easily be read on its own). Gillen puts Kid Loki in a situation where they have to, as Old Loki would, scheme in shadows against Odin. But now they do it to save Thor and Asgard, and in doing so start slowly earning the trust of some of the Asgardians (Volstagg especially). Kid Loki fights with the same cunning and trickery as Old Loki did, but they also show the innocence of youth, and genuinely good intentions. After thousands of years, and five decades of comics, Loki finally managed to change.
Beyond the first arc, the most notable issue is the run's final one, drawn by the amazing Stephanie Hans (DIE), which brings a tragic ending to Kid Loki's story. Loki (seemingly) becomes Old Loki again. The change is over. But is that what matters? After all, Kid Loki changed. As they tell the echo of their older self: they won, because they were able to become something new. And Kieron Gillen won, because he was able to create a new, marvellous narrative for Loki.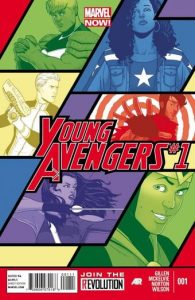 Loki is dead (once again). Long live Loki. Who is this Loki again? In Young Avengers, Gillen introduces a new Loki: not Old Loki or Kid Loki, but Weapon Loki, the result of Old Loki's echo self taking over Kid Loki's body without anyone else knowing. If this sounds confusing as Hel, don't worry, Loki is confused too… and feeling guilty? That's new.
Instead of going the easy, expected route of "Loki is evil again! Yay nostalgia!", Kieron Gillen complicates the situation by having a brand-new Loki with the memories of the old, evil one, but who feels regret for killing an innocent child. They are still very much morally dubious, causing the presence of the book's villains in the first place, and scheming to drive Wiccan and Hulkling to their own ends to manipulate Wiccan more easily… but they still come to realise that they like being part of this team of heroes, and they genuinely want to help them save themselves and the world. The book culminates with the God of Lies saving the day… by coming clean and telling the truth about what they did. In the end, this is once again a new Loki, who has to play the part of the young, heroic Kid Loki, and hope to live up to the new story they forged.

Immortal Hulk's own Al Ewing continues the story of this All-New, Maybe-Different Loki as an agent for Asgard's All-Mother. Every time the trickster completes a mission, one of their past self's crimes is erased from Asgard's memory, and they get closer to redemption. But things get tricky (pun intended) when an older, evil version of Loki comes into the picture. Right when Loki appears to be changing for the better, they are reminded that in the end, they will always be the God of Lies and Evil in the mind of most Asgardians.
Ewing's run shows Loki questioning who they are and who they can and should become, as they are transformed by the guilt of the crime that created them. They also change by forming a friendship with a human named Verity Willis, as well as when their mind is inverted by the events of Axis. In the end, this is the story of Loki questioning what (if anything) it means to be the God of Lies. Their journey leads them to change and become Loki, the Goddess of Stories, spinner of tales. The run ends in the context of Secret Wars having wiped out the multiverse, and Loki having, in a way, died once again… only to become something new. Like they say at the very end, you can't kill stories.