Marvel's 'Acts of Vengeance' is nearly the publisher's first linewide crossover event (different from crossovers like Atlantis Attacks or Evolutionary War that stuck to Annual issues), applying a never before seen super villain team-up to all Marvel Comics from late 1989 into early 1990.
Unlike later Marvel events, there isn't much to the core story of 'Acts of Vengeance,' but instead it's a conceptual look at Marvel heroes versus villains they hadn't faced before, or that typically fell out side their rogues gallery. So for example, we see Spider-Man vs. Graviton, Daredevil vs. Ultron, and the Incredible Hulk vs. the Grey Gargoyle.
There is a fair amount of flexibility with Acts of Vengeance, as the stories often stand alone, simply tied together by the villains conspiring against the heroes. In many ways, Acts of Vengeance is the spiritual predecessor to Marvel's Dark Reign.
Acts of Vengeance Trade Reading Order
Acts of Vengeance Omnibus
Acts of Vengeance Omnibus Crossovers
Support For Comic Book Herald:
Comic Book Herald is reader-supported. When you buy through links on our site, we may earn a qualifying affiliate commission.
Comic Book Herald's reading orders and guides are also made possible by reader support on Patreon, and generous reader donations.
Any size contribution will help keep CBH alive and full of new comics guides and content. Support CBH on Patreon for exclusive rewards, or Donate here! Thank you for reading!
Collects: Avengers Spotlight (1989) 26-28, Avengers (1963) 311-313, Quasar (1989) 5-7, Iron Man (1968) 251-252, Avengers West Coast (1989) 53-55, Mutant Misadventures Of Cloak And Dagger (1988) 9, Material From Captain America (1968) 365-367, Thor (1966) 411-413, Avengers Annual (1967) 19, Avengers Spotlight (1989) 29
Acts of Vengeance: Marvel Universe
Collects: Fantastic Four (1961) 334-336; Incredible Hulk (1968) 363; Punisher (1987) 28-29; Punisher War Journal (1988) 12-13; Marc Spector: Moon Knight (1989) 8-10; Daredevil (1964) 275-276; Power Pack (1984) 53; Damage Control (1989B) 1-4; Material From Doctor Strange, Sorcerer Supreme (1988) 11-13

Acts Of Vengeance: Spider-Man & The X-Men
Collects: Amazing Spider-Man (1963) #326-329; Spectacular Spider-Man (1976) #158-160; Web of Spider-Man (1985) #59-61, 64-65; Wolverine (1988) #19-20; Alpha Flight (1983) #79-80; New Mutants (1983) #86; Uncanny X-Men (1981) #256-258; material from X-Factor (1986) #50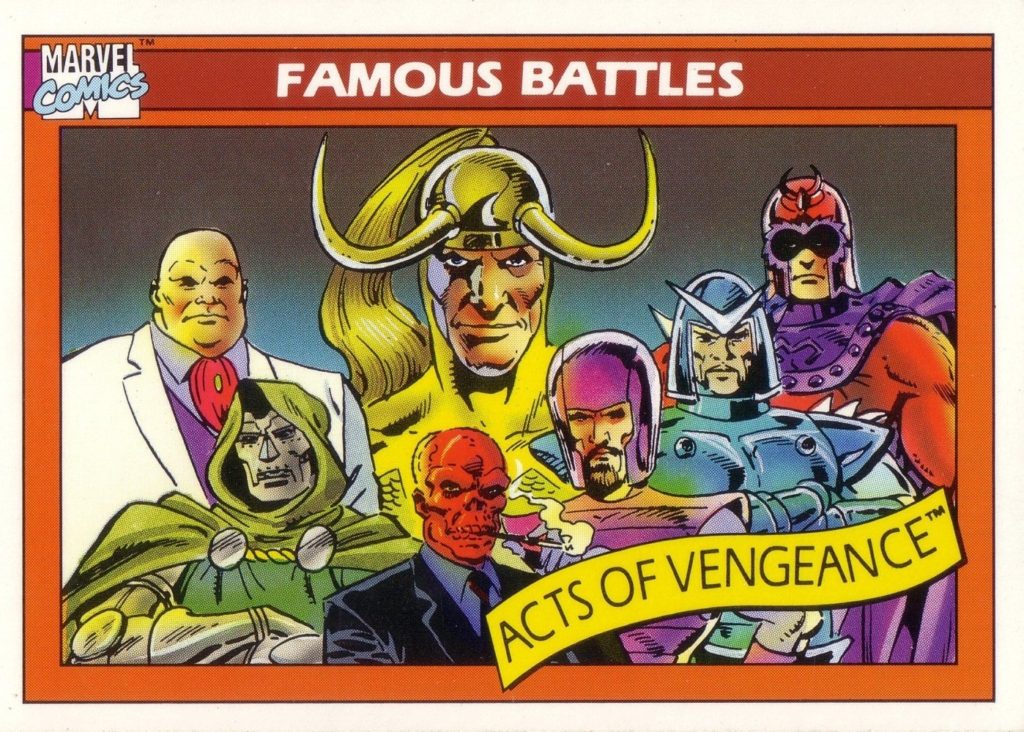 Acts of Vengeance Issue by Issue Reading Order
*Credit to Dan Molden for this reading order, and all notes, created to support the My Marvelous Year reading club!*
Iron Man 250
Worth Reading? Yes
Important for Continuity? No
Despite the big event banner on the cover, this issue is about a time-travel adventure in which Tony and Iron Man are pulled into the future by Merlin to help a resurrected King Arthur save the world in 2099. No real hint of any particular Acts of Vengeance to come, but a great issue that is worth reading.
Thor 410
Worth Reading? If Interested
Important for Continuity? A little
Despite having no event banner on the cover, in the final panel of the main story, a Shadowy Figure approaches Dr. Doom, who is fresh off a crushing defeat by Thor, and proffers his help for an "Act of Vengeance" against anyone who has ever thwarted Doom. Everything before this is the conclusion of a story line where Doom steals Mjolnir as part of a plan to regain his throne in Latveria. Not a particularly outstanding issue, but would be interesting for any Doom fan who is excited about the Doom versus Kristoff – the Doom clone currently ruling Latveria – storyline.
The Mutant Misadventures of Cloak and Dagger 8
Worth Reading? No
Important for Continuity? No
Despite featuring a "Prelude to Vengeance" banner on the cover, this issue just seems to wrap up an ongoing storyline in which Cloak vies against Ecstasy for control over his cloak and its power to access the dark dimension. This has nothing for you unless you are excitedly following this series.
Avengers Spotlight (not in Marvel Unlimited) 26
Worth Reading? Yes
Important for Continuity? Yes
Despite featuring the tagline "The Beginning of the Saga"…oh, wait, this issue does actually do what it advertises! The Wizard is transported to The Vault, but, with the help of the Shadowy Figure, he escapes and frees many other Supervillain prisoners as well. Iron Man and Hawkeye respond to a distress call from the Guardians and do their best to restore order. Worth reading if you can track it down because there are interesting dynamics between the two, since the last time Tony was at The Vault, he caused a breakout while disabling the Guardian armor during Armor Wars.
Damage Control Vol. 2 1
Worth Reading? If Interested
Important for Continuity? Somewhat
Damage Control accidentally receives a distress call meant for the Avengers and respond to The Vault in the middle of an active prison break. Mild hilarity ensues. In terms of its importance for the larger story arc, this issue features the reemergence and escape of The Wrecking Crew, but otherwise it is not essential and you should only read it if you are a fan of the general humorous vibe of this series.
Avengers 311
Worth Reading? Yes
Important for Continuity? Yes
Despite what the cover implies, Quasar is the only active member on The Avengers' Hydrobase when it is attacked by a horde of robots, and must fend off the attack with the help of Peggy Carter, M'Daka, Jarvis, and the other civilians managing the base. Meanwhile the Mysterious (if no longer Shadowy) figure monologues about his scheme to manipulate Doctor Doom and other supervillains into eliminating his enemies. A fairly momentous and well-paced issue.
Amazing Spider-Man 326
Worth Reading? No
Important for Continuity? A little
Graviton arrives in Manhattan, having been hired by The Kingpin to destroy Spider-Man in return for sending others to destroy the Avengers. Graviton descends on the Daily Bugle, causes all kinds of mayhem, draws out Spider-Man, and summarily crushes him and leaves him for dead. Spoiler: Spider-Man is not dead and limps home to Mary Jane. Unless you are invested in the larger ASM run, this is probably not worth your time.
Spectacular Spider-Man 158
Worth Reading? Yes
Important for Continuity? Yes
A second assassin, The Trapster (nee Paste Pot Pete) is sent to kill Spider-Man and initially appears to succeed, leaving him encased in hardened paste at the bottom of the East River. Spidey naturally escapes and returns to his life as Peter Parker, lab assistant, but is then caught in an explosion involving a machine tapping into an "extra-dimensional" power source. This gives him supercharged, "cosmic" powers that, much to his own surprise, he uses to paste (sorry) The Trapster in a rematch. The issue is worth reading for the beginning of the "Cosmic Spidey" storyline, and it also features the initial recruitment of The Kingpin into the Vengeance Conclave by the Mysterious Figure (albeit in a way that seems to mess up the continuity a bit because The Kingpin had already appeared to contract Graviton to kill Spidey as part of the Acts of Vengeance in a previous issue). Fair warning: I am all in on Cosmic Spidey and am probably slightly overrating this whole storyline.
Web of Spider-Man 59
Worth Reading? Yes
Important for Continuity? Somewhat
Dr. Doom manipulates Titania into going after Spider-Man, ostensibly as part of a third assassination attempt, but also with the ulterior motive of learning more about Spidey's new power. Titania again attacks the Bugle to draw out Spider-Man, which again works, but it also draws out The Puma, whose alter ego Thomas Fireheart has recently bought the Bugle from JJJ (long and not super-interesting story). Spidey again ends up cutting loose with his cosmic powers and is somewhat horrified by the effect. Solid issue all around if you are even a little interested in Spider-Man.
Captain America 365
Worth Reading? Yes
Important for Continuity? Yes
The Red Skull has learned of the breakout at The Vault. He sends his operative, Crossbones, searching for new allies and convinces The Controller (one of the 37 escapes, as we'll learn in the backup story) to join forces with him. The Controller slips one of his special discs onto Namor and sends him up against Cap, who has just returned from a lengthy adventure overseas to discover the aftermath of the attack on Hydrobase. Meanwhile, The Red Skull is visited by the still Mysterious, but now also obviously Powerful Figure and invited to the Vengeance Conclave with the likes of Doom, Magneto, The Kingpin, The Mandarin, and The Wizard. Another brisk, well-paced issue with an exciting battle between Cap and Namor.
Captain America 366
Worth Reading? Yes
Important for Continuity? Yes
To free Namor from The Controller, Cap must get ahold of a control disc for Hank Pym to study and reverse engineer. Hank devises a way to track The Controller, and Cap finds himself in an airborne battle with not only The Controller, but also The Voice, who has also been recruited by The Red Skull fresh off of the breakout at The Vault. But despite having both of these henchmen who are adept at mind control, The Red Skull finds to his dismay that he cannot control the Mysterious and Powerful Figure at the center of the Vengeance Conclave. This issue is more "fine" than good, but it keeps the most interesting storyline moving along.
Fantastic Four 334
Worth Reading? No
Important for Continuity? A little
Four Freedoms Plaza appears to be attracting an unusual amount of attention from minor villains like The Constrictor, The Beetle, and The Shocker, who attempt to break in and are swiftly caught by the building's security measures. But, the FF have no time to figure out why this is occurring as they head off to Washington D. C. to testify about the proposed Super Powers Registration Act. After they depart, Thor and Captain America arrive on the roof in hopes of finding space for The Avengers after the damage to Hydrobase, but are rather summarily repelled by the FF's security systems. This is a transitional issue to reset the ongoing FF story line and nothing particularly noteworthy happens that you won't be able to pick up immediately in the subsequent issues, so it is probably not worth your time unless you are already a big fan of this series.
Thor 411
Worth Reading? If Interested
Important for Continuity? Somewhat
The Shadowy, Mysterious, and Powerful figure is somehow able to free The Juggernaut from the Crossmoor Prison in London where he was being held and transport him to Manhattan in a bid to draw out Thor. True to form, Thor responds, ditching his current human guise as Eric Masterson and jumping into the fray. As occurs every time The Juggernaut visits Manhattan, the requisite smashing of cars and buildings ensues. Thor, suffering from a strange weakness finds himself overcome, but gets a respite from the arrival of the scrappy youth in The New Warriors. Not an essential issue. There are some enjoyable moments in the Juggernaut and Thor slugfest, if none that quite live up to the promise of the cover.
Thor 412
Worth Reading? If Interested
Important for Continuity? Somewhat
The New Warriors vainly try to subdue The Juggernaut while Thor recovers. Although they have little success they distract The Juggernaut long enough for Thor to rejoin the battle and summon the power to banish, if not totally defeat, him. The Mysterious Powerful Figure looks on in frustration and takes solace in his other schemes for vengeance. This issue is mostly an advertisement for The New Warriors' own series and, like the previous one, skippable.
Quasar (Not in Marvel Unlimited) 5
Worth Reading? No
Important for Continuity? A little
The Mysterious Powerful Figure finds Crusher Creel, who has managed to reconstitute himself after his recent defeat by The Hulk in Vegas. He convinces Creel not to go right back after Hulk and powers up his ball and chain so that it returns to his hand and allows him to "fly" like Thor. Quasar, fresh off his defeat defending Hydrobase, gets a call from Cap to look into reports of a break-in at a New Jersey adamantium factory, leading to the cosmically charged Quasar vs. Absorbing Man showdown promised on the cover. There is nothing particularly interesting about this showdown or Quasar as a whole at this point (although he does appear to keep Eon, the entity who long ago gave the original Captain Marvel his "cosmic awareness", in a pocket dimension in his office?) and there is no real need to read this one for the larger Acts of Vengeance story.
Hulk 363
Worth Reading? Yes
Important for Continuity? A little
Dr. Doom hires The Grey Gargoyle to turn the Hulk to stone in order to capture him and keep him on the sidelines during the ongoing Acts of Vengeance. The Gargoyle flies out to Las Vegas and makes a statue out of Bruce Banner, but, after sundown, finds himself dealing with an annoyed Hulk. Not a whole lot happens this issue, but the Hulk vs. Gargoyle battle is pretty cool and the whole issue is breezy and fun.
Avengers Spotlight (not in Marvel Unlimited) 27
Worth Reading? No
Important for Continuity? Somewhat
In the "A" story the Mysterious Powerful Figure convinces Boomerang to skip facing Iron Man yet again and find a new opponent. So, instead, Boomerang ends up fighting Hawkeye while causing mayhem in downtown L.A. and turning public sentiment against superheroes in general. This story is a snooze (and Hawkeye does not even use his own boomerang arrow!). But, in the "B" story, Stingray is salvaging equipment from Hydrobase when he discovers that the collection of menacing robots and androids the Avengers had held captive are all gone. He is then immediately attacked by the Mad Thinker's Awesome Android, and must subdue him with the help of the other Avengers reserves who have answered the distress call, Black Widow, Hellcat, Firebird, Moondragon, and a recently revived Monica Rambeau (who is still going by "Captain Marvel", although her energy powers are now somewhat different). This isn't a great story either, but it's kind of fun watching this weird group of D-list Avengers interact if that's to your liking.
Avengers West Coast 53
Worth Reading? If Interested
Important for Continuity? Somewhat
The Avengers residing on the West Coast come under attack by the U-Foes, who are under the impression The Avengers have killed one of their members. To defeat them, Hank Pym must revive The Scarlet Witch (who is in a comatose state after recently having (a) seen her husband effectively killed, (b) had her children destroyed and their existence removed from her mind, and (c) been kidnapped and brainwashed into being a bride of the resurrected serpent-god, Set), but she still appears a bit worse for the wear. The team splits up with Wonderman, Iron Man, and the original Human Torch android pursuing the fleeing U-Foes and Wanda, Vision, Hank, and The Wasp heading to New York after being unable to communicate with the East Coast Crew (and unaware of the damage to Hydrobase). Meanwhile, the Mysterious Powerful Figure monologues some more about pretending to serve Magneto and the others while being the true architect of the plan and using some sort of scrying magic to look in on the Avengers. John Byrne is setting a LOT of plot in motion outside of the Acts of Vengeance storyline that bogs things down somewhat, but this issue has some great art that might make it worth your time.
New Mutants 84-86
Worth Reading? If Interested
Important for Continuity? A little
Issues #84 and #85 are the climactic issues of an Asgard story arc with Dani and the Valkyries (that began way back in issue #77), but each of them have a single page that sets the stage for the Acts of Vengeance storyline in #86. All you need to know to jump right into issue #86 is that Freedom Force has decided to arrest Rusty again, and taken in Skids too for helping him resist arrest. While they are sitting in jail patiently awaiting trial, the Vulture is brought in, but escapes when he finds a package waiting for him in his cell that contains a replica of his flight suit built by The Tinkerer. Rusty and Skids also break out of prison to chase the Vulture down. Issue #86 opens with The Vulture finding The Tinkerer and learning that someone has paid to have Vulture freed so that he can defeat Speedball. The Vulture is (rightfully) insulted to be sent after such a low-tier hero and decides instead that he will free Nitro, who is set to stand trial the next day. Rusty and Skids find the Vulture and then battle him and Nitro to try to prevent mass destruction. This is not a super compelling story, but the sheer crankiness of the Vulture and his ire at not being included more directly in the Acts of Vengeance may be enough to recommend the last issue.
X-Factor (Not in Marvel Unlimited) 49-50
Worth Reading? Yes (but see the Notes before you do)
Important for Continuity? Yes
If you are coming into the event without knowing anything about it, then you now face a major decision here. You can flip through these issues to find the Acts of Vengeance tie-in pages (final page of #49, final six pages of #50) to learn the big reveal of the Mysterious Powerful Figure's true identity, or you can wait to read these issues at the very end to learn the reveal along with the characters in the story themselves. So, choose your own adventure!
Wolverine 19
Worth Reading? If Interested
Important for Continuity? No
There is A LOT going in this series right now (a Central American dictator and drug lord funded by Canada and the CIA, a cyborg henchman who once worked for Hitler, tainted cocaine that makes people strong and crazy, a mutant revolutionary named La Bandera, another mutant nun named Sister Salvation with a healing touch), but the part relevant to Acts of Vengeance is that The Kingpin hired Tiger Shark to kill La Bandera for disrupting his drug trade. Wolverine intervenes and makes himself a target of Tiger Shark as well (because, as Tiger Shark frequently reminds us, he "hates heroes"). This issue and the next might be ones to skip if you're not up to investing in the full arc from #17 – #23, but the whole story is pretty compelling and worth your time if you are into the solo Wolverine vibe.
Wolverine 20
Worth Reading? If Interested
Important for Continuity? No
The Tiger Shark vs. Wolverine battle continues in the midst of a revolution inspired by La Bandera to overthrow the corrupt Central American dictator (and the battle comes to a particularly ironic end). More developments related to the tainted cocaine, Sister Salvation and ex-Nazi as well. Again, this is a tough storyline to drop into for only two issues in the middle, but the whole arc is worth reading.
Dr. Strange 11
Worth Reading? No
Important for Continuity? No
This Dr. Strange series is also REALLY hard to drop in on if you haven't been following it so far (only 11 issues in and Strange has a blue minotaur as a new apprentice, someone named Morgana is writing a tell-all book about him, and he has a long-lost, kind of undead brother who might be a vampire). The relevant Acts of Vengeance subplot is that the now-demonic Hobgoblin (see the Inferno event) attacks strange during a live TV interview about the aforementioned tell-all book. It's not a particularly interesting fight and we don't learn anything about who sent the Hobgoblin or why.
Dr. Strange 12
Worth Reading? No
Important for Continuity? No
Dr. Strange is visited by the Enchantress, who fools him with the old "Can't you see this bruise on my face from where this axe-wielding stalker hit me?" before laying her seductive kiss upon him. Amora tells Steven to meet her at the top of the Empire State building where, having been recruited by the Vengeance Conclave, she plans to drain off all of his power and add it to her own. But, Strange is not in fact enchanted and an Asgardian sorcerer versus Sorcerer Supreme bout commences with bonus appearances by Clea and someone the Enchantress has cast as Skurge, The Executioner. This issue is a little more fun and interesting, if still completely tangential to the main storyline (such as it is).
Dr. Strange 13
Worth Reading? No
Important for Continuity? No
The Enchantress is not happy about her defeat, so she summons Arkon (the guy from another dimension, Polemachus, with the lightning bolts) and traps him on Earth until he agrees to kill Dr. Strange. Arkon accepts the terms because he also decides he wants Clea, the ruler of the Dark Dimension to be his bride so he can expand his dominion. Arkon kidnaps Strange and Clea, injuring Clea in the process, and announces that he has decided to kill Strange in hand to hand combat. They slug it out and Strange loses but keeps Arkon busy long enough for Clea to wake up and banish him back to his own dimension. Pretty meh unless you are a Dr. Strange fan who has been following this series.
Moon Knight 8
Worth Reading? If Interested
Important for Continuity? No
While out on patrol, Moon Knight stumbles upon a major arms theft and finds himself wrapped up with one of The Punisher's operations. The Punisher has been tracking this operation for some time and discovered that they are part of Ultimatum (the anarcho-globalist organization once again headed by the Flag Smasher). Moon Knight agrees to help but, after getting some unfortunate informant gunned down in an effort to locate Ultimatum's base of operations, they have to regroup and devise another means of stopping Flag Smasher. Punisher and Moon Knight have a pretty good rapport so the second half of this issue gets good once he makes his appearance. Barely a mention of anything related to Acts of Vengeance, but it sets up some slight reference to it in the next issue.
Moon Knight 9
Worth Reading? If Interested
Important for Continuity? No
The Flag Smasher and Ulitmatum are going to use the ongoing, wide-ranging conflict between super-powered heroes and villains as a distraction to smuggle heavy arms to anarchists everywhere and overthrow the world's governments while everyone is distracted. Moon Knight, Punisher, and Frenchie track them down and take extreme exception to this plan in a battle that takes up pretty much the whole issue. Another pretty fun "bad cop" vs. "really bad cop" outing for Moon Knight and The Punisher and a climactic confrontation with the Flag Smasher that is completely tangential to the larger Acts of Vengeance storyline.
Iron Man 251
Worth Reading? No
Important for Continuity? No
The Wrecker is hired by The Kingpin to kill Iron Man. So there is a big crowbar versus high-tech-armored-suit battle. It's silly. And, for good measure, Chemistro, who has also been promised a bounty for killing Iron Man by The Wizard, shows up at the end. This is silly and boring and, as a bonus, has some of the worst art you'll find in a Marvel comic of this era. David Michelinie's (second) departure from the series is immediately apparent.
Iron Man 252
Worth Reading? No
Important for Continuity? No
Chemistro tries to kill Rhodey and Tony and attacks Stark Enterprises. Iron Man flies out to fight him with the help of Chemistro's little brother who originally invented the alchemy blaster that is Chemistro's main weapon. This too is silly and boring.
Amazing Spider-Man 327
Worth Reading? Yes
Important for Continuity? Somewhat
The Vengeance Conclave is alarmed by Spider-Man's continued survival and his apparent new powers. Breaking the precedent to have others do their bidding, Magneto goes to confront Spidey himself in the secret hopes that the new powers indicate some latent mutant ability, making him a potential ally in the human vs. mutant wars to come. In battling Magneto, Spidey manifests a whole variety of crazy new powers, which ultimately convinces Magneto that they cannot be from a simple mutation, ending his interest. It's a fun issue where Spidey really gets to go fully "cosmic" with his abilities.
Spectacular Spider-Man 159
Worth Reading? If Interested
Important for Continuity? Yes
The Wizard frees the Brothers Grimm from jail and promises that if they destroy Spider-Man, he will send others to take care of their old enemy Iron Man. There is a big battle in Midtown Manhattan where Madison Square Garden gets levitated into the air using the Wizard's anti-gravity discs and Spidey continues to figure out his cosmic powers. All the while, Doom monitors Spidey trying to learn more about the energy source that is responsible for the new powers and plots to find a way to make it his own. More of the same if you've been reading the "Spidey Goes Cosmic" arc, but it's probably worth your time to follow the whole storyline.
Web of Spider-Man 60
Worth Reading? Yes
Important for Continuity? Somewhat
The Kingpin sends Goliath after Spider-Man, but Goliath is no match for the now Cosmic hero. However, Dr. Doom tells Goliath he has a way to increase Goliath's power enough to defeat Spidey. The Kingpin lures Spider-Man out with a false parley, and when Goliath attacks again, he absorbs Spidey's cosmic energy and continues to grow way past his normal size. Eventually, Goliath gets too big for his heart to support, but not before Doom, who has been analyzing the energy Spidey has been putting out, learns what he needs to know to claim the power for himself. Besides the pretty entertaining battles with Goliath in this issue, Doom's extracurricular scheming outside the Vengeance Conclave is what makes the Cosmic Spidey arc pretty entertaining.
X-Men 256
Worth Reading? Yes
Important for Continuity? No
This issue begins a story involving The Mandarin, Psylocke, Wolverine, and Jubilee in Hong Kong. Other than the presence of The Mandarin, who is part of the larger Vengeance Conclave, there is no other direct relevance for the main storyline. But, these are good X-Men issues! The leader of a newly reconstituted sect of The Hand discovers an amnesiac Psylocke and he makes a deal to brainwash her into a operative for The Mandarin in exchange for future employment opportunities. This issue shows Psylocke's experience of the brainwashing and has some cool callbacks for those who have followed Betsy Braddock through the Alan Moore/Alan Davis runs of Captain Britain.
X-Men 257
Worth Reading? Yes
Important for Continuity? No
Wolverine and Jubilee, who have been separated from the rest of the team for some time, arrive in Hong Kong looking for aid from one of Wolverine's old associates, Rose Wu (who we actually meet for the first time here). Wolverine has suffered massive injuries from The Reavers and is having conversations with hallucinations of Carol Danvers and Nick Fury. However, The Hand discover Wolverine and Jubilee and send their newest assassin, The Lady Mandarin (i.e., the brainwashed Psylocke) to capture them.
X-Men 258
Worth Reading? Yes
Important for Continuity? No
The Hand turn their brainwashing techniques on Wolverine and attempt to use The Lady Mandarin to enhance the process. Things go awry and a melee erupts involving The Hand ninjas, Psylocke, Jubilee, Wolverine, The Mandarin, and, of course, psychic projections of Carol Danvers and Nick Fury. An exciting conclusion to this story arc.
Daredevil 275
Worth Reading? No
Important for Continuity? A little
Dr. Doom decides to show up the Kingpin by taking out Daredevil. Doom reconstitutes Ultron 13, but gives him the combined personalities of all previous 12 iterations. Doom's workmanship is uncharacteristically shoddy and Ultron 13 goes completely off-the-rails. He creates 100 Ultron heads and puts them on stakes in a circle in the woods. Number Nine, a woman genetically engineered to be the perfect wife (by some guy named Skip who owns a high-tech farm and meat-processing plant – no, you shouldn't ask any more questions about this) stumbles into Ultron's circle and he can't decide whether he should kill or love her, so he tries to kill her, but then changes his mind and decides to kidnap and then love her. Daredevil, who has been hanging around Skip's farm with Gorgon and Karnak of the Inhumans (again, don't ask) hear Number Nine's screams for help and, ineffectively, come to he rescue. A raving Ultron sounds kind of fun, but it really isn't after a few pages and the rest of the setup here is so crazy that you're better off just moving along.
Daredevil 276
Worth Reading? No
Important for Continuity? No
Ultron takes Number Nine to a giant hill he has built and lined with more Ultron heads. Daredevil, Gorgon, and Karnak pick themselves up off the ground and try again to rescue her. There is LOTS more of Ultron raving about love and perfection and he starts to tear himself apart because of the inner conflict between all 12 of his past personalities. He finally does enough damage to himself that our heroes manage to defeat him, but Number Nine was kind of won over by all the craziness and so secretly keeps one of the Ultron heads and vows to later revive him. I generally liked Nocenti's run on Daredevil (at least until she sent him wandering around Upstate New York on his own), but this is a pretty low point.
The Mutant Misadventures of Cloak and Dagger 9
Worth Reading? No
Important for Continuity? Somewhat
The New Jester (which assumes we should be familiar with the old Jester) is summoned by Doctor Doom and told to assemble a team of villains who have never faced the Avengers before. I cannot emphasize how poorly Jester chooses – Hydro Man, Fenris (the Strucker twins from X-Men #200), Rock (one of The Leader's henchmen), a Hulk robot, and then Cloak and Dagger (who come along reluctantly). They attack The Avengers at a public forum being held to discuss the Super Powers Registration Act (which does not win the Avengers any supporters). This is an extra-long issue for some reason so there are MANY pages of a less than exciting battle before The Avengers get the upper-hand. Thor begins to suspect who might be behind all of these unexpected attacks. Nothing in here is interesting enough to justify slogging through this issue.
Power Pack 53
Worth Reading? Yes
Important for Continuity? A little
I don't think I would have ever anticipated recommending a Power Pack issue, but here we are. Dr. Doom has hired Typhoid Mary to eliminate Power Pack. But the whole issue is structured as Mary recounting how her plan unfolded in what looks like a Psychologist's office with Doom acting in the therapist role. Using the Mary persona, Typhoid worms her way into the lives of the Power kids and then tries to undermine their family dynamic (particularly Alex's relationship with his father) to bring down the group. There are some…uncomfortable moments between Mary and Alex given his age, but things get really interesting at the end when even Doom is horrified by Typhoid's actions and she ends up turning the tables a bit on Doom himself. Another twisted but fascinating outing for Typhoid Mary.
Avengers 312
Worth Reading? Yes
Important for Continuity? Yes
A group of Avengers (East and West) have regrouped in the secret sub-basement below the old location of Avenger's Mansion (now Avengers Park). The Mysterious Powerful Figure looks on and attempts to ready the Vengeance Conclave to escalate hostilities, but things do not go smoothly. There is lots of bickering and bloviation – Red Skull gets over-the-top racist and Magneto, the holocaust survivor, is having none of it – but the Mysterious Powerful Figure manages to calm things temporarily and does some more monologuing about his larger schemes, dropping a major hint as to his own identity. Meanwhile, Avalanche, Pyro, and The Blob – operating independently because Freedom Force is on a hiatus (see X-Men #255) – show up at Avengers Park and start a brawl. This foments additional civil unrest and damage to super-heroes' reputations. Not an essential issue, but the battle is pretty compelling and it set up some things that pay off later.
Captain America 367
Worth Reading? Yes
Important for Continuity? Yes
Magneto, apparently still not over his conflict with The Red Skull goes to confront the Skull in his office. Skull plays the whole "we are much alike" game and points out they both are trying to secure the world for their respective "master race", and that's it for Magneto. Red Skull flees for his life and Magneto comes tearing after him. Meanwhile, Cap has revived Yhe Submariner from his Controller-induced stupor and learned about the possible existence of the Vengeance Conclave because the Mysterious Powerful Figure mistakenly tried to recruit Namor way back at the beginning of this whole thing. Cap heads to The Red Skulls' last known location and arrives shortly after Magneto. He subdues The Controller but is not able to catch up with the Skull and is left wondering who caused the trail of destruction. This issue is worth it for the Magneto versus Skull conflict alone.
Punisher 28
Worth Reading? Yes
Important for Continuity? Somewhat
I'm actually not the biggest Punisher fan, but these were fun issues. Doom mocks Kingpin as a common criminal who can't even handle someone like Daredevil or The Punisher, and then says that he'll kill Punisher within the week just to show the Kingpin up. Doom lures Punisher with a fake weapons sale and then tries to get rid of him with a Doombot and some henchmen, but the Punisher gets away. Realizing he's not going to be able to run, Punisher decides to take the fight to Doom and travels with his equipment supplier Microchip to Latveria where he infiltrates Doom's castle. But, Punisher is captured by Kristoff (the "imposter" currently ruling Latveria) who doesn't kill him right away because he wants to hear more about the "renegade Doom robot" who went after Punisher back in New York. Lots of good Doom in this issue and the Punisher and Kristoff interactions are amusing too.
Punisher 29
Worth Reading? Yes
Important for Continuity? Somewhat
The Punisher doesn't trust Kristoff's story about the renegade Doom bot, so he decides to break out of the castle. But, before he fights his way out, he steals a painting of Doom's parents that Kristoff has called his "prized possession". While Punisher and Microchip travel back to the US, The Kingpin and Doom verbally spar some more and try to boast about their villainous achievements. As soon as he gets back to New York, Punisher puts Doom's prized painting on the top of his van and drives around trying to get Doom's attention. When Doom shows up, Punisher offers to return the painting of Doom stops the vendetta against him. Doom agrees knowing that Kristoff will be angry and probably still target Punisher in the future. Not as good as the previous issue, but still fun for the Doom and Kingpin interactions.
Punisher War Journal 12
Worth Reading? If Interested
Important for Continuity? A little
OK, this set of Punisher issues is unquestionably better than the previous set. However, whereas the Baron/Reinhold "Punisher" is often goofy, the Potts/Lee "Punisher War Journal" is gritty, violent, and brutal. This may understandably turn you away from the latter series, but I have to sheepishly say that, at least for these two issues, it made the story way more compelling. The premise for the issues is just that the standoff between Doom and The Kingpin continues and now it's Kingpin's turn to show he can eliminate The Punisher. He hires Bushwacker – an ex-priest, ex-CIA assassin who now works for The Marauders killing mutants and has shown up in Daredevil – to do the job. This first issue shows you The Punisher and Bushwacker simultaneously at work and forces you to ask yourself how can you root for one and be horrified by the other. It's a bit on the nose (Bushwacker actually says the line "Art should reveal truth through contrast…") and it undermines its central message by continuing to revel in the brutality, but I was pleasantly surprised by how unsparingly it forces the reader to reckon with their own (presumed) enjoyment of the action. But, again, you might reasonably choose to spare yourself such conflict by giving the whole thing a pass.
Punisher War Journal 13
Worth Reading? If Interested
Important for Continuity? A little
The second issue focuses almost solely on the conflict between The Punisher and Bushwacker, but it still uses Bushwacker's wife to model the horror that you, the reader, should feel at the spectacle ("You don't solve anything with violence! Violence breeds violence…I never saw you work before, it's disgusting!"). It's kind of incredible how much it almost seems like the creators have contempt for the people who are loving what they are showing them, while, of course at the same time they are continuing to gleefully show it to them. But they never blink. The Punisher never shows just a little bit of sympathy or humanity (his response to Bushwacker's wife is "You live with and abet and assassin for hire. You're no angel."). Again, I found this really compelling (and Jim Lee's art really elevates and heightens the action) even as it affirmed my general distaste for The Punisher as a character (just as the creators intended!), but I strongly suspect that people's mileage may vary.
Avengers Spotlight (not in Marvel Unlimited) 28
Worth Reading? If Interested
Important for Continuity? Somewhat
The "A" story is that Hawkeye and Mockingbird appear to have gone on a crime spree in Denver. Surprise (but actually not at all a surprise), it's not really them! The genuine Hawkeye and Mockingbird show up and catch Screaming Mimi and Angmar the Screamer, who somehow managed to combine their two abilities to create a sonic illusion they were someone else, and send them back to The Vault. This is pretty dumb. In the "B" story, the Mysterious Powerful Figure shows up in the cell of The Mad Thinker. The Thinker had apparently been offered a role in the Vengeance Conclave at the beginning, but said he had to think about it (of course). The Thinker tells the Mysterious Stranger that he's going to sit this one out because he calculates the odds of success are low (and he drops another big hint about who the stranger actually is). But The Thinker does not plan to sit idle, because he has also calculated that if the Super Powers Registration Act passes, it will make life difficult for him, so he arranges for Gargantua to attack a rally that The Wasp and Wonder Man are attending. They defeat Gargantua and are then able to make an impassioned speech about why Superheroes are a force for good must be allowed to act without oversight. The part with Wasp and Wonder Man isn't particularly good, but the Mad Thinker plotline is interesting enough that you might want to check it out.
Amazing Spider-Man 328
Worth Reading? Yes
Important for Continuity? Somewhat
Sebastian Shaw is contracted by the Vengeance Conclave to destroy Spider-Man in return for them taking out the inner circle of the Hellfire Club (which includes Magneto, who is part of the Conclave, so this actually doesn't make any sense). Shaw flies to the desert and offers to pay The Hulk to do the job for him. The Hulk goes a couple of rounds with Cosmic Spidey, gets the worst of it (he literally gets punched into low Earth orbit), and decides that the money isn't worth it. Spidey is left even more freaked out by his powers, and Shaw is left a bit freaked out by the threat that Spidey poses. McFarlane drawing Spider-Man and The Hulk at the same time makes for a great issue.
Spectacular Spider-Man 160
Worth Reading? If Interested
Important for Continuity? Somewhat
Doom excavates the remains of T.E.S.S., a robot designed by the government back in WWII to kill Super Soldiers in case they ever got out of hand, from the New York Harbor. He fixes T.E.S.S. up, tells him Spider-Man is a super-soldier and sends him off. Kingpin and the Mysterious Powerful Figure confront Doom about his extracurricular activities and seeming obsession with Spidey's new cosmic powers. After Spidey effortlessly defeats Hydro Man, The Rhino, and The Shocker all at the same time, T.E.S.S. catches up with him. Their battle causes much property damage and puts lots of people in danger, and they are not shy about letting Spider-Man know about it. Finally, Spidey snaps and really lets loose, destroying T.E.S.S., but also terrifying everyone around him. Doom then later salvages T.E.S.S.'s head which has absorbed some of Spidey's cosmic energy and which Doom hopes to use to gather that power for himself. Another solid, if not actually spectacular (see what i did there?) entry in the "Cosmic Spidey" arc.
Web of Spider-Man 61
Worth Reading? If Interested
Important for Continuity? Somewhat
Distraught about how his new powers have turned the public against him, Spider-Man hurls his mask of the top of the Empire State building, where The Wizard, who happens to be flying by, catches it. When The Wizard brings it back to the Vengeance Conclave, they laugh at him, but he gives the mask to Dragon Man and tells him to track Spidey down like a bloodhound. Dragon Man finds Peter Parker in the subway and a large battle again causes massive damage before Spidey can subdue Dragon Man. But this time, everyone hails Spidey as a hero for saving their lives, and HE'S BACK! Meanwhile, Doom is ready to power himself up with the energy he siphoned from T.E.S.S., but the Mysterious Powerful Figure gets wind of it and causes a malfunction leaving Doom angry and confused. Not as strong as issue as most of the others in this storyline, but probably worth it to have read all of Cosmic Spidey.
Moon Knight 10
Worth Reading? No
Important for Continuity? No
Moon Knight is patrolling the city and just trying to save civilians from the wreckage caused by all of the super-powered battles engulfing New York. The Killer Shrike, Coachwhip, and The New Ringer show up looking to get in on the action, but run into Moon Knight. Moon Knight is a bit outclassed by actual super villains (except for The Ringer, who everyone rightfully treats as a joke), but he and Frenchie manage to fight them off (with an assist from a rescued civilian). Nothing particularly special or interesting happens here unless (a) you are a big fan of Frenchie or (b) you want a pretty poorly handled depiction of an attempted suicide and its aftermath.
Alpha Flight 79
Worth Reading? No
Important for Continuity? A little
Supervillains are fleeing America ahead of the possible passage of the Super Powers Registration Act. Talisman learns that the are being lured to Canada by The Sorcerer who is trying to use them to open the Gateway of the Night. To stop The Sorcerer, Alpha Flight must stop the super-villains from convening in Winnipeg. Talisman sends Vindicator to stop Nekra and Diamond Lil to stop The Scorpion. Neither do a particularly effective job, and, apparently, Alpha Flight has been banned from fighting crime in Canada, so the newly promoted Gamma Flight mobilizes to arrest them. All of this will be pretty meaningless to anyone except hard core Alpha Flight fans.
Alpha Flight 80
Worth Reading? No
Important for Continuity? No
Two more super-villains, The Owl and The Asp, also cross the border and head for Winnipeg. They join the melee along with the remaining members of Alpha Flight and Gamma Flight, The bad guys all seem to be driven on by The Sorcerer, and Gamma Flight manages to cut the link, subduing the criminals. But, then the conflict between Alpha and Gamma Flight is set to begin as The Sorcerer cackles because the violence allows him to open the Gateway of the Night. Again, this is not interesting to anyone who is not religiously following Alpha Flight.
Fantastic Four 335
Worth Reading? If Interested
Important for Continuity? Somewhat
True to its focus on the FF's testimony in Washington D. C. about the Super Powers Registration Act, this issue is kind of like watching CSPAN. There are long periods of ideological speechifying about whether registering heroes is like registering guns or mutants and whether the possible costs outweigh the benefits, broken up occasionally by short periods of something that looks like it might be exciting, but actually turns out to be pretty disappointing (which in this case are a series of minor supervillains – Ramrod! Plantman! The Quill! Flying Tiger! Vanisher! Thunderball! The Eel! Mad Dog! – jumping up in a zombified sort of way and trying to assassinate the FF). Reed finally discovers a mysterious electronic device that seems to be spurring the attacks, but is then accused by one of the Congressmen of setting the whole thing up in an attempt to prove superheroes' worth. If you counted the relevant panels, you'd probably find that Simonson gives more time to legal arguments about the registration act than he does to superheroes doing things, so your enjoyment of this will depend on whether your interests are similarly aligned.
Fantastic Four 336
Worth Reading? If Interested
Important for Continuity? Somewhat
This issue follows pretty much the same course as the previous one. Two thirds of it is a detailed discussion of the logic and ethics of a Super Powers Registration Act (this time all of the action created by the mysterious device, which was apparently not properly shut off, actually takes place completely out of sight). Reed makes a much better argument in this outing than he does at the trial of Galactus (seriously, he makes a clear case that you cannot effectively make a legislative category out of what is in reality a continuum!) and convinces Congress to table the act. But, in the last third, the original foursome of the FF (Ben gets his Thing exo-suit out of mothballs) track down the maker of the mysterious device who is, of course, Doom. But, again, of course, it is not really Doom, but a Doombot that springs a trap forcing the FF to face the Super-Adaptoid, who they defeat in a page or so. In this issue too, it's pretty clear that Simonson is way more interested in the legislative drama than anything else, so you should gauge your own interest accordingly.
Quasar 6
Worth Reading? No
Important for Continuity? A little
Quasar gets called in by Peggy Carter (who is now working for the Avengers under Captain America) to help round up various Vault escapees. He makes short work of Venom and Klaw, but the Living Laser escapes him by fleeing to the Moon. Quasar pursues him, but is unable to stop LL from infiltrating the Watcher's home and jumping into what appears to be another world or dimension. While on the Moon, Quasar also encounters the Red Ghost and subdues him as well, bringing him back to Earth. This is not a compelling issue or series so far, although I still cannot get over that the hugely important Cosmic Being that gave the original Captain Marvel his "cosmic awareness" just chills out in Quasar's closet.
Avengers West Coast 54
Worth Reading? Yes
Important for Continuity? Yes
Iron Man, Wonder Man, The Original Human Torch, and U. S. Agent head to downtown L.A. in search of the U-Foes, but are quickly distracted by the fact that The Mole Man has sent Giganto and Tricephalous (giant beasts from FF #1!) to destroy The Avengers. Iron Man and U.S. Agent tangle with Giganto. Tricephalous gets further inland where he meets The Wasp, Hank Pym, and a comatose (again) Scarlet Witch. Wonder Man and Torch go in search of where the beasts came from and run into the Mole Man himself. They learn that Mole Man believes that The Avengers attacked him, but they convince him otherwise and he recalls the beasts. Meeting back at Avengers West Coast headquarters, everyone compares notes and finally figures out that all of the increase in supervillain activity may seem random but that everything points to the fact that someone is out to destroy The Avengers. The overall story is fine, but if you are a long time Marvel Comics fan, it's cool to see the call-backs to where it all began in FF #1.
Avengers 313
Worth Reading? Yes
Important for Continuity? Yes
In the aftermath of the renegade Freedom Force members' attack on the Avengers, The Mandarin decides to get directly involved himself and begins to wreak havoc at Avengers Park. The Wizard seeing the Mandarin leave and chooses to follow him, only to get caught up in the battle when The Avengers (who were off still salvaging what they could from the remains of Hydrobase) respond. This evokes much disain from The Kingpin, Doom, and The Red Skull (in a curious bit of continuity because, when we last saw Red Skull, Magneto left him quite indisposed), who fall to bickering amongst themselves. The Avengers drive off The Mandarin and capture The Wizard hoping to question him about the identity about the mastermind behind all of these attacks. In watching this from afar, the Mysterious Powerful Stranger all but reveals who he really is. In still another crucial development, Magneto descends upon the Avengers West Coast compound, lures Agatha Harkness out of the house where she is watching over a comatose Wanda, and then blasts the house into outer space for some father-daughter time. Pretty good issue overall, and things are definitely coming to a climax.
X-Factor (Not in Marvel Unlimited) 49-50
Worth Reading? Yes
Important for Continuity? Yes
Welcome those of you who didn't choose to read these issues earlier! They are actually part of an 8-part storyline in which X-Factor is not even on Earth (and which somehow manages to be both the best Celestial story and the best X-Factor story Marvel has done to date). But in the final page of #49 and the final six pages of the double-sized #50, the Mysterious Powerful Stranger visits Apocalypse and tries to recruit him to participate in the Acts of Vengeance. Apocalypse is not particularly interested and forces the Stranger to reveal his true identity! These tie-in pages are definitely worth reading if you are into the full continuity, and it is really bizarre that (a) Marvel put this big reveal in a somewhat random tie-in (although, frankly, it wasn't something particularly hard to guess and they dropped lots of hints along the way), and (b) these issues are not included in Marvel Unlimited.
Avengers West Coast 55
Worth Reading? Yes
Important for Continuity? Yes
Thor figures it out! Although it has probably been obvious to most readers for some time, Thor deduces that (spoiler for a 31-year-old story) Loki is the one orchestrating the Acts of Vengeance because he is apparently still salty about accidentally bringing the Avengers together in the first place. The Vengenace Conclave discovers this as well when Loki drops his subservient advisor routine and erupts at them when The Wizard accidentally leads a diverse array of Avengers back to the safe room and initiates the final confrontation. Elsewhere, Wonderman and U.S. Agent pursue Wanda into space to challenge Magneto and set off another important Avengers storyline. This issue too is only pretty good, but worth reading for the conclusion to all of the events set in motion (not to mention Kingpin's reaction to the Loki reveal).
Avengers Spotlight (not in Marvel Unlimited) 29
Worth Reading? If Interested
Important for Continuity? Somewhat
The "A" story is a really lame outing with Hawkeye and Madcap. The "B" story is an epilogue with Iron Man back at The Vault to oversee the return of all the super-villains captured (or re-captured) during Acts of Vengeance. Klaw sneaks in and manages to free The Wizard. Thankfully, Iron Man has redesigned the Guardian armor to be more powerful again (but tethered the power supply so that they can't be used outside The Vault to prevent another Armor Wars) and he has plenty of help subduing The Wizard. Not essential reading, but brings the story full circle.
Damage Control Vol. 2 2
Worth Reading? If Interested
Important for Continuity? A little
Still farcical take on the company that is now in crisis mode because of all the extra damage to New York caused by Acts of Vengeance. On top of that, Carlton Company has bought D.C. and is slashing the budget while work crews are trying to fish Avenger's Mansion out of the bay and The Punisher suspects that The Kingpin is funding the whole operation. Pretty breezy and amusing if you've liked what you've read of this series previously.
Damage Control Vol. 2 3
Worth Reading? If Interested
Important for Continuity? A little
The crisis deepens now that D.C.'s workers are on strike because of the budget cuts and a favor is called-in to She Hulk to help fix the Daily Bugle building (badly damaged in ASM #326). Things go awry when a disgruntled former worker gets involved and Speedball must come to the rescue. This issue features a solid send-up of "Sensational She-Hulk" if you've been reading that series.
Damage Control Vol. 2 4
Worth Reading? If Interested
Important for Continuity? A little
The D.C. executives bring in Nick Fury and S.H.E.I.L.D. to help convince Carlton Company to sell D.C. back to its original owners. Meanwhile, the striking workers agree to suspend their strike in order to help Captain America rescue people from a collapsing building and The Punisher decides not to kill anybody today. Probably the least amusing of the series, but still fine overall.
Quasar 7
Worth Reading? If Interested
Important for Continuity? No
This isn't an official Acts of Vengeance tie-in, but it does cross over with the "Cosmic Spidey" storyline, so you might want to check it out if you want to read all of that. Quasar is monitoring the presence of all aliens currently on Earth and is getting strange signals, which he figures out are coming from Spidey. Spidey is prickly about talking with Quasar and there are some skirmishes, but the two come together in order to battle Terminus, the 150-foot tall, world-ravaging alien who destroyed the Savage Land back in Avengers #257. Quasar is still mostly weird and lame, but, as I said at the outset, I am a sucker for Cosmic Spidey.
Amazing Spider-Man 329
Worth Reading? Yes
Important for Continuity? Somewhat
This issue is something of an epilogue to Acts of Vengeance and the conclusion of the Cosmic Spidey storyline. Sebastian Shaw is still concerned with the extra power Spider-Man showed while defeating The Hulk, who Shaw hired earlier to kill Spidey. Shaw connects the experiments of a scientist at Empire State University to the onset of Spidey's new powers and he "convinces" this scientist to blast Spidey with another dose of the energy in the hopes of taking the powers away. However, instead, this allows Spidey to understand that he has been chosen by the Enigma Force to become Captain Universe so that he can combat a looming and dire threat to the Earth. This threat turns out to be the Tri-Sentinel, which came to be when Loki, sour from his defeat, used his powers to merge three Sentinel prototypes Shaw created and sent them to cause a meltdown at a nuclear reactor on Long Island. Spidey defeats the threat and the Enigma Force is released returning him to your simple friendly neighborhood Spider-Man once again. At this point Captain Universe is a little seen hero with a few appearances in Marvel Spotlight and Micronauts, so this was a pretty weird choice, but it still ends up being a fine conclusion to the story.
Web of Spider-Man 64
Worth Reading? Yes
Important for Continuity? A little
Surprise, there's actually another epilogue to Spider-Man's Acts of Vengeance storyline! Titania, The Trapster, and The Brothers Grimm (all of whom were defeated by Cosmic Spidey) are all on their way back to The Vault, when Graviton (who also recently got a taste of the cosmic powers) frees them. He takes them all to The Chameleon, who has also recruited Goliath himself, and he offers everyone a large cash reward for killing Spider-Man. They are happy to do so now that he is no longer cosmically powered and so they go back to the same plan they've used twice before and attack the Daily Bugle. Hard to blame them, because this works to draw Spider-Man out once again. Spidey holds his own even without cosmic powers until Graviton asserts himself and rockets Spidey into the atmosphere, leaving him for dead. Again, not an essential issue by any means, but a good story and good action if you've been enjoying this particular run of Spider-Man issues.
Web of Spider-Man 65
Worth Reading? Yes
Important for Continuity? A little
Surprise again, Spider-Man is does not die and manages to save himself. Meanwhile, the villains go to collect from The Chameleon, but he appears to have double-crossed them and planted a false note making it seem like The Kingpin was in on it. The villains head off to confront Kingpin before Spidey intercepts them and the battle begins anew. This time, Spidey manages to triumph, leaving the Kingpin puzzlingly grateful. As with the last issue, this one is another fun entry in the larger story arc if not particularly outstanding on its own.
Avengers Annual 19
Worth Reading? No
Important for Continuity? Somewhat
In one more (completely unnecessary) epilogue, there is a short feature at the end of this annual in which The Avengers get a quick tour of the almost completed construction of the new Avengers mansion. The workers panic because they know that whenever superheroes are around there is a fight and don't want to have to rebuild everything yet again. So, when the workers see Plantman, Water Wizard, Stiltman, and finally The Wrecker planning to make trouble, they spring into action and take out the bad guys themselves before any real fighting can begin. It's as silly as it sounds.
Heroically Support Comic Book Herald!
If you like Comic Book Herald, and are able to donate, any small contribution will help keep CBH alive and full of new comics guides and content. Donate here! Or, support CBH on Patreon for exclusive rewards! Or you can even check out the CBH Merch store and get something nice with a small portion benefiting the site! Thank you for reading!