Marvel's 'Acts of Vengeance' is nearly the publisher's first linewide crossover event (different from crossovers like Atlantis Attacks or Evolutionary War that stuck to Annual issues), applying a never before seen super villain team-up to all Marvel Comics from late 1989 into early 1990.
Unlike later Marvel events, there isn't much to the core story of 'Acts of Vengeance,' but instead it's a conceptual look at Marvel heroes versus villains they hadn't faced before, or that typically fell out side their rogues gallery. So for example, we see Spider-Man vs. Graviton, Daredevil vs. Ultron, and the Incredible Hulk vs. the Grey Gargoyle.
There is a fair amount of flexibility with Acts of Vengeance, as the stories often stand alone, simply tied together by the villains conspiring against the heroes. In many ways, Acts of Vengeance is the spiritual predecessor to Marvel's Dark Reign.
Acts of Vengeance Trade Reading Order
Acts of Vengeance Omnibus
Acts of Vengeance Crossovers
If you're looking to collect Acts of Vengeance, only omnibus editions are available as of 2016.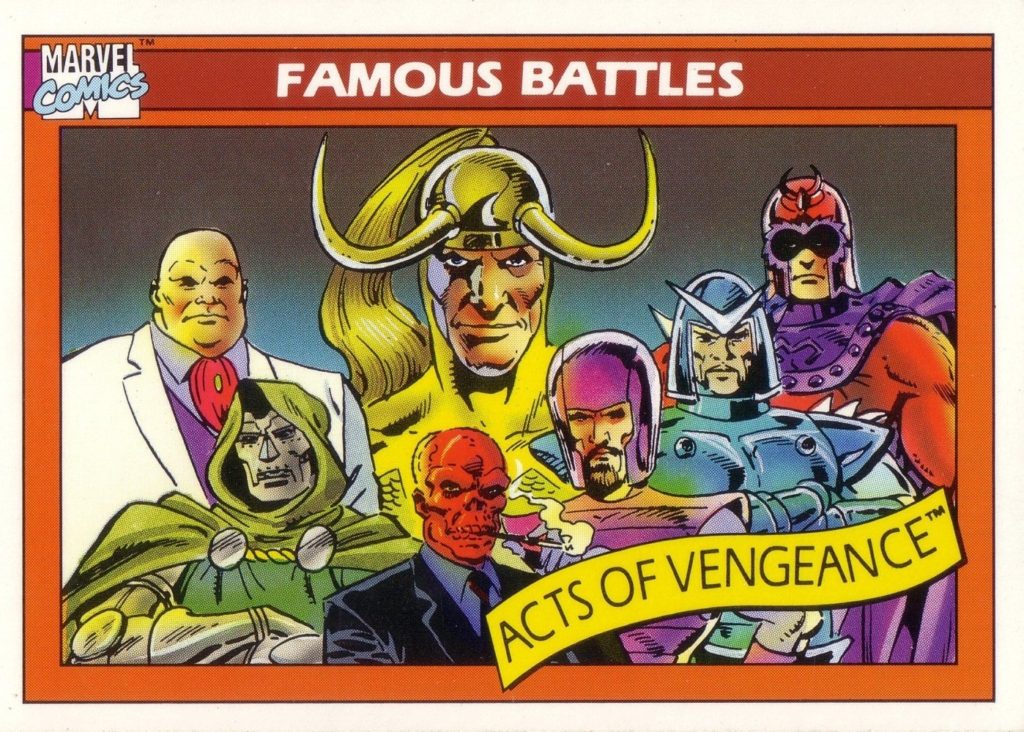 Acts of Vengeance Issue by Issue Reading Order
Note that the reading order below is based on comics available in Marvel Unlimited as of August 2016. I've bolded and italicized the most essential issues like so.
Iron Man #250
This 'Acts of Vengeance' labeled issue actually fits in best with the Iron Man and Doctor Doom Camelot trilogy, and will make more sense if you've also read Iron Man #149 to #150.
Thor #410
Avengers #311
Captain America #365 to #366
Thor #411 to #412
Fantastic Four #334
Wolverine #19 to #20
Amazing Spider-Man #326
Spectacular Spider-Man #158
Web of Spider-Man #59
Uncanny X-Men #256 to #258
Uncanny X-Men is less essential to Acts of Vengeance, but represents some substantial changes for the X-Men.
Hulk #363
Amazing Spider-Man #327 to #328
Fantastic Four #335 to #336
Iron Man #251 to #252
Daredevil #275 to #276
Avengers #312
Web of Spider-Man #61
Captain America #367
Avengers West Coast #54
Avengers #313
Avengers West Coast #55