Like the comic book adaptation of a certain God of Thunder, Marvel delves back into Norse mythology for a long-standing female protagonist: Valkyrie.
By comparison, though, Thor's saga is far more straightforward. And this is despite its great many twists, turns and occasional mortal alter egos- something at which our "Sword Girl" friend also excels.
However, the Odinson's district advantage has always been his solo series and the additional pages it affords in fleshing out his character. For better or worse, Valkyrie is historically a team player, always written as part of an ensemble cast and rarely striking out on her own solo endeavors.
That's all changing now as fan-favorite former Thor inherits the mantle in a new ongoing title, Valkyrie: Jane Foster by co-writers Jason Aaron and Al Ewing. It doesn't hurt that the Valkyrie character is also met with quite a favorable reinvention courtesy of Tessa Thompson's portrayal in the MCU.
All the same, after nearly fifty years, this spotlight is due.
Support For Comic Book Herald:
Comic Book Herald is reader-supported. When you buy through links on our site, we may earn a qualifying affiliate commission.
Comic Book Herald's reading orders and guides are also made possible by reader support on Patreon, and generous reader donations.
Any size contribution will help keep CBH alive and full of new comics guides and content. Support CBH on Patreon for exclusive rewards, or Donate here! Thank you for reading!
So, grab a shield and big ol 'horned helmet and let's hear tales of the Valkyrie through the ages!
Related Reading Orders:

Asgard, The Mythic Valkyrior and Days of Ragnaroks Past (Related Reading)
Although it's true that the Marvel Age interpretation of the old Norse myths actually begins with Thor's 1962 Journey Into Mystery introduction, there have been truckloads of retcon stories and "period pieces" since establishing that the Asgardians and their ilk have existed for a loooong time before that. And that's just in this current life-cycle.
By utilizing the actual Norse concept of "Ragnarok", Marvel's Asgardians have apparently lived and died countless times over. Of course, comic book material coming from this notion yields bolder, more adventurous stories not necessarily beholden to any sort of prescripted canon- as they can easily be chalked up to simply being from "another age." A great example of this is a series of one-shots by writer Matt Fraction and company entitled Thor: Ages of Thunder
.
Through all of this, Valkyrie's role has remained consistent- serving as Odin's shield-maiden and ferrying the honorable deceased from the battlefields to the golden halls of Valhalla. Although typically one of a whole gang (collectively known as "The Valkyrior"), the break-out of this pack is the blonde-haired, six-foot-something Brunnhilde- otherwise affectionately referred to by mortals as "Val".
Collects: Thor: Son of Asgard (2004) #1-12
For the glory of Asgard- tales of Young Thor and days of yore! Featuring Brunnhilde and the Valkyrior among the realm eternal's pantheon!
Thor: Ages of Thunder – Collection
Collects: Thor: Ages of Thunder (2008) #1, Thor: Reign of Blood (2008) #1, Thor: Man of War (2008) #1, Thor God-Sized Special (2008) #1
Matt Fraction and company give Asgard a Led Zeppelin-infused makeover that paves it own continuity!
Collects: Thor: For Asgard (2010) #1-6
Another collection of outside-the-box Marvel-approved Norse reinterpretations by Robert Rodi and Simone Bianchi

Bronze Age Valkyrie: The Defenders and More!
Valkyrie has probably one of the strangest character introductions ever. And in the world of comics, that is saying something…
While first appearing in a 1970 Avengers story by Roy Thomas, John Buscema and Tom Palmer, the Valkyrie debuting within the issue is in actuality Asgardian sorceress, Amora the Enchantress, in disguise. Under this altered visage, the longtime Avengers foe is attempting to lure the team's female members away to join her new organization, the Lady Liberators. Curiously, for all the issue's "on its sleeve" progressive social commentary, Thomas still lets loose with epithets like "wench" in the dialogue, so take that grain of salt with your "Okay, Boomer."
All the same, it seems Thomas and the Bronze Age Bullpen are into the concept of their latest creation- they just don't quite know what to do with her yet. 
Some months later, Amora and her Valkyrie "golem" schtick resurface in the pages of Incredible Hulk. A protest socialite and straight-up Lindsay Bluth progenitor named Samanatha Parrington is temporarily the Enchantress's catspaw and given Val's powers and likeness all just because the Hulk cannot catch a break. For those keeping score, this whole incident occurs in Issue #142, the numerical designation a certain "scrapper" is known by in the big-screen Thor: Ragnarok. Coincidence?
The last piece of this origin puzzle is Barbara Norriss. Norriss and her husband Jack belong to a cult that worships the demonic Undying Ones. In a supernatural adventure involving the Hulk and Dr. Strange, Barbara is trapped in another dimension. When the Defenders officially become a team (despite "non-team" proclamations), they quickly pick up on this dangling plotline and free Barbara. Amora gets involved in the very next issue and gives her the Valkyrie makeover.
Except, it's not so much that Barbara becomes the Valkyrie as the "essence" of Brunnhilde now possesses a mortal vessel. In this, it is very much in the vein of the Thor/ Dr. Donald Blake dynamic. 
All the while, Jack Norriss is trying to convince his wife to come and sadly just not getting the hint.
As the "big gun" Defenders come and go in revolving-door fashion, Val serves as a constant anchor and is the only member of the team to appear in every subsequent issue of the original volume. In terms of ever-changing team book rosters, it's a feat to which few other characters can truly attest.
Collects: Avengers (1963) #80-88, Incredible Hulk (1962) #140
The Valkyrie makes her debut in Avengers #83… or does she???
Incredible Hulk Masterworks Vol. 6
Collects: Incredible Hulk (1962) #122-134
Cult member and future Valkyrie host Barbara Norriss first appears in Incredible Hulk #125- an adventure guest-starring Dr. Strange and a prelude to the Defenders!
Incredible Hulk Masterworks Vol. 7
Collects: Incredible Hulk (1962) #135-144, Avengers (1963) #88, Marvel Super-Heroes (1967) #16
Another host, Samantha Parrington, makes her debut as the Asgardian Enchantress's pawn when the Valkyrie returns in Issue #142!
Collects: Sub-Mariner (1968) #34-35, Marvel Feature (1971) #1-3, Defenders (1972) #1-6
Barbara Norriss is bonded to the spirit of Brunnhilde, becomes the heroic Valkyrie and joins the non-team all in Defenders #4!
Collects: Defenders (1972) #7-16, Giant-Size Defenders (1974) #1, Avengers (1963) #115-118
Featuring Val versus the Swordsman in the classic Avengers-Defenders War!
Collects: Defenders (1972) #17-21, Giant-Size Defenders (1974) #2-4, Marvel Two-In-One (1974) #6-7, Material from Mystery Tales (1952) #21, World Of Fantasy (1956) #11 & Tales Of Suspense (1959) #9
Val and the gang team-up with Luke Cage, the Thing and others in this volume- also featuring creative contributions from Steve Gerber, Chris Claremont, Jim Starlin and more!
Collects: Defenders (1972) #22-30, Giant-Size Defenders (1974) #5, Marvel Super-Heroes (1967) #18
Valkyrie and the Defenders have a time-traveling team-up adventure with the 31st Century Guardians of the Galaxy!
Collects: Defenders (1972) #31-41, Defenders Annual (1976) #1, Marvel Treasury Edition (1974) #12
The classic "Gerber era" Defenders concludes as Val and team encounter everything from Elf With A Gun to Howard The Duck!
Incredible Hulk Masterworks Vol. 12
Collects: Incredible Hulk (1962) #197-209, Incredible Hulk Annual (1976) #5
Featuring Val and the Defenders guest-starring in a two-parter as the Hulk rages over the death of Jarella!
Collects: Defenders (1972) #42-57, Material from FOOM (1973) #19
Val's white and gold costume first appears in Issue #47!
Collects: Thor (1966) #291-302, Marvel Treasury Edition (1974) #24, 26
In a hitherto unremembered past life, Thor and Brunnhilde were apparently once lovers?! Based on Wagnerian opera and adapted by Roy Thomas and company to incorporate the Celestials.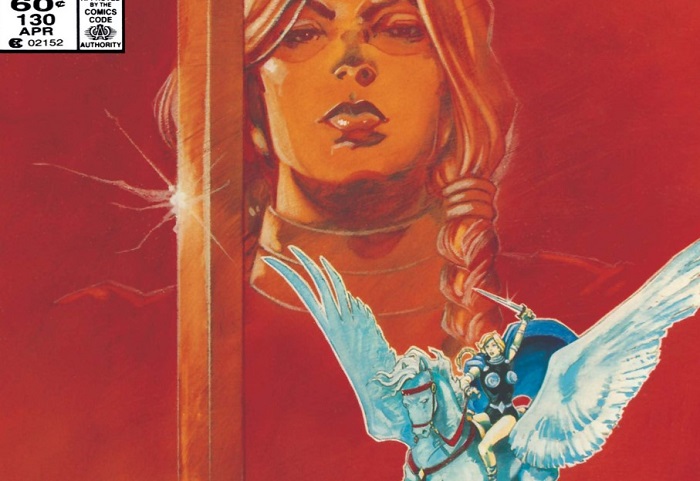 The 1980s: New Defenders, the Dragon's Circle and Dani Moonstar
After wrestling with the whole "mortal duality" routine for a decade, Val finally has it out with Amora and fully takes back the streets of her life. In a three-part 1982 Defenders story, writers J.M. DeMatteis and Mark Gruenwald explain away that, centuries ago, Amora had captured Brunnhilde and magically imprisoned her inside a sorcerous bauble known as the Globe of Souls. It is through wielding the Globe that the Enchantress is able to empower her proxies and for a time she becomes trapped within it as well. Delicious irony served.   
Around this time, the blue-furred Beast joins the Defenders fresh from a stint with the Avengers and slowly tries to soft reboot the non-team into something more like the Avengers as "The New Defenders". Adding to this flavor is once-upon-a-time provisional Avenger turned patricidal anti-hero, the cosmic mentalist Moondragon. In the spirit of "reluctant buddy" team-ups, Val is ordered by Odin to serve as some sort of superhero halfway house parole officer and oversee Moony's rehabilitation.
When Moondragon experiences her own version of a Dark Phoenix meltdown (because who didn't see that happening), Val is among a handful of allies who undergo a supernatural ritual to avert cosmic disaster. With this sacrifice, the first run of Defenders grinds to a conclusion.
However, this is comics and death is never the end.
Val and her trio of allies continue to exist as sort of disembodied spirits, briefly go by the moniker of the Dragon's Circle and serve as recurring support characters in Dr. Strange's various outings throughout the late 1980s.
Eventually, she returns to corporeal form in another host body, Sian Bowen. However, it's an angle soon dropped.
Also during the '80s, Chris Claremont's stories in Uncanny X-Men and New Mutants often see his protagonists taking on obligations above and beyond their regular team duties. A prime example is Storm's additional leadership role with the underground Morlocks. In that spirit, illusion-casting junior team member Dani Moonstar becomes an honorary member of the Valkyrior during an X-adventure to Asgard. It's a game-changing moment that still informs the character to this day.
Defenders Epic Collection: The Six-Fingered Hand Saga
Collects: Defenders (1972) #92-109, Marvel Team-Up (1972) #101, Captain America (1968) #268
Featuring a stand-off against the Enchantress and the long-awaited resolution to Val's Asgardian identity!
Defenders Epic Collection: Ashes, Ashes…
Collects: Defenders (1972) #110-125, Avengers Annual (1967) #11
It's not exactly the "all-romance" edition but this collection does feature Val making out with Namor The Sub-Mariner and also a wedding!
Defenders Epic Collection: The New Defenders
Collects: Defenders (1972) #126-137, Iceman (1984) #1-4, Beauty and The Beast (1984) #1-4
By Odin's decree, Brunnhilde is to mentor loose-cannon telepath, Moondragon, into proper heroic humility! Welcome, to the New Defenders…
Defenders Epic Collection: The End Of All Songs
Collects: Defenders (1972) #138-152, Gargoyle (1985) #1-4
Val and others seemingly make a sacrificial final stand against an out of control Moondragon!
Uncanny X-Men Masterworks Vol. 12
Collects: Uncanny X-Men (1963) #194-200, Uncanny X-Men Annual (1970) #9, New Mutants Special Edition (1985) #1, Nightcrawler (1985) #1-4, Material from Bizarre Adventures (1981) #27
Loki tempts Storm with the powers of Thor while Mirage joins the Valkyrior in the fan-fave New Mutants Special Edition/Uncanny X-Men Annual crossover!
Collects: Strange Tales (1987) #1-19 (Dr. Strange stories); Cloak & Dagger story from #7
The Valkyrie and the other fallen resurrect as the mystical Dragon's Circle in Issue #5
Doctor Strange Epic Collection: Triumph And Torment
Collects: Doctor Strange, Sorcerer Supreme (1988) #1-13, Marvel Graphic Novel: Doctor Strange and Doctor Doom – Triumph and Torment (1989)
Val takes on a new human host in Issue #3 for a rematch with the evil Dragon of the Moon!
New Mutants Epic Collection: Curse Of The Valkyries
Collects: X-Terminators (1988) #1-4, New Mutants (1983) #71-85
As a part-time Valkyrie, Dani Moonstar is used as a pawn against her teammates by death godess Hela in an Asgardian adventure arc!

The '90s through Early 2000s: From Heroic Return to Modern Day Ragnarok
Despite her resurrection, Val makes sporadic appearances for the duration of the 1990s. A great deal of that is probably due to the "grim and gritty" stylization popular at the time. Sure, even the Defenders get an (arguably) edgy reinvention by adding the word "Secret" to the front of the name but, quite frankly, Val's theoretical involvement could seem too much of a backwards step for a project looking to put distance from its pedigree.
Eventually, Val gets that edgy '90s makeover in her own one-shot. But it's late-to-the-dance later '90s and it's uncollected and unavailable in digital format.
Circa 2000, the classic 1970s Defenders briefly reconvene in full retro glory. This volume is also currently uncollected and unavailable on Marvel Unlimited but they do make some notable guest appearances in other titles of the era.
As part of the larger 2004 Avengers: Disassembled event, Thor and the Asgardians undergo a full-on, no-joke, not-a-drill Ragnarok. In this, Val is drawn into the experience under her traditional role, ultimately sharing the same fate as the rest of the Aesir as that particular cycle of their cosmology terminates.
Black Panther by Christopher Priest: The Complete Collection Vol. 2
Collects: Black Panther (1998) #18-35, Deadpool (1997) #44
Val beheads Mephisto when the Defenders guest-star for a two-parter (It's not what you think…)
Collects: Thor (1998) #80-85
As fate would have it, Valkyrie is recalled to Asgard for a modern age Ragnarok!

Late 2000s to Late 2010s: Brunnhilde's Fearless Final Ride
A few years later, Thor's series reboots and he goes about the task of bringing all the Asgardians back to life. A lot of this goes on largely off-panel and Brunnhilde is no exception. Sometime after, though, she's given another one-shot going back to properly detail this resurrection.
But once she's back on the scene- for the next couple of years, Val is pretty much everywhere! Not only does she team up with She-Hulk for a remix of the Lady Liberators but she also joins the Avengers. She's at the forefront of several big league summer event series and even has a hot-second romance with Agent Venom, Flash Thompson.
At one point, Val even allies with Dani Moonstar and detective Misty Knight to bring about a mortal version of The Valkyrior. This is chronicled within the Fearless Defenders series by Cullen Bunn and company.
During the course of the series, Brunnhilde is merged with another mortal- archaeologist Dr. Annabelle Riggs. It's different than previous experiences in that it's more two different entities occupying the same physical space at different times than it is Val's psyche overriding the life and body of another. Think of it more as a tag-in/tag-out type scenario.
For the next few years, this is Val's status. In 2018, Bunn returns to Brunnhilde with a new series, Asgardians of the Galaxy– teaming her up on an intergalactic quest with Thor's sister Angela, Skurge The Executioner and others. Not only does it work as a wonderful companion-piece to Jason's Aaron final volume of Thor but it's also not without its "spirit of the MCU" charm.
However, despite the catchiness of its name, the title is short-lived as the final arc funnels straight into the big Thor-centric War of the Realms event. The impact of the mega-crossover most directly affects the book as Brunnhilde and the rest of the Asgardian Valkyrior are slain by the Dark Elf Malekith and his savage, invading hordes.
While it seems this might truly be it for Brunnhilde this time, it doesn't seem the Valkyrie legacy is quite as ready to die.
Mighty Marvel: Women of Marvel
Collects: Firestar (2010) #1, Lady Deadpool (2010) #1, Namora (2010) #1, Valkyrie (2010) #1, Rescue (2010) #1, Sif (2010) #1, Dazzler (2010) #1, Spitfire (2010) #1, X-23 (2010) #1, Galacta: Daughter of Galactus (2010) #1, Women of Marvel (2010) #1-2
Among this collection of one-shots, a spotlight on Brunnhilde's post-Ragarok resurrection on Midgard by Bryan J.L. Glass and Phil Winslade!
Collects: Hulk (2008) #7-9, King-Size Hulk (2008) #1
Val joins She-Hulk's all-new Lady Liberators!
She-Hulk Vol. 9: Lady Liberators
Collects: She-Hulk (2004) #34-38
The Liberators get a second effort!
New Avengers Vol. 12: Powerless
Collects: New Avengers (2004) #55-60
When the New Avengers just isn't enough, Val is part of an ensemble support team: Friends Of Ol' Luke!
Collects: Heralds (2010) #1-5
It's a Liberators mini-reunion when Agent Brand recruits Val and others to avert a cosmic crisis by Kathryn Immonen and company!
Secret Avengers by Ed Brubaker: The Complete Collection
Collects: Secret Avengers (2010) #1-12
Val is clearly "The Muscle" of Commander Steve Rogers's new covert team of heroes!
Collects: Secret Avengers (2010) #12.1, 13-15, Fear Itself: Black Widow (2011) #1
Tying into 2011's big event series, Issue #14 is a full Valkyrie spotlight issue by Nick Spencer, Scot Eaton and company!
Collects: Fear Itself: The Fearless (2011) #1-12
As an epilogue to the event, Val is tasked with locating the scattered hammers of destruction before Sin, the Red Skull's daughter!
Collects: Hulk (2008) #42-46
Val and the Secret Avengers tackle the Red Hulk!
Secret Avengers: Run The Mission, Don't Get Seen, Save The World
Collects: Secret Avengers (2010) #16-21
Warren Ellis writes this collection of well-received done-in-ones, featuring everyone's favorite sword-wielding team player!
Collects: Annihilators: Earthfall (2011) #1-4
Val is on the front line of Earth's protectors when cosmic heroes are at odds with Midgard!
Secret Avengers by Rick Remender: The Complete Collection
Collects: Secret Avengers (2010) #21.1, 22-37
There's a team romance a-brewin' between Brunnhilde and new recruit, Flash Thompson aka Agent Venom!
Collects: Venom (2011) #15-22
Rick Remender cross-pollinates his titles as Val and the Secret Avengers make guest appearances in Venom's series!
Collects: Venom (2011) #23-25, 28-30
Cullen Bunn and company continue the Venom-Secret Avengers interplay!
Fearless Defenders Vol. 1: Doom Maidens
Collects: Fearless Defenders (2013) #1-6
Brunnhilde attempts to reform the Valkyrior on Earth with Misty Knight and Dani Moonstar!
Fearless Defenders Vol. 2: The Most Fabulous Fighting Team Of All
Collects: Fearless Defenders (2013) #7-12
Val is merged with a new mortal, archaeologist Dr. Annabelle Riggs!
Avengers World Vol. 3: Next World
Collects: Avengers World (2014) #10-16
When the regular Avengers are evilly inverted by a spell gone awry, Valkyrie is part of an impromptu remainder bin roster assembled by… Doctor Doom?!?!
Thor by Jason Aaron & Russell Dauterman
Collects: Thor (2014) #1-8, Thor Annual (2015) #1
Valkyrie first stands alongside Jane Foster and future Asgardians of the Galaxy teammate Angela against Odin's Destroyer here!
Loki: Agent of Asgard Vol. 3: Last Days
Collects: Loki: Agent of Asgard (2014) #12-17
As her literal primary job is to take fallen warriors into the afterlife, of course Valkyrie's on hand for yet another Ragnarok: this one being the Last Days before Secret Wars!
Patsy Walker, A.K.A. Hellcat! Vol.1: Hooked On A Feline
Collects: Patsy Walker, A.K.A. Hellcat! (2015) #1-6
Val is a recurring support character for her old Defenders pal's solo title!
Collects: Exiles (2018) #1-6
An alternate-reality Valkyrie joins a multiversal ragtag group of heroes to stop the Time Eaters!
Exiles: The Trial Of The Exiles
Collects: Exiles (2018) #7-12
Concluding the saga by Saladin Ahmed, Javier Rodriguez and company!
Thor Vol. 1: God Of Thunder Reborn
Collects: Thor (2018) #1-6
Brunnhilde is called upon to protect the Land of the Dead when the forces of Muspelheim invade in this War of the Realms prelude!
Asgardians of the Galaxy Vol. 1: The Infinity Armada
Collects: Asgardians of the Galaxy (2018) #1-5
Spinning out of Infinity Wars, Nebula tries to raise a space viking army of the dead and Val is among the assemblage to stop her!
Thor Vol. 2: Road To War Of The Realms
Collects: Thor (2018) #7-11
Brunnhilde and Angela guest-star in Issue #8 when the Thunder God is held prisoner in Heven!
Asgardians of the Galaxy Vol. 2: War Of The Realms
Collects: Asgardians of the Galaxy (2018) #6-10
Featuring Malekith's Midgard invasion and the final fate of Brunnhilde in this event tie-in collection!

21st Century Valkyrie(s)
As every ending is also a beginning (especially in comics), War of the Realms fallout sees Mjolnir-worthy Jane Foster assuming a new identity as an all-new, all-different Valkyrie. Wielding the amorphously adaptable golden Undrjarn the All-Weapon, Jane is back in the super-business, balancing her life as a doctor with new demigoddess powers and the ability to visibly perceive death. Just for good measure, Brunnhilde's spirit bestows the title upon her.
Valkyrie: Jane Foster Vol. 1: The Sacred And The Profane
Collects: Valkyrie: Jane Foster (2019) #1-5, Material from War of the Realms: Omega (2019) #1
The former Thor is now the new Valkyrie in this solo series!
Collects: Valkyrie: Jane Foster (2019) #6-10
Featuring an all doctors on deck emergency with Dr. Strange, Night Nurse and others!
Unrelated to any of this, though interestingly enough, there is also another Valkyrie currently running around the Marvel Universe. In 2018, there's a twelve-issue revival of the cult-fave Exiles, renowned for mashing up a roster from various alternate realities. This version is no different but doesn't necessarily skew quite as mutant-specific. However, the Valkyrie character featured within does owe as much to a hypothetical "What If Storm Stayed In Asgard?" scenario as she does to homaging Tessa Thompson's cinematic representation.
While currently without a series, this gang of Exiles is last seen active and intact. It will be interesting to see what will happen if Exile Val and Jane Foster ever cross paths.