It is often said that Watchmen is the most influential comic ever to be released. That comics wouldn't be where they are without it, for good and for ill. But how did we get here, exactly? More to the point, just what influence did Watchmen provide to the larger world of comics? What, ultimately, is the legacy of Watchmen? Who watched the Watchmen?
After running Comic Book Herald for over a decade, I tend to have a decent pulse on how fans, critics, and creators feel about various comics. Or at least I thought I did, until Steve Morris with Shelfdust conducted a critics poll of the best 50 comic book events of all time, and I learned that Scott Snyder and Greg Capullo's Dark Nights: Metal
was at one point *barely* hanging on to the #50 spot. This was astonishing to me because Metal was a major reason why I started collecting print comics again in 2017 after a year-long hiatus (Mister Miracle
was the other), and I quite earnestly consider it one of my five favorite comic book events of all time!
It feels essential to highlight my (apparently somewhat unusual) affections for Metal because its sequel, Death Metal
, disappointed me on nearly every level. Given my past experience, and an adoration for Snyder/Capullo's Batman (not to mention Last Knight on Earth
!) hopes were extraordinarily high, and all for naught. Death Metal #1 opens with a soliloquy by Sgt. Rock about Turd Burgers, and well, Death Metal fits the bill:
"It's like you're at a drive-through and out comes your juicy half-pounder on one of them niiice french buns, curly fries too, and you take a bite and wham! Turd. And your fries? Kablam! Curly turds."
Speaking of turds, let's talk about Doctor Manhattan.
Support For Comic Book Herald:
Comic Book Herald is reader-supported. When you buy through links on our site, we may earn a qualifying affiliate commission.
Comic Book Herald's reading orders and guides are also made possible by reader support on Patreon, and generous reader donations.
Any size contribution will help keep CBH alive and full of new comics guides and content. Support CBH on Patreon for exclusive rewards, or Donate here! Thank you for reading!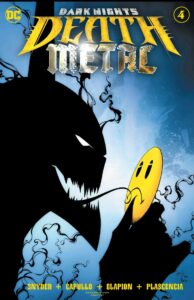 Where "Metal" featured a gratuitous Neil Gaiman's Sandman cameo (I've yet to see a compelling reason why this happened!), Death Metal upped the ante with not one but TWO riffs on Alan Moore and Dave Gibbons' Doctor Manhattan. And in the context of DC's post-2016 Geoff Johns spearheaded "Universe Rebirth," Manhattan projects like this made a semblance of sense. Following Johns' Rebirth and Doomsday Clock
, DC Comics had declared open season on Watchmen crossovers.
Death Metal (and the preposterous Flash Forward) is the first to engage.
Death Metal #1 released as one of the first post-pandemic shutdown comics in June 16, 2020, about 6 months after Doomsday Clock (a series that took 26 months to get 12 issues terribly wrong) finally concluded. Whereas Batman finding "The Button" in 2016's DC Universe: Rebirth #1 was about possibility and the promise of a better future, by 2020 the Watchmen integrations into Death Metal were part of an exit strategy. The promise of Rebirth was reneged, delayed, and broken, leaving it to Snyder and Capullo to find a way out (to new Infinite Frontiers!). Because of its status as the first major DC Universe event released after Doomsday Clock, Death Metal has the opportunity and burden to respond, or to correct any failings.
Scott Snyder opts for frankly the more challenging third option, a staple of DC Comics history, which is to try and make it all make sense.
"Not long ago, a being from another reality, brimming with connective energy, Dr. Manhattan, tried to mend the fractures in our multiverse to heal the scars of former crisis… but his attempt did not have the intended effect."
On one hand, I empathize with Snyder's challenges, trying to mesh a minimum of 4 distinct and incompatible creator visions across DC into one narrative where "it all matters." Heading into Death Metal, DC had a Snyder-verse (Scott Cut), a Bendis-verse (In Superman), a Tom King verse (Heroes in Crisis most impacting the continuity), and most difficult, the Johns-verse of exhuming Watchmen and dancing on the grave. Snyder makes an impressive effort to somehow link his Justice League run to Dr. Manhattan's role in Doomsday Clock, and pretend like those stories had any connective tissue. It's seriously intriguing continuity surgery, but in the Frankensteined sutures you can see the hidden truth: Nobody planned ANY of this.
Statistically speaking, continuity "Fixes" are where approximately 98.9% of DC events fall apart, and when you also factor in Snyder's use of Sandman in the pages of 2017's Metal, there's a cynical (and completely non-additive!) grasping at DC's past cultural cache in this saga. You might as well slap a yellow smiley face button and the text "Hey Kids, do ya like Watchmen!" on every cover of Death Metal. Oddly, despite the enormity of Watchmen's legacy, and its canonical value to DC, and the fact that there are TWO Doctor Manhattans slinging dong here, Death Metal does not actually want to engage with Watchmen. Like… at all.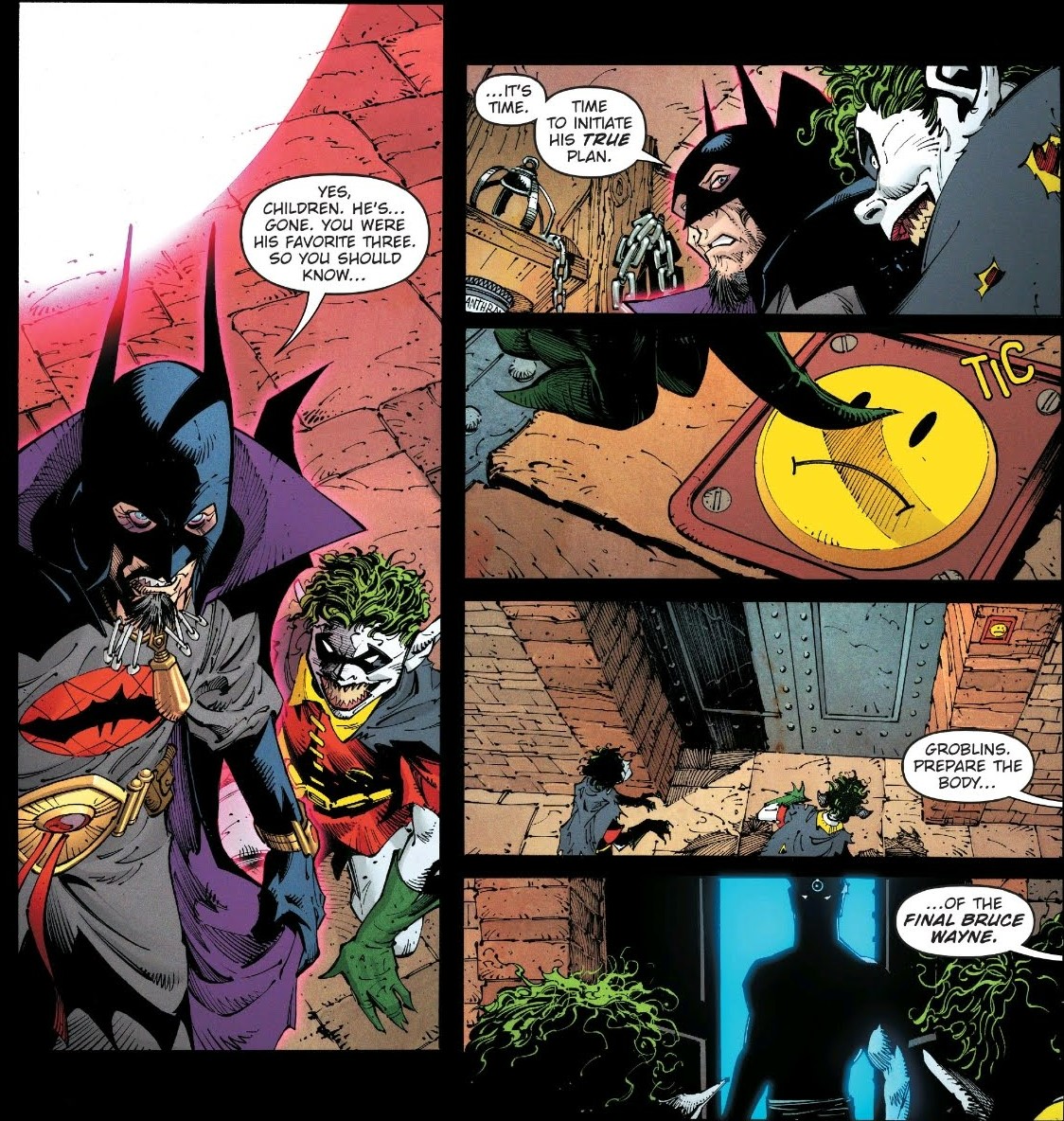 The two Manhattans here are
Wally West (Who became a new Doctor Manhattan by sitting in Metron's Mobius Chair in Flash Forward)
The Batman Who Laughs (Who evolves here into a godlike Manhattan Who Laughs, aka The Darkest Knight, by preparing a Doctor Manhattan body of the final Bruce Wayne. The button is a yellow frowny face.).
Apart from their visual motifs, you could transpose either character with basically any godlike DC player (Spectre! Anti-Monitor! That time Joker tricked Mister Mxyzptlk! Grant Morrison!), and see the exact same story.
What Death Metal makes clear is that for all its desperate posturing, the only consequence of Geoff Johns and Gary Frank's Doomsday Clock is to allow ham-fisted Watchmen crossovers in the DC Universe, reducing the beloved graphic novel to, well, everything else in the shared universe. If you ever wondered why the Alan Moore purists clutch their pearls so tightly when DC talks about Batman meeting Rorschach, Death Metal has an answer.
It's because Doctor Manhattan didn't build palaces on Mars so continuity nerds could count Multiverses.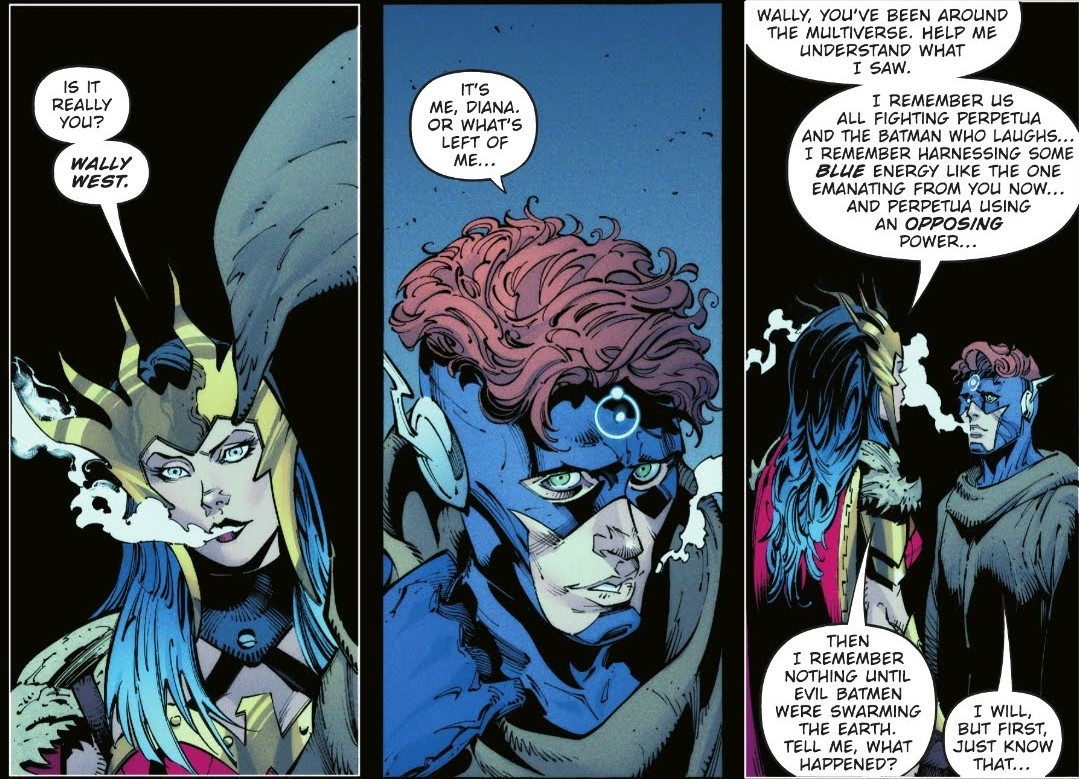 In Death Metal, virtually nothing is done with Doctor Manhattan, beyond the bare bones, superhero encyclopedia understanding of his power. For a book that has two key players brandishing Jon's atomic head-tattoo, you'd think maybe it would do *something* with his ability to perceive all time at once, or engage with philosophies of determinism, or fraying belief in humanity (this Earth, these people)… something! Nope! It's all "hey remember this Crisis?" and "remember that time we had a Crisis?", and it's devoid of *reason* to integrate absolutely anything from the Watchmen Universe.
Truly, it's challenging to really consider the use of Watchmen in Death Metal because it's all so surface level. It's Watchmen's legacy from the perspective of a child who saw the smiley face on a cover and liked that one of the characters was blue.
And honestly, I don't really even blame Snyder and Capullo. This is the hand they were dealt, and it's a bad one! Sure, they could have walked away and taken a principled stand, but if not that, better to recognize the truth: It's better to phone in all this Watchmen baggage than actually try and inevitably fail.
Death Metal is playing with second (maybe third, maybe fourth) generation derivations of Watchmen, and in the process its Metal core is less parts Slayer, and more parts Limp Bizkit. If the aim of this series is to understand the legacy and impact of Watchmen on the comics industry that followed, Death Metal makes it known that for the in-continuity side of DC, that legacy can also now be evaluated as "Who Watched the Doomsday Clock." And let me tell you, so far the challenges and impact on the medium are falling atrociously short.