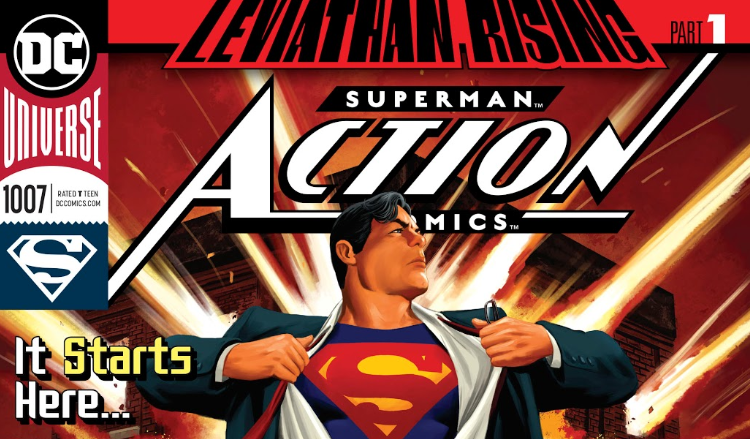 Ever since writer Brian Michael Bendis made the jump from Marvel Comics (his exclusive home from 2000 to 2018) to DC Comics, his work across DC's Superman line of comics has been steadily building to the summer 2019 event, Event Leviathan.
The shadowy presence of a reimagined Leviathan puts Superman, Metropolis, and the spy agencies of the DC Universe directly in its crosshairs, in what has been a mysterious and exciting style of storytelling.
Previously: DC Rebirth Year Three
Below you'll find a complete guide for the comics that set up Event Leviathan, as well as the proper reading order for the event itself as it unfolds! Or, if you just want more Superman comics, check out Comic Book Herald's complete guide to Superman.
Road to Event Leviathan
Batman Inc. by Grant Morrison
If you're interested in the origins of the Leviathan organization, you'll have to go back to writer Grant Morrison's time on Batman. It's important to note that Leviathan has undergone changes since this time, but it's an interesting context that is referenced frequently throughout the build to Event Leviathan.
Get To Know DC's Intelligence Agencies:
Brian Michael Bendis Superman Reading Order
Action Comics #1000
DC Nation #0
Bendis teams with DC art legend José Luis Garcia López to set up some of the Daily Planet dynamics heading into Man of Steel.
Man of Steel #1 to #6
If you want to get fancy, the Bendis and Jim Lee Superman story from Action Comics #1000 occurs more or less mid-fight and can be read after Man of Steel #1 and #2. Action #1000 was published first, and won't really undermine any of Man of Steel if you read it first, though.
Superman Vol. 1: The Unity Saga
For my money, you don't really need Superman to understand the build to Event Leviathan, and I'd consider Action Comics the significantly superior series. Nonetheless, if you want the full experience of Brian Michael Bendis on Superman, this is the companion title. To date, Superman and Action Comics haven't crossed over a ton, although each series definitely references the events of the other.
Action Comics Vol. 1: Invisible Mafia
Collects: Action Comics #1001 to #1006
Action Comics Vol. 2: Leviathan Rising
Collects: Action Comics #1007 to #1011, Leviathan Special #1
Year of the Villain #1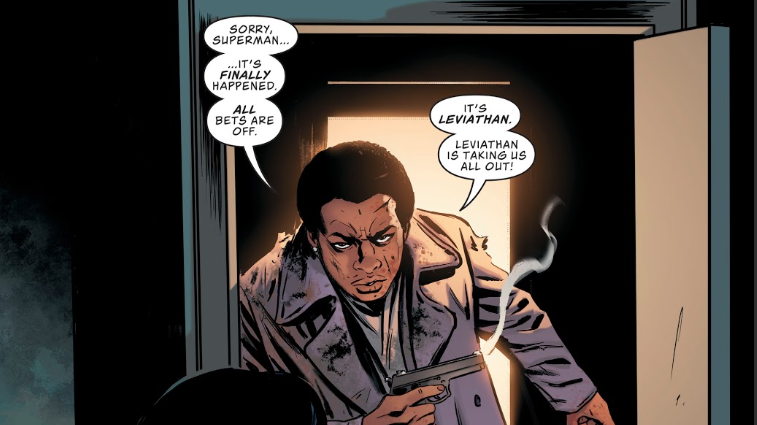 Event Leviathan Collected Editions
Event Leviathan
Collects: Event Leviathan #1 to #7
Event Leviathan Comics Checklist!
Superman: Leviathan Rising Special #1
Supergirl #34
In classic comics fashion, Supergirl #34 is published after the fourth main event issue, but seems to flow chronologically after the "Leviathan Rising Special." Amazingly, the issue also doubles as a Year of the Villain tie-in!
Event Leviathan #1
Action Comics #1012
Silencer #18
Silencer (the final issue of the series) is a loose tie-in to Event Leviathan. It is only recommended for readers who have been keeping up with Silencer since DC's "New Age of Heroes" or are interested in doing so!
Supergirl #35
While Supergirl is still mostly a Leviathan tie-in, this title is breaking records and also ties into Year of the Villain AND The Infected!
Wonder Woman Annual #3
Pretty minor tie-in, but we do get a Leviathan cameo. Most importantly, Wonder Woman fights Gorilla Grodd!
Event Leviathan #2
Action Comics #1013
Amazingly, this issue also doubles as a "Year of the Villain" tie-in.
Event Leviathan #3
Action Comics #1014
Event Leviathan #4
Event Leviathan #5
Aftermath
Lois Lane #6
Action Comics #1018