We're approaching the end of 2016, which means it's time to evaluate the best reads from this year to keep you current with Marvel. The vast majority of these picks have been running long enough that you can read at least the first volume or story arc in full on Marvel Unlimited (there are notable exceptions).
For the most part, you'll notice that the best of 2016 largely steers clear of traditional big name books like Avengers, Spider-Man, or X-Men. Likewise, Marvel's Civil War 2 has featured some compelling ideas, but has been tedious to actually follow in full, never actualizing like some of Marvel's best events.
But we aren't here to talk about what went wrong – it's time for the best Marvel comics of the year!
Dave's 20 Favorite Marvel Comic Books of 2016
20. The Totally Awesome Hulk
Creators: Greg Pak, Frank Cho
First Issue Published: December 2, 2015
Support For Comic Book Herald:
Comic Book Herald is reader-supported. When you buy through links on our site, we may earn a qualifying affiliate commission.
Comic Book Herald's reading orders and guides are also made possible by reader support on Patreon, and generous reader donations.
Any size contribution will help keep CBH alive and full of new comics guides and content. Support CBH on Patreon for exclusive rewards, or Donate here! Thank you for reading!
Continuity Connections?: A familiarity with Greg Pak's Hulk run will certainly help fill in the details and backstory.
Collected: The Totally Awesome Hulk Vol. 1: Cho Time
I did not expect much from The Totally Awesome Hulk, but I should have learned sometime around Planet Hulk or World War Hulk not to underestimate Greg Pak on a Hulk comic.
Amadeus Cho makes a great Hulk, and most impressive of all, Awesome Hulk transitions better than any Marvel Comic into Civil War II tie-ins.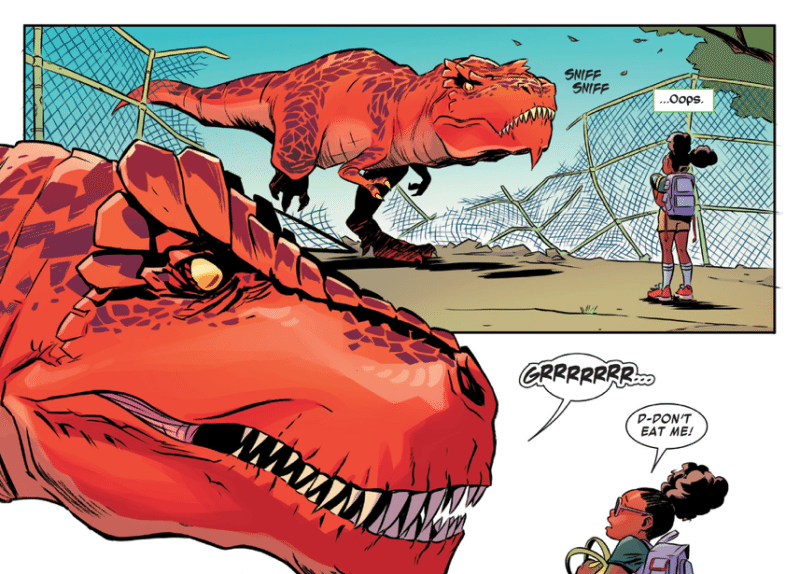 19. Moon Girl & Devil Dinosaur
Creators: Amy Reeder, Brandon Montclare
First Issue Published: November 25, 2015
Continuity Connections?: This will make more sense if you know the events of Infinity and Inhumanity, or Jack Kirby's original Devil Dinosaur, but I think you'll be fine just reading as is.
Collected: Moon Girl and Devil Dinosaur Vol. 1: BFF
Just good solid all ages comic books, taking a template of not fitting in at school and adding a surprising degree of Kree-based time travel complexity and Jack Kirby concepts into the mix.
18. Punisher
Creators: Becky Cloonan, Steve Dillon
First Issue Published: May 4, 2016
Continuity Connections?: You can easily pick up and read.
Collected: The Punisher Vol. 1: On the Road
Sadly, due to his passing this year, this marks Steve Dillon's last work on Punisher. It's an appropriate last chance to celebrate the definitive Frank Castle artist of the 2000's then, and Becky Cloonan's story matches the energy you'd expect for the Punisher.
17. Ms. Marvel
Creators: G. Willow Wilson, Adrian Alphona, Takeshi Miyazawa
First Issue Published: November 18, 2015
Continuity Connections?: You will 100% enjoy this more if you've read Ms. Marvel's debut during Marvel Now! (see also: the first four volumes).
Collected: Ms. Marvel Vol. 5: Super Famous
At this point, Ms. Marvel suffers for simply being very good as opposed to dizzyingly great. 2016 has been a very interesting year for Ms. Marvel, as she's fully transitioned from charming outsider to full-fledged All-New Avenger. The transition has been far from seamless, and if you think Avenger status feels like too much, too soon, those are themes Ms. Marvel's creators are wrestling with as well.
I expect we still have plenty of great Ms. Marvel yet to come from this creative lineup, as G. Willow Wilson, Adrian Alphona, and Takeshi Miyazawa have even pulled surprisingly inventive storytelling techniques out of Civil War 2, drawing from real life civil war and immigration where other books have passively taken the conflict at face value.

16. Daredevil
Creators: Charles Soule, Ron Garney
First Issue Published: November 18, 2015
Continuity Connections?: Two approaches here – Either catch up with the Mark Waid era of Daredevil during Marvel NOW!, or completely ignore all recent history and just accept that Daredevil's basically back to status quo we know and love from, say, Daredevil Netflix (sort of).
Collected: Daredevil: Back in Black Vol. 1: Chinatown
Soule and Garney get a ton of credit for raising Daredevil to above average quality after the excellent Waid era didn't leave a lot of room to run.
It's not a game-changer, but Daredevil taking a protege (he turns invisible; of course he turns invisible) opens up some new dimensions for the hero of Hell's Kitchen. Simply put, it's what you want out of reading Daredevil comics.

15. Mighty Thor
Creators: Jason Aaron, Russell Dauterman
First Issue Published: November 18, 2015
Continuity Connections?: This story-line all begins with Thor Vol. 1: The Goddess of Thunder
Collected: Mighty Thor Vol. 1: Thunder in Her Veins
Now that Jason Aaron's Thor: God of Thunder transition has gotten out of the beleaguered and unfortunate "Who is the Red Hulk?!" phase, we're starting to see again what made Aaron, here with art from Russell Dauterman, such a master of the Asgardian realm. 
14. Doctor Strange
Creators: Jason Aaron, Chris Bachalo
First Issue Published: October 7, 2015
Continuity Connections?: References Doctor Strange's continuity throughout the 2000's, so either read the Comic Book Herald Marvel Reading Order, or just pick up from here and enjoy.
Collected: Doctor Strange Vol. 1: The Way of the Weird
Jason Aaron has a track record for some of my favorite comics (Scalped, Southern Bastards) as well as some of my favorite Marvel Comics (Wolverine & the X-Men, Thor: God of Thunder), so I may have built up unrealistic expectations for his run on Doctor Strange with the colorfully Lovecraftian art of Chris Bachalo.
While Doctor Strange hasn't blown me away like I hoped it would, I have been happy with just how weird Aaron and Bachalo let the comic get, taking the magic of the Marvel universe in recently unexplored directions. More than anything, Doctor Strange is a beautiful glimpse of where a post-origins MCU Doctor Strange can go, mystical battleaxe and Tardis-like Sanctum Sanctorum on full display at all times.

13. Spider-Man/Deadpool
Creators: Joe Kelly, Ed McGuinness
First Issue Published: January 6, 2016
Continuity Connections?:Reasonably self-contained, but makes reference to recent events from Uncanny Avengers #1. Additionally, you'll want to be familiar with current issues of Amazing Spider-Man and Deadpool.
Collected: Spider-Man/Deadpool Vol.1: Isn't it Bromantic
Joe Kelly and Ed McGuiness produced one of my favorite Deadpool runs of all time in the late 90's, and the two haven't lost a step with the comical Spider-Man team-up book. For my money, it's the best Deadpool book on the stands in a 2016 crowded with Deadpool.
12. Patsy Walker, A.K.A. Hellcat!
Creators: Kate Leth, Brittney L. Williams
First Issue Published: December 23, 2015
Continuity Connections?: Everything you need is contained in the story.
Collected: Patsy Walker, A.K.A. Hellcat! Vol. 1: Hooked On A Feline
Wonderfully positive, upbeat all-ages from a writer with unimpeachable credentials (I heard her name a few times on Welcome to Nightvale!). Patsy Walker definitely skews younger, but I wouldn't go so far as to say the book is purely for kids by any measure. 
If anything, I weigh Patsy Walker higher simply because true all ages comics are so difficult to come by from either Big 2 comic book publisher.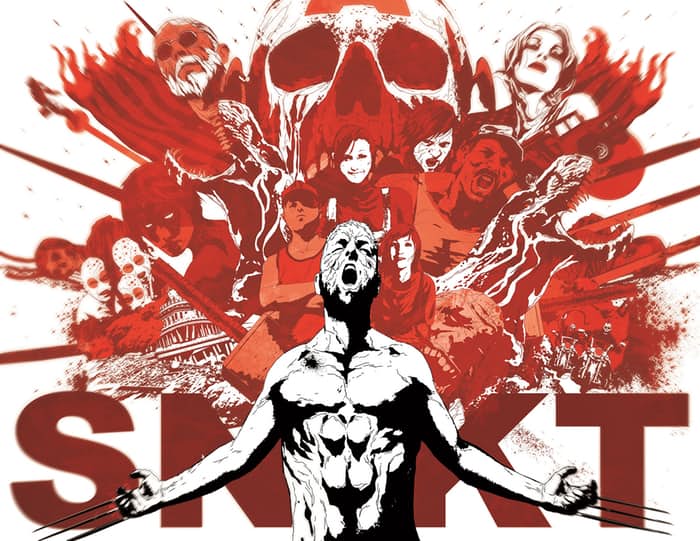 11. Old Man Logan
Creators: Jeff Lemire, Andrea Sorrentino
First Issue Published: January 27, 2016
Continuity Connections?: Previously outside Marvel Earth-616 continuity, but you'll want to read Mark Millar and Steve McNiven's original Old Man Logan
, as well as the Secret Wars tie-in.
Collected: Wolverine: Old Man Logan Vol. 1: Berzerker
If you read the Old Man Logan Secret Wars tie-in, you already know that Andrea Sorrentino's art is going to carry an Old Man Logan ongoing to new heights. Couple that with the perpetually inventive Jeff Lemire, and this alternate reality curiosity suddenly finds life as a suitable Wolverine replacement in the Marvel Universe.

10. Spider-Woman
Creators: Dennis Hopeless, Javier Rodriguez
First Issue Published: November 18, 2015
Continuity Connections?: May not make a lick of sense if you haven't read Hopeless' run on Spider-Woman leading up to this as part of Marvel Now reading order.
Collected: Spider-Woman: Shifting Gears Vol. 1: Baby Talk
Javier Rodriguez's art sends Spider-Woman soaring past all expectations. This is a gorgeous book, with a concept (pregnant, single-mom heroine) I've not seen in a Marvel book before. 

9. All-New Wolverine
Creators: Tom Taylor, David Lopez
First Issue Published: November 11, 2015
Continuity Connections?: It will certainly help to have read the Death of Wolverine event.
Collected: All-New Wolverine Vol.1: The Four Sisters
Tom Taylor's work on Injustice for DC proved that even mired in the darkest timeline, Taylor had the awareness and presence to pace HIS version of Batman v Superman with a laugh-out-loud funny Harley Quinn and Green Arrow interlude.
Taylor brings the same blend of focus to All-New Wolverine, mixing the violence and adrenaline of X-23 with a surprisingly charming newfound family life. Any replacement of a beloved character can easily fall flat, but All-New Wolverine has been a success through and through.
8. Spider-Gwen
Creators: Jason Latour, Robbi Rodriguez
First Issue Published: October 14, 2015
Continuity Connections?: Spider-Gwen's origins come out of Marvel's Spider-Verse, but otherwise if you know the core history of Spider-Man, you're basically ready to roll.
Collected: Spider-Gwen Vol.1: Greater Power
Admittedly, Spider-Gwen stands a leg above much of its competition purely based on concept. It's a brilliant alternate reality, and Robbi Rodriguez's art looks unlike anything else in the Marvel Universe.
It's the little things that set Spider-Gwen apart, though, like its commitment to the punk rock of the Mary Janes, or its alternate timeline inversions of Marvel staples like Matt Murdock or Ben Grimm.

7. Moon Knight
Creators: Jeff Lemire, Greg Smallwood
First Issue Published: April 13, 2016
Continuity Connections?: Frequent references to the history of Moon Knight as a character, but otherwise, you can easily pick this up and read without context in the Marvel Universe at large.
Collected: Moon Knight Vol. 1: Lunatic
Moon Knight is instantly captivating, stylistically unique, and constantly challenging your sense of reality and what's safe. Topping the Marvel Now Warren Ellis and Declan Shalvey Moon Knight six issue opening arc was going to be no small feat, but Jeff Lemire and Greg Smallwood are attempting to do so with much larger aims. Where Ellis and Shalvey composed glorious punk rock anthems, Lemire and Smallwood strive for the long game, with a labyrinthine insane asylum that quests towards the center of the true Moon Knight – whoever that may be.
6. Karnak
Creators: Warren Ellis, Gerardo Zaffino
First Issue Published: October 21, 2015
Continuity Connections?: Definitely helps to have read Infinity and Inhumanity to see how we got here.
Collected: Karnak Vol. 1: The Flaw in All Things
Not to typecast, but aligning comics legend Warren Ellis with the new crankiest character in the entire Marvel Universe was an absolute stroke of genius.
Karnak could easily be an investigative science-spy mystery outside the Marvel Universe, except it includes SHIELD hellicarriers and the best Phil Coulson and Simmons appearances in all of Marvel Comics. Karnak has made some great appearances throughout 2016, including the Ulysses infinite comic as part of Civil War 2, but the Ellis and Zaffino (and now Roland Boschi) ongoing is well worth a read.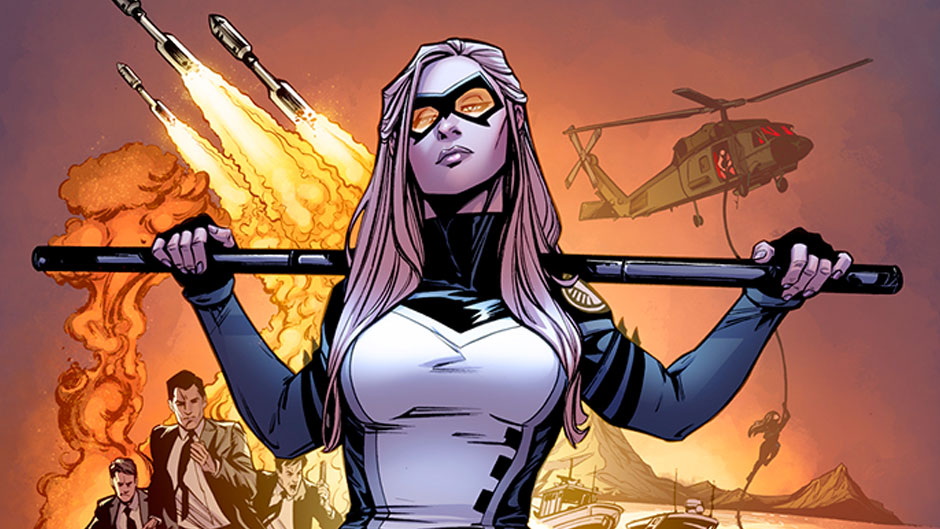 5. Mockingbird
Creators: Chelsea Cain, Kate Niemczyk
First Issue Published: March 09, 2016
Continuity Connections?: Light, if any.
Collected: Mockingbird Vol. 1: I Can Explain
Mockingbird comes storming out of the gates with one of the most interesting first issues in Marvel Comics of 2016, quickly proclaiming that Chelsea Cain and Kate Niemczyk aren't content with standard by-the-numbers fare for Bobbi Morse.

4. Black Panther
Creators: Ta-Nehisi Coates, Brian Stelfreeze
First Issue Published: April 6, 2016
Continuity Connections?: Very much follows in the wake of Avengers vs. X-Men, and Jonathan Hickman's time on New Avengers building up to Secret Wars.
Collected: Black Panther: A Nation Under Our Feet Book 1
Ta-Nehisi Coates and Brian Stelfreeze's Black Panther dives headfirst into Wakandan politics and it's hard not to see immediate and prescient parallels to real-world government and society. This is the most heavily absorbed into Wakanda a comic has been since the wonderful Panther's Rage
by Don McGregor, and it's off to a promising and hopefully lengthy run.

3. The Unbeatable Squirrel Girl
Creators: Ryan North, Erica Henderson
First Issue Published: October 28, 2015
Continuity Connections?: I'd recommend starting with the first volume of Unbeatable Squirrel Girl during Marvel Now, as that will explain all the supporting characters and tone of the series.
Collected: The Unbeatable Squirrel Girl Vol. 3: Squirrel, You Really Got Me Now
It's probably safe to say that if you don't like The Unbeatable Squirrel Girl, you REALLY don't like the Unbeatable Squirrel Girl. No Marvel comic has quite mirrored pure unfiltered McSweeney's humor like Ryan North and Erica Henderson's Squirrel Girl. It's fun, it's positive, it's upbeat, and it's exactly that way ALL THE TIME!!!
Lost in some of the silliness, Unbeatable Squirrel Girl is breaking comic book storytelling conventions like they ever even mattered, from self-referential author insertion in the gutters of every page (#I'mNotScottMcCloud) to a Choose-Your-Own-Adventure issue that is likely my favorite single issue of any comic book in 2016.
2. Vision
Creators: Tom King, Gabriel Hernandez Walta
First Issue Published: November 4, 2015
Continuity Connections?: One of the best "just jump in read" Marvel comics since Hawkeye
. Part of what makes Vision so great for comic book fans is the series is not particularly reliant on ongoing Marvel continuity. There are brief references to All-New All-Different Avengers, and definitely plenty of callbacks to the long history of Vision in the Marvel Universe. If you don't have an encyclopedic knowledge of Vision's history with the Avengers, and can't necessarily list the 37 times the Vision saved the planet, you can still read Vision and enjoy it.
Collected: Vision Vol. 1: Little Worse Than A Man
Vision isn't my number one favorite Marvel comic of 2016, but only barely. That said, Vision is the Marvel Comic I'd be most likely to hand to a new comic book reader, or a friend who might otherwise assume a lower level of intellect from the medium. Tom King and Gabriel Hernandez Walta have crafted a stunningly cohesive treatise on trying to achieve normalcy in suburban America, even when you're a family of Visions and were perhaps doomed from the start.
Vision is not at all what you'd expect from a comic book staring everyone's favorite Android Avenger, and Marvel is far better for it.

1) Ultimates
Creators: Al Ewing, Kenneth Rocafort
First Issue Published: November 11, 2015
Continuity Connections?: Ultimates is one of the rare Marvel comics that actually explains some of the Secret Wars fallout, making it pretty heavily integrated into ongoing Marvel continuity. If that wasn't enough, Ultimates dives head first into Civil War 2 tie-ins mid-year 2016. Not a book you easily read removed from the Marvel Universe at large.
Collected: Ultimates: Omniversal Vol. 1: Start With the Impossible
Marvel's relaunched Ultimates, expanding on the legacy of Mark Millar and Bryan Hitch's Ultimate Universe linchpin, is simultaneously the best team book, best post Secret Wars book, and best cosmic book in the Marvel universe.
The team of Blue Marvel, Captain Marvel, Black Panther, America Chavez, and Monica Rambeau take on the proactive, transparent opposite of Marvel's Illuminati, and aim no lower in their first arc than solving Galactus. It's glorious Marvel space science, and even through the potential tedium of Civil War 2 tie-ins, Kenneth Rocafort's untouchable page-breaking layouts continue to bring plenty of cosmic, including Thanos unlike we've ever seen him.
Simply put, if you liked Secret Wars, Abnett & Lanning Marvel Cosmic, and Jim "Cosmic King" Starlin comics, Ultimates will be the most refreshing Marvel comic you read in 2016.
There you have it – the best 20 Marvel comics of 2016. What do you think? Any to add? Do what feels right to you in the comments.