Since his MCU origin in 2016, Dr. Stephen Strange has held one of the more consistent supporting roles in the Marvel Universe. Benedict Cumbermagic's Strange plays key roles in Thor Ragnarok, Avengers Infinity War, and of course most recently, Spider-Man: No Way Home. Much like his cameo-laden Marvel Comics counterpart, stories related to multiverse-breaking magic have been held to the fire for *not* including the good Doctor (although certainly in the case of WandaVision, I'd argue it was for the right reasoning).
All of which is to say, Strange's official movie sequel, Multiverse of Madness, directed by Spider-Man savant Sam Raimi, is central to the larger MCU and where Phase 4 will focus for the remainder through Fantastic Four. The events of Loki on Disney+ revealed the Multiverse is open for business, and there's a multiverse of Kang the Conquerors going to war for control. "No Way Home's" forgetting spell gone horribly wrong revealed to Strange this dangerous revelation, and now in Multiverse of Madness, the good Doctor gets to set out in the alternate realities and counter-earths of the MCU.
There are not many very direct comics references for a Doctor Strange story quite like this, but there are tons of elements in play with great comics sources inspiring them, and you'll find a list of my favorite picks below.
Related:
Great comics in the Marvel Multiverse
Support For Comic Book Herald:
Comic Book Herald is reader-supported. When you buy through links on our site, we may earn a qualifying affiliate commission.
Comic Book Herald's reading orders and guides are also made possible by reader support on Patreon, and generous reader donations.
Any size contribution will help keep CBH alive and full of new comics guides and content. Support CBH on Patreon for exclusive rewards, or Donate here! Thank you for reading!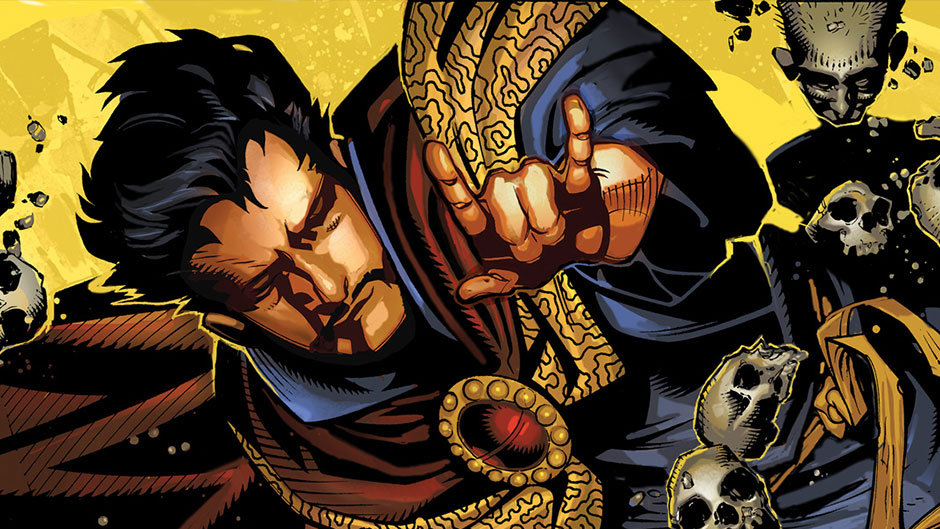 Issues: Doctor Strange (2015) #1 to #10
"The Bar With No Doors," a drinking hotspot for all the Marvel Universe magic users, is one of the more enjoyable adds from the Aaron / Bachalo "All-New All-Different" era of Doctor Strange. We get to see Strange, Magik, Scarlet Witch, Brother Voodoo and more as drinking buddies, at least before the invasion of the science-obsessed Empirikul and their desire to destroy all magic. Since the storyline comes for *all* magic in the Marvel U, it's a rare chance to see Doctor Strange and Scarlet Witch working in tandem, although admittedly Wanda fans shouldn't get their hopes too high, as she's very much in a smaller supporting role. "Last Days of Magic" and the Empirikul's quest to rid the multiverse of magic also shares ideas with Baron Mordo's reveal at the end of the first Doctor Strange that he's on a similar mission to remove magic from the undeserving in the MCU.
It's less of a Doctor Strange story, but Jonathan Hickman's work in Empyre: X-Men
 issues #1 and #4 also does a solid modern job of showing the relationship between Wanda and Stephen. Put simply, it's a strained relationship at best, with events of the 2000's (what's up Avengers Disassembled) primarily setting up condescension and concern from Strange towards the powerful Scarlet Witch.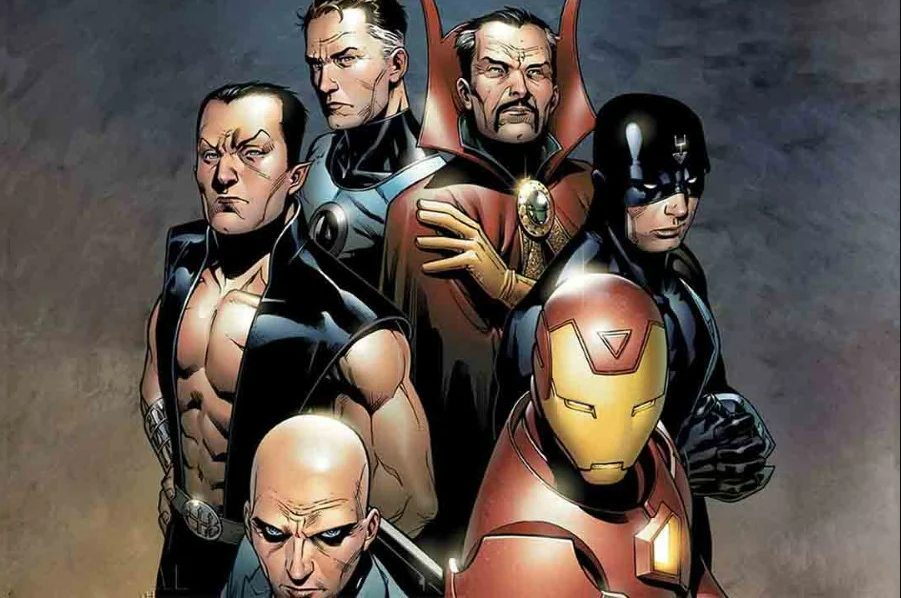 Issues: New Avengers Illuminati #0 to #5
Marvel's Illuminati are one of my favorite creations of the 2000's, and I'd argue the third most important Brian Michael Bendis co-creation during his long stint as a head architect of Marvel Comics (behind Miles Morales and Jessica Jones). The Illuminati are the ultimate example of the hubris of Marvel's "Great Men," with Tony Stark, Reed Richards, Stephen Strange, Charles Xavier, Black Bolt and Namor gathering in secret to decide the fate of the world.
Jonathan Hickman would take the idea and run with it in his New Avengers series on the way to 2015's Secret Wars (a perpetual recommendation), but I'll always quite love the Bendis version as well. It's pure Marvel History popcorn, with the Illuminati dealing with everything from the Kree Skrull War to the Infinity Stones to the Beyonder.
It's far from my favorite Doctor Strange story, but I do quite like stories where Stephen recognizes he messed up, and takes measures to do the right thing. In the wake of his deal with dark magic in World War Hulk, that's what Brian Michael Bendis attempts to engage with here in the pages of New Avengers. Plus, conversations between Doctor Strange and Earth's future Sorcerer Supreme, Billy Maximoff, are always interesting.
I'm also not entirely convinced it's an accident Marvel's releasing this movie on Mother's Day weekend 2022. It doesn't take much of a leap to think Wanda will be on the hunt for Billy and Tommy here, but the Mother's Day connection honestly increases the odds that she brings her kids home about 10 to 15%.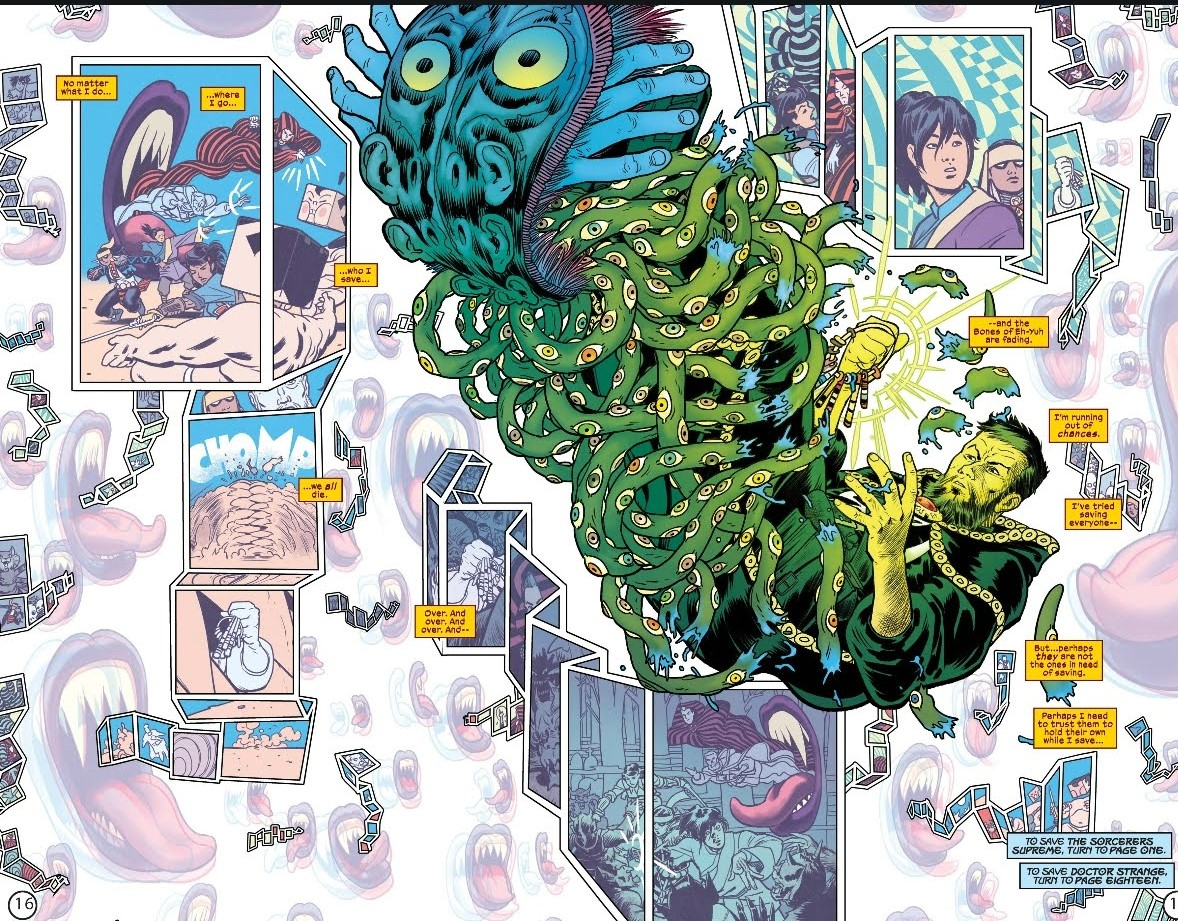 Speaking of Billy, the short-lived Doctor Strange and the Sorcerers Supreme by Robbie Thompson and Javier Rodriguez is a fantastic exploration of the legacy of Sorcerer Supreme, with present-day Doctor Strange working together with the future's Sorcerer Supreme, Billy Maximoff, aka Wiccan, and a host of other burrito supremes. If for no other reason this book is worth the read for 1) Javier Rodriguez's brilliant eye for inventive layouts and topsy-turvy reading experiences and 2) The choose-your-own-adventure style of issue #6, which allows you to make decisions who Doctor Strange saves, with different outcomes based on your choices. You can lose the comic! It's great!
This 2010 black-and-white anthology one-shot comic isn't talked about much, but it's a quietly strong blend of Doctor Strange stories with a wonderfully strong creative roster. At a minimum, I'd recommend the opening Kieron Gillen and Frasier Irving story about a Doctor Strange vs. Mephisto showdown that asks the question: What if someone used black magic to make humanity better? From there you've got work by Ted McKeever, Mike Carey, and some sporadic illustrations from Marcos Martin.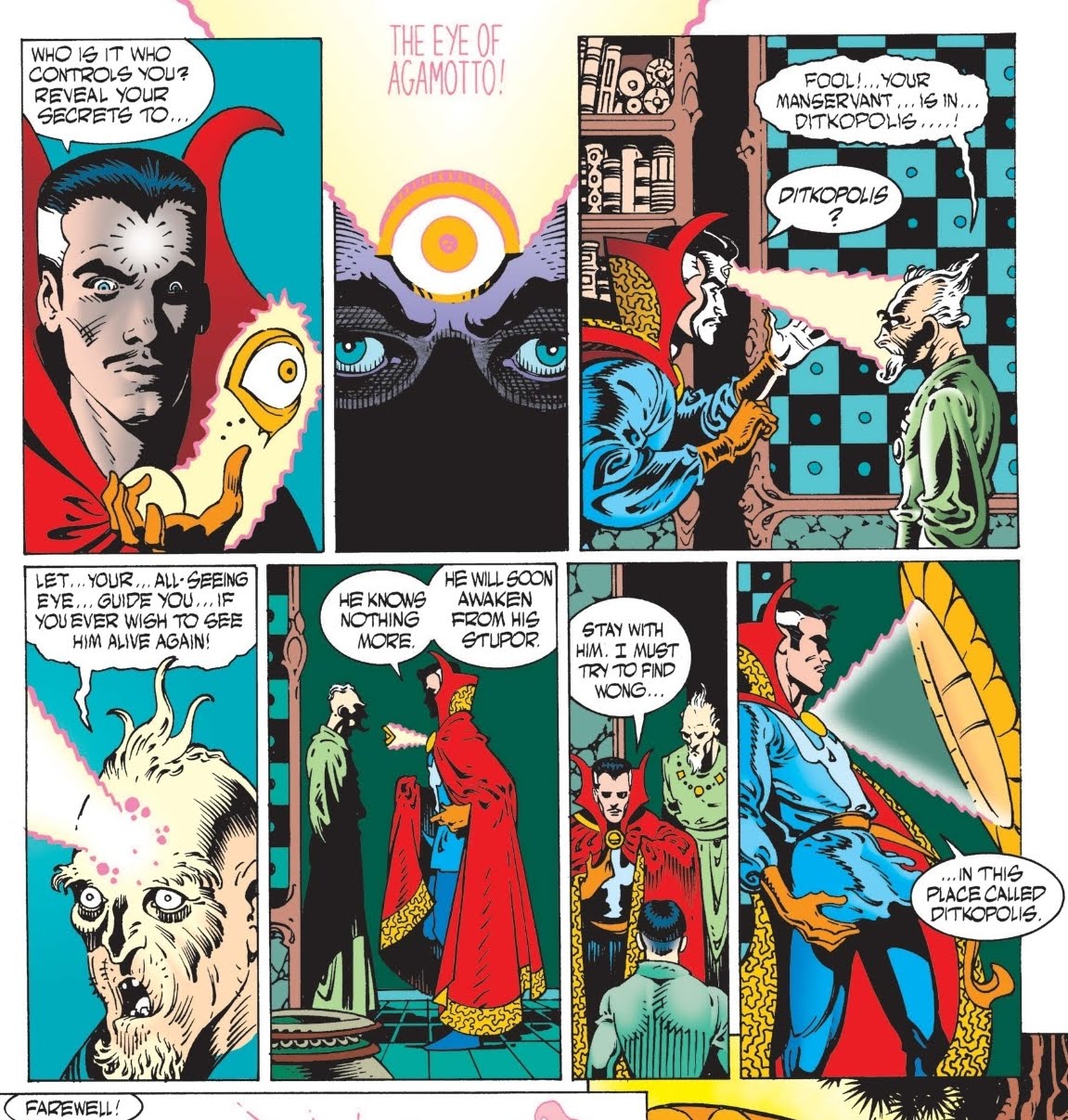 A majority of the best Doctor Strange comics are among Marvel's finest artist showcases. Whether it's Ditko, Frank Brunner, Michael Golden, Jim Starlin, Mike Mignola, and on and on, the mystic realms of Marvel's sorcerer supreme lend themselves to eye-popping visual feasts.
P. Craig Russell enters this pantheon with the 1997 reimagining of Strange's first Silver Age annual issue. It's a classic template for a Strange Tale, with Stephen pulled into another realm and tricked, seduced, and battered by the mystical Electra (no, not that one). There are all sorts of great avenues for experiencing the mind-melting psychedelia of early Strange (the original Ditko, but also Steve Englehart and Frank Brunner
), but Russell's is a recent favorite example of mine.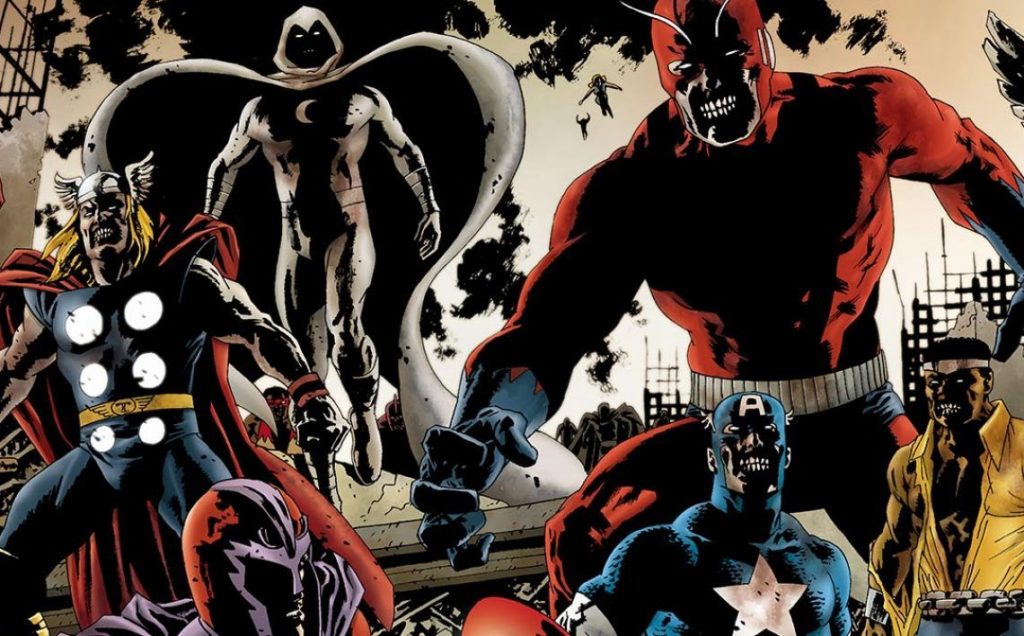 This is pure trailer bait, and may not be a huge part of Multiverse of Madness, but there do appear to be zombie versions of our pals in at least one of the alternate realities we're going to see on screen. It's not exactly a stretch to say most pop culture enthusiasts can grasp Marvel Zombies without reading the miniseries (It's the Marvel Universe… but turned into zombies. Thanks bye!), but I'm willing to bet folks who haven't read the series will be surprised by 1) How engaging it is and 2) Who gets the chance to shine as heroes forming the zombie resistance. This Robert Kirkman and Sean Phillips mini could have been a throwaway goof, and instead it's done with such conviction and delirious glee that it spawned a beloved franchise.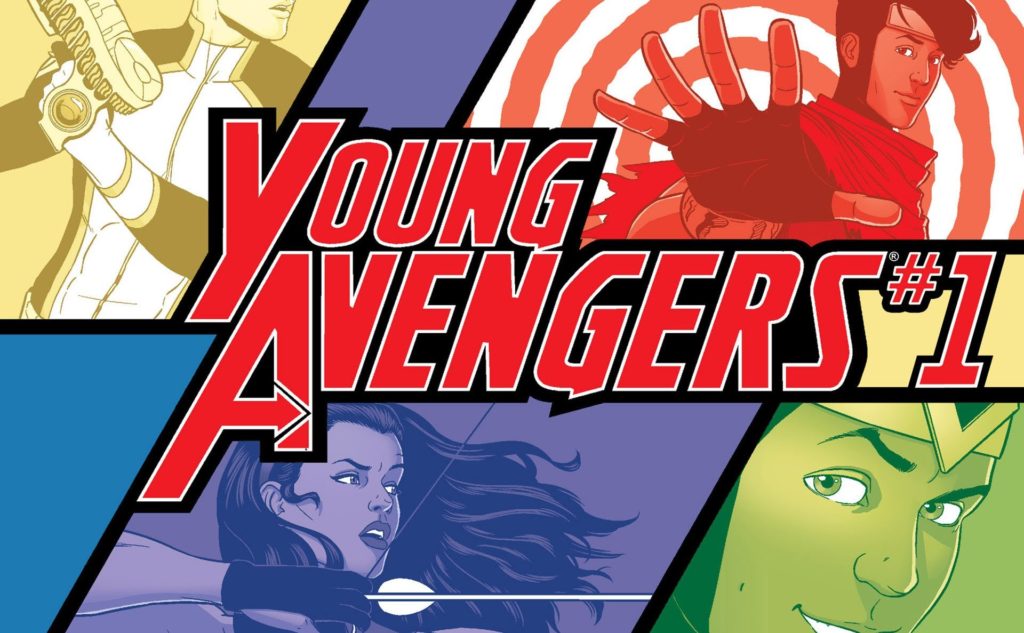 We know America Chavez will debut in Multiverse of Madness, and as previously suggested, I expect Wanda's twins, Billy and Tommy, to get some attention as well. The best place to enjoy stories from these characters is with the teens working together on the Marvel Now era Young Avengers, the volume of the series by Kieron Gillen and Jamie McKelvie, co-creators of Phonogram
and The Wicked + The Divine
. You won't find any Doctor Strange in here, but you will get a much better sense of who America Chavez is, and who Billy is (alongside his magical destiny which is very much in the typical realm of Strange).
The introduction of so many of these players in MCU Phase makes an eventual Young Avengers franchise feel very likely, so this will also give you a good sense of what that will be drawing inspiration from. Not to mention possible futures for MCU Loki…
If you're interested in Marvel characters travelling the multiverse and exploring all sorts of alternate realities, look no further than the original Exiles by Judd Winnick and Mike McKone. The book doesn't do much with Doctor Strange (technically there's a variant starting circa Exiles #66, with the very fun introduction of the Surgeon Supreme) or magic, but it is all multiverse, all the time, and for my money it's a blast. Mileage may vary pending your own obsession with 1995's Age of Apocalypse!
You'll see plenty of recommendations to pick up Marvel's more recent attempts to resurrect the Exiles
(complete with the potentially very relevant Captain Carter), but the old heads know this is the run to pick up.