Now that the Marvel Multiverse has come to the MCU and we're getting an Into the Spider-Verse sequel, Doctor Strange and the Multiverse of Madness, and a What If…? series, it's safe to say that we're about to start seeing a lot of Marvel's zany alternate realities playing out on the big screen. These wild new additions probably won't make Marvel's continuity less confusing, but the Multiverse has long been one of Marvel Comics' greatest features. Imagining what could have become of our favorite characters is a beloved pastime of the Marvel Maniac, and indeed, some of Marvel's Greatest Hits come straight out of the Multiverse.
Read 7 Best Marvel What If Comics for more multiverse picks!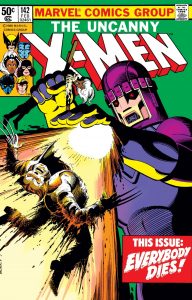 Heads up, the X-Men appear on this list more than any other Marvel franchise, and that is because they know how to do the Multiverse right. Beginning with this story right here, the X-Men have pulled major recurring characters out of various apocalyptic futures and ran with them, from Rachel Summers to Bishop to X-Man and beyond. Dropping the reader smack-dab in the middle of the future is a time honored X-Tradition and it all began here.
Power couple extraordinaire Mystique and Destiny (along with their Brotherhood of Evil Mutants) attempt to assassinate the anti-mutant politician Robert Kelly. This action ultimately causes humanity to crack down on destroying mutants with the aid of Sentinels, and even the other superheroes fall to this oppressive regime. Some X-Men still live and fight, while Kate Pryde, aided by the time-traveling Rachel Summers, seeks to return to the past in the body of her younger self to set things right. This is one of the X-Men's greatest, most widely referenced stories, and it continues to have effects on our merry mutants forty years down the line.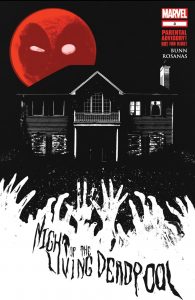 Deadpool has made a ton of appearances throughout the Multiverse, but there is one series that stands out for its sheer chaotic energy, and that's Night of the Living Deadpool. Awaking from a food coma after eating too many tacos, Deadpool discovers that the zombie apocalypse has begun while he was sleeping and he must try against all hope to survive the night. There are no spoilers or twists. This comic is exactly what you think it's going to be: tasteless jokes while attempting to flee from the zombie horde. Why mess with perfection? It's everything you've ever wanted from a Deadpool story and more. Yes, bringing this series back for a sequel was stretching the concept more than a little too thin, but guess what? I still bought it.
Support For Comic Book Herald:
Comic Book Herald is reader-supported. When you buy through links on our site, we may earn a qualifying affiliate commission.
Comic Book Herald's reading orders and guides are also made possible by reader support on Patreon, and generous reader donations.
Any size contribution will help keep CBH alive and full of new comics guides and content. Support CBH on Patreon for exclusive rewards, or Donate here! Thank you for reading!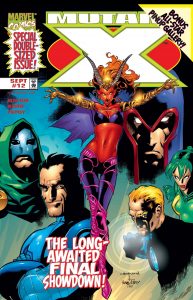 In 1998, Alex Summers was not doing so good. He'd gone from leader of X-Factor to quitting the team entirely after the trauma of Jamie Madrox's death. After Forge took leadership in his absence, Alex was possessed for the seventieth or eightieth time in his life and showed up to fight his brother, his former teammates, his ex-girlfriend—the list goes on. After he dies in an explosion, that old Summers luck actually lands Alex in a pocket dimension in which he is the leader of a team called the Six, composed of some very wacky, very mean X-Men. This starts Alex on a chaotic journey in which he desperately attempts to understand what's going on around him as his team slowly implodes and Madelyne Pryor transforms into the Goblin Queen. For better or worse, Mutant X is the year 1998 in superhero comics in its most distilled form: alternate realities, sexy vampires, a goth Warren Worthington, plenty of deep navel-gazing, and lots and lots of hip-huggers.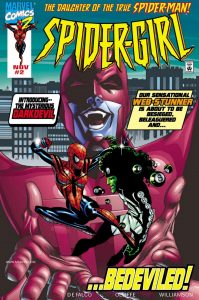 Making her first appearance in What If…? #105, May Parker was the daughter of the MC2 version of Peter and Mary Jane Parker. May was raised by parents who were hoping to put Peter's past as Spider-Man behind them forever. Due to the wild popularity of that one issue, May Parker returned in her own series and even inspired a full line of comics that occurred in the same reality, including A-Next and Wild Thing. Your mileage will vary on those and ultimately the line collapsed, but there's no question that the Spider-Girl series was one of Marvel's most entertaining books throughout its run. May Parker wasn't exactly like her father, but her optimism and her desire to do the right thing contrasted with his grumpy dad persona incredibly well, and the new twists on old villains made this one of the premiere Spider-Books throughout the late '90s.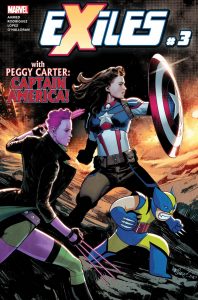 For people who have asked themselves "why isn't there a Marvel Universe version of Sliders?", guess what? There IS a Marvel Universe version of Sliders! Headed up by the mutant Blink with a rotating cast of regulars picked up from various alternate realities, the Exiles save the universe from threats posed by alternate realities. All of the Exiles series have been pretty amazing so far, but there's no better jumping-on point than Saladin Ahmed and Javier Rodriguez's twelve-issue run from 2018, which brought in characters like Baby Wolvie, a very Tessa Thompson-inspired take on Valkyrie, and Peggy Carter: Captain America. The characterization and the heady multidimensional threats make Exiles a huge draw, and the wild tour of the multiverse is what makes it shine.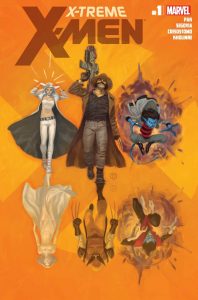 This series is more or less "other Exiles," but here's the thing: I'll take all the Exiles I can get. As the title may indicate, this story focused on a multidimensional team assembled to stop many evil Xaviers from taking control of the universe and ruling it with an iron fist. There are not one but many evil Xaviers all across the multiverse? How I wish I could say I was surprised! The team in question is headed up by Dazzler, who finally gets a little bit of the spotlight she has long been denied. Other highlights include Cyclops as a Civil War soldier, James Howlett's epic love with Hercules, and Xavier's detached head, yelling things.
Of all the Marvel characters who got a raw deal in apparently just about every alternate universe there is, our girl Gwen Stacy rates pretty high up there. That's why when Spider-Woman of Earth-65, aka the ever-lovin' Spider-Gwen, made her first appearances, she was an instant hit. Possessed of great costume design and a rad origin story, it's no surprise she has clicked with fans all across the world. Perhaps the most important part of her story, though, is that Gwen Stacy is one of the most fridged characters of all time, and her time as Ghost-Spider sees her taking control and being the hero in a way we've never had the chance to see. All the Spider-Gwen comics are pretty great, but stories like Ghost-Spider's part of Spider-Geddon and Gwenom make for good jumping on points.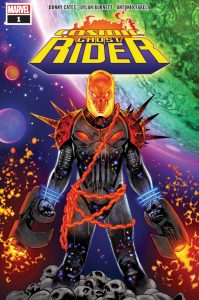 In the alternate reality known as Earth-TRN666, Frank Castle, along with most of the Marvel Universe, is killed by Thanos. Castle's wife and son die, and he swears vengeance from beyond the grave. Perhaps unsurprisingly, Frank ends up in Hell. He makes a deal with Mephisto, which is always a good idea, and becomes the Ghost Rider. Tearing out of Hell and ready to take on the Titan, Frank is disappointed to find that Thanos is gone and he has, in fact, been pranked by Mephisto. This is only the kicking off point to one of Marvel's wildest forays into the Multiverse yet. Cosmic Ghost Rider is always fun and his series have it all: Galactus, giant cosmic sharks, protagonists making bad choices, space motorcycles… the list goes on.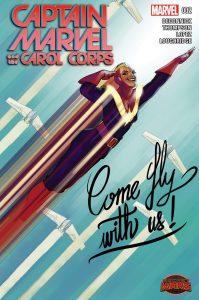 While the original Secret Wars has its enjoyable moments, it is generally summed up as a lengthy advertisement to help sell action figures, but the 2015 edition was quite a different beast entirely. Doctor Doom seizes cosmic power as universes collide and merge, shaping and taking control over Battleworld, a merged Earth with fractions of various different dimensions. The offshoot series featured bizarre alternate reality retellings of storylines with major elements of them changed to suit their respective worlds. This led to a flock of incredibly weird, cool, and engaging mini-series like Captain Marvel and the Carol Corps, Weirdworld, and E Is For Extinction. Comic book crossovers can be so hit and miss, but Secret Wars (2015) is one that delivers.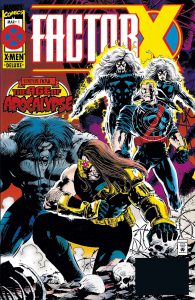 Many X-Fans of the '90s will no doubt remember Age of Apocalypse vividly, and there's no question why. Springing forth after the catastrophic events of Legion Quest, in which Xavier's son Legion travels into the past in hopes of killing Magneto and accidentally kills his father instead, this crossover asks the question: what would have happened if Magneto had led the X-Men? The short answer to that is that Apocalypse would have taken over the world and unleashed genocide on the human population, but the long answer is considerably more entertaining. Marvel stopped the X-Line and ran AoA titles exclusively for no less than four months, making it one of the more ostentatious and experimental arcs (though this would later be replicated across Marvel in Secret Wars). Surprisingly mature and upsetting subject matter colliding with a (quite literally) post-apocalyptic future and costumes that looked like they came straight out of a Duran Duran music video in the best way—to say this event was memorable is to say that water is wet.