What If…? comics began all the way back in 1977, and the title has seen two long-running series as well as several one-shots and mini-series in the interim. Generally narrated by our comically useless friend Uatu the Watcher, these stories imagine what might have happened if key moments in the Marvel heroes' lives had gone differently.
The wild world of What If…?
has truly earned the right to be considered a subgenre of superhero comics in and of itself, and the stories you find in any given issue have their own bizarre logic system in place that allow them to be full of tragedy and triumph while maintaining a purposefully short and to-the-point format. Even when a What If…? story isn't necessarily good, it is almost always a heck of a lot of fun.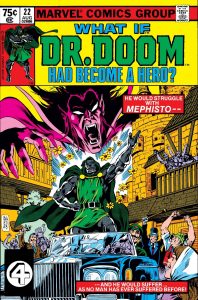 In this reimagining of Doom's origin story, we meet a surprisingly level-headed Victor, who works with Reed Richards rather than against him. Taking Reed as an assistant and heeding his good-faith warnings about tampering with things beyond his control, Victor does not end up scarred, and their feud never manifests. He still leaves school and studies the mystic arts in hopes of freeing his mother's soul from Mephisto, and it actually works.
Sadly, that still doesn't exactly fix Doom's problems. When he turns his attentions to Latveria, he improves the country and brings in a new era of prosperity. However, the notoriously spiteful Mephisto hasn't healed from the earlier slight of having one of his souls stolen from him, and he forces Doom to make a choice: his soul, the souls of everyone in Latveria, or the soul of Valeria, his childhood love whom he married in this reality. Doom's ego stands in his way like it always does, and he considers himself far too important to sacrifice, thus condemning Valeria to suffer in Hell. This story is a nice reminder that no matter how many things go right for Doom, his ego is always going to be his failing. After all, wherever Doom goes, there Doom is.
When Thor chose Jane Foster as his true love and companion, he attempted to bring her to Asgard to integrate her into his world of gods and legends. Odin found Jane wanting, and sent her away, leaving Thor torn between Earth and Asgard for years to come. This story imagines what might have happened if Thor had taken a stand against his father on Jane's behalf, but sadly, it's not exactly the love story you might have been hoping for.
Support For Comic Book Herald:
Comic Book Herald is reader-supported. When you buy through links on our site, we may earn a qualifying affiliate commission.
Comic Book Herald's reading orders and guides are also made possible by reader support on Patreon, and generous reader donations.
Any size contribution will help keep CBH alive and full of new comics guides and content. Support CBH on Patreon for exclusive rewards, or Donate here! Thank you for reading!
Thor believes Odin has flown off his rocker and he brings in the Avengers and a handful of Asgardians to take him out. Never one to talk his way calmly through a conflict, Odin calls Loki, Amora, the Executioner, and a torn Balder to fight on his behalf. Because it's no longer really about Jane, she just sort of wanders off for a while. Several die in the ensuing kerfuffle, and ultimately, Thor leaves Asgard forever, sitting on his own lonely throne.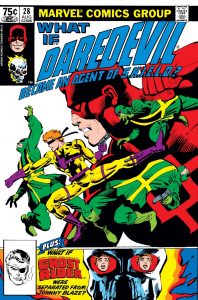 This issue has three different stories by a handful of creators, yet the themes manage to coexist well. Though the cover story is a Frank Miller-written-and-illustrated romp with Daredevil, the story that catches my eye the most is Ghost Rider's.
Johnny Blaze and the demon Zarathos are separated by a Crimson Mage, who takes on the power of Ghost Rider and causes rampant chaos with it. This story is a lot of fun, mostly because it shows us that if Blaze and Zarathos were separated, Zarathos would be delighted and go on to live his best life while Johnny would quite literally be waking up in a trash can and ranting at random passersby about a plot to kill the pope. It turns out that there is actually a plot to kill the pope in this story, which is just wild icing on a bonkers cake. All the stories in this issue are great, but Johnny Blaze being a wreck of a person while trying desperately to pull off the impossible is always going to get me in my feelings.
As originally occurred in Amazing Spider-Man #148-150, Spider-Man defeats his "evil" clone, and goes on to live out his life happily clone-free. However, he quickly discovers that he's missing any memory of the last three years. You probably know what that means so I'll cut myself off there, but will note that unlike so many What If…? stories, this one has an ending that is borderline heartwarming.
Naturally, while this did start out as just a What If…? one-shot, we later find that the Spider-Clone did survive and that he enjoyed having blond hair and ripping sleeves off of hoodies a lot. Ben Reilly was a cool addition to the Spider-Man mythos, but that's about all we got out of turning this single story into a sprawling arc in the mid-'90s. Not to be rude, but the Spider-Clone saga probably could have just been this one issue and we'd all look back on it a lot more fondly.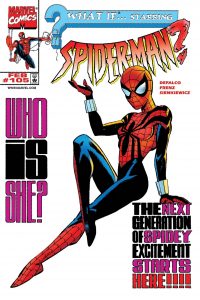 This issue features the first appearance of May Parker, otherwise known as Spider-Girl! Here, we imagine a world where Mary Jane never miscarried her child with Peter, and the two of them grew up to be mostly boring (except Pete's dashing white streak of hair—middle age looking good on him!) He gave up being Spider-Man after a particularly traumatic encounter with good ol' awful Norman Osborn, and now considers most heroes to be no-goodnik vigilantes.
This story is about May establishing herself in her social groups, discovering her powers, and choosing to take on her father's legacy as Spider-Girl, even if that's the absolute last thing either of her parents wanted for her. This seemingly random one-off would see May Parker to her own ongoing series, which remains one of the great, kind-of-underrated alternate reality stories in Marvel's history.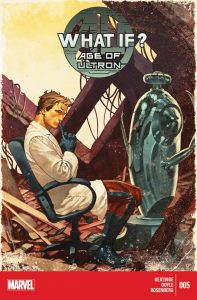 This five-issue mini-series written by Joe Keatinge and featuring a handful of incredible artists (such as Ming Doyle and Ramon Villalobos) is one of the more underrated outings for the What If…? universe. There are several different tales in this collection, and they vary in mood and scope, but they all add a little something different to the tale of the Age of Ultron.
These stories ask questions like: what if Hank Pym had never created Ultron to begin with? What if Ultron had killed the world and only left Hank alive? What if the USA no longer had Captain America to light its way? Keatinge has a good grasp of what makes an excellent What If…? story, and that's why this series on the whole remains one of the greats.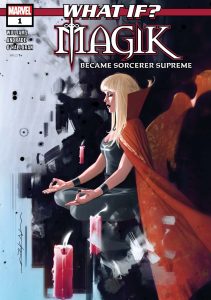 In our reality, Magik struggled against forces beyond her control, and they ultimately destroyed her. Here, Illyana leaves the X-Men for fear she will harm them, and ends up training to become the next Sorcerer Supreme with none other than Doctor Strange himself.
This is one of the best What If…? stories ever because, while so many depict alternate realities that are even bleaker than our own, this one shows us that Illyana actually would have been a lot better off if she'd broken away from her friends and focused on honing her magical abilities and healing. As incredible and necessary as our friends are in life, there are things we need to do our own way, and this issue does an excellent job of illustrating that. The interactions between Stephen Strange and Illyana are a true delight, but the fact that we finally get to see Illyana get a little bit of catharsis out of her traumatic past is what makes this one of Marvel's most essential one-shots.