DC has the longest running history in comics, with a library full of brilliant characters and stories dating back to Superman's first appearance in 1938. The thing about 1938 is literally nobody remembers what it was like then. For all science can tell us, DC may have been around since the beginning of time (Stephen Hawking just shed a tear, and he has no idea why).
This depth and breadth of stories makes fast track guides to the best of DC particularly challenging. There's so much to read! Nonetheless, I've narrowed DC Comics to an essential best DC Comics guide, in relative chronological order, that will get any new or interested reader up to speed with DC Universe.
Eagle-eyed readers will notice a few things about this guide:
1) This fast track extends until 2000. If you want a fast track for more modern era DC, I recommend the following —
Comic Book Herald's Fast Track Guide to DC From 2000 to 2012
Comic Book Herald's New 52 Fast Track Guide
Comic Book Herald's DC Rebirth reading order
Support For Comic Book Herald:
Comic Book Herald is reader-supported. When you buy through links on our site, we may earn a qualifying affiliate commission.
Comic Book Herald's reading orders and guides are also made possible by reader support on Patreon, and generous reader donations.
Any size contribution will help keep CBH alive and full of new comics guides and content. Support CBH on Patreon for exclusive rewards, or Donate here! Thank you for reading!
2) Proportionally, there are many more comics after DC's Crisis on Infinite Earths
(the 1985 event that essentially 'reset' the DCU for the modern era). There are a few reasons for this, and in general I think readers are going to enjoy the heck out of the Post-Crisis era, but honestly pre-Crisis DC is just a damn challenge to catch up on. Until DC realizes a DC Unlimited service would expand love for their comic book history 52fold, this segment will remain comparatively barebones, especially in comics' Silver Age.
Otherwise, below you'll find the only guide you'll need to DC essentials before the year 2000!
PRE CRISIS ON INFINITE EARTHS (1942 to 1985)
Golden Age Wonder Woman
Issues: All Star Comics #8, Sensation Comics #1-24 And Wonder Woman #1-7
There are few reads in either Big 2 superhero universe that are more pure joyous comic book fun than the debut of Wonder Woman. Don't worry, with DC Comics you don't need to go all the way back to the late 30's to understand every facet of Superman and Batman continuity. Nonetheless, in Wonder Woman's case, these stories by creator William Moulton Marston are well worth the dive into the past.
Batman by Denny O'Neil and Neal Adams
Issues: Batman #232, 235, 240, 242, 243, 244, Detective Comics #411, 485, 489, 490, and DC Special Series Volume 2 #15
Denny O'Neil and Neal Adams are frequently credited for transitioning Batman out of his campy Batman '66 persona and into "The Dark Knight" we know and love today. These issues are a great look at that development, centered around the introductions of Ras and Talia Al Ghul.
Green Lantern/Green Arrow by Denny O'Neil and Neal Adams
Issues: Green Lantern/Green Arrow #76-87 And 89, Plus The Flash #217-219 And 226
Speaking of Denny and Neal, the duo also teamed up for the early 1970's Green Lantern/Green Arrow shared comic, subsequently subtitled "Hard Travelin' Heroes." While the issues feel their age today, Green Arrow insisting Hal Jordan respond to social ills of the time was a big step forward for superhero comics.
Jack Kirby's 4th World
Issues: See Comic Book Herald's New Gods reading order!
After his departure from creating approximately 92% of the Marvel Universe, DC snagged Jack Kirby and he proceeded to build out his Fourth World universe of New Gods, Darkseid, and Apokolips. The frenetically energetic Kirby style takes some getting used to, but also features unbeatable highs for the likes of Orion and Mister Miracle.
Manhunter by Walt Simonson and Archie Goodwin
Issues: Detective Comics #437 to #443 (Manhunter)
Artist Walt Simonson would go on to deliver the greatest Thor run of all time for Marvel in the mid 1980's, but in the mid 70's he teamed with Archie Goodwin for a shockingly great "Manhunter" series. One of the most underrated entries on the list, and well worth digging up.
Please note the most accessible collected or digital versions of these comics are listed in a "Tales of the Batman" edition!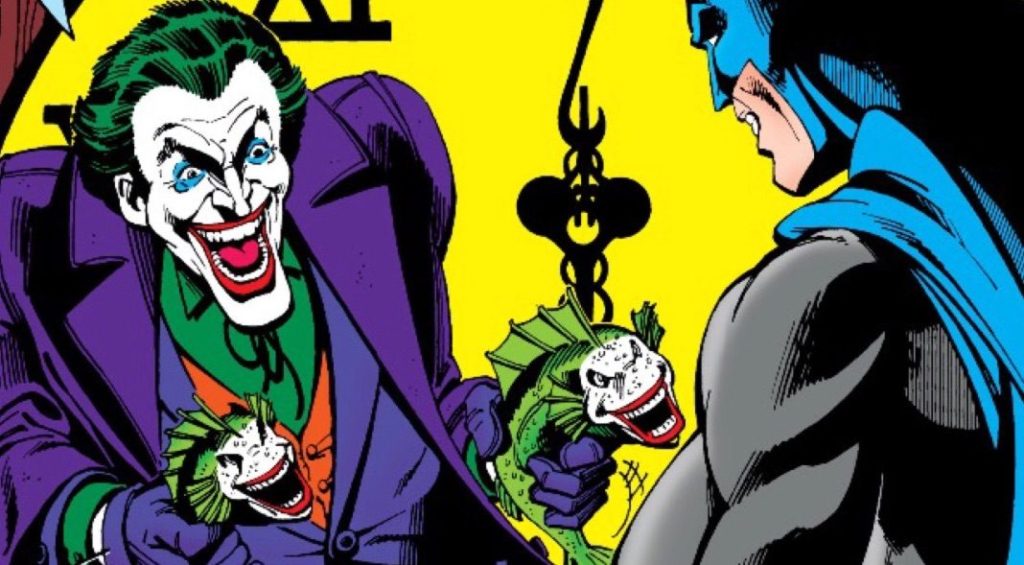 The Joker: The Clown Prince of Crime
+ Joker: A Celebration of 75 Years
Issues: The Joker #1 to #9
For the Joker 75 Years Collection, only read these issues in the following order:
Batman #1, 5
Detective Comics #64
Batman #25, 32
Detective Comics #168, 180
World's Finest Comics #61
Batman #85, 163, 251
Detective Comics #475-476
Batman: Legends of the Dark Knight #65-68
Detective Comics #726, 826
Joker's first solo series in the mid 70's pits the Bat's arch nemesis against a variety of DC Universe staples. Then, in the "Celebration of 75 Years" collection, you can see when the Joker truly began transitioning into the chaotic evil enemy in "Joker's Five Way Revenge" and "The Laughing Fish."
Legion of Super-Heroes: The Great Darkness Saga
Issues: Legion Of Super-Heroes #284 to #289, Annual #1, #290 to 296
Paul Levitz and Keith Giffen deliver one of my all-time favorite DC stories with a tale of The Legion of Super-heroes against a dark threat from the time of Superman. You don't need to be a longtime Legion fan to enjoy.
The New Teen Titans
Issues: See Comic Book Herald's Complete Teen Titans reading order!
DC's answer to Marvel's X-Men success, Marv Wolfman and George Perez reassembled the sidekicks of the DC Universe into a strong ensemble book. If the opening arcs don't grab your attention, make sure to give "The Judas Contract" a fair chance, as The New Teen Titans cement Deathstroke as their ultimate enemy.
Superman: Whatever Happened to the Man of Tomorrow
Issues: Superman #423, Action Comics #583, DC Comics Presents #85, Superman Annual #11
I've never been particularly impressed by Alan Moore's take on a "final" Superman story, but I do include this collection for collecting the Alan Moore story "For the Man Who Has Everything." It's one of my favorite single Superman issues of the era.
Swamp Thing
Issues: Swamp Thing #20 to #31, Swamp Thing Annual #2, #31 to #64
All-time great comic book writer Alan Moore took the reigns of Swamp Thing and (with Stephen Bisette and John Totelbon) crafted the series into one of the best horror comics in the DC Universe (and one of the best DC Comics of all time). If memory serves, I also believe the Moore Swamp Thing run (retroactively Vertigo) actually crosses over with Crisis on Infinite Earths in the middle of the run.
Crisis on Infinite Earths
Issues: Crisis on Infinite Earths #1 to #12
Before comic book events were a yearly occurrence, DC launched the mother of events, gathering their entire Universe together to face the threat of the Anti-Monitor in Crisis on Infinite Earths. The book's a doozy for anyone without a PHD in DC Comics, although still has enough strong character moments from Marv Wolfman and George Perez for newer fans to grasp onto.
AFTER CRISIS ON INFINITE EARTHS (1986 to 1989)
Batman: Year One
Issues: Batman #404 to #407
Arguably the best Batman story ever told, Frank Miller and David Mazzuchelli's retelling of Bruce Wayne's first year as Batman is a seminal graphic novel and a must-read for any DC fan.
Superman Man of Steel
Issues: See Comic Book Herald's complete Superman reading order
John Byrne took the post-Crisis responsibility for redefining Superman, and launched a lauded and lengthy run on the Man of Steel.
George Perez Wonder Woman
Issues: See Comic Book Herald's complete Wonder Woman reading order!
Miller's Batman and Byrne's Superman get more of the attention, but George Perez shared similarly successful reinventions with his take on Wonder Woman. Perez's run would come to define Ares as Wonder Woman's archnemeiss, as well as the role of the Gods of Olympus in Wonder Woman comics moving forward.
Batman: The Dark Knight Returns
Issues: Batman: The Dark Knight Returns #1 to #4
One of the best graphic novels of all time, Frank Miller's take on an older, more brutal Batman is a classic for good reason.
Watchmen
Prior to DC Rebirth, I wouldn't have included Watchmen on my guide to DC Comics essentials. Although the publisher has always retained the rights to Alan Moore and Dave Gibbon's masterpiece (and my favorite comic book of all time), it's only in recent years that it has genuinely felt like part of the DC Universe fabric. A highly recommended read regardless.
Legends
Issues: Legends #1 to #6
A recommended reads list through DC's history is pleasantly devoid of many events, but Legends has to fit in somewhere.
Suicide Squad
Issues: Suicide Squad #1 to #66
It's now a controversial DCEU film, but even so, nothing beats John Ostrander, Kim Yale, and Luke McDonnel's original run on Suicide Squad. Amanda Waller, Deadshot, and Boomerang have never been better.

Green Arrow: The Longbow Hunters
/ Mike Grell Green Arrow
Issues: See Comic Book Herald's Complete Green Arrow reading order
Although "The Longbow Hunters" graphic novel remains gorgeous, its themes, treatment of Black Canary, and overextended grit feel tired in today's era. Mike Grell nonetheless deserves credit for an era-defining take on Green Arrow.
Hawkworld
Literally the only time anyone has ever had good reason to recommend a Hawkman story!
Batman: The Killing Joke
Alan Moore and Brian Bolland's Killing Joke has undergone a critical reexamination in the 2010's, with even Moore himself disavowing the book. The graphic novel detailing the Joker's origin has always been one of my least favorite Moore stories, but that doesn't negate Bolland's excellent art and The Killing Joke's standing as one of the most popular and influential reads in Batman history.
Batman: A Death in the Family
Issues: Batman #426 to #429
Jim Starlin, best known for his brilliant Marvel Cosmic comics involving Captain Marvel, Adam Warlock, and Thanos, writes one of the more brutal entries in Bat-family lore.
Batman: Arkham Asylum
Much like The Killing Joke, Arkham Asylum is far from my favorite Grant Morrison work, but the graphic novel with Dave McKean's stylized haunting art is an all-timer for good reason. The comic also deservedly sets the stage for much of what was to come in Rocksteady's excellent Arkham Asylum video game series.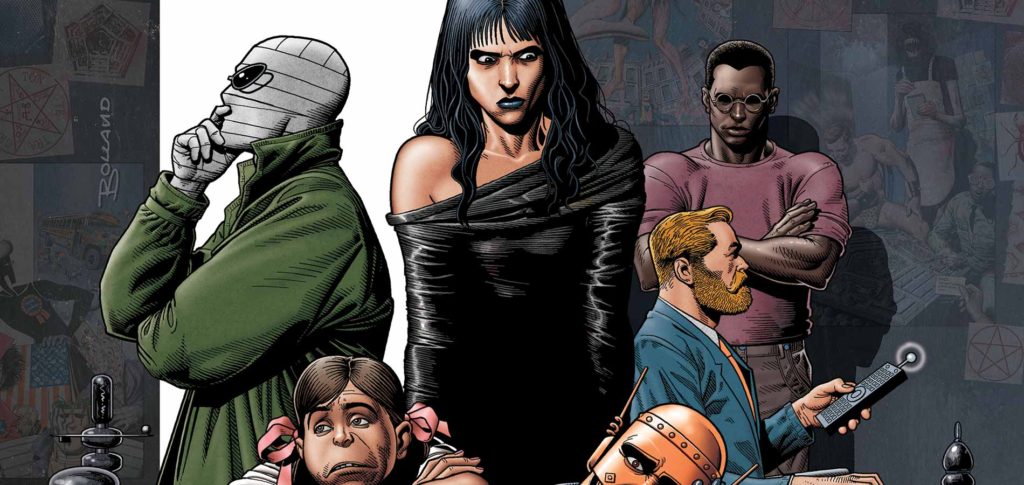 ENTER THE 1990s (1990 to 2000)
Doom Patrol
Issues: Doom Patrol #19 to #63
Speaking of my favorite Grant Morrison comics, Doom Patrol by Morrison and (primarily) Richard Case is one of the most inventive, exciting, and off-the-walls comics ever published by DC. Doom Patrol is another retroactive addition to the Vertigo stable, but the cast is very much integrated in the DCU, even interacting with the Justice League.
Animal Man by Grant Morrison
Issues: Animal Man #1 to #26
Slightly less weird than the Doom Patrol… but only slightly. Grant Morrison's run on Animal Man redefined the character, as well as the role of comic book creators in their art.
Green Lantern: Emerald Twilight, New Dawn
Issues: See Comic Book Herald's Complete Green Lantern reading order
One of the most notorious Green Lantern stories of all time, with Hal Jordan possessed by Parallax and the introduction of Kyle Rayner.
Mark Waid's Flash
Issues: See Comic Book Herald's Complete Flash reading order
The Flash run that made Wally West the fastest man alive, introduced hyper-time, and remains to this day the go-to recommendation for Flash readers.
JSA the Golden Age
James Robinson takes a Watchmen-esque look back at DC's earliest heroes, the Justice Society of America.
Batgirl/Robin Year One
Chuck Dixon's excellent takes on Barbara Gordon and Dick Grayson's first years fighting crime alongside Batman.
Batman: Knightfall
Issues: See Comic Book Herald's Complete Batman reading order
The story of how Bane broke the Bat.
The Death and Rebirth of Superman
Issues: See Comic Book Herald's Complete Superman reading order
Doomsday and Superman fight to the death, and although we all know how it ends, the Rebirth portion of Superman generates some excellent Supes stories.
Batman: The Long Halloween + Dark Victory
Jeph Loeb and Tim Sale partner for a month-by-month retelling of Batman's earlier days facing a new villainous rogue in each issue. Highly influential series on the Harvey Dent elements of Batman stories moving forward.
John Constantine: Hellblazer – Dangerous Habits
John Constantine fights cancer in the way only he can, from Preacher writer Garth Ennis. My personal favorite Hellblazer story.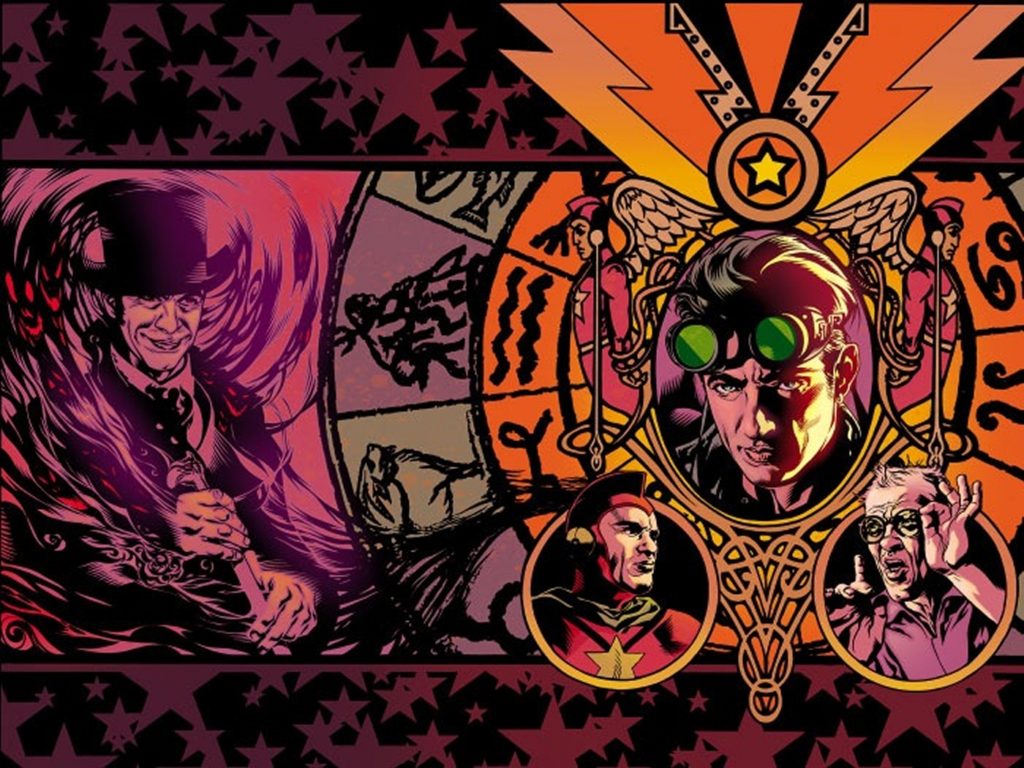 Starman
Issues: Starman #0 to #81, plus annuals!
One of my all-time favorite extended superhero comics runs, from James Robinson and (primarily) Tony Harris. This is everything you want from a comic series starring a non A-lister.
Hitman
Issues: Hitman #1 to #60
Hitman could have fallen flat on its face, but the Garth Ennis and John McCrea became one of the best DC Comics of the 90's. Less gleefully grotesque than Preacher, but with similar humor and heart, Hitman may well be Ennis' best superhero universe work.
JLA by Grant Morrison
Issues: See Comic Book Herald's Complete Justice League reading order
Grant Morrison restored the Justice League in the late 90's, assembling the modern popular roster of Batman, Superman, Martian Manhunter, Aquaman, and Wonder Woman before extensively expanding the cast. A great place to start reading Justice League.
DC One Million
Speaking of King Impulse (aka Morrison), DC One Million proved to be one of DC's best gimmicks, with every issue numbered #1,000,000 and taking place in the distant future.
Kingdom Come
Mark Waid and Alex Ross delivered one of the definitive graphic novels of the 90s, with a look at a younger generation of heroes challenging the aging DC heroes we know for supremacy.
Batman: Mad Love
Issues: Batman Adventures Annual #1-2, Batman Adventures Holiday Special, Adventures In The Dc Universe #3 And Batman Black And White #1
The classic Batman: The Animated Series origin of Harley Quinn loses very little of its magic in this comic book adaptation.
Superman: For All Seasons
Jeph Loeb and Tim Sale together again for four issues of Superman, each taking place in a different season of his life. Batman: The Long Halloween gets most of the attention, but for my money, Sale's Superman is some of his finest work.
Orion by Walt Simonson
Issues: Orion #1 to #25
Legendary Thor creator Walt Simonson took on Orion and the New Gods for over 25 issues, channeling a deep and abiding love of all things Jack Kirby for the new millennium!