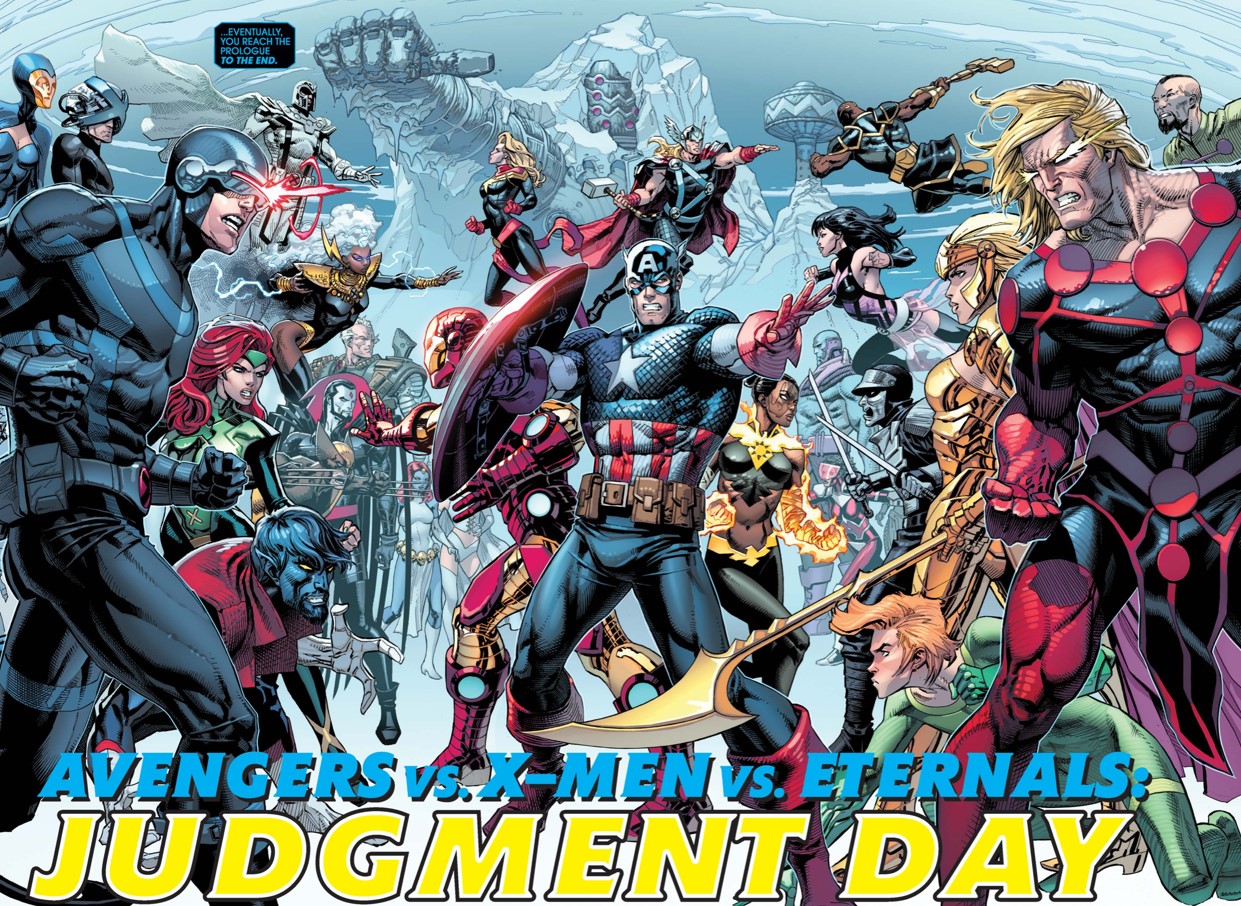 This is the first of several pieces that looks at the core "A.X.E.: Judgment Day" story from start to finish. We'll focus on the event series A.X.E.: Judgment Day and the tie-ins written by event author and architect and ongoing Immortal X-Men writer Kieron Gillen (working with artists Valerio Schiti, Guiu Vilanova and Lucas Werneck, respectively), as well as the X-Men: Red tie-in issues from Al Ewing and Stefano Caselli, the surprise mini-masterpiece Legion of X #6 from Si Spurrier and Rafael Pimentel and Marauders #6 from Steve Orlando and Andrea Broccardo—which isn't as essential as the others but is significant for devoting an entire issue to Krakoan reactions—specifically, the Marauders'—to the Progenitor's judgment; indeed, the story deals with developing a healthy response to a false god's terrifyingly bratty judginess.
So, we're narrowing in on what's already a wealth of material, paring down from 30+ issues with the tie-ins to appreciate the core of this epic story and its most integral side stories, while appreciating the nuances of character, theme and continuity that each storyteller brings to this apocalyptic barnstormer.
The last piece will primarily be a retrospective on the event as a whole, while acknowledging the climax and resolution in A.X.E.: Judgment Day #6 do see something of a falling off from the event's grim gravitas. When we get there, the epilogue "omega" issue will already have dropped, but from solicits it's clear that it will be the closing chapter of Gillen's Eternals saga that began with last year's Eternals #1 (volume 5).
As we go along, I think we'll find the character beats are the strongest elements by far for this event—besides the stunning Valerio Schiti masterpieces on nearly every page. And let's acknowledge here that the artist recently through a big life change in becoming a new father—which is why he didn't draw the entirety of issue #6. But more significantly, this did change the event's shape: The A.X.E.: Judgment Day one-shots Avengers, X-Men and Eternals were carved out of the core event series so as to lessen Schiti's workload. Another strong element, however, is Gillen's bucking of event-sized expectations—a clever move, but more than that, it's an honest, even heartfelt deconstruction of these seasonal blockbuster, cash-cow epics that have disappointed more often than not.
And stacked up against all of Marvel's big events of the past 20 years, "A.X.E.: Judgment Day" succeeds where so many fall flat. It's not Secret Wars by Jonathan Hickman, but that's not really a fair comparison. But despite a few minor flaws that seem more due to external circumstances than anything else, this event achieves many powerful, often gut-wrenching moments and a few serious consequences for the MU—that is, if Marvel follows through on them in the coming months. There's no reason why this won't be the case for a few of the X titles. Meanwhile, the Avengers and the rest of the world have a lot of wreckage to clean up, the Eternals, too, unless they've been put back in the toy box indefinitely. That would be a shame.
Support For Comic Book Herald:
Comic Book Herald is reader-supported. When you buy through links on our site, we may earn a qualifying affiliate commission.
Comic Book Herald's reading orders and guides are also made possible by reader support on Patreon, and generous reader donations.
Any size contribution will help keep CBH alive and full of new comics guides and content. Support CBH on Patreon for exclusive rewards, or Donate here! Thank you for reading!
At least one Eternal appears to be permanently changed, maybe—a mystery for another era?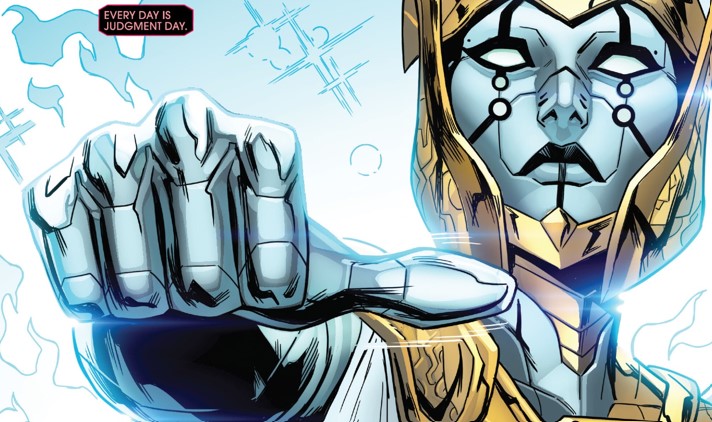 [from A.X.E.: Judgment Day #6's epilogue; art by Ivan Fiorelli, Marte Gracia and Clayton Cowles]
However, it does appear that, as with "Devil's Reign" and "The Reckoning War" immediately preceding it, the stakes and consequences of "Judgment Day" may very well be narrowly confined to just a few titles. This just seems to be the time that we're in now. The scale of a "Civil War" or "Secret Invasion" may have gobbled up too much page real estate back in the day (though "Dark Reign" was a successful experiment that I hope can be retested with a variety of story situations, alas). But these days, we're headed back toward event fatigue with all these little events with their "Alphas" and "Omegas" and other one-shots that may provide plenty of story fodder for future comics writers (today's young fans) but more realistically, Disney, so they can cherry pick what their producers like. Or maybe it's just that #1's just sell better—yes, even when there won't be a #2 (every one-shot, after all, is a #1).
Before we move into a close look at each significant chapter of "A.X.E.: Judgment Day," let's briefly pause to acknowledge the nuttiest thing about this event…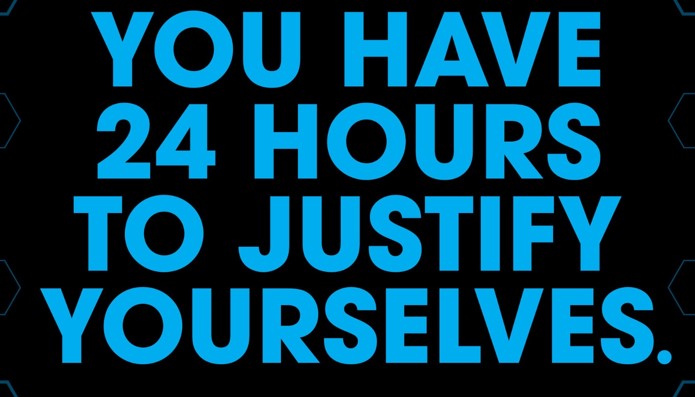 24 hours in three months—the longest single day in comics history? Just about! Truly, I can't think of another 24-hour event off the top of my head.
War of the Realms? King in Black? Infinity Gauntlet? Possibly, but I just don't recall the exact time frame without looking it up. A.X.E.: Judgment Day will be remembered for many things, which we'll get into, but right now, the astounding thing is that its entire premise is that everyone on Earth (human, mutant, alien, Eternal and—lol—Inhuman*) is to be judged in 24 hours by what's essentially a creepy Frankenstein god and if the overall outcome tilts in favor of an all-too-pat thumbs-down, then—goodbye, everybody! And it took three months for that excruciating day to come to an end! That's just wild to me.
*What about sentient synthetic/mechanical life? I mean, where was Danger and the Vision in all this? And why was the Progenitor up to wiping out all life on Earth just because humanity sucks? Surely, a caring god would've returned the planet to those (animals, plants, fungi, etc.) who aren't perpetually trashing it!
Since "Judgment Day" has come and gone, we'll look at the question of this wild degree of decompression when we come to the last piece in our read through. But now that the agony of waiting for the climax has passed, I think we're able to appreciate the event's epic-sized Rashomon effect*, a way of reading the story that will pop up throughout our reread.
*After Akira Kurosawa's Rashomon: "The film is known for a plot device that involves various characters providing subjective, alternative and contradictory versions of the same incident."
Now, let's not get lost in the early days when we could put our ears to the ground and sense "A.X.E.: Judgment Day" looming just over the horizon. The story started, as you've surely heard mention, in…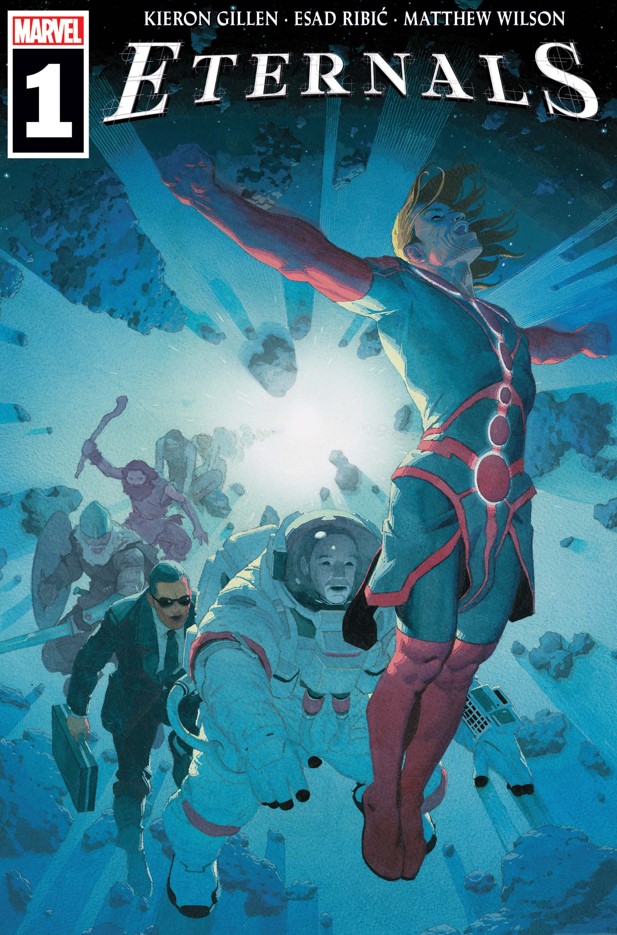 Eternals by Kieron Gillen and Esad Ribic, 2021-2022
For more on Gillen's extraordinary and extraordinarily underselling Eternals run, see my in-depth piece from earlier this summer on CBH*. The parallels and contrasts between the Krakoan and Eternal resurrection processes are clear to anyone who's followed both groups. But the Eternals' technology for resurrecting was revealed in an obscure 2000 one-shot, New Eternals: Apocalypse Now—which I skimmed just to confirm that it's not a fun reading experience. Yet Neil Gaiman did explore this aspect of Eternal life in his 2006 mini with legend John Romita, Jr.; this was the last time the Eternals were somewhat interesting. However, all this is why in Judgment Day #1, Sersi snidely says, "[The Krakoans] are such plagiarists. Returning to life is our thing."
*Following that piece, here's a review of the last issue of the series as a lead-in to A.X.E.: Judgment Day, from the Eternals angle—and above all, that of the Deviants.
Eternals #10-12, the last three issues of the title, have the "Judgment Day Is Coming" banner on the cover, but the one-shot focusing on Uranos, Eternals: The Heretic, is also essential for the event—as it defines Uranos' character where he had been little more than a name before. Gillen's reinvention of this franchise that no one's done anything really compelling with since Kirby* has been astounding, as if he really did create them anew within the most general bounds of Kirby's original premise and some small additions along the way.
*And even then, well…that's still the least fun I ever had reading a Kirby comic. Again, it is extraordinary what Gillen has done with the Eternals—he's seriously the first to make them remotely compelling and succeeded at this spectacularly, from the opening page of the first issue.
The fact that Gillen's Eternals was underselling when Marvel would've certainly preferred otherwise with Disney's blockbuster Eternals movie in theaters at the time is critical to understanding the DNA of "A.X.E.: Judgment Day." The series was canceled, but its story was invited to continue by massively scaling up. Now, there's nothing public out there saying this event took shape as it did because of this market logic. After all, why would corporate want that getting out? What matters more, though, is that Gillen made it work—and better than most Marvel events, even while bucking our ingrained event expectations. More on that as we move along.
Circumstances Surrounding the Call for a Judgment Day
The other essential preamble material is: Free Comic Book Day 2022: Avengers/X-Men #1, X-Men: Hellfire Gala #1 (which, of course, spins out of X-Men #12*, both from written by Gerry Duggan), Immortal X-Men #4 and A.X.E.: Eve of Judgment #1.
*X-Men #12 saw the existence of Krakoa's resurrection process made public by way of the Daily Bugle.
FCBD 2022: Avengers/X-Men #1: "Of Deviation and Mutation" by Gillen, Dustin Weaver, Marte Gracia and VC's Cory Petit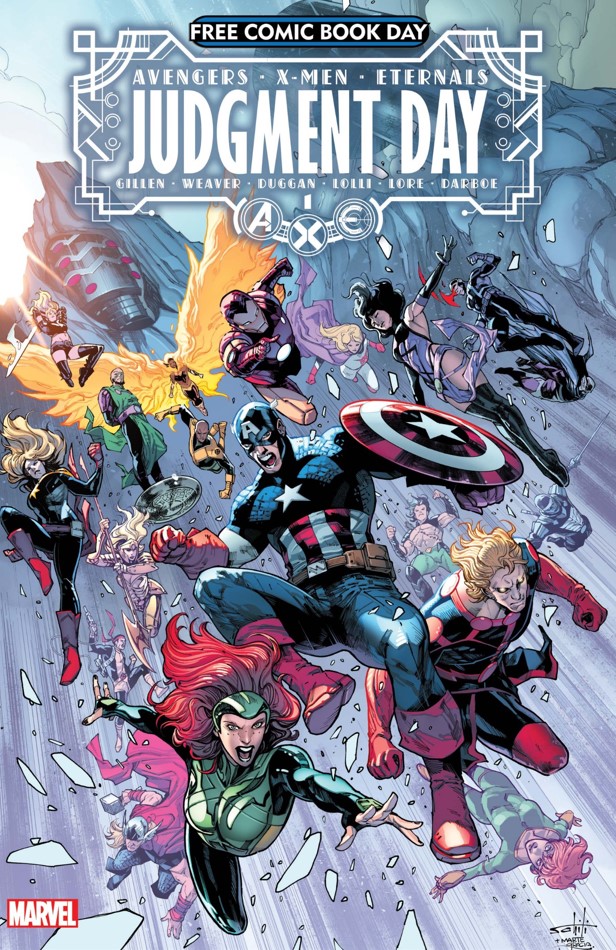 Only the first story here is relevant; it's straight out of Gillen's Eternals, opening with the narrative voice of the Machine, the prehistoric but super-sophisticated AI that, to the total surprise of the few who learn of it during event itself, basically keeps the Earth functioning with its Celestial machinery threaded through it, hyper-dimensionally, or whatever. The Machine's role as narrator will carry into Death to the Mutants (which was so named by editorial or corporate purely for marketing reasons, as it obviously should've been A.X.E.: Eternals #1-3).
When A.X.E.: Judgment Day #1 dropped, many readers reasonably read the opening page's narration as either the Machine or some variation thereof. In hindsight, that page now reads with a heavy presentiment of dread. It makes you wonder if the Progenitor's impossible temporal slipperiness could have side effects we haven't seen yet. But then again—we already have a clear idea of how Marvel is viewing events nowadays; stakes and consequences typically live and die with the event.
Impressively, Gillen seems to have still carried off what he always intended for his Eternals run: It began with Thanos fully integrated into the Eternals mythos (no longer just vaguely related as had been the fate of the Titanians since Marvel's halfhearted attempts at integrating the origin of those Jim Starlin creations with that of Kirby's Eternals), while Gillen's tale comes full circle with Thanos' brother Eros returning to life, taking the role of Prime Eternal, navigating his people out of an epic disaster of their own making and then relinquishing power at the moment when they can maybe start to do better.
The FCBD chapter shows us Uranos committing genocide against mutant monkeys a million years ago. This is Gillen showing readers who hadn't followed his Eternals run just who this dreadful guy is. Again, he was little more than a cipher previously, appearing only once before, briefly, in What If? #24's B-story, 1980. Given his name and age relative to the rest of the modern Eternals, he's analogous to the Titans of Greek myth, specifically the Titans' primordial patriarch who impregnated his mother Gaia to kick start their ill-starred family. His children usurped him, and his grandchildren did likewise to their parents.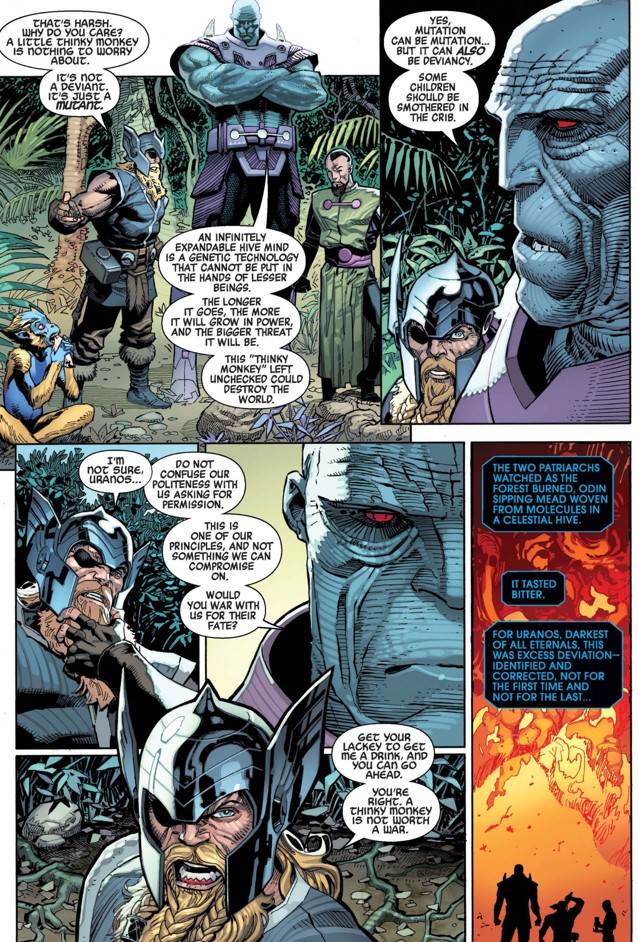 Often named for mythic heroes, the younger Eternals are meant to feel very far removed from their origins in those patriarch figures like Uranos, Kronos and Oceanus—even though the question of how family works remains pretty vague for the Marvel franchise. Gillen, unsurprisingly, seems to be the first to try and clarify, just a little bit, particularly in his Eternals: Thanos Rises one-shot with (hey, look there) Dustin Weaver!
With how robot-like much of the Eternals' Celestial programming is, the question for the likes of Uranos and Druig is, how much did the Celestials program them to be awful? Most Eternals seem to flip a switch when they register "excess deviation," and they just robotically exterminate what their creators would've seen as just that, an uncontrolled biological growth that threatens other lives—not the Eternals themselves but other forms of life, including non-"excessive" Deviants (until they suddenly change into monstrosities themselves, though it's unclear exactly how common this is for them as an ultimate fate; obviously, Kro hasn't suffered this change in the 100,000+ years of his existence, but he's said to be exceptional.
But why would the Celestials create Uranos knowing that he would see all life period as excess deviation? If their programming goes that deep, they created the rest of the Eternals to be tempermentally opposed to Uranos' extremist, omincidal beliefs and inevitably lock him up for eons. But maybe the star gods wanted their children to have a WMD on hand for dire situations? For when the planetary experiment is deemed to be failing? Interesting questions we can only hope to find out in the next Eternals series, at some point.
And why is there a random one-off, kaiju-sized Deviant attacking New York? Shouldn't such an occurrence happen more regularly? It's all so beautifully depicted, who cares?
Also, the mercenary crime-master and gender-ambiguous Eternal Jack of Knives spies on Krakoa's Five while in the employ of Druig, who's going off all the hot Krakoa tips he got from the vengeful Moira X. Jack's attitude seems detached, as if he doesn't quite buy into Druig's insistence that mutants are Deviants.
For our purpose here, we'll skip over the FCBD issue's Moira story from Gerry Duggan and Matteo Lolli, "Let's Talk About Krakoa"—a lead-in to the Duggan-penned 2022 Hellfire Gala one-shot. Suffice to say, Moira still wants the Krakoans taken off the board, and since I guess Orchis wasn't sufficient for her, she goes to the Eternals, specifically Druig. Which is, like, yeah, that's a thing even the mad scientists of the MU ever did on the regular; sure. "Hey, supervillains' club, who's got Druig's number, hit me up!"
But obviously, Duggan's X-Men #12 and the follow-up in this year's Hellfire Gala provided fuel to the fires of humanity's renewed hatred and envy toward mutantkind, which boils over in Judgment Day's opening.
Moira's super-science kidnapping of Mary Jane Watson (Spidey's, um, un-wife?) isn't essential to the event, so moving on…
Immortal X-Men #4 by Gillen, guest artist Michele Bandini (who also draws issue #5), David Curiel and Clayton Cowles sees two major developments: Emma trips Sinister up with the discovery of the identity of Dr. Stasis, thanks to Cyclops over in Duggan's X-Men (#11-12), but then he's mysteriously kidnapped—or was it an escape? We'll quickly see it's an abduction, but at the time, it felt more exciting and mysterious than what it turned out to be (helping Ajak and Tony Stark build a Frankenstein zombie space god, which was fun, but didn't appreciably move Sinister's own story forward).
There was much speculation throughout the first half of the event, at least, that with his Moira clone farm, Sinister would reset the timeline if things got too out of control with the Progenitor. As it turned out, however, that never even came close to happening at any point!
In any case, Immortal X-Men #4, "Diamonds Are Forever," is another Gillen masterpiece, this one focusing on Emma.
A.X.E.: Eve of Judgment #1 by Gillen, Pasqual Ferry, Dean White and Clayton Cowles is a prelude from the Eternals' perspective, and in hindsight, with the "omega" issue also focused on the Eternals, we can say this really has been an Eternals-centric event—or as much of one as is feasible. The question at this point is, will these characters, whose very nature makes rounded characterization nigh impossible, ever again be event-worthy (or will they now go the way of the Inhumans post-Inhumans vs. X-Men)?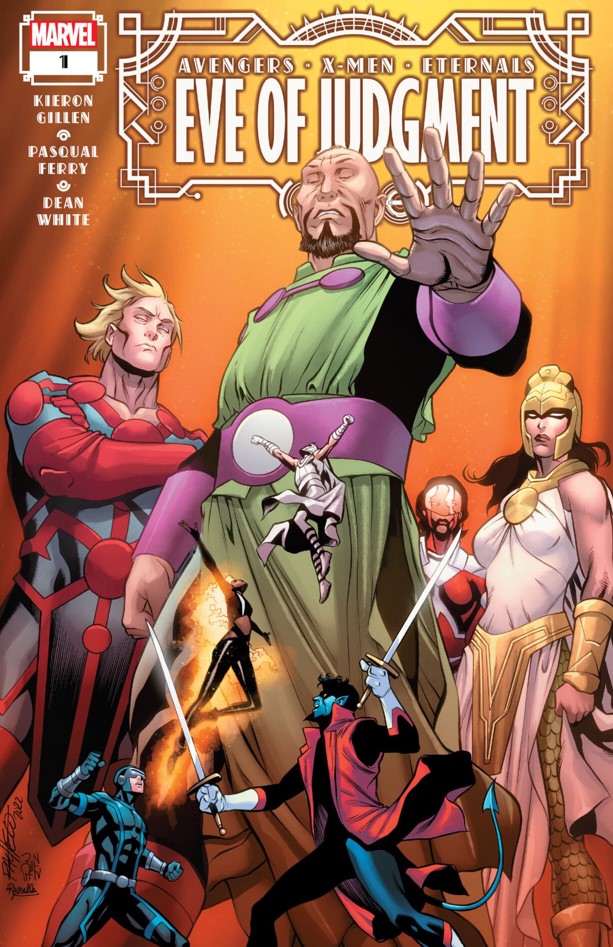 Gillen was in charge of revitalizing them, and the event sees him finish that project as far as he's been able. The Eternals are certainly much more integrated into the wider MU now, by way of apocalyptic atrocities, and this will likely prove the most enduring consequence of "A.X.E.: Judgment Day."
Later, we'll look at the fallout for Krakoa, where my argument will be that without this event, much of what happens to the Krakoans would likely have happened anyway, just in a different sort of story. For instance, Al Ewing's plan for taking Magneto off the board at this point was decided on well before the particulars of the event's story beats took shape. How do I know this? It's just logical. One of the biggest mutant names wasn't killed because the previously totally unknown Uranos was just too great a foe. Long-term planning with such big properties doesn't drastically change course so incidentally.
Bridging the end of Gillen's Eternals run (with issue #12) and Judgment Day #1, Eve succinctly reiterates the Asimovian "three principles" that are programmed into the Eternals at such a fundamental level that they are literally incapable of not adhering to them—although how each Eternal interprets them varies drastically. They're not completely robots, but they're not far off; they occupy an ambiguous uncanny valley between the (super)human and the robotic. Gillen had essentially clarified the Eternals' internal logic (or programming) in a formal manner that readers had never quite seen before.
Gillen fully realized the Eternals as intended in their design; of course, to be of any further interest, they'll need to break from that ancient mold, with the help of whatever creative team comes to them next. Throughout Gillen's run, he presented the already traditionally heroic Eternals as those of their kind who are now committed and driven to working out how to undo their own resurrection protocols, which necessitate the random killing of one human anywhere on Earth every time an Eternal is resurrected. These are Ikaris, Sersi (with some fashionably cynical immortal reluctance), Thena, Kingo, Sprite and Phastos (who's willing to destroy his own kind there)—as well as the renegade Gilgamesh and priestly figures Ajak and Makkari. Unsurprisingly, they continue through the event as heroes, albeit still too godlike to be relatable in the manner of most Marvel heroes, or villains for that matter. None of these Eternals are presented in new alignments, except that the "good guys" among them are given superteam potential—or with super-family vibes that are close enough—which will be essential to sustaining the franchise.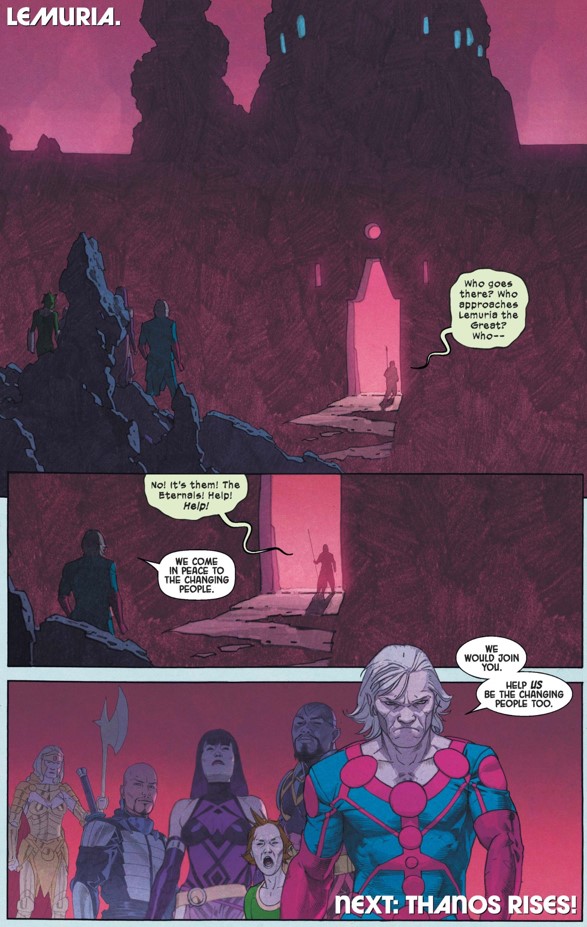 Lastly here, Eve of Judgment does cross out one avenue in Druig's scheme to destroy Krakoa. Actually attempting to kill the island would seem to go against the Eternal principle of protecting the Machine, which is synonymous with the Earth itself (following the Machine's creation, basically grafted into the planet, by the Celestials a million years ago*). Druig and his tool-like servant's attempt to simply sink the nation with explosives will not work. Thus, in Judgment Day #1, the attack kicks off Uranos' massacre on Arakko and the Uni-Mind psi-assault on the Quiet Council (The Uni-Mind is from Jack Kirby's Eternals #12 and is formed of all the Eternals merged together in their energy-forms). Of course, the Eternals miscalculate in believing that the councilmembers should be their prime target, when Krakoa's heroic mutants can get on fine without the self-appointed Krakoan "leadership"—Gillen's subtle dig at ingrained hierarchical thinking, with the Prime Eternal as the classic authoritarian despot without whom his regime immediately falls apart? But obviously, taking out the Five would have been devastating; the Eternals' failure to do so at the start (thanks to Wolverine stopping the Eternal mercenary, literal mafioso and awesomely androgynous Jack of Knives) is a sign that this isn't the direction the event will take (that mission fail was an early release valve for some of that weighty event-scale suspense, which was already heavy enough with the Arakkii bloodletting).
*The First Host of Celestials arrived on Earth a million years ago, as seen in Jack Kirby's Eternals; however, it was Mark Gruenwald who added the wrinkle of the Deviants gradually developing the X-gene that would disperse into the human population and give rise to mutants, as seen in 1980's What If? #23 (the B-story).
Briefly looking back to the start of Jason Aaron's Avengers, it's worth noting here that off-panel the Eternals all killed themselves by turning upon each other, as a result of learning that the purpose of their existence, as set out by the Celestials, was ultimately to act as harvesters of humanity for, essentially, Celestial fuel, which I believe is first broached as an idea in Charles and Daniel Knauf's 2008/2009 Eternals maxi series. Yet Aaron retcons this into superpowered earthlings (and presumably other alien races) as antibodies, weapons then, in their ancient battle against their primordial nemeses, the Horde—mildly more interesting, although none of this explicitly factors into Gillen's recent work in revitalizing this corner of Marvel Cosmic.
They resurrect in 2021 in Gillen's Eternals #1. The much more interesting Gillen revision is that they are instead, in a twisted way, guardians of the Deviants, meant to eliminate only excessively mutated Deviants, which is what they've long been doing, but they've also gone to war with the Deviants as a whole repeatedly across millennia. For their Deviant creation is the Celestials' prime concern as biological regulators of humanity's "necrofluids" that, over the course of the species' history, allowed for superpowers to emerge, whether in the X-gene or in reaction to, um, radiation poisoning and such like.
With the Eternals' task apparently long since accomplished, Magneto's declaration in Judgment Day #1 that mutants are the "new goods" who've surpassed the Eternals makes even more sense.
Those "necrofluids" and their Horde-infected host, the Progenitor, debuted in Aaron's Avengers #3, albeit as a four-billion-year-old corpse, left from when the cosmic Celestial nemeses the Horde (a 2006 creation from the Gaiman and JRJR mini) infected the Alpha Celestial—who then fell to Earth, where the infection spread. The concept here seems to be that the Horde's death fluids, and not anything to do with Celestial stuff, somehow catalyzed the human capacity for mutagenesis. (But wouldn't this have happened to microbes, fungi, plants and animals too? Krakoa, anyone? Tippy-Toe and John Sublime? Who knows; that's comic books, man.)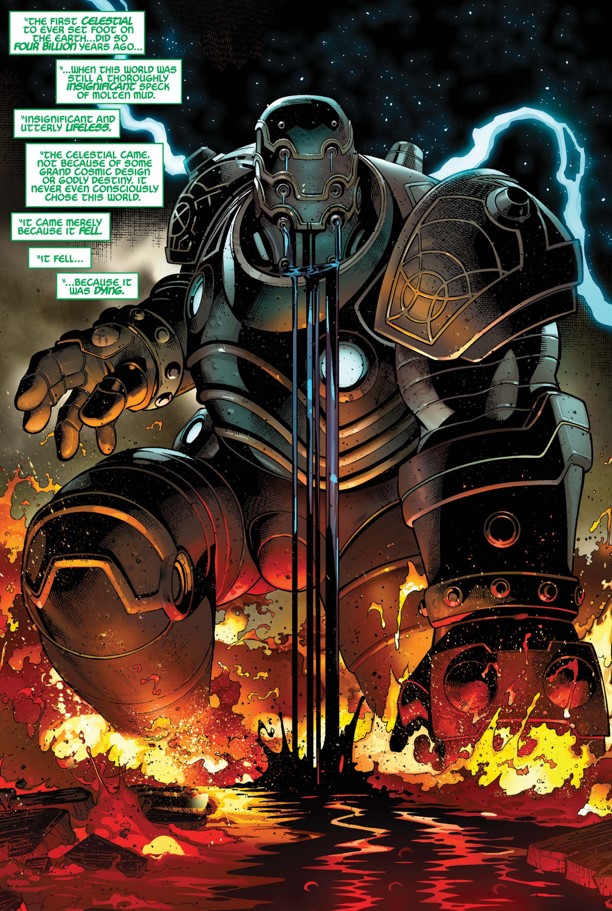 Next: Kickstarting a Catastrophe—A.X.E.: Judgment Day #1, Immortal X-Men #5, X-Men: Red #5