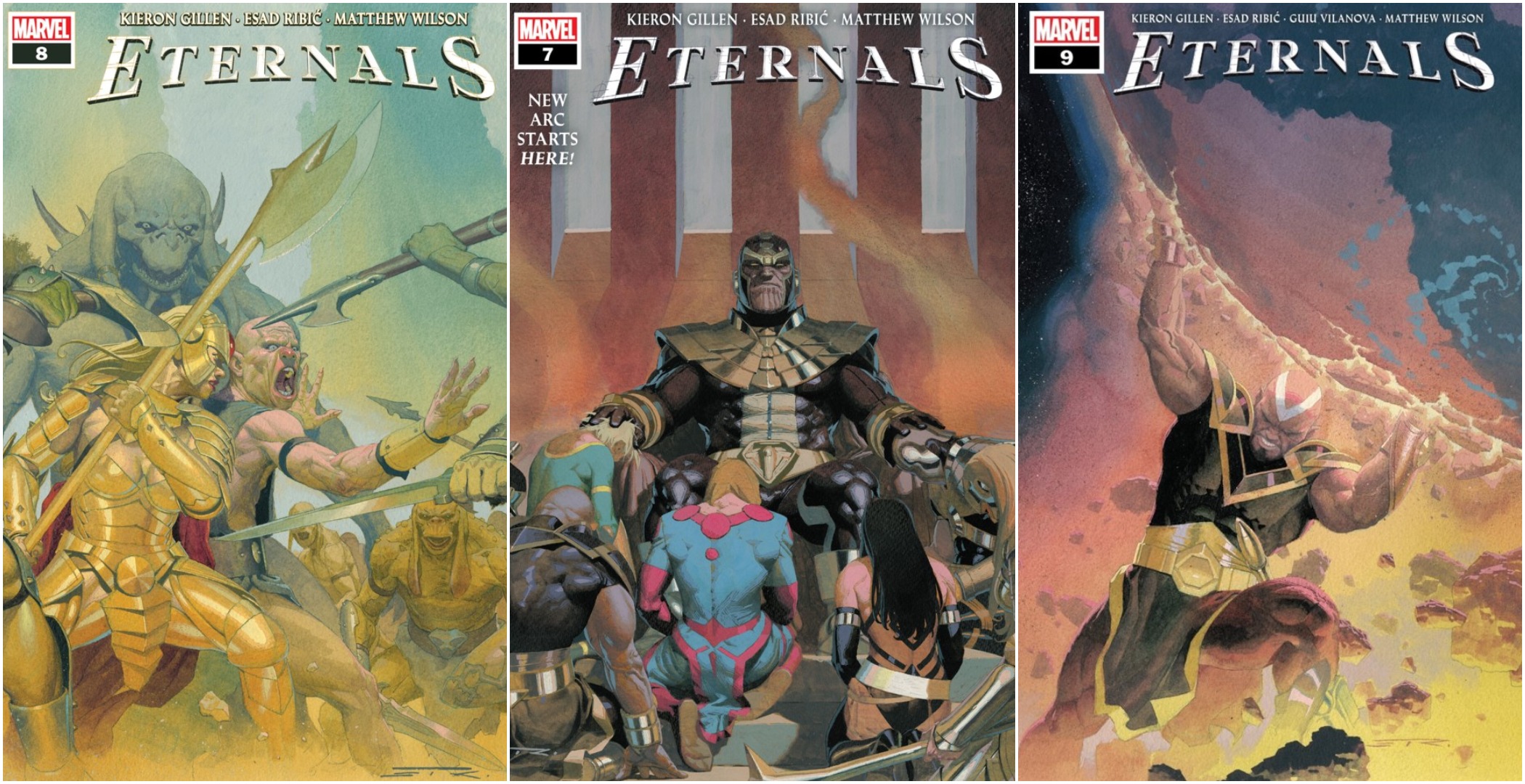 [covers by Esad Ribic]
All Your Eternals Needs in One Title
For any Marvel heads, especially X-Men/Krakoa fans, who have felt some trepidation at diving into Eternals
from legendary comics scribe Kieron Gillen (The Wicked + The Divine, Phonogram, Young Avengers, and many more, most currently Immortal X-Men) and largely drawn by the master of god epics, Esad Ribic (of Hickman's Secret Wars and Jason Aaron's Thor: God of Thunder)—just dive right in if you haven't!
Especially do so alongside Free Comic Book Day, May 7—when Gillen's A.X.E.: Judgment Day prelude drops, drawn by another extraordinary talent on such classics as Hickman's S.H.I.E.L.D. and most recently Eternals: Thanos Rises, which we'll look at below. The event's acronym stands for Avengers, X-Men and the Eternals, and it's these latter folks that most modern readers will likely be familiar with only from the recent blockbuster movie or maybe even as the strange, "high-concept" subject of what might be one of Jack Kirby's duller projects, from 1976 (a rarity for King Kirby). Well, guess what? That's perfectly fine!
Indeed, no one reading Gillen's Eternals should feel like they need any familiarity with the original series from Kirby; really, if you've never read an Eternals comic before this new volume—even better!
Seriously, everything you need to know about the Eternals is in Gillen's Eternals. Moreover, he is the first to have really crafted most of the present cast into fully realized characters—each individual and idiosyncratic, with differing, sometimes antagonistic agendas or value systems. Of course, former ('90s) Avenger Sersi is the most well-known, but even here, Gillen takes the template of the ancient enchantress and earth mother down to party with the mayfly mortals and deepens and layers this persona as never before.
Support For Comic Book Herald:
Comic Book Herald is reader-supported. When you buy through links on our site, we may earn a qualifying affiliate commission.
Comic Book Herald's reading orders and guides are also made possible by reader support on Patreon, and generous reader donations.
Any size contribution will help keep CBH alive and full of new comics guides and content. Support CBH on Patreon for exclusive rewards, or Donate here! Thank you for reading!
If it's the ancient history of the Eternals that feels overwhelming/off-putting, again, you need not look further than the first arc of Gillen's Eternals (issues #1-6) and the one-shots* that frame the most recent issues, which will certainly lead directly into A.X.E.: Judgment Day this summer. (*Two of the three spotlight classic Thanos moments and character beats.)
Here, we're going to review those recent issues, as the first arc, "Only Death Is Eternal," has already been reviewed on CBH; most of this new material, issues #7-12 ("Hail Thanos") will be out in trade in August—though it's odd that the one-shots will not be included, apparently.
Thematically, what's been most central to Gillen's entire run so far is the three principles Eternals live by—Protect the Celestials; Protect the Machine; Eliminate Excess Deviation—their Celestial programming that, as we'll recap below, has begun to deconstruct as the Eternals become aware of its inherent contradictions. CBH critic Mark Turetsky has thoughtfully worked out the connection between these three simple dictums (and their complex internal tension) and these principles' clear antecedent in Isaac Asimov's Three Laws of Robotics. A brief summary of the opening arc illustrates just the start of this inner crisis laid open by revelations that have left a number of Eternals in a state of despair and turmoil even as they fight heroically not merely against Thanos but paralyzing self-defeat—which is really the more critical nemesis here.
The three one-shots so far have deepened these arguments and divisions internal to Eternal society, which is not only a fascinating innovation on Gillen's part (since Kirby's immortal superhumans have not been particularly intriguing on their merits until now) but also provides meaningfulness to these issues that are equally ethical as they are political to their very small but sublimely powerful civilization—urgently so. And Gillen has done this throughout the series by weaving in ancient Eternals history that had previously been almost entirely ignored or unexplored by writers (we're talking here about the hyper-compressed retcons written by Mark Gruenwald in 1980 that at the time merely served to bring the Eternals into the mainstream Marvel continuity by way of unexplored background material from Jim Starlin's classic "Thanos War"; again, this isn't at all necessary reading, but see the last section if you are curious).
From "Only Death" to "Hail Thanos" – prelude to Judgment Day
[Spoilers ahead: up through issue #11]
The first six issues largely dealt with the mystery of who resurrected Thanos via the secret planetwide system of the Eternals' infrastructure, known as the Machine, and what exactly is wrong with the AI, a creation of the Celestials, who oversees said Machine—and in fact identifies, somewhat ambiguously, as the Machine itself. Maybe it's something like the Machine's executive function, but while recognizably sentient, even affable—at least as the title's narrator since issue #1—it seems wholly reined in by its programming and, apparently, manipulable by the Prime Eternal (their periodically chosen ruler) and high-tech engineers, like Phastos. (Again, all the Machine-related worldbuilding is to be found in Gillen's current run.)
The answer to both mysteries turned out, shockingly, to be one of the most heroic Eternals—Phastos. Thanos on the loose was meant to be a distraction while he worked to destroy the Machine itself. Dastardly? Not really—just understandably desperate yet woefully misguided. For he was disgusted to learn that every time the Machine resurrects an Eternal who's been killed (this is another Gillen innovation, and there are no exceptions), a human somewhere on Earth dies—a life for a life. Most Eternals don't know this, and Phastos' recent discovery of this secret plunged him into despair, that this has gone on since the dawn of humanity. Yet despite being a superhuman genius and technologist, he didn't know that the destruction of the Machine would spell doom for the planet, as well. At the eleventh hour, he works to correct his error, but while Ikaris makes the critical sacrifice to halt the Machine's cascade toward Armageddon, the tragedy inherent in the Machine's functioning remains and the Mad Titan is now ascendant and has wrested control of the most Machiavellian of the Eternals, Druig ("the snake"), who will be sure to flip the tables on everyone, including himself!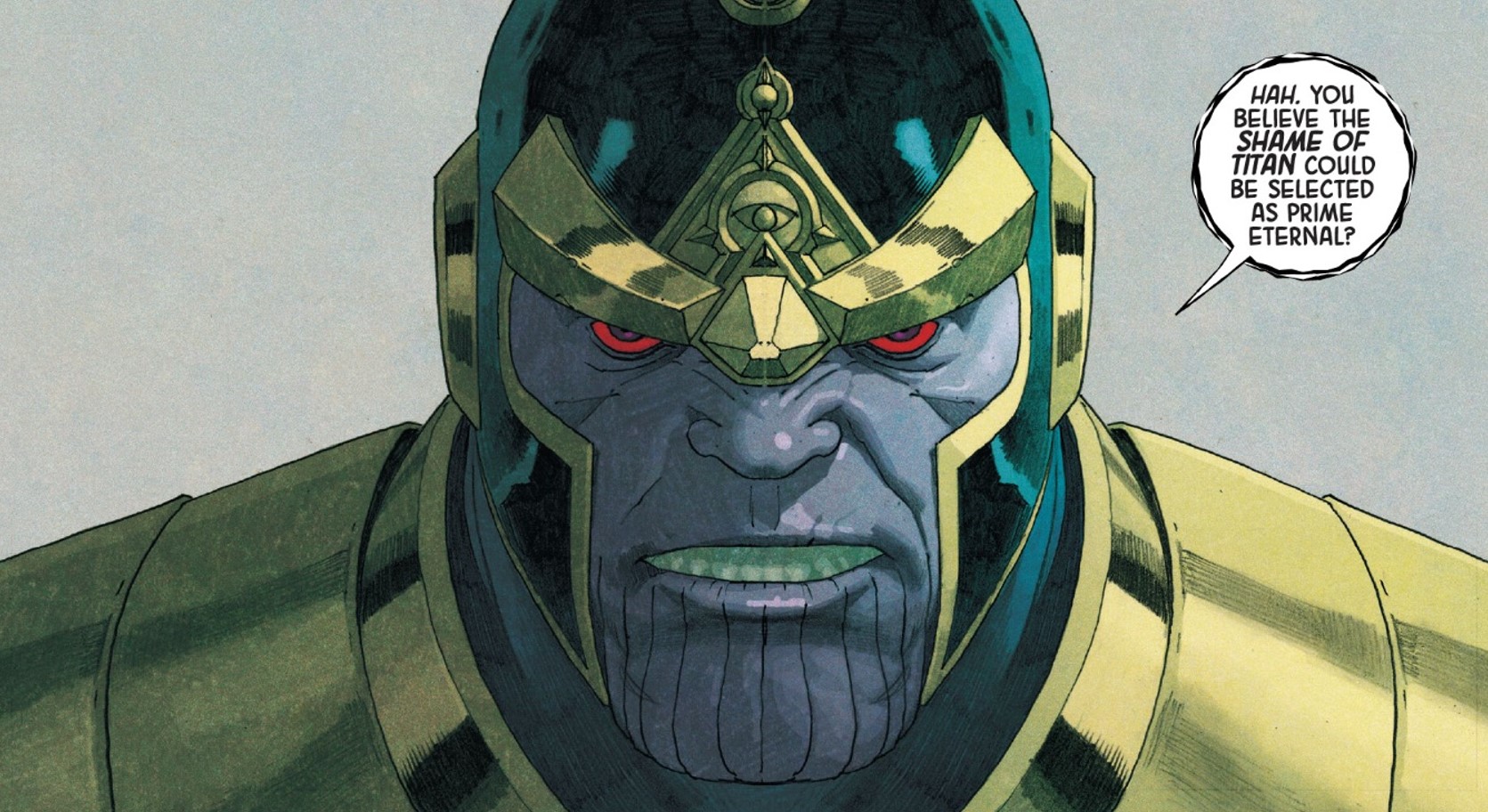 Of course, the so-called Thanosian Terror hasn't concluded yet, and who knows, after issue #12 comes out May 18, we may find Thanos still very much in play, Prime Eternal or not. Indeed, it's hard to imagine that he wouldn't be an even more critical player come Judgment Day, especially given the recent revelations from the one-shot Eternals: The Heretic.
With the second half of the six-part "Hail Thanos" arc, the Avengers are also now in play, in what is starting as a surprisingly believable take on the otherwise excessively overdone trope of "the misunderstanding fight" between superheroes. After all, it really does make sense that the Eternals have secrets they want to keep from Earth's mightiest humans currently residing in the vast corpse of the Eternals' primordial god.
We can expect that in issue #12 the Avengers will at least hear of Thanos' new lease of life if not face him alongside the Eternals. The fact this is but the prelude to Gillen's summer event should have readers ecstatic with expectations for even greater mayhem and revelation on the horizon—as well as the prospect of Gillen having further opportunity for worldbuilding as he threads the Eternals cosmology into the X-Men and vice versa.
Adding fuel to the fire of fan speculation, it's worth remembering that the mutant with the strongest ties to the Celestials is Apocalypse—followed by the ancient mutant's use of his Celestial tech to transform Nathaniel Essex into Mr. Sinister, who much later hacked the Dreaming Celestial parked in San Francisco at the start of Gillen's Uncanny X-Men in 2011, allowing for Sinister's creation of an entire colony of Sinisters (and subsequently other mutant clones; see issues #1-3 and 14-17 of that classic run).
As for how the Eternals might react to Krakoan society, the most obvious general interest they would have has largely been overlooked by fan speculation focused on more extreme possibilities (see the next section): Most relevant to the majority of Eternals we've seen would be Krakoa's method of resurrection. After all, the entire first arc is rife with their despair over the revelation that each resurrection of an Eternal results in someone somewhere dying—perhaps always violently; we see there that Ikaris just happened to be, tragically, the first to (unknowingly) discover and meet the innocent human who would die upon his own resurrection (in his case, an adolescent boy). The Krakoans' resurrection process, while not without serious problems, is by comparison far less ethically compromised. How could the Eternals not covet that exclusive miracle of mutant technology?
Perhaps now, if the Machine's system cannot be revised/re-engineered, those like Ikaris and Phastos will want to utilize something like Krakoan resurrection not merely to prolong their endless cyclic existence but rather in order to continue their Celestially programmed mission (the "three principles") without endangering innocent life.
Esad Ribic continues to draw the main series, except for the middle of issue #9 and all of issue #11, where new talent Guiu Vilanova steps in—achieving more impressive and powerful work than his previous outing, S.W.O.R.D. #8, and comparing the younger artist to the veteran maestro would, of course, be unfair, especially when few others match Ribic's mythic oeuvre (and yes, I'm a big fan of his astonied faces):
Are the One-Shots Necessary? Yes. Random? No! (But are they excellent? Hell yeah)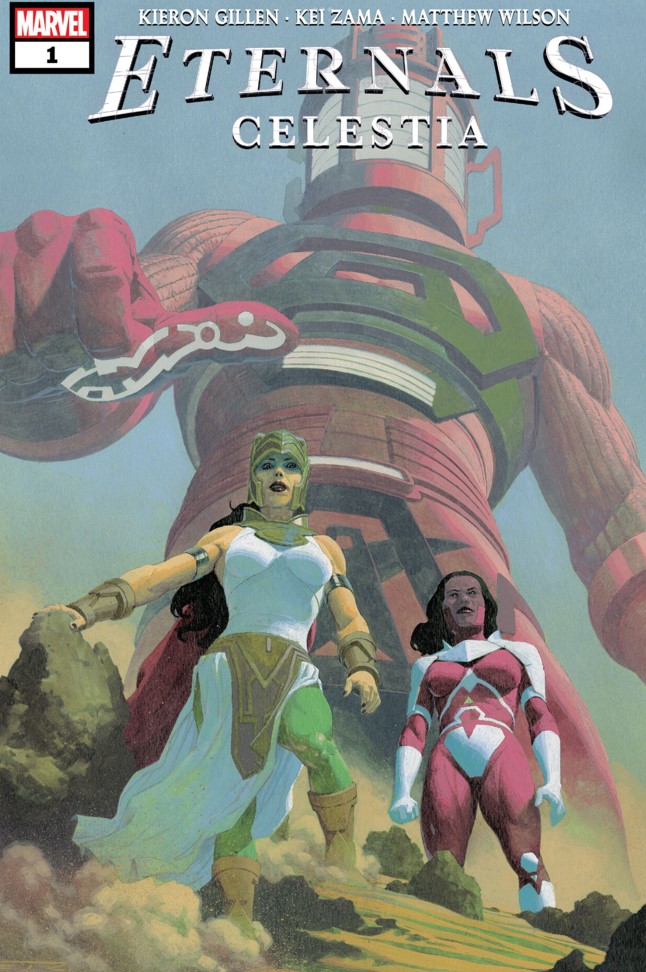 When looking at Eternals solicits last summer, I was a little put off that my favorite new series was being sidetracked with a couple of one-shots that weren't part of the main title, stretching the gap between issues #6 (the end of the first story arc) and 7 (the start of the next—which, in-universe, actually did follow on almost immediately from the previous one). But as it turned out, each one-shot, Thanos Rises and Celestia, was brilliantly timed, providing critical background in two beautifully executed high-drama mini-epics before the action of the six-issue "Hail Thanos" narrative hurled our hapless non-heroes into ever-greater stakes.
Further, Celestia (re)introduced readers to Eternal priestesses Ajak and Makkari, who had not yet featured in Gillen's run but would become critical going forward—while it also provided a meditative breather with intriguing characterization and, along with some slyly wry character beats, a melancholic discussion that reveals conflicting views among the Eternals on the inscrutability of their ancient space gods, the Celestials. This one-shot also has a brief flashback cameo of Aaron's Avengers One Million BCE and slightly revises his first, Celestial-centric Avengers arc.
Of course, Thanos Rises shouldn't be a hard sell, and it clearly calls back to Jason Aaron's 2012 miniseries Thanos Rising—which I never plan to revisit; it's an unsatisfying story that tries to give us a coming-of-age tale for Thanos. Gillen's one-shot, by contrast, while acknowledging such revelations there as Thanos' murder of his own mother (Sui-San), is primarily interested in his father, A'Lars (later Mentor), and his argument and subsequent schism with his brother Zuras and those other traditional Eternals who believe procreating directly with each other (instead of being programmed and incubated through the Machine) is pure folly. Despite Mentor and Sui-San's relatively harmless child, Eros, their other son proved the traditionalists right, much to the universe's dismay.
Longtime Marvel heads surmised in Gillen's first Eternals arc that Thanos' parents were two of the Eternals kept in the Exclusion (Eternals solitary confinement) because of the danger they posed to both their society and the world itself (which of course includes the Machine). Thanos Rises shows us why the ill-fated couple is there, even while allowing readers to feel discomfort at the unjust severity of their punishment—but beyond being a masterful and ultimately tragic sci-fi adventure-romance epic in miniature, this one-shot also discreetly drops in some more fascinating easter eggs providing new takes on half-forgotten cosmic lore (more on this in the last section).
The Heretic (the next one-shot), dropped in a gap month in the middle of the current "Hail Thanos" arc, proved even more appetite-whetting in adding key elements to Thanos' machinations integral to the drama, though the scene of this character study occurs at one remove from the headlong momentum of events. There's been much talk in fandom of the more extremist elements of the Eternals (the Uranites) possibly seeking to exterminate all mutants, in line with their absolutist view on "preventing excess deviation"; this is the story that might lend some credence to this speculation, if Uranos breaks out of his ancient prison or Thanos takes up the Uranite cause of eliminating "deviance" just to further his own ulterior agenda.
The other Uranites of old, who have never been individually portrayed, even now, are known to have been mind-wiped and resurrected as servants to the anti-Uranite Oceanus, brother to Uranos and Kronos; however, there is an implicit hint in Gillen's Eternals, by way of the Machiavellian "snake" Druig, that they might have some kind of predisposition as hardliners against the Deviants and whatever might be deemed "deviance" more broadly. "Hail Thanos" opens with Thanos prepared to make use of them as weapons against the large Deviant city-state of Lemuria, just so he can abduct Phastos for his own purposes. So, although the quasi-Eternal Mad Titan doesn't care about traditional Eternal programming, he will heedlessly unleash mayhem to get what he wants. Could this play directly into Judgment Day?
A note on the art: Like the main series, the first two one-shots are rendered with the magisterial coloring of Matthew Wilson; in The Heretic, the colors of Chris O'Halloran are a perfect fit for Ryan Bodenheim and Edgar Salazar, who each penciled/inked their own sections.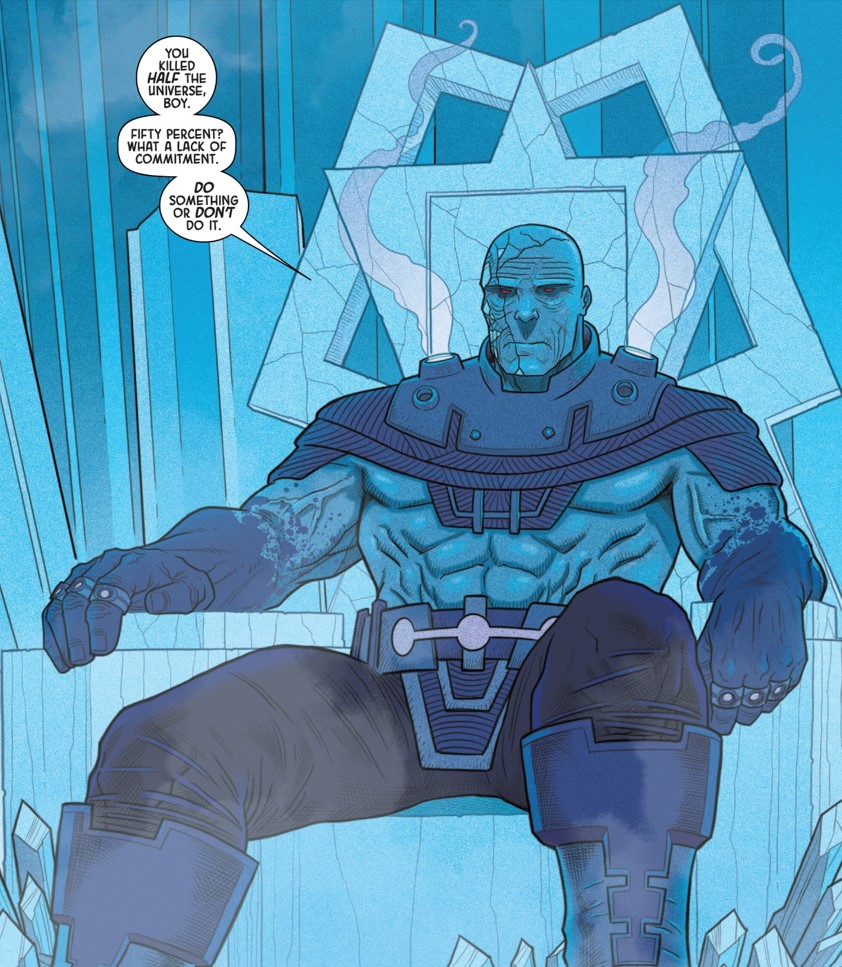 Fan-favorite Dustin Weaver, most well-known from his work with Hickman on S.H.I.E.L.D. and Infinity, drew Thanos Rises, the most gorgeous of these one-shots.
Rising star Kei Zama masterfully drew Celestia, whose opening and closing images pages are unforgettable for their sense of melancholy in a sublime setting—from which the Eternals' deities have long since vacated, into deep space and time.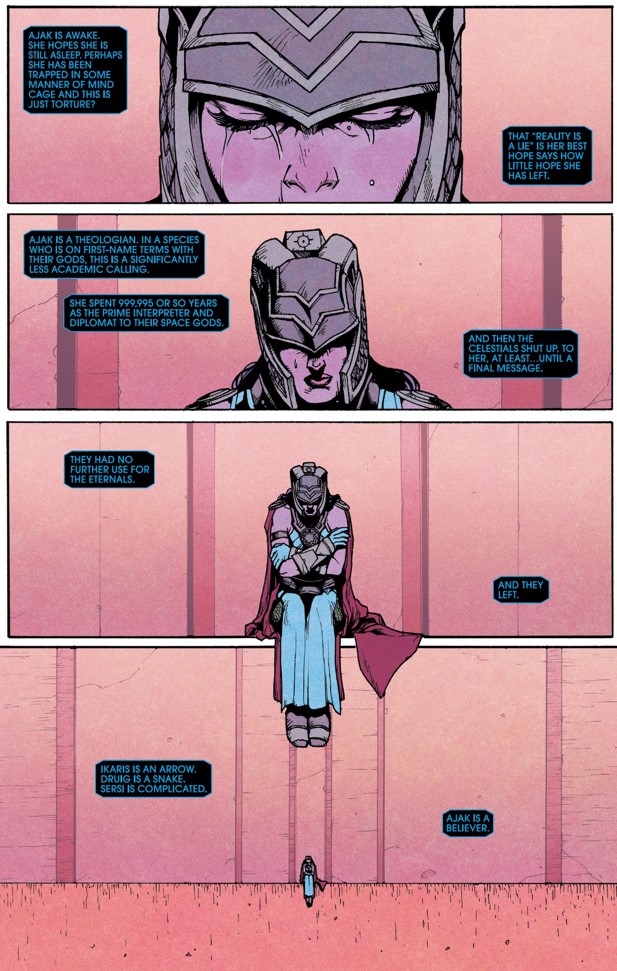 Tragically, Ryan Bodenheim, a longtime collaborator with Hickman on his indie work, died last December, far too young, leaving us with a masterpiece in The Heretic and a much too short career that will yet inspire future artists.
"Hail Thanos": Character Beats
If the central (or most relatable) tragedy of the first arc was the death of the boy Ikaris had sworn to protect (a direct casualty of Ikaris' rebirth after sacrificing himself to save the world), then the main tragic drama of "Hail Thanos" has been of much lower stakes but no less affecting in its way: The Eternal Thena's lover among the Deviants suffers a sudden mutation, turning into an out-of-control monster—"excess deviation"—and her own Celestial programming activates.

But then the action shifts to the infiltration of Avengers Mountain so that Ajak can attempt to commune with the ghost of her dead god. At the end of issue #11, we know that it has not gone well, but beyond that, the arc's final chapter will have to reveal just how deeply wrong the Celestial's message is, that it could provoke the violent fury of its most devoted priestess.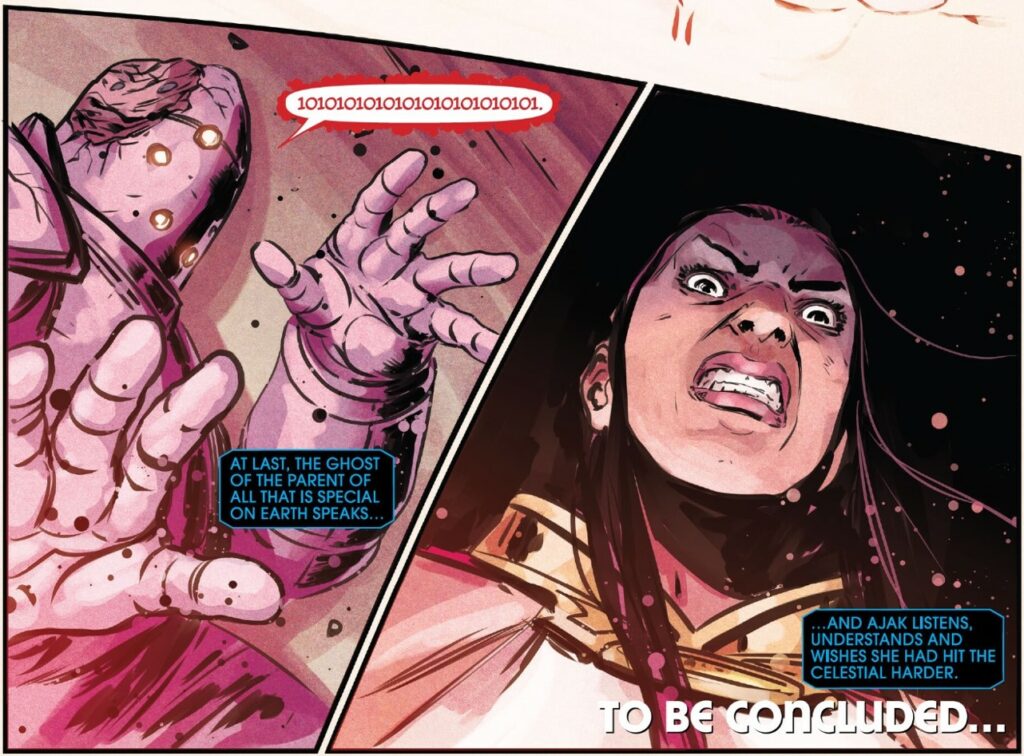 Both individual dramas speak to the mounting existential crises the Eternals are facing with their own nature and the entities they were programmed to serve and protect. And the Deviants themselves are now shown in a much more sympathetic light than ever before; indeed, the relatively unchanging super-cops who have historically brutalized them arrived in their vast city-state home humbled and contrite, hoping to somehow be enlightened by the Deviant way of life. Unfortunately, Thanos arrived soon thereafter, and events have swept all toward 11th-hour crises before Judgment Day.
Still, the heroic group of Eternals we've been following at least now has potentially millions of Deviants as allies. Surely, they're not likely candidates for antimutant sentiment! Indeed, following Thena's tragedy, their stated goal is a cure for "excess deviation," which our heroes are very reasonably interpreting as runaway mutations that lead to zombified monstrosities; the Deviants who suffer this sudden change seem to entirely lose their minds, their individual personalities, and intelligence—and they primarily slaughter fellow Deviants. It's hard to see the typical Eternal equating the mutancy of Deviants with that of mutants. (And Uranos, if he escapes confinement, will simply aim to eliminate life itself, as the source of deviance.)
Regardless, Gillen has introduced a small, heretofore unseen Eternal faction, the Tricks, who are basically self-involved criminal masterminds. And their sole representative so far is a fascinating mystery, somehow balancing the apparently deceitful gamesmanship of their mafia coterie with a suave but implacable concern for protecting the secrets of the Eternal way of life (one way of interpreting the second principle). As well, Jack of Knives is nonbinary and definitely needs to be leading a glam goth band (and who knows, perhaps they are—with such Tricks bandmates as the Queen of Maces on the drums; Ivani Goldentouch on guitar or synths; the Knight Ungallant on bass).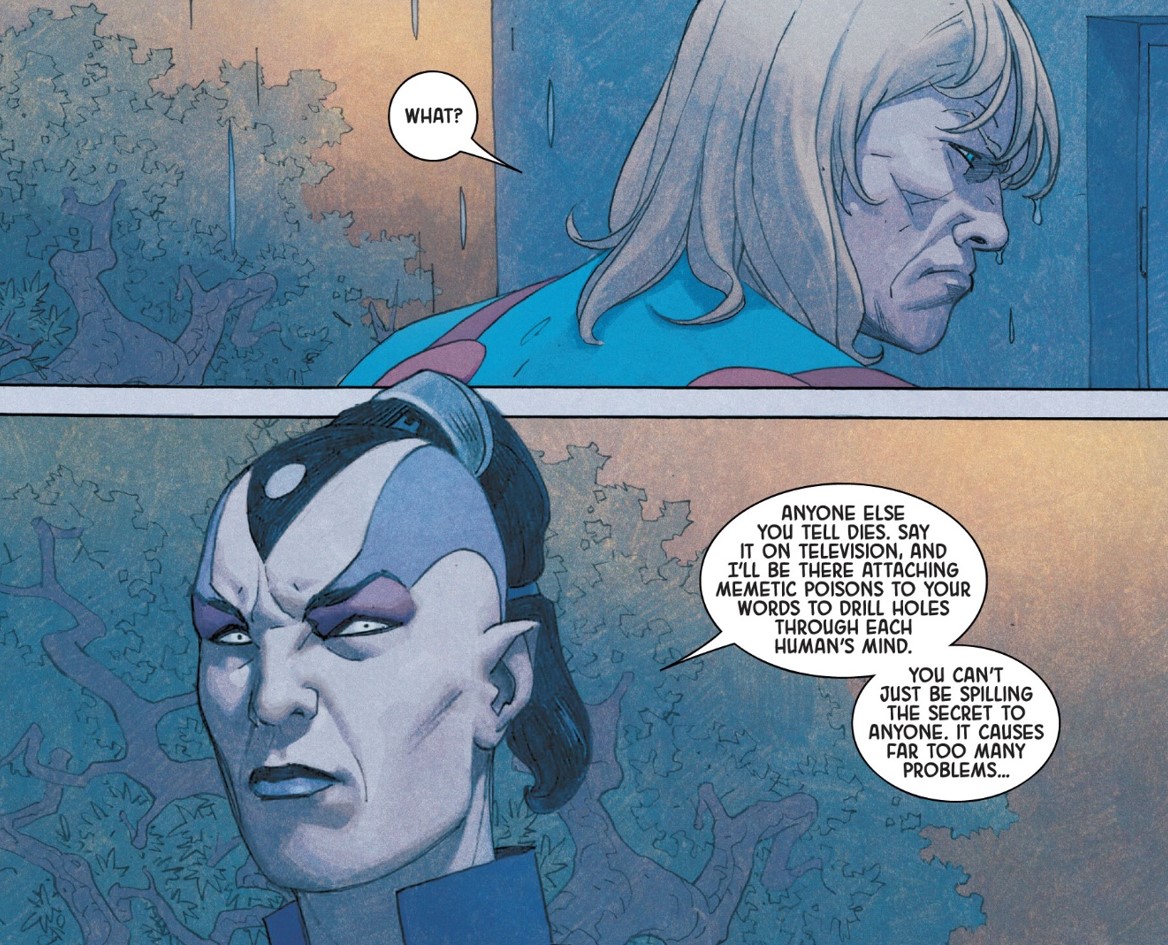 Meanwhile, Thanos increasingly comes off as a petulant child—once he discovers his hated mommy and daddy yet live, in miserable solitary. It quickly becomes clear that his fixation on tormenting them isn't strategic; he's just a spoiled, unrepentant sociopath. Esad Ribic's trademark expression of astonishment works perfectly here, with Thanos' discovery, thanks to Druig, of his parents' helpless presence nearby.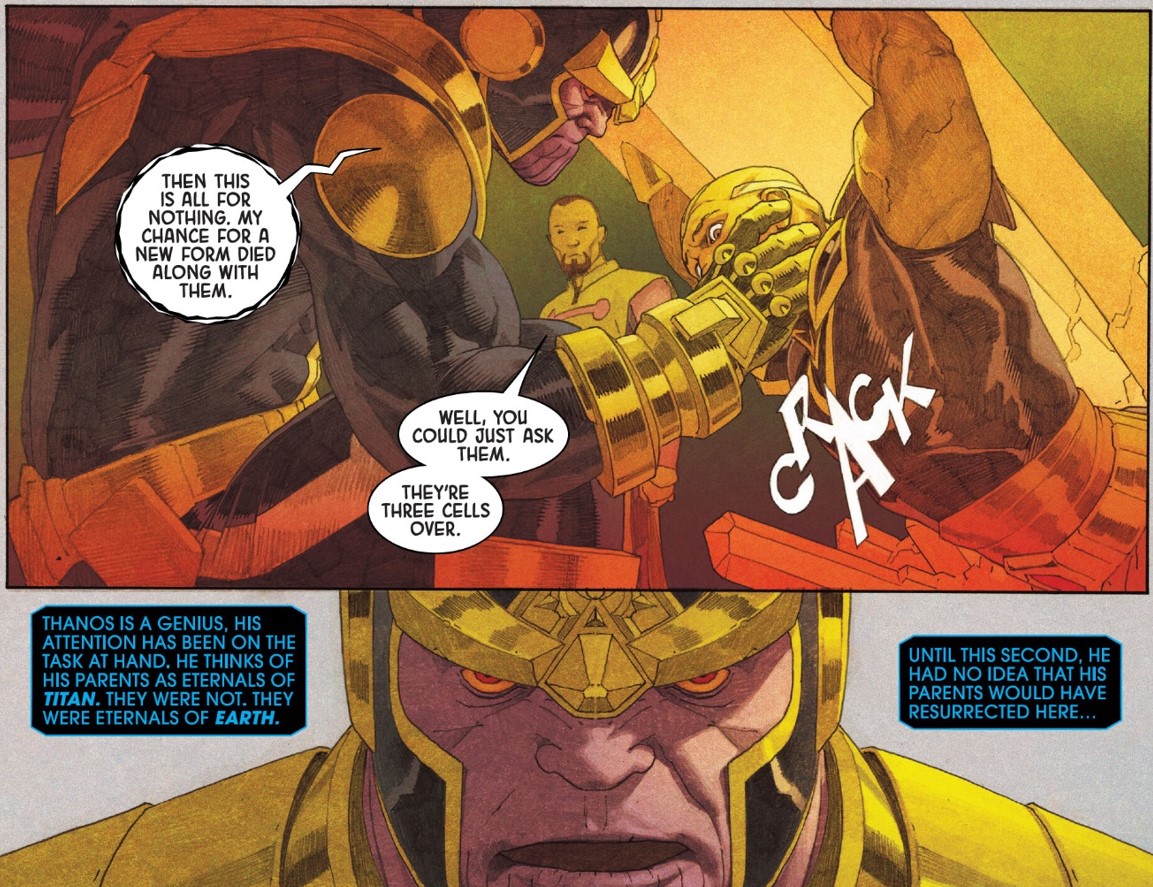 And just as Thanos dominates where he gets page space, whenever Sersi appears, the ageless "goddess of love" simply chews the scenery, putting everyone in their place while pursuing her own agenda. Luckily for her fellow heroic Eternals (especially Ikaris and Kingo, who aren't the brightest matches in the matchbox), she's been leading their investigations from the start.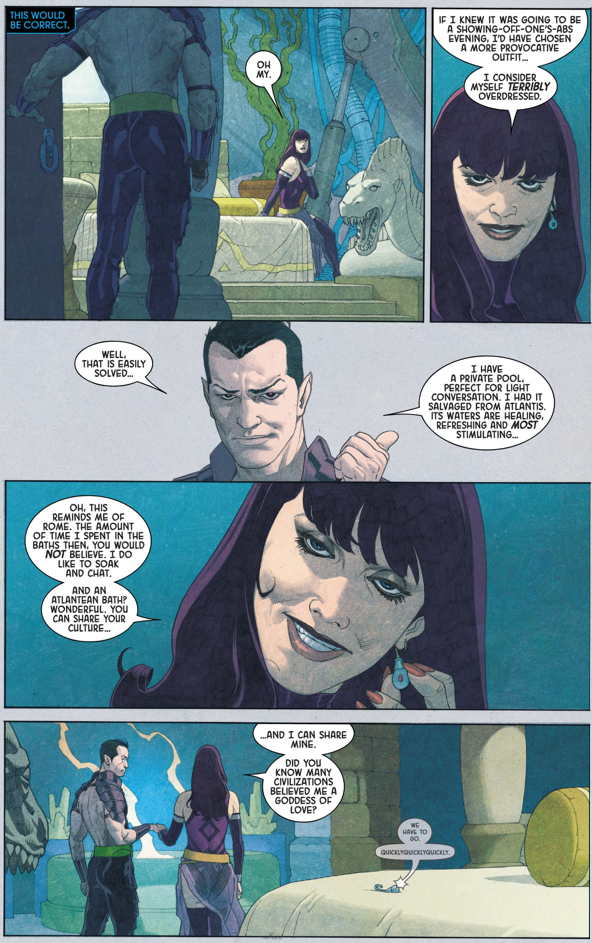 Further Reading: The Delightfully Obscure Foundations of Kieron Gillen's Epic Worldbuilding
Again, everything you need to know about the Eternals to understand Gillen's run is perfectly contained within the ongoing series starting with issue #1—but if you really want to take a deeper dive in the old lore, the first piece of suggested reading would not be an Eternals title; no, instead, oddly enough, what you want is the series of six-page backups in What If? #23-28 (1980-1981; all available on Marvel Unlimited). And no, these are not alt-universe tales; these brief retcons read as light visual essays on Eternals history chronologically preceding Jack Kirby's Eternals of the 1970s, whose narrative had been too ahistorical, overly relying on the noble timelessness of these immortal children of the space gods.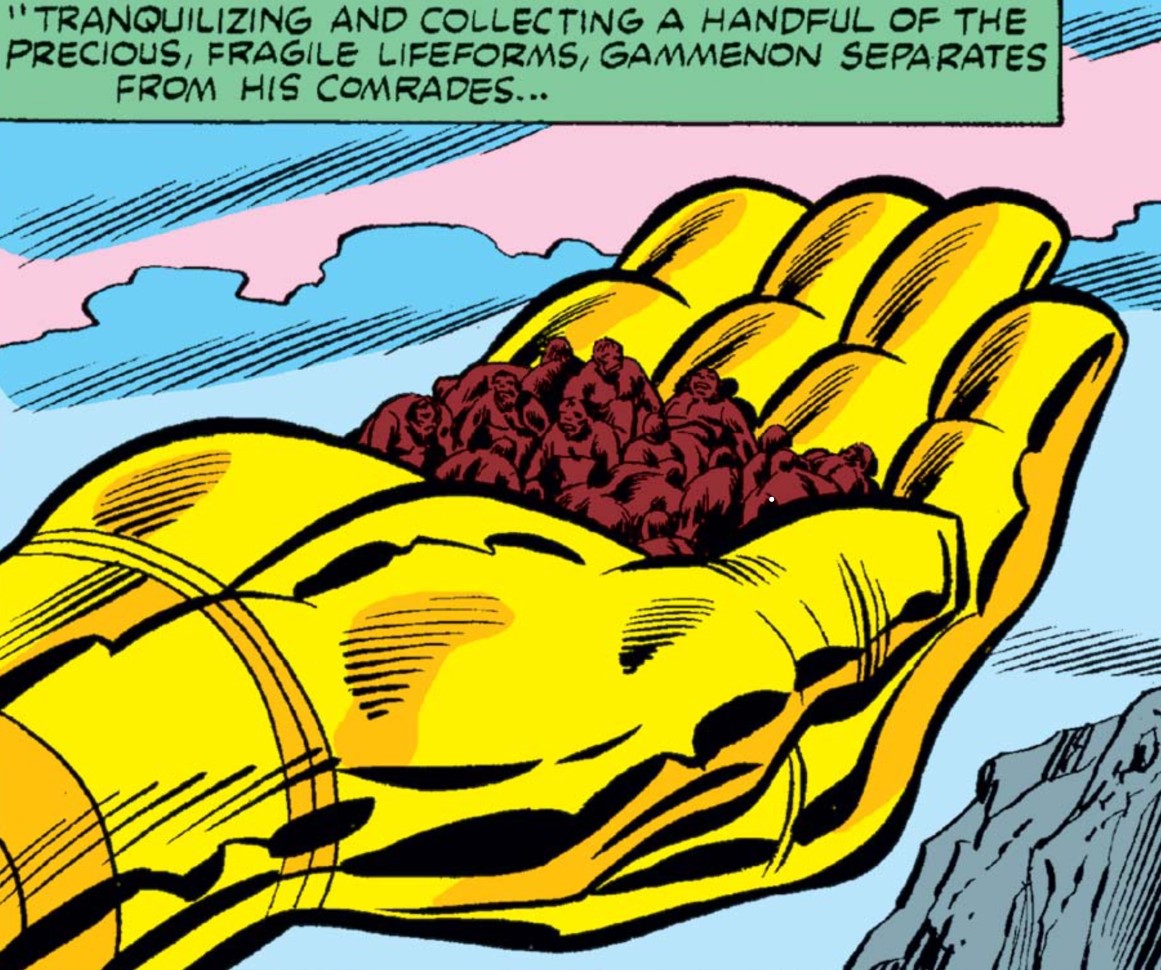 [The First Host arrives to scoop some prehuman apes and cook up a 100-count batch each of Eternals and Deviants; What If? #23]
With these tales, writer Mark Gruenwald deftly wove Kirby's Eternals into the shared Marvel universe, and he did so by smartly elaborating on mythic Jim Starlin material, from Captain Marvel #29, which had been published a few years before Eternals #1. So, the original conception of Thanos and his heritage had nothing to do with the Eternals; this was Gruenwald's later contribution, as he established that Titan, Saturn's largest moon, had been originally colonized not by aliens, as Starlin had it, but exiled Eternals—rebellious/warlike Uranites, who in Gillen's deeper retelling were in fact genocidal, even omnicidal (i.e., Machine fundamentalists/reductionists who believed that only the Machine's infrastructure is the Machine itself, while all other earthly life, except themselves, is deviant, which they deemed always excessive).
Therefore, Thanos' father was retconned into being an Eternal, not a previously unknown Olympian deity (in Captain Marvel #29, Mentor's brother is named Zeus, but Gruenwald revises it to Zuras; so, although their father remains identified as Kronos, none of the Eternals should be confused with the Greek gods seen elsewhere in Marvel comics).
And Thanos' mother, Sui-San (as Starlin had named her in Captain Marvel #33) was no longer an alien, but an erstwhile Uranite rebel, sole survivor of their self-destroyed Titan colony and, by implication, reformed—although she wasn't directly identified as that last-surviving Uranite until now, at the start of Gillen's run.
The Uranite Heresy? The Ascension of Kronos? The Titan Schism? Although these particular phrasings are Gillen's, all of this material is drawn from Gruenwald's What If backups, starting with issues #24-25, which retconned the mythic history described very briefly in Captain Marvel #29, culminating in A'Lars exiling himself to prevent civil strife with the erstwhile ruler Kronos' other son, Zuras. There's no hint here of the more interesting ideological debate we see between these two in Gillen's Thanos Rises one-shot. (However, the Uni-Mind does not debut here; that's a Kirby creation.) Then, in #26-28, we track the fate of Uranos and his exiles, ending up marooned on Saturn's largest moon, the future Titan. We don't witness the destruction of this colony by its own first generation; instead, we must infer its eventual doom based on Starlin's earlier material, and that A'Lars' sojourn ends with his arrival after the devastation, where he finds the future mother of Thanos and Eros, Sui-San—which is finally explicitly established in Thanos Rises. (Which also means that she is Mentor's elder, reversing what was originally implied by Starlin!)
Except for revising Kronos as an Eternal and his lab accident turned cosmic apotheosis as involved with Eternal energy/essence rather than "cosmic life force," Gruenwald otherwise leaves the Kronos material from Captain Marvel #29 intact (grandfather time was simply better left as a wise and friendly space ghost).
As to why Gillen had to make the Uranos seen in Gruenwald's What If tales a clone, that's simply because 1) that Uranos died on Titan in disgraced exile (which presumably precluded resurrection via the Machine) and 2) the OG Uranos had to be secretly left behind in solitary confinement so he could play a critical role in Gillen's story.
(But why are so many obscure Marvel tales of yore found in titles that don't match the content? Well, remember, this was a time when the company was chugging along as best it could without a lot of money while dedicated Marvel heads of the time, like Gruenwald, just had to find what space they could to fit in foundational Marvel worldbuilding—that, unfortunately, not many really cared about. So, what better place to squirrel away these small nuggets of future story potential than the marginal What If series?)
Intriguingly, What If? #27 offhandedly shows us an artifact discovered inside the ancient Kree outpost that the exiled Uranites pillaged on the planet that would become known as Uranus (though most of the exiles left in a spaceship engineered from Kree tech in order to return to Earth and wreak vengeance on Kronos, several stayed behind to start a small colony; with the destruction of the forgotten outpost's sentry, the Kree were alerted to sentient life in Sol system, and the Kree forces sent to investigate attacked the exiles' craft, marooning them on the future Titan). Gruenwald's clever easter egg here is one of the earliest appearances, in-universe, of the Quantum Bands, which were identified as such in 1975's Fantastic Four #164, a story that reintroduced a Golden Age Timely Comics hero, Marvel Boy, the Uranian, who wore these bracelets that imbued him with power. So Gruenwald was acknowledging the beloved Uranian's origins. (Remember, none of this has anything to do with the Eternals before the What If backups.)
But the Quantum Bands later end up with the young man who will become known as Quasar (the Uranian was killed off in the FF story). It was Gruenwald who revealed the Bands' cosmic origin in his Quasar run, which was essentially Gruenwald's long-running passion project to focus the further, fuller development of Marvel Cosmic—following in Starlin's wake, with Starlin himself uninterested in mainstream continuity and how Marvel's shared universe could be woven together on the cosmic stage. In 1989's Quasar #2, Eon, another Starlin creation (the entity that empowered the Kree Captain Marvel to battle Thanos), is revealed to be the creator of these power bracelets, which he gifted to his chosen Protector of the Universe—beginning billions of years ago.
Now, this "billions of years" malarkey shouldn't be taken too seriously. After all, in Captain Marvel #29, Starlin has it that sometime after the formation of the planet Uranus (not the colony), Kronos (still a god of Olympus in those days before Gruenwald's retcon) created the now eight-billion-year-old Eon, which should make him almost twice the age of our whole fricking solar system! Realizing his error afterward, Starlin discreetly dispensed with giving cosmic entities exact ages. Not, however, continuity wunderkind Gruenwald—no sir! But no matter! Because I think Kieron Gillen is ready to retcon the cosmic retconner.
In a mythic retelling, Gillen's Thanos Rises one-shot shows Kronos offering the Bands as wedding rings to his son in his marriage to Sui-San, with Eon prominently present as a guest—or for some other purpose unrevealed there. We see that after Thanos murders mum, Kronos takes them back, to be used as weapons against the Mad Titan. All that is what's on the page here. But the implication is: Given that, as an Eternal, Kronos is merely a million years old, his creation Eon's own age is much younger—likewise, the Bands'. While there's an ancient lineage of Quantum Band-powered Protectors of the Universe in the Quasar title, meaning Gillen would have to wangle more preestablished material for a successful retcon here, it could be that their ultimate provenance is as Eternal, and thus Celestial, technology. That could be interesting.
Regardless, Gillen is emphasizing a half-forgotten scrap of Marvel Cosmic lore: Quasar's Quantum Bands actually originate from a cosmic entity's ingenuity born of desperation in an existential war with Thanos. There's no need for this neat easter egg to be anything more, but wherever Gillen's genius for reinvention and transformation alights next, I am fully here for it.
And you shouldn't miss out either, dear reader.