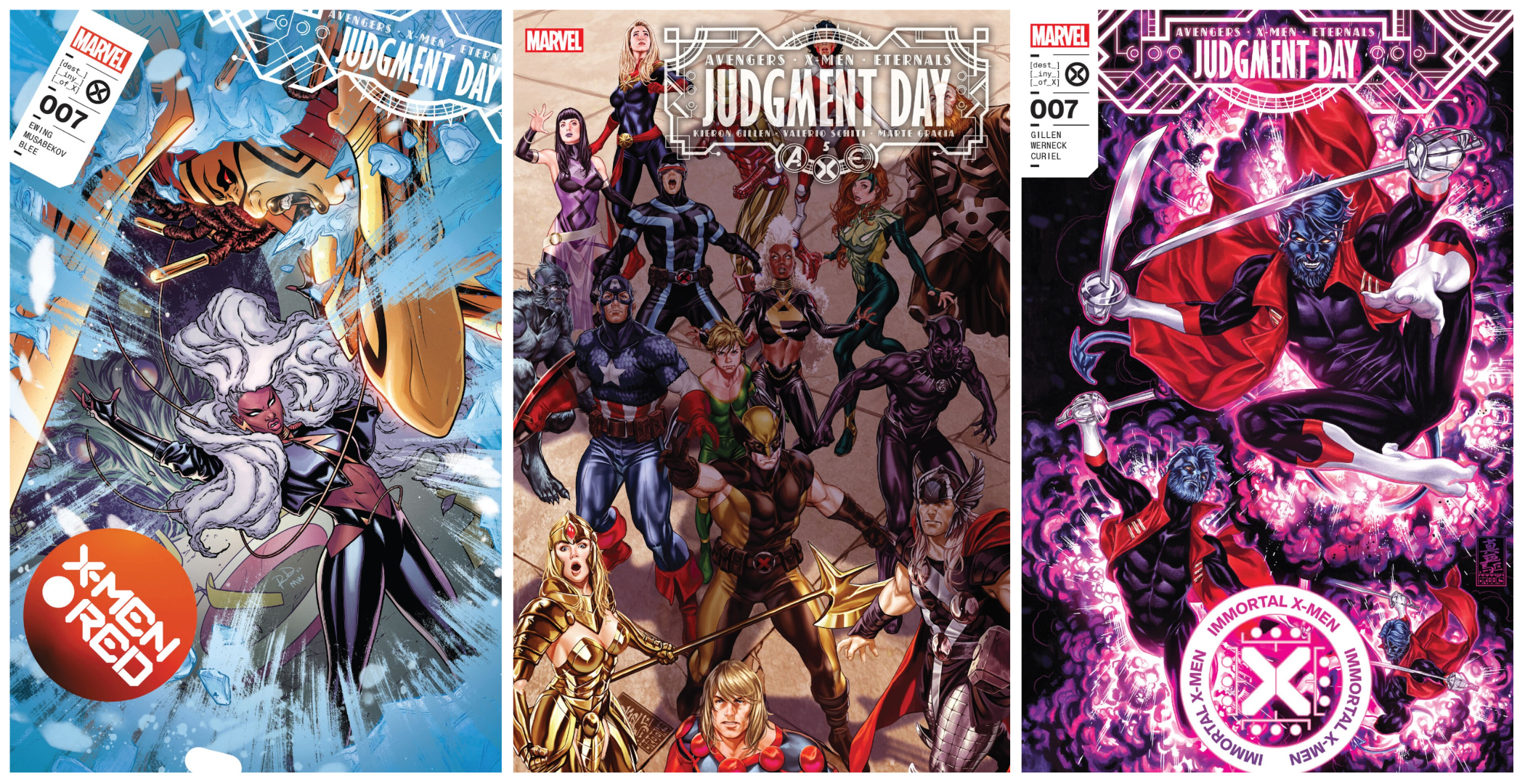 Welcome back to our multipart reread of Marvel's big 2022 summer event, "A.X.E.: Judgment Day"; first, we looked at the leadup to this apocalyptic ruckus, and then we dove in with the first event issue and tie-ins, with a side piece on Exodus, star of the tie-in Immortal X-Men #5. Next, we covered Judgment Day #2-3 and Death to the Mutants #1-2.
Last time, we looked at Immortal X-Men #6, X-Men: Red #6 and Legion of X #6—a triple terror!
This time, we cover:
A.X.E.: Judgment Day #4-5: Gillen writes; Valerio Schiti draws; Marte Gracia colors; Cowles letters; cover by Mark Brooks.
X-Men: Red #7: Al Ewing writes; Madibek Musabekov draws; Federico Blee and Fer Sifuentes-Sujo color; Ariana Maher letters; cover by Russell Dauterman and Matthew Wilson.
Support For Comic Book Herald:
Comic Book Herald is reader-supported. When you buy through links on our site, we may earn a qualifying affiliate commission.
Comic Book Herald's reading orders and guides are also made possible by reader support on Patreon, and generous reader donations.
Any size contribution will help keep CBH alive and full of new comics guides and content. Support CBH on Patreon for exclusive rewards, or Donate here! Thank you for reading!
Immortal X-Men #7: Gillen writes; Lucas Werneck draws; David Curiel colors; Cowles letters; Brooks cover.
Reading order: Judgment Day #4; X-Men: Red #7; Judgment Day #5; (DTTM3) Immortal #7.
Judgment Day continues with Cap, only just failed by the Progenitor, trying to calm the protestors outside the Treehouse, without much effect. Back at Avengers Mountain, Sersi lays out her plan for Starfox: Because he has manipulation powers, he'll just manipulate the entire world, or most of it, into being sufficiently good enough to pass the Progenitor's judgments. Unfortunately for her, she fundamentally doesn't understand what Eros already knows: Everyone fails or passes based on their own standards, not this newborn god (who's still trying to figure out what to think by watching and listening to Earthlings); or they fail through a total lack of self-awareness (which usually means someone's being a tool—like Shaw or Tom from London). A mythic hero like Thor passes, just as self-aware but fully committed warriors and leaders such as Cyclops and Kro do as well. Those who are embroiled in the messiness of human politics and cultural affect, Cap and Luke Cage for instance, fail. Of course, Kamala Khan of New Jersey passes! And so does Miles, our other 21st-century breakout hero. Daredevil, of the crushing Catholic guilt, does not, surprising absolutely no one.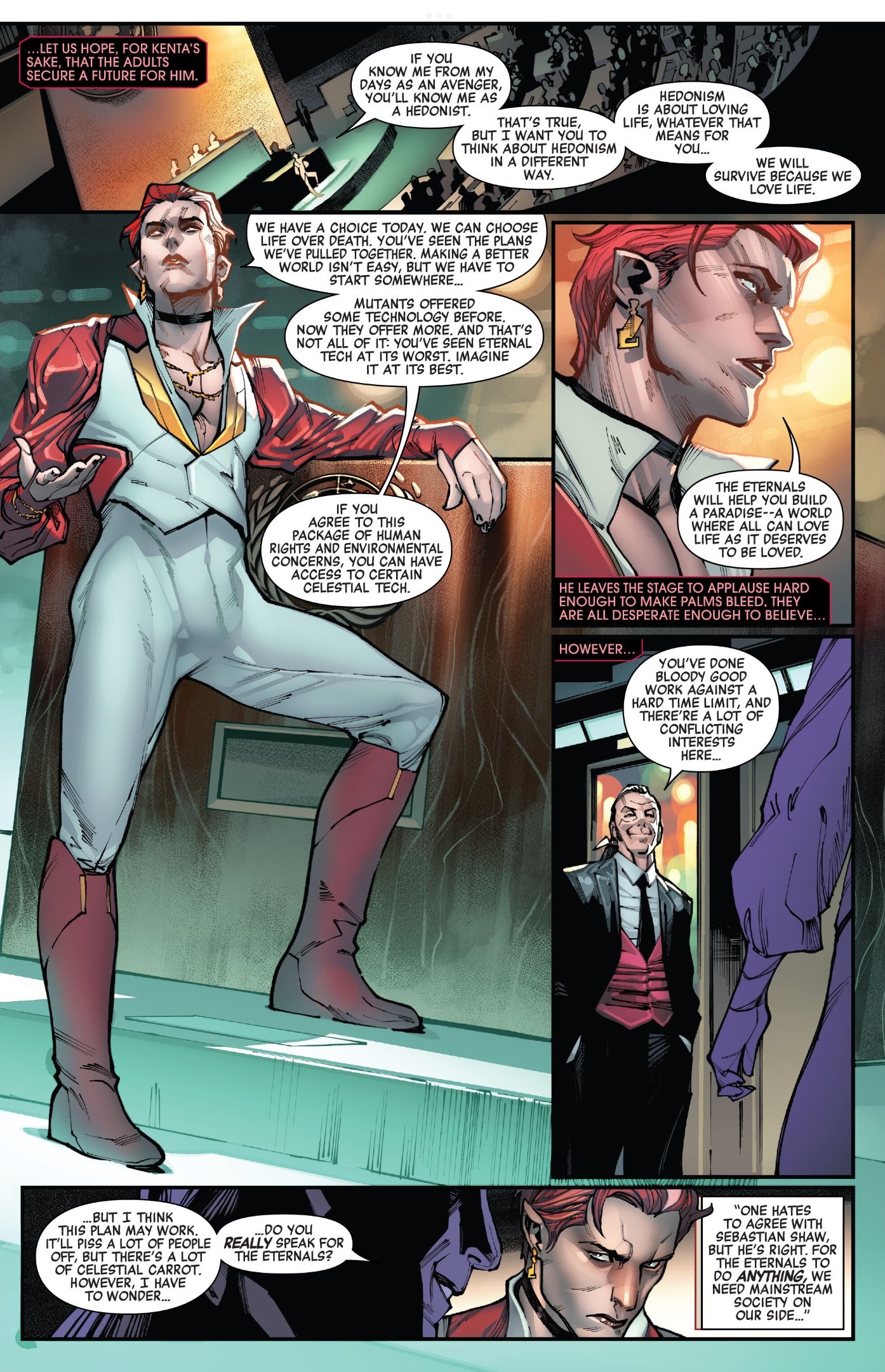 Among the ordinary folk again, social media maven Katrina fails because her entire persona is built on virtue-signaling and no action—unlike Daniela, who whatever her relatable but humdrum job concerns, does turn to caring for her family when it really matters. Arjun's widow Komali is a fierce despairing conundrum to the Progenitor, who seems to abstain when it comes to her recent tragic experience. Grieving mother Jada passes because even in her grief she is evolving her views every time we see her. Unselfconscious Kenta is just a kid, so he's fine.
Back again at Avengers Mountain, our Doctors Frankenstein discuss their great and terrible work. Notably, Sinister sees Ajak as "Panglossian"—from Voltaire's 1759 satire Candide, Pangloss saw absolutely everything in the world as part of God's plan, viewing all, the wonderful and the horrifically tragic alike, as for the best. In other words, Ajak's attitude is bonkers, the unquestioning zeal of her mission reflects this judgment, and she will (as we see at the Omega) continue on, with a will to judge the world, especially if it disappoints her (and of course it will, you sad child).
On page 12, though despairing of his own always unlikely success, Druig still hasn't reached rock bottom yet—of course, he will; just wait a few pages! In hindsight, his very weak refusal to release Uranos on Earth, reads even more cowardly: a moment ripe with foreshadowing as Druig's brittle façade of control cracks…
Druig's last hopeful effort is to have the Uni-Mind attack Krakoa again; now, it's against the entire island.
But to his total shock, over a dozen top-tier Krakoan psychics infiltrate the Uni-Mind at the invitation, via sabotage, of our heroic Eternals (Gilgamesh disabled the Uni-Mind's firewalls); remember this structure is composed of the Eternals' own fundamental energy-forms, so the Krakoans show up as psychic projections.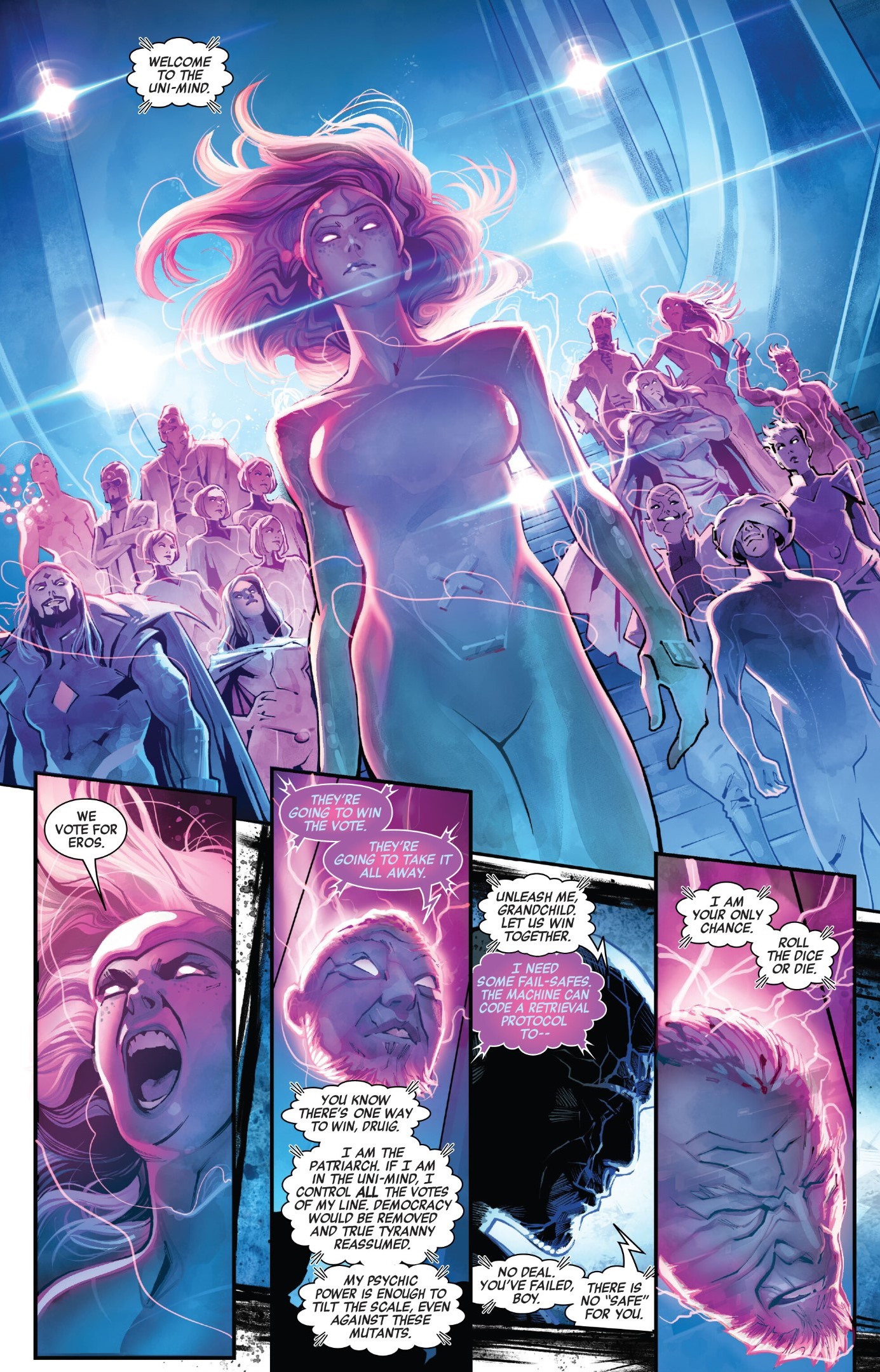 The Krakoan psychics aren't there to fight, of course; that wouldn't be possible. They've come to vote—and their votes are all going to Eros. Just like that, Druig's downfall arrives; he's no longer Prime Eternal. But petulant and cowardly to the last, Druig in his final act as the Eternals' despot, releases Uranos on Earth.
Uranos' armories now open up around the world, as they had on Arakko, but with much more devastation, as there's simply more to destroy and massacre. It's too much to take in with such brief page space, so we focus in on the one hero whose grand moment of sacrifice has already been ordained by the genocidaire who's gone from relatively isolated genocide (a sizable percentage of the Arakkii) to total planetary death.
Already mortally wounded in X-Men: Red #5, Magneto goes down at last, fighting to the end. Before dying, he passes the Progenitor's judgment, true to his word as he dies: Like his lost daughter Anya, there will be no coming back for him (though for different reasons, obviously; more on this in X-Men: Red #7, next).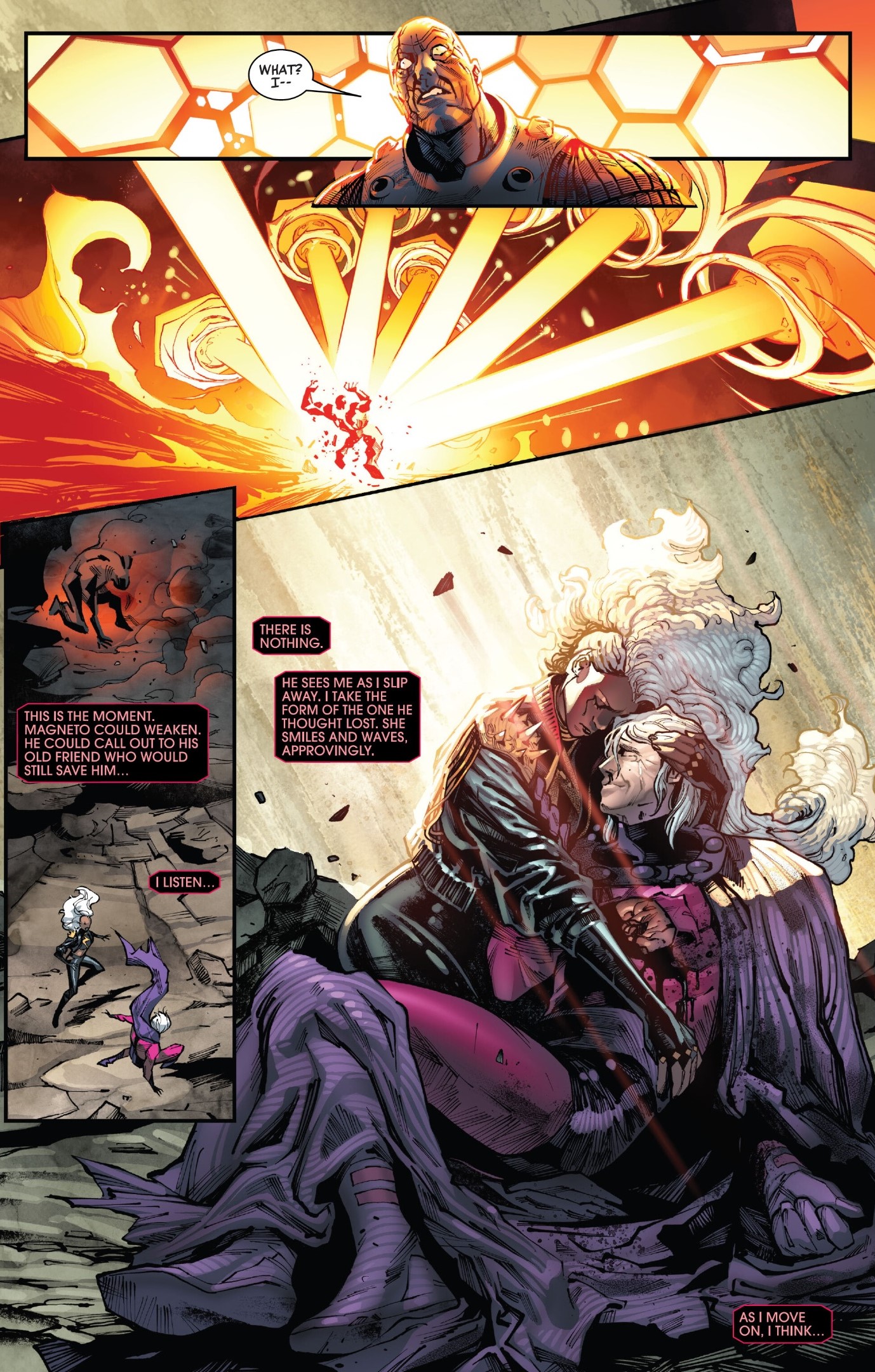 (Note that Magneto's last stand occurs inside Uranos' armory, which is why X-Men: Red #7 opens "In the heart of the earth.")
Ikaris, like Cyclops and Kro, passes. Sersi, pretending a lack of awareness (it's a clearly a pretense compared to someone like Shaw), actually knows how compromised she is (like Destiny)—and fails.
Poor Starfox ends up with really little to do in this overwhelmingly massive event. He's cute, though—which, really, is a surprise, an impressive feat on Schiti's part. And he does make a heartwarming speech to his god, if that's actually how he perceives the Progenitor.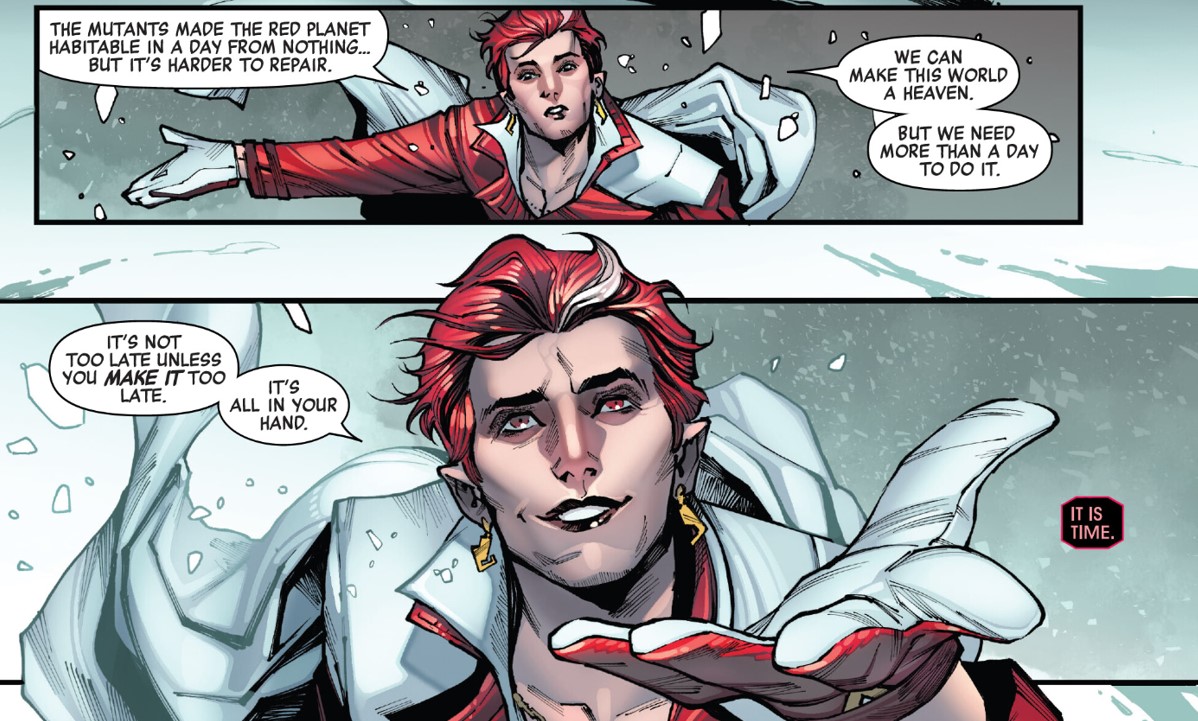 And yet, it's not enough, not even close. The reader can sense it coming, of course—this can't be the end. But the silent tension as the Progenitor's suspended thumb slowly, slowly, slowly tilts, the world watching, our heroes' nerves completely shot, their faces slack with numb or shocky anticipation. Cap knows this god is false, that this is no "Rapture," whatever the terrified mob believes, as they're all incinerated, except for the man with vibranium shield, failing to save anyone but himself (and failure is certainly how he'll see it, because that's just who he is, why he always already assumes he's failed; this is Gillen's Cap take, overshadowed as it is by the rest of this blockbuster Eternals event).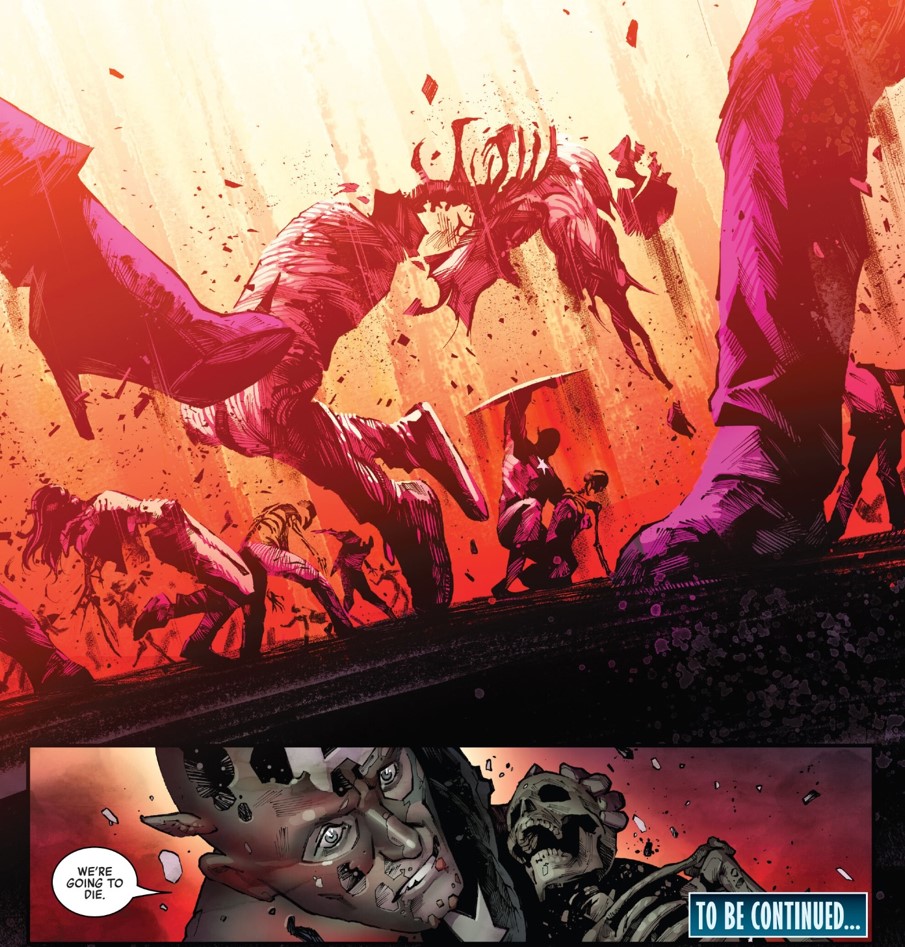 X-Men: Red #7—"The Winning Side"
On the cover, it looks like Storm's ready to kick Isca's ass, finally. But that's not actually the story inside, which is, surprisingly, much more satisfying. Also, this story does not take place after Judgment Day #5—asserting otherwise on the recap/credits page is an editorial oversight.
The issue opens after Magneto's defeat of Uranos—and the final exhaustion of his will to keep his body functional (after Uranos' shattering removal of his heart, a kind of genocidal plunder). I wish Ewing had fully gotten to write "The Hour of Magneto," rather than having his dying fall occur in the event title. That is not a knock against Gillen at all—but it is a criticism of the editorial demands surrounding any big event. Whatever—Ewing's genius recoups that loss by opening with the deeply moving elegiac aftermath, Storm holding her erstwhile enemy, partner and, yes, friend in her arms as he dies (Gillen's own poignant touch was Magneto passing the Progenitor's judgment, and thus, really, his own, for not going back on his word regarding his rejection of even the possibility of resurrection, destroying his own backup. However, the Gillen depiction did, sadly, undercut Erik's mystical vision of his daughter's spirit; see note below).
Ewing clinches this moment (as he does the rest of the story here, appropriately titled "The Winning Side") in several ways. One, Magneto's Krakoa era narrative comes full circle here with his dying words: "You have new gods now," quoting his own speech to the (shocked/outraged/cowed) ambassadors in House of X #1. Movingly, Storm urges her fallen comrade to consider resurrection, even without a backup (which we know wouldn't work, unless we want another Joseph, right*?! 😉), but this is grief speaking, for she too has forsworn returning to life via the Krakoan resurrection protocols.
*Actually—there's the Waiting Room (allowing all past mutants to resurrect. See The Trial of Magneto earlier this year). In Immortal #7, Xavier will echo Storm's sentiment here, so Magneto's resurrection could be sooner than we think; if it's Xavier's decision, it won't turn out well between them.
Second, facing imminent death, Magneto now no longer views the moral good as protecting just mutants but any and all "so-called undesirables"—but without the Xavier dream/delusion of integration. For anyone who's really experienced being an undesirable in almost every walk of life, that would be wishful-thinking, and Magneto will never change his mind on that (Yes, David, "Magneto was right;" your father is, as ever, sadly misguided). After last year's Inferno, the great dilemma for Magneto was, of course, that the vision for Krakoa, which had always seemed a three-way compromise, harbored a fundamental betrayal at its heart (the self-hating mutant Moira), and with that tragic revelation, that left only two compromising parties—who had already exhausted their dynamic in years past. Magneto "deserted his post" because he could no longer abide Xavier's wrongheadedness. Which, yeah, will be Krakoa's downfall, at least under his leadership.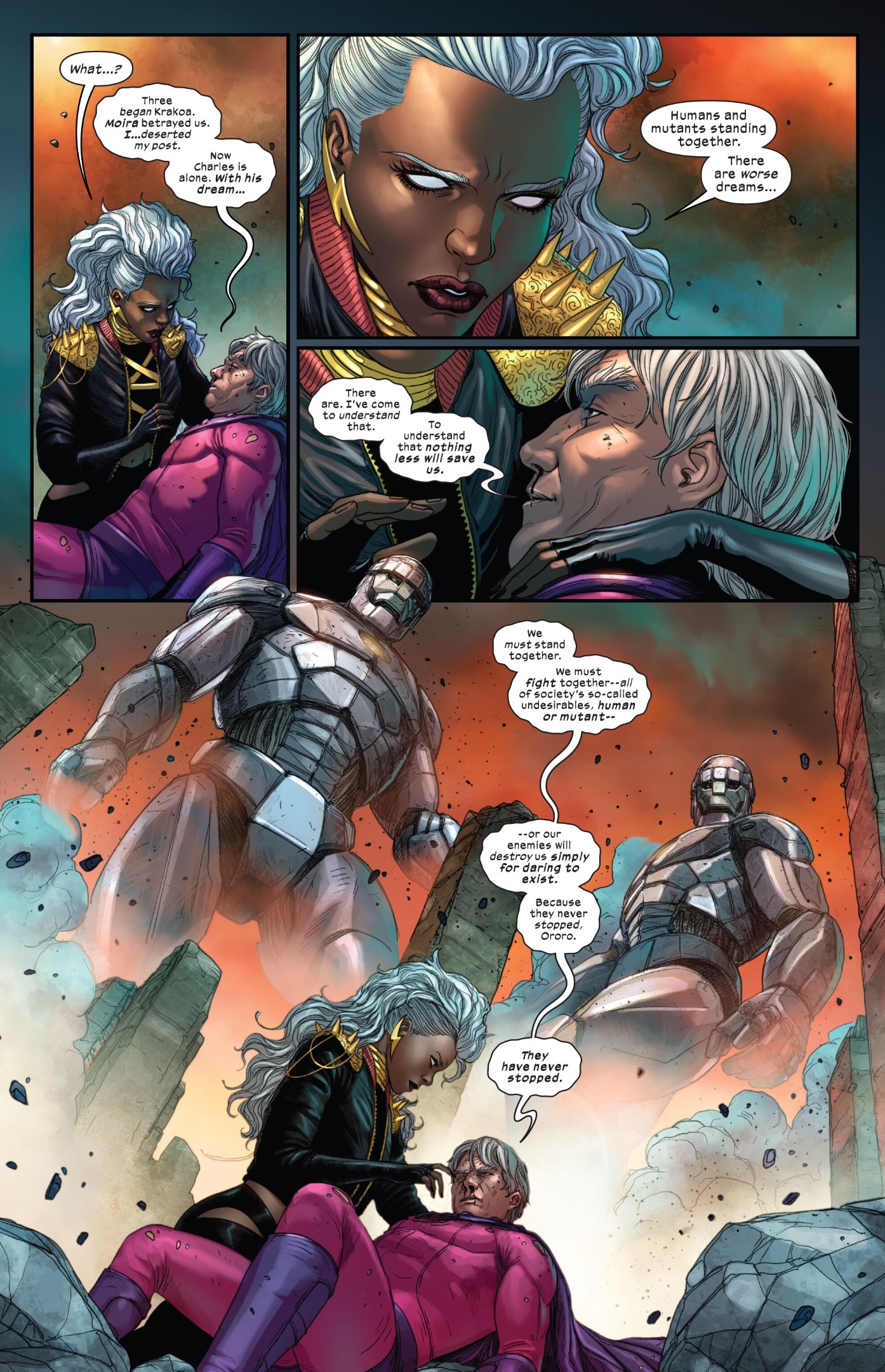 Attendant on this moment and rich with portent, his admonition to Storm that she keep a close eye on Charles will undoubtedly become a running theme for Storm's Krakoa narrative going forward.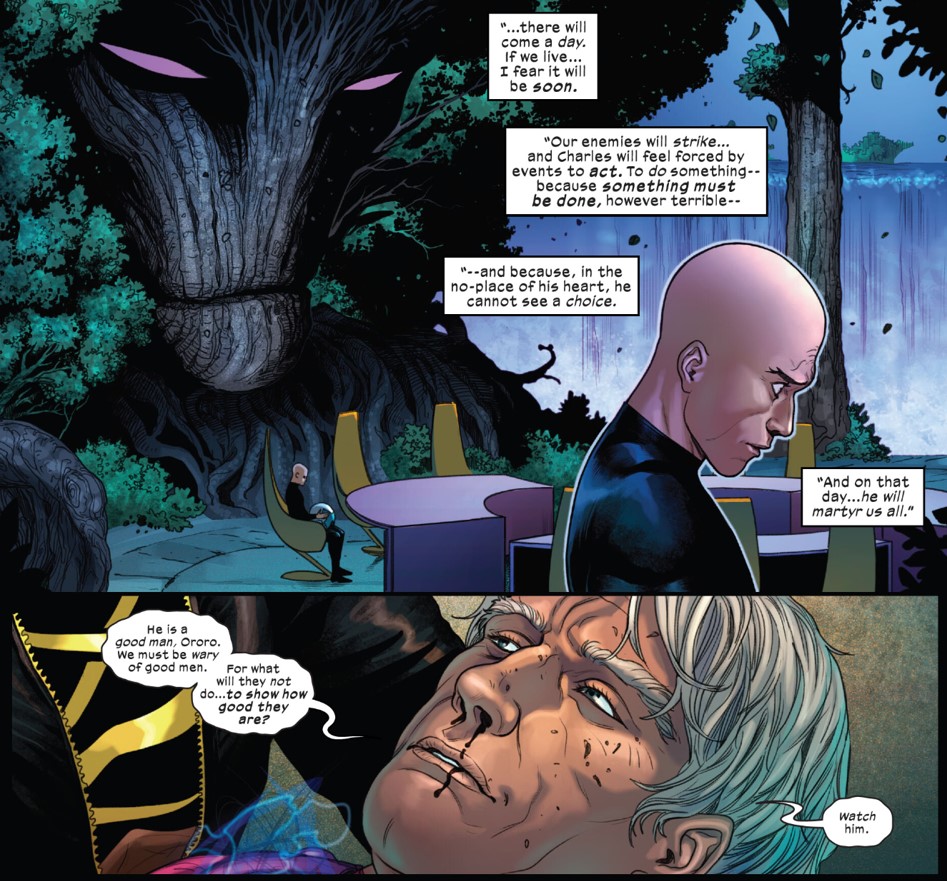 And at the last, Erik, or Max as he was first known, thinks (as he's probably not stopped thinking) of Anya, his daughter who died as a very young girl, a nonmutant—and thus beyond the pale of Krakoan resurrection. In Judgment Day #4, the Progenitor's own narrative caption undercuts Magneto's dying vision of Anya's spirit; it's merely the Progenitor in the process of passing judgment.
Beyond being permanently heartbroken by the loss of his first daughter, Magneto also came to understand, tragically, that Anya never carried an X-gene; he realized this when she simply did not show up in the queue in Wanda's Waiting Room (confirmed at the start of X-Men: Red).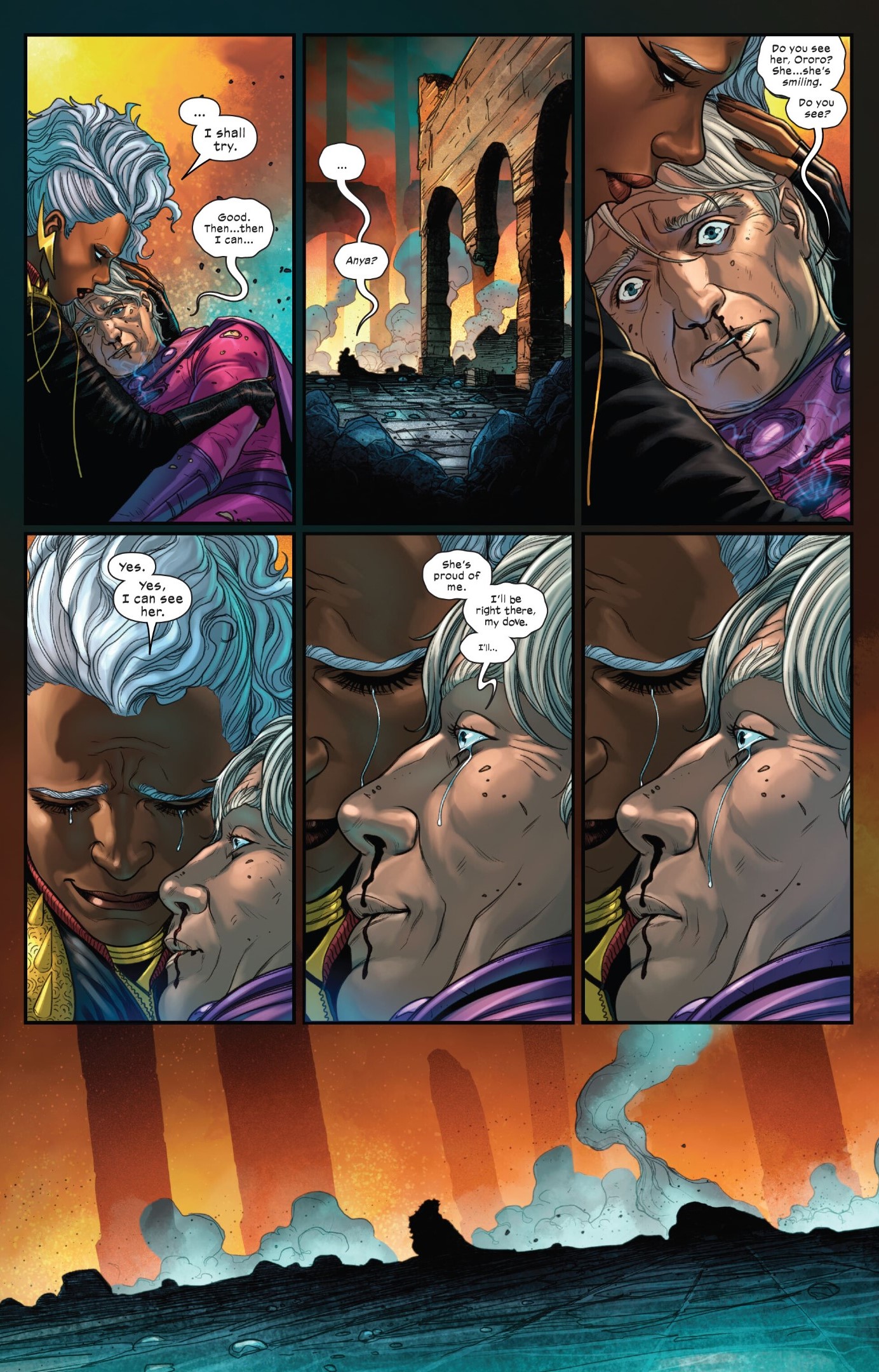 With the usual recap/credits page displaced to the end of the issue, the following interstitial is mourning black and features a paraphrase of Magneto's speech to the World Court during his trial in Uncanny X-Men #200. And "You cannot wish us away. We are your children" is a sentiment that, of course, resonates with many marginalized communities. Ewing knows what he's about!
Following that seal on Magneto's (final?) passing, we—and our heroes—can then turn to the matter of Isca ("of Amenth" as Lodus Logos calls her, calling out her most significant betrayal, centuries ago).
With his record of sadistic torture and imprisonment, Tarn was, on his face, a far fouler element of the Great Ring, but unlike Isca—who I believe is for the first time portrayed here as having been Tarn's lover*—he never directly attacked another councilmember—unless it was in the arena of the Circle Perilous (*See also the Isca-focused interstitial, digital page 16).
Beto makes the interesting point, clearly implied since she was introduced, that Isca's power is merely that she cannot lose, not that she must win. Any conflict she's embroiled in could simply result in a stalemate, which had indeed long been the case between the Arakkii and Annihilation's forces. Sunspot tricked her* back in X-Men: Red #3—and now the Fisher King is doing something similar but more powerfully, as he makes her realize how impoverished her sense of "victory," and thus of her very built-up identity, really is. At last, she begins to understand what irreparable loss is, and how deeply familiar with it she already is, much to her horror.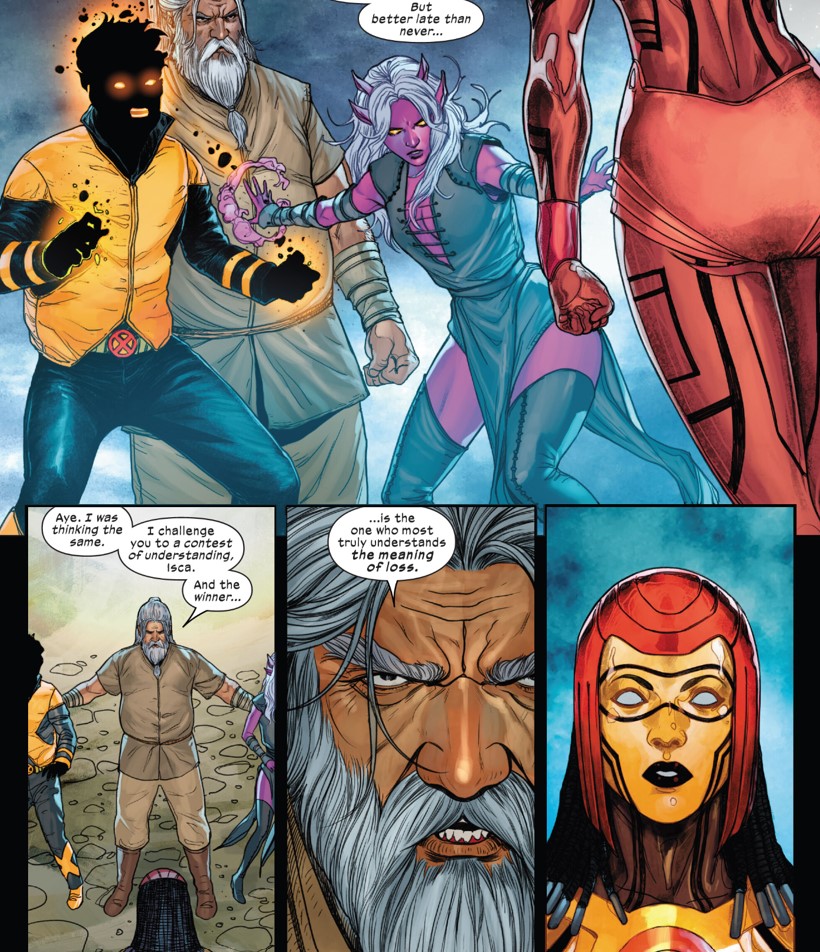 (*In issue #3, Beto, seated next to Isca before the Circle Perilous, wagered that Tarn would defeat Magneto, forcing her to bet against her (ick) lover—immediately triggering her so that she childishly slew Sunspot. Note here in the tie-in the Progenitor's shadowy Tarn guise).
Finally, Isca realizes this issue how wretched (and hopefully how childish) she's been (for so long) that she cannot abide the privilege of being seated on the Great Ring when she, unlike even Storm and Magneto, risks nothing—if she's incapable of risking defeat, she cannot truly be "of Arakko." That she can't even help but pass the Progenitor's judgment emphasizes how unfit she's always been not just for Arakkii leadership but for their very way of life.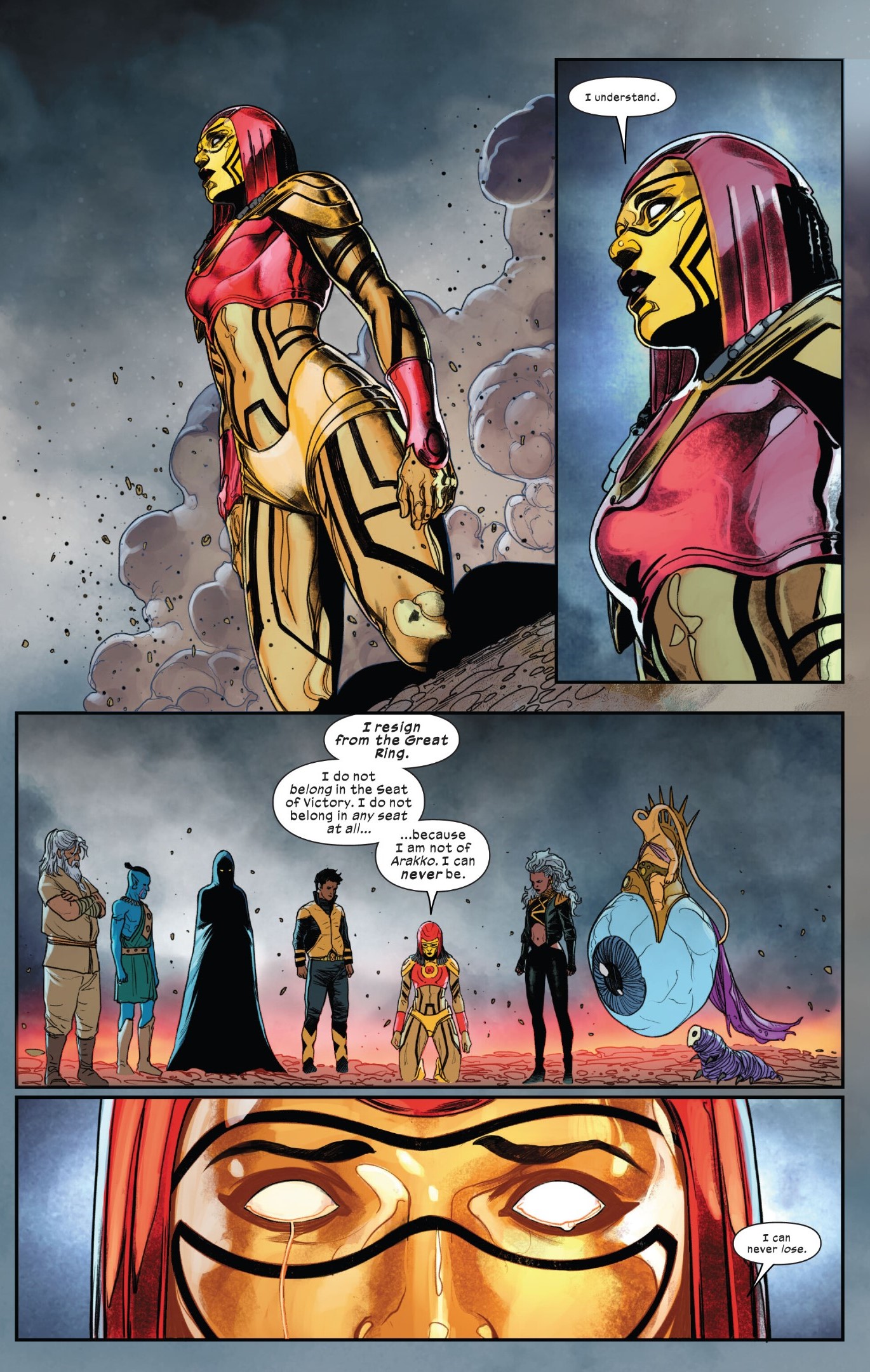 Notably, Isca's mention that the Fisher King was a thorn in Amenth's side even while imprisoned is a story waiting to be told. Also, per the Isca-focused interstitial, she's apparently millennia older than Apocalypse. Interesting—more tales await!
This chapter ends with Storm taking Magneto's Seat—of Loss (Lodus Logos takes that of All-Around-Us and thus the Regency of Sol, as well).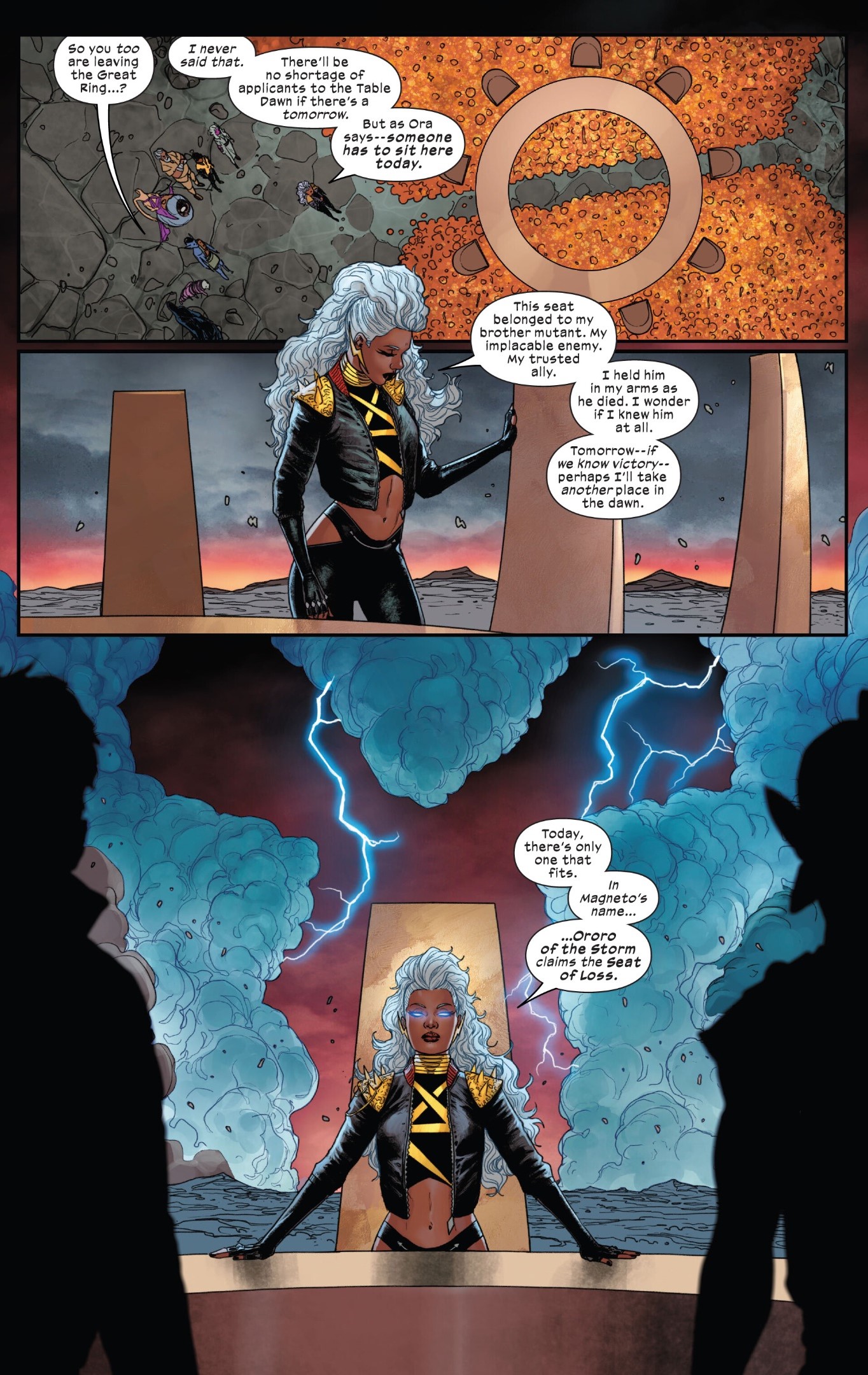 (I have to say, though, are we meant to read the vast, X-shaped field of Arakkii bones as something that the Ring members are stepping on to take their seats once more at the table? That's a choice, Madibek (one of Marvel's newest artists); hopefully, their remains are dealt with more respectfully, or just sensibly, in future).
The issue's epilogue gives a taste of what's next—Cable and Wiz-Kid's intrigue against Brand. A few notes on this prologue, then:
* Unsurprisingly, Takeshi passes the Progenitor's judgment (a moment that seems an act of self-forgiveness, which is sad if that's what he felt he needed, for the car crash that killed his parents and cost him his legs was none of their fault; see ­X-Terminators #1, 1988).
* The Keep was reality-warped into existence (from the Peak's template) by Jamie Braddock (Planet-Sized X-Men). We now have a hint that the two structures are mysteriously connected.
*Brand murdered Henry Peter Gyrich in the last issue of S.W.O.R.D. (#11). Takeshi doesn't want her punished by the Council but have Kurt go easy on her, for intelligence-gathering reasons. It's clear that he and Cable have discovered what she's been up to—with Orchis? That would be obvious, but our storyteller Al Ewing might want to might have quite a few twists and turns to this secret we already know, which may not even be the nastiest thing up her sleeve…
Judgment Day #5
This chapter opens with the view from the North Pole/Avengers Mountain as the Progenitor hands down apocalyptic judgment on Earth, and then we switch to a page of reactions from our six human witnesses before returning to Manhattan, where Cap encounters our event-witness Jada. They have a heart-to-heart that reminds all of us why we love Steve, reminding Jada too, while Jada speaks for any of us ordinary folk with a heavy heart but a ray of simple hope.
Then Nightcrawler shows up to ferry Cap to the coming battle with the Progenitor at the North Pole—and while this issue focuses on the blockbuster-action/thriller set-pieces, Immortal X-Men #7 will give us Nightcrawler's story/perspective threaded through this section of the event (with various new scenes).
Actually, as preamble to the big assault, Kurt and Cap's incineration is captured at the bottom of one page. It's certainly not the main course here.
Cap's role in this event might be the biggest empty build-up (whereas the twist that it wasn't all about a war called "AvXvE" was actually a clever-enough deconstruction of linewide-event market logic). It feels like Gillen wanted (just as Kurt did) the moment of Cap getting killed, on-screen, confronting the Progenitor to create as big of an impact with Marvel audiences as it no doubt had in-universe.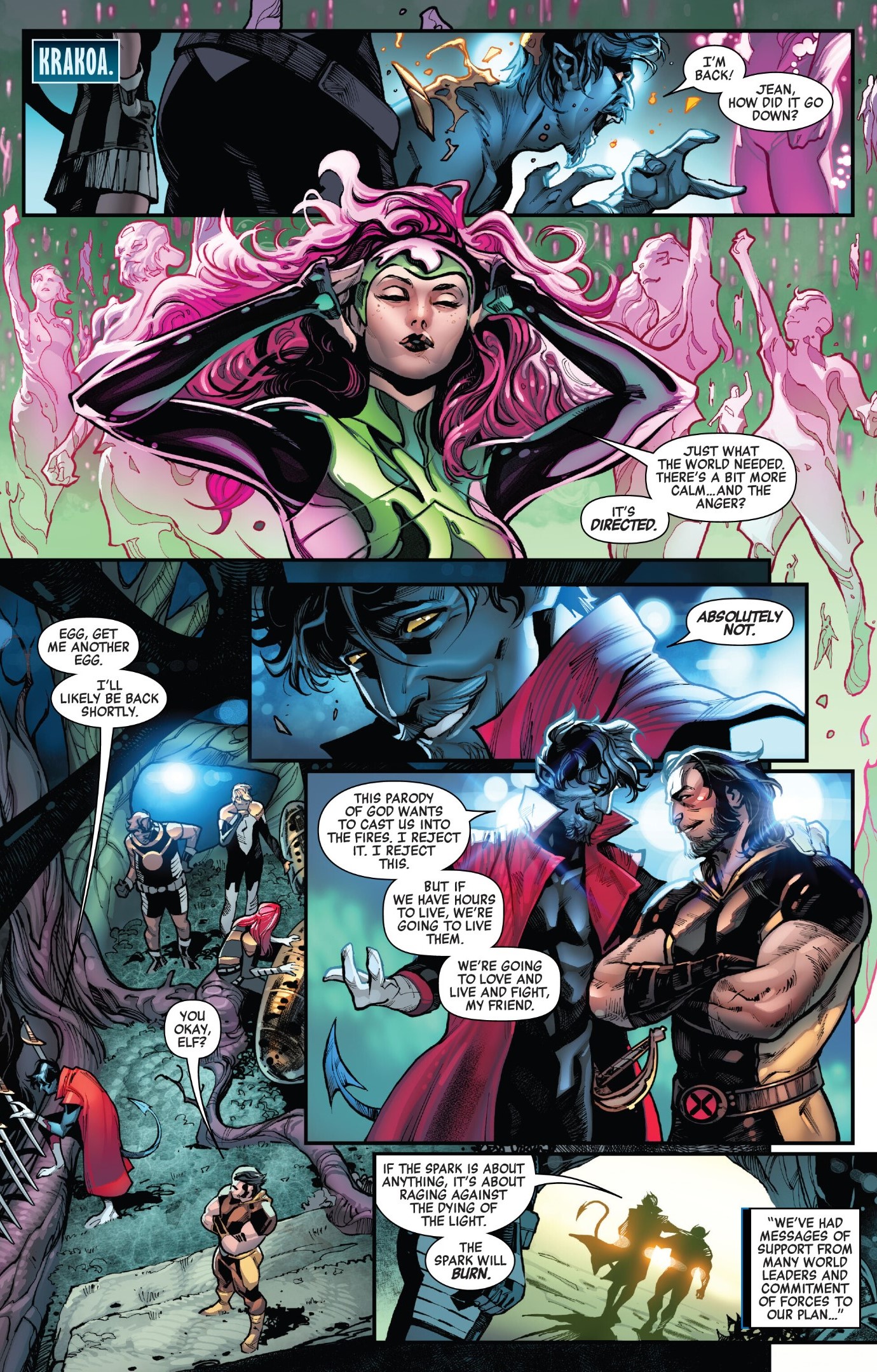 The problem for us is that A.X.E. is clearly the wrap-up of Gillen's Eternals story, and such grand moments from Marvel's A-listers feel a bit shoed-in, as if dictated by outside demand for A-list heroes to be front and center more than half the time in the core event series (And anyway, does Cap often sacrifice himself to stop near-apocalypses in non-Avengers comics? Not typically, no).
Also, it wasn't surprising that Cap was resurrected. Since HOX/POX, there's never been anything to suggest or even hint that the Five couldn't resurrect humans if they had a(n "engram") backup. Yeah, a cool visual, though.
Back on Krakoa, the Council preps for an infiltration of the Progenitor to disable or destroy it—which leads into the one-shots (A.X.E.: Avengers; X-Men; Eternals).
Then all the heroes take the fight to the Progenitor—and this is where Gillen lets Schiti really take over and shine with this epic, multi-tiered onslaught. Much of the assault turns out to be ruse to get the Progenitor thinking it's slaughtered everyone willing to take a swing at it, as Krakoans start gating into Avengers HQ, showing up in droves and carrying resurrection eggs.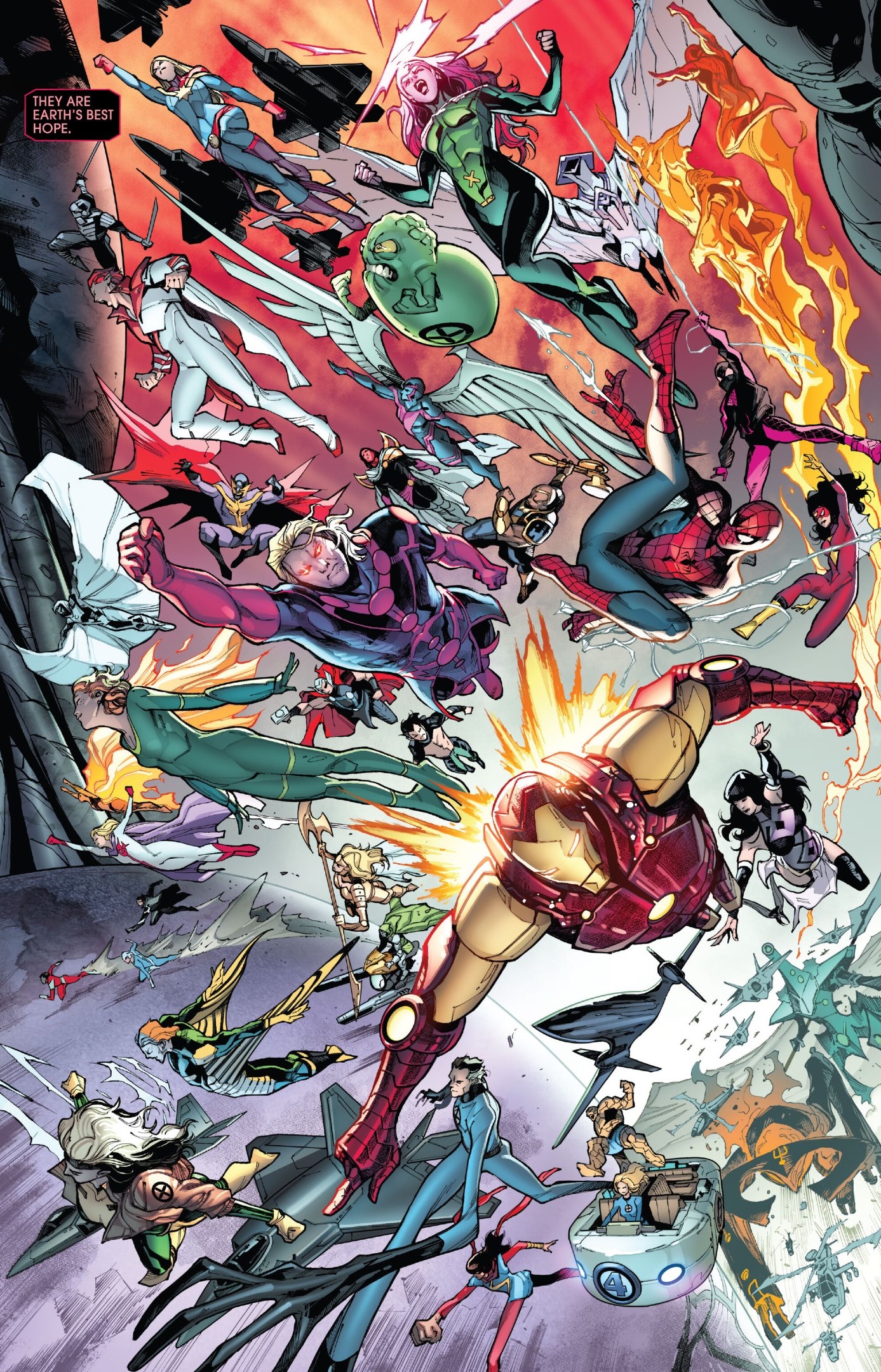 As Cap is resurrected, the heroes with the ultimate plan set out: Stark (the focus of the first one-shot), Jean Grey (the focus of the second), Ajak (the focus of the third and the Omega issue), Wolvie, Sinister (okay, not a hero, but the necessary Dr. Frankenstein of the lot), Sersi, Makkari—though Jack of Knives plays decoy and gets killed right away; the amoral assassin shows themself, to the reader's delight, a hero for true.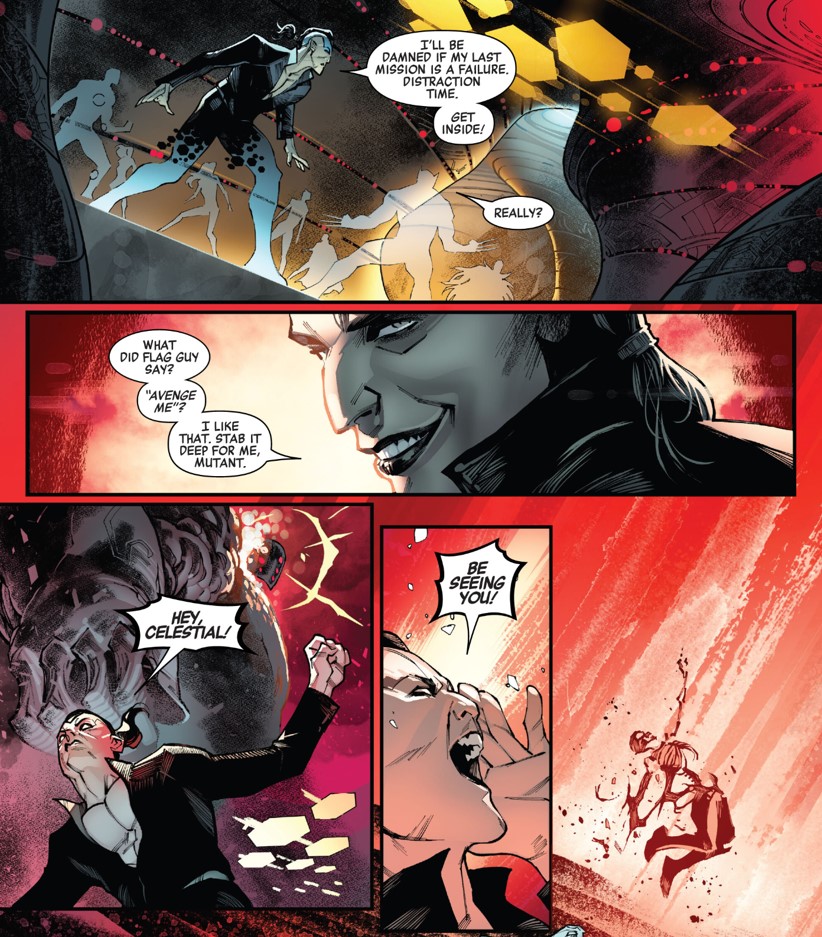 Hard to imagine that they didn't pass the Progenitor's judgment with ease.
Immortal X-Men #7—"Red in Blue"
Seconds before the Progenitor's apocalyptic judgment, we open with Nightcrawler being a wee bit pie-in-the-sky. This has always been prominent in Kurt's persona; only seldom does he dwell, ironically, in the shadows, his own. And while Debbie-downers are no fun, characters who don't really come to grips with their shadow, wrestle with their darkness in deeply felt shadow-work, aren't a heck of a lot more interesting (His willingness to give his all, as recently evidenced both here at the end of the issue and in Judgment Day #5, is still more impressive than what most heroes are capable of; then again, is it a bit masochistic? Let us explore…!).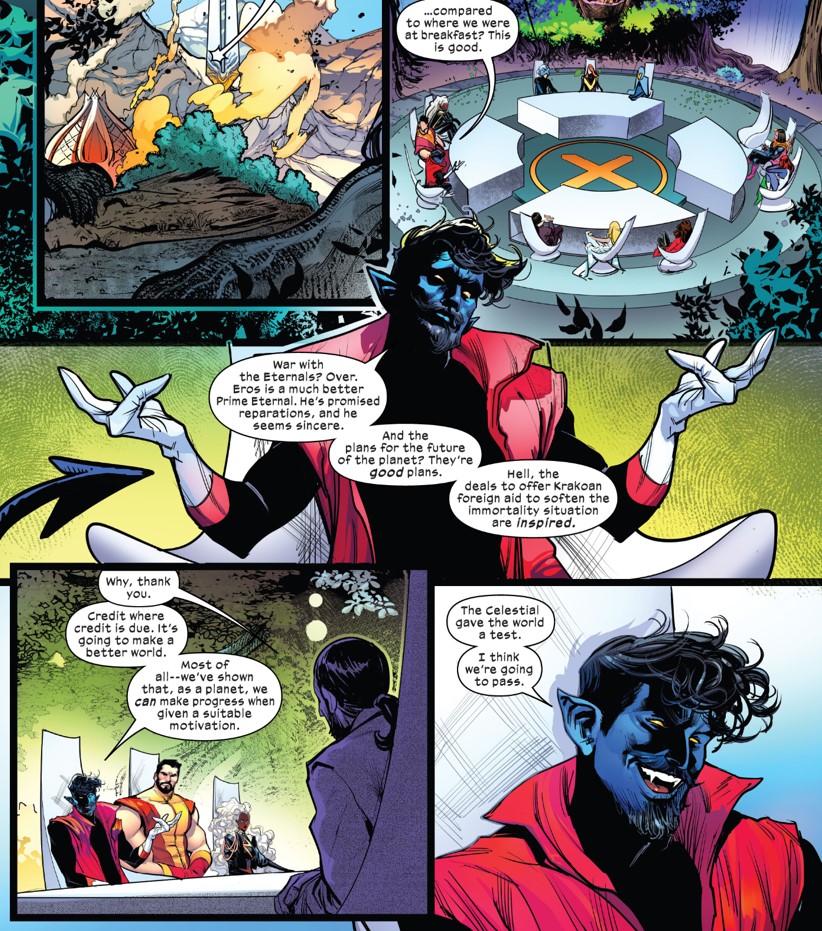 As much as I enjoyed this issue, Kurt still shows no signs of, well, never mind, maybe he really is enlightened (Don't you believe it; there's hope for him yet)!
The story this time runs more or less simultaneously with Judgment Day #5, though its opening scene occurs right after issue #4, focusing on Kurt's reaction to the Progenitor's apparent final judgment and getting to work on destroying this shameful, evil, despicable world (all the work of our own self-loathing, with the Progenitor merely holding up a mirror to our inner darkness and simply taking at face value humanity's own sick enjoyment in its shame, however much we're each loathe to acknowledge it).
But Nightcrawler still has faith! Yet he is deeply unnerved once the Progenitor's Armageddon gets under way, by the apocalypse and the Council's increasingly desperate plans to stop it.
Kurt's own plan is to jaunt Destiny away, a minor abduction of his adopted mother, in order to question her while also frightening her, teleporting all over as a teleporter possessed; it works—thanks to her telling him, Kurt now knows what to do to stave off apocalypse. Of course, what comes next occurs simultaneously with Judgment Day #5:
Kurt recruits Cap for the fight with the Progenitor, but this time we see that he also got a sneaky sample of Cap's blood, passed on then to Magik. If this had been shown in Judgment Day #5, it would have spoiled the triumphant last page—Captain America reborn.
Before continuing on, note that we have a nice bit of subtle foreshadowing here for this issue's last scene, which otherwise, comes as a total surprise (Nightcrawler directly recruiting Moira and thus Orchis itself to join the fight to save the world): Before approaching Cap in the smoking remains of the anti-mutant protests outside the X-Men's Treehouse, Kurt finds a scrap of paper, likely one of many such, that must have circulated amongst the now incinerated protestors: The interstitial page following shows us that it's a piece of cheap propaganda from Orchis itself (fun design, though)—a first, as far as audiences know! Prior to this, Orchis has been entirely behind the scenes, off the books, sub rosa, etc., growing its ranks through word-of-mouth across elite organizations (especially in intelligence and top-tier R&D). Now: They're out in the streets, their hatred gone viral amongst everyday agitators, spreading their agitation, exponentially perhaps.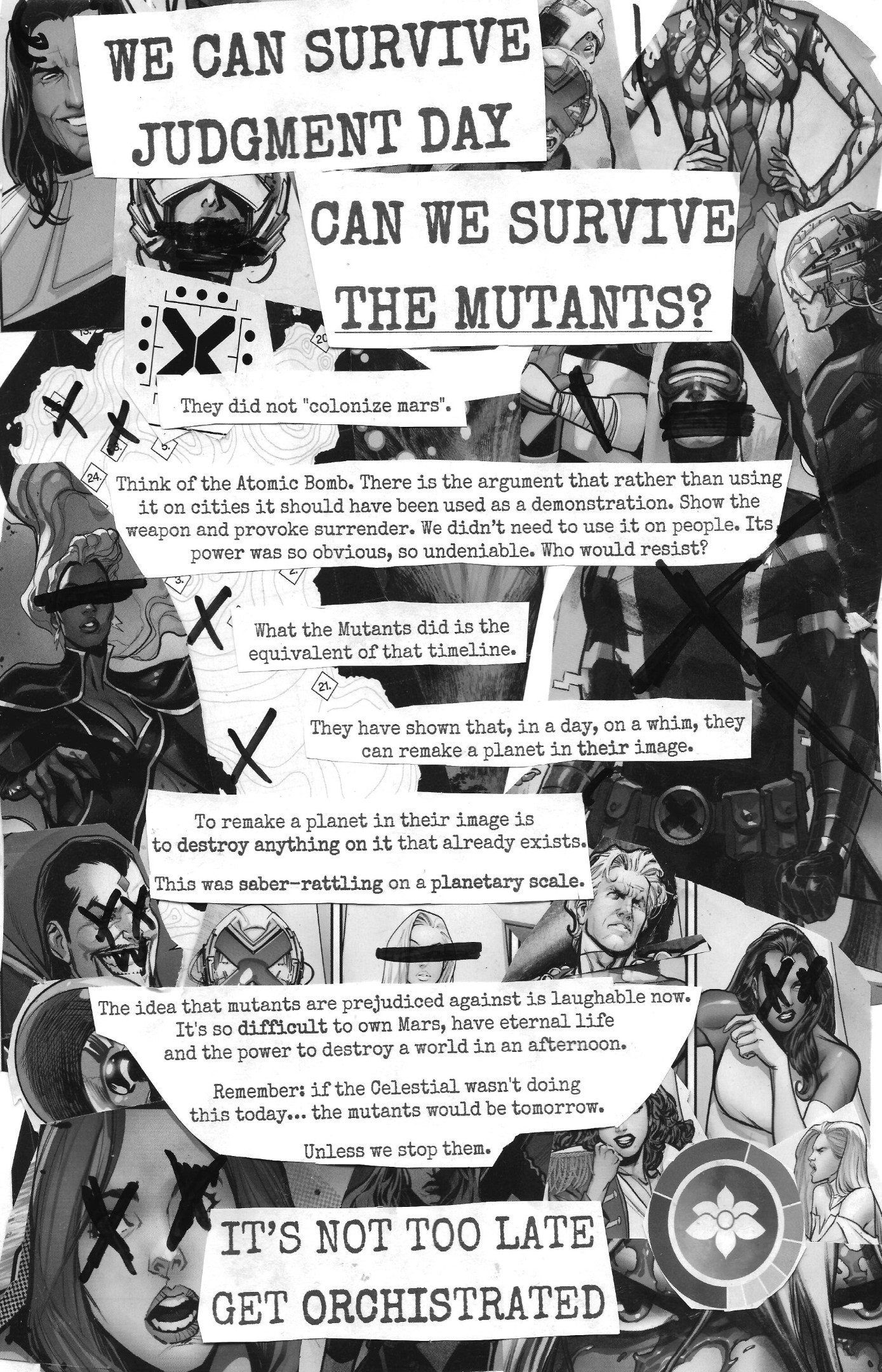 So, yeah, not just foreshadowing for Orchis' surprise but still quite minor role in this event—but for darkness gathering at the horizon, which for Krakoa, is blurring into a portentous obscurity.
The story this time continues on with a replay of the heroic sacrifice at the North Pole. New material here includes the fact that Kurt was backed up to the very moment of his violent death (ouch), so that he can remember dying (which he should no less be able to recall from Bastion killing him, horrifically, at the end of "Second Coming," 2010).
Turning from the Arctic massacre, we see Hope on Krakoa calling for volunteers to stay behind to be killed by the Progenitor, to fool it into not realizing most the island nation has evacuated to Avengers Mountain, ironically. She's ideal for this inspirational speech given her messianic role of old and now with the Five. Flanking her are the friendly faces (to the average Krakoan) of Xavier and (the resurrected) Nightcrawler. Recall that in Judgment Day #5, we saw those evacuating ferrying resurrection eggs with them—and here we see Egg himself staying behind for a heroic sacrifice.
Mystique and Destiny also stay behind, Irene believing, or having seen in a prophetic vision, that this plan requires her to do so. In her visions of those timelines in which she evacuates with everyone else, the ruse fails to trick the Progenitor—but it's not clear why that would be the case.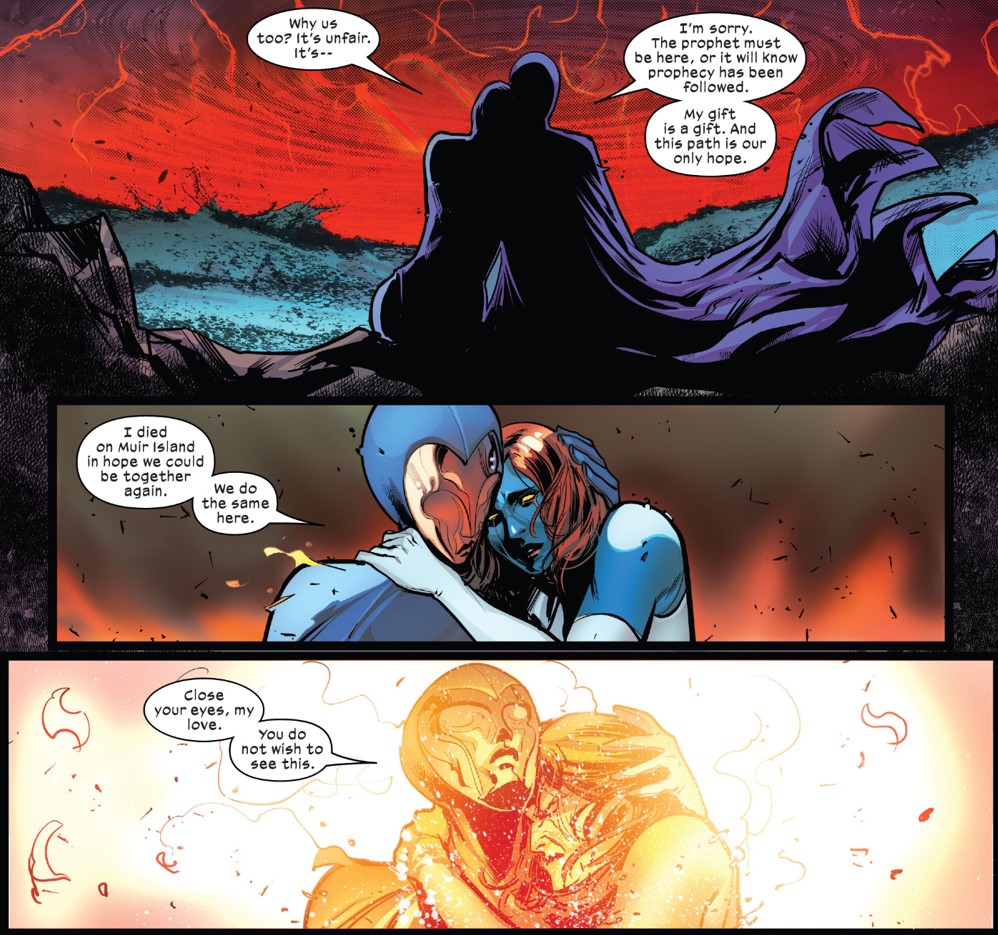 Hilariously, Sinister frantically tries to reset the current timeline, via his Moira-clone farm, a horrific asset that Destiny's secretly aware of—and he doesn't know why his get-out-of-jail-free card isn't working this time! Hmmm (Readers don't have the details on this yet, either, except that it's clearly sabotage, not just a glitch).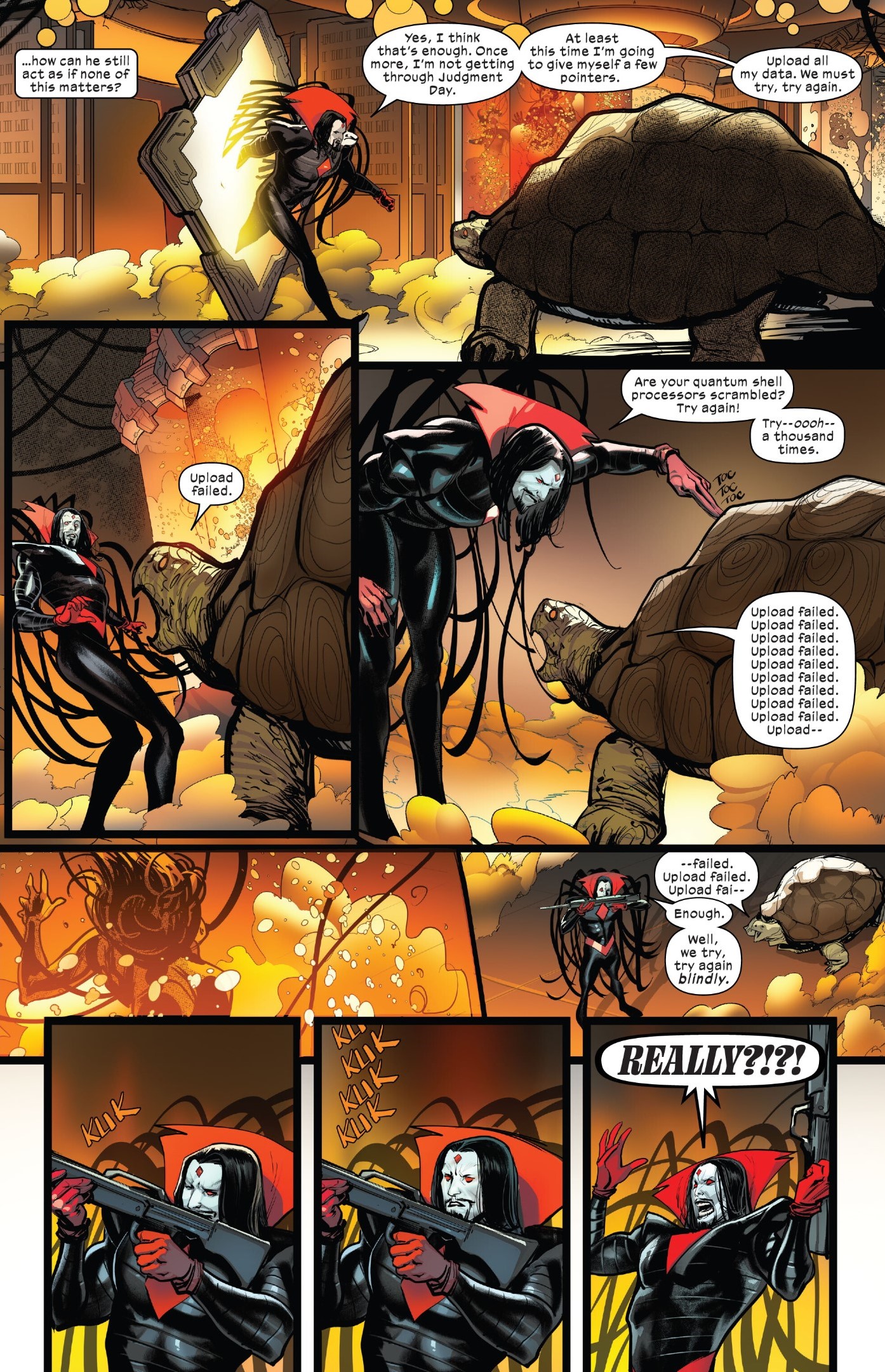 The issue's penultimate scene extends the victorious end of Judgment Day #5, with Cap's rebirth via egg: Here, Hope deescalates Exodus' excessively righteous anger over the decision to resurrect Cap, which is nice to see after the Exodus issue (Immortal X-Men #5).
The real surprise this issue comes at the very end: The next and last phase of Nightcrawler's desperate plan is to recruit—Orchis! But it's not like he can just walk in the door of their NYC office and get a meeting with bat-shit Moira. No, he has to get himself killed, a bunch. The ever-hopeful, unflappable Kurt interprets this horrific carnage to himself as simply Moira's own extreme fear, which he seems to understand empathetically as simply a wildly intense terror at the prospect of her own death. Remember, she's been depowered, so the world won't end with her; yet, of course, she still feels that way!
And, really, who among us hasn't wrestled with that fear? Our culture doesn't like to acknowledge the end of anything, life least of all. In our avoidance, the most poisoned of fears grows bigger: The world simply cannot go on without our individual existence—precisely because we haven't even begun yet to deal with mortality.
In our lack of preparedness (which ultimately just comes down to a cast of mind), we cannot believe things will go on as they should. Hello, bat-shit Moira—you're less alone than you think!
Now, why is Kurt so (almost literally) hellbent on getting Moira's attention? He believes that Orchis is perfectly suited, in its dehumanizing fetishization of machinic intelligence, to assist the ailing Machine that has always secretly sustained Earth's critical geological processes. Standing in for the world's heroes, Nightcrawler needs mutantkind's (and perhaps humankind's) ultimate enemy to help save the world. And that's tragic, it really is. Also, a bit hilarious, story-wise—this is some real tragicomedy here.
Of course, looking ahead to the event's climax, we know this moment, as much as bat-shit Moira fights it with every ounce of her nigh-immortal wounded-childishness, does portend major changes for big evil's role in the very-soon-to-be grateful public's eye. But will she personally thank Kurt for this lifetime opportunity? Now, that would be really funny. Plus, he did save her from getting killed when the Orchis Forge is destroyed by the Progenitor moments after her abduction and getaway.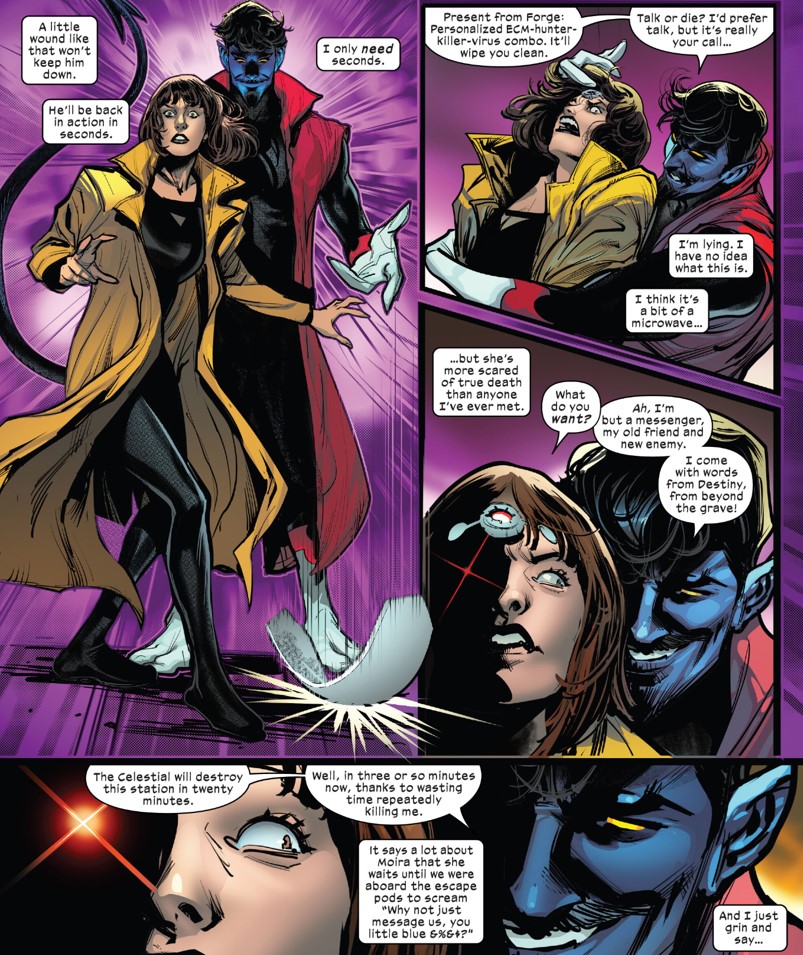 (What Kurt says next is: "I needed you to believe me. If I didn't commit, you'd have got yourself killed trying to be clever." Notably, this sort of risk-taking is quite different from the focal figure of the other tie-in here, Isca).
Of course, looking ahead, we know Nimrod escaped, too, and there are plenty of agents around the world. Plus, all the Progenitor's kills are reversed at event's end, though presumably their near-Sun HQ is still so much debris, which is cool.
But Orchis is about to become the most beloved new hero-kid on the block, in the city, on the whole planet. This is a late twist, certainly a footnote, and yet it might be among the most consequential bits of fallout from this quasi-linewide event (After all, it had to be more than just the wrap-up of Gillen's Eternals epic, says the dictates of market logic, not so unlike Orchis' perpetual need to grow their client/customer base).
At least, Kurt's inveterate optimism allows him to scoff good-naturedly at Moira's grumpiness, however terrifyingly genocidal she's turning out to be. Gotta stay positive if ya wanna win them hearts and minds, right?!
NEXT: A.X.E.: Judgment Day: Avengers (starring Tony Stark); X-Men (Jean Grey); Eternals (Ajak).