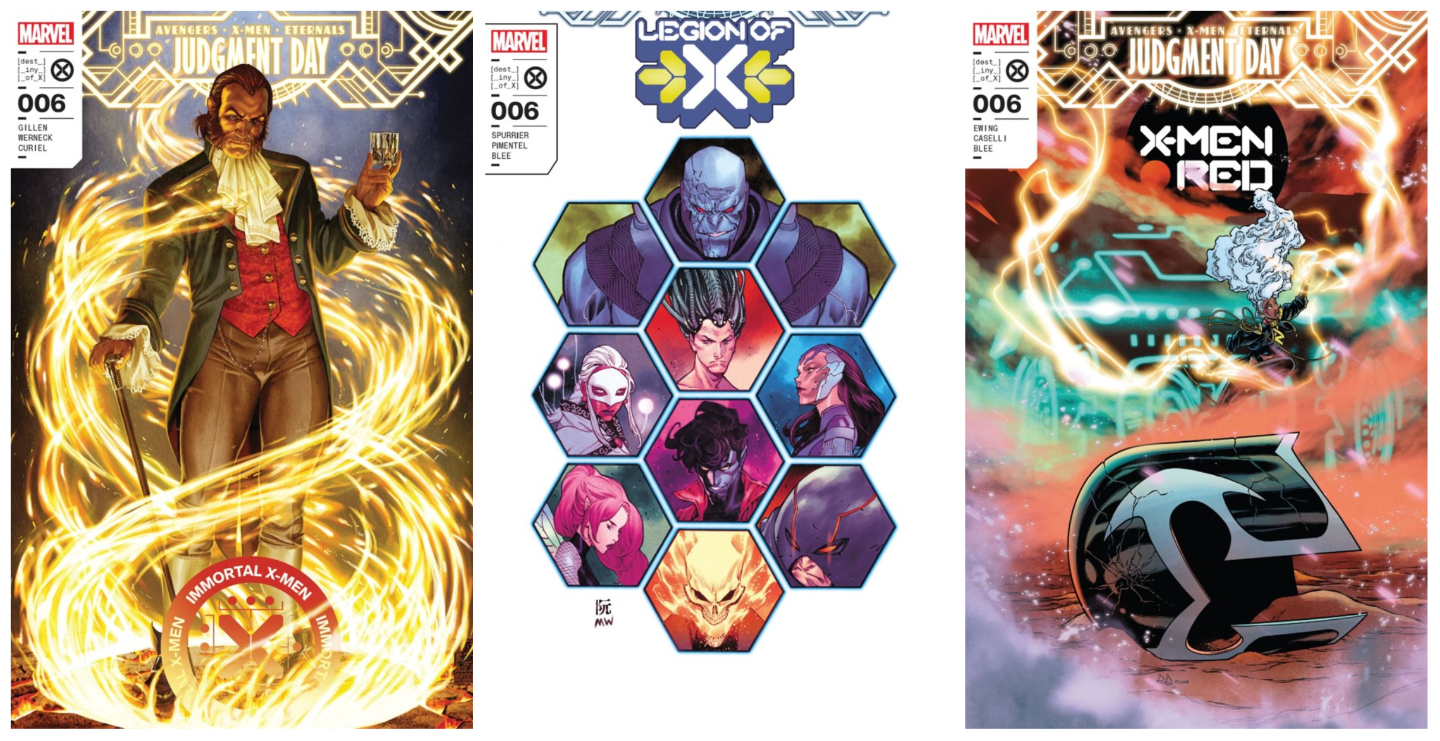 Welcome back to our multipart reread of Marvel's big 2022 summer event, "A.X.E.: Judgment Day"; first, we looked at the leadup to this apocalyptic ruckus, and then we dove in with the first event issue and tie-ins, with a side piece on Exodus, star of the tie-in Immortal X-Men #5. Last time, we covered Judgment Day #2-3 and Death to the Mutants #1-2.
This time, we cover—a triple terror:
Immortal X-Men #6: Kieron Gillen writes; Lucas Werneck draws; David Curiel colors; Clayton Cowles letters; cover by Mark Brooks.
X-Men: Red #6: Al Ewing writes; Stefano Caselli draws; Federico Blee colors; Ariana Maher letters; cover by Russell Dauterman and Matt Hollingsworth.
Legion of X #6: Si Spurrier writes; Rafael Pimentel draws; Federico Blee colors; Cowles letters; cover by Dike Ruan and Matthew Wilson.
Support For Comic Book Herald:
Comic Book Herald is reader-supported. When you buy through links on our site, we may earn a qualifying affiliate commission.
Comic Book Herald's reading orders and guides are also made possible by reader support on Patreon, and generous reader donations.
Any size contribution will help keep CBH alive and full of new comics guides and content. Support CBH on Patreon for exclusive rewards, or Donate here! Thank you for reading!
"The Devil's Party"
Sebastian Shaw's Immortal X-Men spotlight issue, appropriately titled "The Devil's Party," works almost entirely as a Judgment Day tie-in, opening with Sinister talking Destiny into the attack on the Progenitor, already seen in Judgment Day #3—but their discussion is more fleshed out here. Destiny's full awareness of the risk involved is on display here, and she follows Sinister's urging to keep it a secret from the others.
It's pretty obvious, though, that Destiny is making her own decisions here, and Sinister is simply trying to get on her good side, for the time being.
With Destiny unrealistically minimizing the risk of human cities being destroyed (in bad faith, that is), Shaw votes yea (the likelihood of which doubled with Destiny's lie). He's got little sentiment for humans, but he doesn't like to see potential capital destroyed for little gain—no one present seems to think an attack against the Progenitor will win them much beyond the very short term.
(Mystique, of course, would've been a bit happier if she knew humans were certain to die horrifically.)
Anyway, per Judgment Day #3, we know the Krakoan attack will be shunted into an illusion generated by the Progenitor, who shows them all how easily they would be defeated. Destiny then fails the Progenitor's judgment, in the guise of Mystique, which is interesting: In failing to live up to her own vision for mutantkind, she feels that she's failed her wife, first and foremost. Or, perhaps she fears her only love's will to destruction?
Yeahhh… You got a handful, Irene!
In any case, Destiny's own "fearful" self-damnation contrasts nicely here with Shaw's not-so-secretly grim and bitter conviction that he is irreparably of "the devil's party"—poetically reflected in the epigraph from high-medieval theologian Thomas Aquinas: The damned envy the good and so wish them damned, as well, to make them feel better about not doing anything responsible to improve their own chosen fate. That is this issue's theme, with Shaw as its centerpiece, an excellent choice for this Judgment Day tie-in.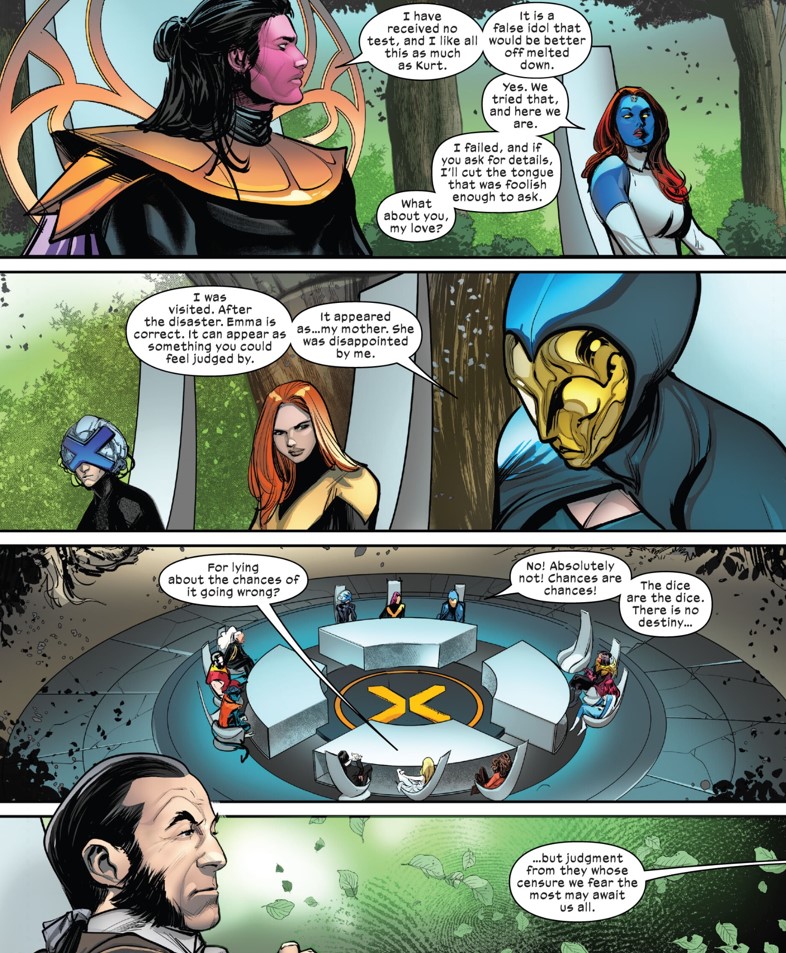 In his poker face here, Shaw could be either smugly self-confident that he has no one to fear (lol) or silently unsettled by what might be in store for him. In fact, even when judgment does come later this issue, he manages to have it both ways, just barely; after all, he finally really loses his cool.
With this issue mostly from his perspective, we see that Shaw still views those around him patronizingly, which is hilarious only because all of the council members, and pretty much everyone on Krakoa, have all long since outpaced and overshadowed him—while he still believes himself possessed of some King energy. Hah! The poor child.
Seriously, though—the poor child. Abused and neglected, he remains a man-child ill disguised in the clothes and comportment of an aristocrat, one who believes they are excellence itself (aristos). But while this is overall another excellent issue of Gillen's Immortal X-Men, it's also telling of Shaw's character that it is also the least interesting so far. There's only so much you can do with a figure who comes off as mediocre and rather tired relative to everyone else in the cast, and the page real estate here is so limited. Still, Gillen does wonders where he can, as always. At least the creative team is truly excellent! 😉
Emma Frost is also truly excellent—Shaw's one-time "protégé," though of course he actually treated her, abused her, as an exploited showgirl, essentially. All the same, the White Queen justly views herself as having always been untouchable.
But it's the false god's judgment of Emma that comes next—and she is, unsurprisingly, (self)judged by the shades of those precious students of hers who have died (always horrifically) while under her mentorship (See Negasonic Teenage Warhead, slain by Cassandra's Sentinels on Genosha but since revived; and before that, the OG Hellions).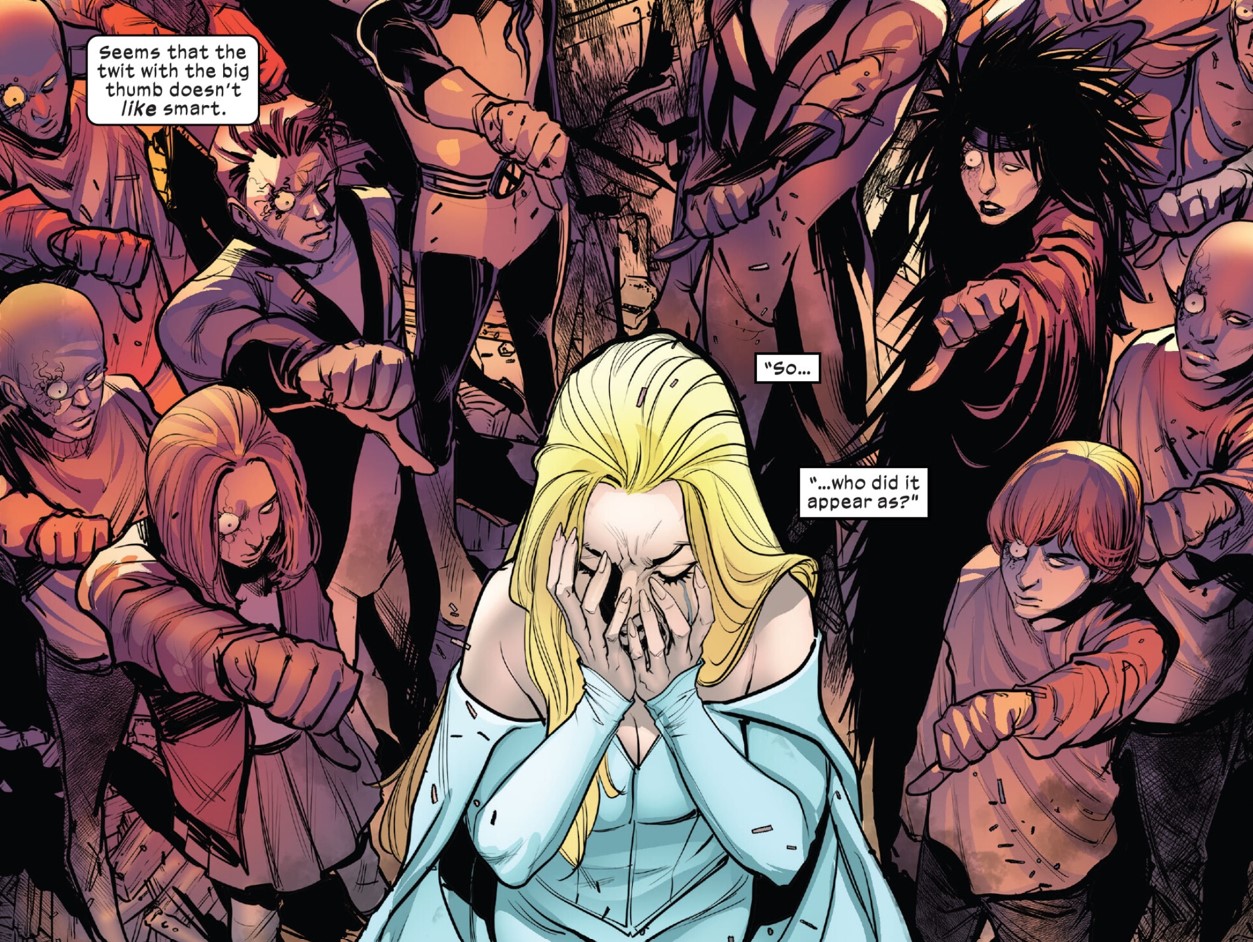 Mentioned by Shaw later in the issue, briefly regretting his "loss" of her, Sage (once known as Tessa when spying on the Hellfire Club at Xavier's behest, one of Chuck's most compromising decisions, by far) is also excellent—and has long since outstripped her former employer/exploiter/abuser.
Shaw's long since deceased father, Jacob, was introduced in flashback 2000's X-Men: Hellfire Club #3-4 where writer Ben Raab had him looking for other mutants for a secret Sinister client. And it is this man whom Shaw is determined, both unconsciously and now very consciously, to become—a sad-sack man and sorry excuse of a father who excelled in being a run-of-the-mill, broken and hollow aristocratic man trapped within and obsessed with his own schemes to repair his colonial, patriarchal family fortune.
From my perspective, if Shaw is of "the devil's party," the devil is pretty damn dull. No thanks to all that!
The highlight of this issue has only a little to do with Shaw himself as we revisit Exodus' temporal paralysis or confusion from Judgment Day #1/Immortal X-Men #5. As we see here, it turns out this was also when Exodus received his judgment—which is very unusual in that everyone else shares in the experience, as well. Was Bennet's life truly imperiled here? Regardless, he passed, likely because, as we've seen previously, he is led by his rock-solid beliefs, however (zealously) heterodox, more than his heart, despite the pain that self-denial brings.
However, Shaw does appear to save him from the Progenitor's (only partly illusory?) inferno, which speaks not to Shaw's heroism—but to the fact that he still believes himself capable of checkmating his way into taking the reins of the Krakoan state, through his shady wheeling and dealing. He'll not "risk losing one of our biggest guns."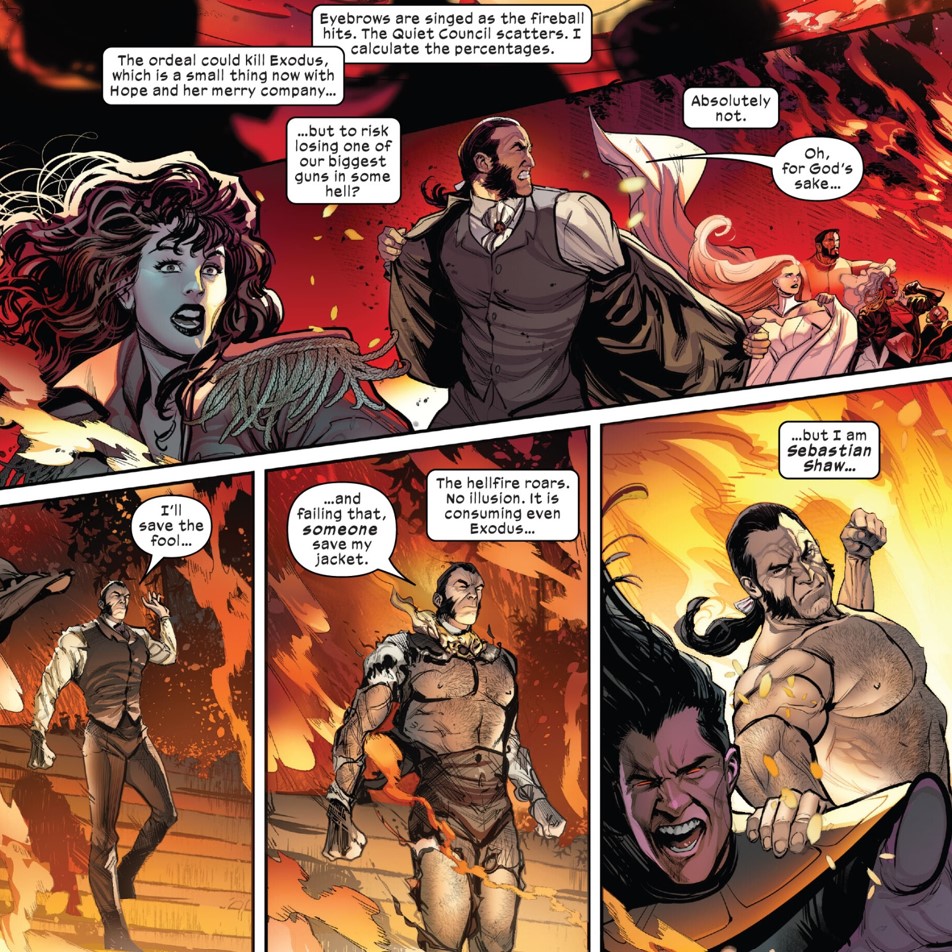 [No mean consideration for Shaw here that rescuing everyone means saving Exodus from himself, i.e., momentarily punching his lights out.]
In other words, even more than with Sinister, keeping Shaw close (but relatively cowed) can only be a win for the Krakoan project—until it backfires (Though it's hard to imagine it backfiring anywhere near as spectacularly as it most certainly will in Sinister's case). For now, even the surprised Exodus seems to be taken in, or at least too taken aback to have taken Shaw's rescue of him as anything other a surprise show of nobility (excellent, indeed).
Yet Shaw himself fails the Progenitor's judgment, in the guise of Emma—whom he has never truly seen as anything other than a reflection of his own sad and broken narcissistic ego. He projects himself so much that he's just not that interesting as a character, let alone the fact that he'd be miserable to hang with. Ick. Still, he's probably outraged that he failed, seeing himself as entirely consistent in his (damnable) values, forever misunderstanding his own self-coddled misery.
Even so, Shaw's work for himself remains for now, it seems, largely a boon to Krakoa—as with his meeting at issue's end with Eros. Of course, it probably helps that Warren (Angel) is hanging about, overhearing whatever the two are saying. We don't know exactly what the deal is, but that's not the point (The protests outside the NYC Club have turned into looting and riots, but everyone behind the gates seems cozy enough at present).
The issue ends enigmatically with Shaw returning to an excised heart and an occultic pentagram created by Selene (currently dead; see Immortal X-Men #1)—a virtual chthonic goddess whom he can't help but frame with typical misogynistic condescension—in order to summon Selene's latest hot find—Mother Righteous, from Spurrier's Legion of X. With a kind of power allowing her to travel the astral plane and grant desires or desirous things to chosen individuals, she's perfect for a magicked summoning.
Including, for instance, summoning for aid in a surprise attack on Krakoa with a kaiju-like beast come raging out of a reactivated External Gate, none of which Sinister with his Moira-clone farm foresaw (see Immortal X-Men #1). Will Shaw's lame attempt at negotiating/"seducing" Mother Righteous lead to something similarly disastrous and unforeseen? It seems with Sinister and Shaw making bigger moves that Xavier's strategy of "keeping your enemies close" is about to backfire—and the rest of the Council will be caught in the fire and fumes.
"The Hour of Magneto"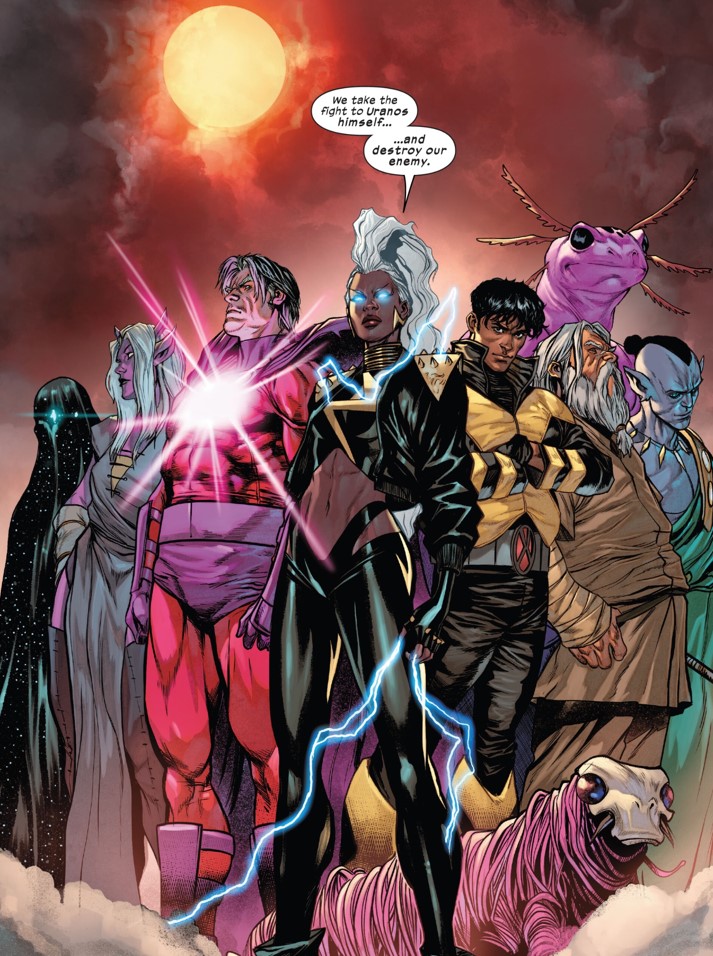 On Arakko, "The Hour of Magneto" begins—and here in X-Men: Red #6, some true king energy shines forth, in Magneto's last stand, in protecting his adopted people against a techno-barbarist genocidaire. But before that kicks off, we must check in on our planet-wide cast…
First, we open with a human NASA scientist innocently interacting with local Arakkii youth—which is surprising, given the exclusive nature audiences have been given regarding this new MU culture. Ewing is working at making them more relatable and sympathetic—and succeeding wonderfully, and organically.
Storm clearly loves her adopted people, as well, however imperfect and damaged—really, because of that! (Just as she loved the Morlocks back in the early '80s—except for whatever reason Claremont's Uncanny never followed through on Storm's clear responsibility for the Morlocks' well-being after winning leadership from Callisto in issue #170. Now, she gets to make up for that, on a much grander scale, thanks to Ewing's stewardship of her character here).
Awesomely, as Storm takes the fight to Uranos' "toys" of death and destruction, she forms what could almost* be seen as a power circuit with two other Omegas of the Great Ring—Lactuca of the Stars and Sobunar of the Depths; intriguingly, that means these are warriors of above, below and all around (Storm's place is the Seat of All-Around-Us—until next issue—Lactuca's is the Seat of Above-Us and Sobunar's is the Seat of Below-Us).
*Almost a power circuit, but not quite—because as we see later this issue, in its climactic moment, that taboo mutual interplay of power is finally broken for the Arakkii after many millennia, courtesy of Storm and Magneto, with their sublime king/queen energies (see below).
Utilizing his power in the terraforming of Mars, Sobunar can water entire worlds with his bodily fluids, which are also rich in their own marine ecosystems. Pretty cool.
Lactuca is able to locate anything and anyone anywhere in either the 616 universe or the entire multiverse (that much isn't yet known)—but this feels not too dissimilar from Gateway and Manifold's knowledge (although they express this awareness through different power-sets). She shows Storm where the defenders of Arakko are at (well, Isca too)…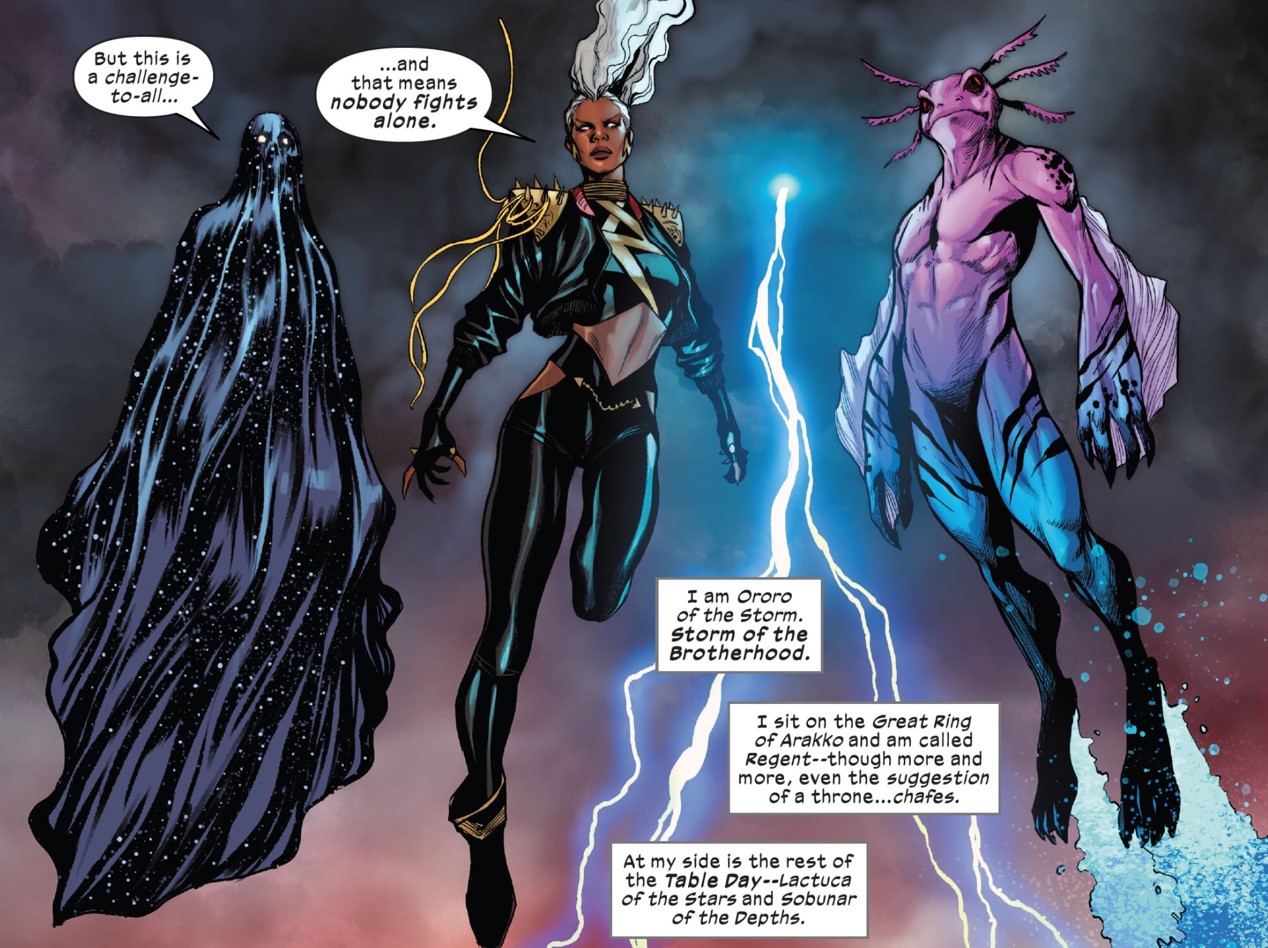 Apparently, Genesis, Apocalypse's ancient wife and Arakko's erstwhile ruler, held some antipathy for mutant power circuits, so this sort of synergy has long been alien to the Arakkii; she was also intolerant of the mysteriously watchful Night Seats, unsurprisingly—she considered spycraft "weak," from her stance as hardened battlefield warrior. More fool her, considering how she ended up, a tool of Annihilation. In fact, Night supported Idyll the Ancestor in trying to prevent her from marching on Amenth, and that was when, in Genesis' intolerance, she banished them from the Great Ring; see Hickman's X-Men #12-14, 16 and, later this issue, the data page on the Night Table's history.
We get a glimpse of the ever-fascinating Fisher King, with an inner narration reveal that his previous name was psionically excised from his mind so that he could avoid detection by the Vile Omnipaths (likely Tarn the Uncaring's personal gestapo). With the revelation later this issue that he has a seat at the heretofore entirely secretive Night Table, we can presume that the erasure of his name, and certainly more than that, was meant to conceal his Great Ring status from those Omnipath agents. But being powerless, how can he sit on the Great Ring? Because, apparently, he is a limitless master of metaphors of loss and negation: There is "no limit to the nothing I had." How rich!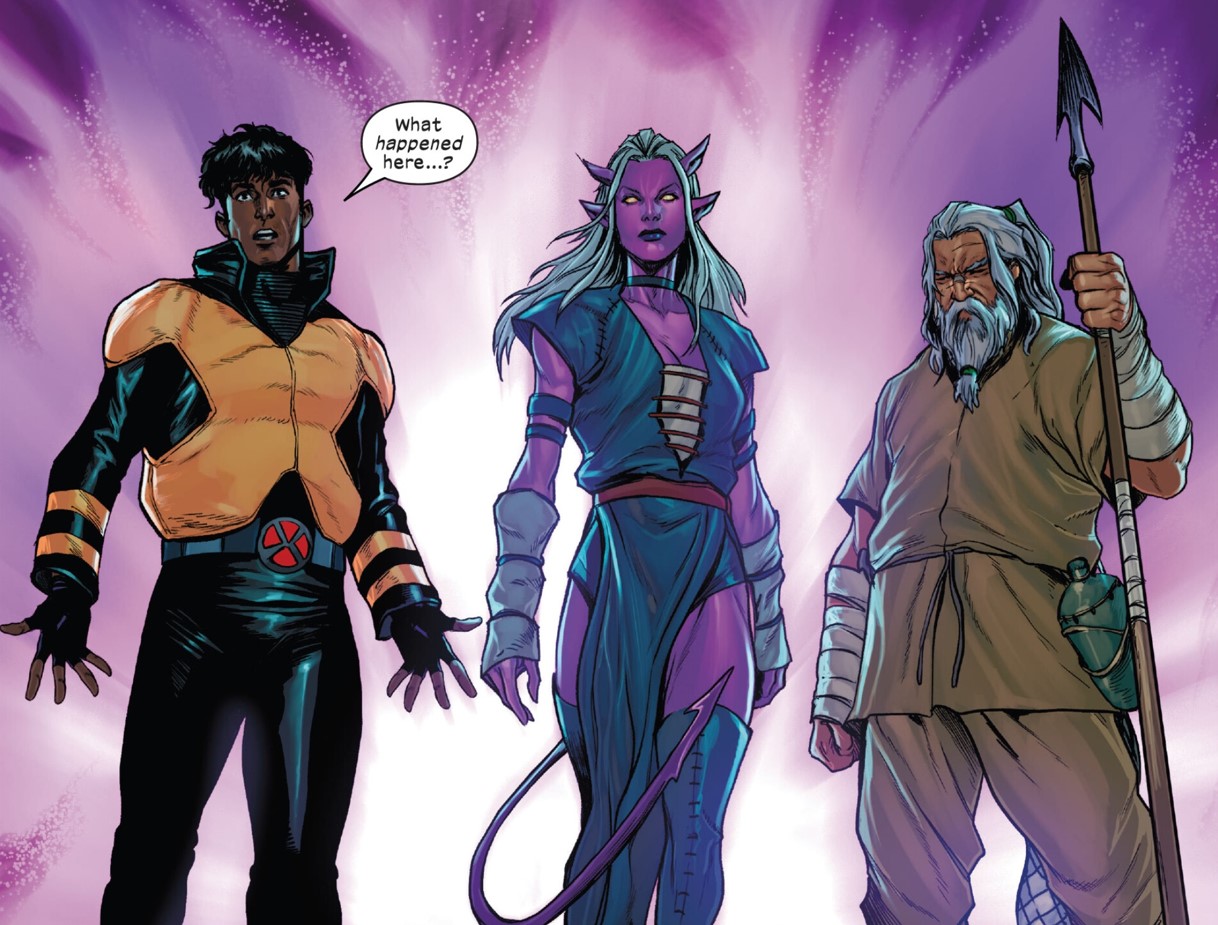 [This issue debuts the mysterious, Nightcrawler-esque Syzya.]
That said, no one at the Night Table is an Omega; that would be against the rules. This is a clever retcon, sort of, of Hickman's first schematic of the Great Ring back in X-Men #16, where it was said that none but Omegas could have a seat: "It has never happened—it never will." But there was already a sense of someone protesting too much! After all, Genesis had banished the Night Table and would not speak of them (see note above).
However, the Fisher King's thinking to himself here in the past tense, about being "the Omega of having nothing"—so there's certainly more that we just haven't been clued into yet! "I fought them [the Vile Omnipaths] with nothing." Fascinating: There's way more to him than the nothing the Fisher King presents.
The wretched Unbeatable one we'll return to next time, when she appears self-defeated at last, thanks largely to the Fisher King's ability to speak so powerfully the language of loss and negation.
Note Beto's delightful interior line: "I am a gorgeous pile of secrets." One such secret is that he has a seat at the Night Table, revealed later in the issue.
Here and then in the data page on the Night Table's history, we learn that Khora of the Burning Heart's father must be the Fisher King (quite a surprise!) and that her sister is Weaponless Zsen from Spurrier's ongoing Legion of X (she, too, is "weaponless," that is, powerless, like him).
(Note that Cable and Wiz-Kid, who presumably also died with the rest of the Keep's personnel, have resurrected and are back aboard the Keep. Somewhat hilariously, Brand is experiencing being a mere husk for the first time ("I have never been this vulnerable"). Also comically, Nova pops up here and later on defending his new home, all while believing himself to be the only responsible warrior on the planet—although he has borne more than anyone, any hero, should ever have to in defending the entire universe; see most of his stories of the past twenty years!)
Last but not least, before Magneto's hour really kicks off, we have Lodus Logos, who really gets to show off his metal-spewing power—"Metal, my voice. Vengeance, my desire." In fact, he's also a poet, and next issue Storm will hand over to him the Seat of All-Around-Us, and thus the Regency of Sol, as she, in mourning, takes up the Seat of Loss in Magneto's place. Lodus' vacated Seat of Dreams is now vacant.
The poor, much diminished historian Xilo stands behind him; infinitely poorer by far now are the Arakkii themselves, since Uranos has literally decimated, i.e., genocided, their history by decimating Xilo's collectivist hive-mind body. Regardless, they and Lodus Logos later accept that it's time for a change up of Arakko's "old ways"; this doesn't justify Uranos' atrocities, of course, but it is something of a silver lining: Perhaps the Arakkii's stories of themselves had become too rigid and stale.
The resilient Xilo will grow again, just as the Arakkii will be revitalized—that is the promise of Ewing's work. His Fisher King creation is, in many ways, a kind of viewpoint character for the audience, guiding us through this strange land; and he knows his people are "Too set in [their] old ways…" Change will come quick now.
The story this issue moves forward as the Night Table, now fully identified (Sunspot, the Fisher King and Syzya), approaches the dying king who yet stands—Magneto.
Syzya is a new Arakkii character; with her power of teleportation accompanied by smoke, this third member of the Night Table (beside the Fisher King and Sunspot) bears some resemblance to Nightcrawler—which Magneto acknowledges on-panel here. But unlike Kurt Wagner (perhaps?), she was "born of smoke and swiftly caged" (Another occupant of Night is mentioned: "One born with eyes of fire that saw truths terrible and wonderful." This might be someone who died during "X of Swords," and Beto is now in their place).
Forgiving and wise beyond his years, Beto sincerely defers to his erstwhile headmaster, Magneto, who then turns to the Fisher King, following the revelation of the Night Table's existence and identity: "Here I was thinking our meeting [in issue #1] was a happy coincidence." And in that first issue, Sunspot was already implying he had a number of plans in the works; so, voila.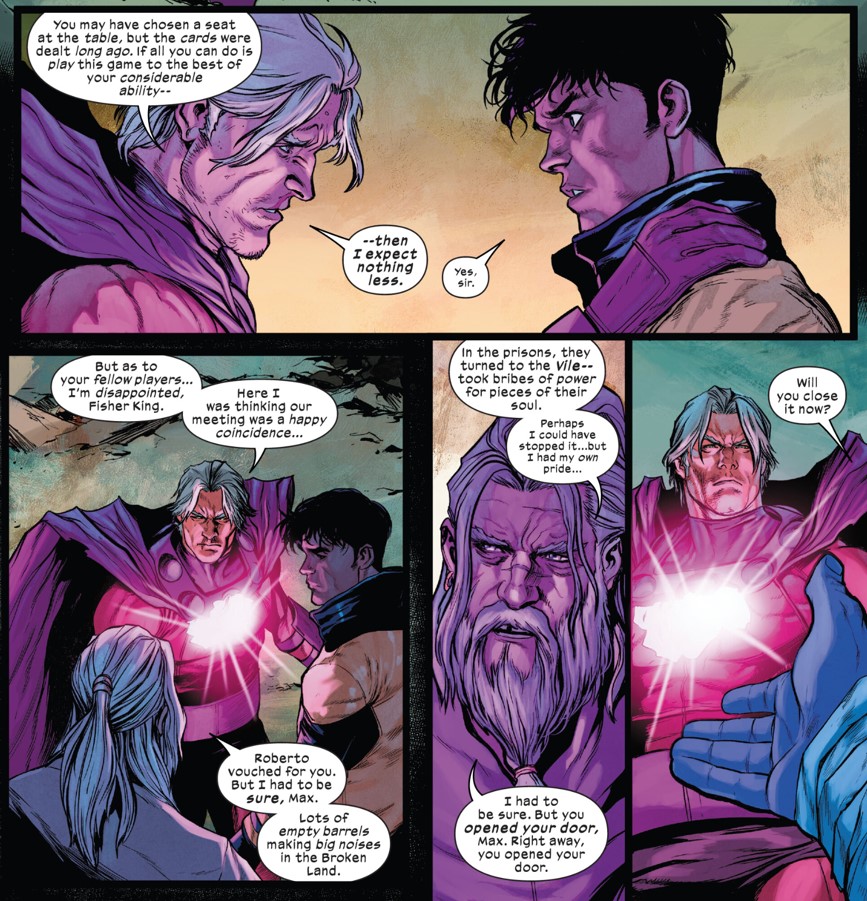 Our heroes keep fighting against Uranos' frustratingly regenerative death machines, a Sisyphean task. But we get to see, in one of their final acts together, Magneto and Storm form an Omega power circuit, Ororo of the Storm supercharging the Master of Magnetism—and this absolutely shocks the Arakkii watching, because again, power circuits have long, long, long been banned (under Genesis' rigid battlefield ethos): "This is a societal rule not bent, but shattered—explosively, gloriously." But this intimacy is not an act of romantic love (though it is certainly borne out of a hard-won and loving trust)—this is two warriors acting to utterly destroy the enemy and protect their people.
("Once, I struck him with lightning, and he used that to empower himself at the expense of my life force." You can see this in the classic Uncanny X-Men #150, which was the story that really was the first step in Claremont's evolution and rehabilitation of Magneto's character. "He took it from me then…now I offer it freely.")
Again, Lodos and Xilo speak of new beginnings, a reset to their culture and history, not just among ruins—but in the explosive light brought by the younger blood of Earth's mutants (funny to call Magneto young, but hey, he's a bare stripling compared to some Arakkii, and their society has very much remained frozen, until quite recently).
Magneto's last stand, alongside his radically changed and now truest Brotherhood, continues and concludes in Judgment Day #4. But that's for next time; here, we have one more extraordinary tie-in to cover.
"Holding the Line"
(Note that Legion of X #6's cover has nothing to do with the issue's content beyond the appearance of Uranos and Legion.)
This story does take place during Judgment Day #4, which we're holding off on covering until next time; because this is not an event-essential tie-in, it doesn't matter for now—except that there is mention of Magneto's death (see issue #5). Sorry if that's really spoiler-y at this late point! 😉
The issue opens with Legion telling the Progenitor of Uranos' recent attack on Arakko (from Legion's perspective, that is), and we actually saw the start of this Legion-centric story when Uranos appeared to have killed David in the sky, unseen by anyone below, in X-Men: Red #5. But, in fact, he did not. The data page here shows how geographically localized the attack was, which isn't at all how Eweing and Caselli depicted it earlier (in hindsight, this simply seems to be devastating misdirection rather than any kind of error on their part).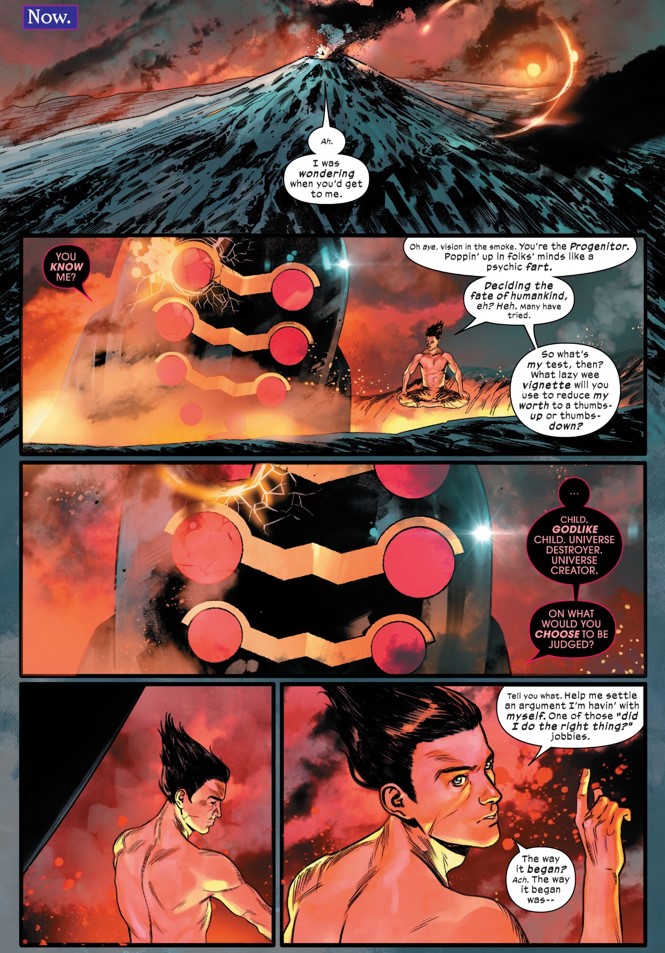 This series has justifiably received flak over its messy lack of focus. From here on, however, it seems that Spurrier is simply going to make Legion the center of the narrative, with Nightcrawler backgrounded somewhat, at least for the time being. However, we do see another angle on Kurt squirreling Isca away from the Great Ring, lest she kill anyone else there (for his efforts, he receives a dislocated arm, then dumps her in Sobunar's teeming ocean).
The Progenitor, in some ways similar to Legion in his godlike aspects, sees David as "Universe destroyer. Universe creator"—which points to David's potential as something far greater than Celestial-tier. After all, he helped create one alt-universe timeline ("Age of Apocalypse") and really created another ("Age of X").
David Haller is far less likely than anyone else in the cast to get embroiled in typical superheroics—however, these are exceptional times on Arakko. And he must "hold the line" himself, never believing he could defeat Uranos but simply hoping to allow Kurt enough time to safely evacuate Arakkii (using his teleportation power to the excruciating utmost), thanks some power-ups from Legion, and the refugees remain safe in Legion's Altar (an astral pocket dimension for, apparently, deeply restorative Krakoan R&R and his not-a-police dept.; again, Legion of X has largely had an identity crisis in its raison d'être).
Tellingly, as the two combatants are about evenly matched, David might've done more than hold the line, but he wouldn't have saved as many of his fellow mutants then—though he might've rescued more that were going to be killed with Uranos' continued attack. Oh well! Decision-making in wartime is always tragic.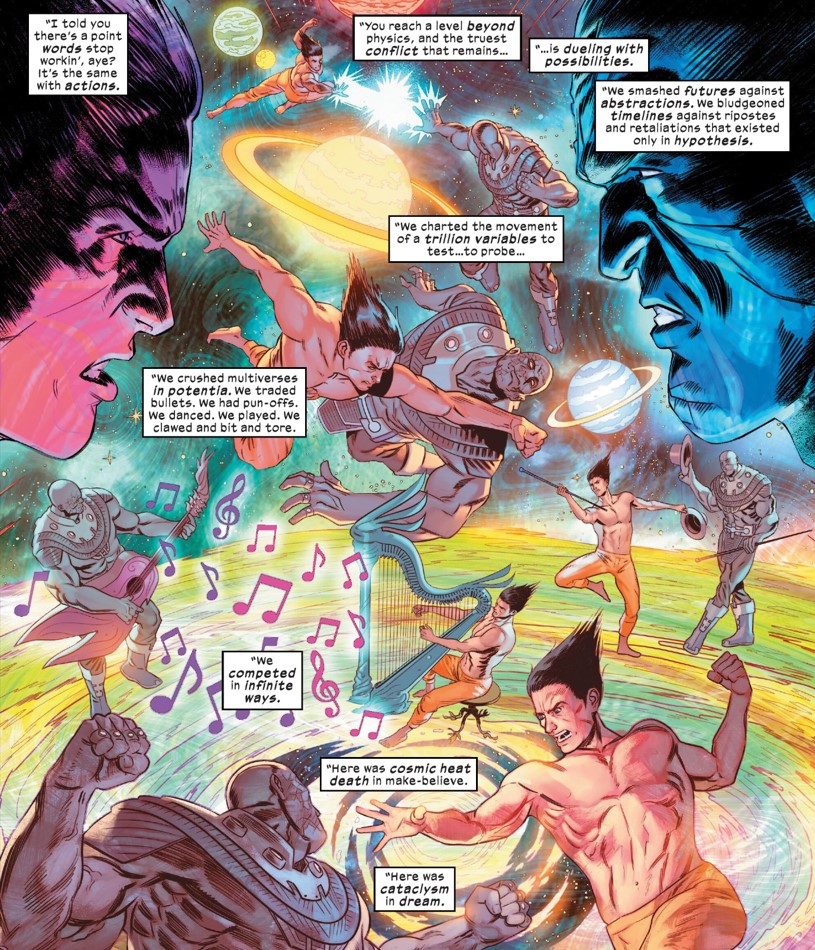 [Before the first actual blow is struck, whatever that might mean here, David seems to make Uranos have some fun as they test out their matched power levels.]
Also telling is that Legion is much more gung-ho about defending the folks in his Altar space than Krakoa and the Krakoans outside the Altar; perhaps all that simply reminds him too much of his broken father—rather, definitely it does.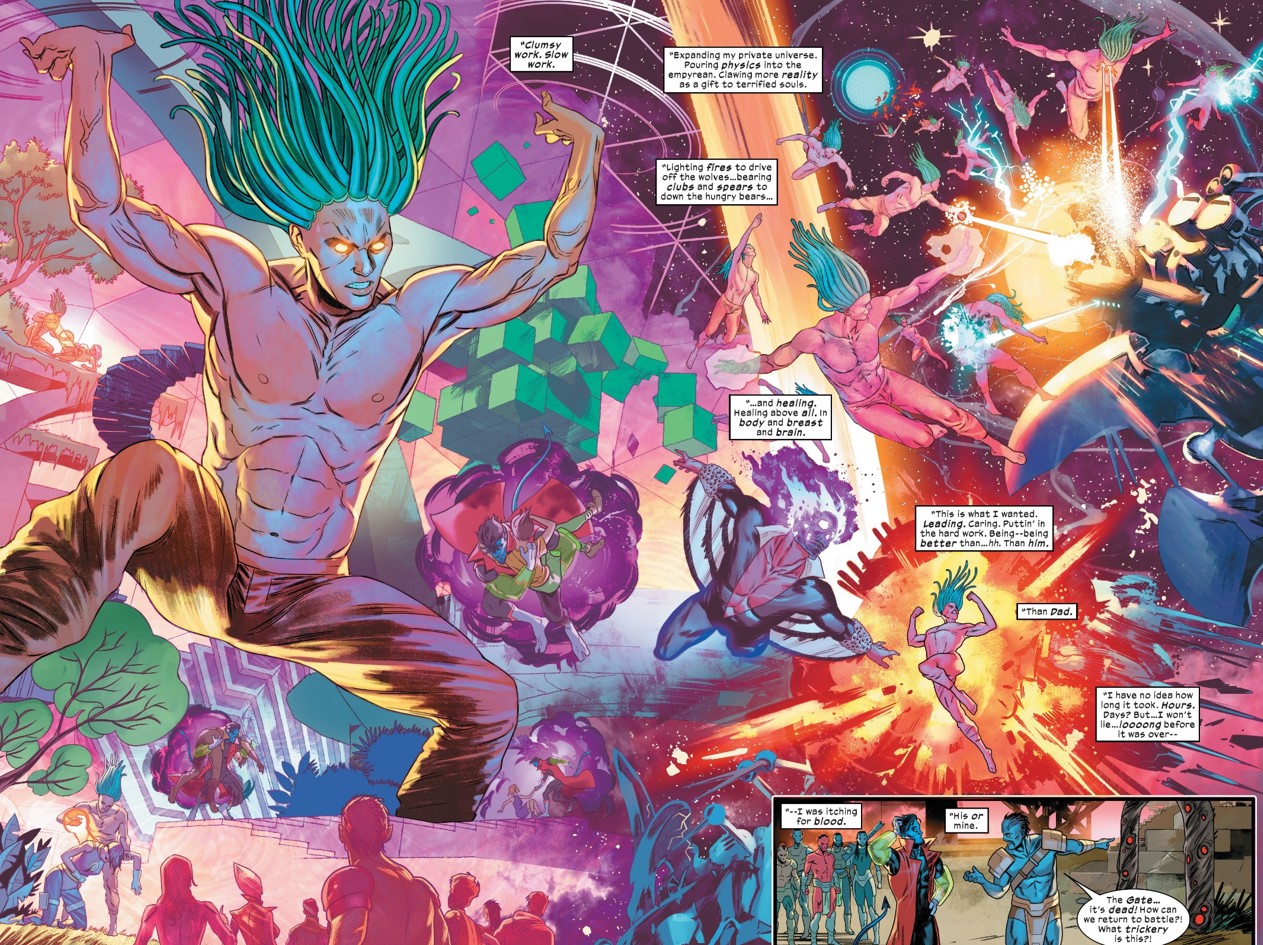 [Brand-spanking-new Marvel artist and Legion of X fill-in Rafael Pimentel really gets to flex here!]
Legion reflects on he has in fact been literally annihilated—"Lost from memory. From time itself." And he's not going to do a repeat (see here for my mostly unflattering take on Spurrier's X-Men: Legacy, or not 😉). Hopefully, this can also be taken as a meta promise from Spurrier that he's going to do better this time, which, yeah, of course; every creator of any ambition always wants to live up to that challenge.
(But yes, this is the series in which Banshee has been (jokingly?) gifted/cursed with the "Spirit of Variance" by Spurrier's wry Mother Righteous. Lucky for Legion, though, Sean does save him from Uranos at a critical moment.)
With Uranos' attack on the Altar routed, Legion returns to the Great Ring, which puts us just after the end of X-Men: Red #6. Speaking to a more admirable father figure, to David's eyes, he accepts the recognition he receives from Magneto—although back in Way of X #2, he'd rejected Magneto's attempt to recruit him to terraform Mars alongside other Omega mutants. Clearly, David is becoming gradually more integrated and thus, confident in who he is, what he wants and who his people are.
Magneto tells the young prince to "hold the line," and so David does, destroying Uranos' machines left and right, with stunning speed but in that time the warrior-king he's come late to admiring has already fallen. And yet he still has some growing up to, admitting that he envies "the hero's death" ("the martyr's crown was already claimed"), which isn't quite the real takeaway here—it's that he is worthy, without qualification. But at least it seems he's on the path now toward recognizing that truth himself.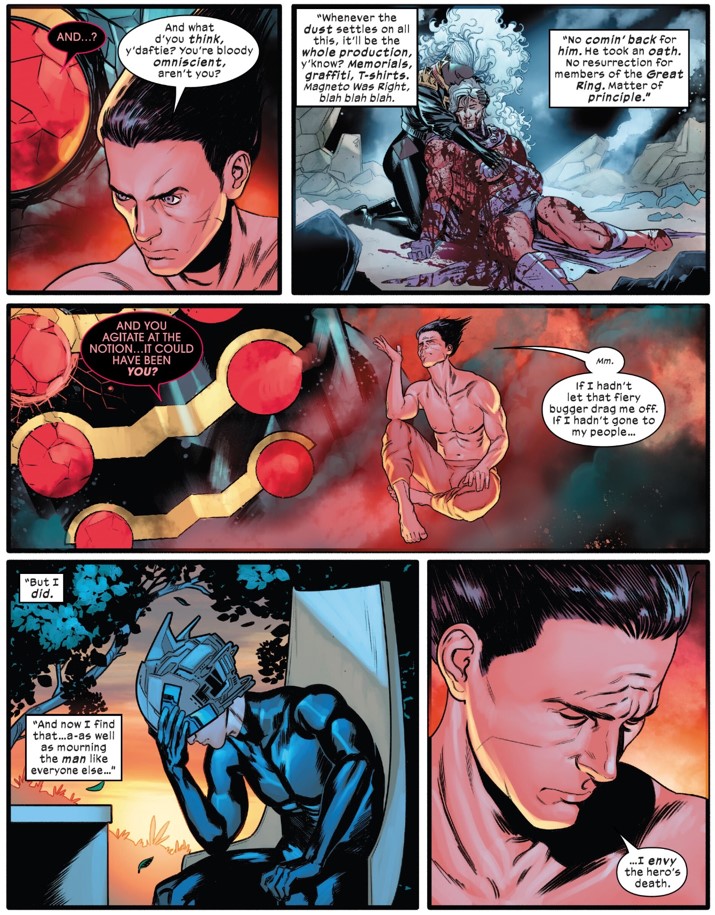 Again, the issue ends with news of Magneto's death (Judgment Day #5). The closing data page reads simply: "Magneto Was Right"—echoing Morrison's legendary anti-Magneto run; however, now, the sentiment is not at all ironic.
Legion of X #6 is one of the most poignant stories Spurrier has ever written for Marvel. It ends with a sense that David will increasingly look to the fallen king (Magneto) for the inspiration and guidance never received from his biological but almost wholly absent father (Xavier).
Of course, David's judgment by the Progenitor here is quite well timed. He passes—and an echo rises from Spurrier's decade-old X-Men: Legacy run, the best damn line he wrote there: "I rule me."
Even his remaining self-doubt is part and parcel, it seems, of his integrity, while some ambiguity does remain, especially if we continue to consider the Progenitor's judgment as a mirror held up before the judged—the Celestial reflecting back what that individual sees in themselves.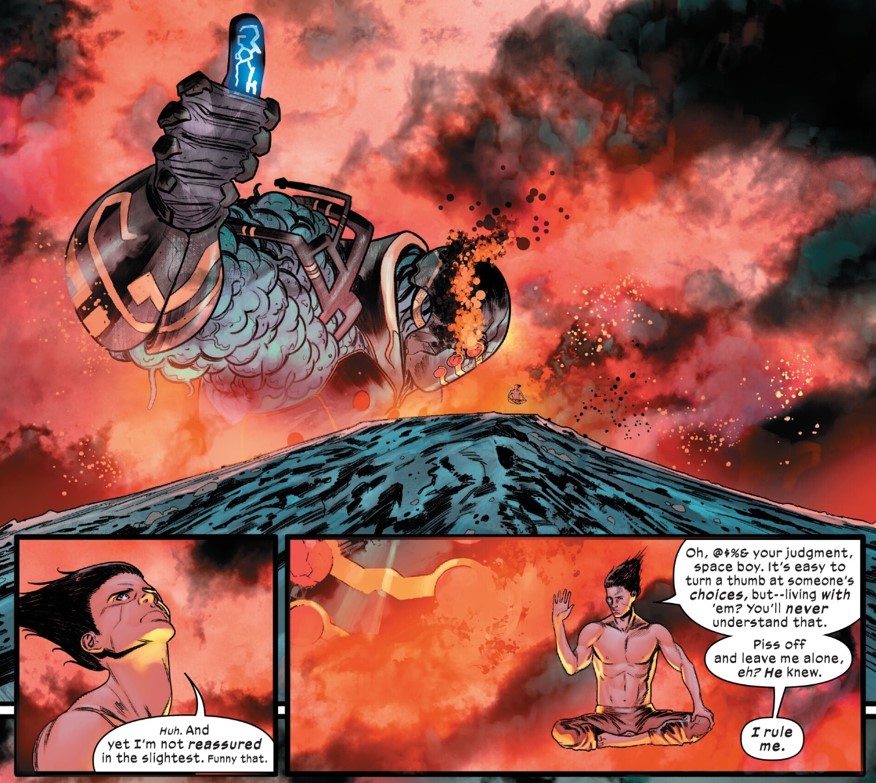 NEXT: A.X.E.: Judgment Day #4-5; X-Men: Red #7 and Immortal X-Men #7.