I've always felt underwhelmed by the magical landscapes of Marvel and DC. I grew up reading a lot of prose with deep and varied magical lore, and the Big 2's versions of magic always felt weirdly half-baked and overly complex. DC has at least had some ambitious endeavors to explore the space – Books of Magic
, Shadowpact, and Justice League Dark
are all fairly modern attempts to flesh out this side of the universe. Marvel, on the other hand, has only really had James Robinson's really rough Scarlet Witch and the Doctor Strange side of things in recent years. They've been in desperate need for something to shake that corner of their universe up for a long time.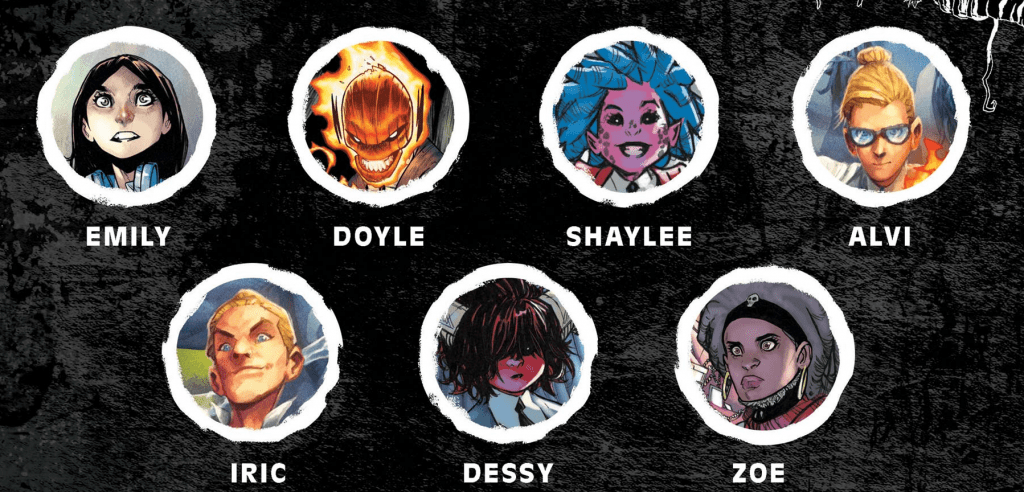 Strange Academy
was marketed as a Harry Potter riff, one that would hopefully not have to ever deal with the kind of bigoted baggage JK Rowling has brought to her own franchise. To compare it to some fairly popular comics, it seemed like Skottie Young and Humberto Ramos were trying to create a fusion of Books of Magic and New X-Men: Academy X
. In all honesty, this idea never really sold me. There didn't seem to be a mission statement for the series aside from what it was drawing inspiration from. I'm a fan of Humberto Ramos's art, but Skottie Young's recent output had been fairly underwhelming. The entire atmosphere headed into this book was murky to begin with, but I did my best to keep an open mind.
The first issue opens immediately trying to put us in the shoes of the character who's clearly going to be the readers' point of view into the zaniness of the book. Emily Bright (a name that's almost too ordinary) can do wondrous things. She's sent a letter to Doctor Strange, asking for help and guidance navigating this new aspect of her life. And we see very quickly that the miracles she can perform attract danger, the kind that she can't deal with alone. So when Doctor Strange's apprentice Zelma comes to save her, it should be a really inspiring moment.
But it's not. What should be the most magical moment in Emily Bright's life ends up coming off as mundane. This is in large part due to Ramos and Delgado making the world visually dull – all the colors feel muted rather than vibrant. Even Zelma's magic doesn't really feel like something magical, it's just some pink energy that blows up a tree. This would have been the perfect opportunity to depict the magical world as something wondrous and awe-inspiring, but instead it feels routine. This is not a great start.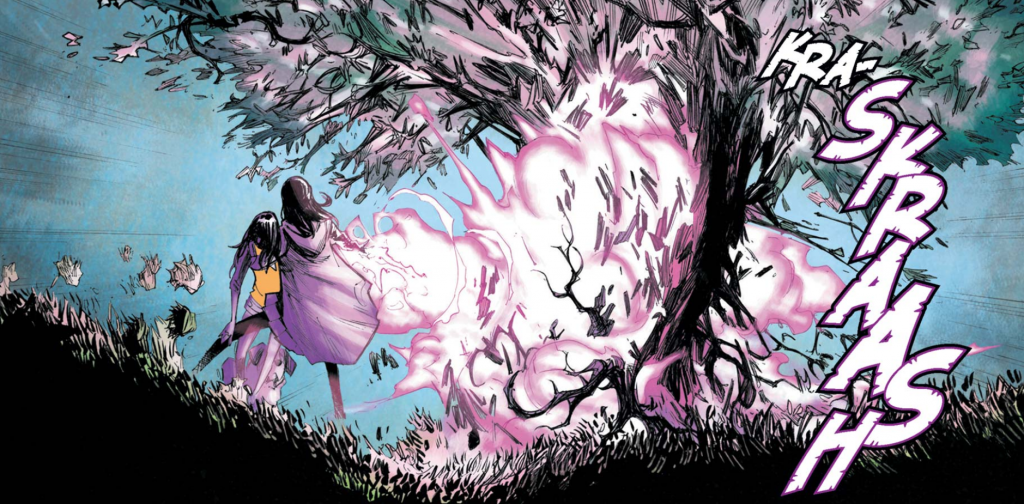 As we're introduced to the rest of the cast, one thing sticks out more than anything else – everyone in the book can be boiled down to just a few words. Emily, our focal character, is the inexperienced prodigy. There's Shaylee the friendly fairy, Guslaug the Frost Giant, and Doyle the son of Dormammu for starters. And the problem is, as the story continues, none of the characters really grow out of those simple roles. By the end of the first arc, everyone is exactly the same character as they were at the beginning. The one exception to this is the Asgardian twins – one of them becomes much more likeable while the other stays a stereotypical jock. But they're wholly unremarkable outside of that. I can't even remember their names.
Support For Comic Book Herald:
Comic Book Herald is reader-supported. When you buy through links on our site, we may earn a qualifying affiliate commission.
Comic Book Herald's reading orders and guides are also made possible by reader support on Patreon, and generous reader donations.
Any size contribution will help keep CBH alive and full of new comics guides and content. Support CBH on Patreon for exclusive rewards, or Donate here! Thank you for reading!
Young is clearly trying to unify all the various Marvel magical realms into one cohesive picture of the universe – there's students from Limbo, Asgard, the Dark Dimension, Otherworld, and Weirdworld. The teachers are also all from various different magic realms, and don't often interact with each other. It's fun seeing Scarlet Witch, Nico Minoru, and Magik all together, but I don't really understand why they're all working together. Magik, for instance, has much more serious duties over in the X-books that aren't really mentioned. While it does a decent job showcasing the variety in the magical side of Marvel, I legitimately have no clue how this school fits into the greater Marvel universe.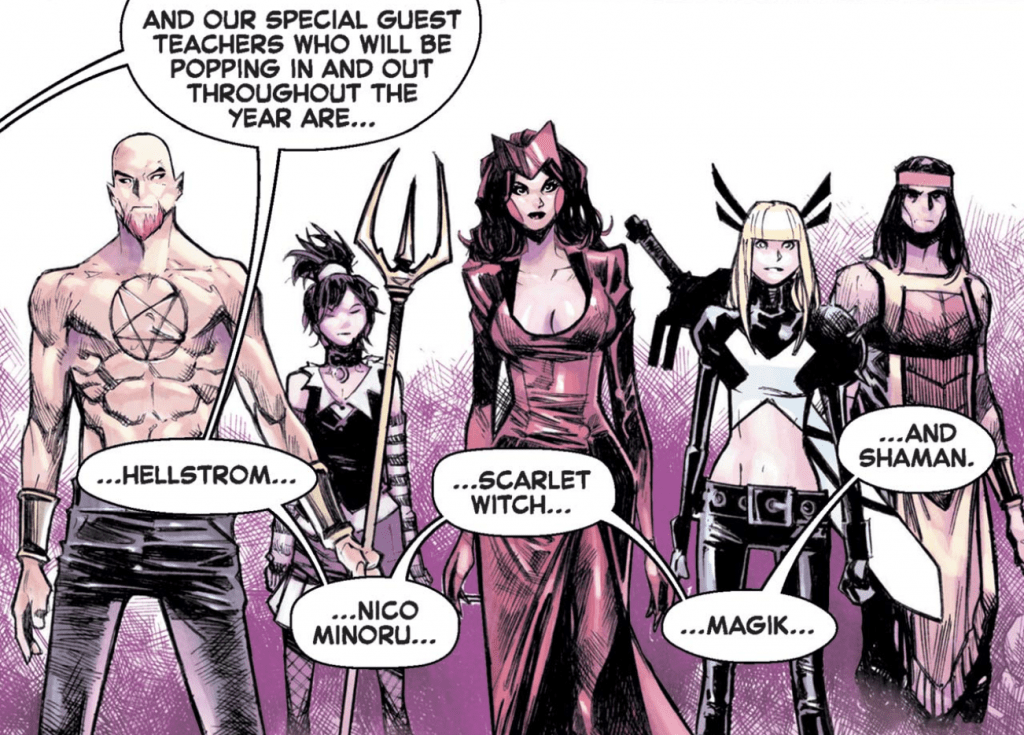 This lack of center within the rest of the Marvel Universe doesn't just make the book's continuity muddy. The real problem this causes is that nothing in the series feels like it matters. After a couple of issues, we get to see the antagonists to the school, a group called The Hollow. They claim some sort of animosity towards the school and some desire to teach the students a lesson (in the threatening sense). But at best, these enemies seem like a knockoff version of the Empirikul from Jason Aaron's Doctor Strange
. At worst, they're a generic group of faceless men in robes, who will be forgotten as soon as the series ends.
This is a book all about taking all these frayed threads, these various magical concepts created by so many different people with no real collaborative effort and weaving them together into a unified tapestry of magic realms. That doesn't mean that Young and Ramos shouldn't be creating new characters and villains, but redundant creations stick out like a very sore thumb. The Hollow take a place in the book that would have felt really meaningful if they were a preexisting group of adversaries. Much like its nebulous continuity, this purposeless introduction of uninteresting antagonists makes Strange Academy feel like it doesn't matter.
I've invoked New X-Men: Academy X a few times as a book that was a clear and visible influence on the existence of Strange Academy. And I feel like it's a good comparison to illustrate just how Strange Academy fails in its own goals. Academy X introduced characters that, from the very beginning, were messy and complicated. Wallflower had her whole family situation, Elixir was a bigot, and Wither's powers killed people. The characters weren't standard school adventure tropes held together because the plot demanded it, they were immediately compelling and emotionally complex people who were thrust in a situation where the only way through was together.
But for the first 3 issues of Strange Academy, the characters were not put into any arduous situations. They had very little conflict that couldn't be solved by a conversation. In the first issue, two characters are sent to Limbo and don't come back until the end of the second issue – and it's played off as a gag! It's not until the end of the third issue that there's any sort of "cliffhanger" that would make the audience feel invested in the story. The only appeal of the book seemed to be curiosity about the characters – curiosity that the writing doesn't really foster in its audience, as the characters are lackluster. By the time the big loss happens at the end of this first volume, I was already completely checked out – something significant happened to the most interesting character in the book, and all I could muster was "Oh." This is unacceptable, especially for a brand new series featuring brand new characters.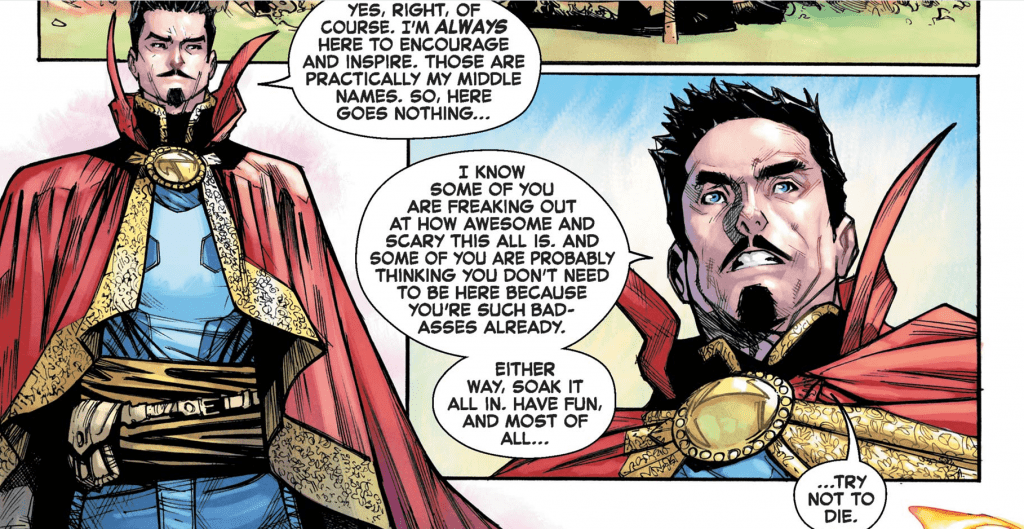 The biggest problem with Strange Academy is that the magic is never there. When we first get to see the Academy, it's the first double page splash in the issue – but the Academy itself just looks so dull. It's a normal-looking building with some neat colors off in the distance, and nothing more. Humberto Ramos is a major part of why it feels like so much is missing – while he's a great fit on titles like Amazing Spider-Man, he doesn't imbue the worlds he draws with enough whimsy and wonder to match the tone that Young is clearly trying to evoke. Having seen Skottie Young's own artwork on titles like New X-Men and I Hate Fairyland
, it feels like he was expecting to draw this series himself. At the very least, it would most likely have been a marked improvement over what we actually got.
This first volume ends on a note that, optimistically, could right the ship and put this series back on track. But if Young and Ramos aren't able to turn this around, I can't see this lasting long enough for a third arc. It's really frustrating, because this is a corner of the Marvel Universe that would really benefit from what this series actually promises. I can only hope that the actual conflict being teased is enough of a catalyst to make the rest of the book matter.