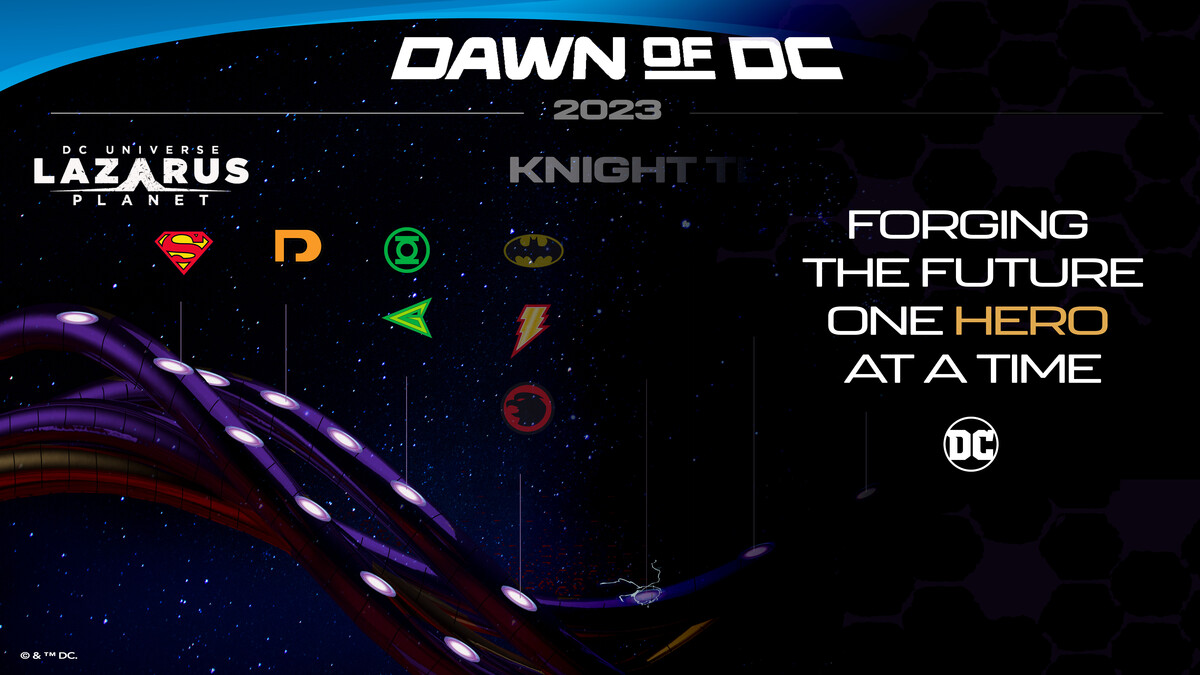 It's a new dawn for the DC Universe. Following the events of Dark Crisis, the DC Universe has been rebooted. While the continuity hasn't been restarted unlike post-Crisis on Infinite Earths, the multiverse has and alongside it big changes for the future of the DCU. Dawn of the DCU is the name for the next era of DC Comics following New 52, Rebirth, and the recent Infinite Frontier.
A Brief History of the Post-Modern Eras
The post-modern era of comics began with New 52 which followed the event Flashpoint. In Flashpoint, Barry Allen sought to alter the timeline so that his parents never died. However, it caused a ripple through reality that resulted in the world resetting more-or-less completely. The DC Universe timeline was essentially reset with new origins for the Justice League and a tonal shift into the moodier DC that the Synder-verse tried to copy. After 5 years of the New 52 era, Geoff Johns helped usher in a new era called Rebirth which brought back some of the brighter, uplifting elements of the Modern Era and brought back heroes like Wally West. This era introduced beloved characters like Superman's son Jonathan Kent. The era came to a conclusion in 2020 with Dark Knights: Death Metal. After Death Metal, the timeline of the pre-Flashpoint world was merged with the post-modern timeline via what's called the omniverse.
If you are confused, don't worry, none of this really matters. What does matter is that following the creation of the omniverse, also sometimes described as a multiverse of multiverses (which almost never gets brought up again), DC Comics begins Infinite Frontier in March of 2021. This era began a passing of the torch as Jonathan Kent became Superman, a new character Yara Flor became Wonder Girl, Wally officially became the main Flash, Jackson Hyde (very similar to Kaldur'am from Young Justice became Aquaman, and Jace Fox became the Batman of New York City. The gist of the two year era which you can read the fast track for if you want, is that Darkseid tried to take control of a multiversal force called the Great Darkness, he ends up being possessed by it. Pariah, who was already working with The Great Darkness, possesses many of the biggest villains of the DCU and fights the justice league where eventually everyone seems to die. While the rest of the world tries to move on from a dead justice league, Pariah begins using energy to create a new infinite multiverse. Eventually the heroes learn that the Justice League isn't actually dead, just imprisoned. They free the JL, beat Pariah, and then defeat an army on earth controlled by Deathstroke. At which point things return to normal, only the Justice League doesn't reform).
Alongside Dark Crisis, there is another event called Flashpoint: Beyond which is a sequel to the 2011 Flashpoint and ends with the return of the JSA and what will be called "The New Golden Age."
That's the bare minimum of what you should need to know for Dawn of the DCU. If you want to get some context from past years, make sure to check out the Infinite Frontier Fast Track guide, and the Dark Crisis Reading Order.
Support For Comic Book Herald:
Comic Book Herald is reader-supported. When you buy through links on our site, we may earn a qualifying affiliate commission.
Comic Book Herald's reading orders and guides are also made possible by reader support on Patreon, and generous reader donations.
Any size contribution will help keep CBH alive and full of new comics guides and content. Support CBH on Patreon for exclusive rewards, or Donate here! Thank you for reading!

How to Best Read the Reading Order?
I get/see questions all the time about the order related to "what's required" for Dawn of the DCU, so I'm placing more context into the order. When something has important context, I will try to include it below the volume or in the section header (i.e. the writing before Superman Part 1). The goal of this order is partly to make sure new readers who haven't read Infinite Frontier or Dark Crisis, can treat this as their entrance into DC Comics.
Here are some commonly asked questions:
Do I need to read all of Superman Family part 1 to read any of Superman Part 2 (or any Batman Part 1)?
Generally speaking no. Other than some small references each family can be read on their own. While this order is treated as a sequential ordering of books, DC releases most of these books simultaneously. Each of these families is also organized at DC Comics by "Groups" with different editors monitoring different "groups" of comics i.e. Batman family, Superman family, etc. As such the most relevant books to Superman Part 2 is Superman Part 1. Meanwhile Batman Part 1 will operate almost entirely on it's own without being influenced by Superman Part 1 outside of some minor crossovers or guest appearances that may occur. Even within families, every series will matter to different levels when compared to its family member. In some eras, Detective Comics and Batman are constantly referencing and crossing over and in other eras they pretend each other doesn't exist.
Why isn't there a single issue by issue version?
With the different books releasing simultaneously, an issue by issue order would make sense except that it is a terrible way to read comics. If you were an alien who could view every person's life from beginning to end, you wouldn't watch 1 second of a person's life and then pause to watch 1 second of another person's life and after 8 billion people, go back to the first person to watch another minute. With the exception of crossovers and events (where there are issue by issue orderings), stories are written primarily with arcs in mind. Even if you are hesitant to read things that way, trust me that you will get more pleasure by reading in order of collected editions than issue by issue. When there is crossover in the middle of a book, I will typically break a collected edition into Superman Vol. 1 part 1 and Superman Vol. 1 Part 2. Otherwise, I recommend just reading in the order provided.
Do I need to read everything before it to read an event?
No. Events are built with new readers in mind. If there is important context, I will try to include it in my description of the event before you read it, otherwise assume that an event will be relatively accessible if you start with the first issue of the event. Crossovers are a little different as they are typically written with knowledge of the books (that participate in mind). I generally recommend reading most of the series involved in a crossover before you start reading the actual crossover.

Dark Crisis: Aftermath
This is the only Dark Crisis book that I think is a must read heading into Dawn of the DCU as it sets up the new Multiverse. Make sure to check out my New Multiverse Reading Order for all the main stories that are relevant to this multiverse.
Before the Dawn:
The stories in this group take place in a nebulous period of time where the series/stories take place after Dark Crisis, but before the series Dawn of the DCU reboot. Some like Batman Vol. 1: Failsafe were released before Dark Crisis finished but are implied in Dark Crisis to take place after Dark Crisis. Other stories like WildC.A.T.S. vol. 1 take place in a period of time that is vaguely "the present," but based on release date and marketing aren't quite Dawn of the DCU stories.
The Flash Vol. 19
Read: The Flash #787-789
Context: Wally West is the main Flash again. He works for Mr. Terrific and has a family who currently has two kids (Jay and Irai).
Read: The Flash #790-795
Context: Dark Crisis's ending teases that Failsafe is about to happen, but Failsafe itself claims to take place before Dark Crisis. Either way, the story will be relevant to Batman stories coming out now, and I recommend you read it hear given that Vol. 2 definitely takes place after Dark Crisis.
Read: Batman #131-133
Read WildC.A.T.s #1-5
Batgirls #13-16
Blue Beetle: Graduation Day
Read: Blue Beetle: Graduation Day #1-6
Context: This story was the runner up to 2021's Round Robin tournament. DC decided to release it anyway, as they really liked the work done on it.
Catwoman #51-53
Context: There's a new Catwoman following Selina's fight with Punchline.
Read: Detective Comics #1067-1070
Batman Incorporated Vol. 2
Read: Batman Incorporated #6
Batman/Superman: World's Finest vol. 3
Read: Batman/Superman #13
Joker: The Man who Laughs Vol. 2
Read: Joker the Man Who Laughs #6
Tim Drake: Robin Vol. 2
Read: Tim Drake: Robin #7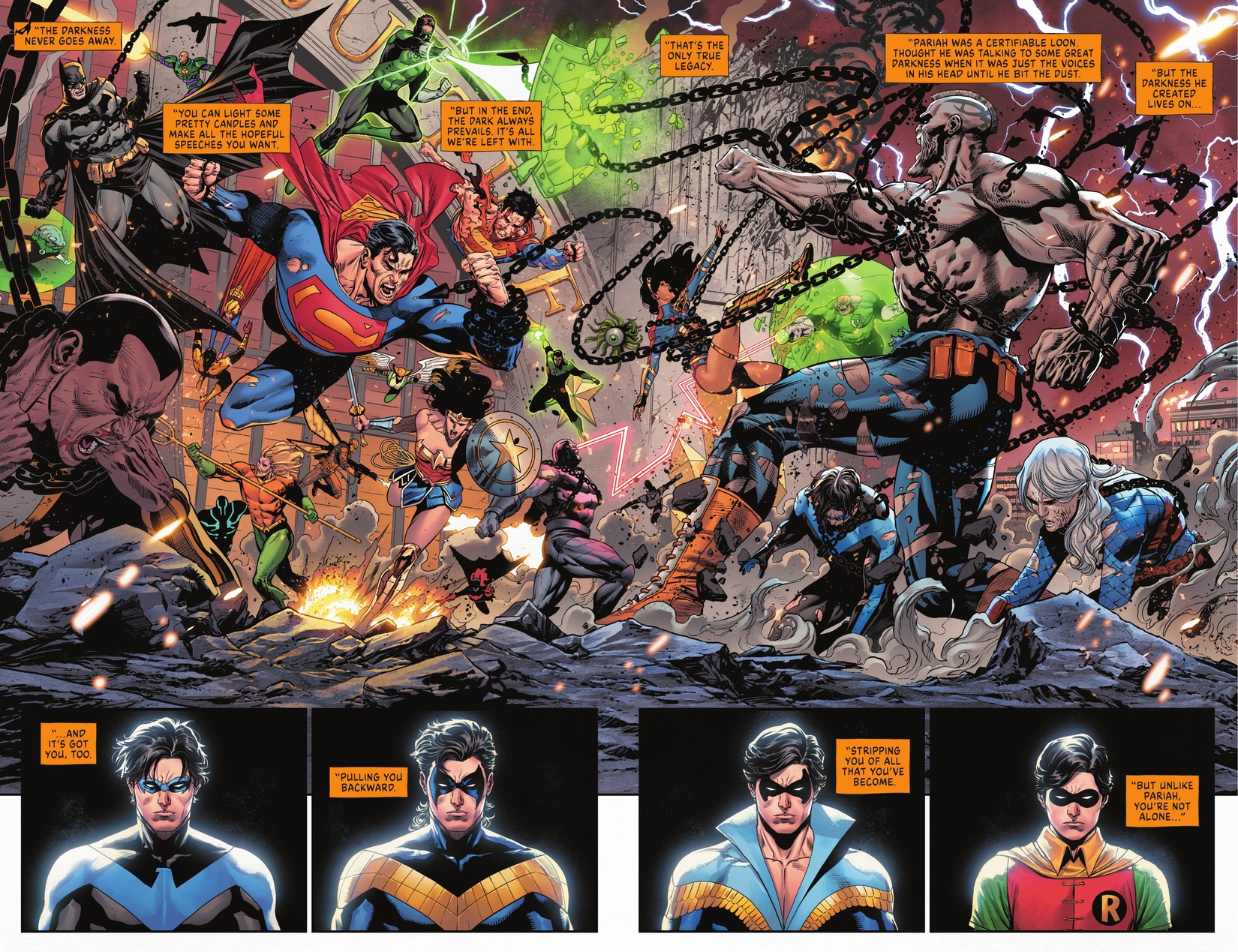 Dawn of the DCU Part 1
The debut of Dawn of the DCU is interesting in that the launch of titles is staggered, starting with Superman and working its way through Doom Patrol, Green Lantern, and then Batman. While there are several question makes (especially about the Batman relaunch), there are several titles in a weird half-way state. Titles like the Flash arc 60-Second War are being released before the hero gets a Dawn of the DCU Relaunch. However, it being released after the conclusion of Dawn of the DCU makes this confusing. As such, I have decided to place titles in this half-way point in a section titled "Before the Dawn." This will get reexamined once these titles come out, but until then my best guess is that these aren't part of the Dawn of the DCU.
Event: Lazarus Planet
Rather than a single book to set up the other titles, DC released a 6-part event called Lazarus Planet. Each part focuses on different characters including new ones like Dreamer, Red Canary, Yara Flor, and Jace Fox to characters who've been around for a while. With the exception of some of the Superman family, the Multiverse books, and The New Golden Age storyline, many other titles will likely stem out of Lazarus Planet in some capacity. After Batman vs. Robin #5, Lazarus planet has a sort of "Part 2″ with Lazarus Planet: Revenge of the Gods." The 4 issue mini-series is about the aftermath and focuses on Wonder Woman/Wonder Girl/and Captain Marvel (Shazam). It acts as a set up for books to come.
Road to Lazarus Planet
Monkey Prince Vol. 1: Enter the Monkey
Collects: Monkey Prince #1-6
Context: A lot of Lazarus Planet is based on Nezha and King Fire Bull. Characters who have deep connections to the new hero Monkey Prince.
Context: At the beginning of Infinite Frontier, Damian fought in a death tournament. It turns out it was run by his grandmother Mother Soul. After beating Mother Soul, Talia and Ra's tried to turn themselves into the government, but Ra's was assassinated in an event called Shadow War.

Lazarus Planet Reading Order
After Lazarus Planet Alpha, the event splinters off into different issues each with four short stories, before coming back together at the end. Each story primary is designed to set up Dawn of the DCU storylines rather than further the plot of Lazarus Planet itself.
Lazarus Planet: Assault on Krypton #1
Focuses on: Dreamer, Power Girl, Mercy Graves, and Jon Kent
Lazarus Planet: We Once were Gods #1
Focuses on: Themyscira, J'onn J'onzz, The Trench, and Shazam!
Lazarus Planet: Legends Reborn #1
Focuses on: City Boy, Raven, Question, Firestorm, Harley Quinn
Lazarus Planet: Next Evolution #1
Focuses on: New Heroes of Flatline, Red Canary, Dead Eye, and Vigil
Monkey Prince #11
Lazarus Planet: Dark Fate #1
Focuses on: Doom Patrol, Still Force, Xanthe, and Arkham Tower
Lazarus Planet: Omega #1
Batman Vs. Robin #5
Monkey Prince #12
Spinning out: The Unstoppable Doom Patrol spins out of Lazarus Planet
Lazarus Planet: Revenge of the Gods
Lazarus Planet: Revenge of the Gods #1
Wonder Woman #797
Lazarus Planet: Revenge of the Gods #2
Lazarus Planet: Revenge of the Gods #3
Wonder Woman #798
Lazarus Planet: Revenge of the Gods #4
Context: Wonder Woman #797 and #798 have a Mary Marvel Backup Story
Spinning out: Shazam! Vol. 1 spins out of Revenge of the Gods.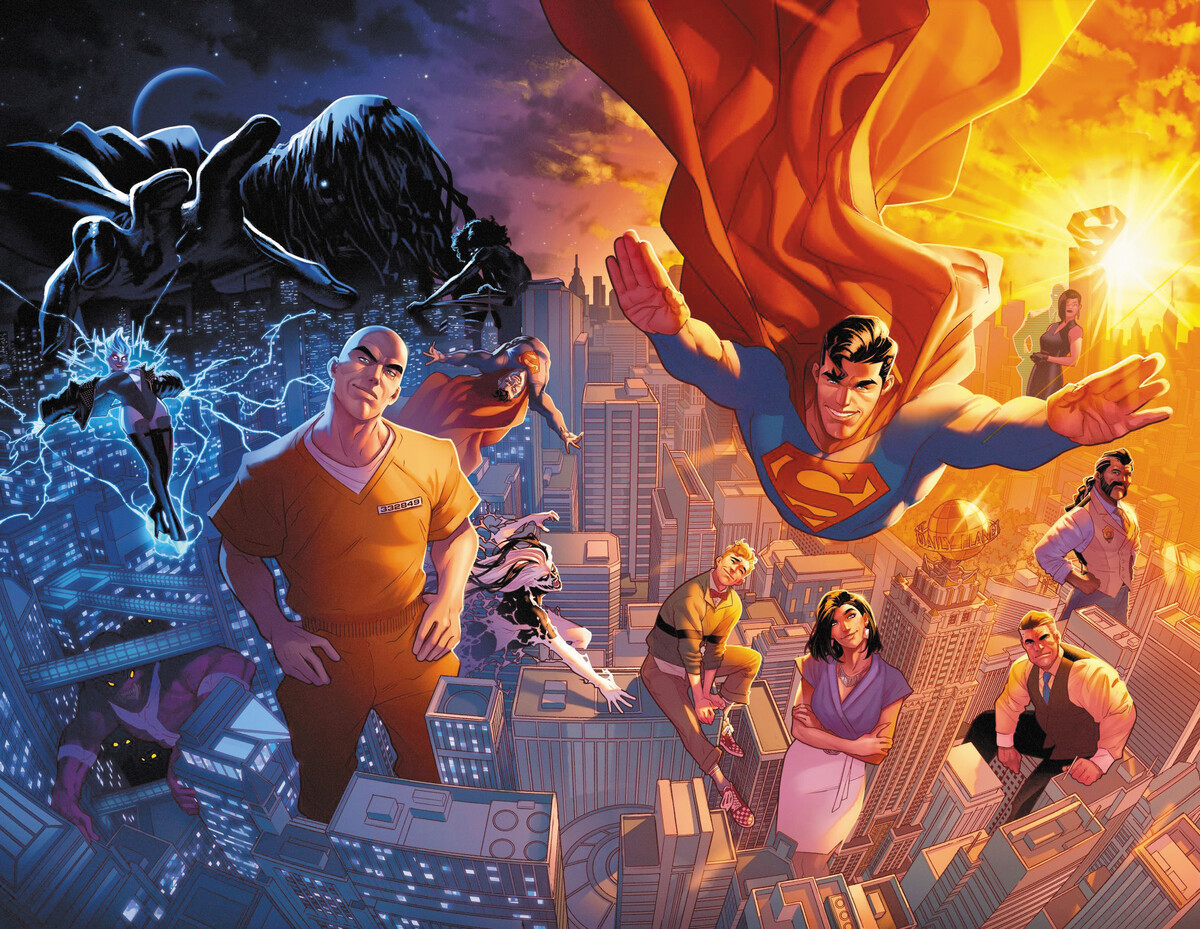 Superman Family Part 1: The Super-family is back!
Following two years under Phillip Kennedy Johnson and Tom Taylor, the Superman Family has elevated Jon Kent to a level on par with his father. During that era, many of the non-powered and/or more obscure characters of Superman like Lois, Jimmy Olsen, John Henry Irons, etc were given very little content. With the Dawn of the DCU, DC seeks to remedy that by giving more focus to members of the Superman Family, and restoring Superman's identity to being a secret alongside the classic Daily Planet side of Clark.
Prelude: Return of Kal-el
Action Comics #1047, Superman: Son of Kal-el #16, Action Comics #1048, Superman: Son of Kal-el #17, Action Comics #1049, Superman: Kal-el Returns Special #1, Superman: Son of Kal-el #18
Context: Kal-el left Earth to rescue the people of Warworld in the War World Saga. While on War World he discovered something called the Fire of Olgrum. He infused it into a child to save their life. Now he returns to earth with the refugees of Warworld to reunite with his son who's been Superman in his stead and is now dating Jay Nakamura who has the power set of Marvel's Kitty Pryde.
Read: Action Comics #1051-1053
Context: Action Comics is moving to a Superman Family book with 3 stories coming with each issue. The first is Phillip Kennedy Johnson's Super-family story, the second is the sequel to 2015's Superman and Lois mini-series about Young Jon Kent, and the third is a Powergirl book
Superman Vol.1
Read: Superman #1-2
Adventures of Superman: Jon Kent
Read: Adventures of Superman: Jon Kent #1-6
Superboy: Man of Tomorrow
Context: This title was the winner of the 2022 Round Robin Tournament. As such it wasn't initially intended with the Superman family story in mind (although has likely been reworked to fit this era).
Steelworks
Read: Steelworks #1
Context: Announced Natasha Irons and John Henry Irons book coming in June
Superman: Somewhere in the Multiverse
Superman: Lost
Read: Superman: Lost #1-10
The New Golden Age
Following the events of Flashpoint: Beyond, the JSA is back. Geoff Johns is trying to begin a new era of storytelling about the classic age. This reboot is in a bit of a weird place as it technically occurs after Dark Crisis, but began 2 months before the first Dawn of the DCU book. It has never been announced as part of the Dawn of the DCU, but makes the most sense as part of it. The New Golden Age is primarily set up/teased in the pages of Flashpoint: Beyond, but the mini-series is not required reading. The stories focus on the expansion of the JSA legacy and expand the 1940s era of DC with new characters and ideas, rather than being what you would expect traditionally from a JSA and Stargirl series.
Read: Justice Society of America #1-12
Read: Stargirl: The Lost Children #1-6
DC Cosmic Part 1:
Green Lantern: Jon Stewart Vol. 1
Read: Green Lantern: Jon Stewart #1
Green Lantern: Hal Jordan Vol. 1
Read: Green Lantern: Hal Jordan #1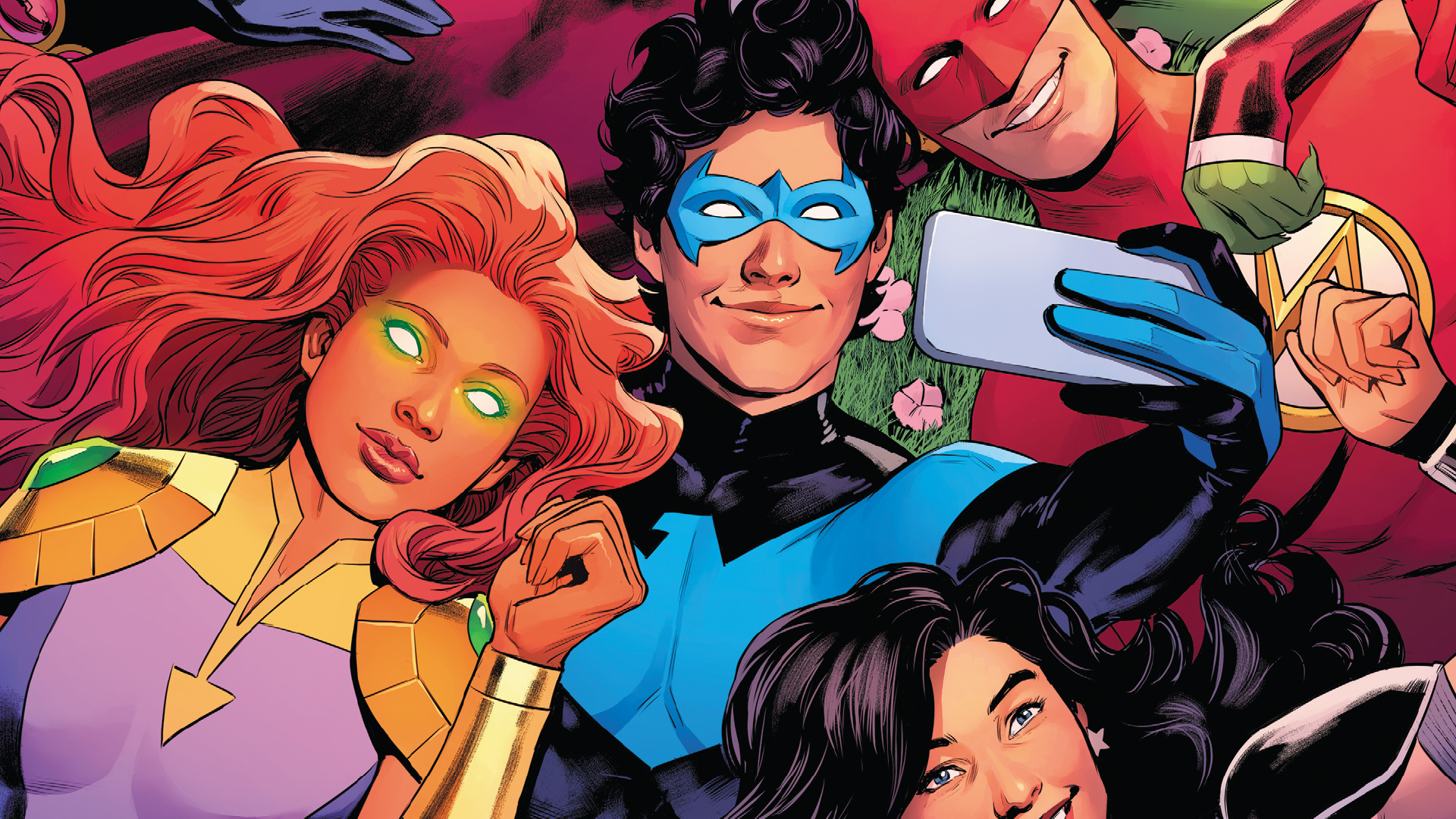 Titans Family Part 1
Following Dark Crisis, the Justice League has decided not to come back together. As such it feels wrong to call it the "Justice League Family" so rather than being a family of comics in the same way DC Cosmic, The New Golden Age, and Superman are, this is more of a light grouping. With Oliver Queen dying in Dark Crisis, and Cyborg being a Titan over a Justice League again, this group of stories feels more like the Titans Family of stories. Nightwing is becoming the central book of the Titans characters, and belongs in the Titans group of stories this time around.
Read: Nightwing #100-102
Context: After Dark Crisis, Nightwing is the "defacto" leader of the superhero community. While still dealing with threats from the Infinite Frontier era, he's also begin to expand his place in the DCU.
Unstoppable Doom Patrol Vol. 1
Read: Unstoppable Doom Patrol #1
Context: The Doom Patrol will be focusing on the aftermath of Lazarus Planet.
Green Arrow Vol. 1
Read: Green Arrow #1
Cyborg Vol. 1
Read: Cyborg #1
DC: Somewhere in the Multiverse
DC/RWBY
Read: DC/RWBY #1-7
DC's Legion of Bloom #1
Waller vs. Wildstorm
Read: Waller vs. Wildstorm #1-4
Batman Family Part 1:
There's still a lot of questions about what the Batman family will look like with a Batman relaunch coming in May.
Harley Quinn Vol. 1
Read: Harley Quinn #28
Batman: The Brave and the Bold
Read: Batman: The Brave and the Bold #1
Context: This is the new Anthology book of the Batman Family (replacing Batman: Urban Legends).
The Penguin
Read: The Penguin #1
Context: The story follows up on the Penguin story in Batman: The Brave and the Bold #1.
Batman: Somewhere in the Multiverse
Multiversity: Harley Screws up the DCU
Read: Multiversity: Harley Screws up the DCU #1-6
Heroically Support Comic Book Herald!
If you like Comic Book Herald, and are able to donate, any small contribution will help keep CBH alive and full of new comics guides and content. Donate here! Or, support CBH on Patreon for exclusive rewards! Or you can even check out the CBH Merch store and get something nice with a small portion benefiting the site! Thank you for reading!